the final stop on the lidbom rambling roadshow (although we didn't know it at the time) was a little place in yemassee, south carolina. it's sort of located between charleston and savannah, so our plan was to do a bit of exploring in each spot. we ended up mostly sticking to savannah, though, because on the weekend we were going to head to charleston, there was some ginormous race with like 40,000 people, so we decided to steer clear.
so. here's the tales of our savannah adventures. we did a lot. we tried to do some standard touristy stuff. and then some off the beaten path, real history type stuff.
our first stop was the owens-thomas house and slave quarters. so many of savannah's historic homes tours are all about the architecture and design, and this house is the same, but with a twist. the tour focused on the complicated lives between the (rich, white, free) owners and the (poor, black, not free) slaves who lived there. it was definitely more interesting than just admiring random architecture.
after the owens-thomas house, we stopped by a little local bookstore in the neighborhood, always a favorite activity…
after the bookstore, we picked up a TON of seafood from carry-out only type place, and took it over to a park for a little picnic. the kids got to run around a bit and we were able to plan our afternoon.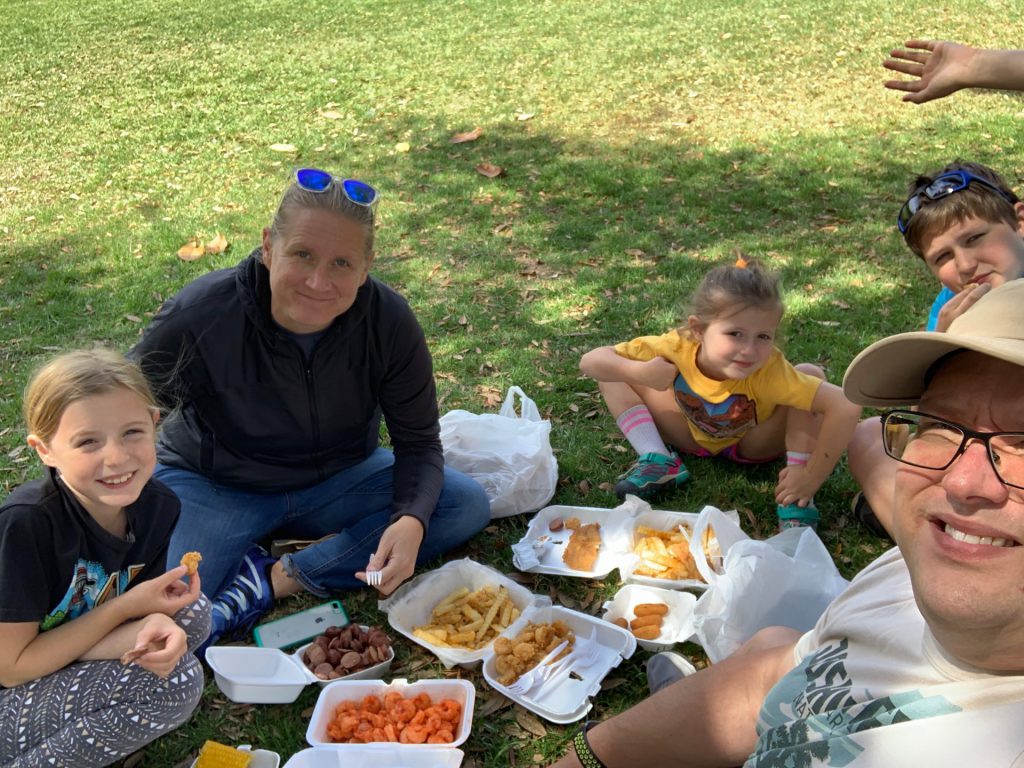 after we were rested(ish) and full, we decided to continue our historical explorations of savannah, and headed over to the pin point heritage museum. it's a tiny little spot, spread through several old buildings from an old oyster canning facility, that tells the history of the gullah geechee residents in the area whose close knit community was forged on the hard marshy waters from here to the river.
we were the only people on the tour and we got star treatment. our guide grew up in the area and started working in the canning factory at age SIX. she knew all there was to know and was super engaging. we only saw a few other people while we were there, but i hope that more people will check it out and learn about this little pocket of history and culture.
learning stuff.

inside the oyster shucking area.

this long building was where most of the work was done. the boats pulled right up to dump in fresh oysters to be canned by the primarily black gullah geechee women.
we were pretty worn out after this day, so we headed back to camp, to regroup for day two.
we decided to start out at fort pulaski, located on a tiny island on the savannah river just as it spits out into the atlantic ocean. basically. it was a civil war fort that succumbed quite quickly to rifled ammunition, signaling the end of this sort of existing coastal defense techniques. the walls on the coast side are still riddled with bullets. the kids always love running around in a good fort, and completed a junior ranger badge, even though all the forts and such are starting to run together a bit.
fam.

cannon.

nested archways.

more nested archways.

investigating for damage.

the view from the top.

strolls.

another drawbridge pic.

exploring underground tunnels.

peekaboo.

outside, checking out the rifled ammo damage and being cute.

junior ranger action shot.

cute.

another badge in the books.
ok. fast forward a week. we thought we would go into charleston on our second weekend, until we learned of a 15k race that drew 40,000 runners (and probably fans and onlookers). so, we headed back to savannah. this time we were more touristy.
we kicked this off with a trip to a farmers market that was in the same spot (forsyth park) where we had lunch the weekend before. we had arrived just as it was shutting down, so this time we made sure to arrive with enough time for all the good stuff. also, just across the street, there was a great natural food store and coffee shop, so we picked up some treats and caffeine.
strolling in.

hazel always locates the sweets.

flavored pecan stand and epic haul.

the gang.

confederate memorial.

treats and caffeine and smiles.
then, it was onto river street. it's where all the tourist shops and restaurants and traps are located. but, it's also all old and historic and pretty cool, so i'm glad we checked it out. except for the people who drive on the road just because you can, it was packed with pedestrians, and the first thing you have to do is walk down super steep historic steps to get down to the area. then we ate. shopped. and people watched.
steeeeeeep.

keto greek.

picnic lunch.

river street photo shoot.

so much candy.

tempting.

watching the candies be made, whilst enjoying her own confections.
since most of river street is geared towards big spending tourists and adults, we didn't make too many stops and before long we were heading to our next adventure. we decided to hit up the telfair museum since we had purchased a membership (the owen-thomas house and the pin point museum are a part of the package).
there was some cool art and a fun little place for kids to drop in and create their own art.
word bubble floating pods.

it was different. and cool.

all black american flag.
a statement about black lives in america, along with much of the art

nerds, in an interactive nerd installation.

making our own stickers.

sticker artist extraordinaire.

blocks and stuff.
anyhoooo. we were pretty exhausted. and if you're following the timeline, this was literally one of the last days of the lidbom rambling road show. now excuse me while i go pour myself a drink.