now that we are (stuck) back in winston-salem, we are back to figuring out how to spend various holidays. i was determined to spend christmas in the stupid new house, because the ONLY time i ever missed having a house while we were on the road was christmastime. so, that made thanksgiving a perfect time to run away to ny, for holiday with my fam.
we actually spent the entire thanksgiving week in new york, to avoid hectic travel and drive over the weekend, allowing derek to work for the three days before thanksgiving.
it was our first big road trip (not in the rv) with ruby. we packed our stuff around her, forming a little nook, loaded her up with medicine to keep her from vomiting everywhere, piled in all the kiddos, and hit the road. she didn't love it, but she accepted her fate.
grumpy rest stop dog.
upon our arrival, we did what we always do, ordered proper wings and pizza. paired with some foothills frostbite i delivered from ws/nc, it was lovely.
so good. if only i could find such delicacies in ws/nc.
as always. hazel is weird. her location makes no difference.
war paint.
ruby and gilly. they are very good pals. and big doofuses. they would wrestle and chase each other and fight over toys. they were mostly good, but unaware of their surroundings, which is annoying.
tuggers.
we escaped one morning, for a tasty feast at dunkin donuts. i voted for tim horton's, but was outnumbered. oh well.
dunkin' fanatics.
i was able to meet up with my pal julieredband at her house for a short visit, but the holidays are obviously a busy time, so our visit was short. but, we managed to squeeze in another mom's only meetup for lunch at main street pizza. um. please look at this fantastic sandwich. i can't even remember what it was called. and i couldn't finish it, but it was amazing. (and also, please note julie's gargantuan ravioli).
steak. jalapeno poppers. cheese. some sauce of some sort. maybe other things. so good.
so. we sort of had two thanksgivings. different family members had different obligations, so folks were in and out over the wednesday before and actual thanksgiving day. so, for the wednesday before, we planned a giant taco bar. my sister leslie and niece eliot came in. other sister julie rolled in later. my aunt eleanor and cousin tim dropped by for a bit. and the bro jake and erika and baby holden hung out all day. i think some of my mom's friends even maybe dropped by that might be wrong. (one of the pitfalls to writing my blog posts months after the actual events).
happy taco enthusiasts.
leslie brought her GINORMOUS dog, fiona. ruby wasn't too sure what to think about her, so she just left her alone.
assessing the giant.
while all the grandkids of debbie and terry paine were in one location, it seemed to be a great time to get a group shot. which proved harder than you would think. but we managed one almost decent pic with all the kiddos sort of looking in the same general direction and not wiggling or being weird.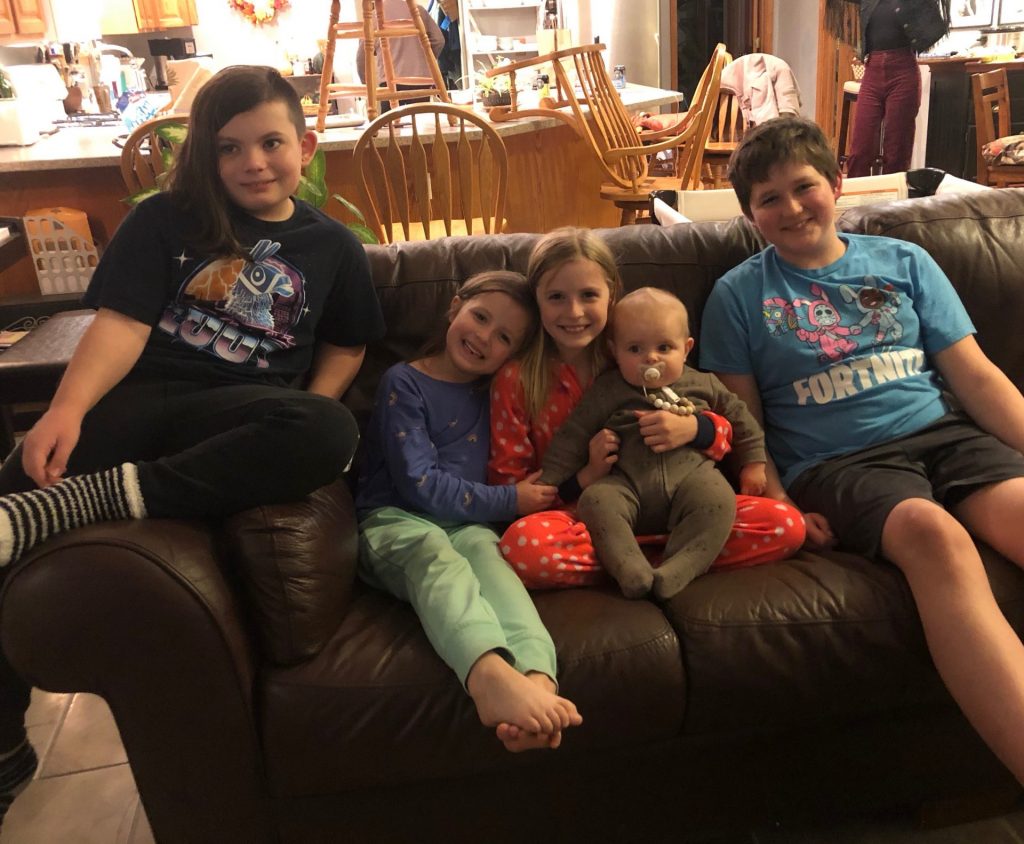 on actual thanksgiving, things were low key. lots of lounging. and cooking. and waiting for the smoked turkey. and then the final frenzy of preparation. and feasting.
turkey smoker and slicer.

my feast.
then, we watched the bills game. on thanksgiving day. for the first time in like 30 years or something. and it was fantastic.
bills fans.
then. it was sleeping time. heehee.


the mom and frankles.
we had a really extra lazy black friday. derek went out to score some deals, as he always does. and frankie and i met up with him at the pok-a-dot for our official beef on weck and gravy fry feast….
delicious.
and then. we mostly packed up. did some laundry. lounged around. and bright and early on saturday morning, we departed for lovely winston salem. the end.