isaac's current obsession in life (aside from the old standby, minecraft) is stranger things. the best part about it is that our whole family is actually really into it, so when he requested a stranger things cake, i was pretty excited to make it happen. we scoured pinterest for days, searching for cool ideas, but i wanted to something a little original. well. here's the final result, and then i'll tell you about it…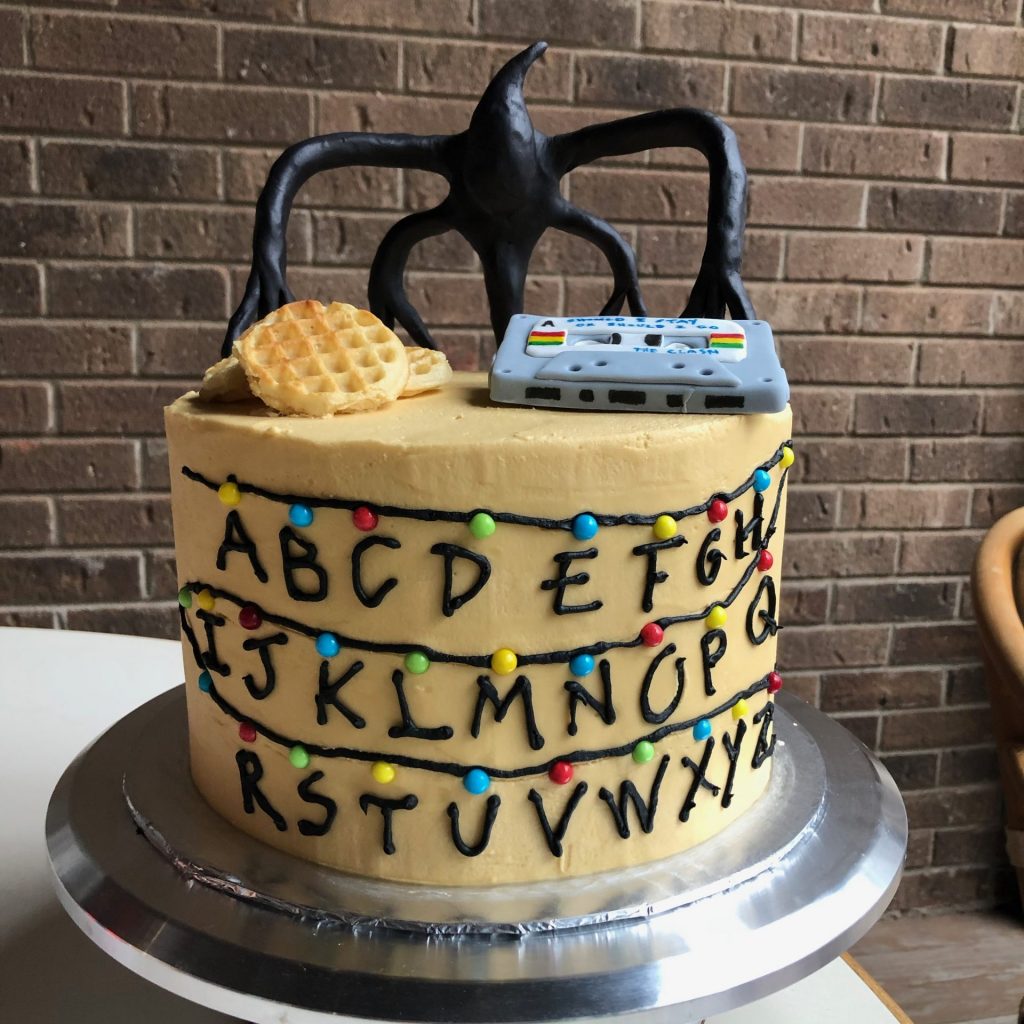 if you don't know, stranger things is set in the early 1980s and so firstly, there's a lot of nostalgia. music, pop culture, etc. but then there's the stranger things bit. turns out, there's another alternate universe, called the upside down, where there's all these terrifying creatures lurking, and thanks to weird science labs and russians, some of them have escaped through a gate. blah blah blah.
anyhooo. there's a few particularly iconic bits, most notably, the alphabet christmas light wall, which almost everyone puts on a stranger things cake. i definitely wanted to also, along with requests from isaac for waffles, a cassette tape, and the mind flayer (or a demogorgon). i saw a lot of cakes with a lasercut paper mind flayer cake topper, but i was determined to make mine edible.
christmas light alphabet.

mindflayer fan art inspriation.
so, on the thursday before isaac's party, while the lidkids were at co-op, armed with stack of baked cakes, a giant tub of buttercream, and my incomplete arsenal of cake decorating tools, i got to work.
turntable. cakes. buttercream.

crumb coated.

yellow-ish off-white, to very loosely resemble the byer's family wallpaper.
i knew for sure i wanted the alphabet on the side. i waffled about using leftover christmas sprinkles, or coloring four icing colors to keep it strictly buttercream. in the end, i obviously chose sprinkles. no regrets. in the show, the letters are haphazardly slapped onto the wall with a dripping paintbrush, which allowed me some artistic liberty and room for error. but, in the end, i am happy with the similarities.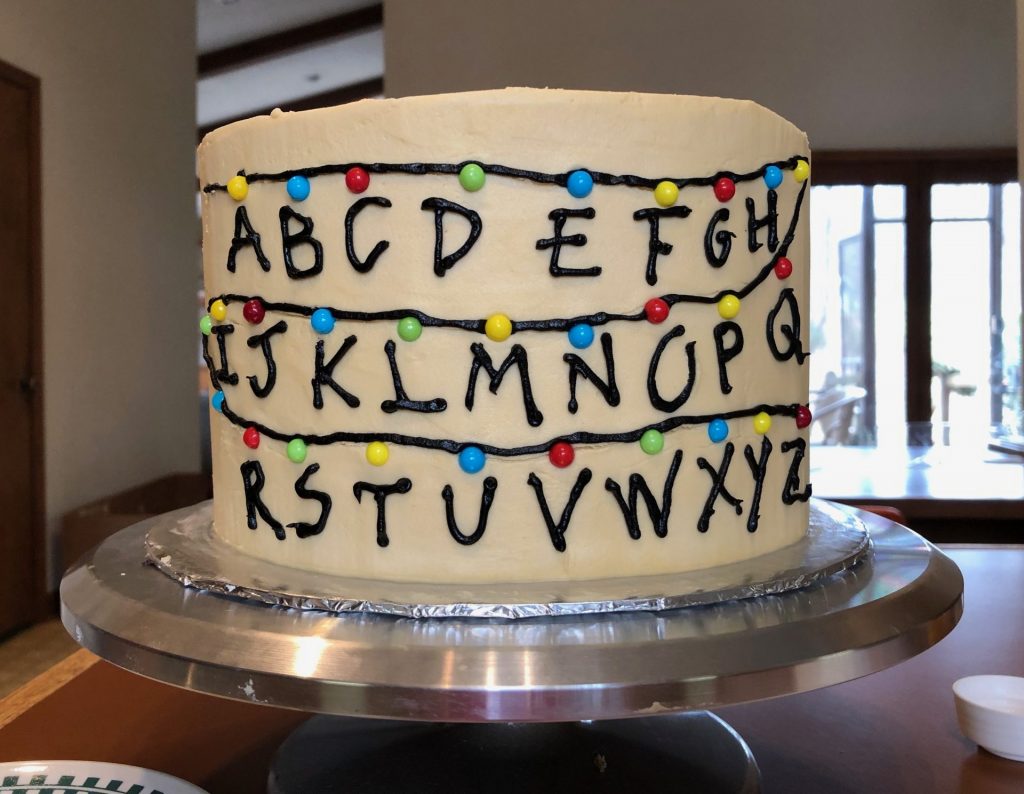 then, i got to work on the thing i was most confident about. the cassette tape. in the first season, there's a running storyline involving the clash's song "should i stay or should i go" (and the lidkids all really like that song), so i figured it was a good option for the title of the mix tape. probably recorded straight from the radio. i liked the final tape so much that i wouldn't let any kids eat it and i still have it.
messy work area.

action shot.

my 80s love really helped in the creation of this likeness.
the mind flayer, however, proved difficult. i spent most of the afternoon working on the big fondant version in the first picture below. i wasn't feeling super confident in it's structural integrity, but i had struggled to wrap around a wire internal frame, so i was hopeful that it would dry enough overnight to hold it's shape.
the next morning, i barely moved it and it completely collapsed. i ran off to walmart, where i bought more fondant, plus the last bag of black candy melts and corn syrup to make modeling chocolate. making the modeling chocolate was a first for me, and it was a MESS, and i wasn't sure it was going to work, so while it cooled, i worked on a way smaller fondant mindflayer, this time with wires inside, that i knew could be ok, but i didn't love. then, when the chocolate turned out fine and was ready for sculpting, i crafted a bigger and better mindflayer, and crossed my fingers.
disaster fondant mindflayer.

tiny fondant backup mindflayer.

modeling chocolate mindflayer.
when it was almost party time, i began to assemble the various components. i toasted up actual mini eggo waffles and stacked them up next to my beloved fondant mix tape. and then, it was the moment of truth. the modeling chocolate mind flayer was still a little big warm, so i had the epiphany that i would take it on the chilly back (screened in) porch and just go for it. i did take one final pic just in case disaster struck.
mindflayer-less.
while the mindflayer was still pliable, i positioned him on the cake. and he seemed like he was going to stay. i didn't mess with things and just left him outside to get cooler and harden a bit more. (the best part of this all, is the actual mindflayer in stranger things prefers cooler temps, and there's a line where one kid who is particularly tortured by the upside down creatures says, "he likes it cold").
top view. he likes it cold.
anyhow. so. the cake came out exactly as i had envisioned and so much better than i imagined. and considering the fondant mind flayer debacle so close the actual party, i couldn't be happier. isaac loved it, i think. as much as you can tell from a newly minted 13 year old boy. and the cake was a hit with his buddies.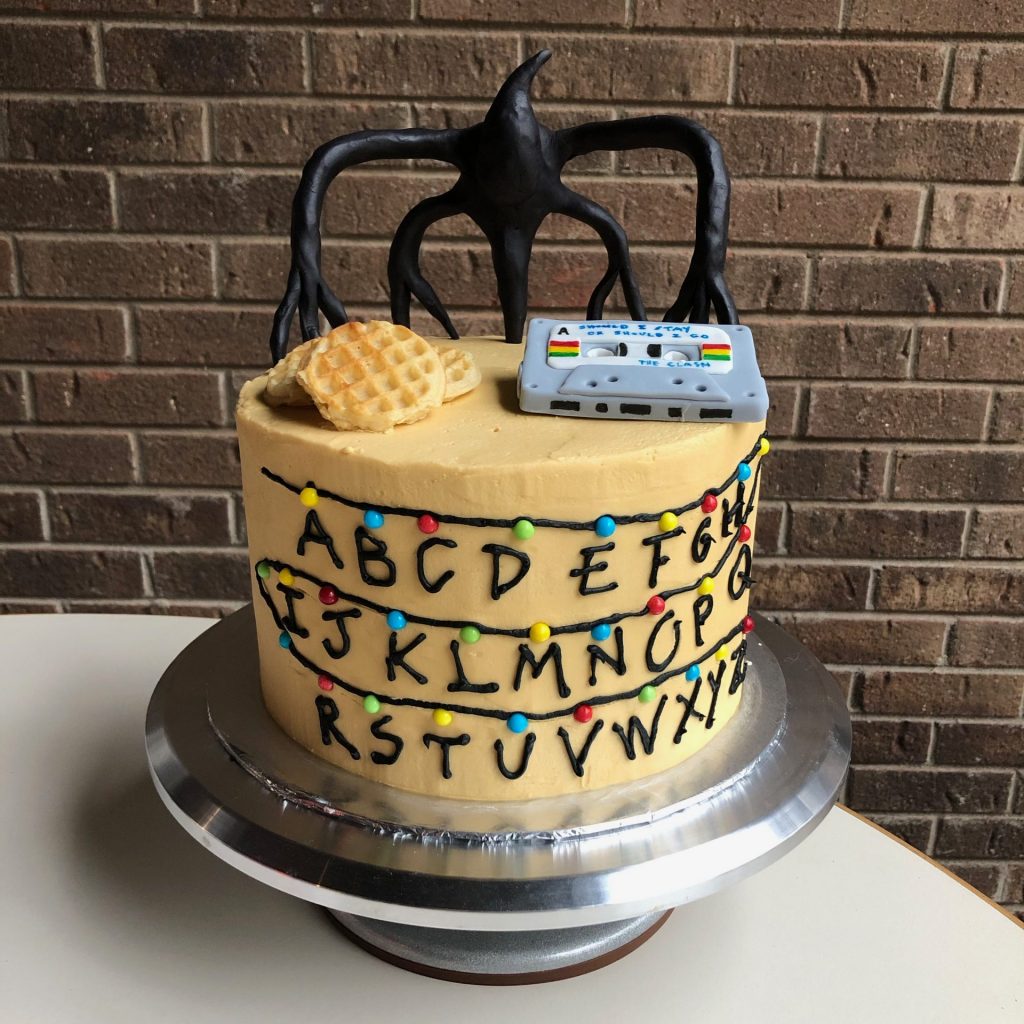 i definitely feel like i'm back on my cake decorating game after that long hiatus, so if you know anyone who wants a fun and cool cake, i'm in. (no boring cakes please).