we kicked off january 2020 fighting a stupid nasty cough and cold. there were a lot of fluids and drugs and napping people. it was meh.
rest and recovery.

fluids and drugs.
eventually we were all on the mend and regular old life resumed. lots of lounging around. arts and crafts. games. you know. randomness.
garland helper.

barista in training.

maybe just a bit more rest and recovery.
cute new thrifted outfits.

anna got two new gerbils (to replace one that died).

lots of ruby love.

and playmobil time.

popcorn and screen time. ruby wonders where hers is?
perler bead art by isaac.

giant box turned space shuttle.

family game night. ticket to ride. a favorite. mostly.
for christmas, my mom got me a gift card to anna maria horner's online shop, so i ordered myself a fat quarter bundle and decided that 2020 was to be the year i stop hoarding all of her fabric and start making some epic quilts from it instead.
new fabric.

quilt in progress…
also. after a wee scare last year around this time, i'm now on the list of folks who gets to have yearly mammograms. so, i spent a morning with this lovely machine. hooray.
flappy gown selfie.

smoosher.
well. so. i have no pictures of anna at dance this month. she's gotten soooo much better with being away from us, so i really just drop her off and run out to do other things. i don't have to linger until she's ready for me to go. and she's really too cool for excessive photos (in front of her friends) anyways. but. we did arrive quite early on one day (intentionally) and i picked up some chick fil a for her and we took it over to lowes where i had a tasty ipa while she ate and we waited for her class to start. i feel like i can get used to this dance mom life.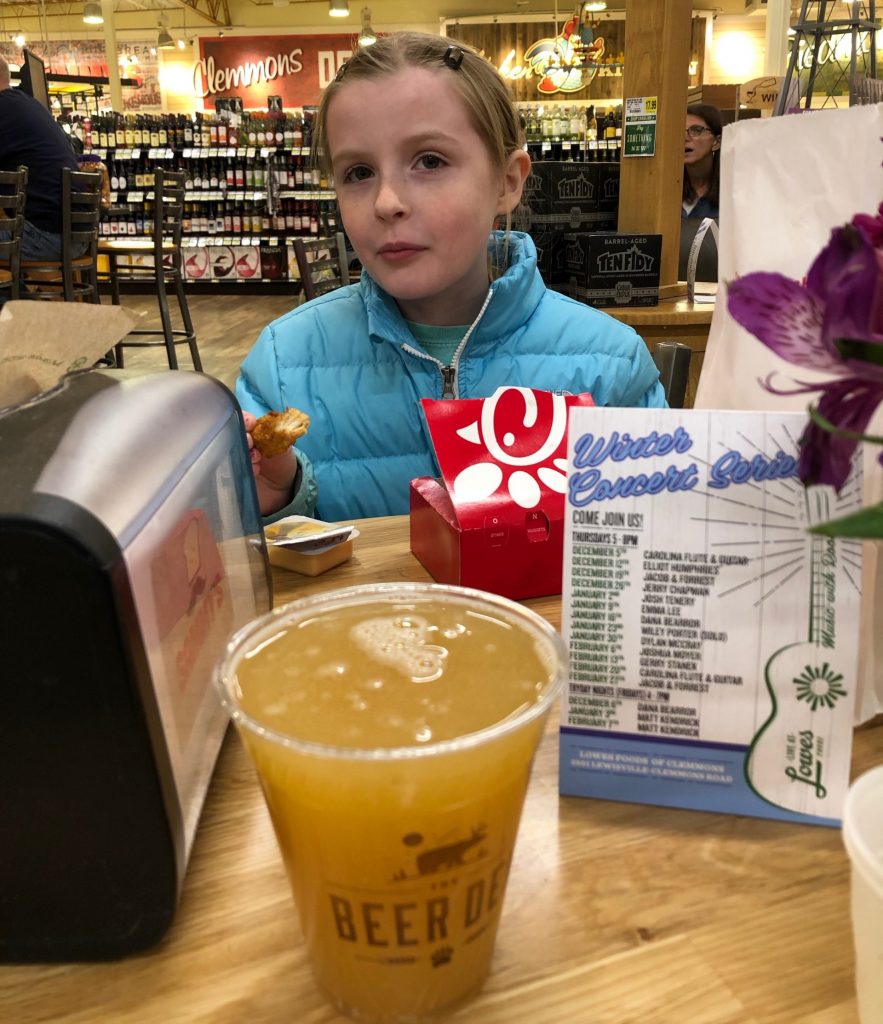 after a long winter break from co-op and a slightly shorter one from homeschool, we got back to work in january. hazel loves to do workbook pages and it helps the other kids to feel like things are "fair", which really drives me insane if you were wondering. at co-op, the kids
at co-op, the kids are really loving their classes this semester, mostly. (isaac has a love/hate relationship with his guitar class). this time around, hazel is done at 2, and the older two aren't done until 3, so hang with her in the auditorium (or she plays with her buddy lochlyn) for that last hour while we wait for the other two.
reading a new book to me.

girlie engineers.

super focus.
as previously posted, we had a pretty great trip to charleston towards the end of the month. it was a rare non-rv trip for us, so packing was easier, but also required a bit more thought. please take a moment to enjoy my reusable shopping bag luggage situation. on our way to charleston, we stopped to eat, and i couldn't help but take this picture of isaac and anna instagramming our meal.
fine luggage.

future influencer.
our house continues to be stupid. so much has gone wrong in 2020. we ran out of propane (which was really our fault, but we were taken by surprise by how fast we went through a full tank), the power outage situation (also not really technically the house, but the well situation is frustrating). and then one day i came home to find derek working on a leak under the sink. he had to rip out the wall and replace a bunch of pipes. and we think the moisture was all dried out. hopefully. but. sometimes this is the view from my balcony, which makes up for like 0.01% of hating this house/town.
repair man.

pink/orange morning skies are cool.
and now, without further ado, some ruby pics.
this is pretty much her chair.

so cozy?

snuggle selfies.

dangly.

we're gonna need a bigger chair.
and this covers pretty much any and all january miscellany. and, at the time of this writing, it's officially february 16 and i'm only 16 days behind in blogging and it's a 2020 miracle.