the weather for our second day in the keys was the same as our first, exceptionally windy, so we had to stick to land bound activities. we hadn't planned on visiting key west again on this trip, but with a shortage of options, we decided to give it another go.
our first stop was to hit up the "southernmost point" marker. we went last year and only planned to stop this year if the line was short and we could find nearby parking. it was and we did, so here we are. check.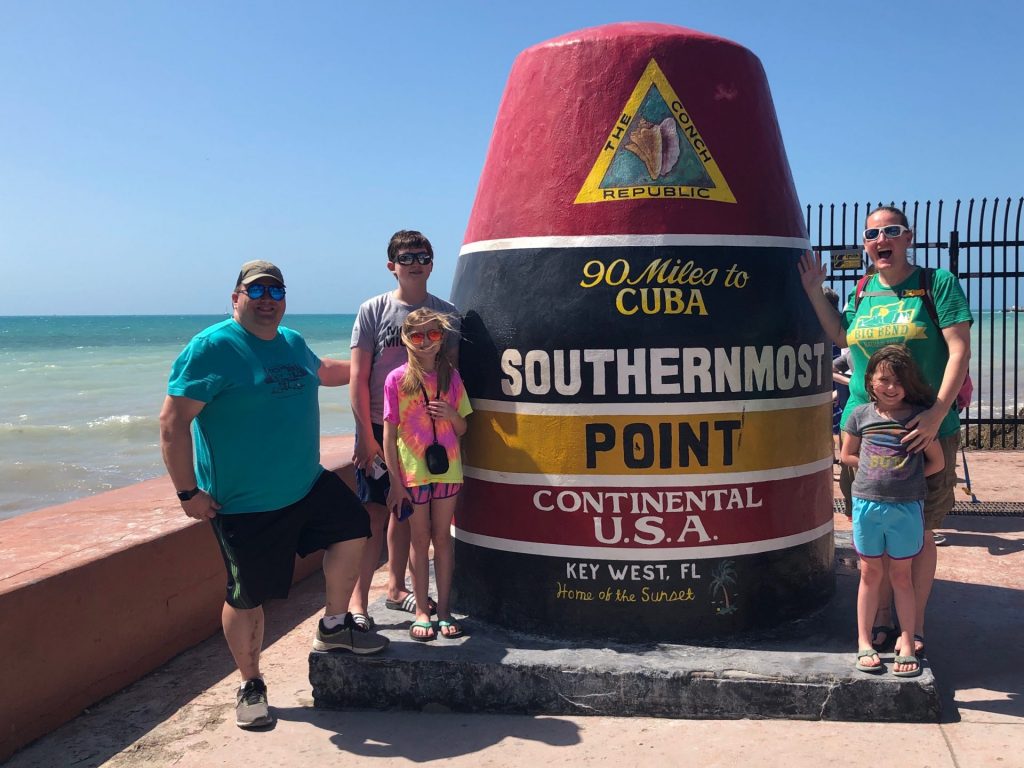 since we had paid for a couple hours of parking, after our obligatory photo shoot with the marker, we walked around a bit. we thought we remembered fresh fruit stands, but i think that was california. oops. but, we did get to visit with a friendly rooster on our stroll.
as we passed by the butterfly conservatory, we made the executive decision to give it a visit. it was sort of a disaster. isaac initially planned to sit it out and wait for us on the bench out front, but changed his mind at the last minute to join our tour. then. he freaked. all the way out. because of butterflies. and had to be escorted out. derek and anna stayed inside, while i took isaac out, along with hazel, who wasn't a big fan of the erratic flying patterns of the butterflies. thankfully, the conservatory refunded our tickets, which made it decidedly less frustrating, but not entirely unfrustrating. (i managed a few pics before i had to leave with ike, and i bummed some from derek).
after the butterfly fiasco, on our way back to the car, the girls and i detoured out to this little pier for a photo. this is another spot we hit up last year. this time, though, there were no half naked girls sunbathing in the resort next door. so, few questions from my clan.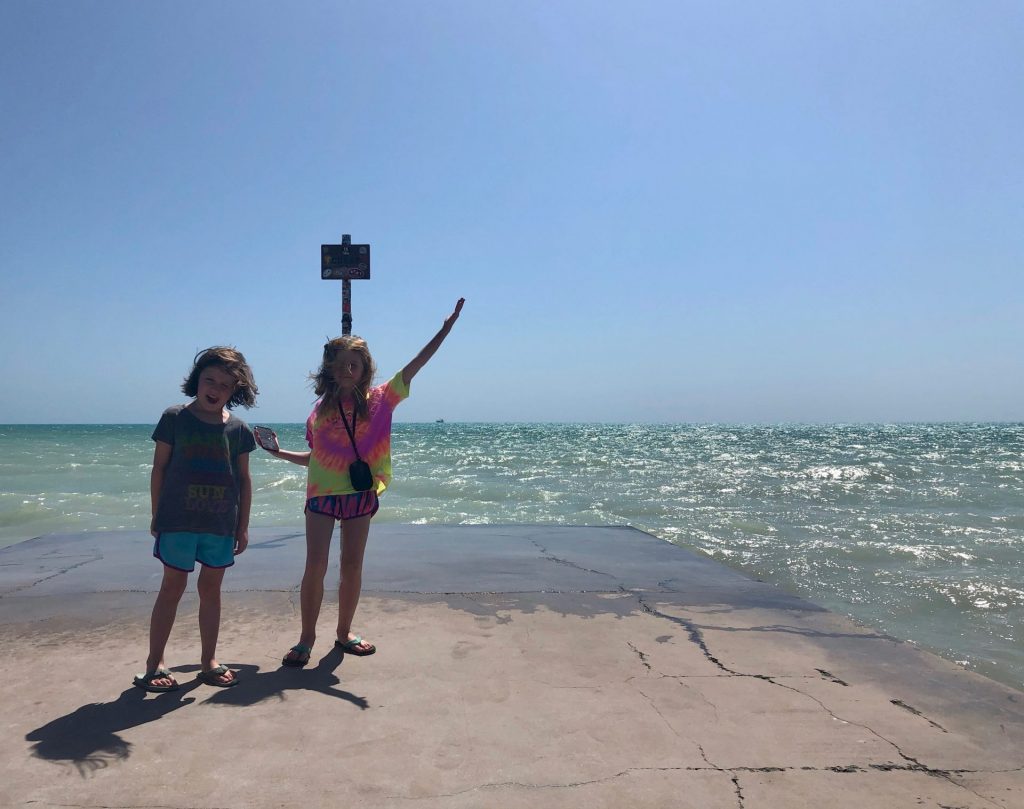 after our southernmost point, chicken, butterfly stroll, we hopped in the car to find some lunch. i had done a wee bit of research on the way to key west, and we decided on frita's cuban burger cafe for lunch. it was fantastic. the place is all decked out in frita kahlo mexican-ish decor, super eclectic and inviting. and the food was great. the only negative we gave it was that they wouldn't give us any tap water. we had water bottles, so we weren't even asking for cups. literally, just a water refill. after we had ordered a BUNCH of food. and nope. no go. strange. but other than that. A++
frita's is just around the corner from mile marker zero for highway 1. so, we strolled over for an obligatory photoshoot.
and then, we made our way to fort zachary taylor state park. there's a cool fort, which we never made it too. and lots of pretty beach. and, we had heard, decent snorkeling near a little man made reef, about 30 yards or so out from the beach. unfortunately, the wind was too much, and the waves were crashing so hard, that snorkeling was nixed, due to extremely dangerous conditions.
that didn't stop us from changing into swim gear to do a bit of wave hopping and riding. derek wandered off to fish off the jetty and the kids and i frolicked in the still-beautifully-turquoise-despite-the-crashing-and-churning-waves waters.
we were super thankful for the water shoes we picked up the day before during out dolphin encounters outing. the beach is super rocky and it made for a way more enjoyable experience. the kids had a total blast and anna said "that was the most fun i've had at a beach in a long time." so, i'm feeling good about that part of our day.
as i mentioned, we never made it to the fort, which i have heard is pretty cool, also. but we had left ruby in the rv and our time was dwindling. but, one last stop before we left town. the cuban coffee queen. for an obligatory photo shoot and a delicious coffee.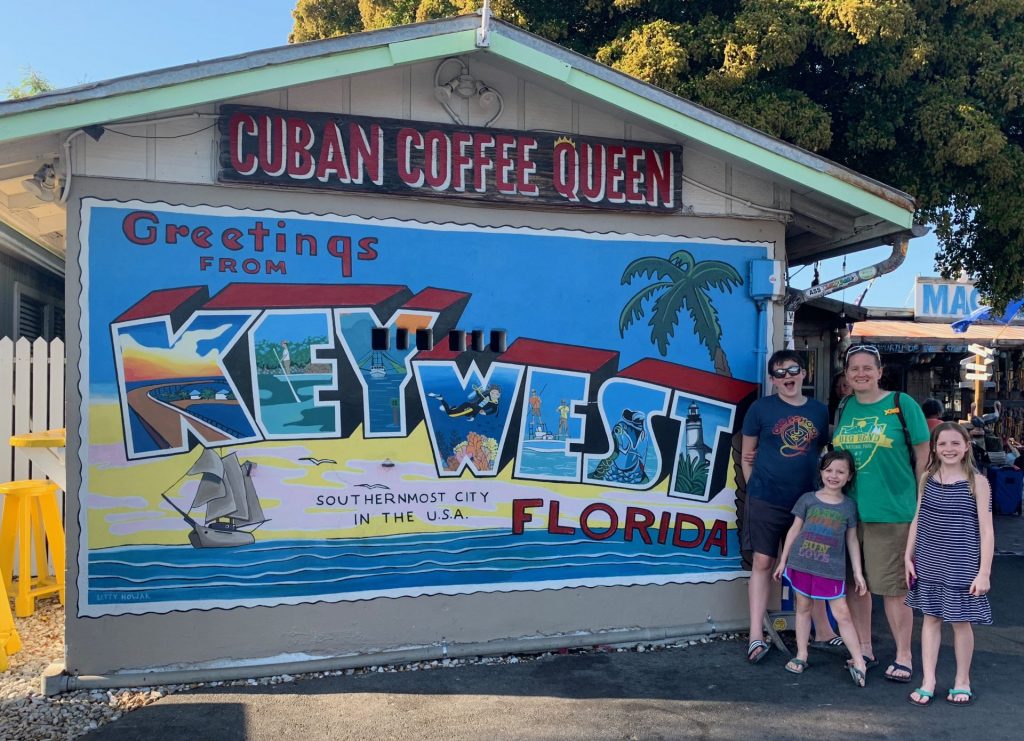 while derek ordered the coffees, the kids and i wandered to the little touristy gift shop next door, where we listened to the sounds of the ocean in some giant conch shells.
then we made just ONE last stop. to get some key lime pie slices. and then finally, we were back on the road to ruby and the rv.