i've never really been much of a halloween enthusiast, much less a halloween quilter. but, when my friend dana from old red barn co started posting sneak peaks of a halloween ghost town quilt she was making a pattern for, i knew i had to join the fun. the best part about the quilt is that it was super scrappy and not necessarily made from entirely halloween themed fabrics.
i pulled out all of my lime/chartreuse/olive greens, purples, orange, gray, and black fabrics, along with the very few halloween fabrics i owned, and got started. a few blocks in, and i was obsessed.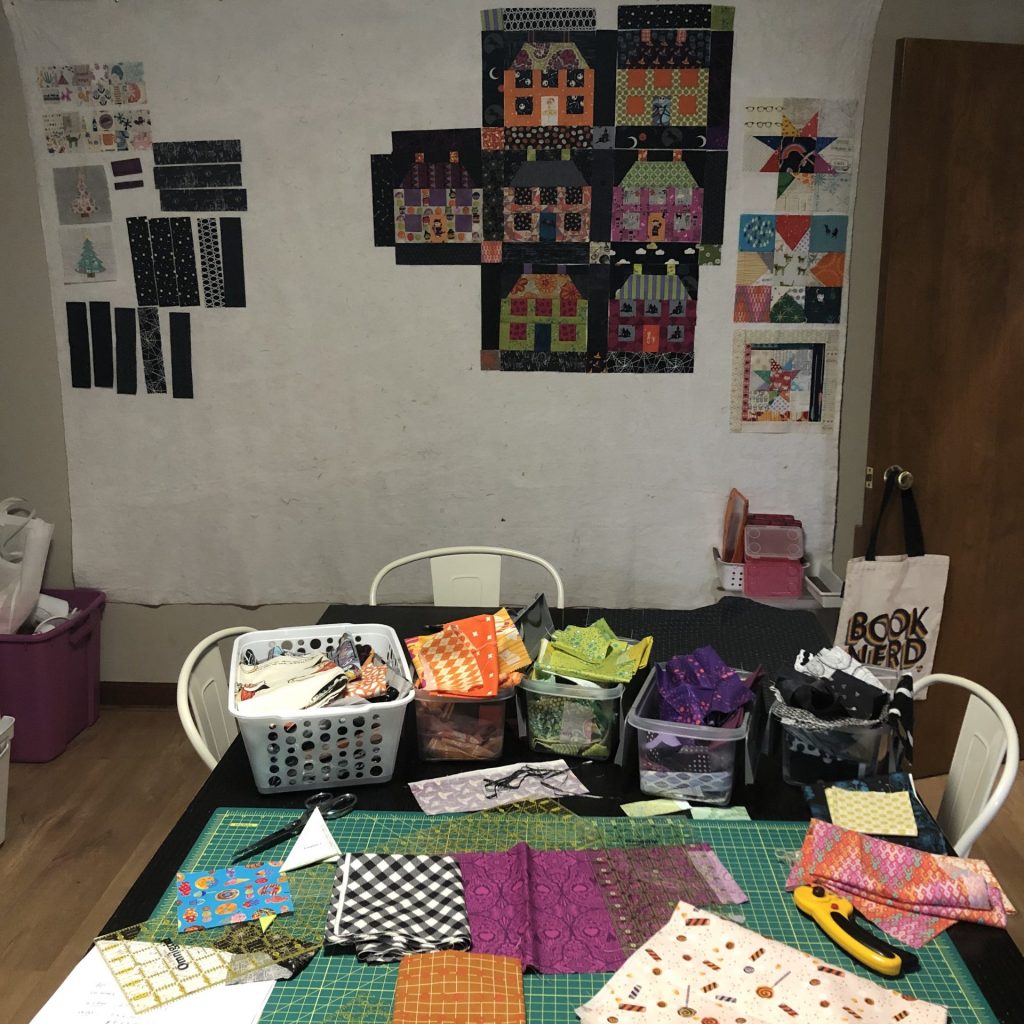 while the kids did school in the mornings, i plotted and planned, cut and sewed.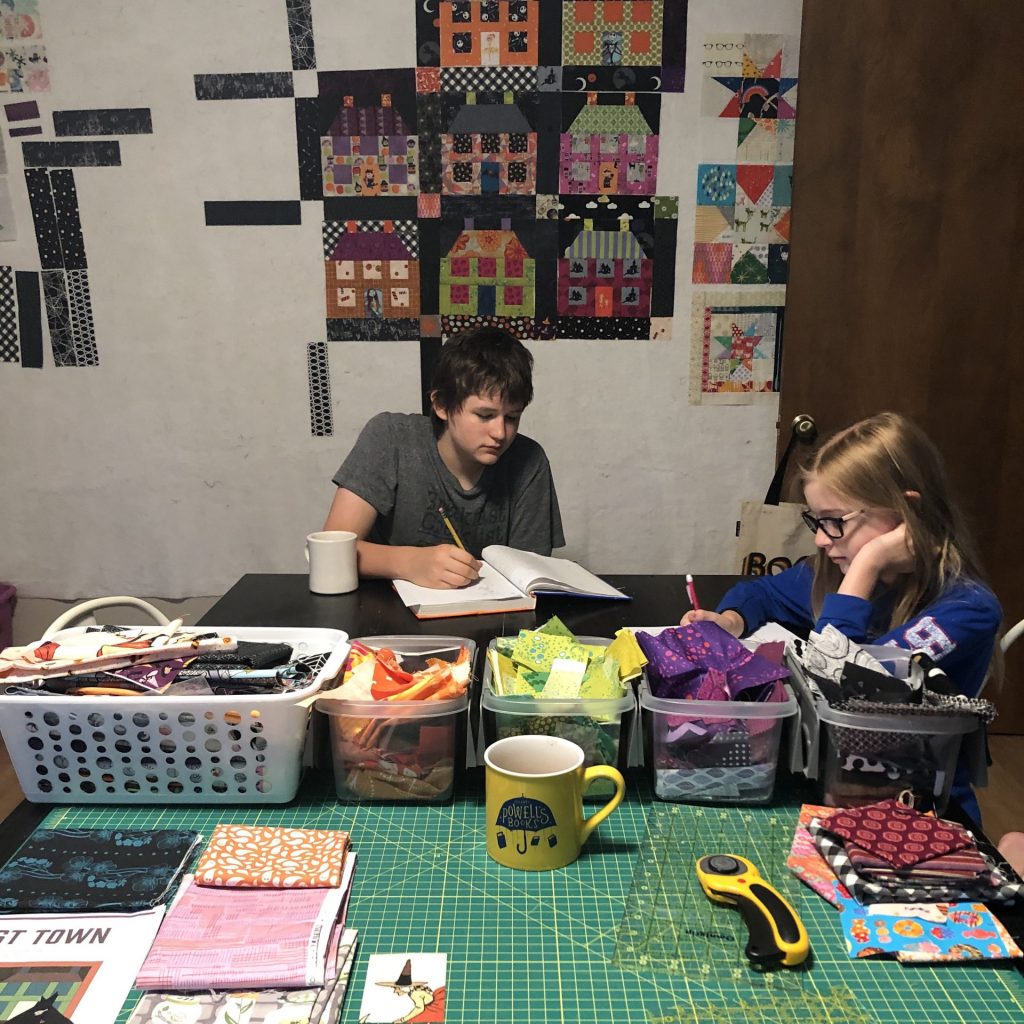 while i was creating these blocks, i ended up making several trips to local quilt shops. firstly, i am always short on black fabrics, so i picked up some basic blenders in black. i bummed a few scraps from friends. i found the perfect fabric for the doors at one shop, full of friendly trick or treaters. but as i got towards the last few blocks, i was really scraping the bottom of the barrel with my fabrics. then, like magic, my favorite local shop put out an entire new, super cute line by moda. my pal jen and i went over to stock up immediately.
and before i knew it, a quilt top was born!! i'll admit, at the beginning, i wasn't really in love. sometimes with scrappy quilts, the individual blocks are sort of meh, but the overall effect is pretty fantastic.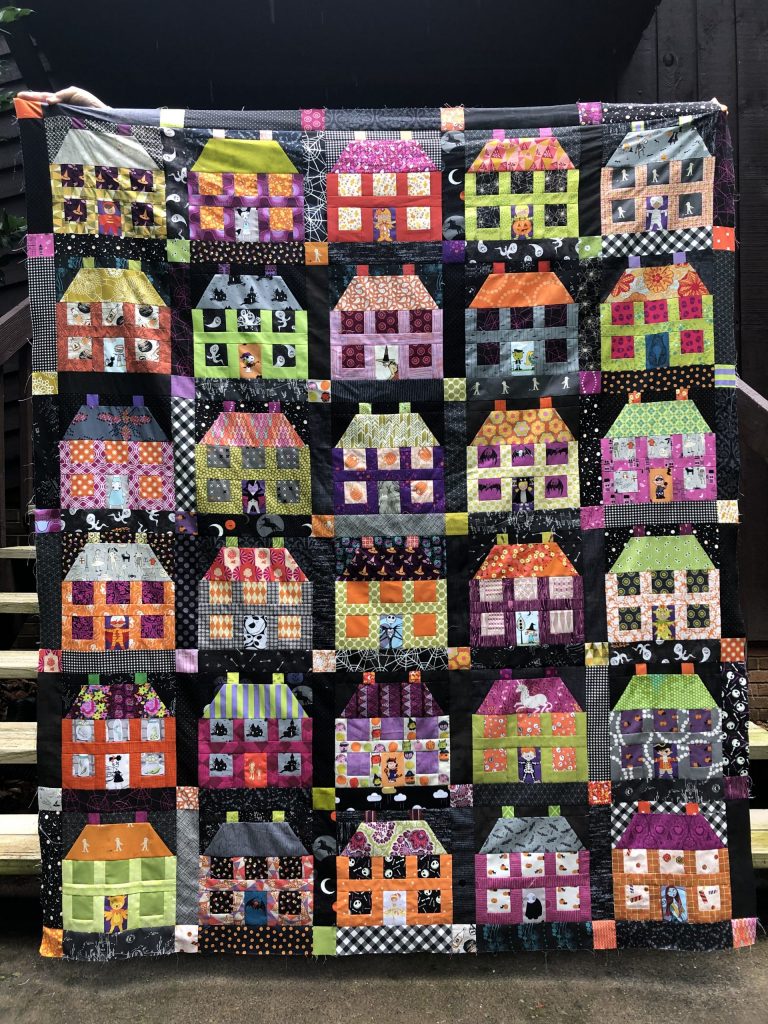 i made yet another trip to the shop, to find some backing fabric, and got to work basting. once again, the giant cavernous foyer at our stupid new house comes through for the basting win. and i will request an aerial shot from the loft for every quilt i baste from now on.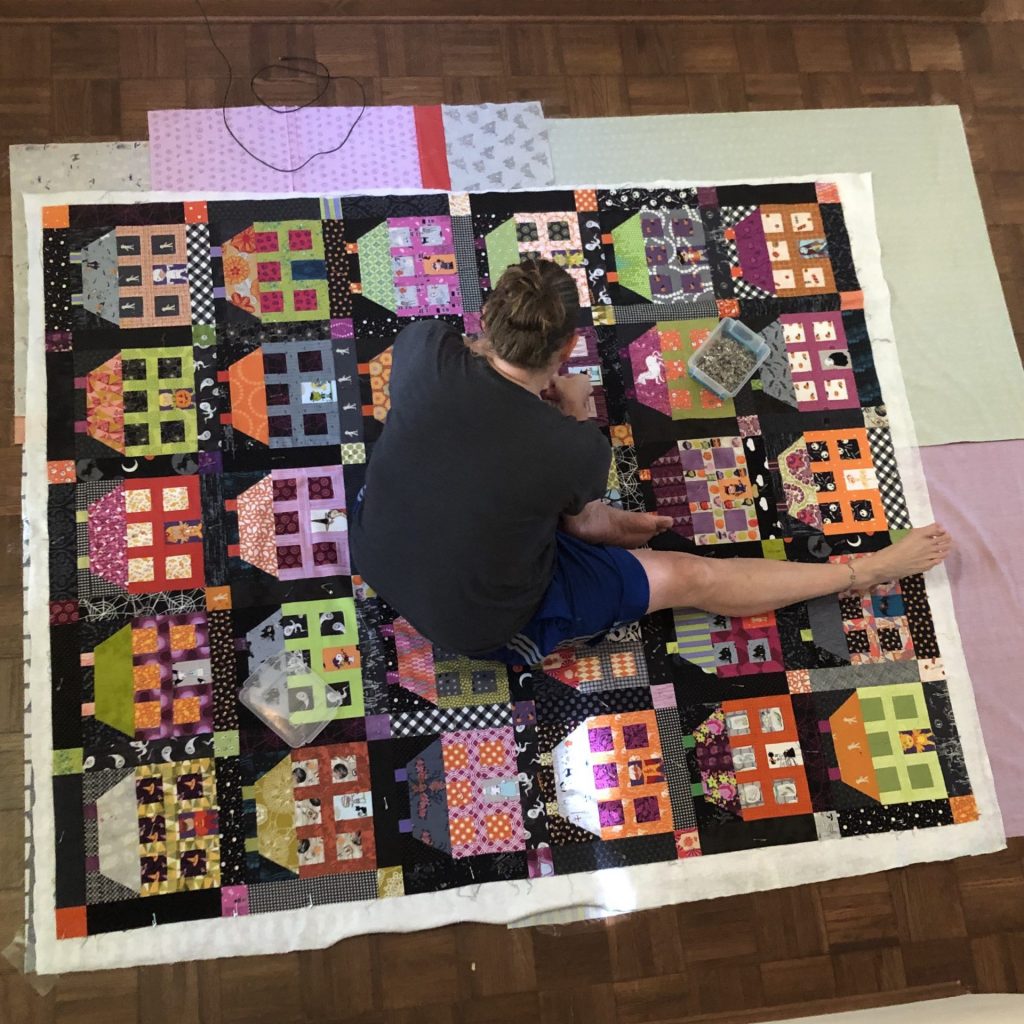 i really struggled with how to quilt this one. i usually just use white or light gray thread, but with so much black, i wasn't sure if it would be too contrast-y. but dark thread on the houses and lighter parts would definitely be too much. so, in the end, i went with a light gray, as usual, and an all over meander, as usual, and i think it works fine.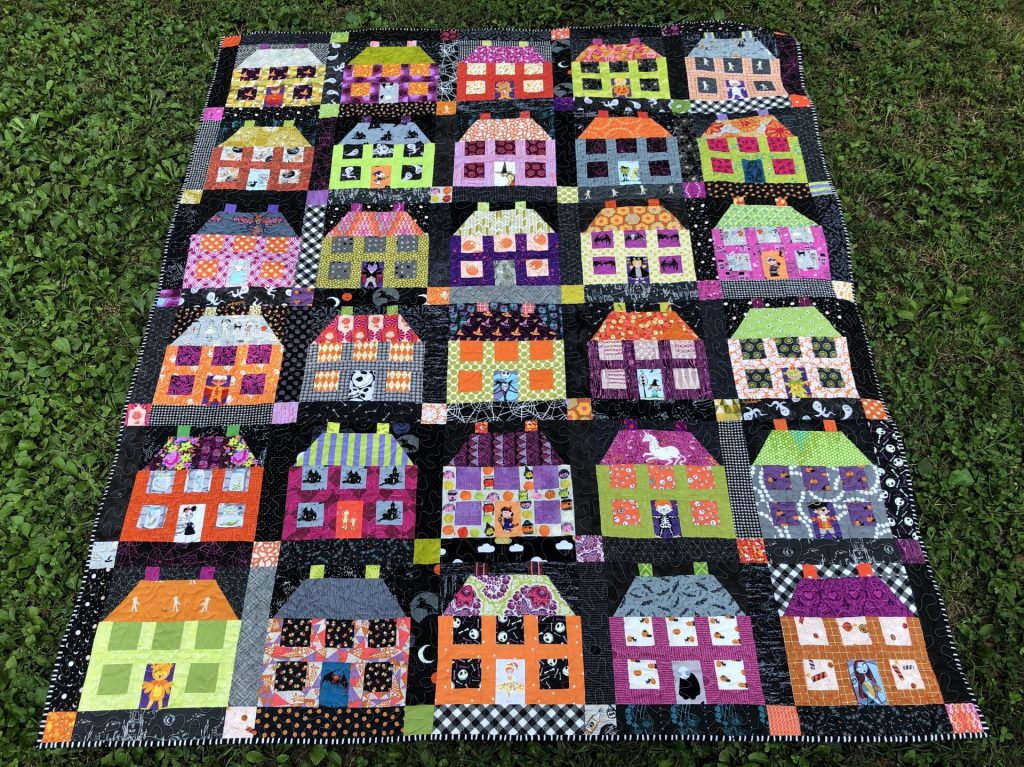 i love the backing too. i used some big yardage of clearance prints from my local shop. i added in a few big pieces of halloween prints i had more of, and pieced a little patchwork section of some of the others i had less of.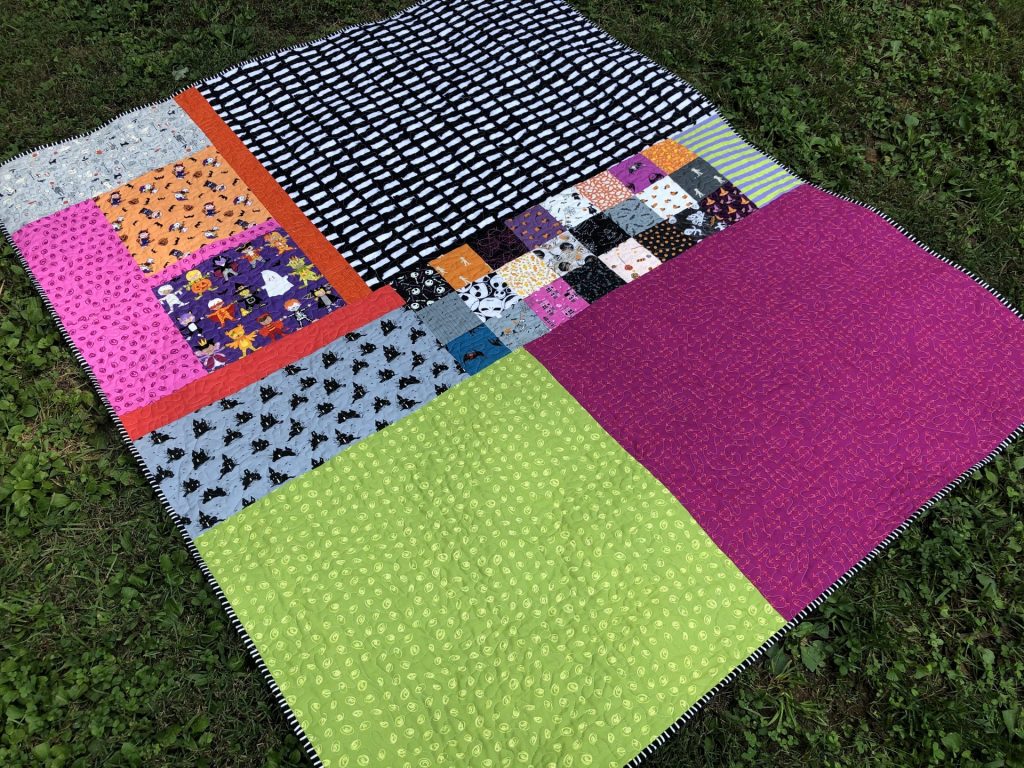 for the binding, i used this fun wonky stripe. i had debated a scrappy binding with lots of the same fabrics i used in the quilt, but at this point i was sort of over digging through scraps. and i definitely loved this for the binding.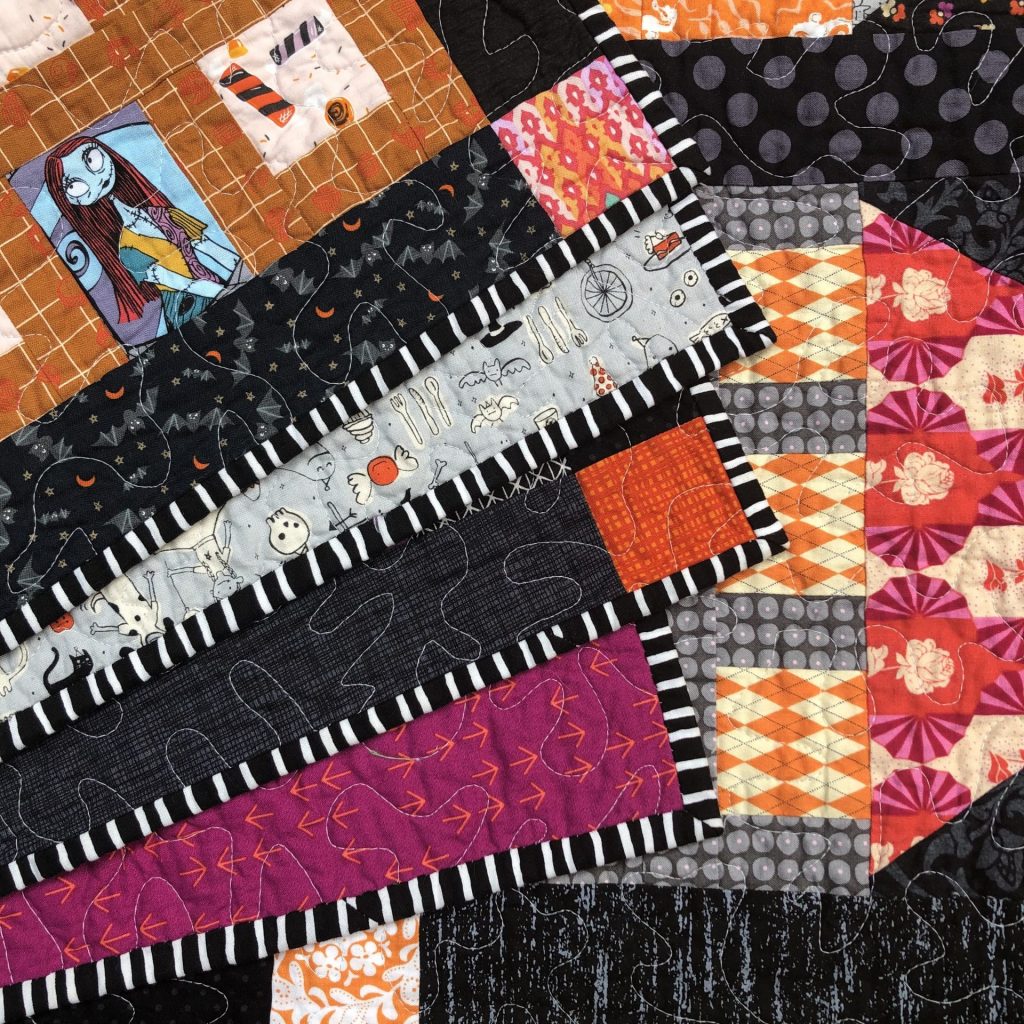 ruby is always glad to assist me in quilt photography. she thinks any blanket on the floor is meant for her.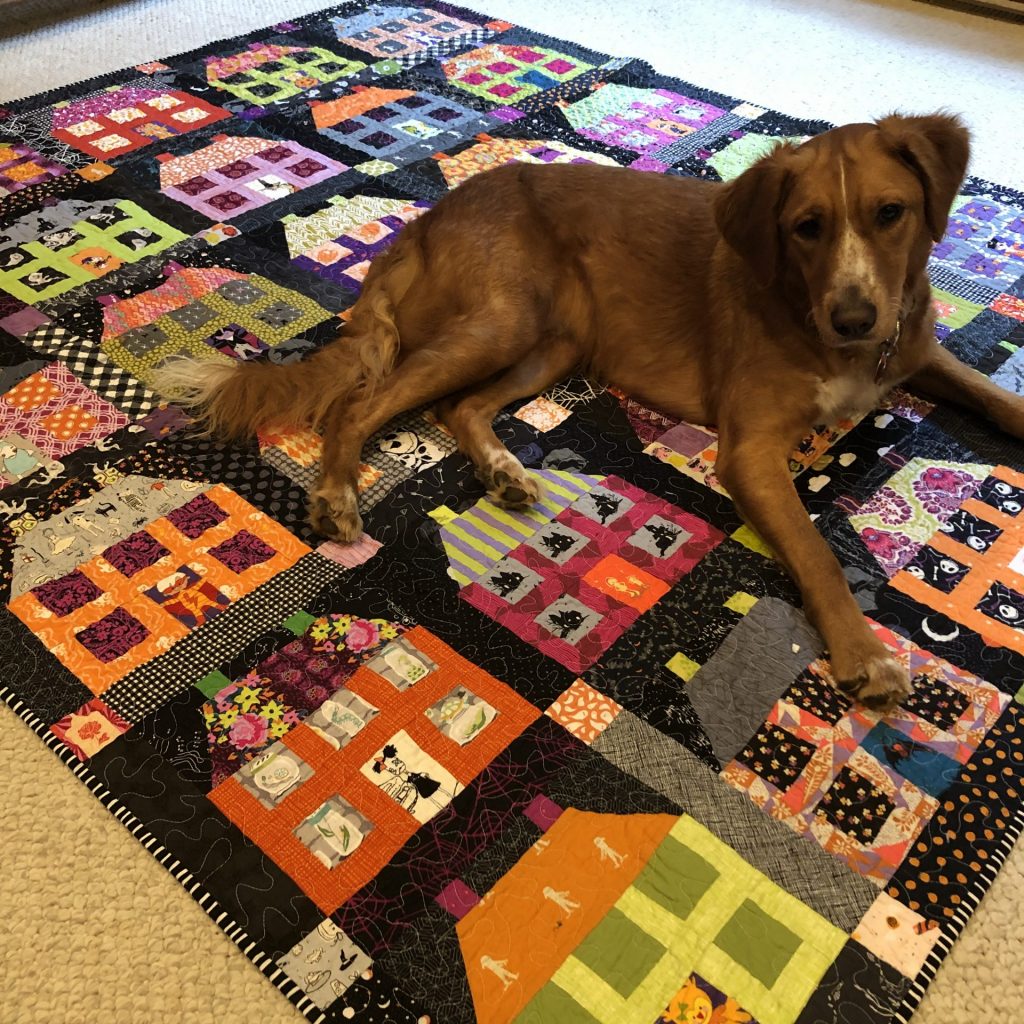 so now we officially have a halloween quilt. i seriously could not be happier with it. i might have to keep it out all year long. 🙂