these covid days and weeks and months just keep running together. taking forever, but sort of weirdly flying by. aside from our trip to the smokies and starting homeschool, our august was pretty boring. so here's a brief tale about the happenings.
firstly. the garden. it's been a very strange year. i only ended up with a few zuchini. i'm pretty sure something was feasting on them. my yellow squashes did ok, but i definitely expected more. i got quite a few butternut squashes, which i have roasted up and enjoyed. my jalapeno peppers have been doing great, but the poblanos and bells have yet to produce any fruits. the cucumbers did alright, but not as well as i had hoped. my tomatoes have grown and grown into a giant mass of what seems like exceptionally healthy plants. but there's very few tomatoes. and most of them are filled with holes. i was excited about a tiny watermelon that was growing quite nicely, only to one day discover it exploded and sad. anyways. it's been a learning experience and fun for the kids to help out with.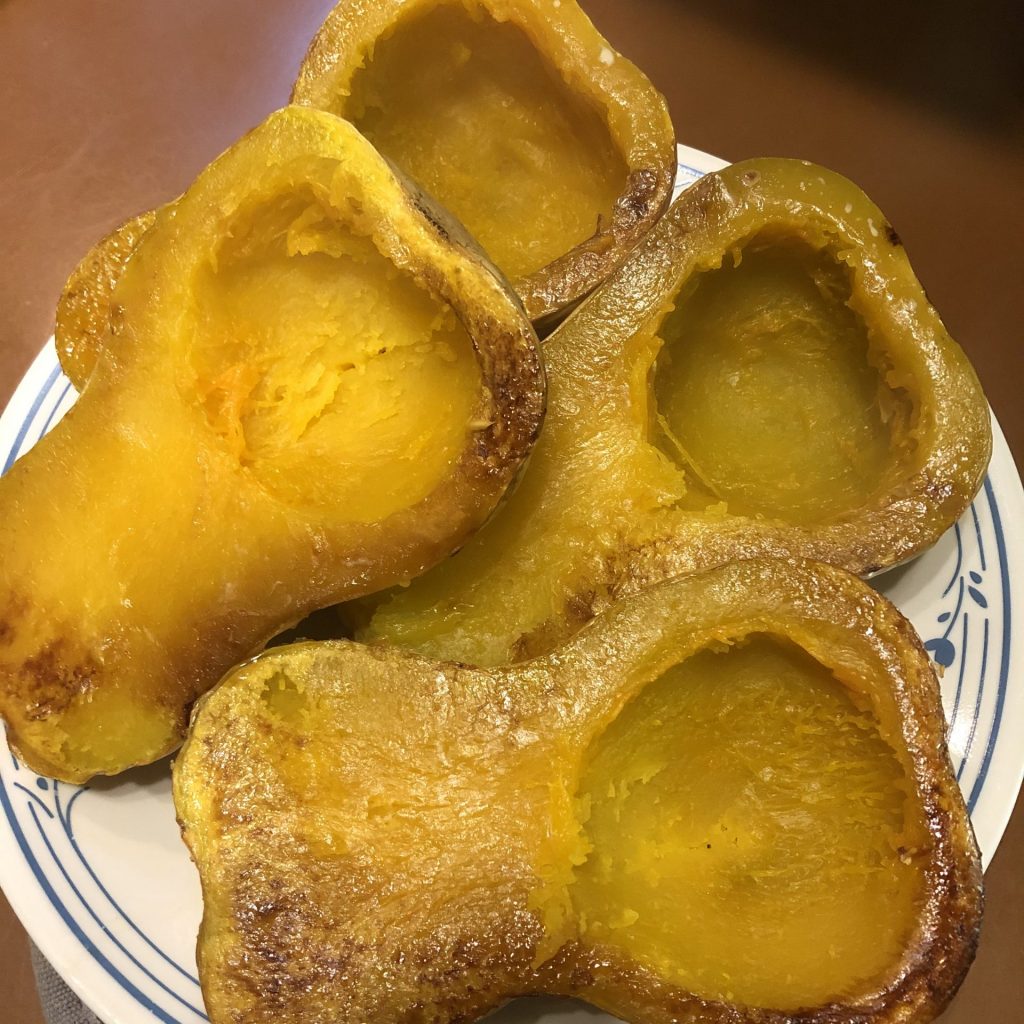 as always. our wooded property has lead to the discovery and capture of lots of interesting creatures.
so. this year was going to be the year i sent the kids back to a traditional school. i had made the difficult decision around the time that coronavirus struck. it was part of the reason we had moved hazel out of anna's room and isaac into my sewing room and my sewing room to where the homeschool room was.
but then. coronavirus didn't go away. and school openings were uncertain. so, we made the executive decision that this was probably not the best year to drop these three road/home/unschooled kids into public school. and alas, my sewing space was squished up onto one side of the room, and the homeschool room moved back in. hazel has dubbed it the "squilt room" and i have dubbed it "the room that was once the only space in the house that was entirely mine but now isn't even though every other person has their own space that is entirely theirs" but that's sort of long to say everytime.
anyways. when public schools started (virtually) around these parts, we were back at it. sigh.
i had high hopes of things being a little more organized and formal this year. for my sanity. but it was like two days in before we devolved back into our old habits. school on the couch and floor and no schedule. sigh again.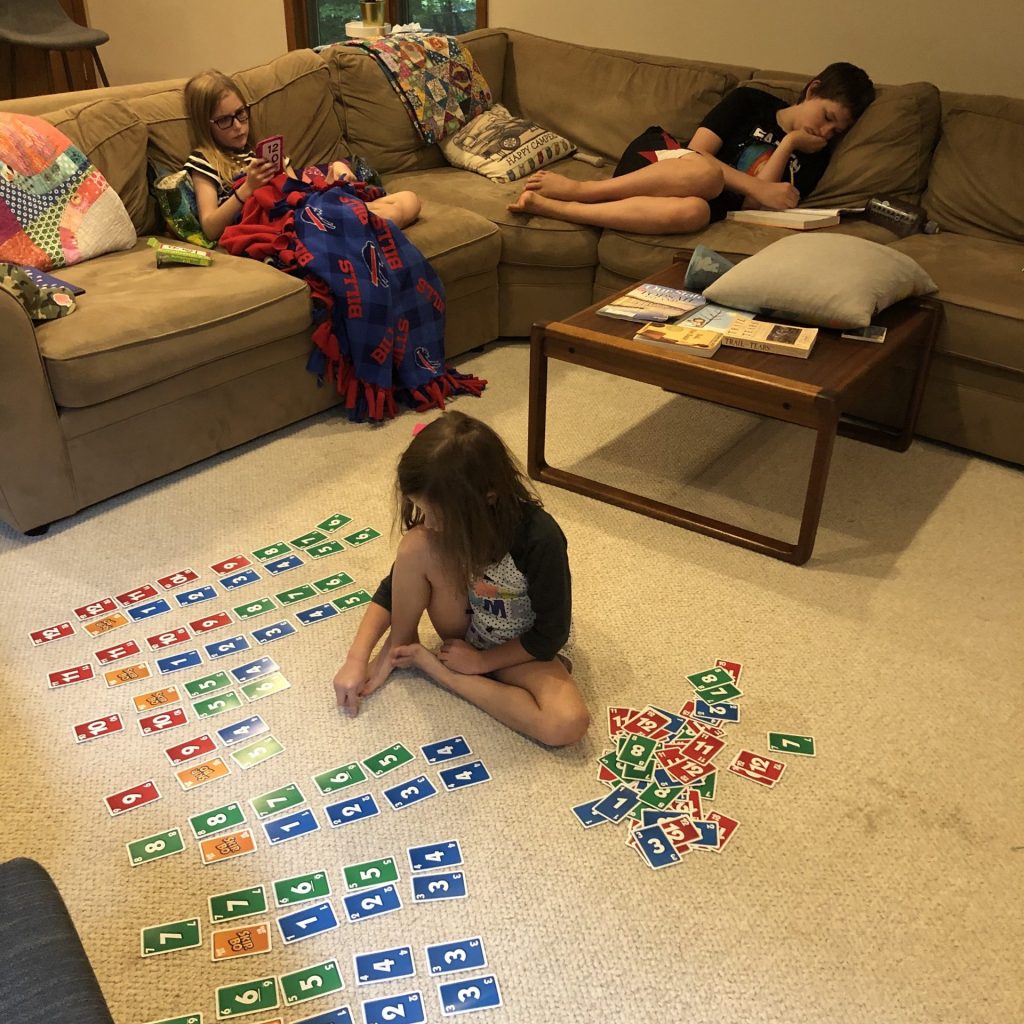 since we decided not to return to our co-op this fall, we've been trying to take advantage of some online resources to enrich our homeschooling. anna has gotten REALLY into art and has taken some outschool drawing and painting classes. during non-official-school times, she can be found drawing away.
isaac is taking some history and science classes on gamed academy, which uses minecraft to make things a little more fun and engaging for minecraft obsessed children. for one unit, he had to make an avalanche, using different ingredients to represent the different kinds of snow that layer to create perfect avalanche conditions.
as usual, i have waffled back and forth between trying to get my life together by adhering to a strict keto diet and pandemic comfort baking (and excessive eating). so while one day, derek makes up a family pack of fathead pizzas, the next day, i can be found baking and eating a loaf of banana bread. it's lovely.
thankfully, unlike early in the pandemic, we have been able to see friends fairly often. before she started back to a new school, hazels' bff from co-op invited us over for a pool day. it rained. they didn't care. isaac and his longtime buddy alden have been making an occasional bike ride to a mcdonalds about five miles from our house. (it's strange that this is even a remarkable moment because when i was his age i was gone all day long, riding my bike around town. but times have changed. and we live on narrow, rural, winding, shoulderless roads, filled with an army of texting drivers). also, after our initial hike with isaac's old classmate, j, they have become fast friends, and have had several playdates. except you're not supposed to call them playdates. it helps that my girls love j too.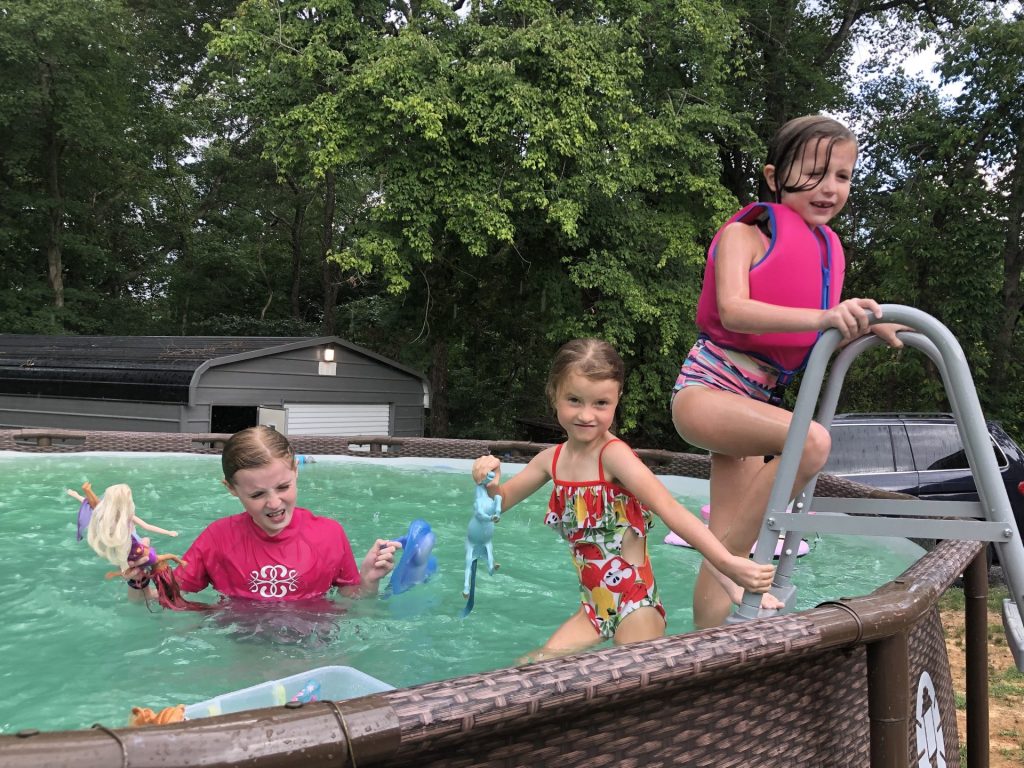 even though every kid has their own entire room, my living room often resembles a play room. it usually starts small. and grows and grows. until i have to be a mean mom who requires them to at least consolidate it. then the cycle repeats. but at least it's legos and not screens?
august also happens to be derek's birthday month. i had the fantastic idea to try to find him a guitar hero guitar and game and a used wii u for his birthday. i worked really hard to keep it a secret. i made several visits to gamestops and ed mckay in greensboro and winston to no avail. then i found a guitar on facebook marketplace, so the kids and i drove three hours round trip to pick it up. (plus a bonus hour when a semi caught on fire on the highway). approximately minutes after i got home, my pal victoria texted me from the thrift store that there was a guitar, so the next morning, i went to check it out. it was only $8 and still in the box! at this point, having no luck finding a wii u, i planned to borrow derek's parents wii, and pick up the game at gamestop. but it didn't open until noon, so i figured i would check out mckay one last time. and, lo and behold, they had a wii u!! i bought it, along with a couple guitar hero games, and we were all set for derek's epic birthday gift.
but, his birthday was going to fall during our time in the great smokies, so we decided to give him his gift early. that way he could enjoy it (and pick up any other necessities that i had forgotten) before we left. he was very surprised and happy. and i basked in the glory of actually pulling it all together in secret.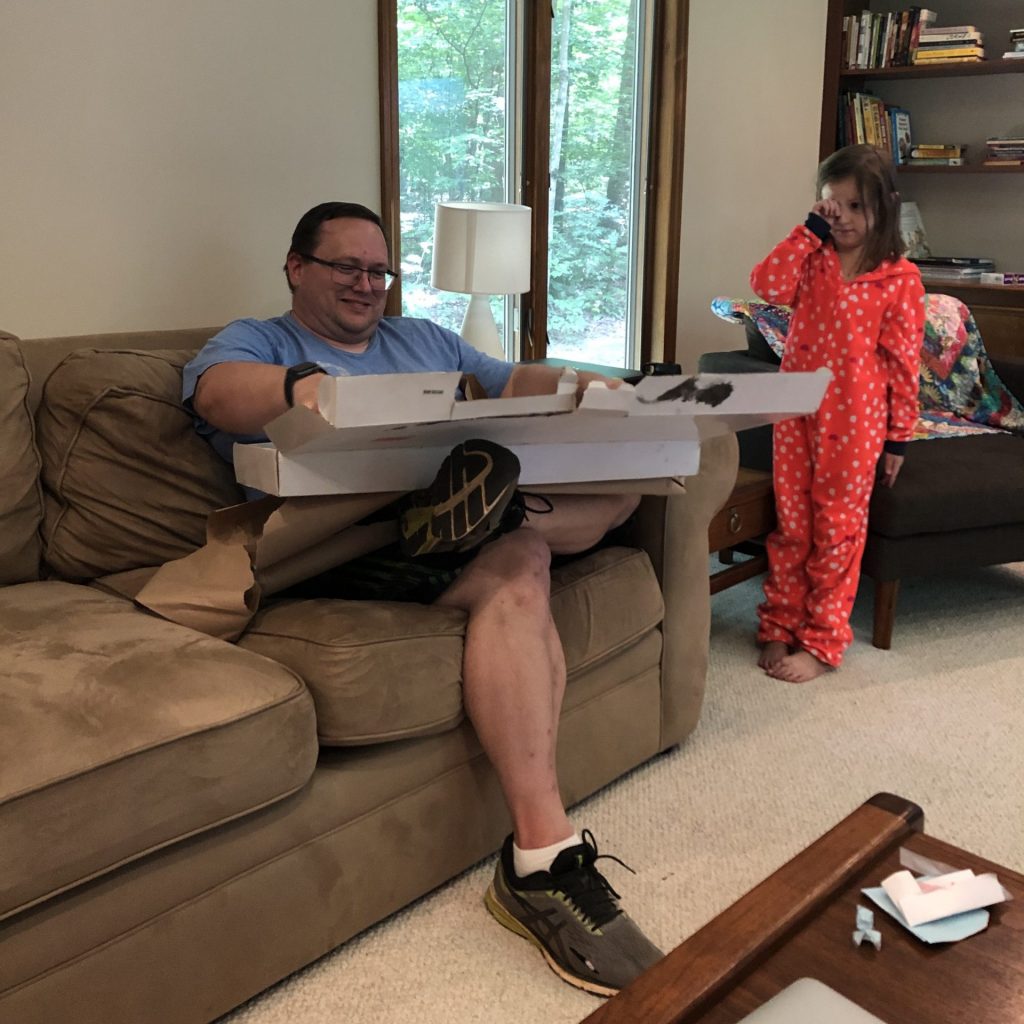 in other august news, crazelnut lost another tooth. making her super cute. also making her super cute? this hero costume derek's parents gave her.
and the annababy got glasses. she had been complaining of blurry vision and it turns out she has monovision, which is where one eye is near sighted and one is far, which is pretty taxing on them, i guess. she's pretty cute in glasses, and she looks like a bigger nerd than she already is.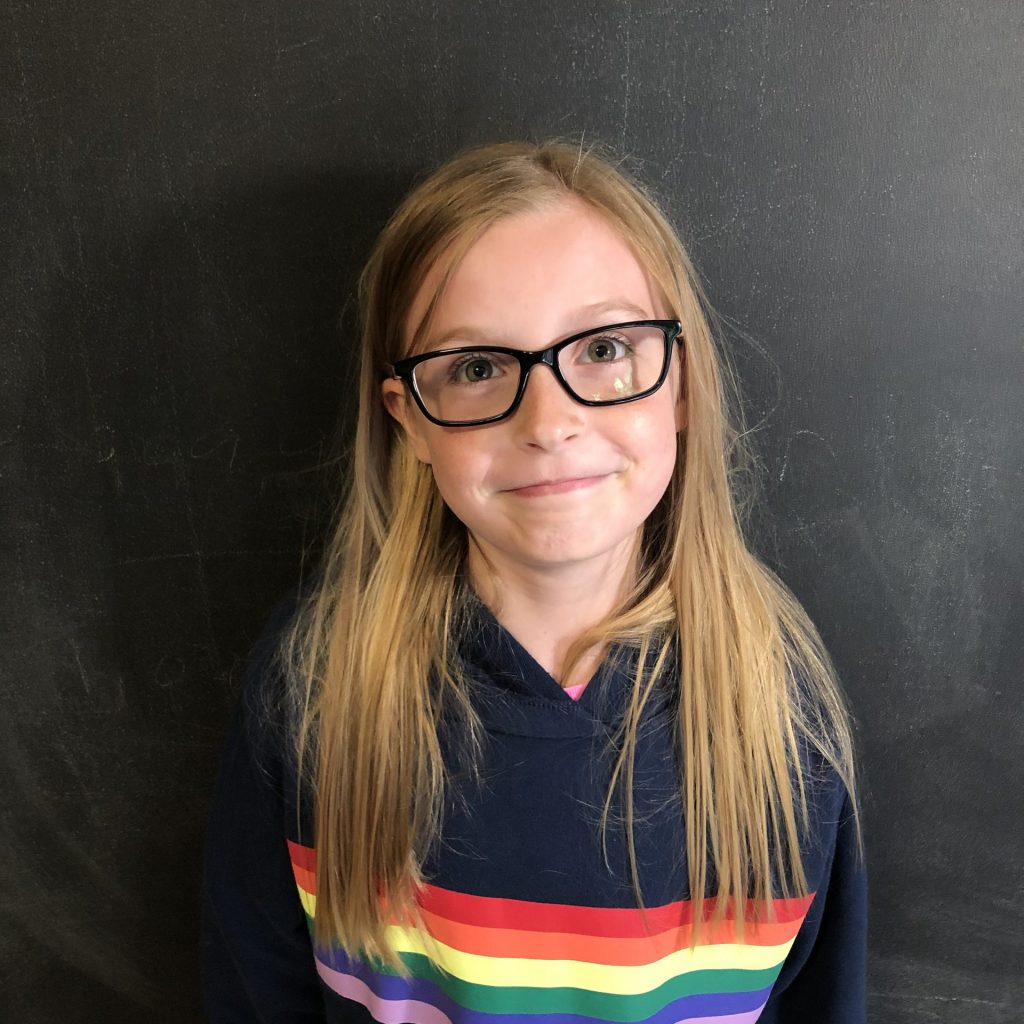 no big news in the chicken world. we didn't do a great job of handling them often as babies so they aren't particularly friendly with us. sort of a bummer. but they are pretty. and it's nice to feel like we don't waste a bunch of foods when we feed them our scraps.
and lastly, as always, a monthly round up of ruby doobs, our favorite furry family member.
and. that's august.