just north of our campground is the most visited state park in north carolina. jockey's ridge state park is home to the tallest sand dunes on the east coast and the ecosystem and history is very interesting.
our first visit to the park was to take a ranger guided kayaking trip. isaac didn't want to go, so it was just the girls and derek and i. me? i. i don't know. anyways, we were the only people signed up for a kayak trip in october, so we had a quick info session and off we went.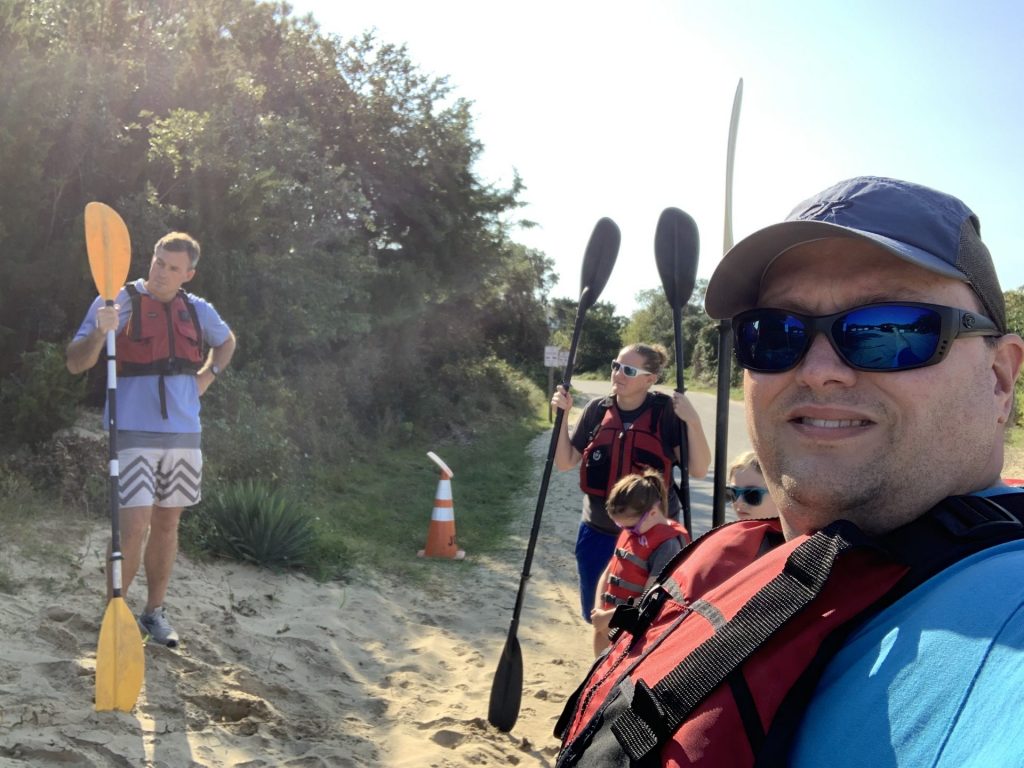 i was in a kayak with hazel, which meant the back of her head was my view for the day. we didn't stay together very well, and our phones were mostly tucked away for safety, but derek did get a shot of hazel and i on the open waters.
we paddled off to a few spots, were we docked and got out to learn about the park from the rangers.
they told us about how the dunes sustain life and the history of the ownership of this region. we learned about the different colors of sand and the animals that live here. i've long forgotten almost everything they said, but we paid attention, i promise.
after a few stops, we hopped back in and paddled back to the beach, joining the rest of civilization and leaving this desolate place behind.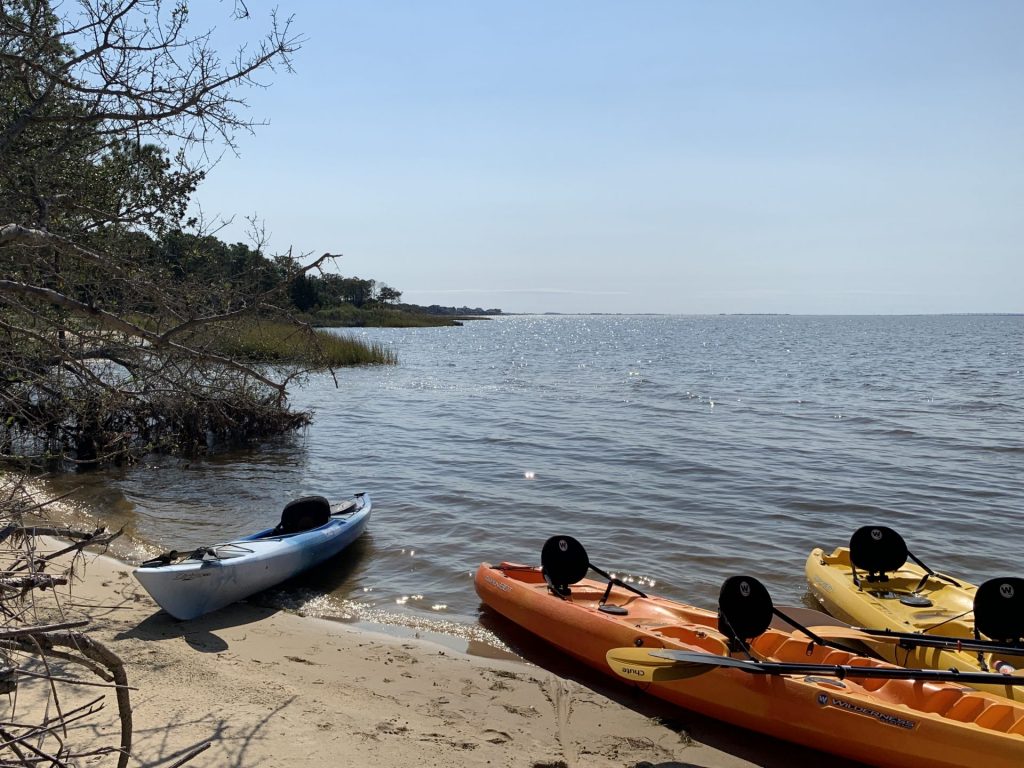 our second visit to jockey's ridge came on our final night in the outer banks. we had heard it's one of the best spot to watch a sunset, and with very little cloud cover, we knew we would at least see a sunset, unlike a lot of previous nights when it was blocked out. we packed up some snacks and drove to the park and started the longer than we realized hike up to the top of the dunes for the best viewing location.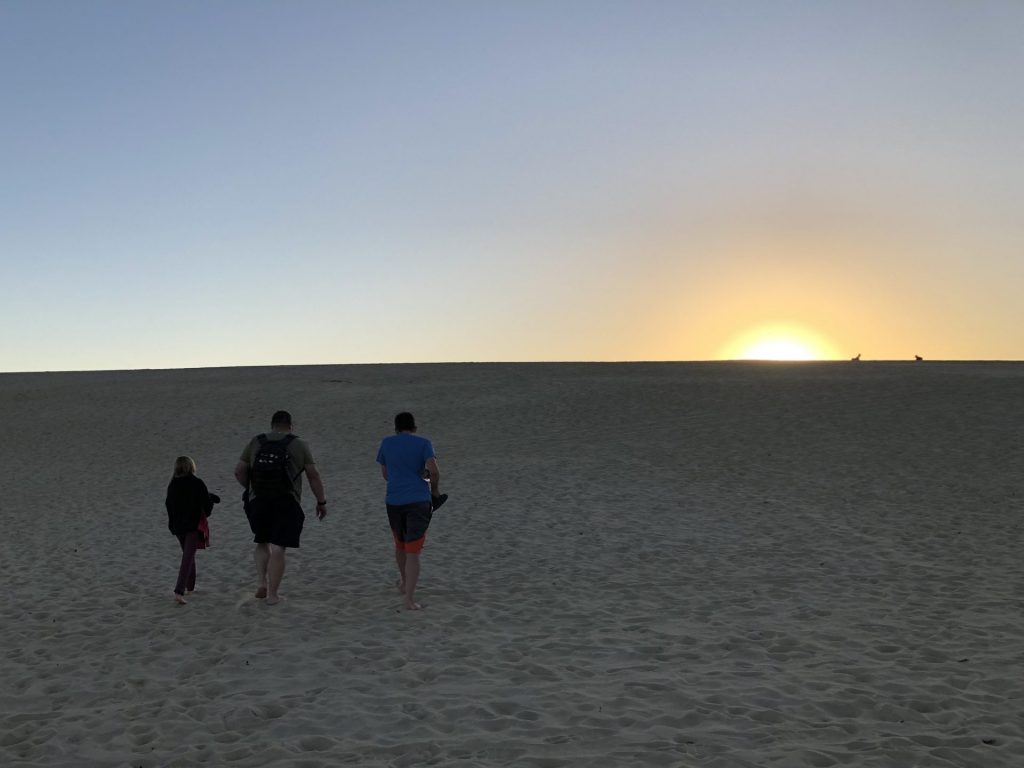 that golden hour sun appeared as we got close to the top.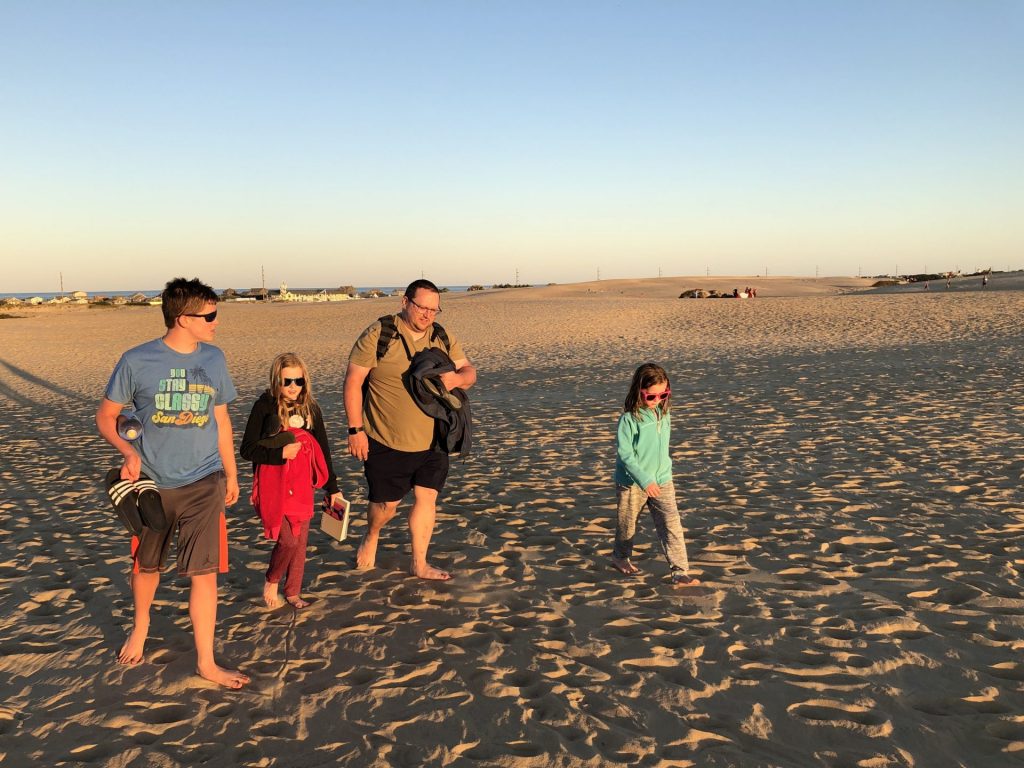 we found a decent location, away from other people and set up shop for our official sunset viewing.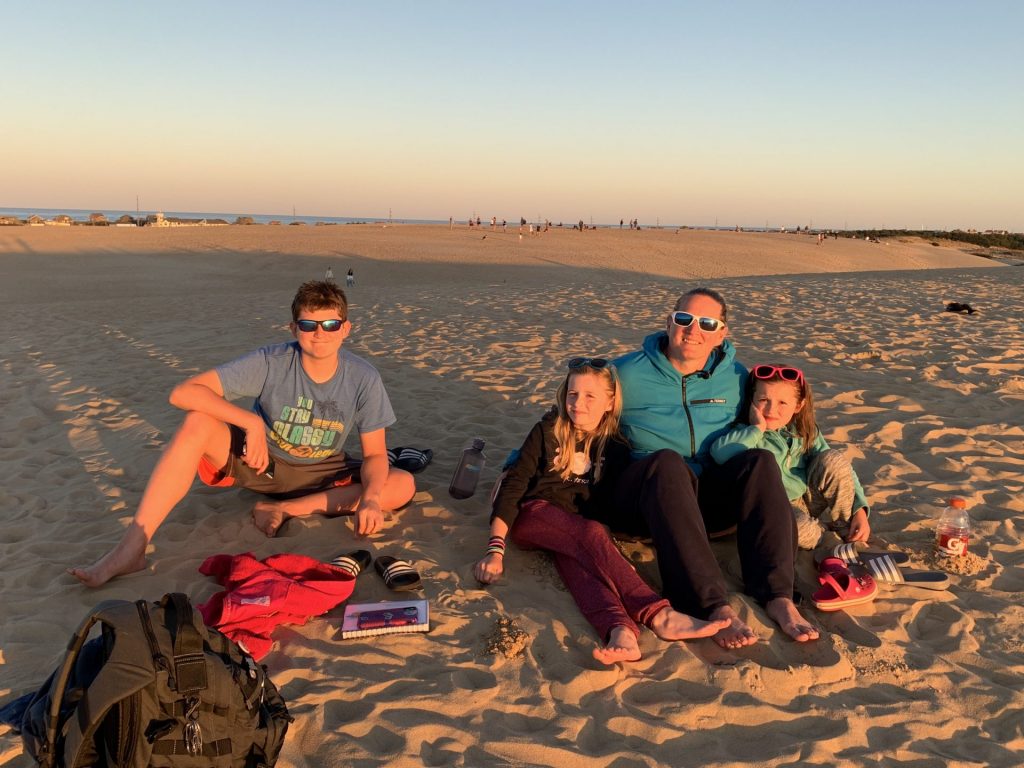 waiting for a sunset requires numerous selfies.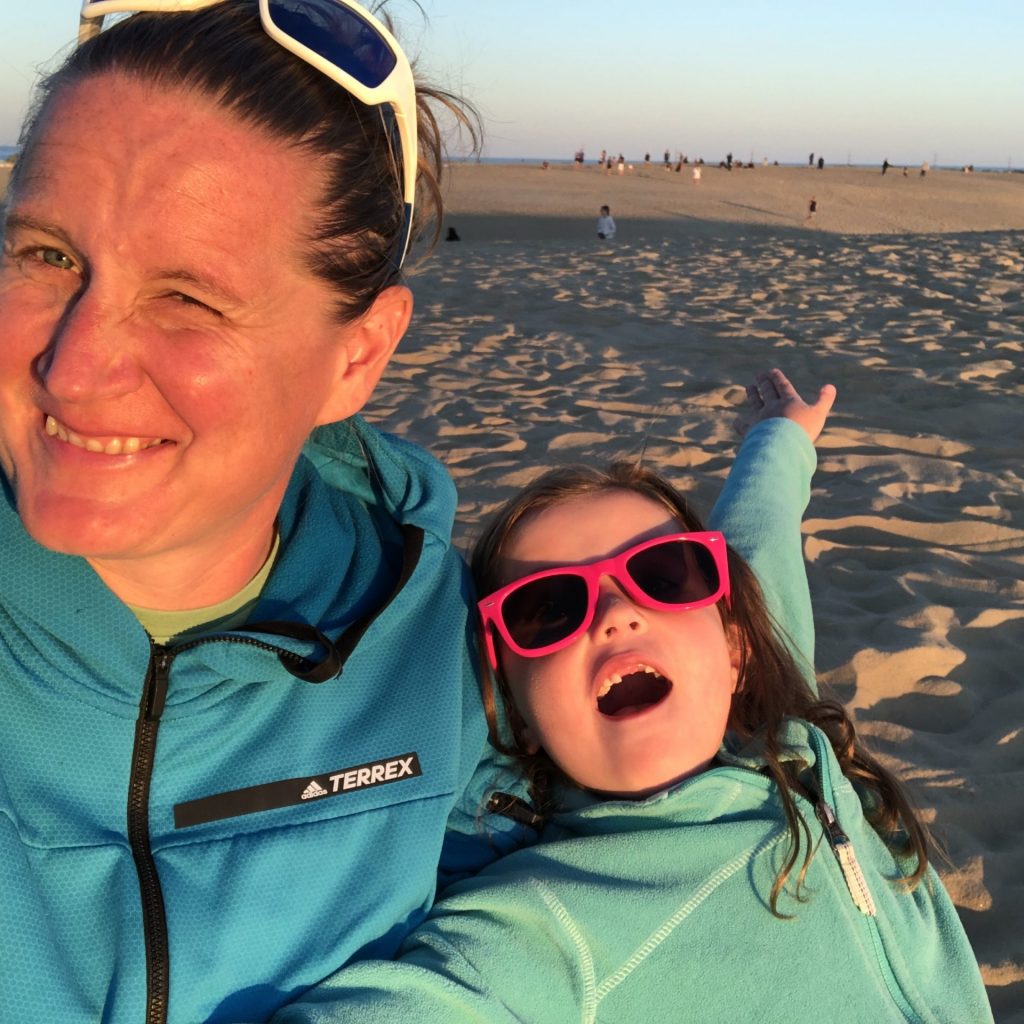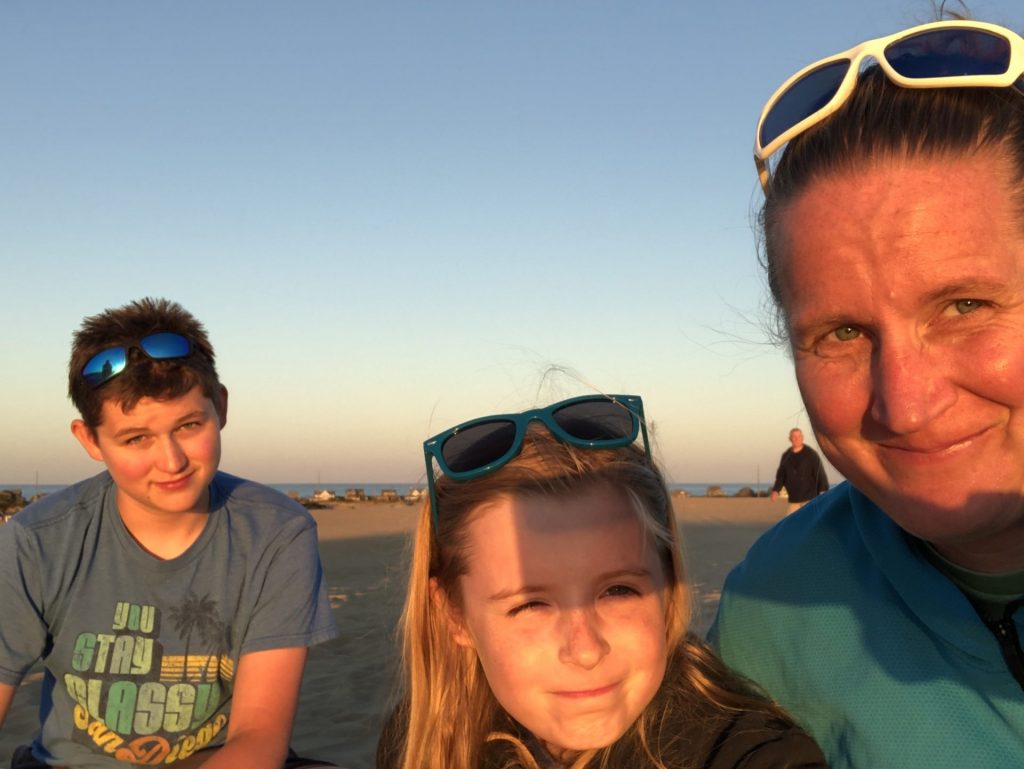 of course the girls took the opportunity to practice their cool influencer ballet and yoga poses with the sunset backdrop. and i captured a fun silhouette pic of the fam at the top of the dune. all obvious things one does during a sunset viewing party at the beach.
the views did not disappoint as the sun ducked down over the sound, reflecting across the water. we were glad we made the journey and it seemed like a good last hurrah for our outer banks trip.