ok! we've made it to my last post about our time in the outer banks. we were there for almost two weeks, so even though we had a lot of excursions, and spent a lot of time at the beach, there was still time back at camp, just hanging, doing boring stuff. this is a post about that.
on our first night, we had a decent glimpse at what we thought would be nightly cool sunset colors. it didn't happen that way, so i'm glad i jumped at the chance for this purple sky photo of our little rig.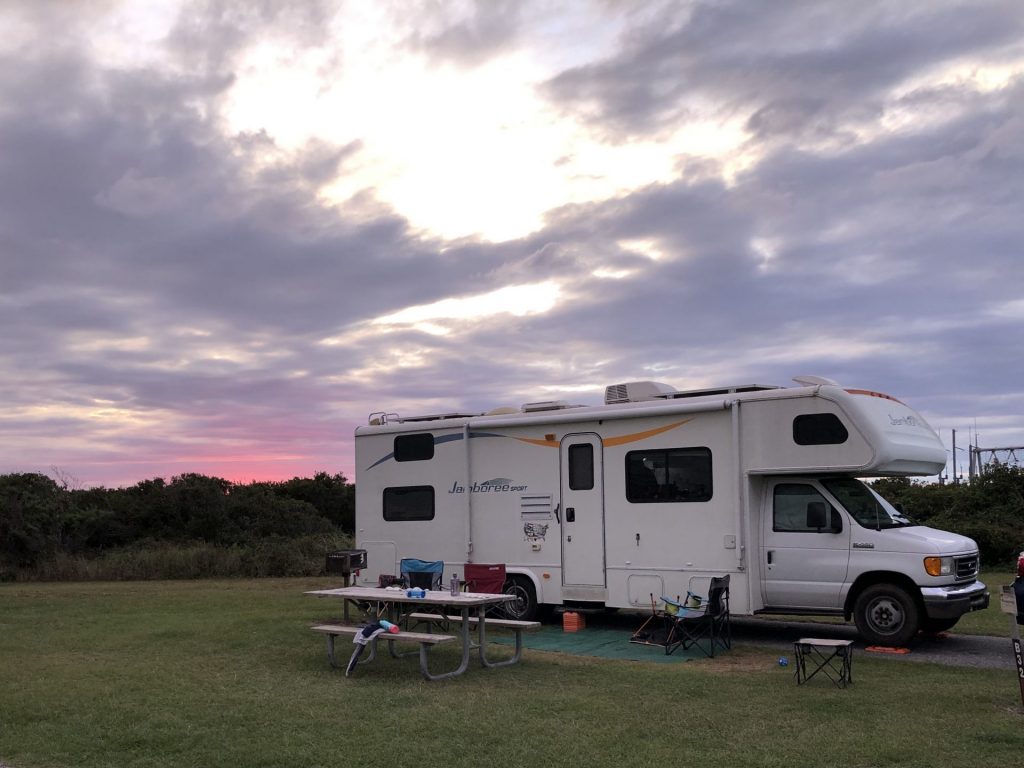 on another night, we drove over to a little fishing spot near our campground, hoping for a decent sunset, only to discover that there's a little island in the sound directly between us and the sunset. we found a giant grasshopper in the parking lot though, so we count it a win.
and then on a different night, we had high hopes for a cool sunset, so we hopped on the top of the camper to see over the trees behind our site. the beginning was promising, but then the sun went behind some clouds and that was that. but, we got to hang out on top of the camper, so also a win.
ruby has taken up permanent residence on the back of the couch when we take road trips. she enjoys the view out the window, and we don't mind because it frees up couch space. we still did school on most days and there's always art to be drawn and books to be read.
we obviously took advantage of all the fresh local seafood. this is one thing i really miss about traveling, exploring the local food fare. derek does a great job on our tiny little grill and everything was tasty. derek and anna even took a little fishing charter one day, and they caught us some tasty red drum to enjoy.
being on vacation in the middle of the ocean did not stop us from watching the bills game. derek always seems to find a way for me to watch the games, and with a publix nearby, wings were my only option for gametime snacks. other camper activities for the week included working on junior ranger books and assembling a bodie (booty) island lighthouse mini brick replica.
long rv trips also mean one thing. laundromats. especially beach rv trips. so much sand. salt. wet towels. we escaped with only two trips over the two weeks, which might be a record. the wash house franchises in eastern nc are pretty great. clean. machines that work. money cards instead of loose change. i approve. as always, the kids were glad to accompany me in exchange for bonus screen time.
we spent a lot of time in our "yard" with ruby, who likes to supervise all canine related campground happenings. the picnic table also served as a massive seashell collection staging area.
our outer banks trip was pretty great. i didn't know what to expect, knowing that all beaches have a different feel to them. i don't like touristy, and our little campground area was anything but. we give it 10 thumbs up.