it has been a really REALLY long time since i have made a quilt for isaac (nine years to be exact), and he has been asking for a minecraft quilt for quite awhile, so finally, one day, i pulled the trigger. i had him pick out twenty characters/blocks that he wanted and then set off (several times) to sewingly yours for the necessary solids. i'm sure they were ready to cry everytime i walked in. while i was planning, hazel decided that she would like a minecraft quilt as well, so i doubled everything up and got to work.
hazel chose a purple grunge background, while isaac went with gray. they both chose their block layouts, with little regard for balance, composition, or any other aesthetic property.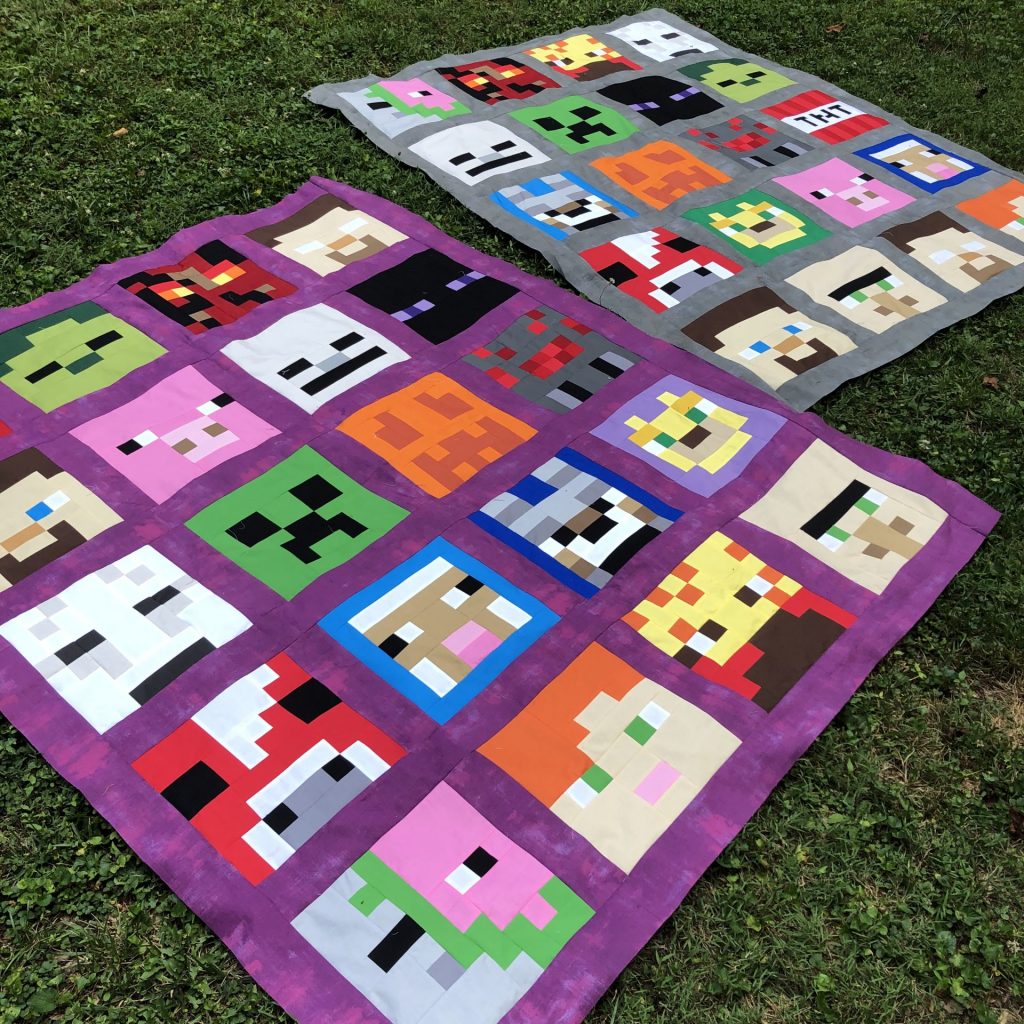 once the tops were complete, they sat unfinished for a really long time. i made several trips to joann's and hobby lobby, searching for minecraft themed fabric, but thanks to mask making and pandemic related supply chain interruptions, both stores are like a post apocalyptic wasteland. i scoured joann's website for availability at any semi-local stores, and even stores local to my mom, to no avail. minecraft fabric was nowhere to be found, aside from price gouged scraps on etsy or ebay.
eventually, i decided to go in a different direction. i ended up piecing another entire top for the backing of isaac's quilt, and once that was ready, it was time for basting in the foyer with obligatory loft view photo. hazel gave lots of assistance.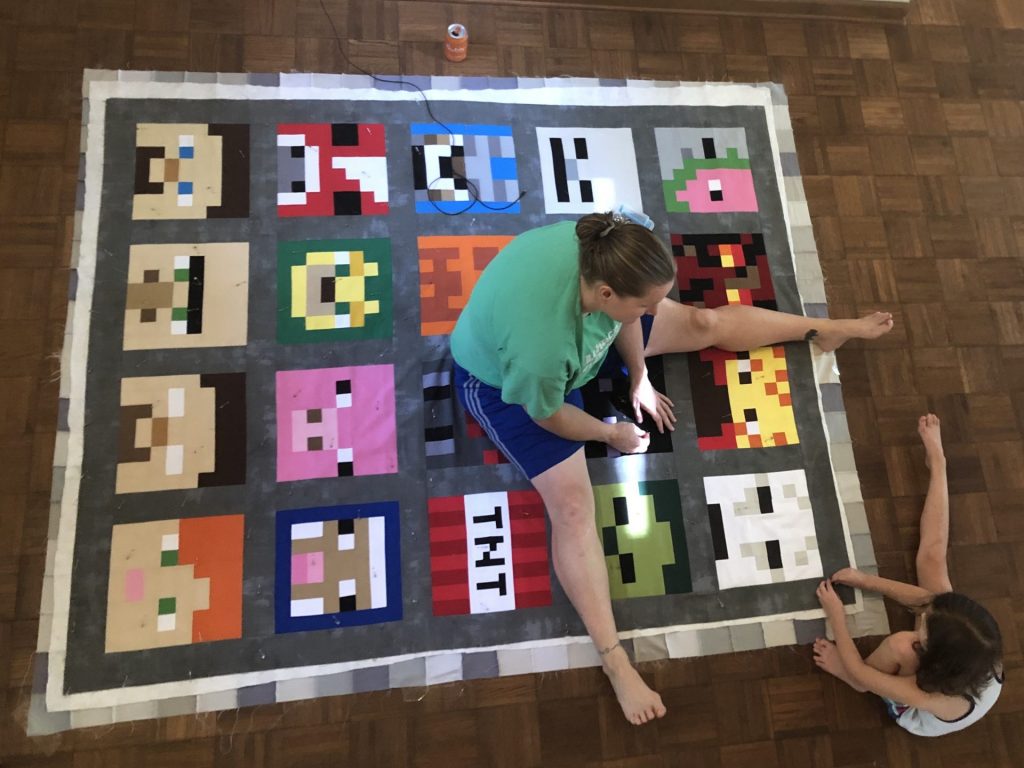 i quilted it with straight(ish) grid lines, to keep with the pixel-y minecraft theme. and bound it with dark gray solid, per isaac's request (he's a boring boy).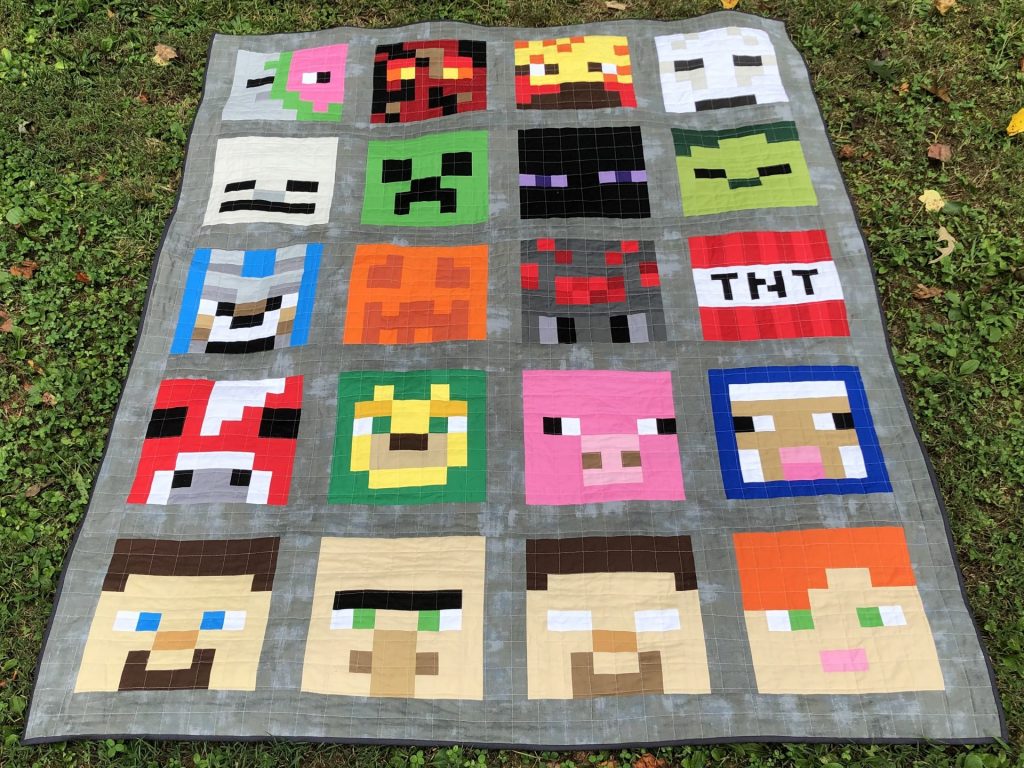 and now. for that pieced backing i was telling you about. i ended up going with a giant diamond sword on a gray background and i LOVE the way it turned out. i'm almost not mad about all the time i wasted looking for minecraft fabric. and i think using solids ended up being cheaper, unless you value my time.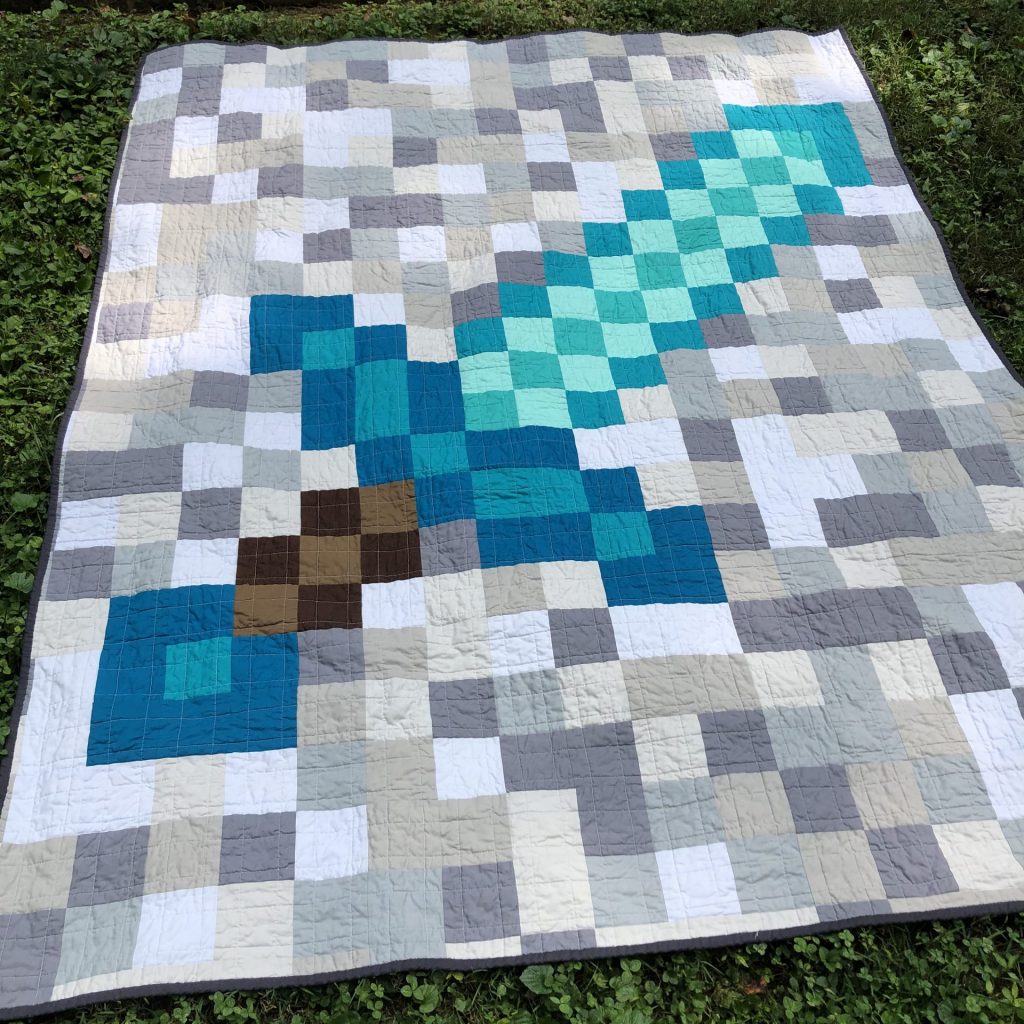 i don't know which side is actually my favorite.
the boy is very happy with his new quilt which makes me happy. he even gave me back a quilt that he commandeered a few years ago.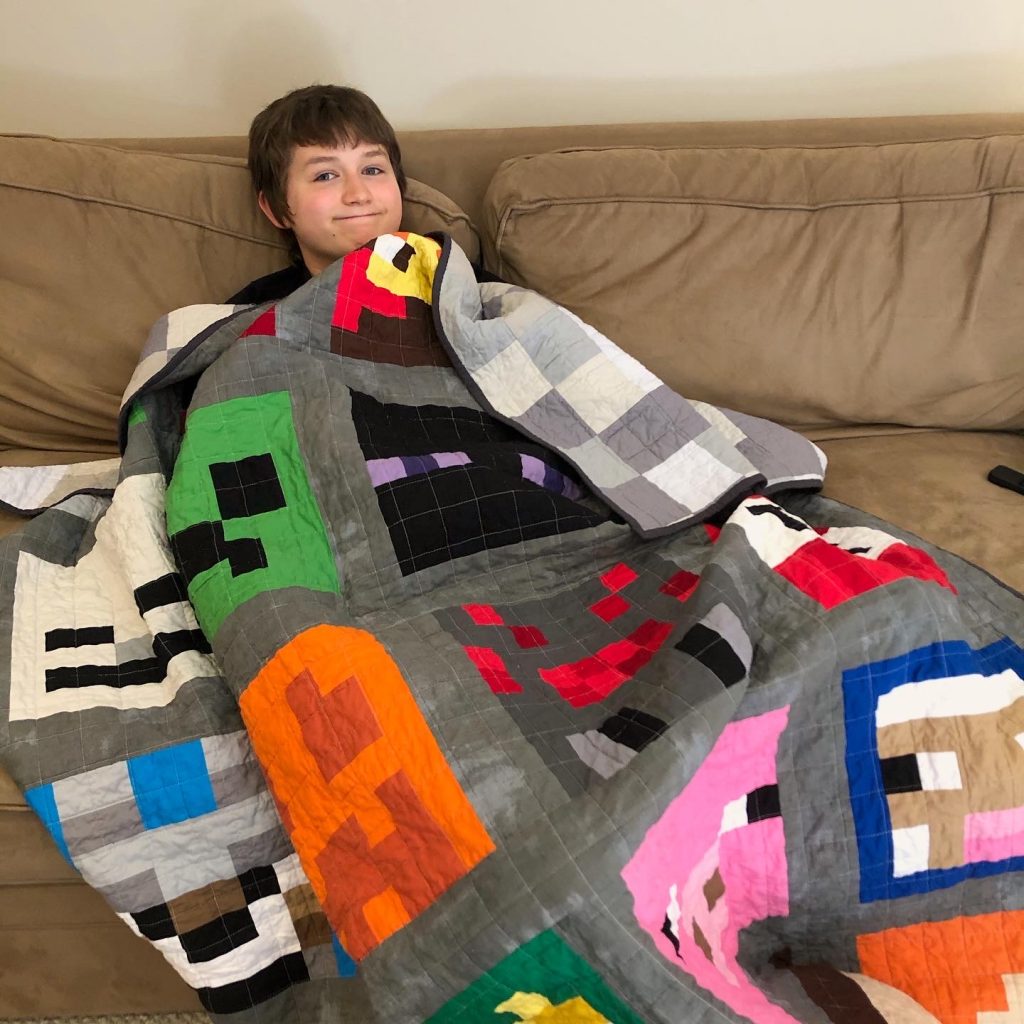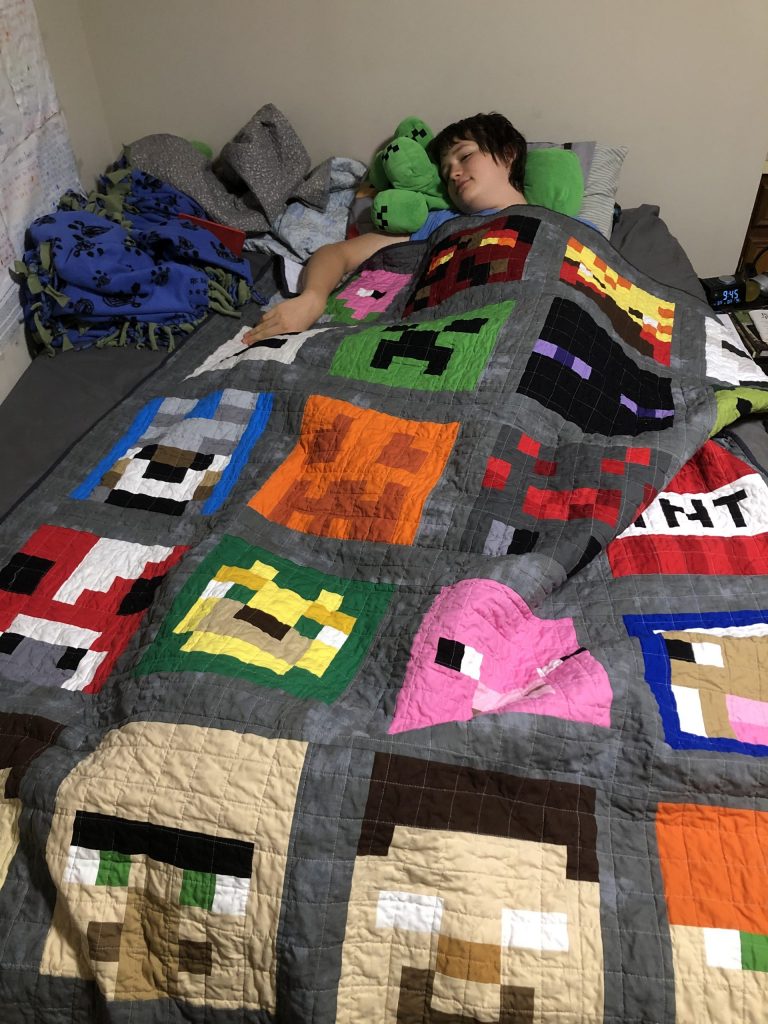 after seeing isaac's quilt backing, i assumed hazel would want a similar effort, but when i began to ask her about what color sword or other weapon she wanted, she informed me that she just wanted "purple fabric with pink and orange dots" for her backing. so, i took her to the quilt shop to select fabrics, which was an incredibly long process, but not as long as piecing another 480 squares together. 🙂
and then, it was time for basting. here's a rare, non-aerial view of our cavernous foyer during basting procedures.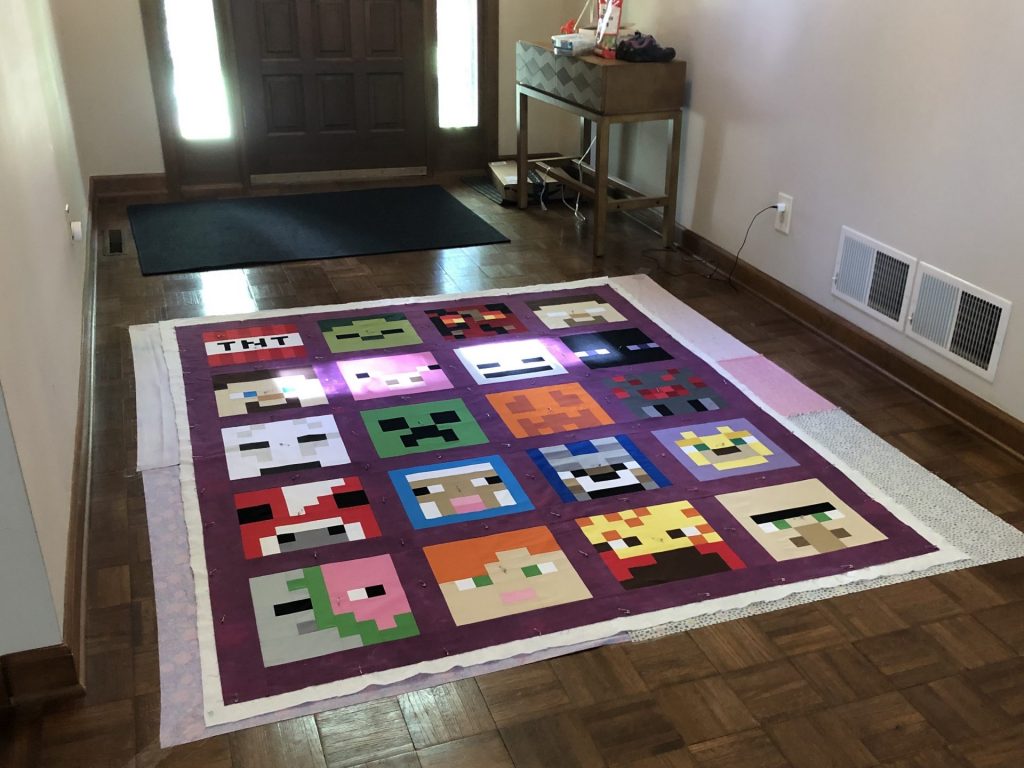 i quilted hazel's quilt with the same grid lines as isaac's, but was much more adventurous in the binding option, opting for this cute striped rainbow to tie it all together. (you'll know what i mean when you see the back).
and at long last, the second (and final) minecraft quilt was complete. special thanks to derek, my official quilt holder upper.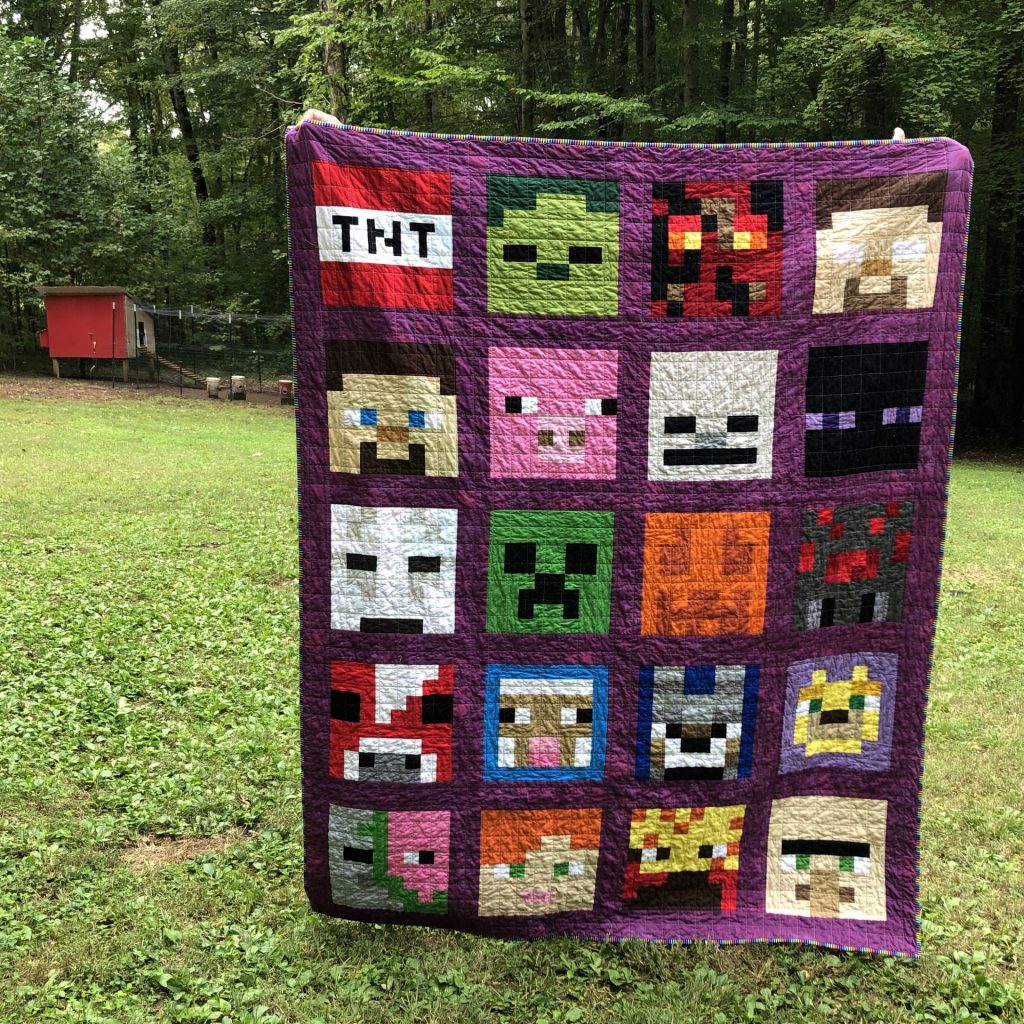 for the backing, hazel selected several pink and purple and rainbow-y tula pink fabrics. i threw in another sort of matchy print i had, plus a hunk of minecraft fabric that i picked up before the covid, and a pieced back was born. that's what i meant by the binding tying it all together.
as i was hand sewing the binding over the course of one evening and the following afternoon, every time i took a break, hazel asked me excitedly if the quilt was done. finally it was, and after a wash and a crinkle, i handed it over. and she was happy.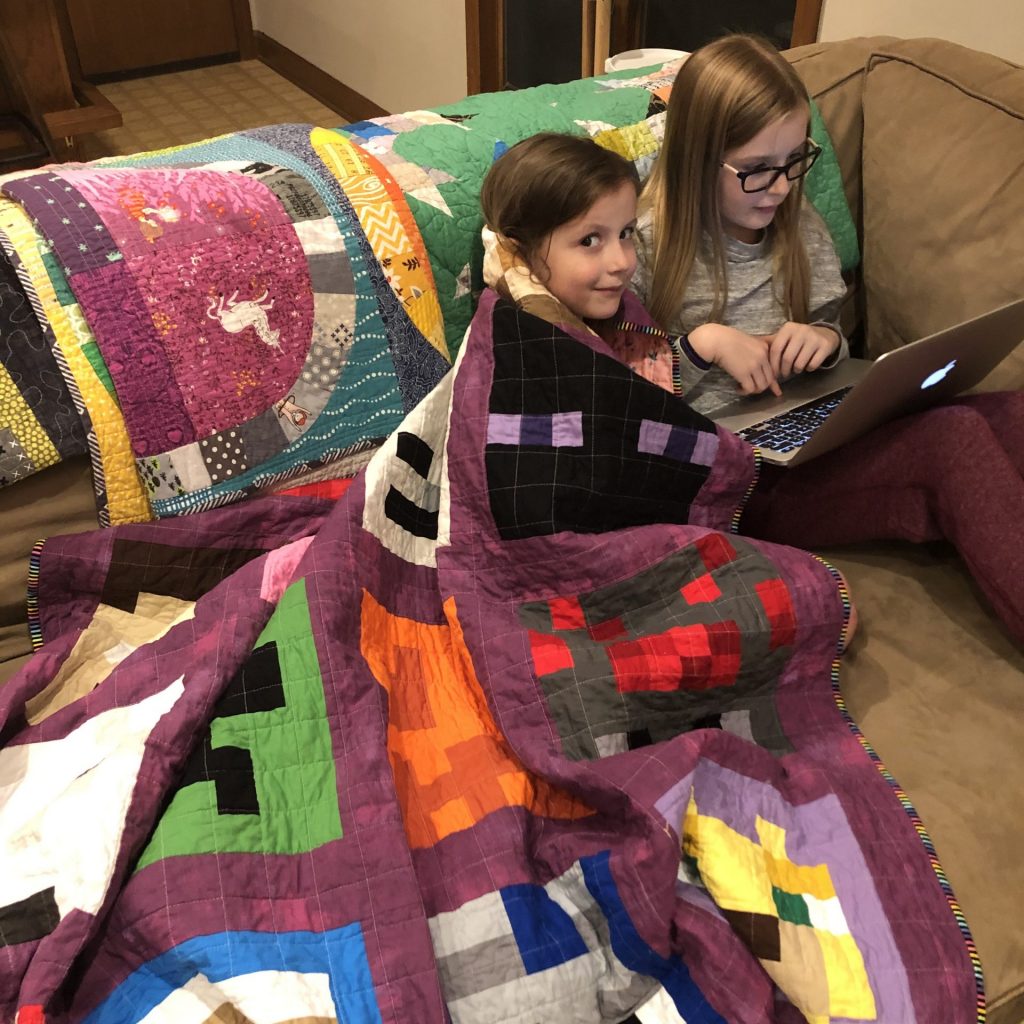 so, basically. what i'm trying to say is that i'm the world best mom. or mom of the year. or maybe this will just make up for all the times i yell and i'm back to world's okayest mom.