warning: this is an extremely long post. there may or may not be 16 pictures.

after completing anna's quilt, i decided that isaac was in need of one himself. after a whole lot of surfing and searching, i settled on attempting a queen size zig zag quilt. then, derek bought me a new sewing machine and i jumped into high gear…
first things first, i spent hours picking out fabric. isaac told me he wanted pink and purple and blue and orange and yellow and green. like anna's quilt. i was so torn, because i didn't think he'd want a rainbow quilt when he was 12 at a sleepover, and i'd like for this quilt to have some staying power. so, i went with yellows, greens and blues. on a gray background. i wasn't too crazy about the selection of fabrics for a boy. there's a lot of flowers and girly patterns to sort through. and ike wasn't too crazy about what i came home with. he was dead serious about the pink.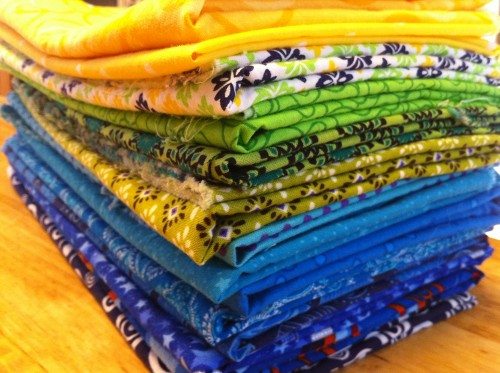 i cut each fabric into strips and sewed each color strip to a gray strip. lots and lots of times.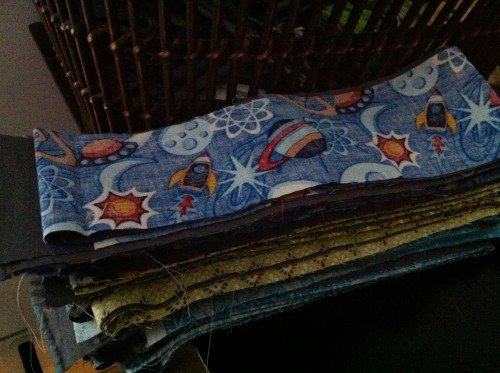 then, i cut each strip of gray/color into blocks. blocks that weren't exactly square and needed to be squared up. one at a time. little tiny fibers of grays and blue-greens flittering about our house. rotary cutter mania. and then i had 14 neat little piles of blocks.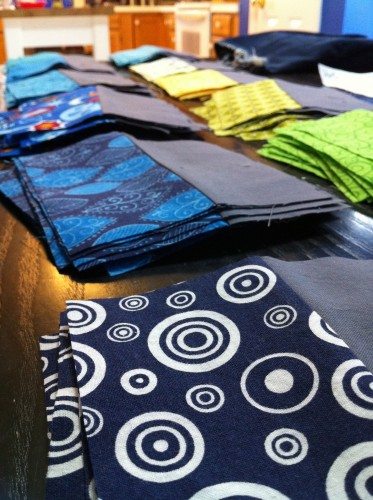 somewhere, in the midst of all of this, i realized that not only did i not really want a queen size quilt anymore, but that i had way overestimated how much fabric i would need for the queen size quilt. so i wound up leaving out two sets of blocks and about 40% of each of the other sets and decided to go with a more boy sized quilt of about 5 feet by 6.5 feet.
after trying several different arrangements, i decided on a sort of color fade for the order of my zig zags. i carefully arranged them on the bed and then stacked them up, so i knew what order to sew them together.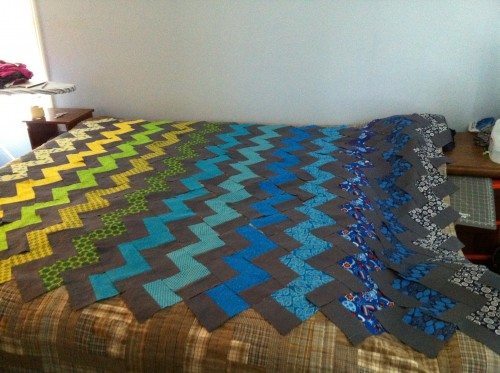 (side note: as i stacked, isaac insisted on talking to me and trying to help, so i was certain that i would sew something the wrong way. one wrong square. in the middle of the quilt. but, it didn't happen.)
i sewed and sewed and sewed. and before long, the quilt top was done. i trimmed the extra pieces and breathed a sigh of relief. and took a picture with terrible color quality.

while i snipped unruly threads, i accidentally put a hole in one of the zigs. this gave me an opportunity to test the darning stitch on my new fancypants sewing machine. i'm pretty sure i did it wrong, but i managed to cover up the hole. not pretty. but it shouldn't get bigger.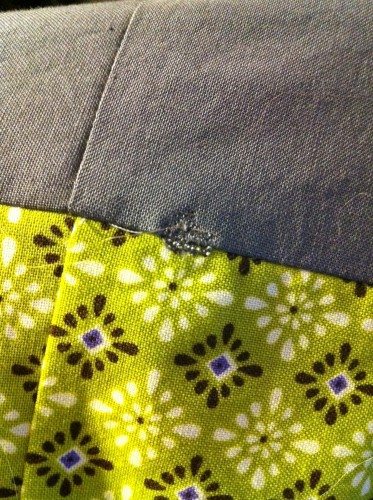 since i wasn't really superduper excited about any of the fabrics i found, i really wanted to personalize the back for ike. i somehow got the bright idea that i should try to piece together a robot. what? this is my second quilt, i have no business piecing anything from scratch. or from whatever they call it when you are prettty much winging it. i don't know quilt lingo. anyhow, i started with the head and took this cool picture of the sun shining through like stained glass: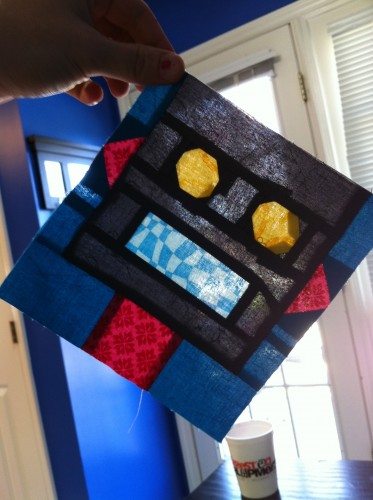 (also, the robot gave me an opportunity to work in some pink fabric in a boy sort of way).
after a lot of seam ripping and frustration (the diagonal cuts get me everytime), i finished the robot.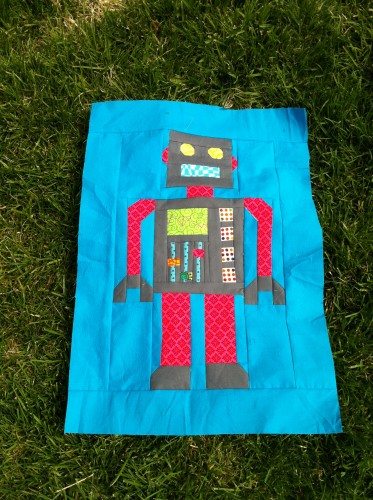 i finished the back with some coordinating fabrics, pinned my layers together (twice, grumble), and ran off with fabric samples to sewingly yours to pick out my quilting thread. i had planned to pick matching threads to hide the quilting, but somehow the owner of SY convinced me to use complimenting variegated thread. and she suggested using one of the 900 specialty stitches on my fancypants sewing machine to accentuate the robot. so i did.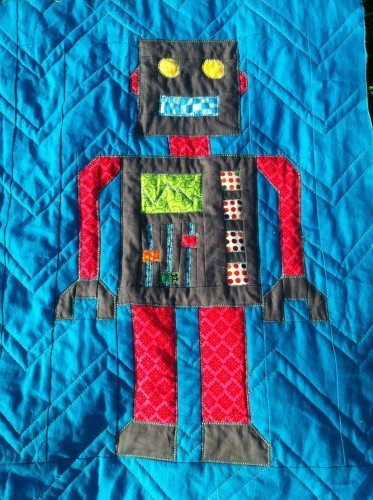 after a lot more seam ripping, and zigging and zagging of quilt stitches, i was ready to bind. i had a lot of strips of coordinating fabric left from when i downsized the quilt (i made the decision before i finished cutting all of the blocks… long story short, i don't do all of one step before moving on to the next one. so at any point during this phase, i was sewing strips, cutting blocks, and squaring up blocks). i pieced together a bunch of the strips and ironed them into binding and was all set to go. except i wasn't excited about it. i had a purchased a different fabric for the purpose of binding and even though it was economical not to wasted those strips, i still wanted to use the fabric i purchased. so, i sliced it up and made a new binding. complete with a little bit of pink for the cute boy. 🙂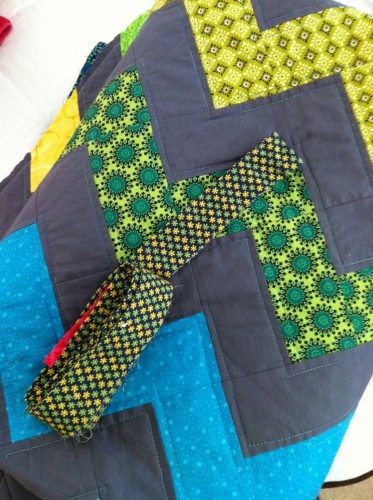 next decision: do i hand stitch the binding, or machine stitch? hand stitching will look a million times better. and take a million times longer. my pal bridgette reminded me of how much time i had put into this thing and that i should finish strong and do the thing i would be happiest with. so, hand stitch it would be. (just the back, you can machine stitch one side).
i pinned it all up (lots of pins. lots of finger pricks.). and got the needle and thread. and went to work.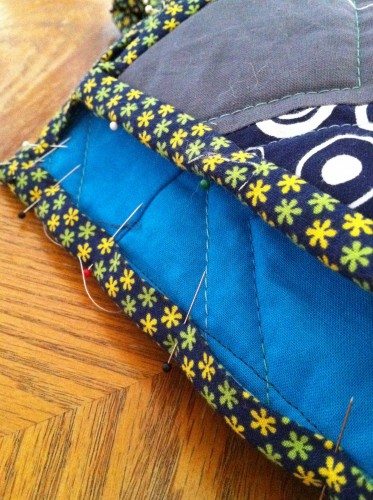 one evening of tv and one good afternoon nap by the girl (and a strawberry shortcake marathon for the boy) later and i was done! so, without further ado….
the back: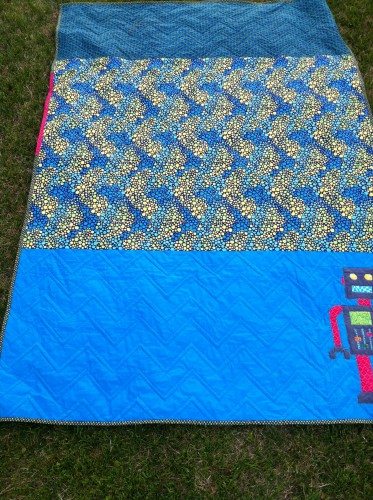 the front (top?):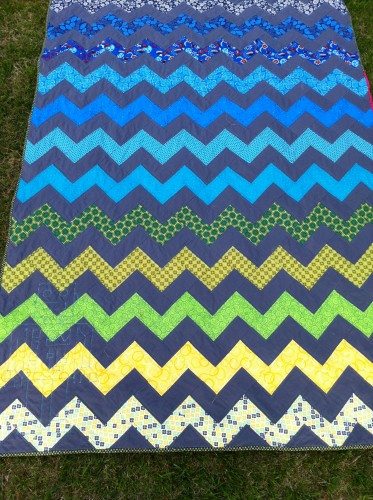 folded up (all the quilt blogs i follow take this picture. so i guess i have to, too):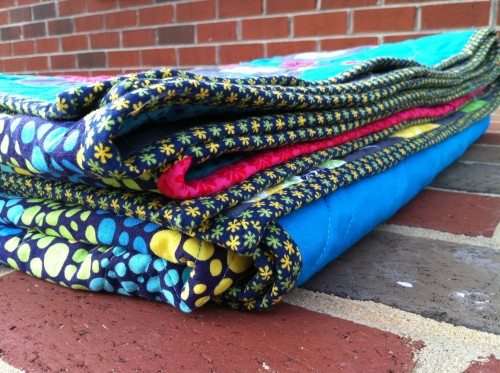 a close up of the back side of the robot. i call it the ghost-bot.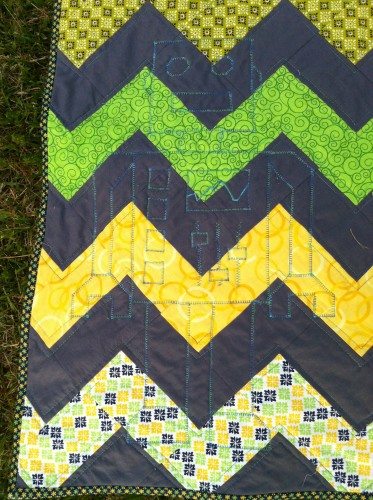 and, finally, the very best possible shot of all of the important components…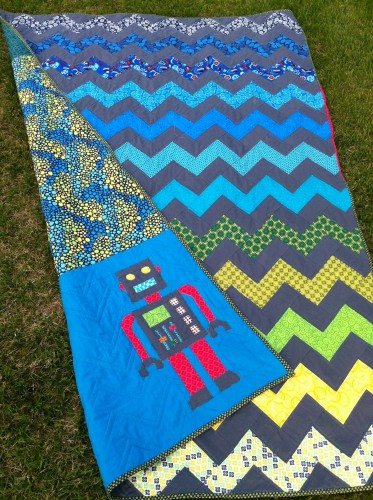 so….
i'm relieved to have it done. there's a huge sense of accomplishment that comes when you make that final binding stitch. i couldn't wait to show isaac who wasn't really all that excited. it's just a blanket after all, i suppose.
anyhow. that's the tale of the zig zag quilt…