After another dismal week of virtual teaching, Anna and I set off for Grayson Highlands State Park in Virginia, for another mental health day of hiking. I've seen so many epic pictures of this park, which is famous for it's roaming wild ponies, but never any in winter. We knew that there would be snow, thanks to our previous adventure at Hanging Rock, but there was soooo much more than we expected. No big deal. We were mostly prepared.
The trail was mostly packed down snow, which was a little slippery, but we learned quickly to sort of walk on the edge of the trail, in the still crunchy, less icy parts. Still, even with this realization, Anna fell no less than 15 times, but still claims it was entirely worth it.
The views were beautiful, we still definitely want to give this park another go in the spring or summer months.
It wasn't long, maybe 1/2 mile, before we happened upon some ponies. They weren't exactly "wild" and definitely sauntered right over to us. Despite the signs and warnings all over the park informing visitors not to feed or pet them, it seems they are frequently fed and pet and attempted to demand the same from us.
We may or may not have snuck one little nose pet, which we felt sort of guilty about, until a few hundred more yards down the trail when we encountered some kids and their dad and a dog, who were clearly hiking at least a section of the Appalachian Trail. The dog and kids were both harassing several ponies, who were getting quite agitated and aggressive, much to the dad's amusement. Then our little nose pet didn't seem so egregious.
The spot where the Appalachian Trail met our little hiking path was a wee bit confusing and we definitely took the wrong path from there. We found ourselves stomping through knee high snow for awhile, before finding our way back to our original trail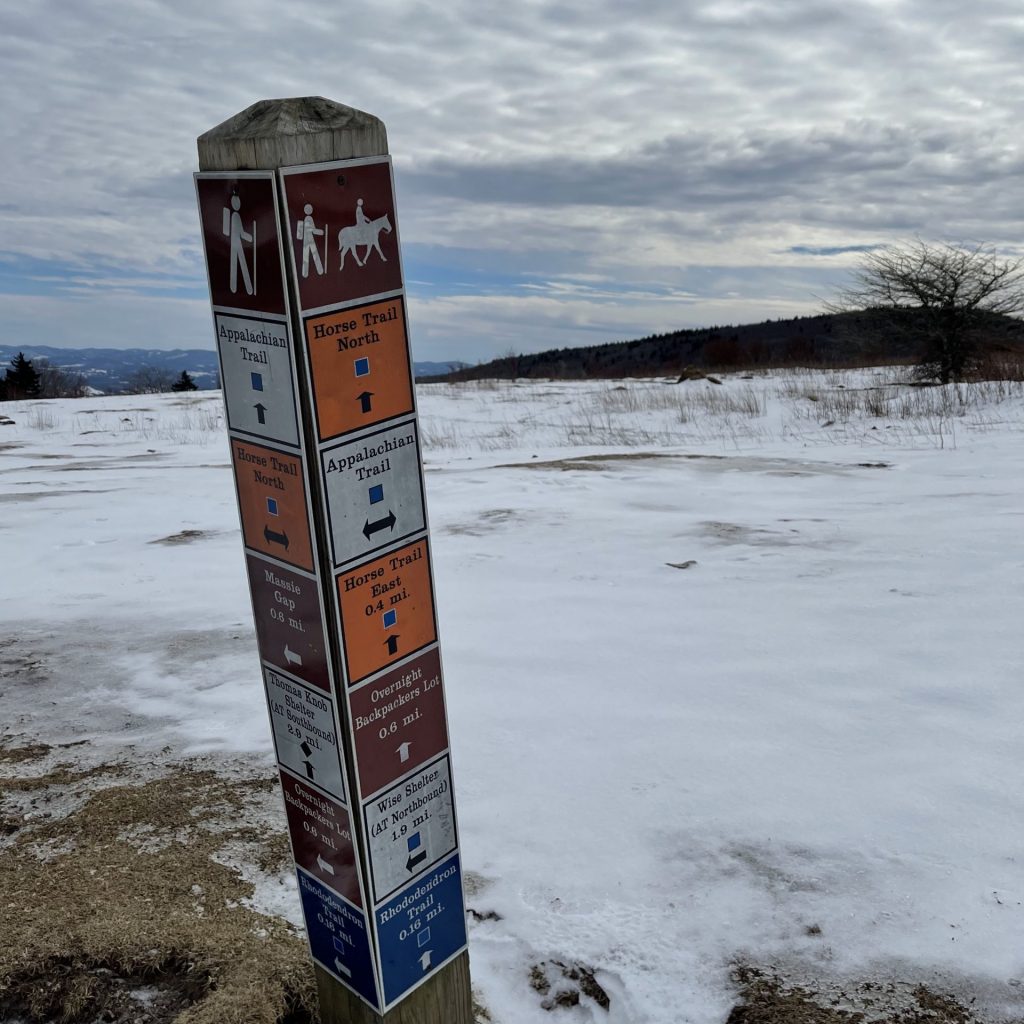 The trail to the first ponies we saw was highly trafficked and quite easy. We had lofty goals of getting up to a ridge where we could see a pretty panorama of our surroundings. Once we got past the ponies and through our slight detour, we passed through a gate that took us into a decidedly more wilderness-y feeling part of the park. Here, the ponies did not approach us, and definitely seemed more wild.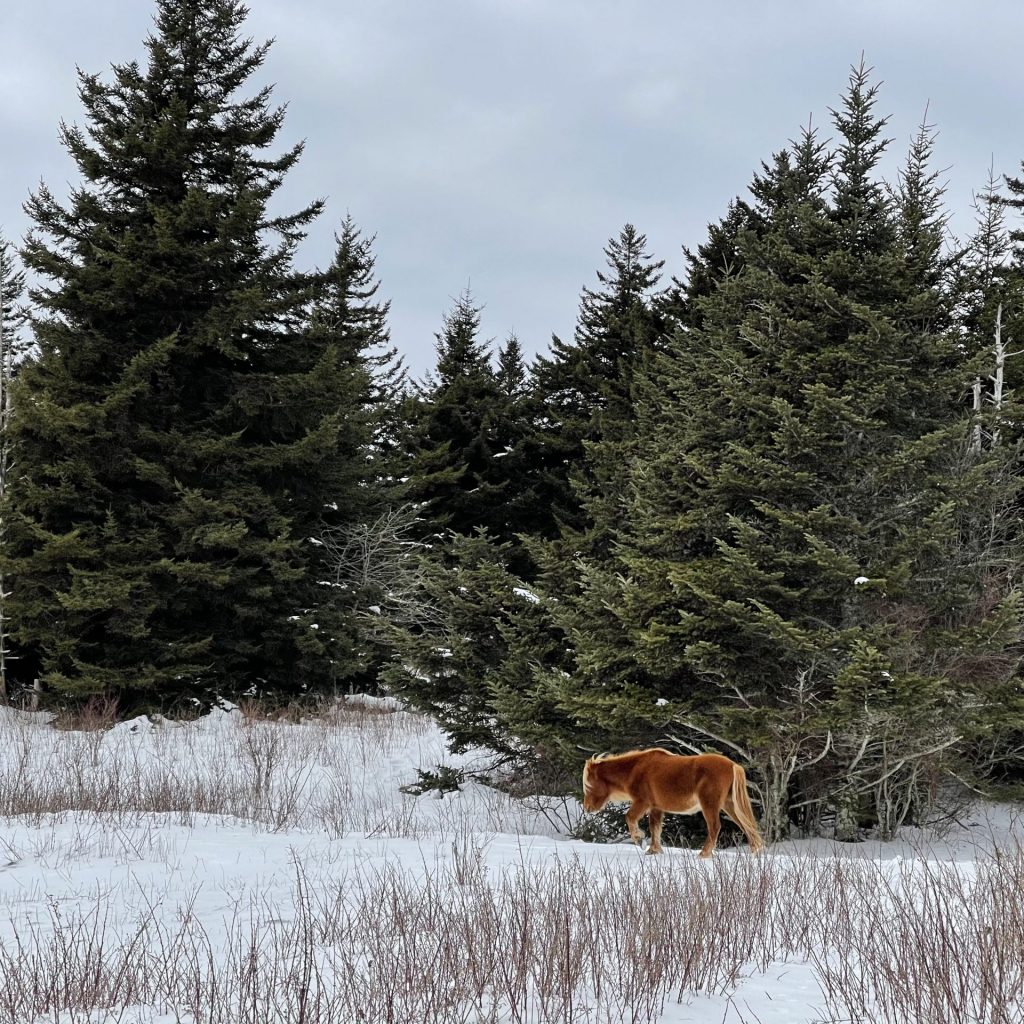 The trail was also a lot harder to follow here, lacking the packed down guide we had been used to. But we were mostly able to follow the spray paint markers to get near where we wanted to be.
We hauled ourselves up onto a giant clump of rocks to take a little break and reevaluate our plan. It was getting really chilly and very windy.
We decided that we didn't have it in us to continue to the ridge as originally planned. Hiking through snow took more out of us than we anticipated and it was cold and becoming overcast and possibly rainy and we for sure didn't want to be out there for that. Also, we still had a two hour ride home, and I didn't want to drive in freezing rain either. So, we took our photos and made our way out.
The path down was sort of barren and desolate. But, it was shorter and easier than the route we took up, so for that we were glad. On our way out, we stopped to visit one last time with the not-exactly-wild ponies at a little gathering spot they have near the trailhead, where it appeared they were being fed by the park folks.
It was a lovely day. We were glad we didn't take Ruby, both because she would certainly have barfed on the long and winding drive, and because I don't know how she would have responded to the ponies (or they to her). But, when we happened upon a little restaurant on our drive home, and opted for a nice, warm, leisurely dinner, we found our third good reason for leaving her behind.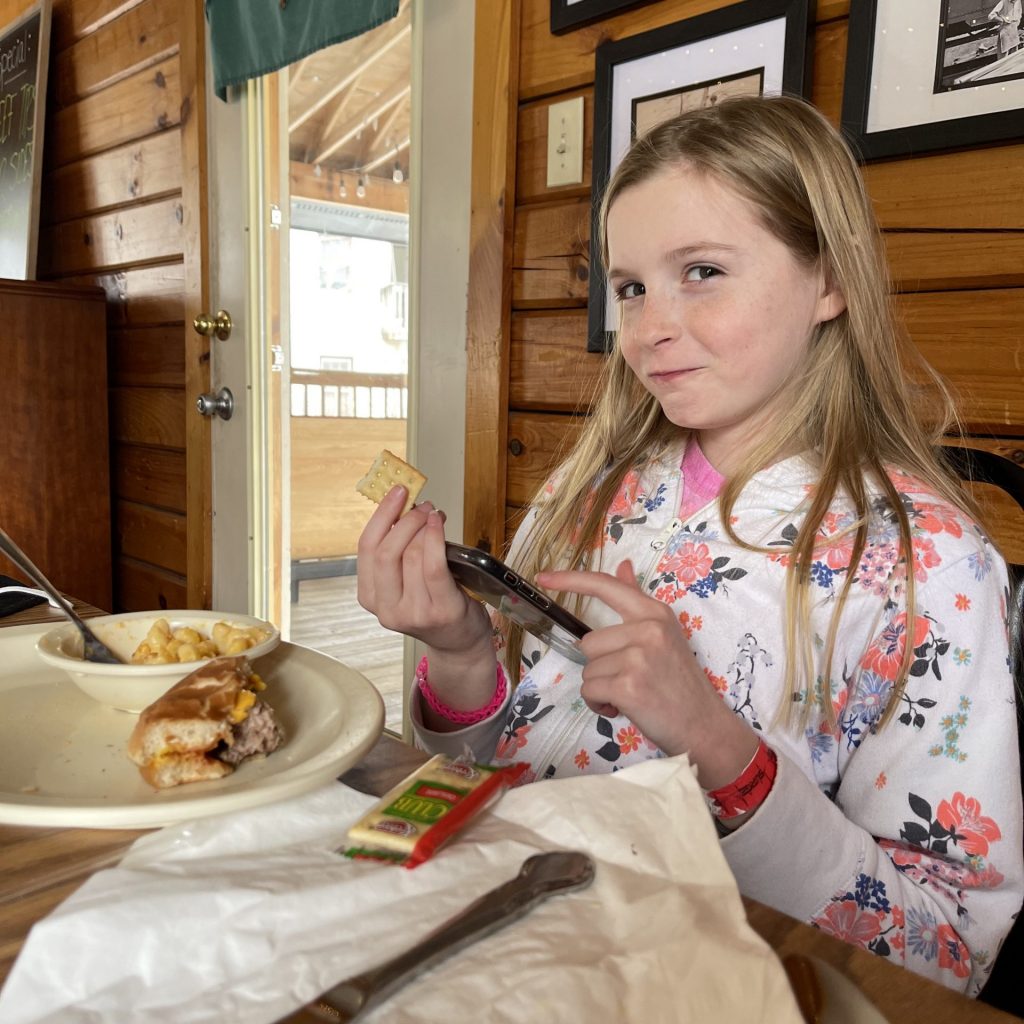 And that's that. Back to lesson planning. Sigh.