We weren't able to book our site at Dreher Island State Park through the weekend, so we had to check out on a Friday morning. Not wanting our fun trip to come to a conclusion, we tried to find something fun to do together with our friends in the Columbia area. Derek found a groupon for a kayak trip on the Congaree River, so we wasted no time booking it.
After we checked out, we drove our RVs to the parking lot where we would be pulling out of the river. Then we drove over to the historic Gervais Street Bridge and loaded into our kayaks and canoes for a day of adventure.
As we loaded the whole clan, the folks in their boats had to hold onto roots and trees on the bank, and dig in with their paddles, while we waited for the entire crew to be ready to depart. Finally we were all loaded up and ready for fun. Also, maybe slightly worried, because the safety lecture was very terrifying.
As usual, I rode with Hazel, so my view for most of the trip was the back of her head, unless she graced me with one of her cheesy grins. She also borrowed my phone for a selfie. 🙂
Thankfully, there were other adults taking photos, so I do actually have some shots of not the back of Hazel's head.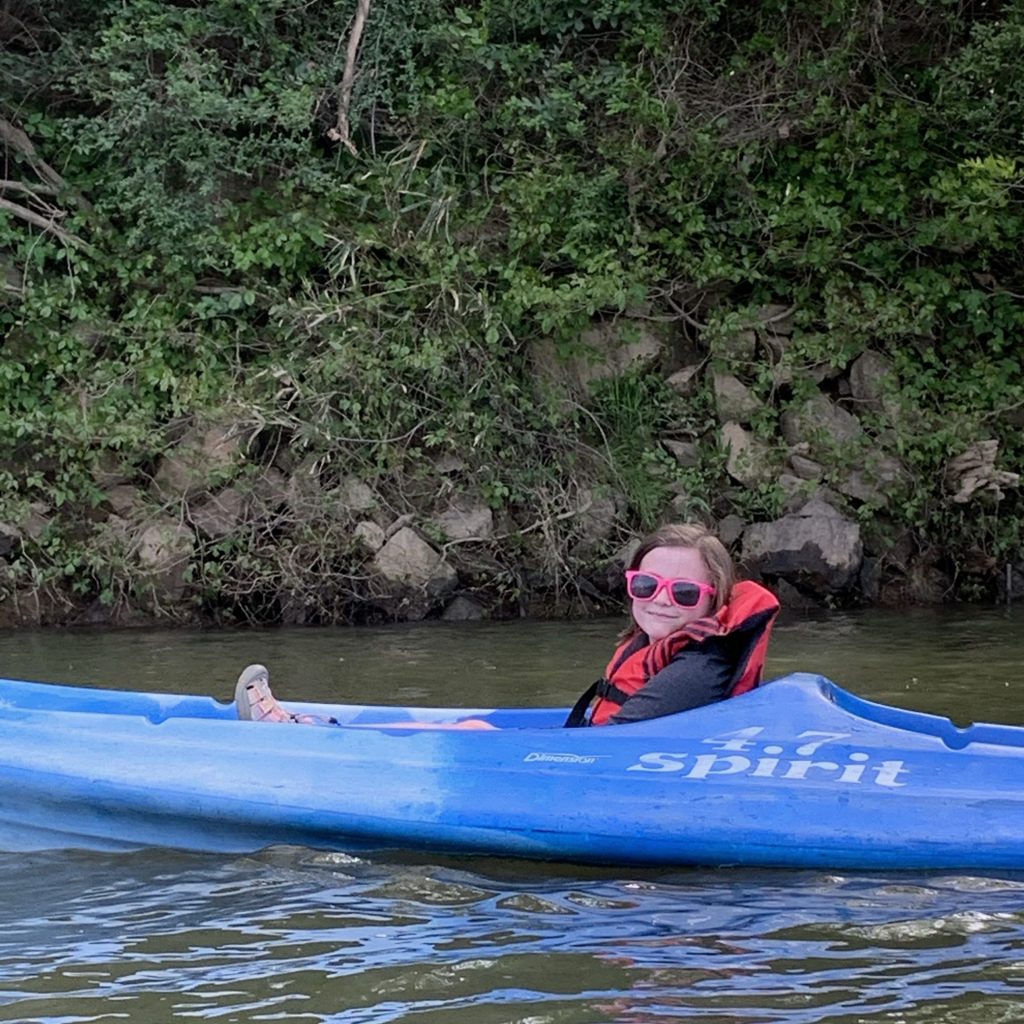 Our guide was pretty awesome. He was really good with the kids, both the enthusiastic ones and the slightly anxious ones. He also took a bunch of photos and sent them to us. Many of them selfies.
The first few moments of the trip were a little wild. We had to paddle hard diagonally across the river, over some white cappy sort of rapids. After that, the whole thing was very chill. Isaac started out pretty nervous, but decided to give it a go and ended up having a great time.
We saw a giant flock of some sort of bird, possibly anhingas? We thought they would get spooked and all take off at once, but they never did, despite the 800 photos we took as we passed by. YOu can maybe see them on the right hand side of the rock in the pic on the left below. Anna and Derek got stuck with a canoe the entire ride, so they had their work cut out for them.
We really had a great day. It was nice to be able to squeeze in one more activity with our friends and I never hate getting out and doing things in nature versus sitting around the campsite.
At the end of our trip, we hung out in the parking lot for a bit, while the dad's drove over with our guide to pick up the cars. Our kids said their long goodbyes and then we parted ways.
Not wanting to get in at 10 pm, but also not wanting to make the entire drive the next day and lose the day to travel, we spent the night in Rock Hill at a Walmart parking lot. The next morning, we blasted home, and our first RV trip of 2021 was a raging success.