One day, not so long ago, I determined that I needed a little me time, so I booked a couple of nights at Hanging Rock State Park. I packed up the tent, my new camping love seat, and a hammock that Derek surprised me with for early mother's day. Also some food and camping supplies, obviously. And off I went.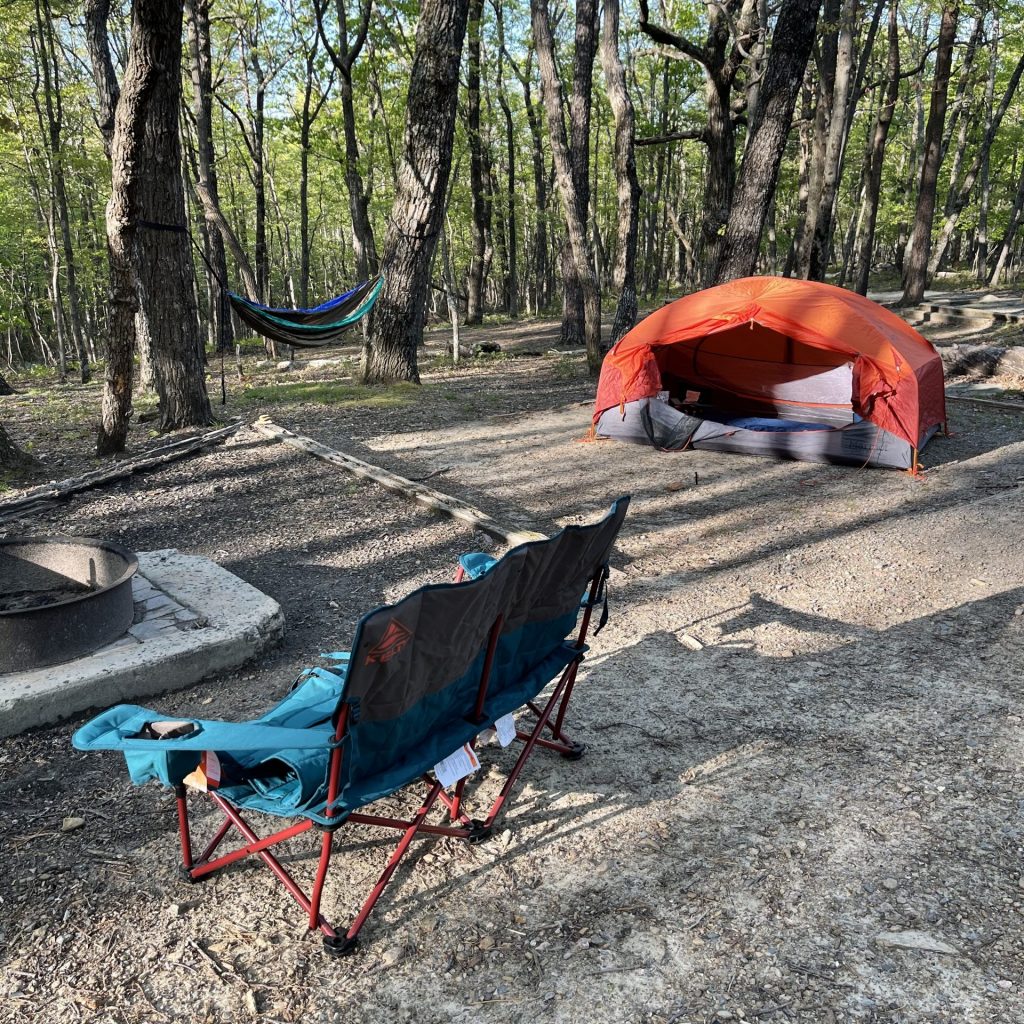 After I was set up, I hopped into the hammock to do a bit of reading, and then when things started getting chilly, I made myself a little campfire. I read some more. Ate doritos and sour patch kids. And then tucked myself into bed.
My first night was a little rough. I couldn't get comfortable. And it was a little chilly. But, I survived the restless night and woke up ready for some strong coffee. It was then that I discovered I had forgotten to pack the aeropress coffee maker. Ugh. I fashioned a makeshift filter out of some papertowels and did the best I could, but the coffee was weak and had a lot of grounds in it. I Oh well. I sat around for a bit and did some more reading. Then, I made myself some breakfast and started my day.
Since I was without kids, it was a good opportunity to do some hiking that I never felt like I could pull off with them. Usually, if we are going to bother with making the drive to Hanging Rock, we opt for a longer more intense hike, like Hanging Rock or Moore's Knob. Then, I am unlikely to talk them into one of the smaller hikes that the park has to offer. The same goes for stringing together a series of small hikes, loading up in the car between each one. I can hear the whining now. So, that's what I did. I put together several shorter, waterfall themed hikes, and hit the trails.
my first waterfall was Hidden Falls. Lovely.
Just down from hidden falls is Window Falls. There's actually a window in the rock near the top of the falls, that you can see from the trail above, but otherwise this wasn't the most photogenic of them.
Once I was done with that mini-hike, I drove to the other end of the parking lot, for the short hike to Upper Cascades. I have been here once before, with the kiddos and the local Wild and Free homeschool group. This time, I had the place to myself so I scrambled around for a good view and settled with these.
Although we have been to the Lower Cascades several times, I still included it in my day. It's a short easy hike and I knew the falls would be pretty on such a nice day. I had hoped to beat the crowds to have the place to myself, but I had no such luck. There were some influencer wannabe's when I arrived, at the bottom of the falls, doing a full on photo shoot for instagram. I waited patiently, but just as they left, a group of families rolled in behind me and strolled straight over for their photoshoot. I waited, less patiently, while they moved from one spot to another, exchanging children, cameras, etc. After they completed all their permutations, I was able to snap a few photos of just the falls, plus a selfie for consistency and got out of there.
From there, I drove to another part of the park, to check out Tory's Den and Falls. It's another short trail and I was the only one there. The den was actually cool and has something to do with the Revolutionary War. The Tories. I don't know. The falls were ok, but probably my least favorite of the day. I didn't even manage to take a selfie with them.
I actually ended up rolling my ankle in the parking lot of Tory's Den. Super frustrating. So, I went back to camp. Took a shower. Read some more. Made dinner. Built a campfire. Ate Doritos and Sour Patch Kids. And went to bed.
In the morning, I made my paper towel coffee and breakfast. And then packed up camp. I was on the fence the entire time about whether not to attempt another hike, but my ankle was pretty swollen and sore, so I made the executive decision to skip it and go home. After all, we live like 45 minutes from here and I can come back and hike anyday.
So off to home I went. Recharged and all that.