have i mentioned it was hot in glacier while we were there? like 90s hot. and we were in the many glacier campground, with no hookups and limited generator hours. and since ruby is not allowed on the trails in glacier, we had to leave her in the camper while we were out hiking around. we tried to do our hiking in the early morning when it was cooler, and left the windows open, fans running, and a bonus fan blasting straight at her spot on the couch. so far, she had seemed ok, but it wasn't ideal.
so, we snagged some last minute reservations at a campground just outside the saint mary side of glacier. we had water and electric, showers, laundry, and easy access to the park, so it was a win for all, even if we had to give up those national park rustic campground vibes.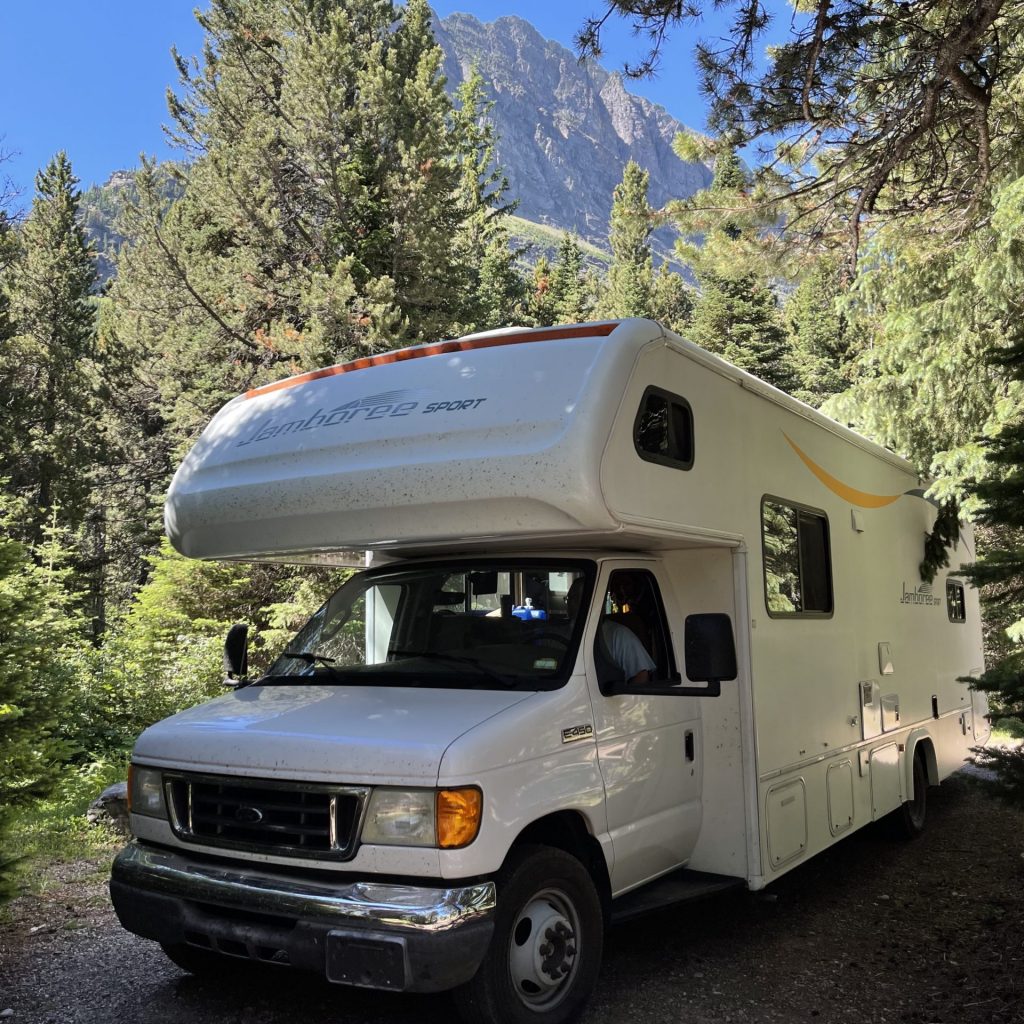 once we were settled into the new site, we hopped in the car for a little low key cruise through the main corridor of the park, going-to-the-sun road. on our last visit to glacier, we saw very little wildlife, but on this drive, we saw more wildlife than the entire two week trip in 2017. (edit: upon further investigation, this bear sighting was from when we were leaving many glacier to head to the new campsite. but still. epic wildlife.)
i made derek pull over at this fantastic vista. obviously.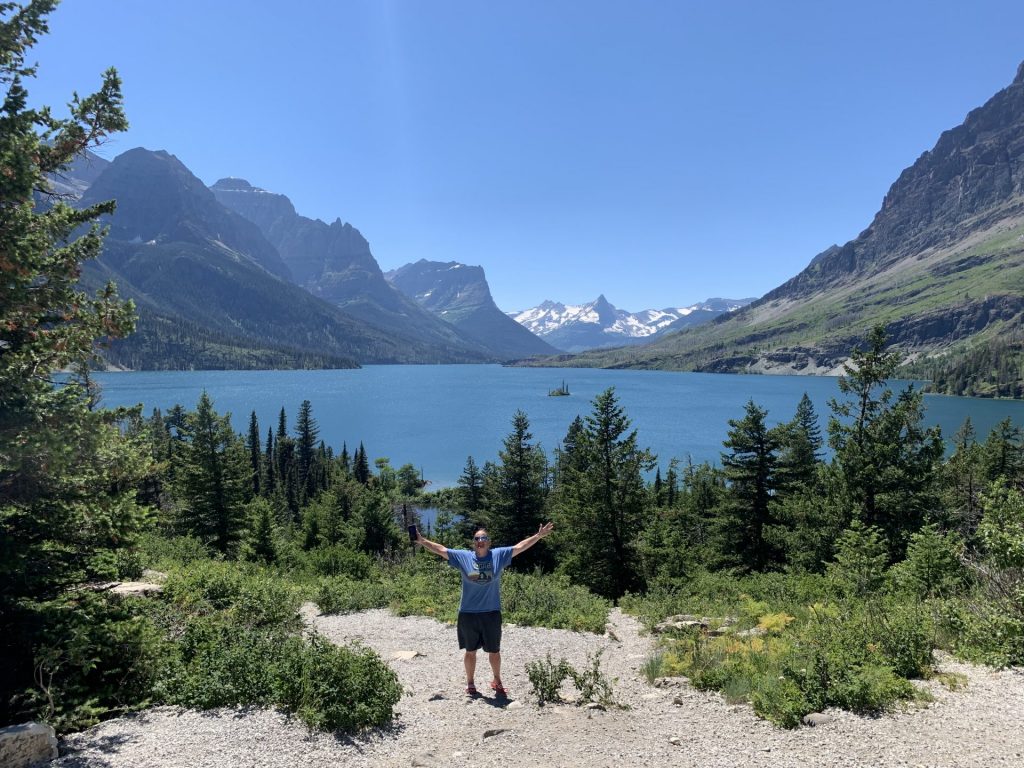 the kiddos had an section in their junior ranger books where they had to do different activities at several spots along the going to the sun road. one such activity was taking a selfie at jackson glacier. we settled for an actual photo of all three kiddos.
the views along the road were as amazing and unreal as we remembered them. while we drove, we listened to guided tour app, where we learned (re-learned?) all sorts of things about the park and the history and details of the construction of this road. (spoiler alert: it's quite a feat of engineering).
at logan pass (the highest point on the road, also home to a visitor center, also home to where a million people try to park and we generally try to avoid), we saw a bunch of big horn sheep. there were several on the hill across the road and then another one pretty close to the parking lot, just wandering by in a snow field, begging for some photos.
we stopped at a waterfall, to climb up and play around a bit. there were actually quite a few people here, so we found a less crazy spot and then didn't stay too long. we also stopped at every snow pile so hazel could get out and throw a snowball. because who doesn't love throwing snowballs on june 30th.
we drove all the way into apgar village on the west side of glacier. we walked around a bit. hit some gift shops. and of course got ice cream. when we were here before, the kids loved riding their bikes from the campground to the village to get their own ice creams, so this was basically all they have looked forward to on this trip. i have no photographic evidence, however.
on our way back through the park, we were pleasantly surprised to happen upon this guy, you know, a friendly mountain goat licking the pavement in a pullout. surely someone spilled something here, which make me sad, but i am not going to turn down a wildlife sighting, even if it's in a non majestic parking area.
so, basically our going to the sun road trip was chock full of wildlife and fantastic beauty. and now that the kids have had two full days of rest, it was time to get back to work…