every since i first laid eyes on a photo from cracker lake in glacier national park, i knew i would someday have to make the journey. when we were here four years ago and i had to opportunity for a longer, solo hike, i wasn't sure i was good enough shape for the 13 mile, 1650′ elevation change trek. also, i was sort of terrified of a bear run-in, so on my one trip from west glacier, i opted for the shorter, ranger led iceberg lake hike.
this time though. i was ready. even if i was out of shape, i knew that i might never be back, and i was leaving no cards left on the table. also, if i got eaten by a bear, i was hopeful it would be on the return trip, after having seen the lake.
early in the morning, derek took me over to the trailhead, which was only a mile from our campground, but i didn't want to add two miles to my hike, especially parking lot side of the road miles. then he could have the car for the day. he dropped me off, where i made fast friends with another lone hiker, and we were off. but then, we got stuck behind a horseback riding tour. ugh. for like 1.5 miles, we trudged along behind them, slowly, with a group of hikers that were all stuck. below, you can see our view (horse butts) and our trail (horse poop).
eventually the horse tour veered in a different direction, so we were able to get past them and the poop trail became dirt again and we were able to pick up the pace. as we climbed, the lovely surroundings came into better view. even though it was almost july, there was still a bit of snow to traverse…
there was a bit of exciting hiking around this river crossing. because of the snow melt, the river was a lot wider than usual, so we had to do some scrambling to get up and around to the start of the bridge. and at the end of the bridge, we did our best rock hopping as the cold water rushed around and through what would usually be the bank of the river. it was slippery and not all of the exposed rocks were stable. but with hiking poles and patience, all was good.
the views, as with all of glacier, were fabulous. i especially love the blue tint of the water (caused by "rock flour", which is basically dust that gets trapped in the glaciers and flows out with the melting waters).
my new friend and i exchanged occasional faux-candid photos. 🙂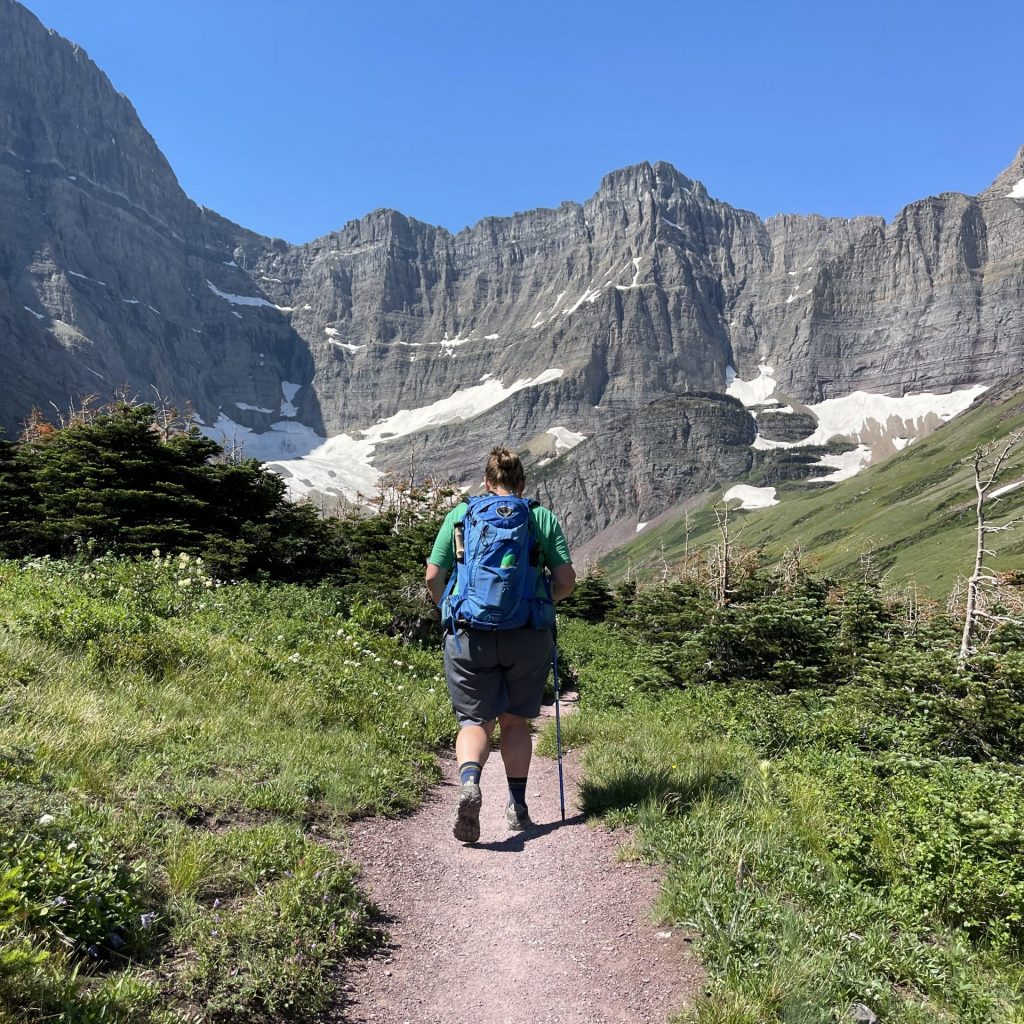 and, before we knew it, we were there. behold, cracker lake, in all its milky mint splendor.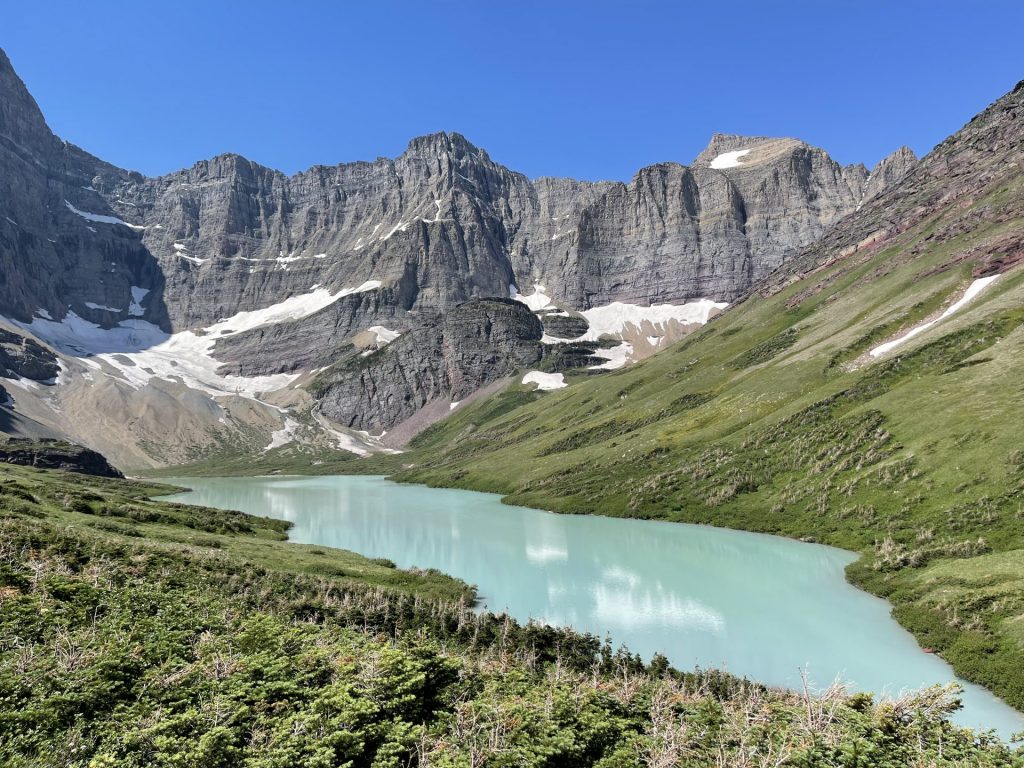 we took a little break when we reached the top, overlooking the length of the lake, but i wasn't content with just this view after all these years and all of this effort, so i convinced my hiking pal to walk down and around and closer to the lake.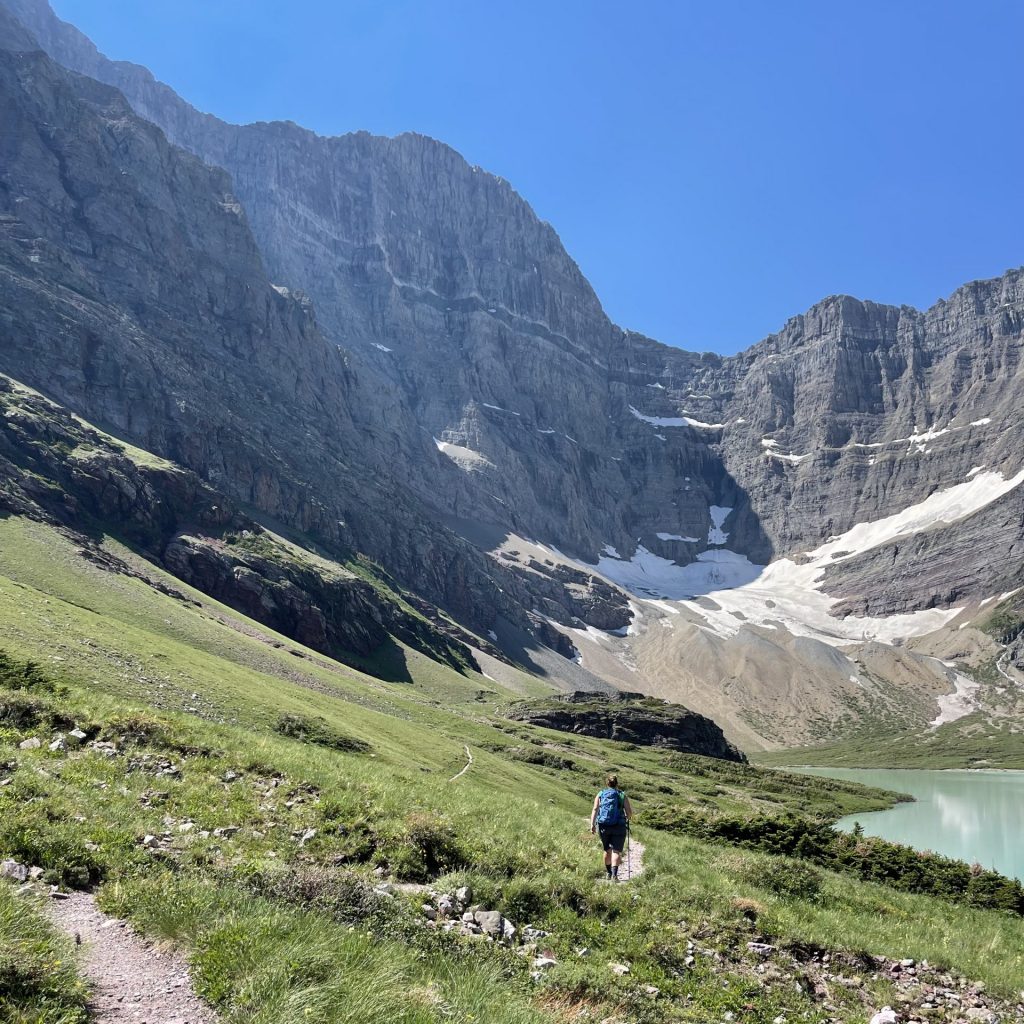 we found a better spot to relax and explore a bit and take some more photos. a lot of folks continued through to that little tiny beach at the end, to dip their feet in. i wasn't super interested in that, so once we had our fill here, we decided to start the hike back.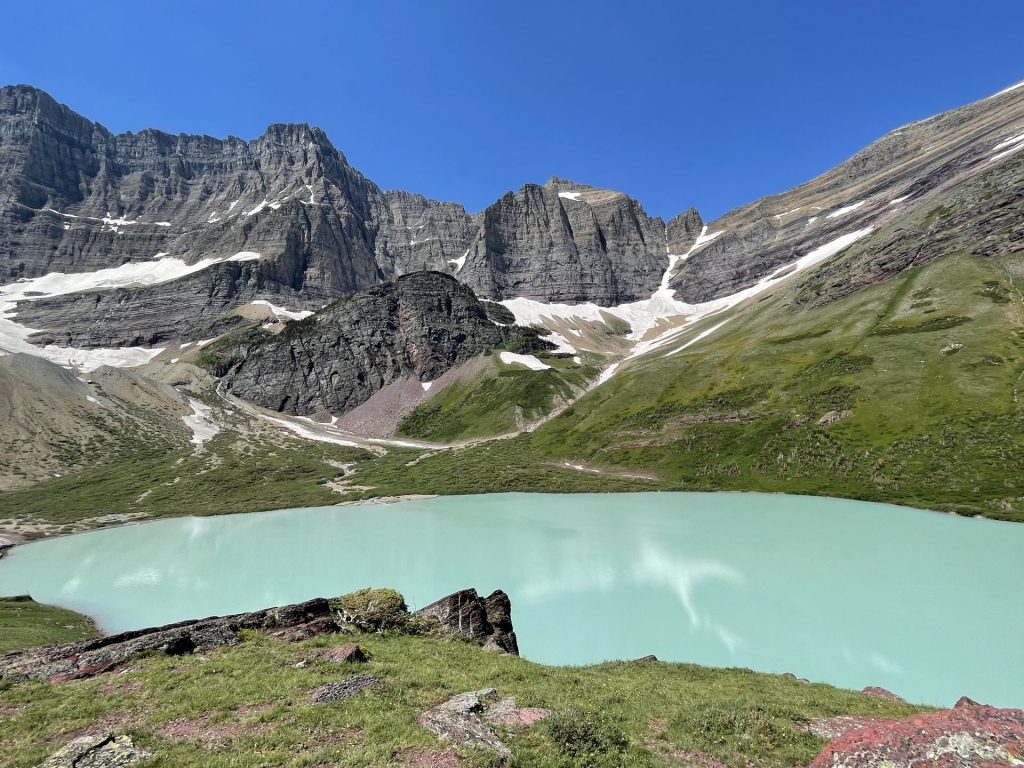 on the way back, we saw a little side trail that went down to the lake, so i decided to check it out up close and personal, which even more made me feel like i did not miss out by skipping the beach.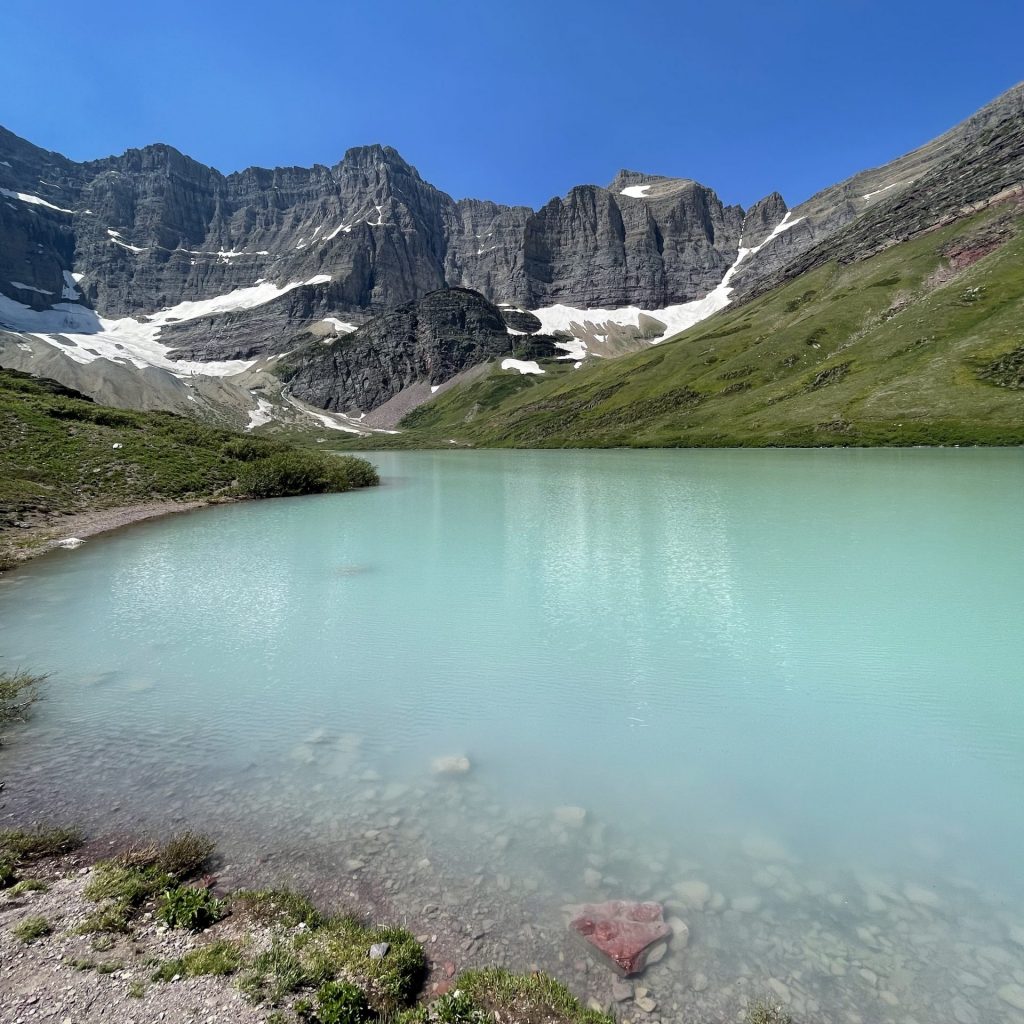 while we were resting/snacking we saw these really unique purple flowers. and on our hike back out, we some friendly marmots stopped to pose for some photos for us. they are my favorite.
when we got back up to the hill overlooking the length of the lake, i couldn't help but take a few more "one last" photos, and then i bid farewell to this amazing place.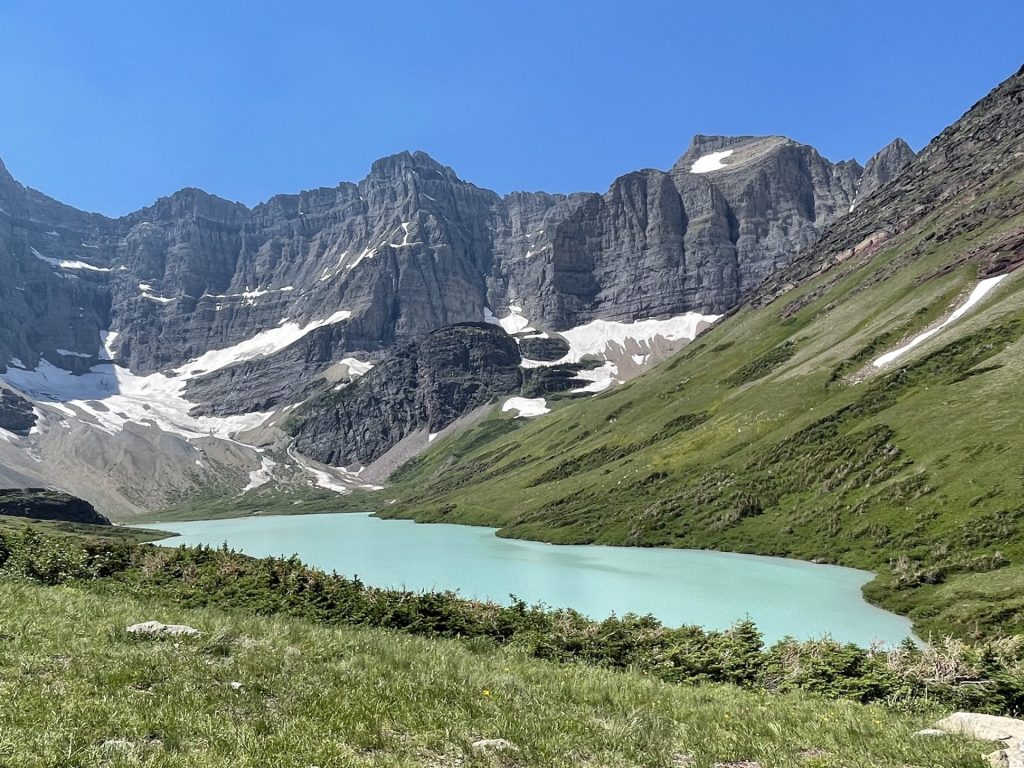 we made pretty good time on our hike back. my hiking partner seemed to not really want to dawdle, so i obliged (especially since i was the one setting a maybe slightly quicker pace on the way up). we did not get eaten by a bear. i did get some blisters on the backs of my heels. and the high of being in this lovely place came to a screeching halt when we remembered the last 1.5 miles of the hike was through a horse poop riddled (and now fly infested in the heat of the afternoon) trail.
and my bucket list hike is complete. it's so surreal. it was really something i never imagined i would do. both because getting back to glacier after we settled in the house seemed like long shot in itself. and because i never thought i would be in good enough shape and/or my bum knees would hold up.
ok ok. back to family stories…