so, the thing about indiana dunes is: the hikes in the sand are pretty exhausting. and it just so happens that it was also unseasonably scorching hot while we were there. so, i planned only shorter-ish hikes that also happened to give us access to refreshing lake michigan.
for our sort of epic last hurrah "big" hike, we found one that started at a cool visitor/nature center, followed along a marsh, strolled through some beautiful savannah-esque areas, wrapped around some dune lakes, and then took us over some towering dunes to the lake where all parties could cool off a bit. it was 1.8 miles to the lakes (and then 1.8 back, but we'll get to that later).
things started off swell. the walk around the marsh was boardwalks and gravel. so far so good.
then we hit the savannah-esque part. at times the sand was packed nicely and walking was easy. at times it was deep and hard to trudge through. and there were some steep hills. and complaining commenced. but it was pretty shady and beautiful, so we survived.
as we got to the dune lakes, the shade disappeared and the sand was very hot. even in shoes we were struggling a bit, especially hazel, who wore crocs. she's in good spirits here, but after a bit, i had to carry her because her feet were so hot.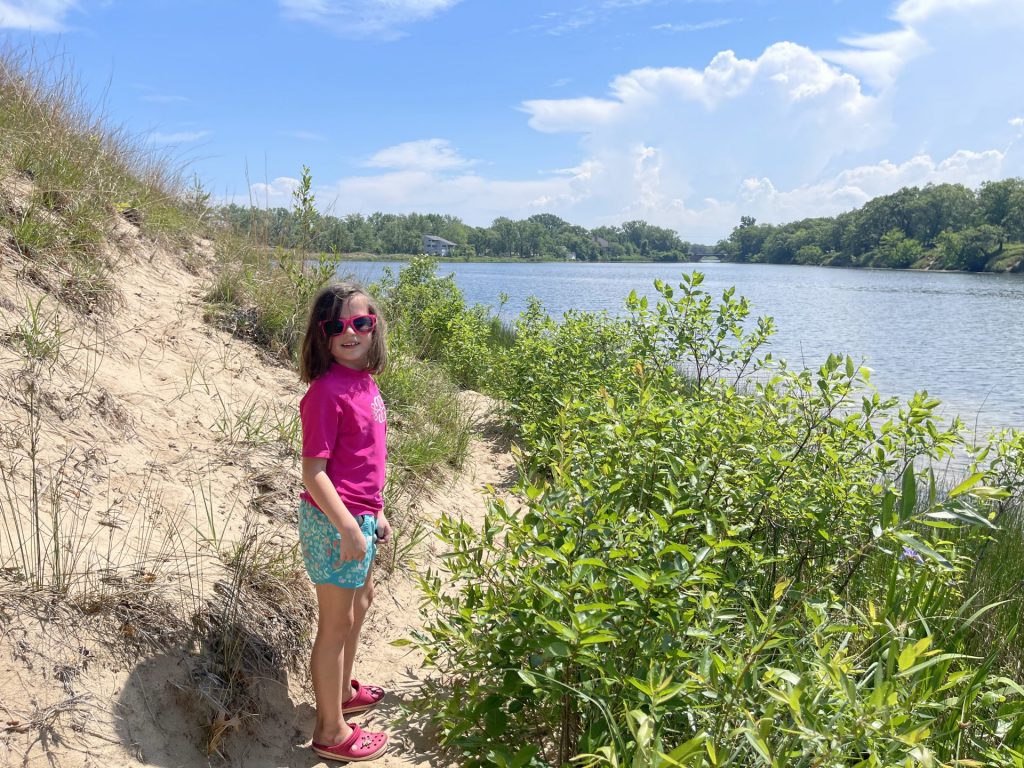 we were all pretty miserable, trudging along, but then one family member refused to go on. ruby became overheated and found a cool spot to lie down and decided she'd had enough. we took a long break with her, giving her all the water and letting her recover.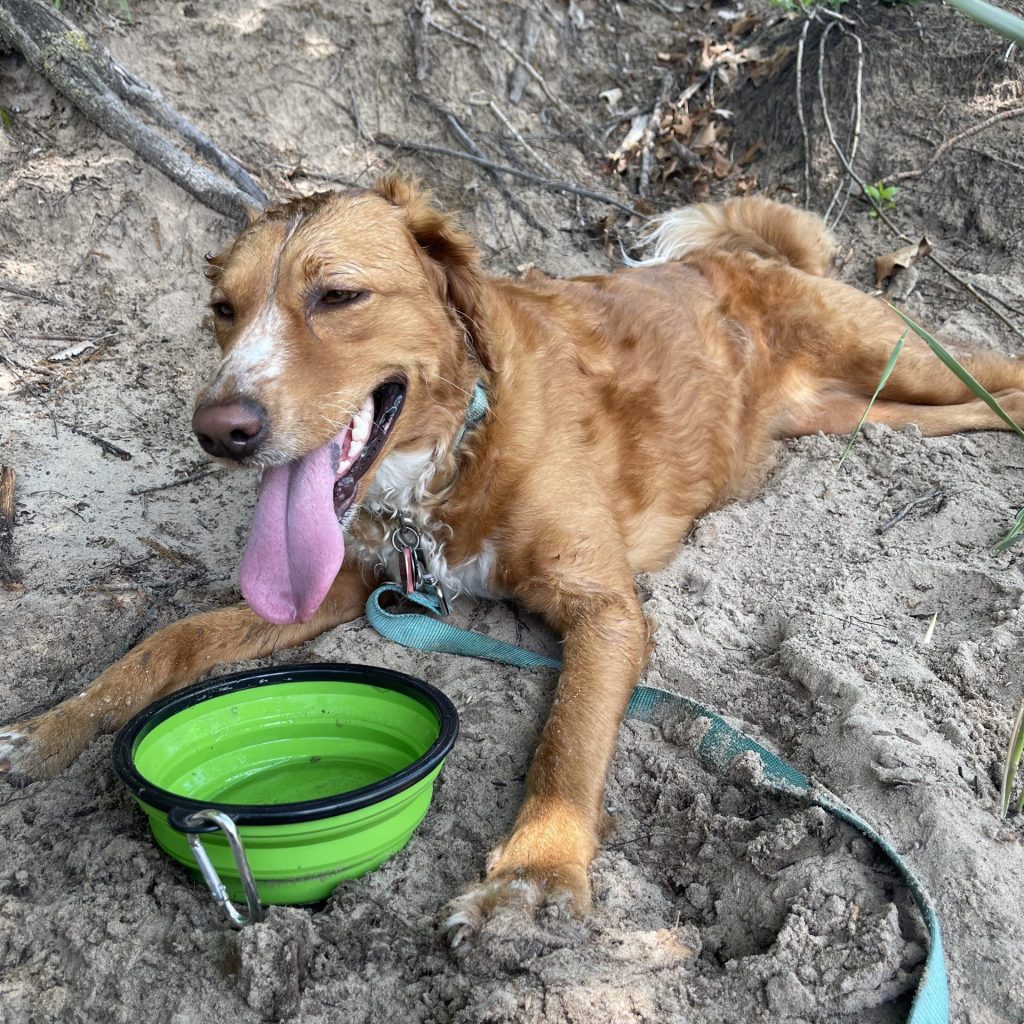 eventually she seemed good to go and we made the final push to the beach. (it was miserable. the going over the dunes part was the stuff of nightmares). and then, it appeared before us in all its glory and the hot miserable sweaty grumbly children and dogs headed straight in to cool off.
everyone was instantly happy again. and the water was so fun because it stayed shallow for a long way out to a sandbar. the kids and dog ran back and forth back and forth.
happiest girl.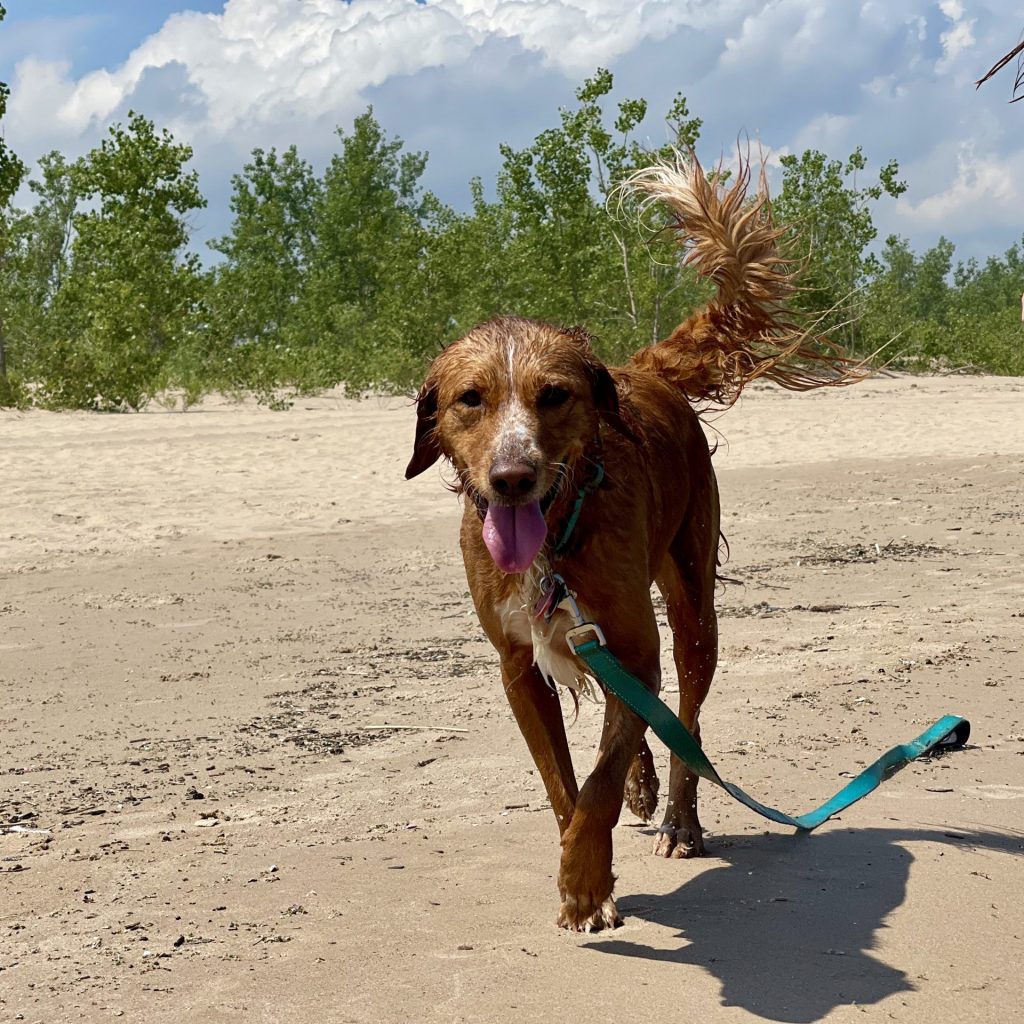 once properly cooled off, the girls got to work playing in the sand. as they do.
and the boy chilled with ruby, and probably complained about being bored.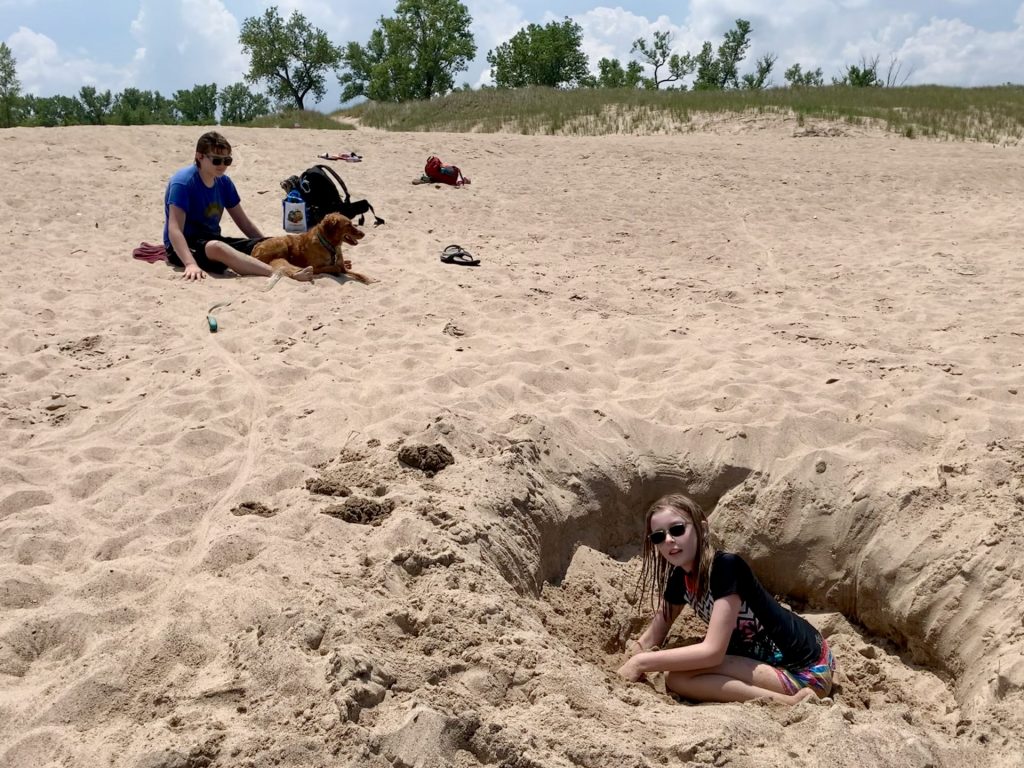 now here's where we talk about the "1.8 miles that i'll get to later"…
we had a limited amount of time before we had to head back to camp for derek to get some work done. and the kids were having so much fun. and i wasn't sure how ruby would handle the hike back (it was hotter now, with no lake at the end). so, i decided to let the kiddos and doggo stay and frolic, while i trekked back to the car, where i could then drive to a closed parking lot pretty close to the beach and pick up the beach goers.
so, off i set. stopping often for scenic photos.
also, stopping to check out all the colorful flowers, of course.
i made short work of the 1.8 miles back without the rest of my posse. i was so glad to dump out the sand from my shoes. it was packed in all around my toes, which gets a little uncomfortable while hiking. and i'm still finding sand TO THIS DAY, everytime i wear these shoes, which have been through the wash twice. also, derek took this cool apple maps photo of our locations, so you can sort of see the terrain we hiked through. i think i ended up going a bit more south (off the photo) and then over to the roads on the right, which led straight to the kiddos. i'm glad the parking lot was closed, because that is no doubt why we had the beach entirely to ourselves, and it made for a lovely day.
and thus concludes the tale of our one big adventure in indiana dunes national park. the rest of our stay was pretty low key and a lot of prepping for our next stop. 🙂