for awhile now, i have been admiring the various versions of the finger paints quilt by laura at quilt fort co, so when she announced a quilt along, i was all in. i attempted to pull all of the fabrics from my stash, but a few of the fabric requirements didn't match up with the amount i had on hand for some of the colors, so i picked those up at my local quilt shop.
the first week was choosing our fabrics and cutting. and look at me, i even labeled everything. i was ready to go.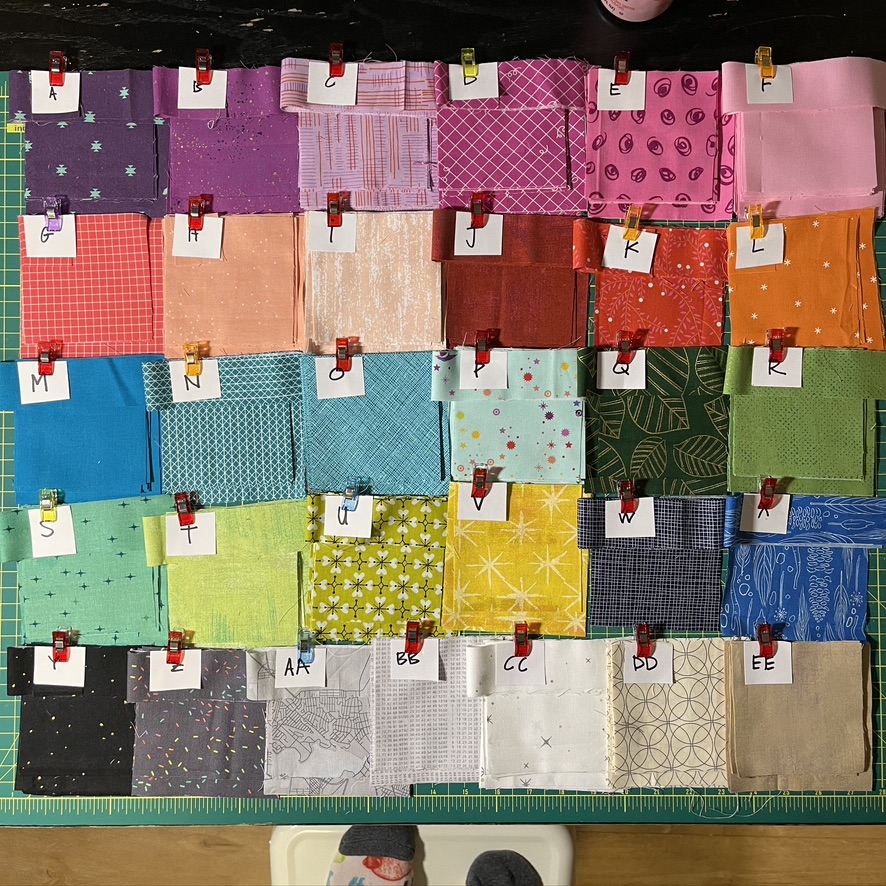 the quilt along was paced leisurely, and we only had to make two blocks a week. i followed along diligently, with my labeled pieces and my little swatched glued to my instructions. and i was determined not to fall behind.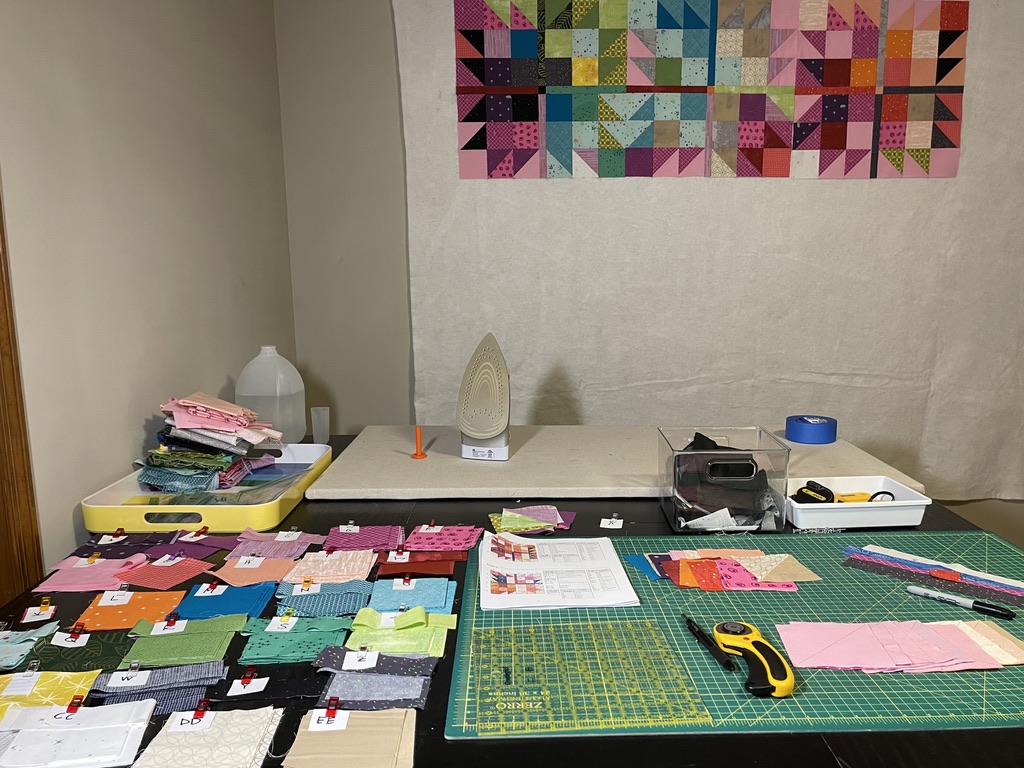 but then i did that thing that i always do. and worked ahead. i can't help myself. so, on like week three i had the full top done. and the thing was, i wasn't really in love with it. i regret a few of my fabric choices and it's really heavy on the pink and purples, which aren't my faves. anyhow. i picked up what i think is the perfect pair of backing fabrics, in the hopes that it might help it to grow on me.
i basted her up. and quilted grid lines about 1.75" apart. for the binding, i used the only fabric from the top that i had enough of to make a binding, a dark gray print with rainbow "sprinkles".
i don't hate it as much as i did when it was coming together. but, it's definitely not my favorite. i want to make another, but with my own color choices.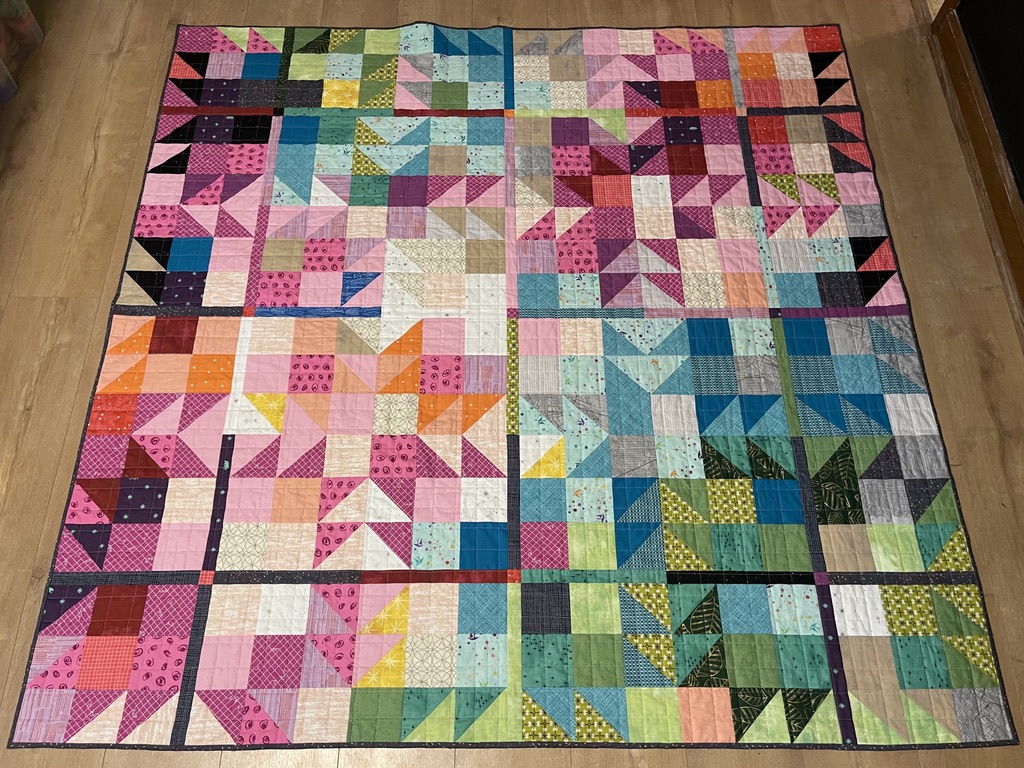 once again, i enlisted the boy to help me take some photos, but the lighting was meh (welcome to living in the stupid woods and having to take photos around your long armed, tall son's school day).
so, i tried again, on a brighter day, in the mid morning when we actually have some sun, with derek as my quilt holder, with much more success.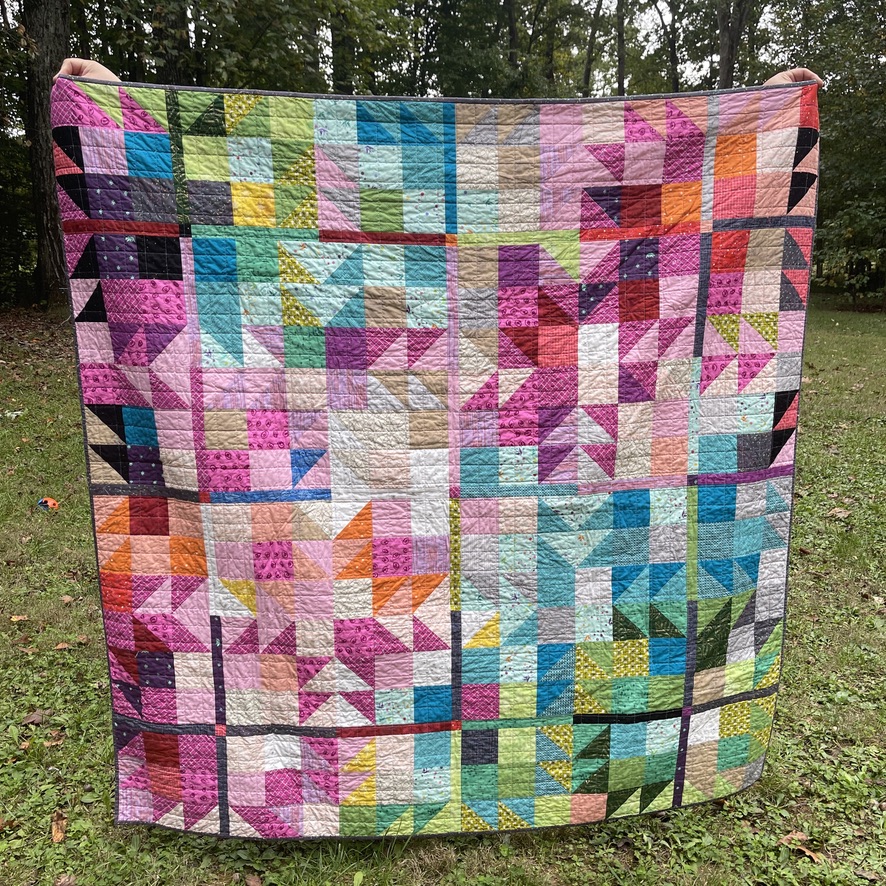 as i type this, it's actually the last week of the quilt along, and we are supposed to post our finished tops. i haven't won any prizes, but maybe the redeeming feature of this quilt will be that i win the grand prize?? stay tuned for the exciting conclusion.