whilst traveling about the country, i picked up a lot of fabric, including quite a bounty of halloween themed fabric. i also might have ordered a bundle of the cutest halloween line ever and had it shipped home. basically, i now own considerably more fabric that i can ever use in my lifetime. so, when i was back home, reunited with my sewing room, i got to work on some projects.
first up, last year i made a really cute bear paw christmas pillow, and i thought a halloween version would be just as fun. so, i spread out all of the many (MANY) fabrics and started cutting. (making scrappy quilts requires a lot of space and mess).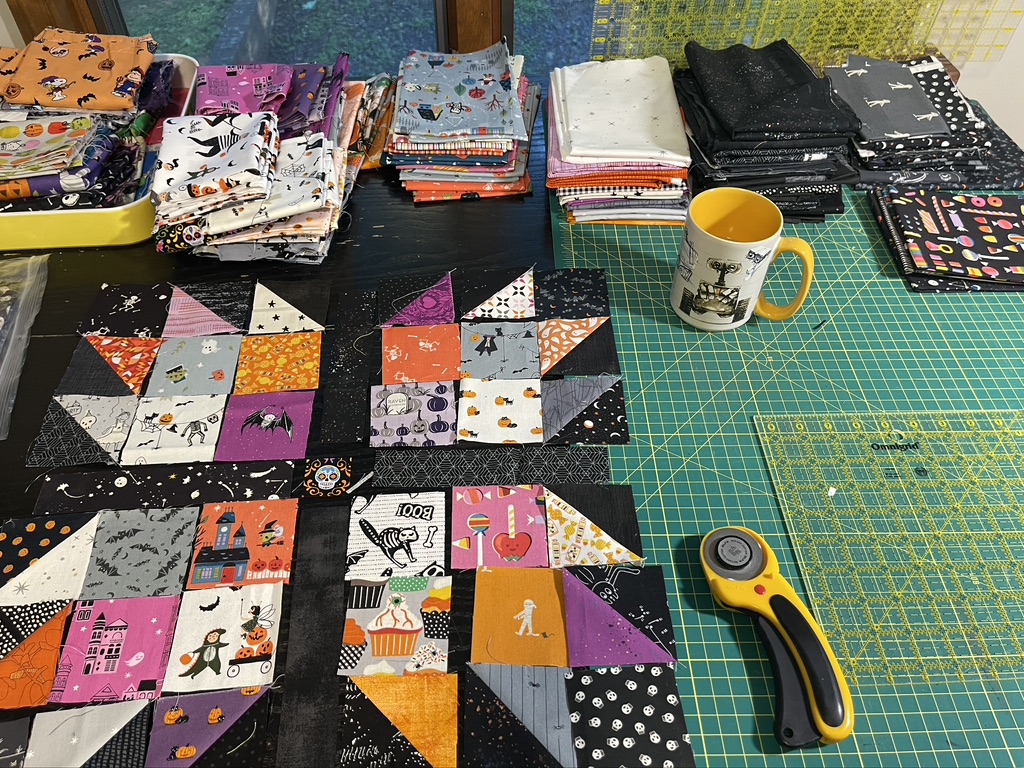 i quilted it up with a spiderweb pattern and backed it with super fun halloween donuts (and some haunted houses from my stash). i really could not love it more. especially that little sugar skull in the middle.
obviously, this pillow barely put a dent in my halloween stash, so i needed another bigger project. even though it requires so much trimming, i love the way economy blocks look, and i thought it would be the best for showcasing all of my different halloween fabrics. i pulled out all of my purples, blacks, grays, whites, oranges, and navy-ish blues and started in.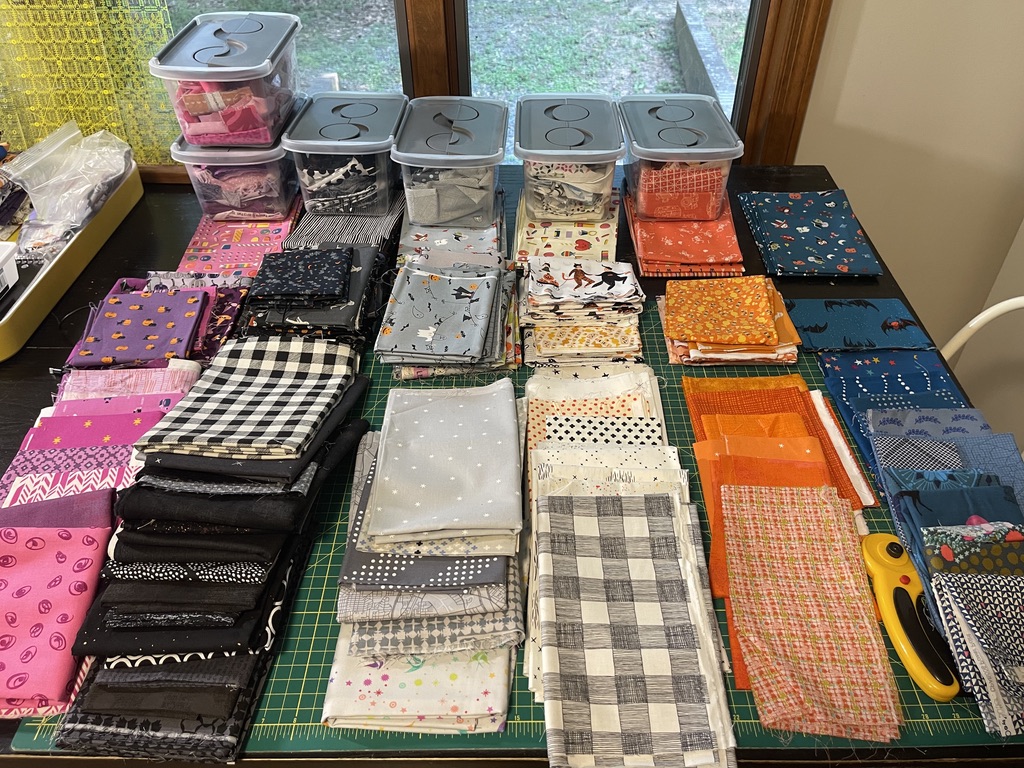 it was slow moving at first. i always get so excited about a quilt idea that i cut and sew one or two blocks at a time. then i bump up to four or five. and then i realize/remember how inefficient this is and cut the rest, so i can sew in assembly line fashion. once i did this, i had a top assembled in no time and i was ready to baste. with my helper. and then it was quilting time!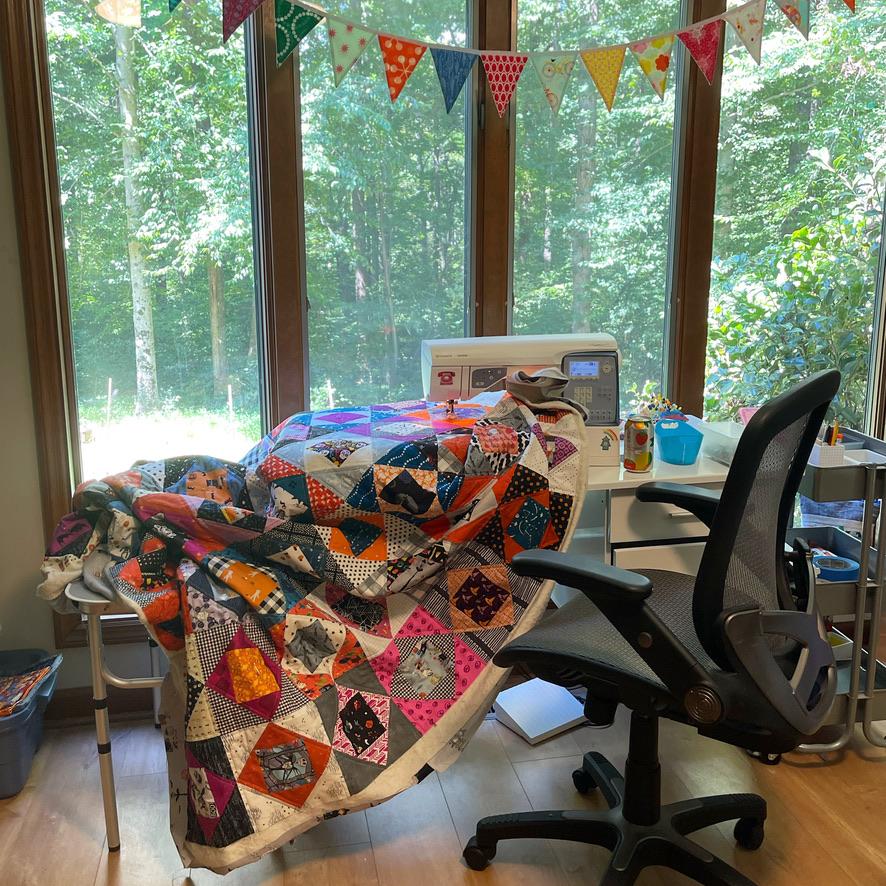 i bound it up in a sort of sketchy black print, washed and dried it to get that all important crinkle effect, and then attempted a photoshoot, only to be thwarted by the beloved doggo, who is always sure that a spread out quilt is meant for her.
so instead, i waited for the giant son to get home from school, and enlisted his help in getting some photos.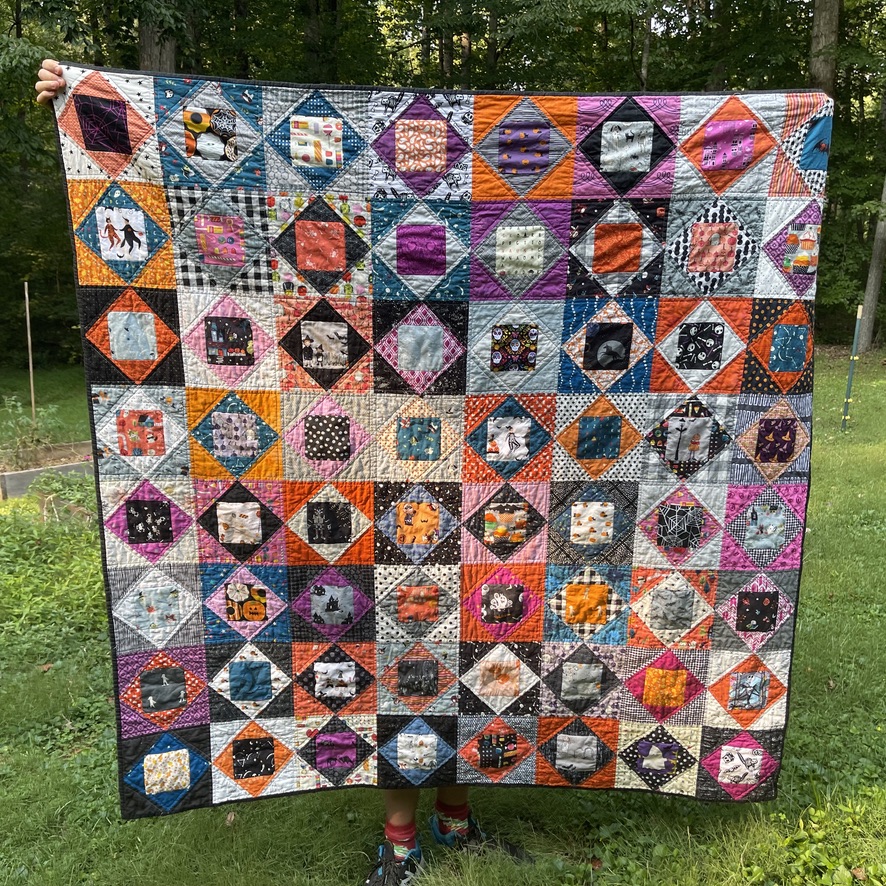 the lighting wasn't the best, but it will do. i mean, a spooky quilt really shouldn't have good lighting, right? i backed it with some blue/gray haunted houses and light gray trick or treaters(?), which was one of my favorite prints from the front.
i'm quite pleased with the final product. now i only need to make about seven more quilts, a few pillows, some bags and pouches, and maybe then i'll use up most of my halloween fabrics. that is, if i don't by more. (unlikely).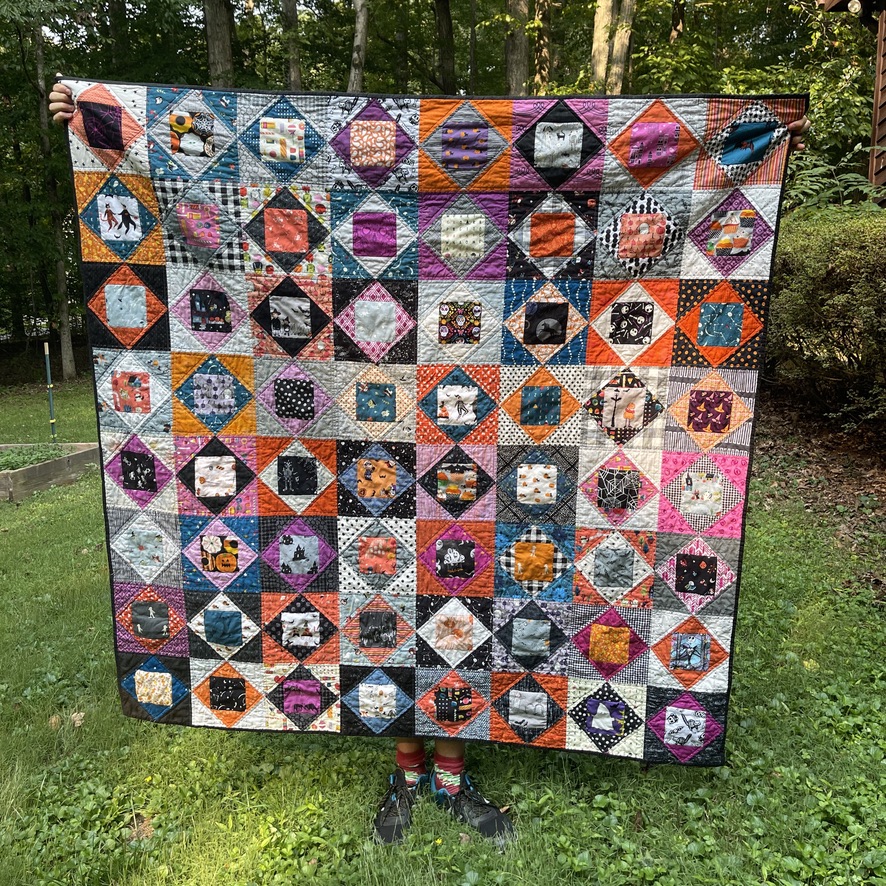 i finished this up in early september, which meant i would have lots of time to enjoy it before halloween, and plenty of time to do some more spooky sewing, but things were a little haywire in our life after this, so as i type this post, in mid-october, it's likely my halloween themed craft-ventures are done for the year.