as it turns out, i have acquired a slightly ridiculous volume of christmas fabrics over the years. you see, it's hard. because new stuff comes out and you have to buy it. and then christmas season happens so fast that you don't get much time to use up much of the fabric. and then after christmas, all the fabrics go on clearance, so you obviously have to buy a bunch of it. and then repeat.
anyhow. this year, i was determined to use up some of my stash. i have always had my eye on the patchwork forest quilts by amy smart of diary of a quilter, and it seemed like it would work pretty well with a scrappy palette, so without further ado, i got to work.
firstly, i got squares from many of my favorite christmas fabrics. already, i could tell it wasn't going to be how i envisioned it, but i didn't hate where it was going.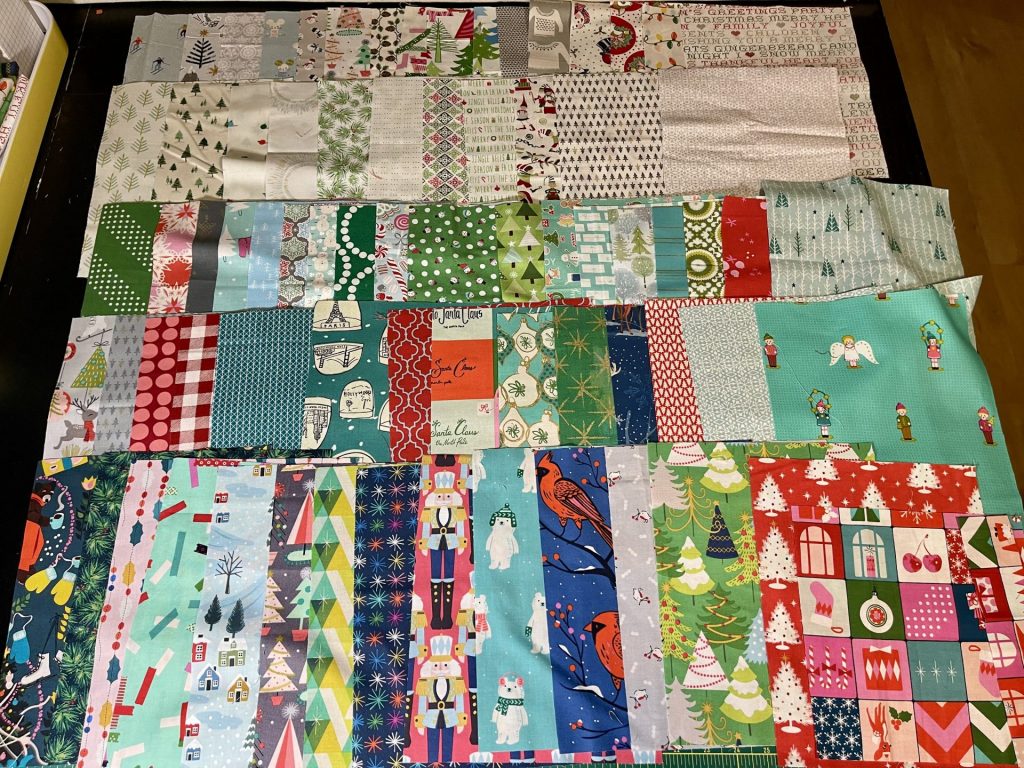 the quilt came together pretty quickly. i grouped the fabrics into stacks of four, alternating contrasting prints. the trees are cut sort of improv-y, so every set of four was different from the rest. they were really fun and easy and satisfying to make. before long, i had a wall full of them and i was ready to sew them all together.
mostly, the light in my house isn't really great. but, this one spot in my sewing room comes through for me every now and then.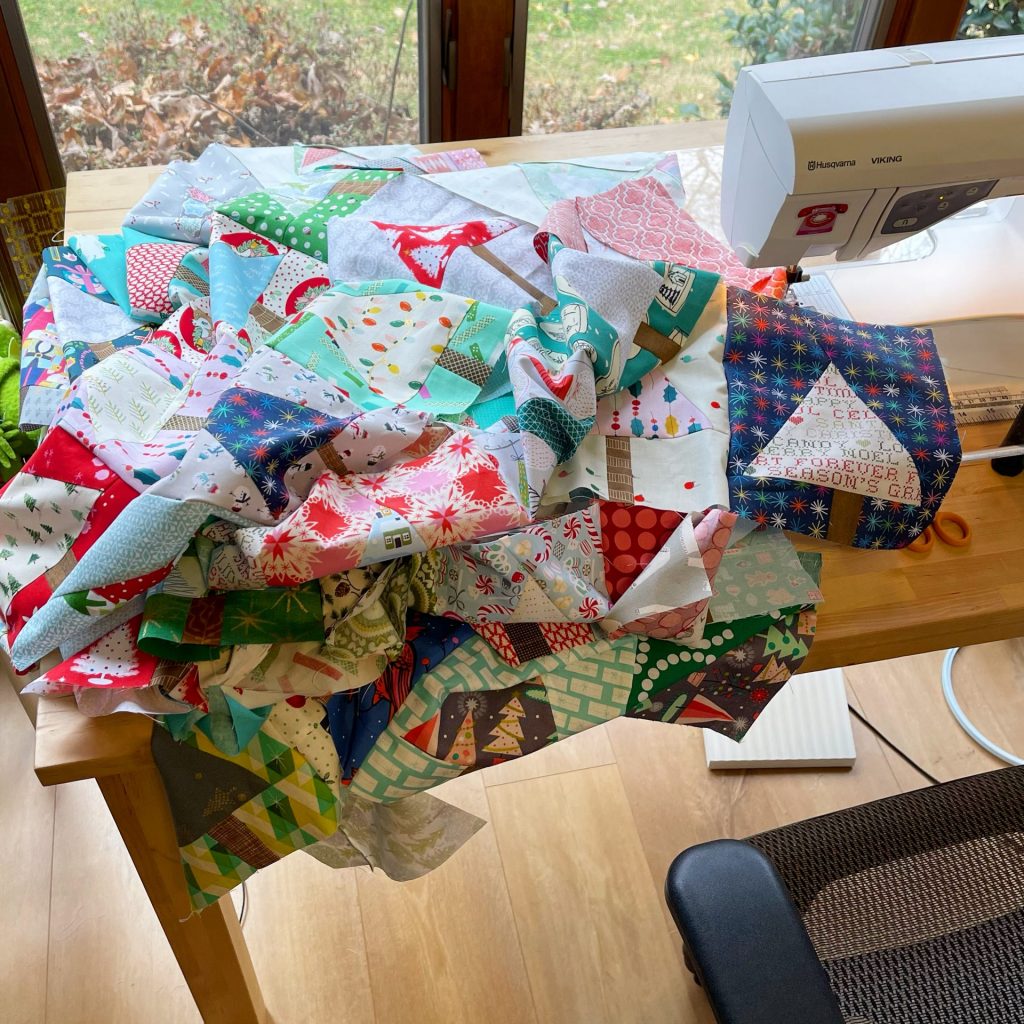 then it was basting time. for the back, i picked up a yard or so of red, aqua, green, and pink, mostly because solids are cheaper, but also because the top was so very busy.
i quilted it up with big, wonky loops, and all was right in the world. but things quickly took a turn. i had it laid out on my quilt room floor, and as i was cutting the binding (scrappy reds), i dropped my open rotary cutter onto the quilt. it landed perfectly, slicing all the way through the quilt, and even some of my quilting stitches. i had high hopes of patching it, but in the end, i just darned it up like it was an old sock. maybe next christmas….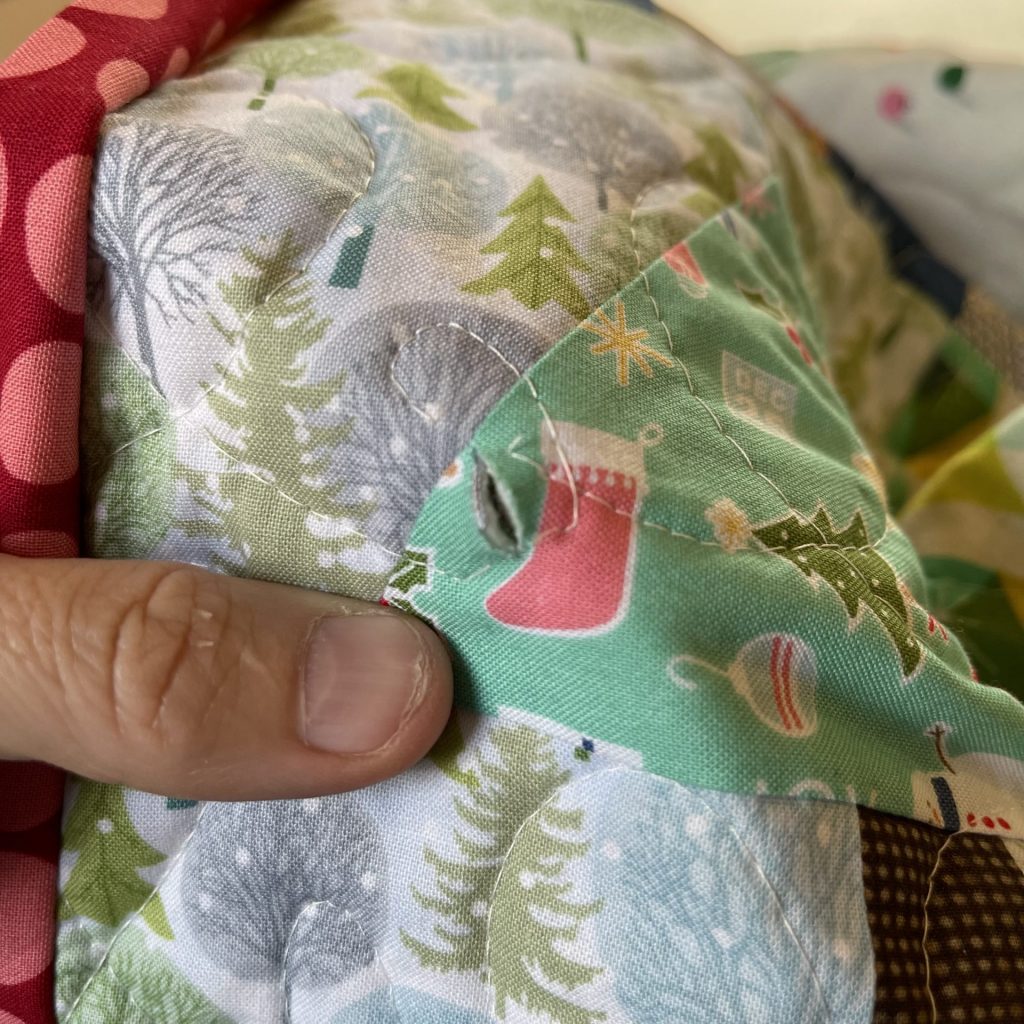 after it was bound, i tossed it in the washing machine. with several color catchers, as is my standard. when i pulled it out of the wash, i almost cried when i realized the red from the backing had bled onto all of the whites and low volume fabrics, turning them a splotchy pink. i threw it back in with some oxyclean, which has worked for me in the past, but failed me on this occasion. then i treated it with an oxyclean stain remover stick. still nothing. meanwhile, derek was researching on my behalf, and came across an article with a surefire way to remove the dye stains.
we filled the tub with hot water and a WHOLE lot of dawn dish soap. i donned rubber gloves and agitated the quilt for about 30 minutes, before we used some storage bins and dumb bells to hold the quilt under the water for twelve hours. (if any part was above the water line, apparently that is where the dyes will collect, instead of wherever they magically went if no parts were above the water).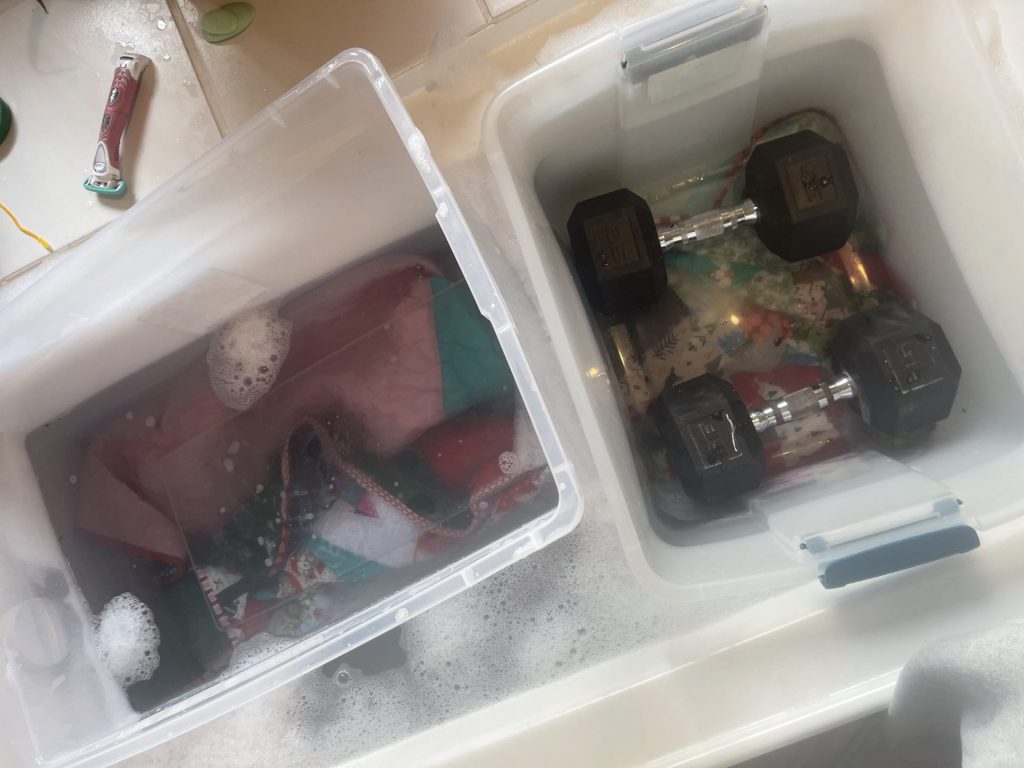 after 14 hours (it was nighttime and the 12 hour mark would have been 3am), i pulled it out and it was a christmas miracle!! almost all of the pink was gone. there are two fabrics were it was the worst, and there's still a really faint amount of pink leftover. also, i sort of think the entire quilt was a little bit less vibrant, but i'll take it! they all get less vibrant eventually. i am pretty sure that it will smell like dawn until the end of time though.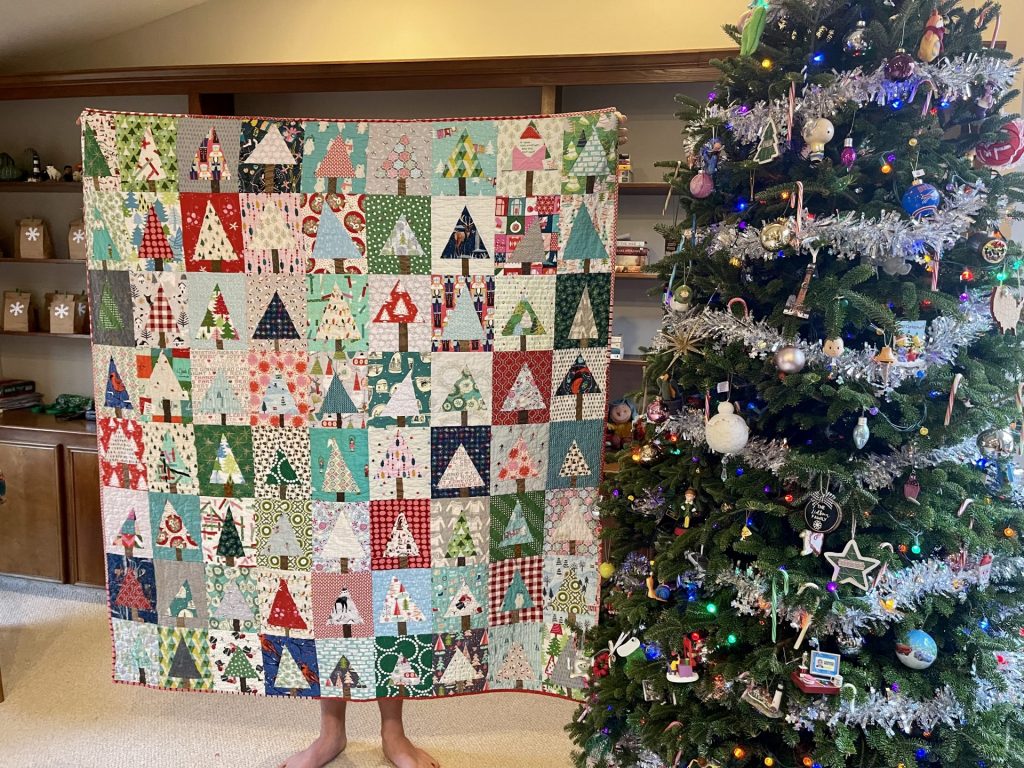 i'm a huge fan of how the red scrappy binding turned out, and at the first chance i got, i dragged isaac outside to take a million pictures in the natural light that streams into the front yard in the afternoons.
there are 72 different fabrics and i think this will be a fun one to pull out at christmas for years to come.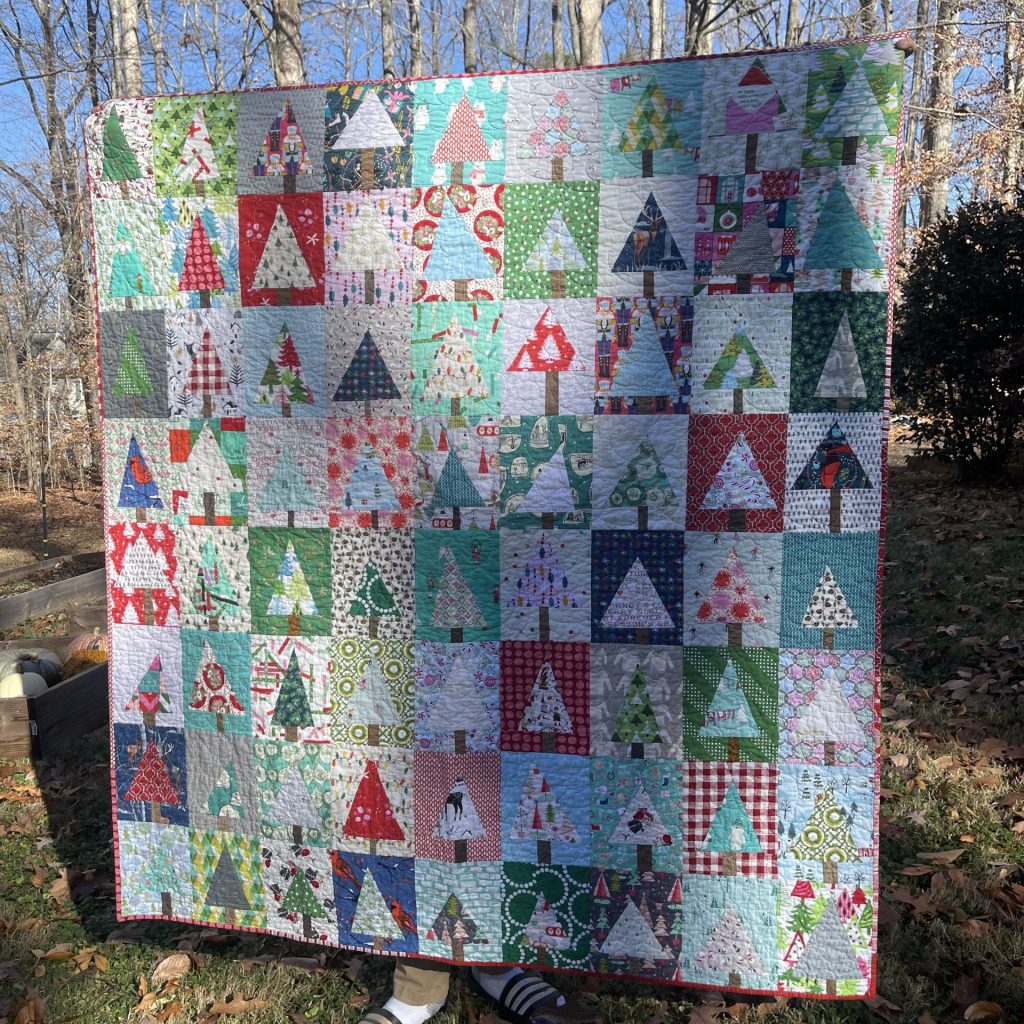 this is the extent of my holiday sewing, much to my dismay. i had high hopes of making new stockings for the fam and maybe even a new tree skirt, but i now know that for those things to every materialize, i need to start before thanksgiving.