after i finished up my scrappy halloween economy block quilt, i was sort of stuck for what to do next. then, my online-ish-but-we-met-in-real-life-once friend dana suggested we make the norm and nanette pattern by elizabeth hartman. i have had my eye on it for a long time, so my obvious answer was YES. we held a super informal, non time sensitive, no prizes, very little posting, quilt along. we were the only participants.
usually, i'm all about as many colors as humanly possible, but dana is an expert at making scrappy quilts with an actual color palette, so i channeled my inner-dana and went with a seventies vibe, with oranges, yellows/golds, greens, and a little pop of sky(?) blue. once i had all the fabrics pulled, i got to work. so. much. cutting.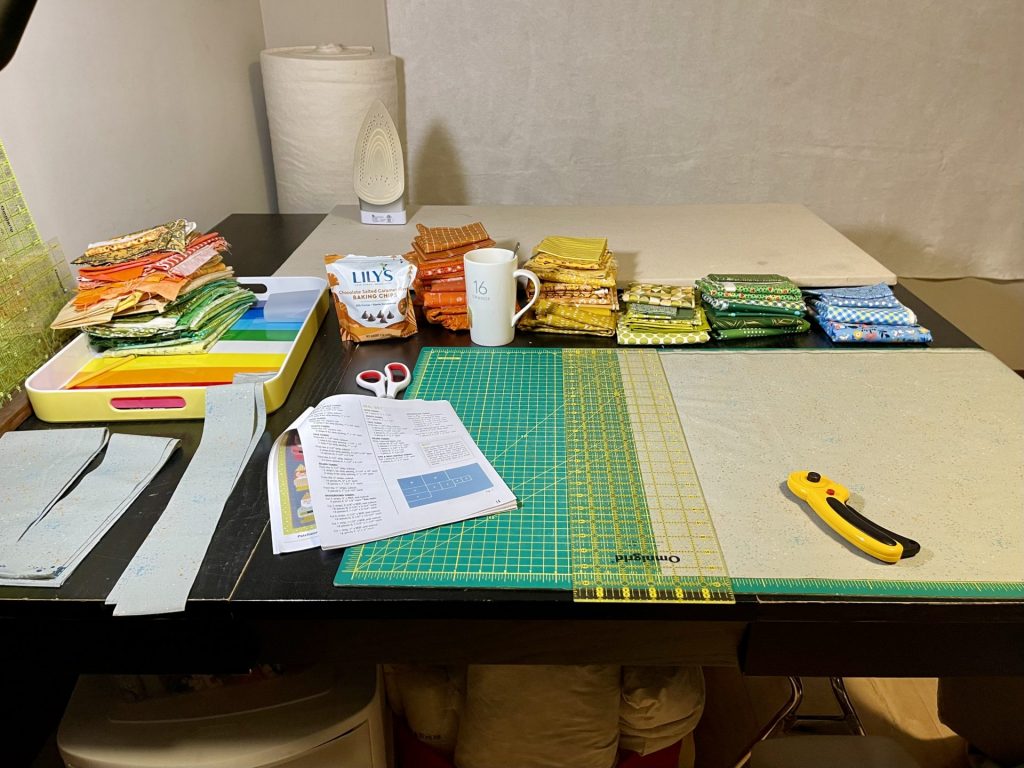 each gnome had like 40-50-ish pieces. i opted for a racially and culturally diverse crowd of gnomes, for two reasons. one, i think it's more interesting. two, and most importantly probably, i had a lot of leftover solids scraps in various skin and hair tones from making hazel and isaac's minecraft quilts last year.
i got all of the gnomes completed just before we left for new york for thanksgiving. when i got back, we were squarely amidst christmas season, so i packed up all the blocks, to turn my attention to some christmas sewing, and then to transform the room into a full blown gift storage and wrapping headquarters.
after christmas, i sashed and bordered all of the blocks, and then headed to sewingly yours, armed with a big fat gift certificate i had recieved for christmas from the grandlidboms to pick out a backing. nothing really jumped out, so i settled for a clearance cut that i had had my eye on for quite awhile. i turned it into a proper backing and got to work in the spacious, cavernous foyer, basting my little heart out. derek documented from the loft above.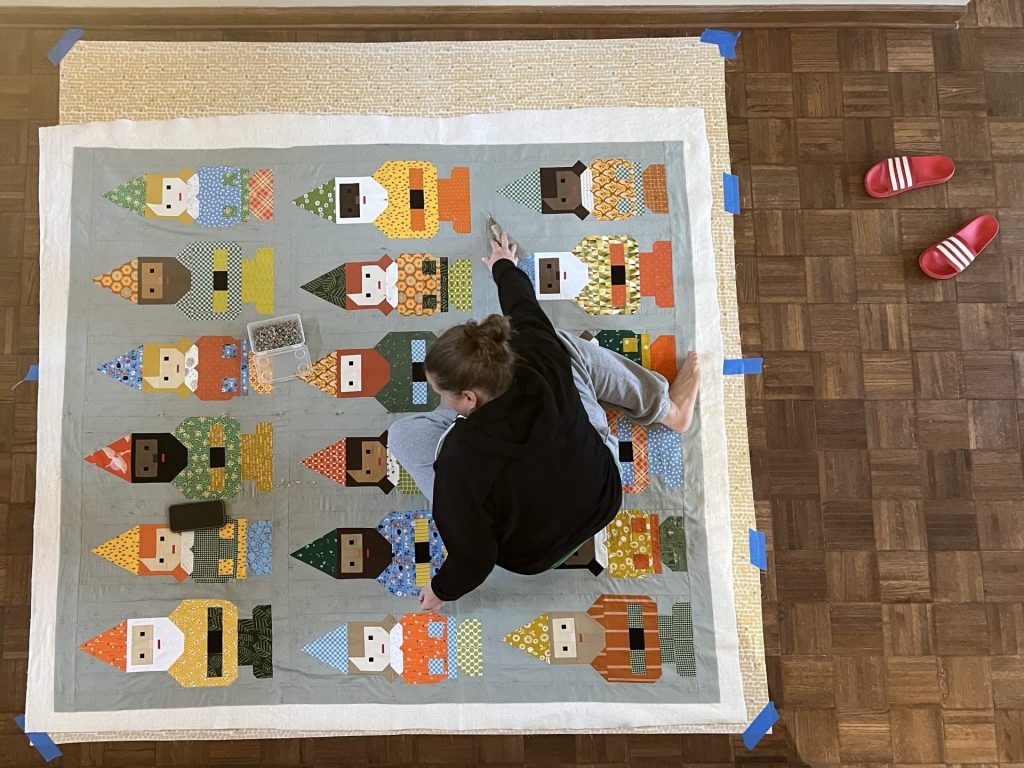 for the quilting, i opted for a grid of straight-ish lines, two inches apart.
then i bound it all up with a scrappy binding, with leftover fabrics used in the gnomes. then i made derek go outside, on a big old snow storm day, to hold it up with his disproportionately long arms. i'm super duper happy with the finished product, even if there a few final layout issues and the two red heads ended up next to each other.
back inside the house, i took advantage of the natural light that comes in one window for a few hours a day, to capture the texture of the quilting. naturally, ruby assumed that the quilt laid out on the floor was meant for her and crashed the photoshoot. since she matches the aesthetic, i'll allow it.
this quilt now adorns the back of our couch. it matches our stupid dated 70s house, but i like it anyways.