i very rarely purchase entire fat quarter bundles of a fabric collection, but when photos of ruby star society's new "stay gold" collection by melody miller starting popping up on my radar, i knew i had to have it all. within minutes, i had found an online shop with fat quarter bundles in stock, and a week later, the fabrics were in my hands. as mentioned in a previous post, this is a gift to myself, for the birthday of my teenager son, fifteen very long years ago.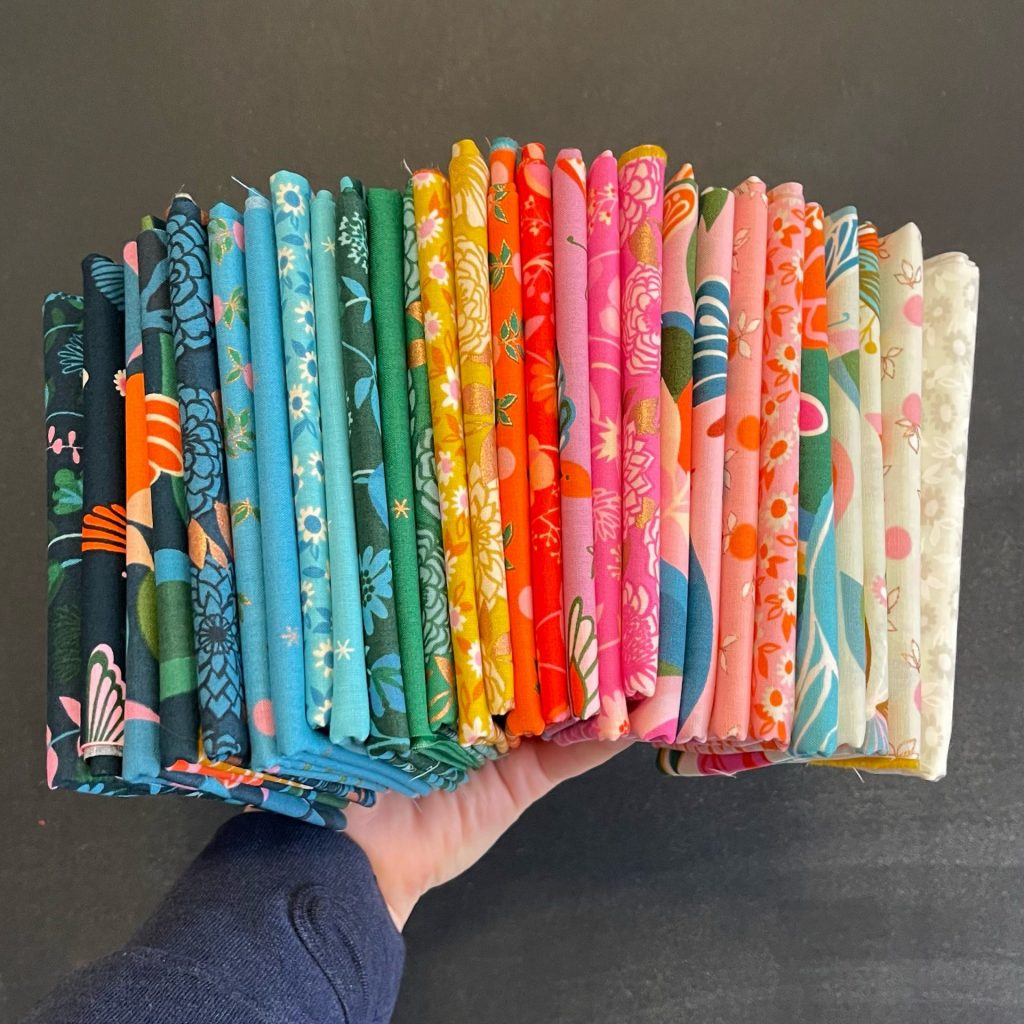 while i awaited the arrival of the fabrics, i plotted and schemed it's usage. it didn't take long for me to decide on a scrappy-esque bear paw quilt, using only the brighter more saturated colors in the bundle. for the background, i already had the perfect option in my stash, a huge cut of swiss dots on cream that i bought using my birthday discount a year or so ago at my local quilt shop. then it was pressing and cutting and half square triangle making and more trimming and soon, i was ready to assemble.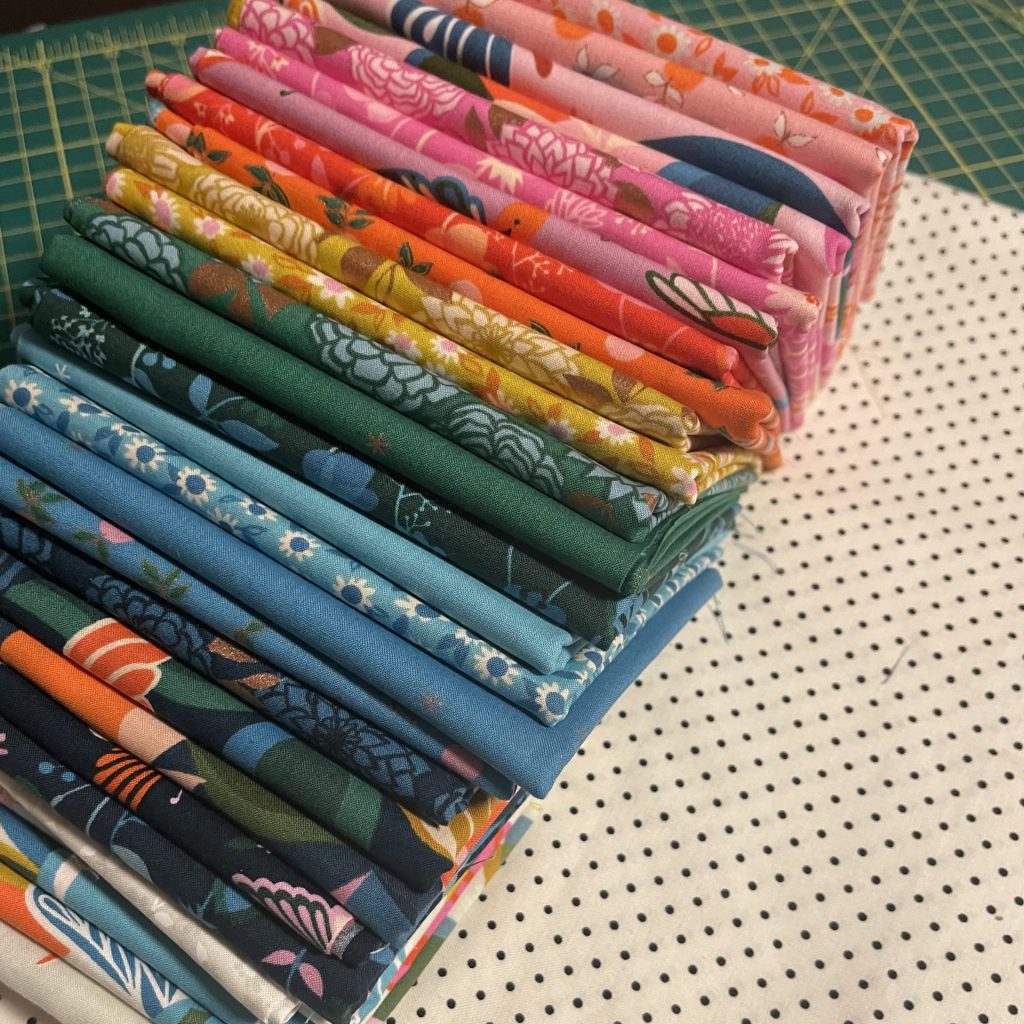 i'm normally more of a wing-it quilter, but with my future new favorite quilt of all time, i cut no such corners. i laid out each and every square on my design wall, ensuring proper forced randomness and color distribution. i sewed them all up, complete with sashing and borders, and a quilt top was born.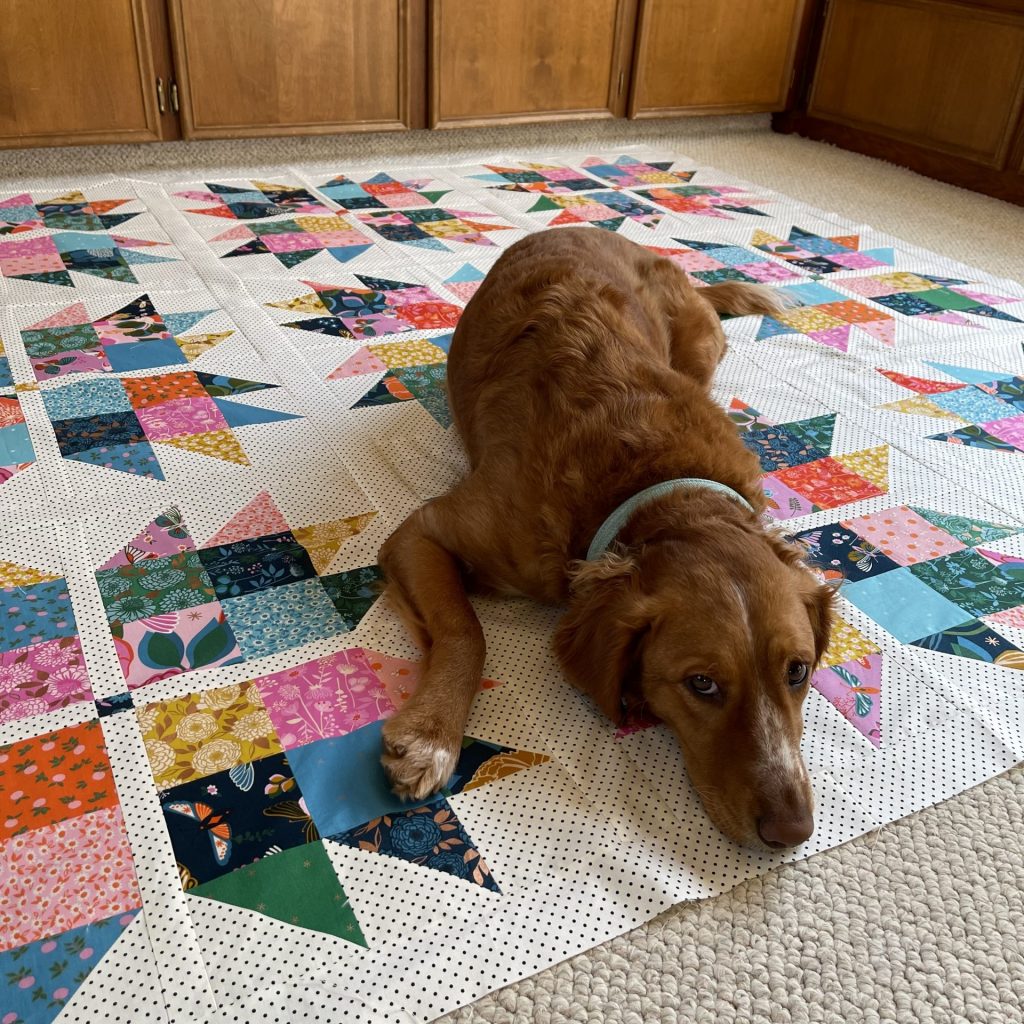 but what to do about a binding. hmmmm. so, this fabric is not in any local shops yet, so i was considering ordering some yardage online, but i was too impatient to wait that long. i checked the local shops for a suitable option, and discovered that one of them had a wide back print from a previous ruby star collection that would work quite well. so exciting.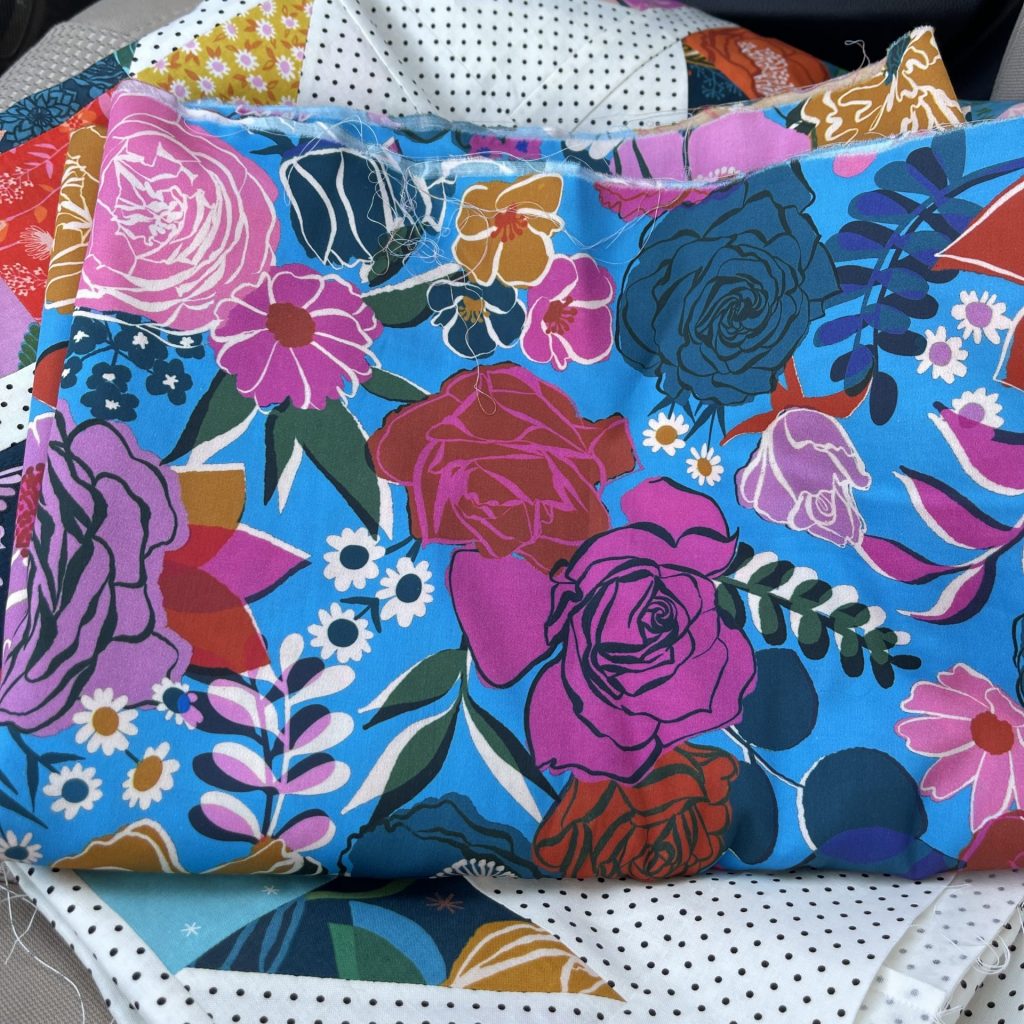 ugh. quilting is where i ran into some trouble. quilting is already not my favorite part of the process. i have a few go-to options. all over meander, which is my least favorite in appearance, but the easiest. free motion loops, which is also pretty easy and i like better than meander. and straight lines. which are rarely ever straight. it's my favorite look, but very time consuming. since this was my future new favorite quilt, i decided to go with a straight line diagonal grid.
i moved my machine out to the kitchen table, which gives me more space to drape the quilt and not have the weight of the quilt pull it to the side or have it get hung up on a corner. but, apparently, my quilting technique is a bit aggressive, and my machine kept sliding all over the table as i pushed and pulled the quilt through. my lines were super crooked and i was so frustrated. i took a break to pick out all of the stitching, and later derek added some sticky pads to the bottom of my machine. for my second attempt, i did a standard grid of straight-ish lines, and things went more smoothly. but this was definitely enough stress to influence me not to do straight lines on my amh geese quilt.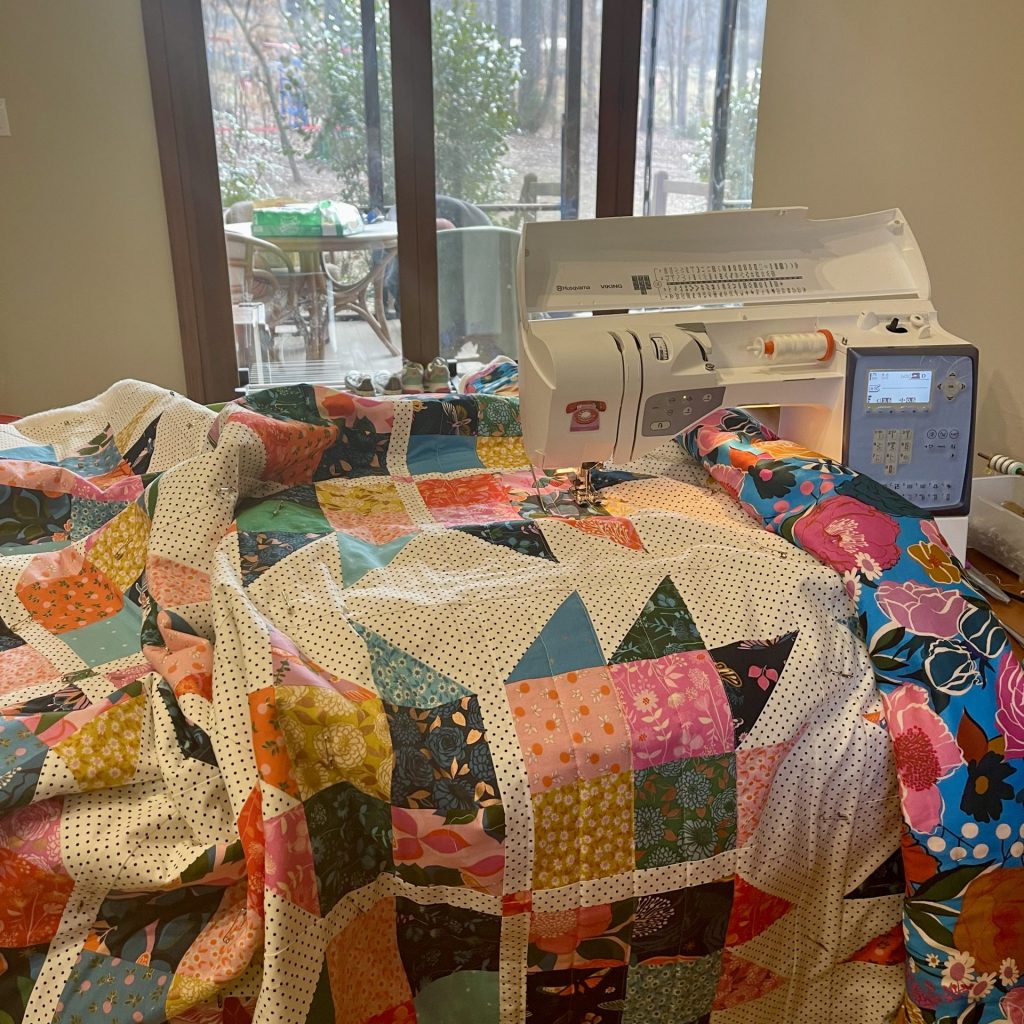 and then, it was once again time to use the physical attributes of the teenager responsible for my self care impulse purchase of this fabric in the first place.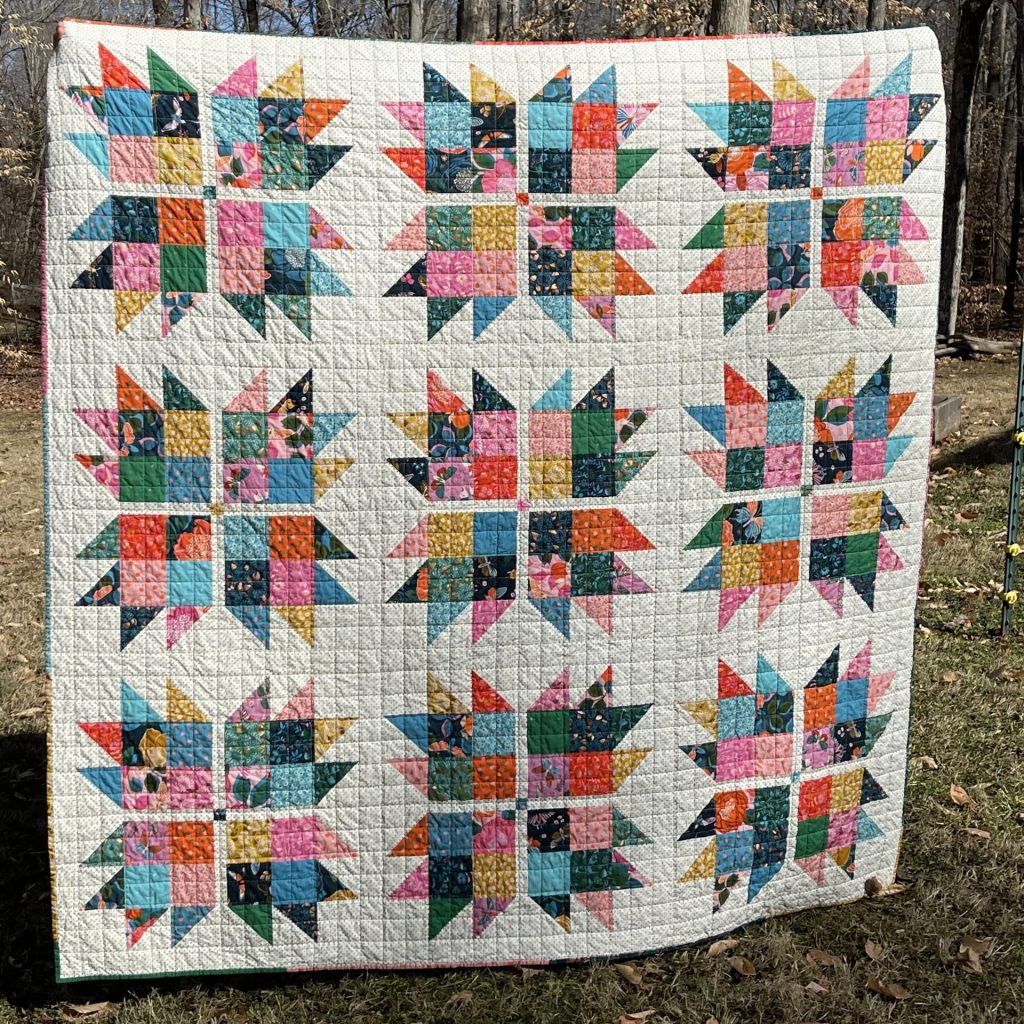 once again. it was hard for us amateurs to figure out the best angle. so we tried them all. one slight turn and we had a super shadow-y view, showcasing the texture and crinkle. and then from another angle, you can see how vibrant the colors are, as evident in an accidental photo i took while helping position the boy, which is why it's just a corner.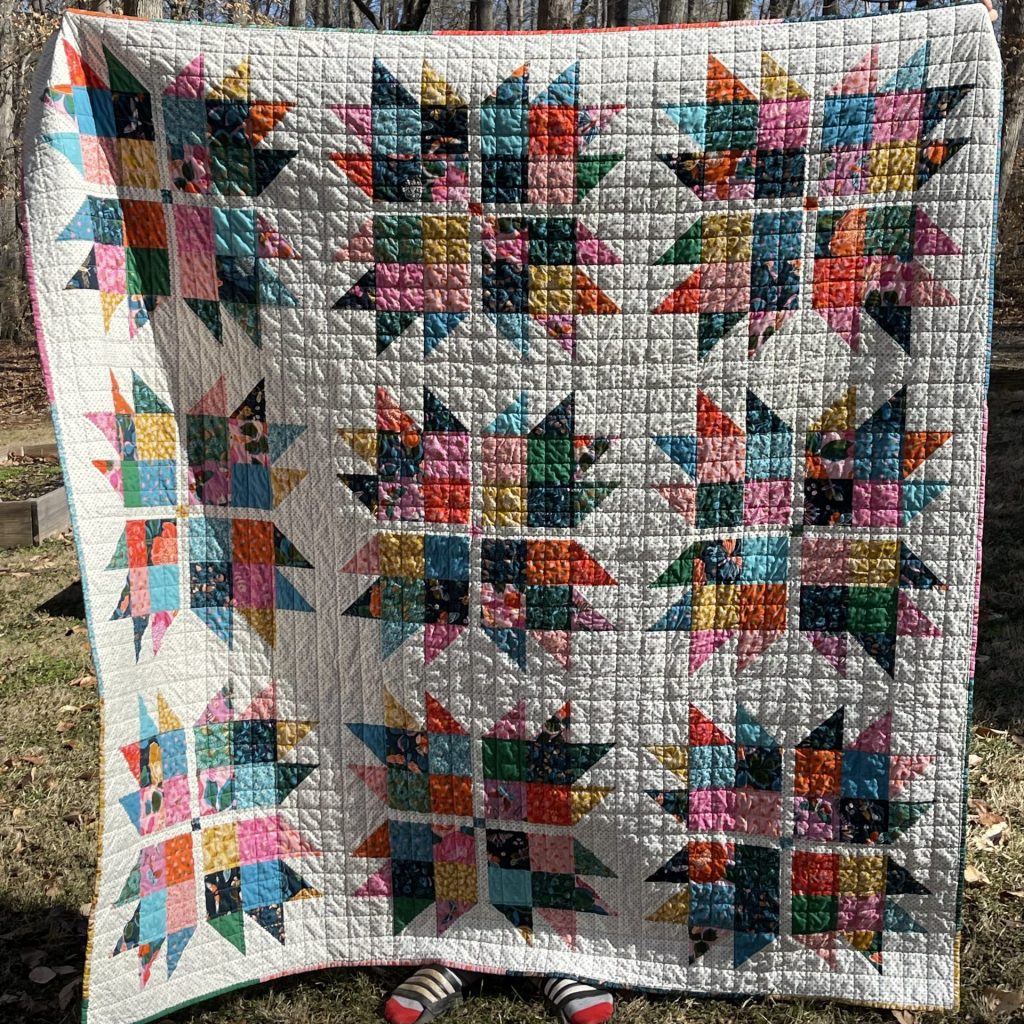 i bound the quilt with a scrappy binding, comprised of leftovers of the bundle, a sacrifice considering i actually wanted to hoard it all until the end of time. totally worth it though.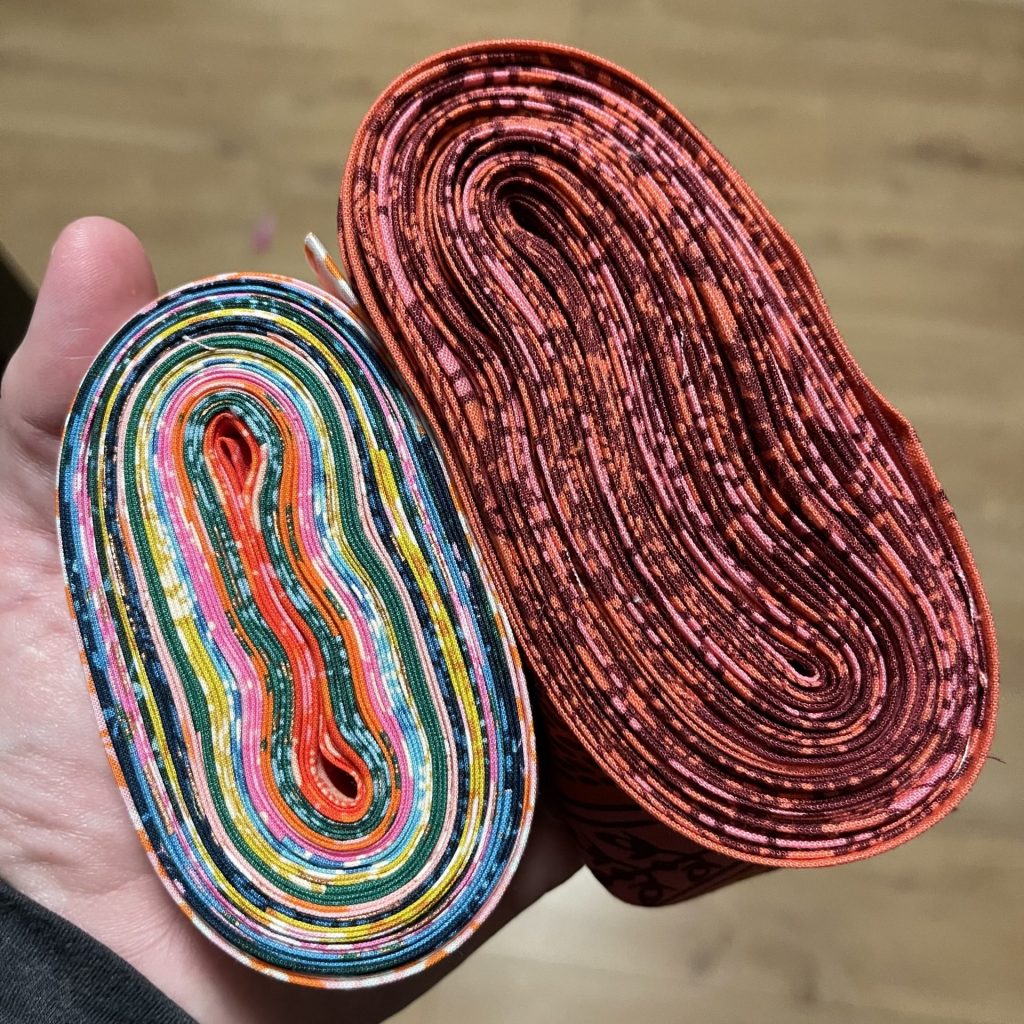 ok. one more last look. this quilt is so so much my favorite. i don't know how i will top it. happy anniversary of motherhood to me.