now that i feel like i've shaken the rust of my cake decorating game, i have put out the word amongst friends and family that i am available for commissioned cakes. first up, my pal amanda (who is a fantastic baker herself), ordered a pokemon cake for her two boys' shared birthday celebration. she gave me a budget, flavor requests, a list of favorite characters, and free reign to do whatever i wanted. and here's how that went.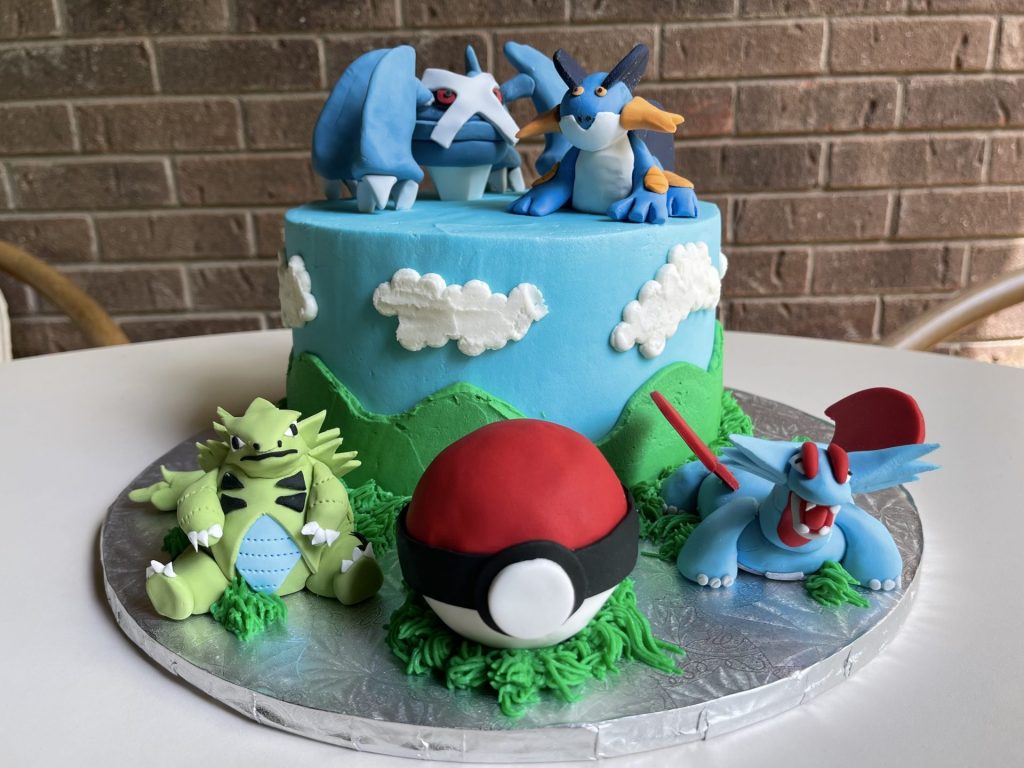 my game plan was to attempt to make all of the characters out of fondant. and if that proved to be an epic failure, i would roll out a big flat sheet cake and "draw" buttercream likenesses of the characters instead. so, first things first. dyeing a million blobs of fondant to match the colors of metagross, tyranitar, salamance, and swampert. i also planned a rice krispie treat pokeball.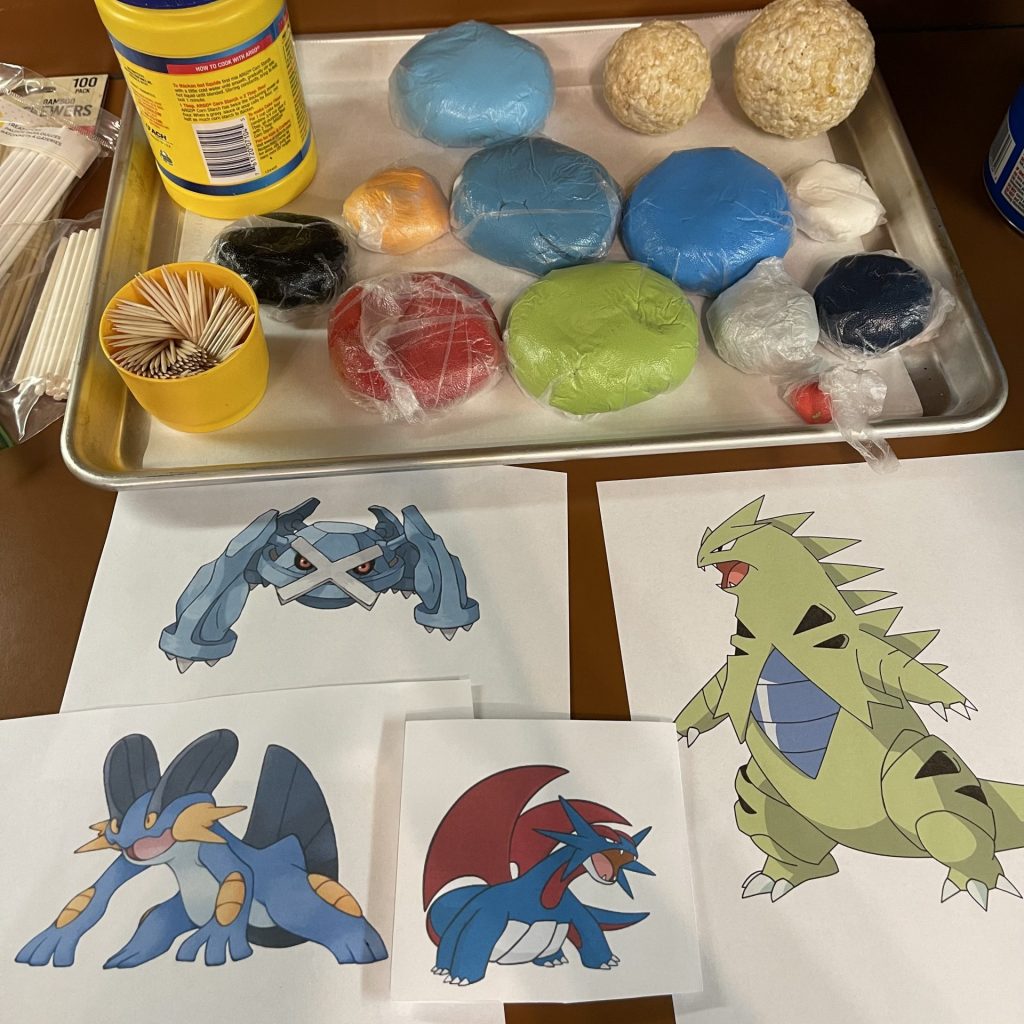 once i had everthing ready (mise en place, you guys), i shipped hazel off to the grandlidboms and got to work. i also printed off photos of plush versions of all of these guys, since they are a little more plump and shaped conducive to fondant modeling. it was a bit of a challenge to figure out how to break down each character. fondant needs time to dry to be sturdy, so the order of assembly takes some planning. also, all of the joins are "glued" using a bit of water, and it takes awhile for that to dry and set. so basically there's a lot of scheduled waiting. this salamance was the trickiest, and required some janky support systems while he dried.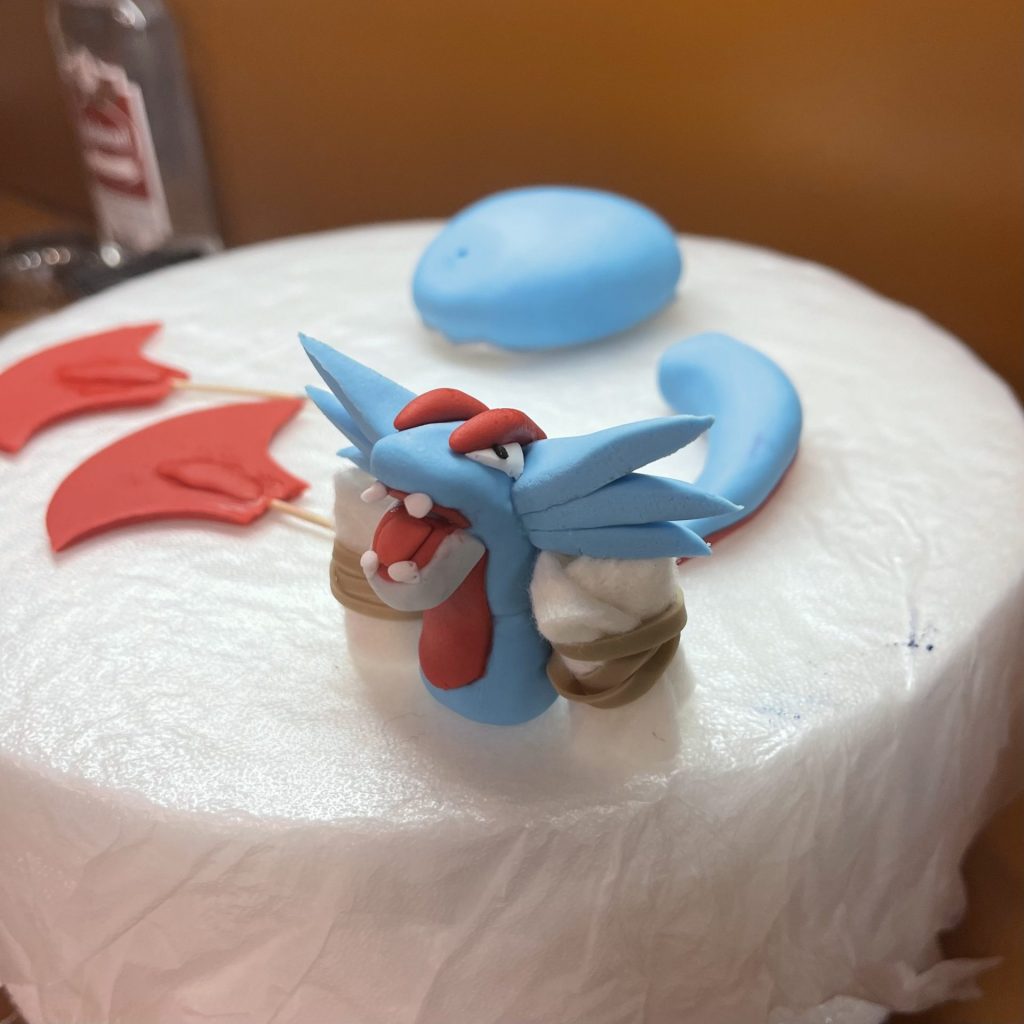 but, after a solid 8 hour day, and another day of drying, everybody was ready to go!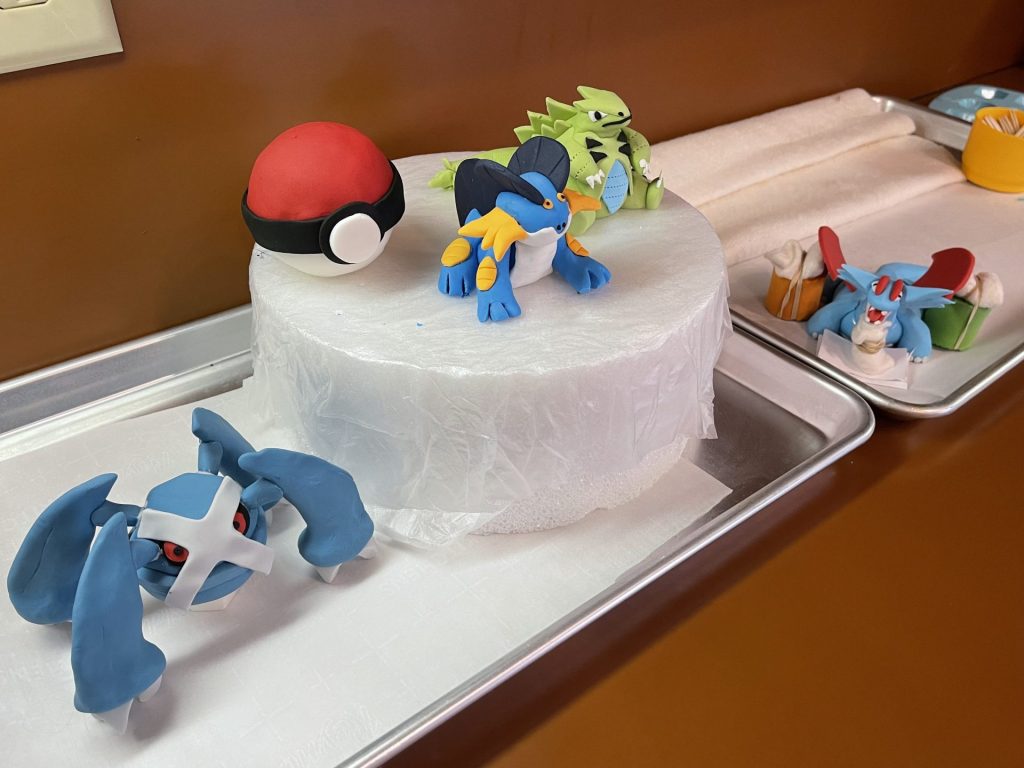 here's some close ups of each character. i have only made fondant figurines a handful of times, and i learn new things each time. i'm fairly happy with these guys, given my experience, but i also see lots of room for improvement.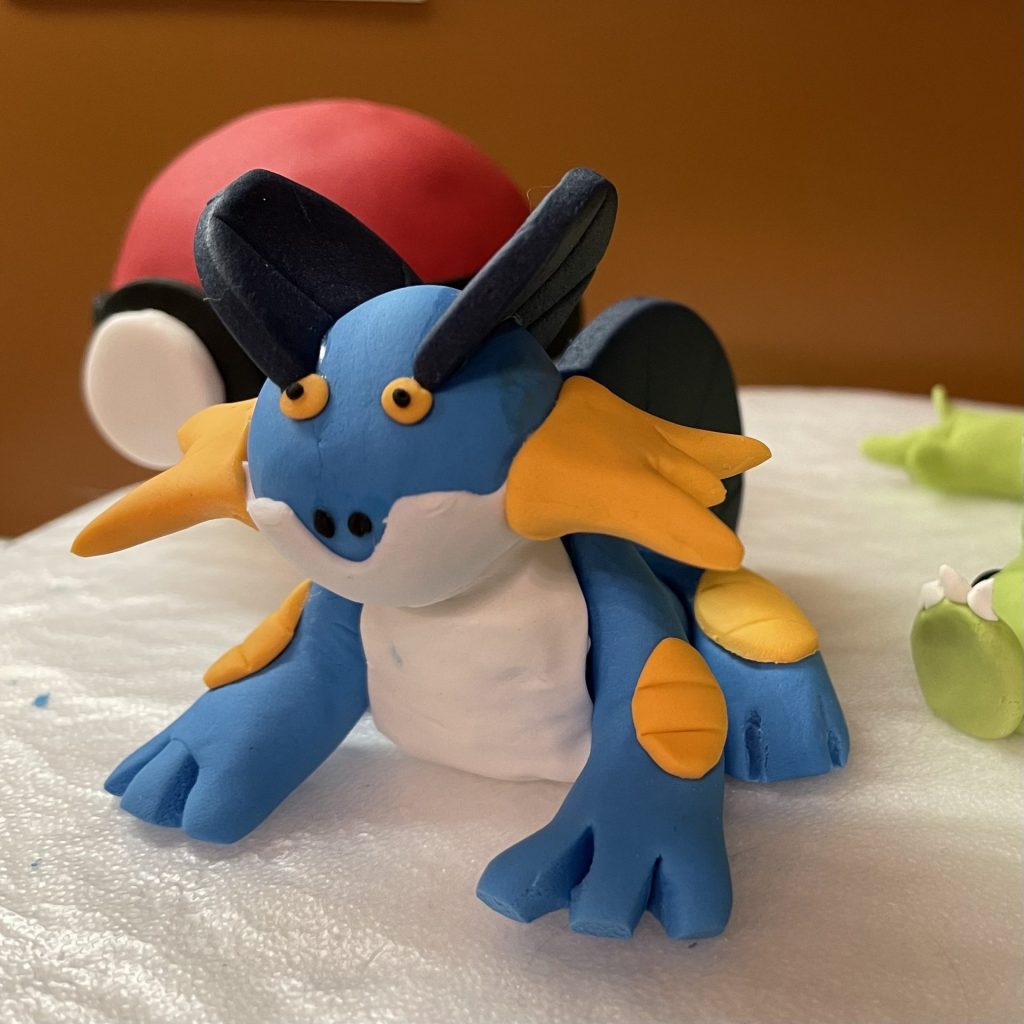 i agonized long and hard about the actual cake. first the facts. it's red velvet and cream cheese filling. that part was easy. i wasn't sure if i wanted to frost the exterior with more (delicious) cream cheese and have it be delicious but not tidy. or if i wanted to go with buttercream and have it be nice and smooth. in the end, i went with buttercream, because i wanted it to look good.
but the decisions didn't end there. i wasn't sure what color. or if i should write anything on it. or do a bunch of piping and such and slap on a billion sprinkles. or maybe a pokemon logo. i mean. i exhausted so many options. and then, i decided to just do a little scenic grass/hills/sky/clouds plan. it looks nice. not too plain. but wouldn't steal the show from the fondant guys.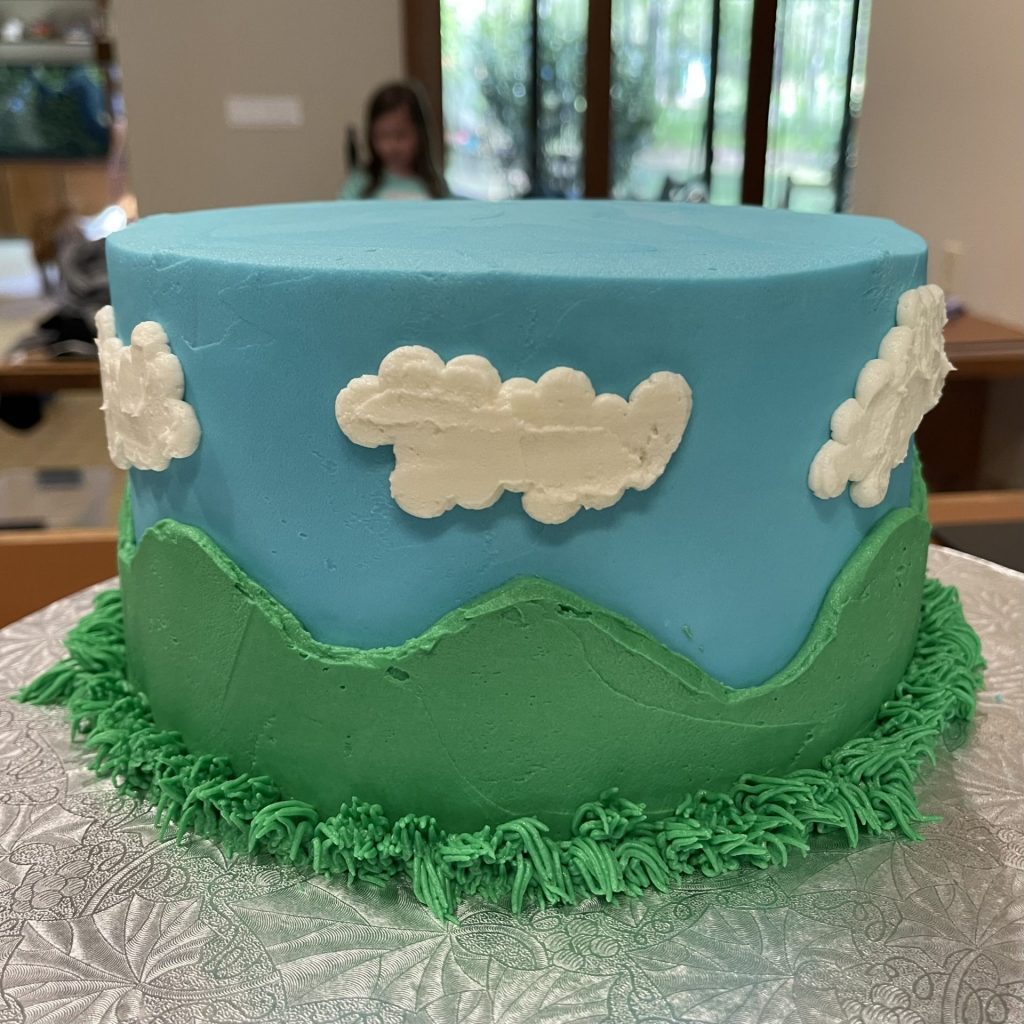 and. here's the finished product. not too shabby, i think.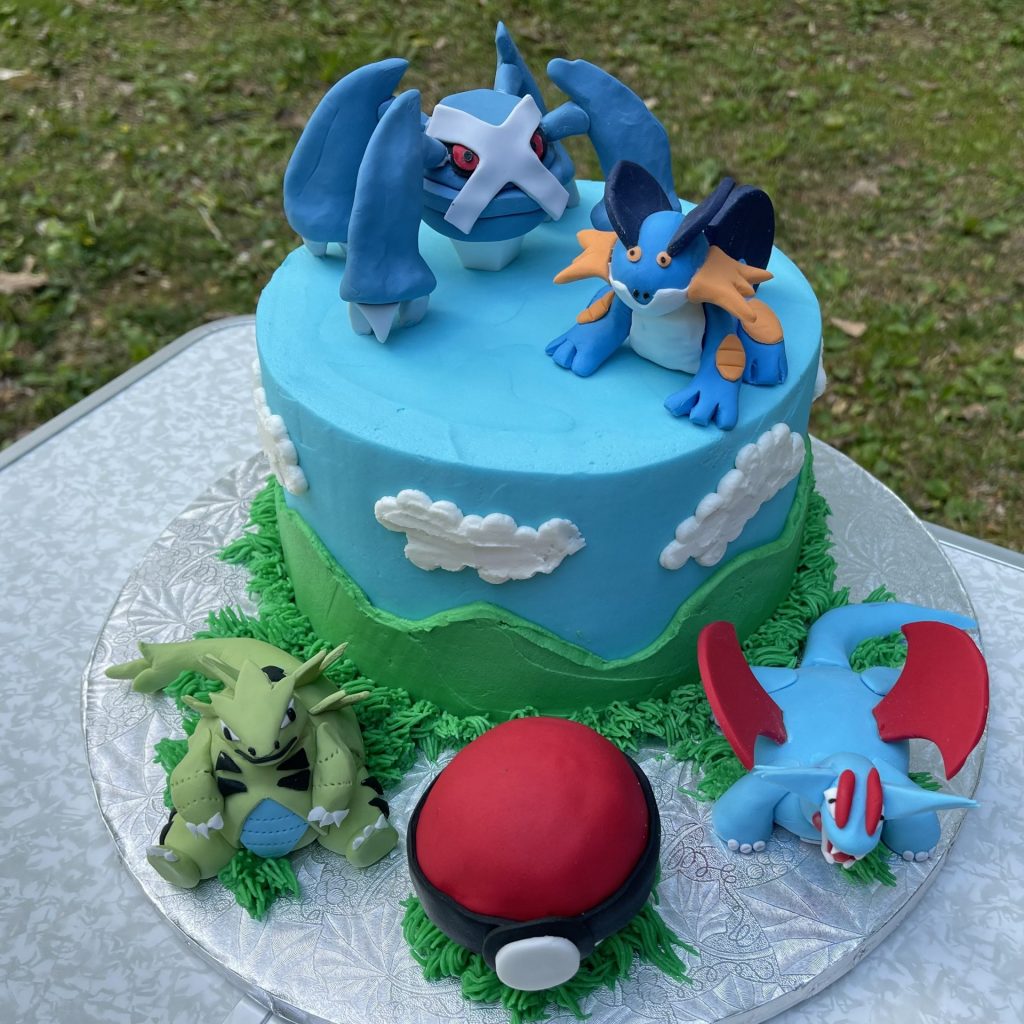 the two boys LOVED it. the party was at an "adventure zone" and the younger brother (hazel's buddy) kept leading his pack of friends back over to the cake, where he instructed them to admire it briefly, before they continued back out for adventuring.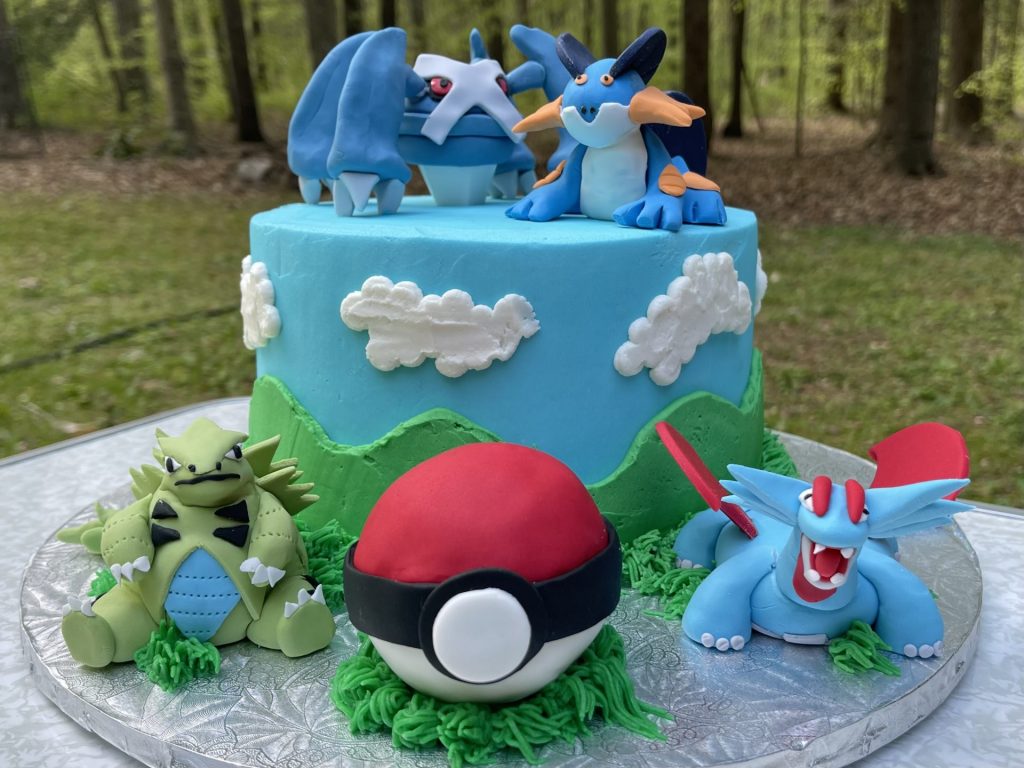 anyhoooo. i'm super happy with this one. and now i have two weeks of no cakes to relax and not stress/obsess about them. 🙂