we have always wanted to visit new river gorge, but it's so close that it's one of those places you just keep putting off until another time. then it became an official national park, so we pushed it up the list, and finally made it happen this summer, basically the minute school ended for the kiddos.
in related news, we have decided to sell the rv (probably more on that later), so this would turn out to be our last big hurrah in the old fleetwood jamboree sport that holds so many memories for us. she looks happy in her last wooded home with us…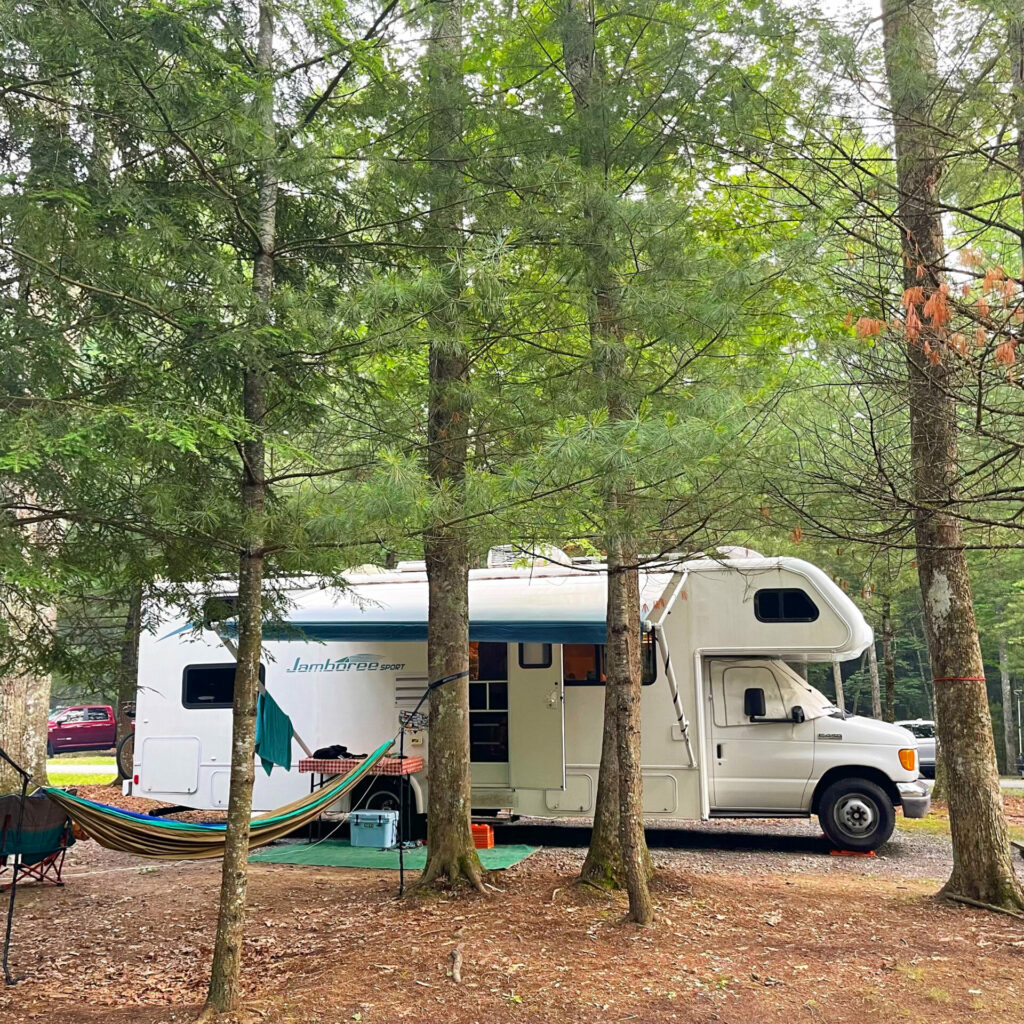 we had an action packed week of adventure, so these posts might be a little long, but i do not apologize. for the first day, we started out by driving over to the sandstone falls area of the river, which is up river from where we were staying, but south on a map. the visitor center and overlook down to the falls were near each other, so we checked those to spots out first. bonus, the visitor center had one of those sweet topographical sandbox water flow exhibits that my kids LOOOVE.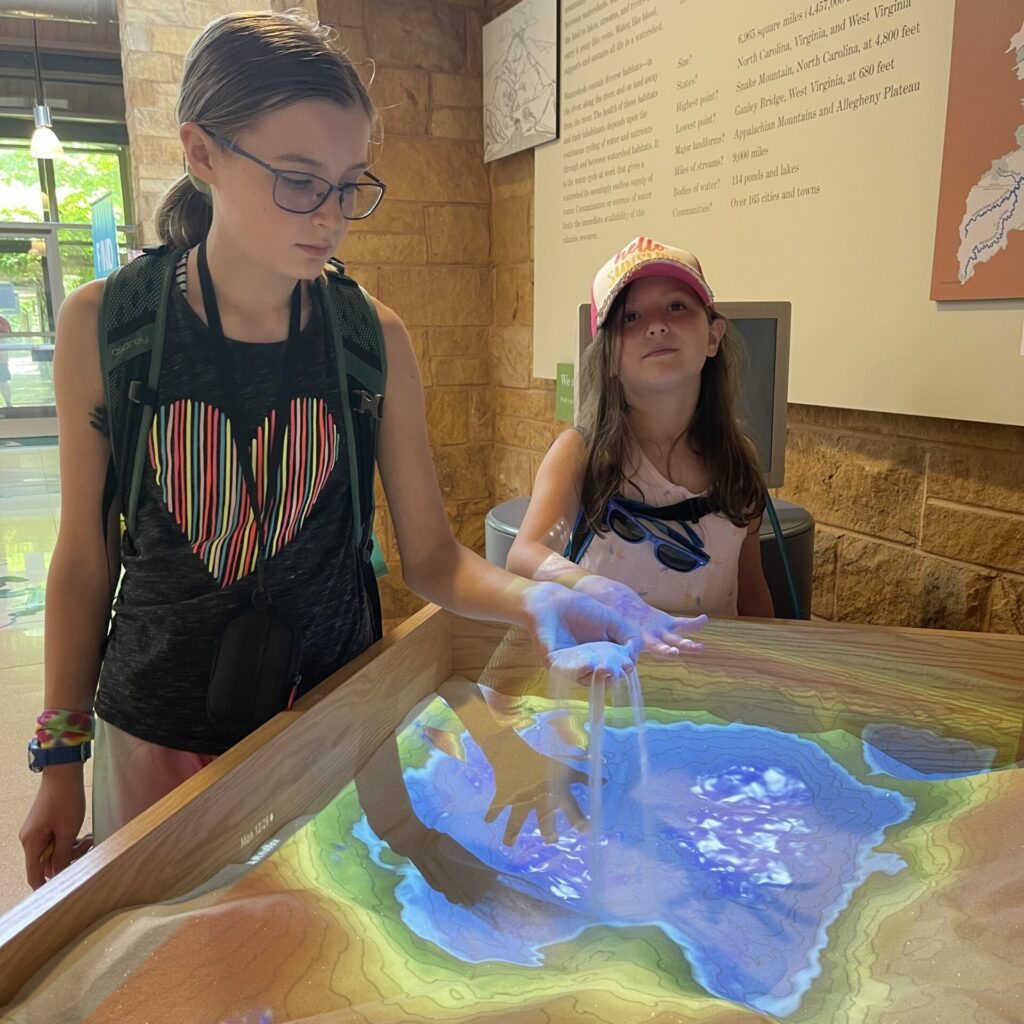 then we made the commute to directly across the river, except the commute was not directly across the river. we had to drive down winding west virginia roads to a bridge and then back up more winding roads to a trailhead, totaling about 45 minutes of driving. there's a short boardwalk hike that leads out to a little island in the middle of the river, and gives river level views of sandstone falls, which spans the width of the new river.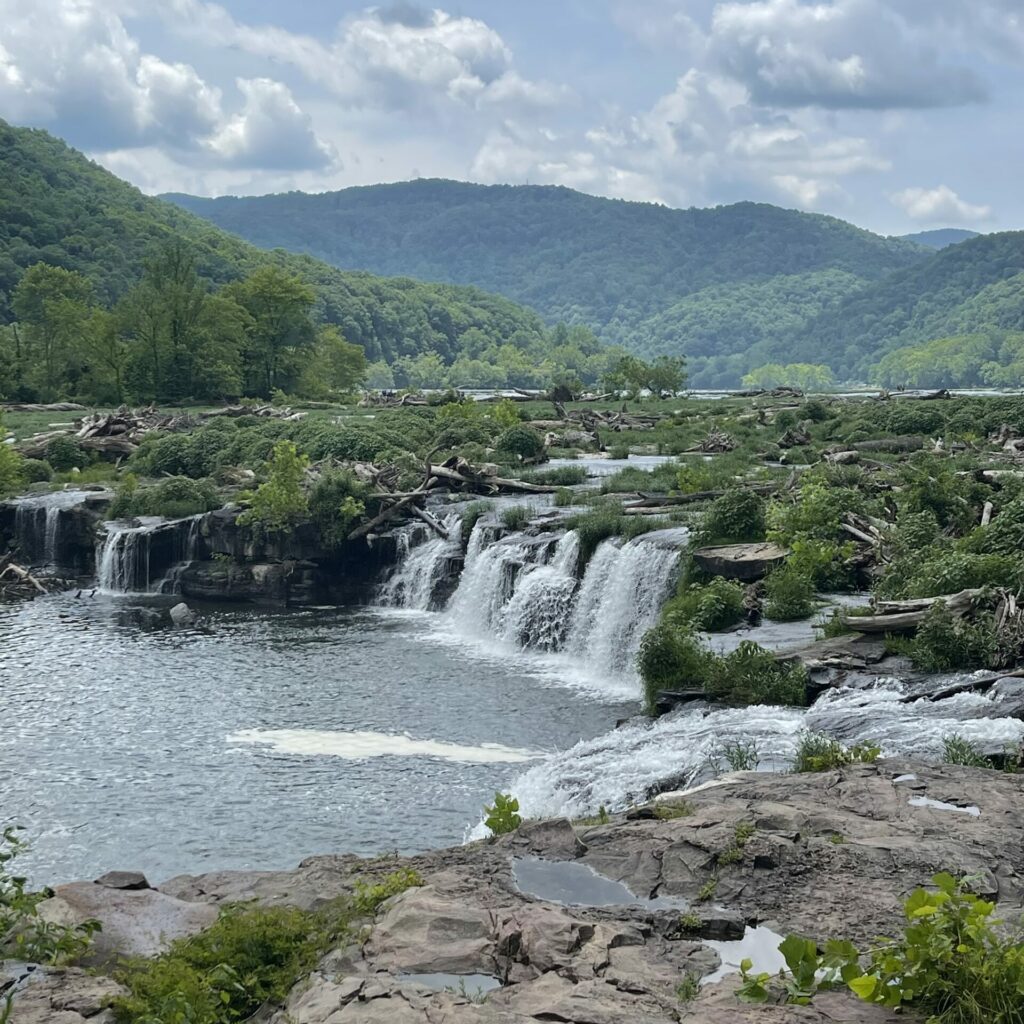 at the end of the boardwalk, there's a web of trails down and across streams, out to the river banks, and up some rocky scrambles. of course we set off to explore. at first, we attempted to stay dry, even though we were prepared to be wet. we failed.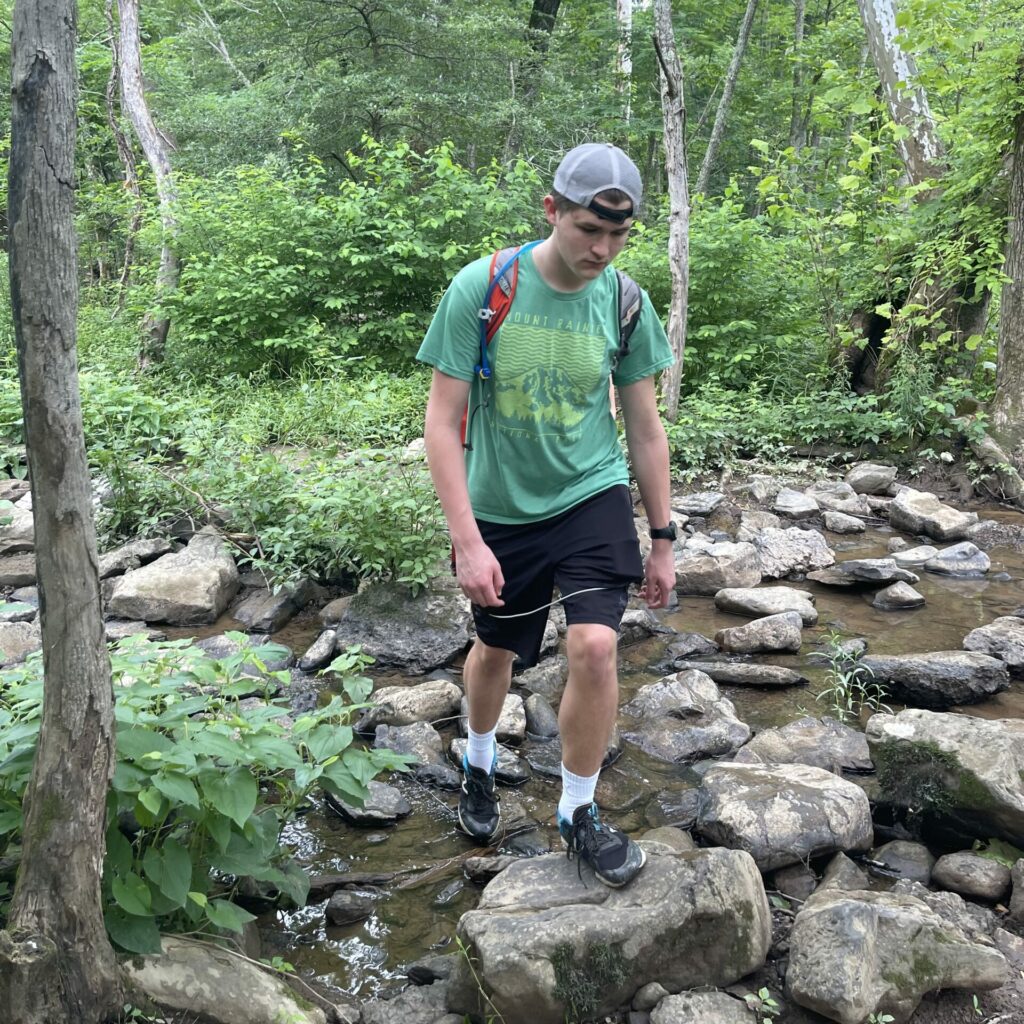 we found a riverbank where derek could fish and hazel and ike could hang out and play, and anna and i set off to scramble up to get the best possible up close view of the entire falls. (the views from the boardwalk alone are only of half of the width of the falls at a time). we couldn't get a great photo of them, becase we were close and it was wide, but our eyeballs will always remember them.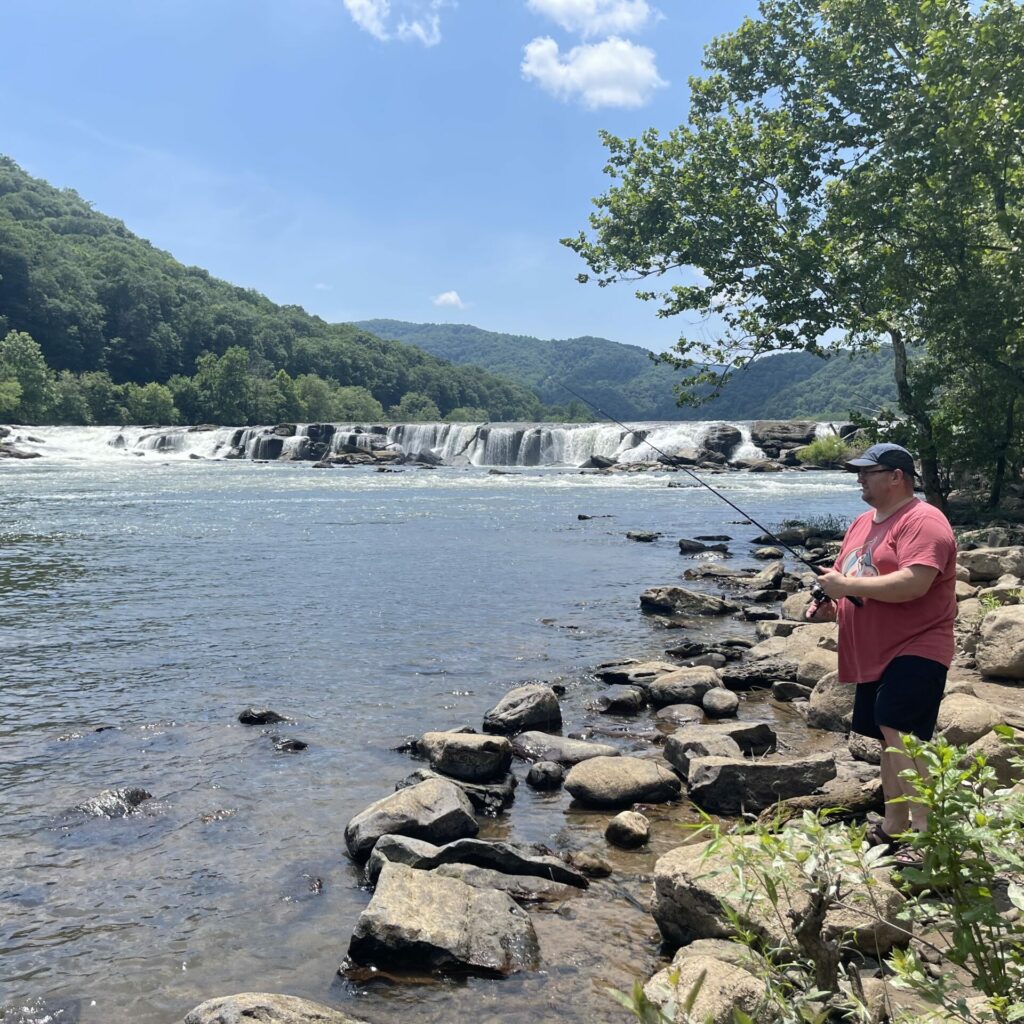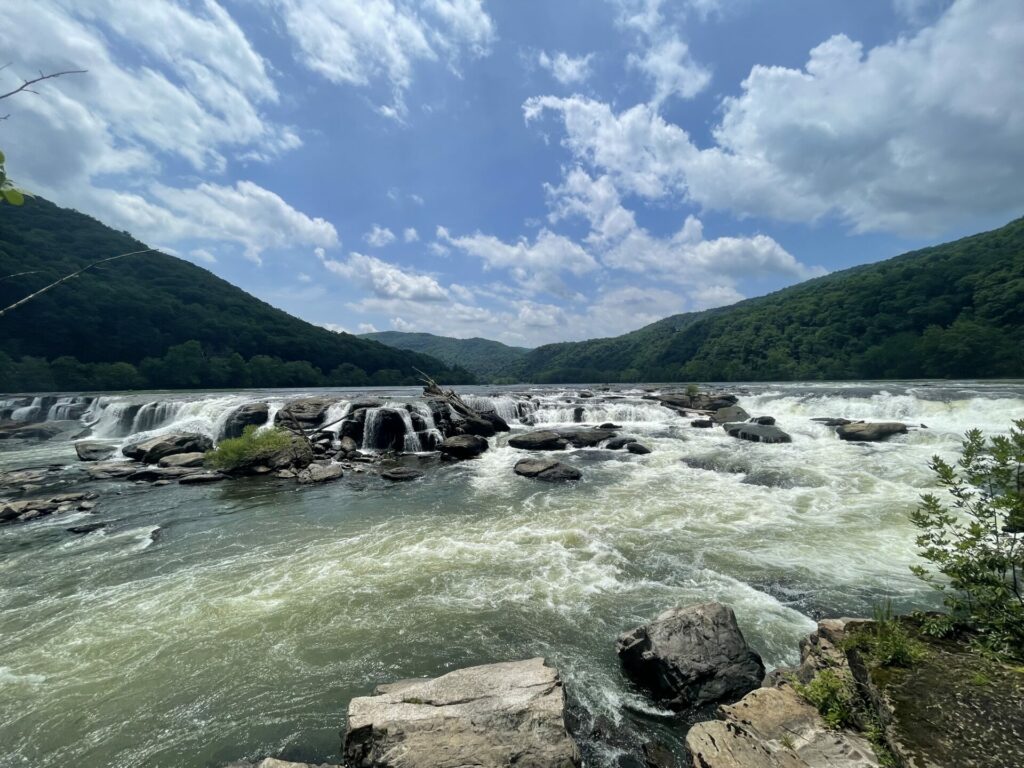 back near where derek was fishing, there was a deep and pretty slow moving creek. since we were already wet and it was very hot, we might as well stop and play there awhile, right? the girls, including ruby, had a blast.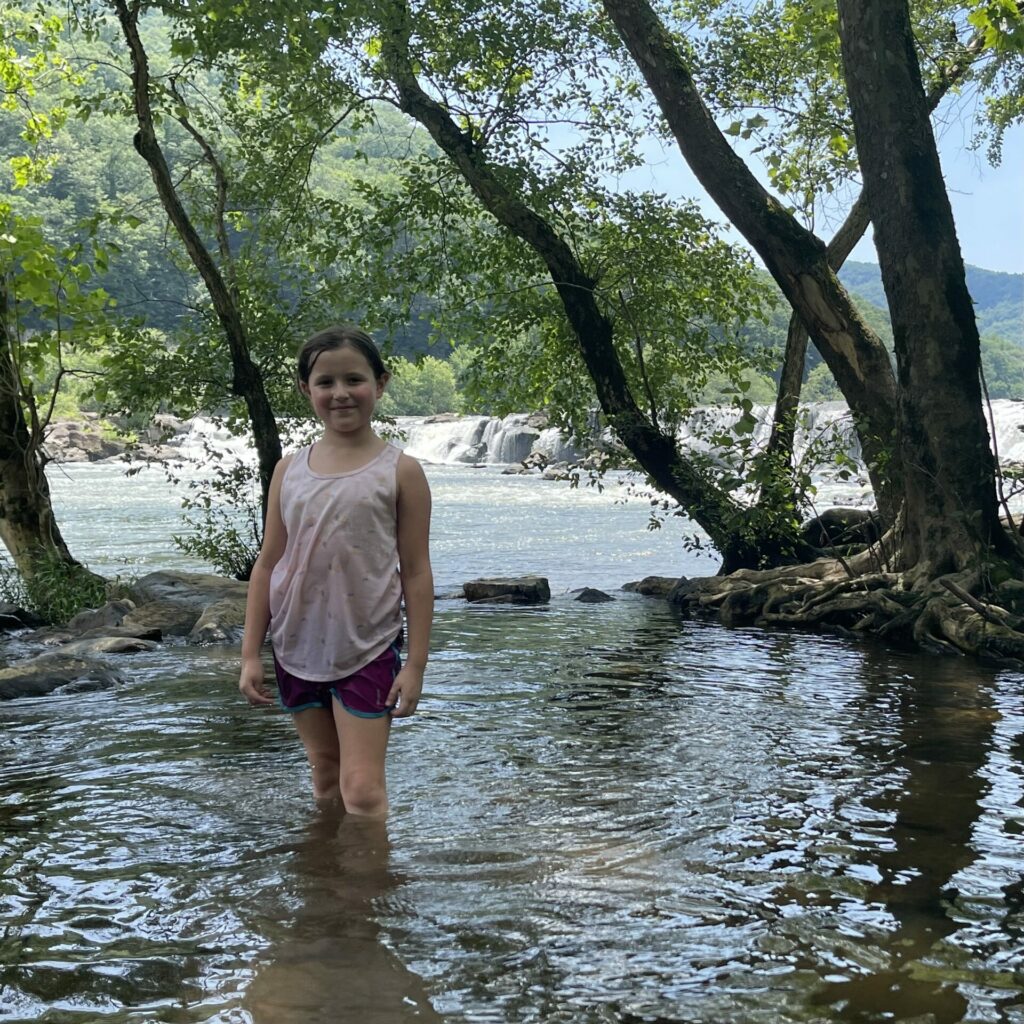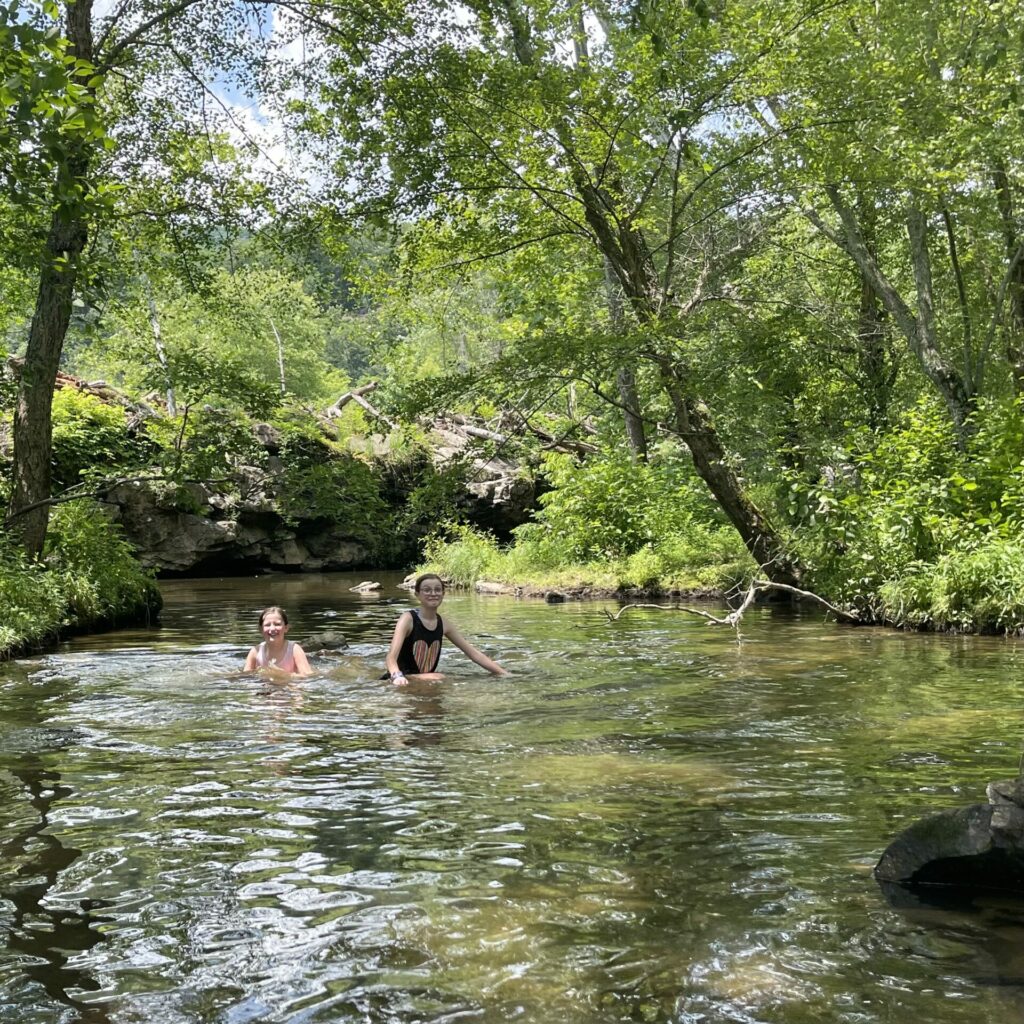 we really didn't have any intention to stay as long as we did at all. our expectation was that we would walk out the boardwalk, snap a pic, and head back. so it really turned out to be one of those fantastic surprise adventures.
for part two of our day, we planned to hike along the glade creek trail to kate's falls. the trailhead is at the end of a long, bumpy, slightly rutted out dirt road and we were the only people there. the actual hike was pretty blah. most of it is technically a service road, so it's rocky and miserable. it does pass under a super tall overpass for I-64, which was pretty cool. anyhow. off we trudged.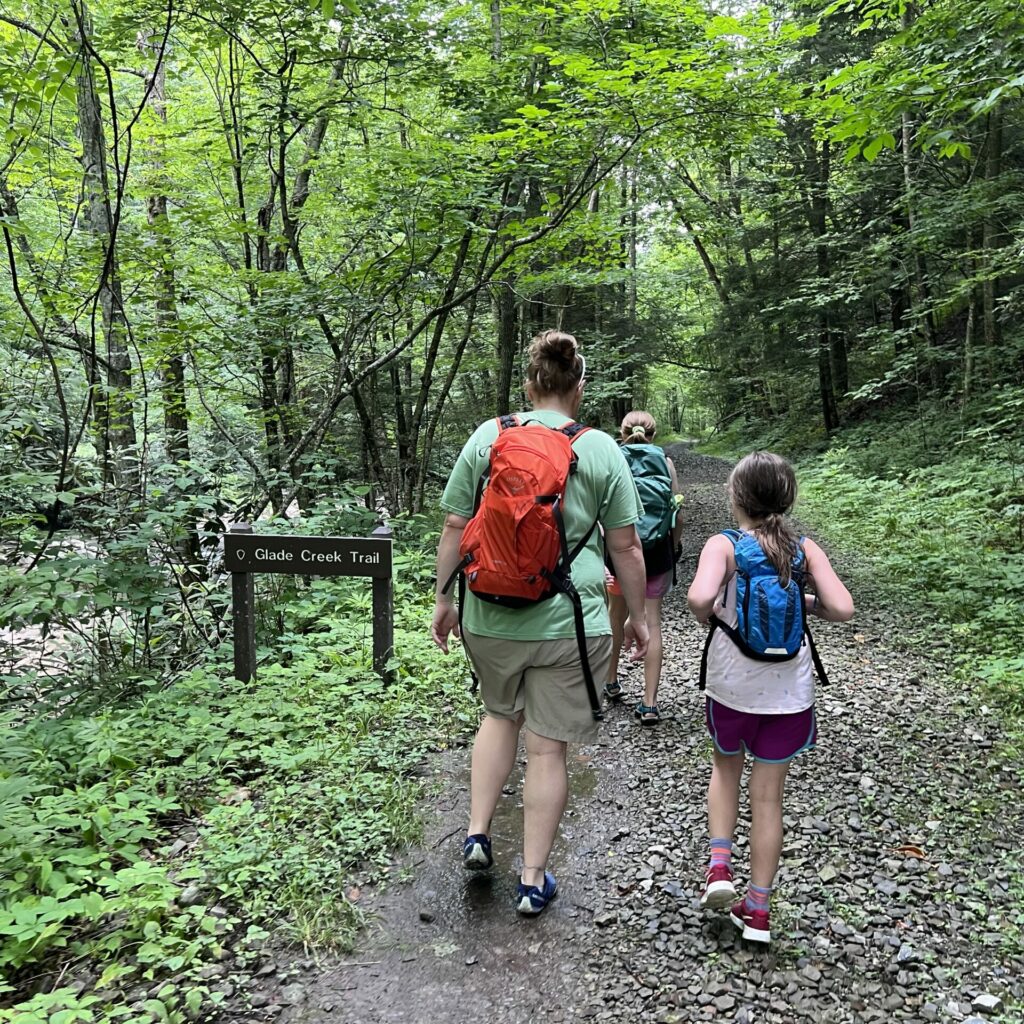 the hike was actually pretty short and the falls made all the stupid gravel worth it. even the normally unimpressed teen got into the spirit. we hopped around all over and even behind the falls.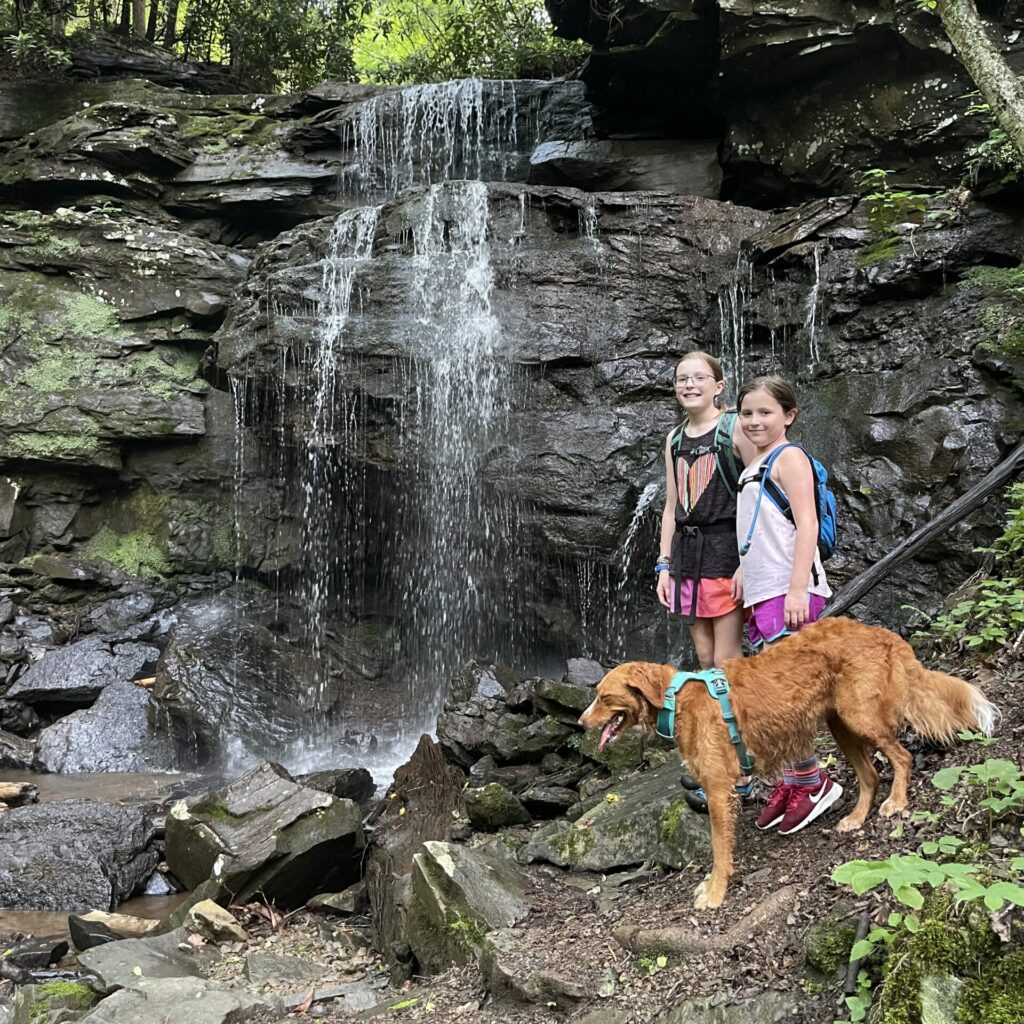 we stayed for quite awhile. taking all the selfies. a bit of photobombing. you know. standard fare for life in 2022 with children.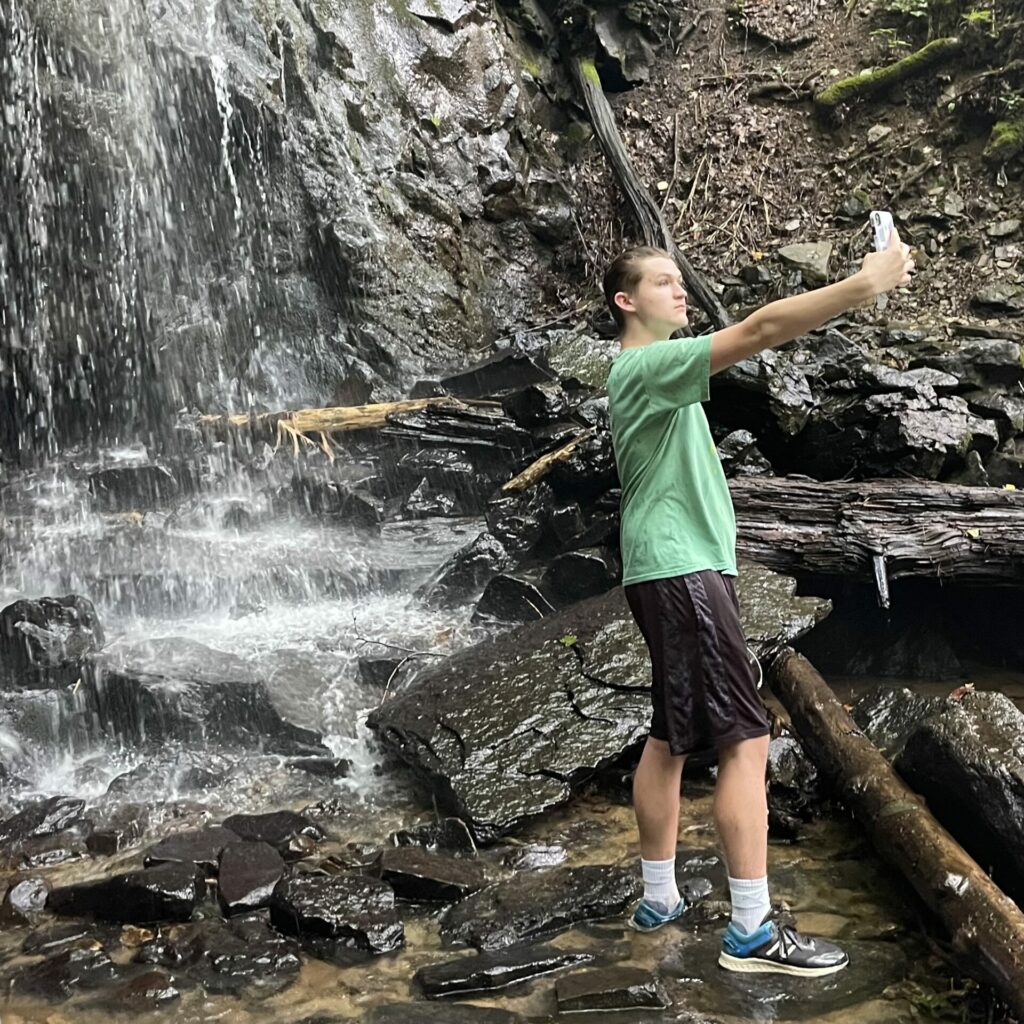 lastly, this super artistic (sarcasm) photo of the falls, without any of my children ruining the shot.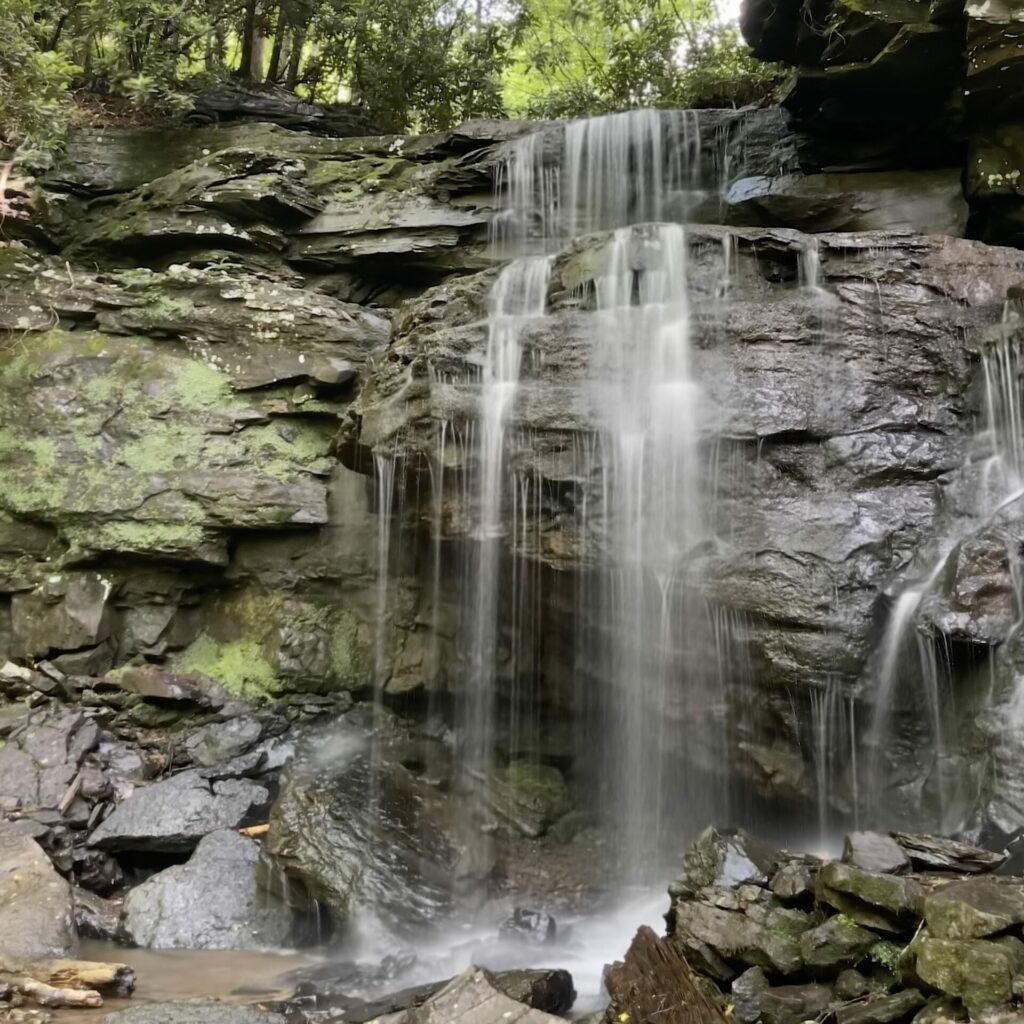 it was a great first day and made me really excited for all the things that new river gorge had to offer. we drive through every time we make a trip to batavia or back, and from our highway vantage point, it's hard to imagine all that is going on in those green mountains.