i haven't really had much sewing motivation lately. between trying to make a go of caking, end of year school stuff, and constant sicknesses, i just haven't gotten around to it. then one day, an old friend called to ask me about making a chemo quilt for the daughter in law of a mutual friend of ours. the mutual friend is actually the LOVELY woman who took care of colicky screaming newborn baby isaac all those years ago when i went back to teaching to finish the school year after he was born. her son's wife, who is so terribly young, has a bit of road to recovery ahead of her, and the friend who called thought it would be great to make her a happy joyous quilt that she could take to her chemo appointments.
that's where i come in.
i was was obviously more than happy to do it. and i now know that the sunshowers pattern i had won in a giveaway awhile back was being saved for just this occasion.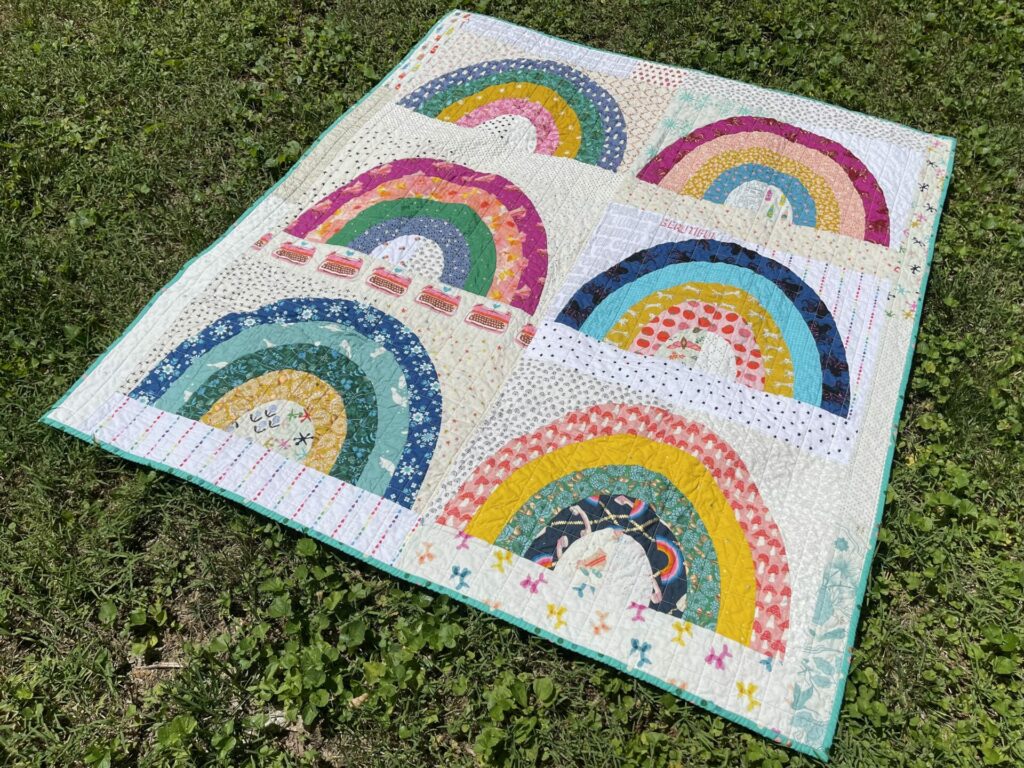 i also now know that the fabric shopping spree i went on after a particularly stressful week about a month or so ago was meant for just this occasion as well. i probably posted about it. but here's the haul. it's all ruby star society and mostly from the little darlings collection. mixed in with some scraps and other fabrics in my stash, i knew it would be perfect.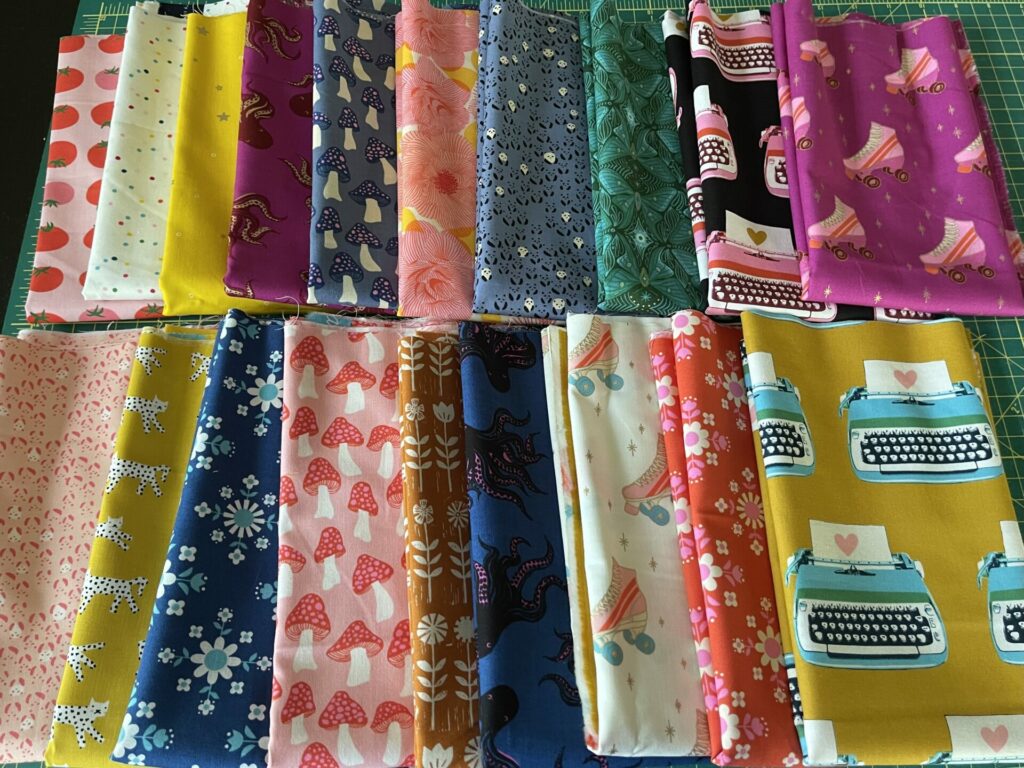 i made the first two blocks, one at a time. but then i was afraid to back myself in a corner as i am wont to do with this method, so i cut the other four and threw them up on the design wall. always makes for a super messy cutting table, with happy background.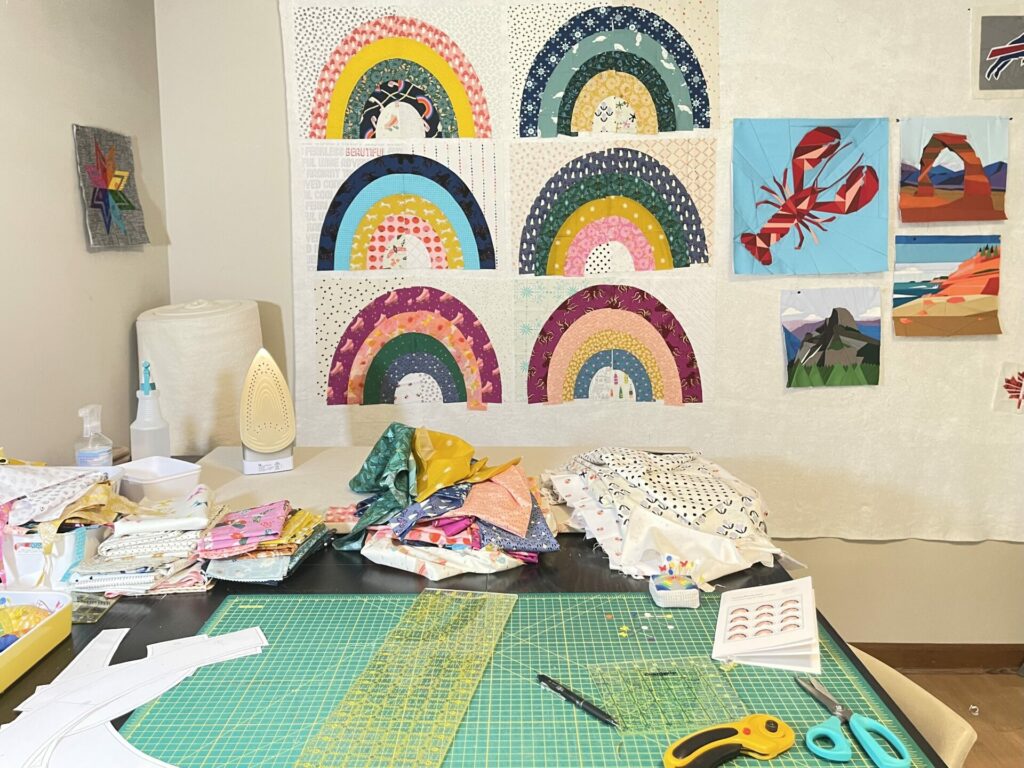 the rainbows actually come together pretty quickly. i was sort of frustrated with how wonky they were, but then i turned the page in the pattern and there were specific instructions not to stress about this and to just trim off the uneven parts.
then, i had to settle on a backing fabric. i struck out at sewingly yours, and just when i had resigned myself to piecing a background (no time to wait for something to be shipped!!), i found the perfect wideback at village fabric shop in town.
then it was quilting time. bet you can't guess what pattern i quilted?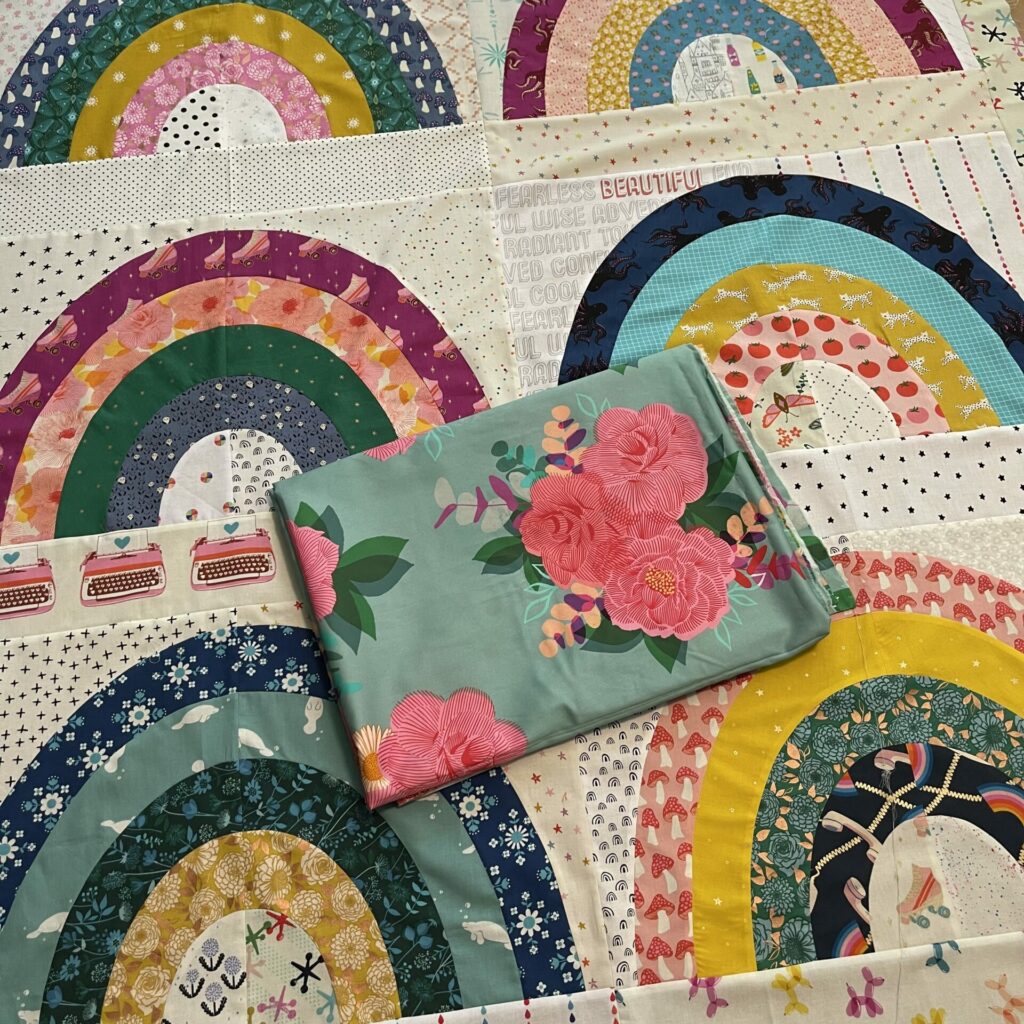 if you guessed 2″ grid lines, you're the winner!! of course, i almost always quilt in 2″ grid lines so don't go patting yourself on the back too hard.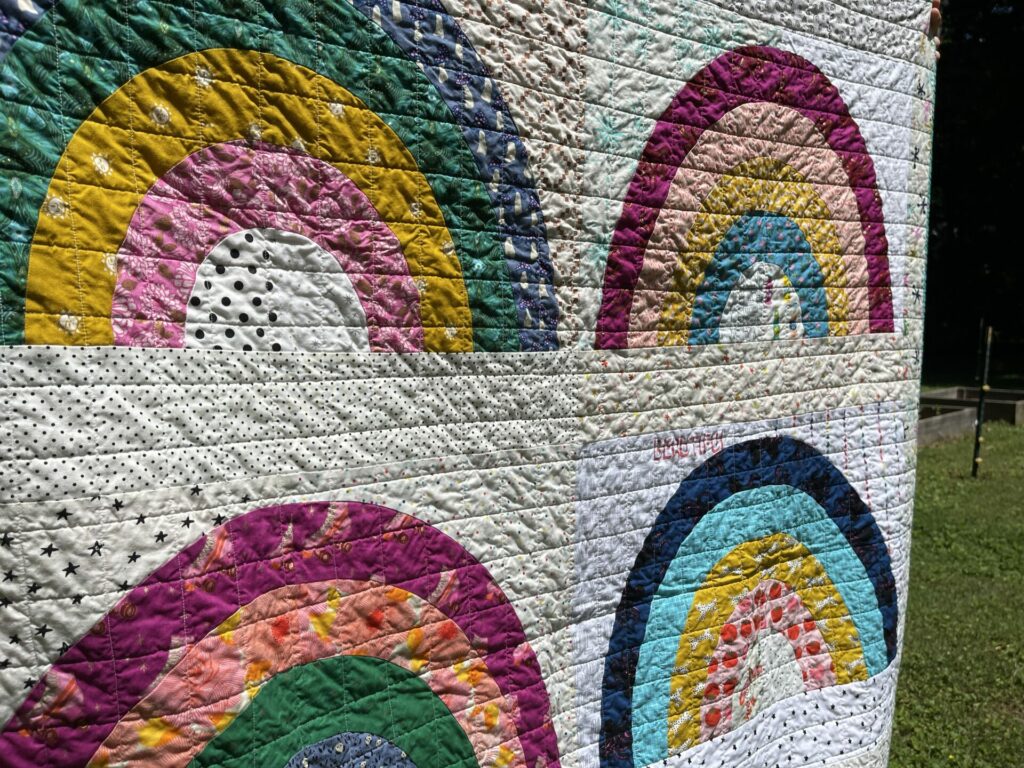 i could not possibly be more happy with this quilt. there's so many fun surprises in the fabrics and i hope that it brings some joy to my friends DIL while she's recovering. and the back? it really is perfect.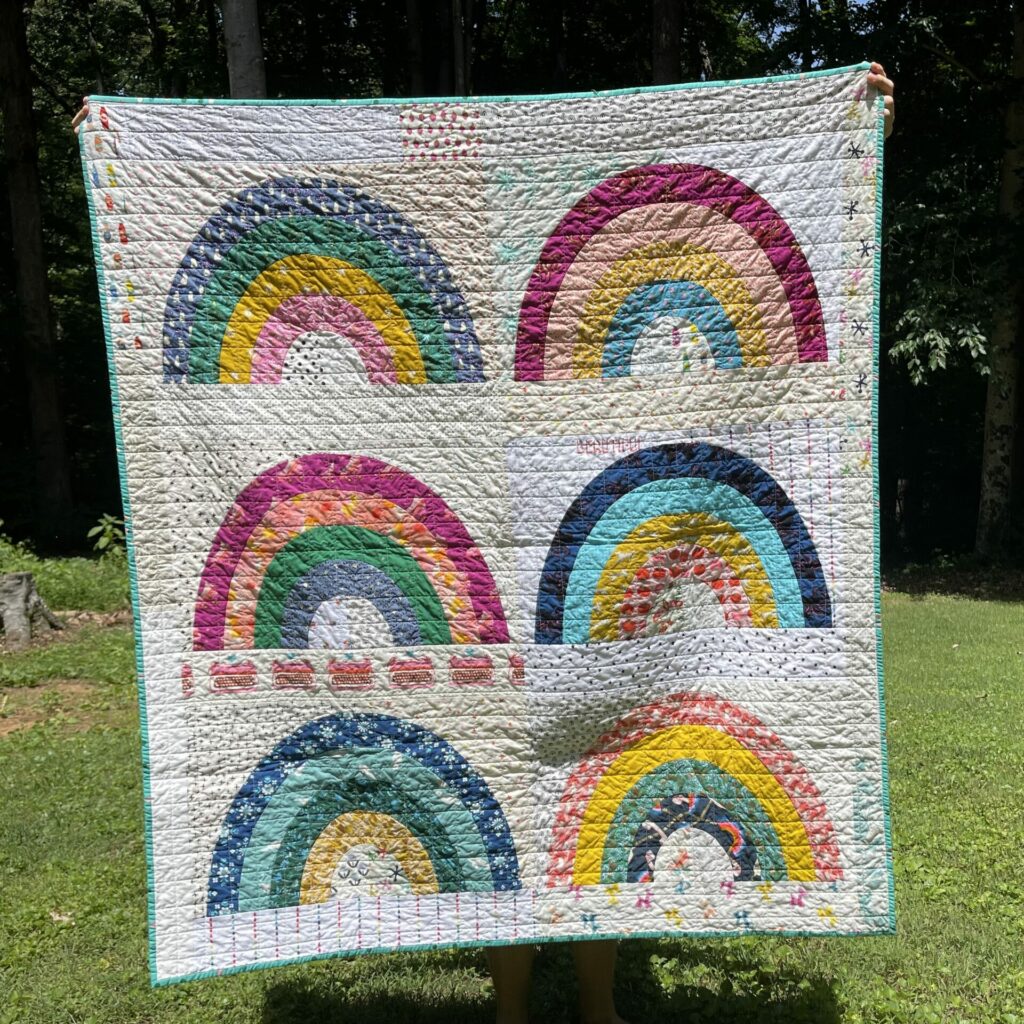 and now. two more photos. because i took a million and i'm struggling to pare them down.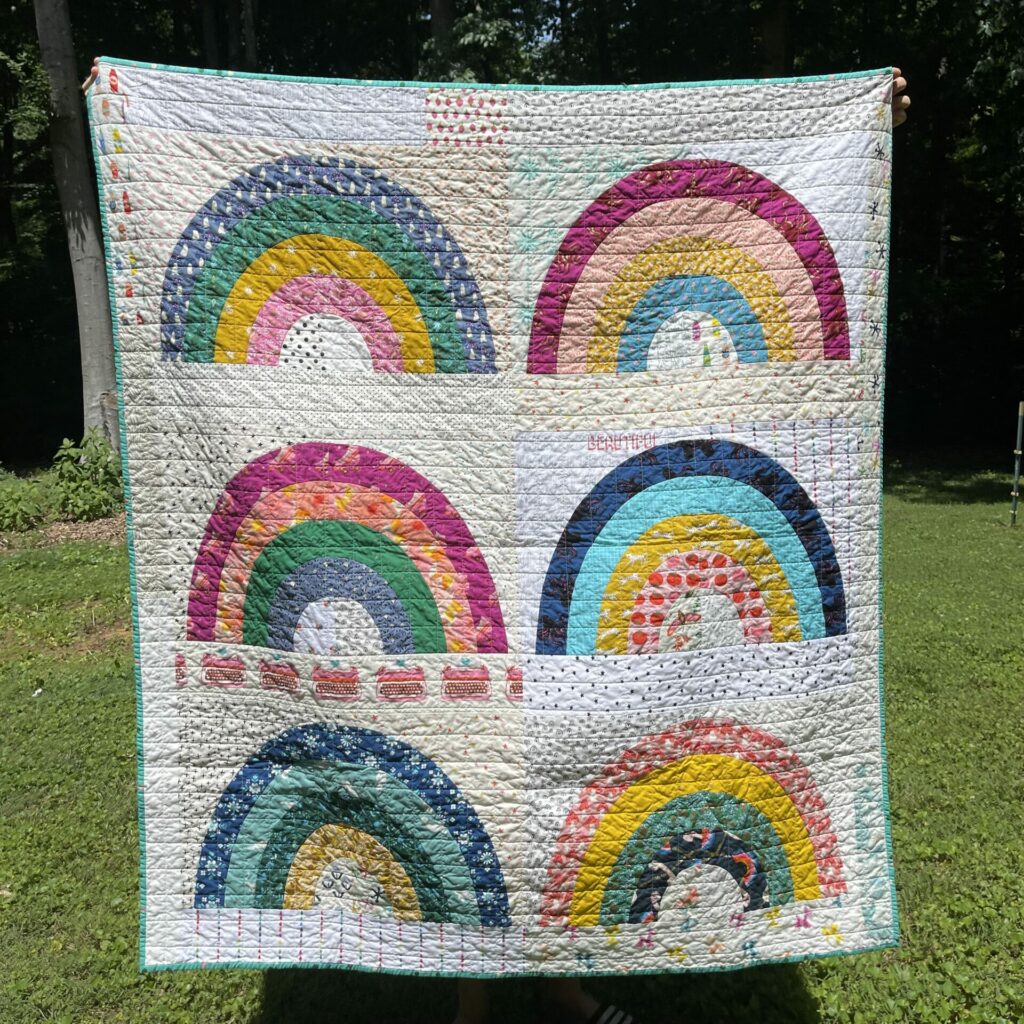 if you zoom in maybe you can see some of the fun prints in this pic.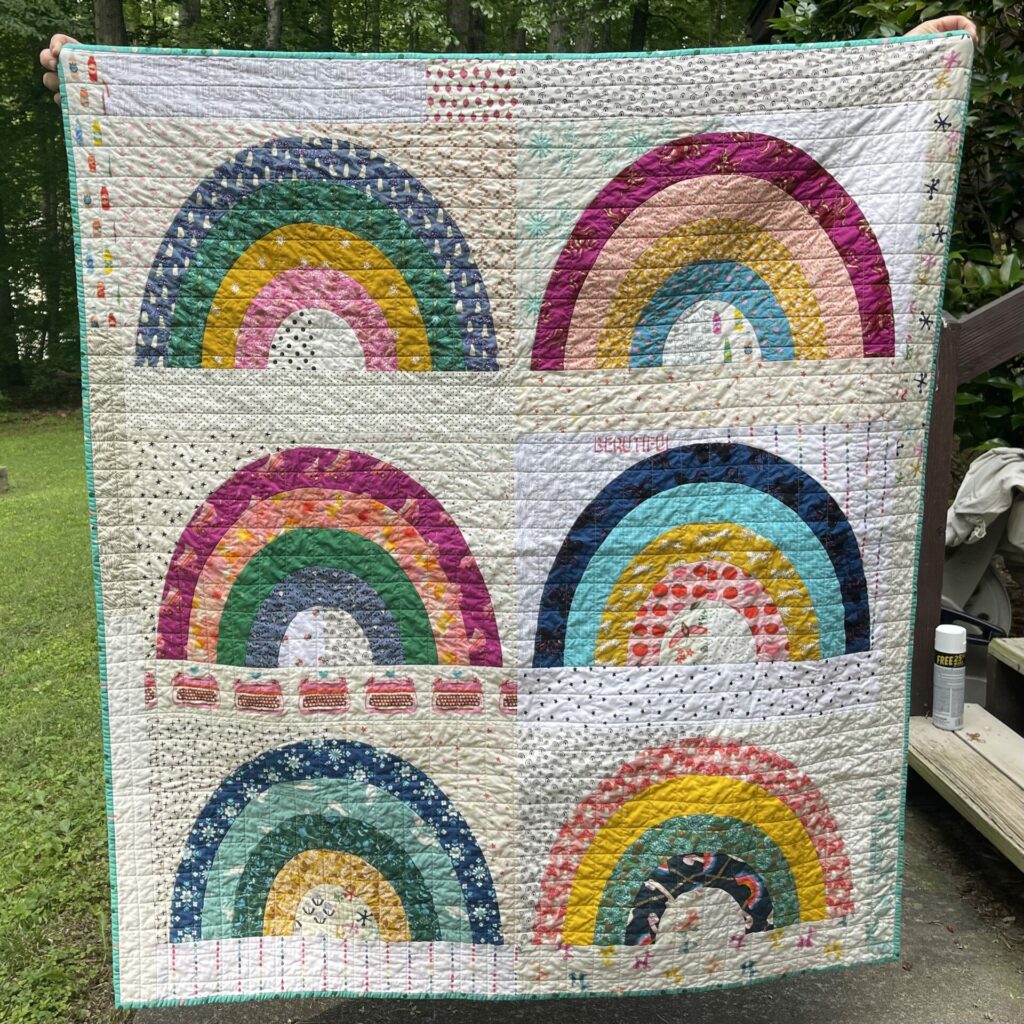 anyhow. this actually hasn't been gifted yet, so if you know the folks that i'm talking about, don't mention it to them. and if you happen to be one of the folks i'm talking about, i'm quite surprised you read my blog, i'm sorry for ruining the surprise, and i hope you love this.