the crazelnut's third grade class is assigned a book report and project every quarter. for the third quarter, the kiddos had to pick a biography and make a creative timeline display and give an oral presentation "in character" as the subject of the biography. dressing up and props were optional.
hazel chose frida kahlo and i was so excited (and relieved she didn't go with marie curie). after some brainstorming with my mom and anna, we thought it would be cool to make the timeline look like a painter's palette, with blobs of paint for each item on the timeline. then, since we are gluttons for punishment, hazel and i thought it would be cool if the paint blobs lifted up to reveal the information and a correlated photo for the event. once again, my quilt room became a craft/school room.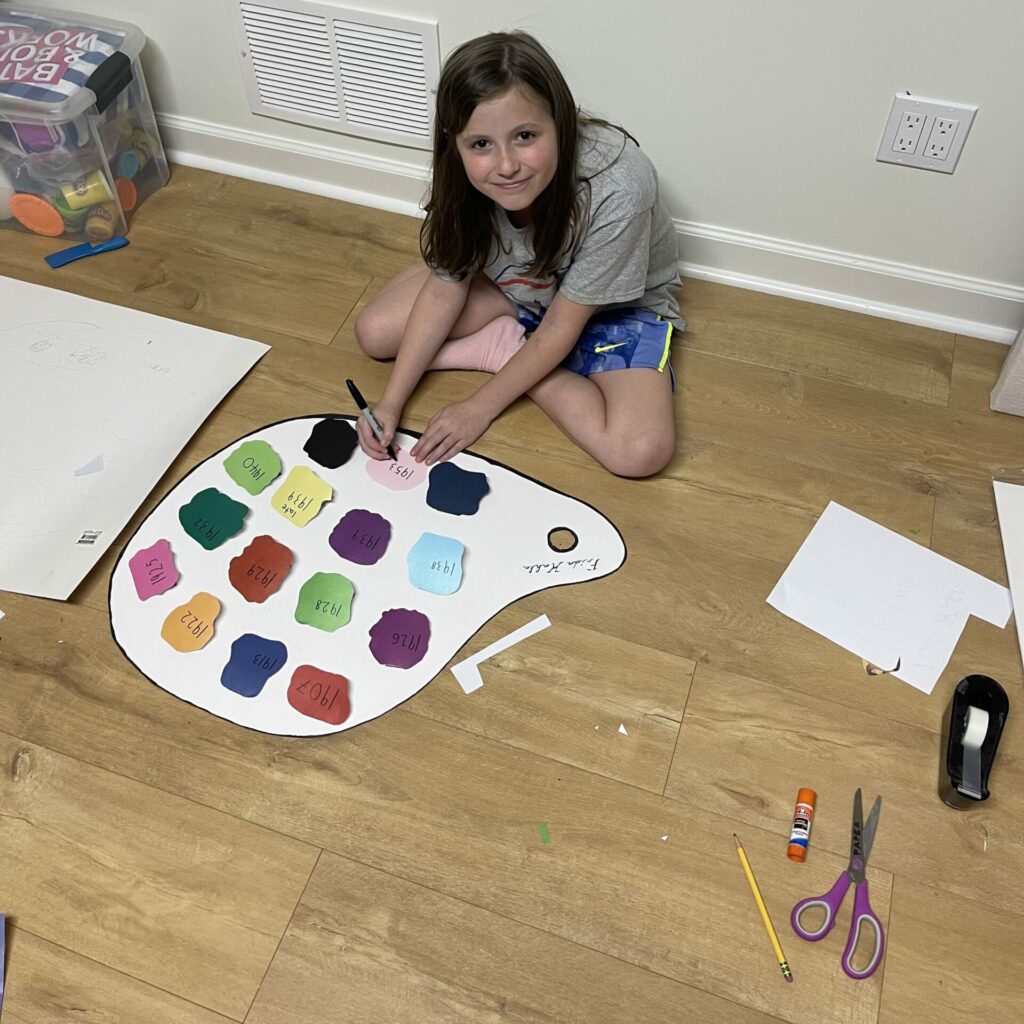 with the presentation complete, i began the quest to assemble the perfect frida outfit. we bought the flower headband on amazon, after realizing it would be cheaper than making our own. and i scoured megathrift for the scarf, shirt and skirt, which was a woman's large and needed a wee bit of altering. we gave it all a test run the night before. (you can also see one of the paint blobs lifted up, showcasing our engineering prowess).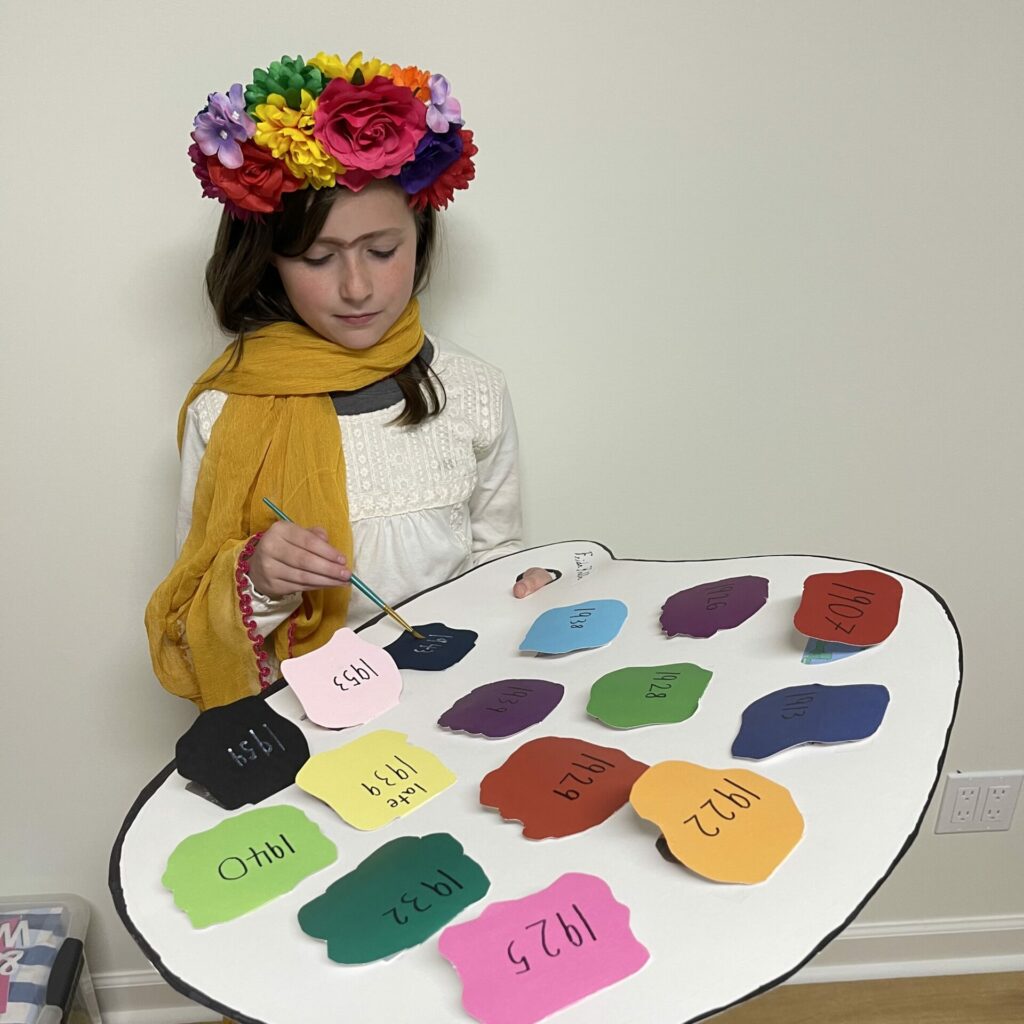 in the morning, it was time to pull it all together. we put hazel's hair into little buns, which were then hidden by the headband so the effect was lost, but she was cool with it. (it was a little touch and go when the headband arrived and was so huge, so i was relieved when she didn't freak out about this).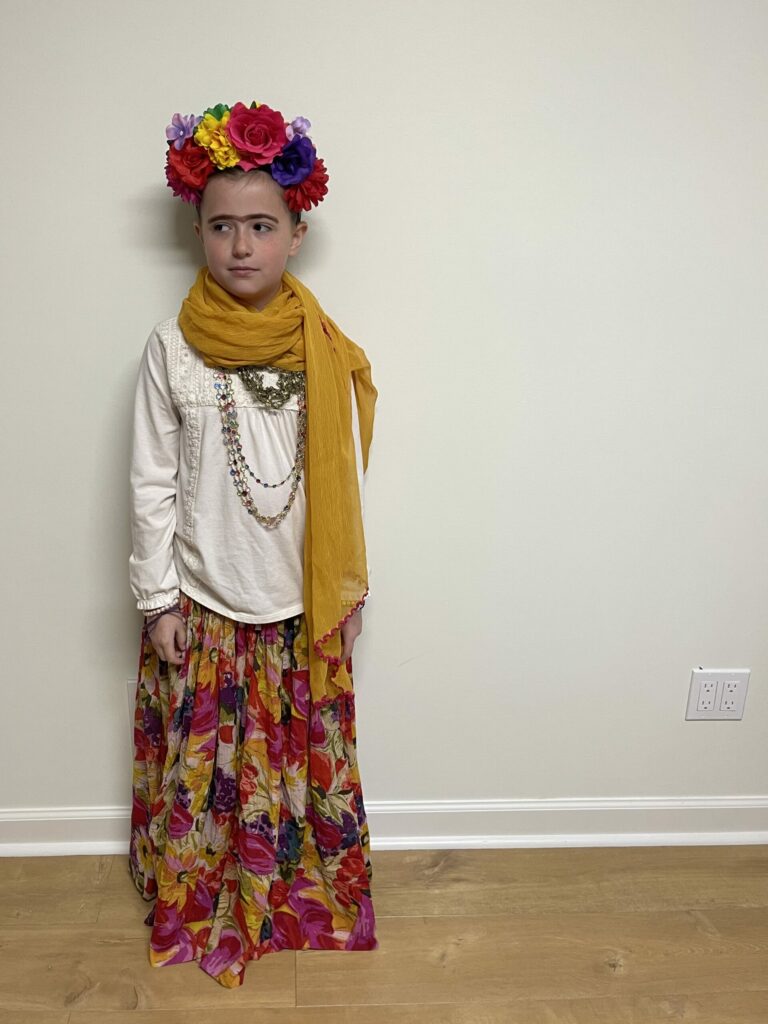 of course i took a million photos. derek's mom came through with all of the jewelry. but i think the unibrow is really what makes the whole thing scream frida.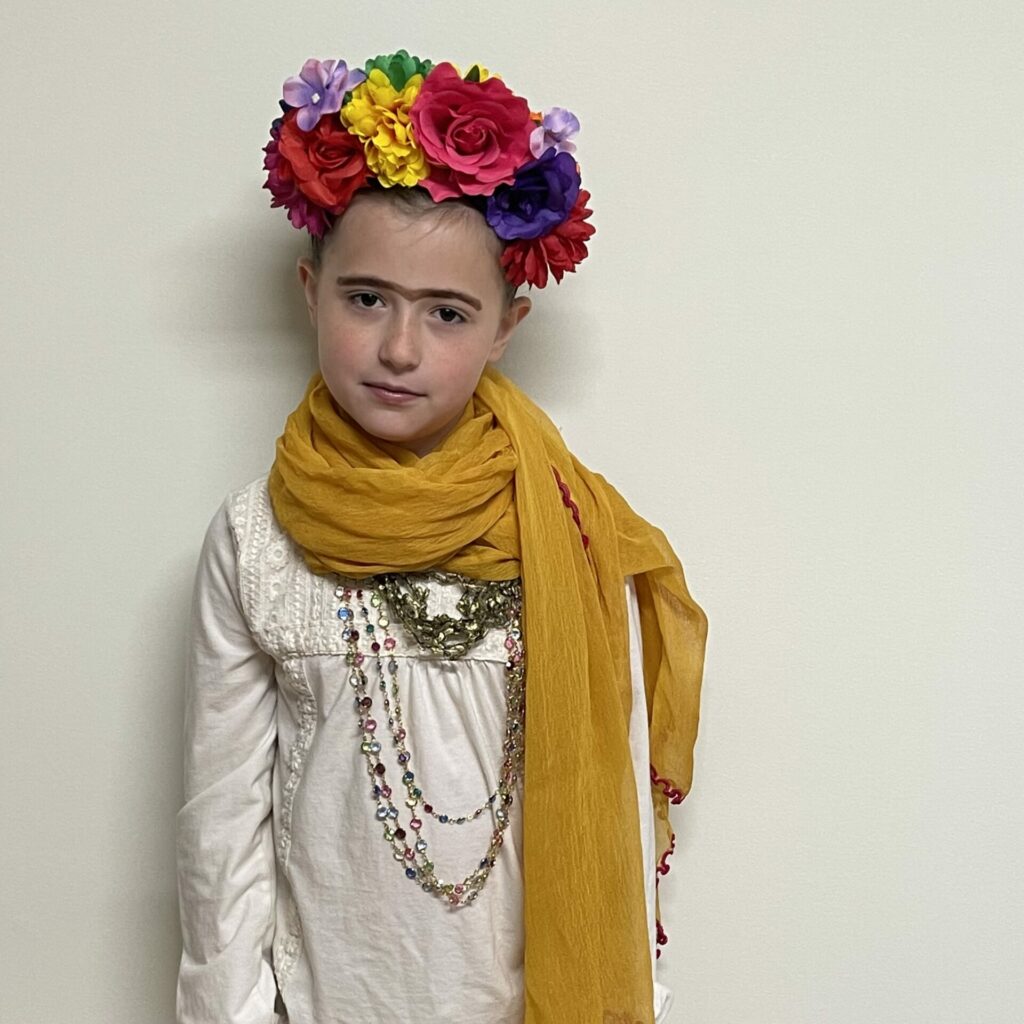 hazel informed me that it was very hard to be serious.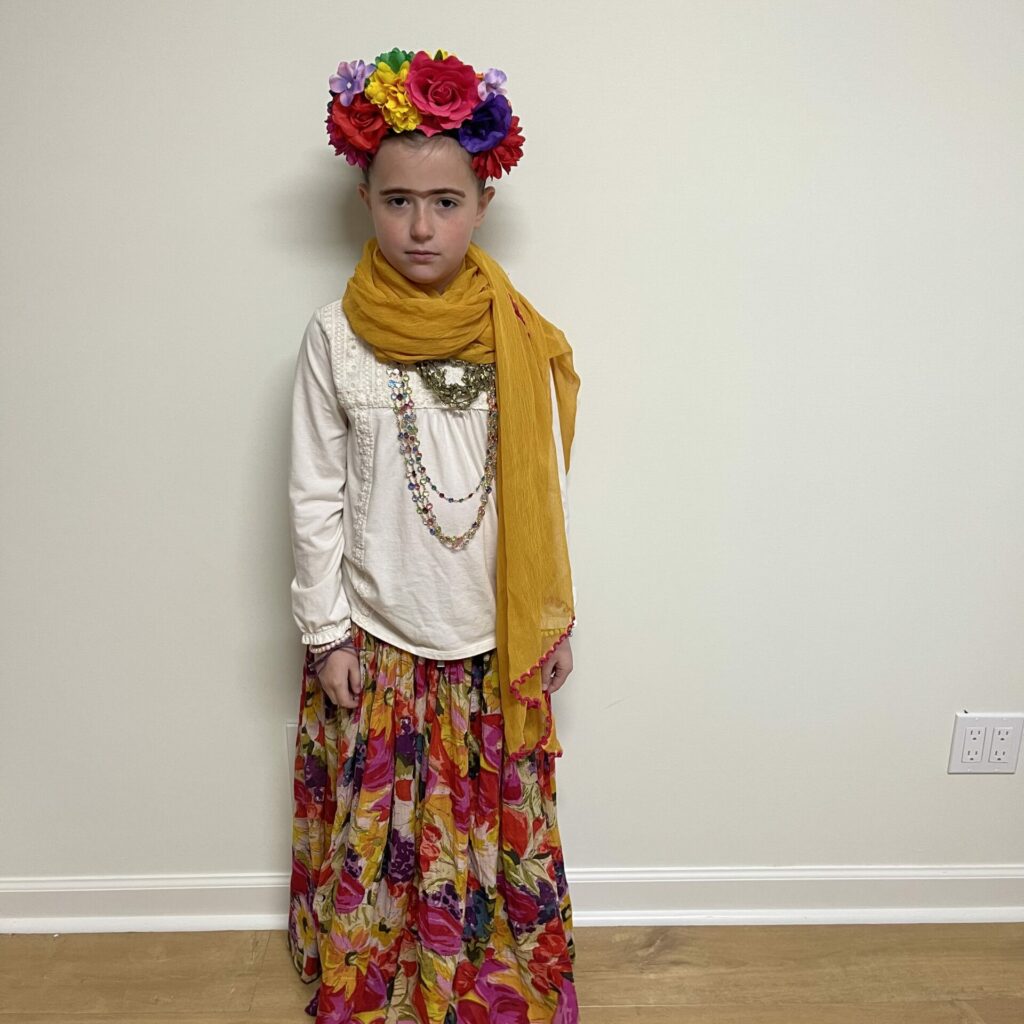 and she was off….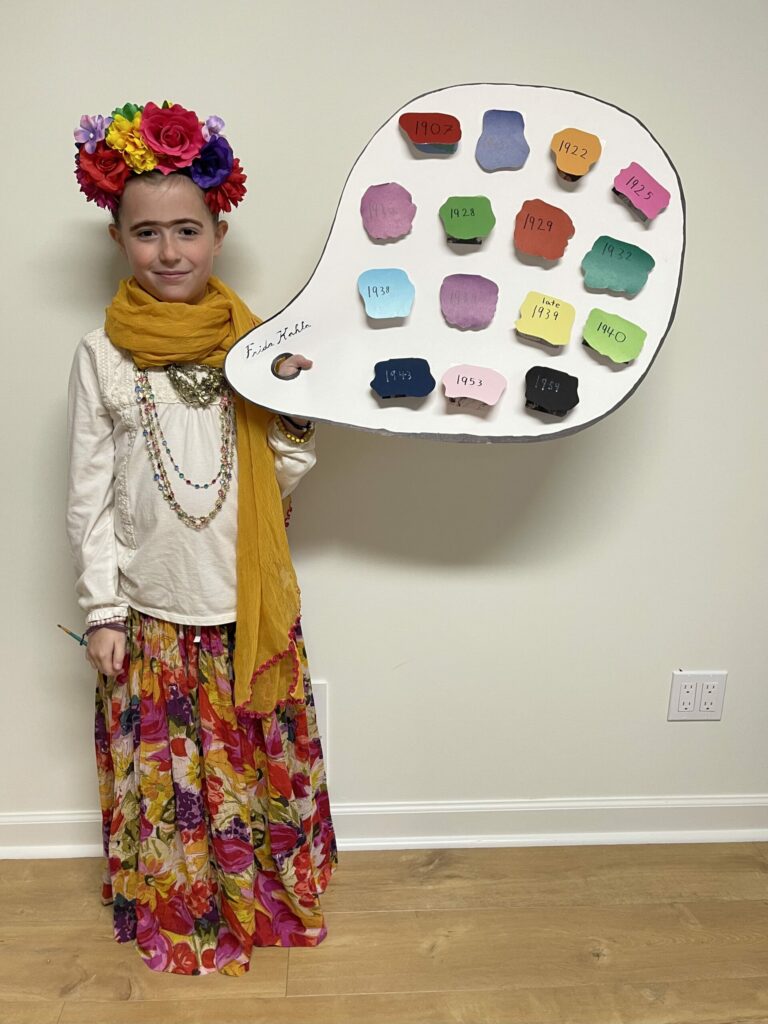 she received glowing reviews and got a 100% on both her presentation and the "poster". she was quite proud that she was the only kid who memorized the whole speech.
because of the time/money/stress expended pulling this together, i may or may not have informed her that this would also be this years halloween costume. so, you might be seeing this all again in a few months. 🙂