and so here it is. another one of those catch all posts with a bunch of random pictures thrown together to bring this blog back to the present. you're welcome. anytime.
first, i'll begin with this cute picture of anna. she is obsessed with cramming her hands into her pockets "just like charlie brown dos". pronounced dooos. not does.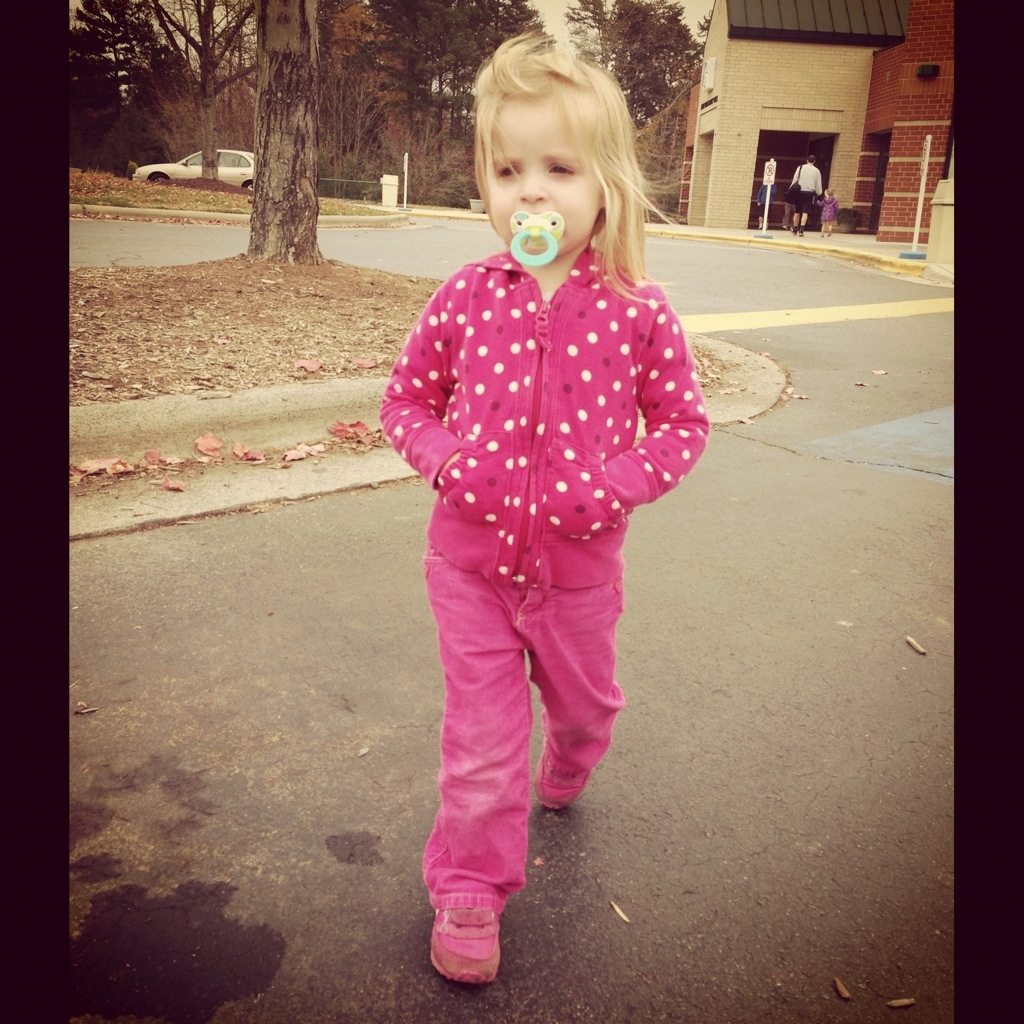 last friday was my birthday. my 36th to be exact. i'm not big on birthday fanfare, but my pals jess and heather and heather's girls had lunch with me and anna at chipotle. so i wouldn't have to eat a sad, lonely birthday salad at my own boring house.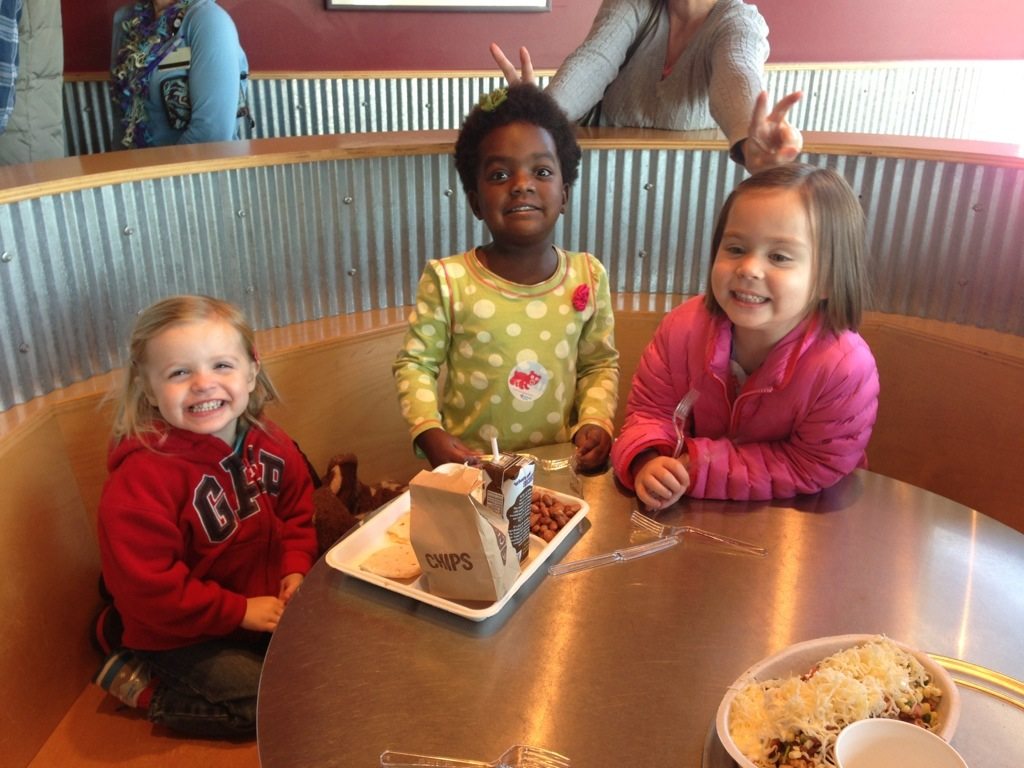 for my gift from derek's parents, i got a gift certificate to cimarron steakhouse and a free night of baby sitting. an overnight of baby sitting. i stuffed this large hunk of prime rib into my belly and consumed a few seasonal foothills brews. derek stuck to his diet somehow.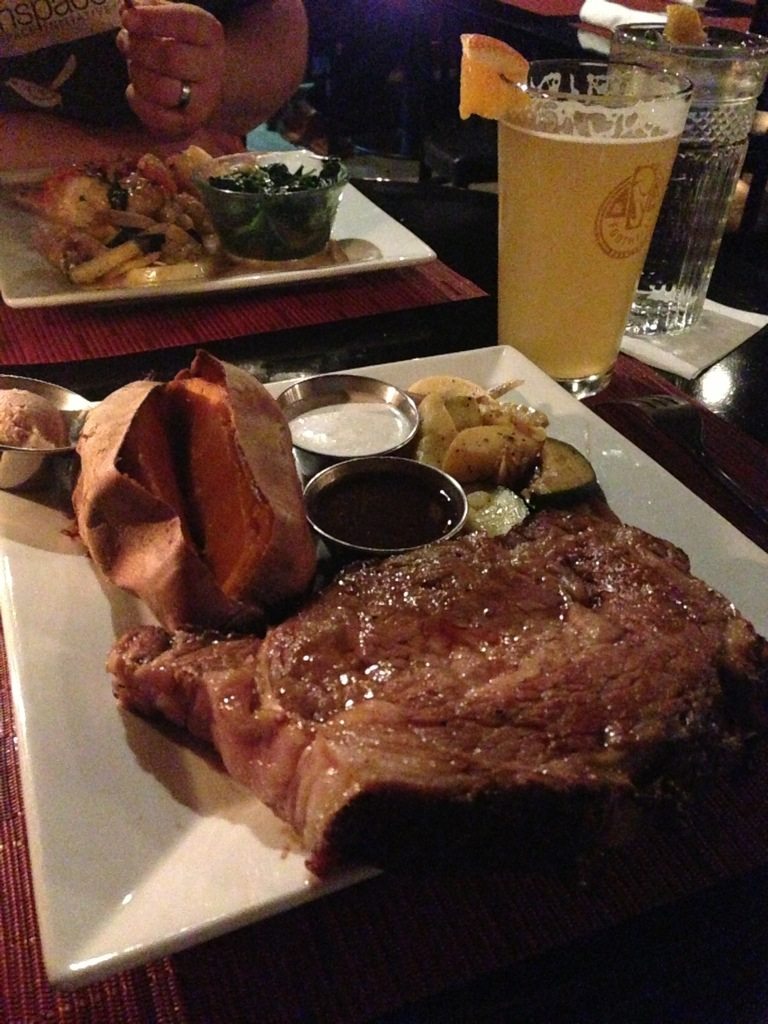 afterwards, we went to starbucks. eggnog latte. i heart holiday flavors. then, we looked up movie times, but nothing was playing for an hour, so we went home. and rented a movie. which i subsequently fell asleep for. happy birthday to me.
on saturday, i spent the day making cupcakes (previous post, i think?) for my friend annelise, whose birthday party was sunday afternoon. here she is, awaiting her birthday serenade.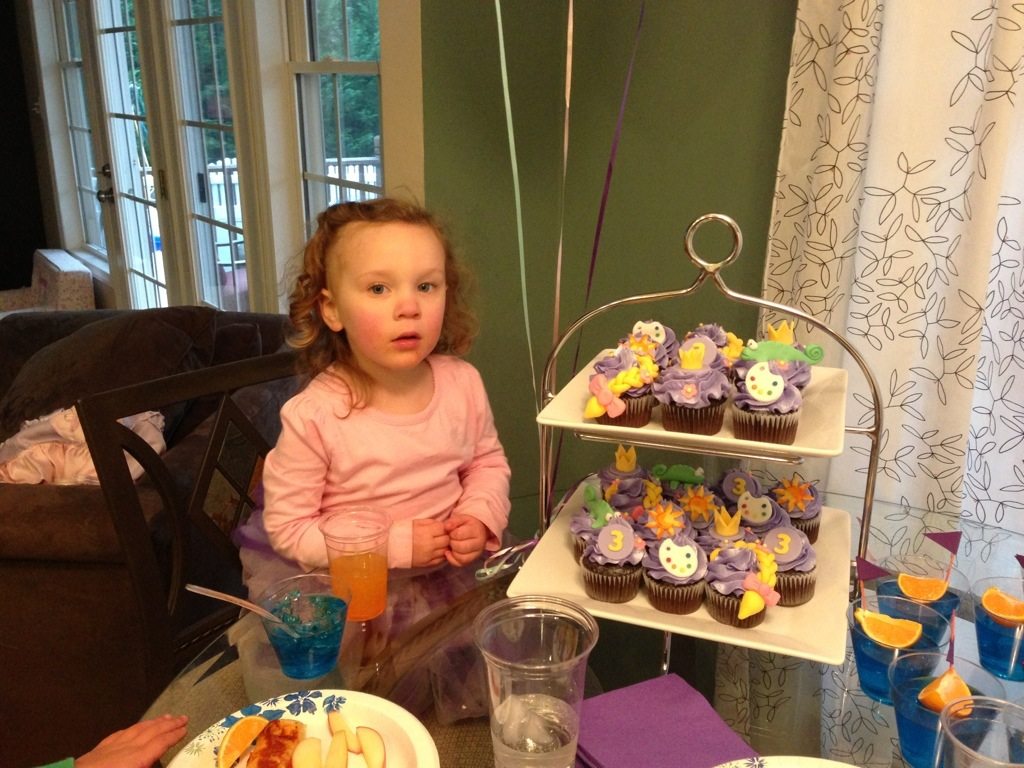 on monday, isaac's class had a thanksgiving feast. all the kids had this sweet, turkey-themed, construction paper, native american headdress.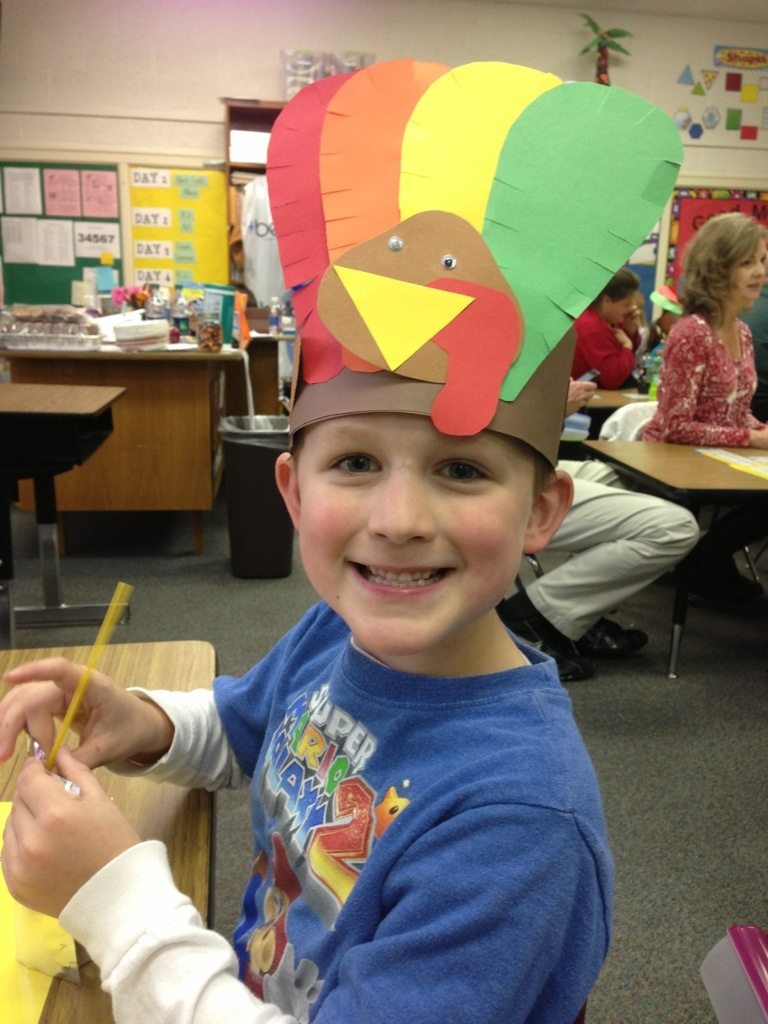 the kids had chicken tenders and fries. the grownups had carolina barbecue. typical thanksgiving fare, i suppose. after the meal, the kids put on a little "program" for us. it consisted of three songs about turkeys. i guess public schools are not allowed to be thankful anymore. but, it was cute, nonetheless.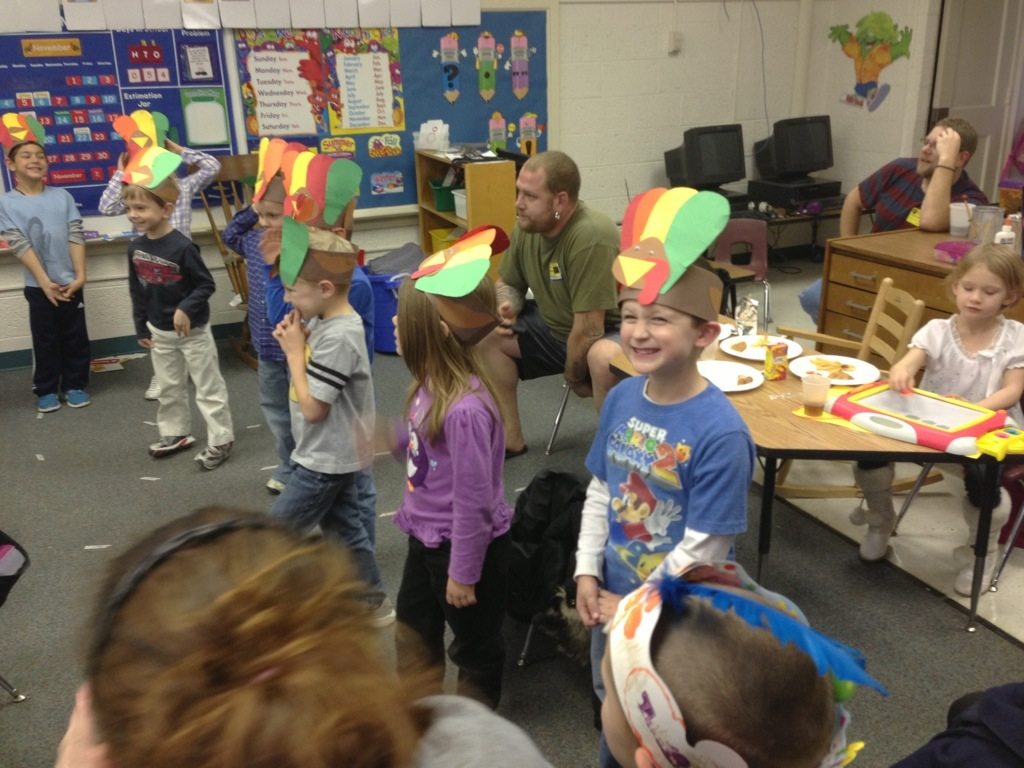 interesting side note. i met isaac's little girlfriend's parents. it seems she's just as smitten with ike as he is with her and they are both planning on a future marriage. that's not the interesting part. the interesting part is that her mom grew up with derek. our not-so-common last name tipped her off. so, that's funny. thats all.
after school, i took the kids to the little general for a charm swap and hot chocolate hour. the charm swap was a bust, but the kids still played with the toys for a long time. and we had some yummy homemade marshmallows.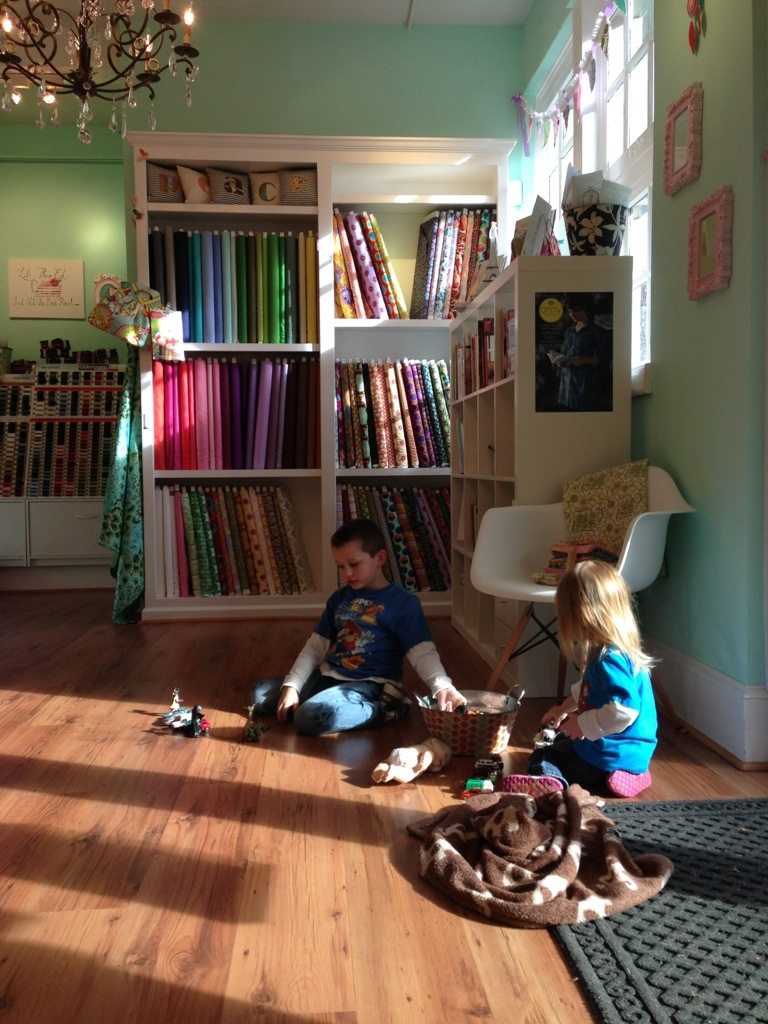 on tuesday, we began potty training. (not fun).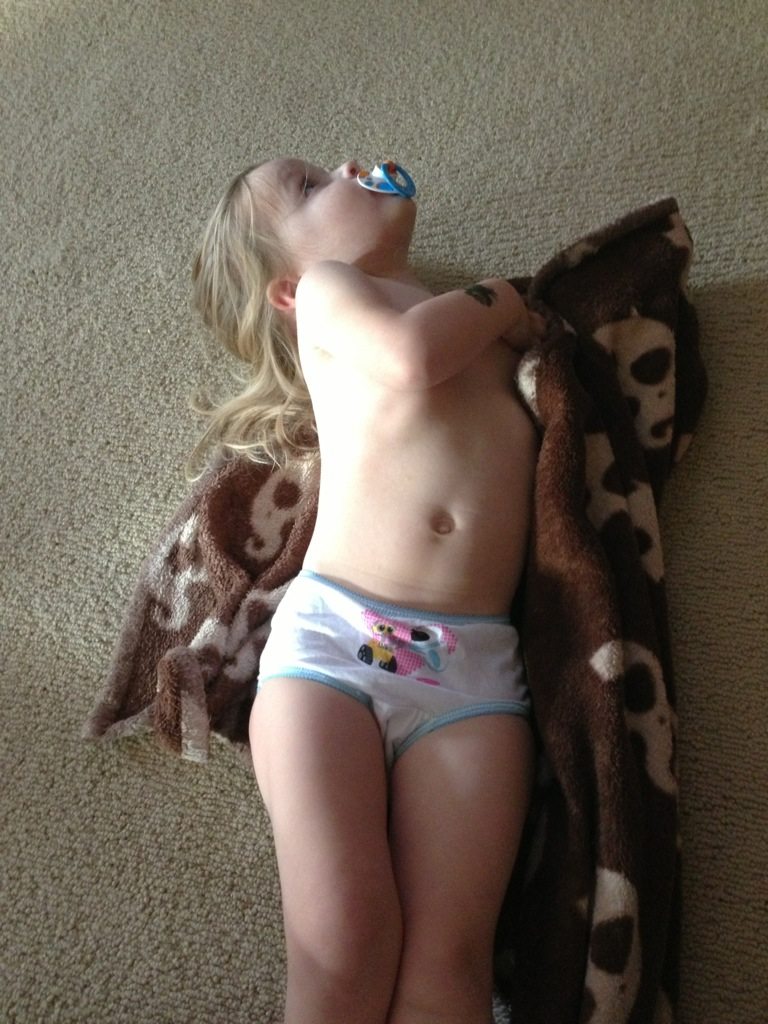 on wednesday, heather and the girls came over to make turkey cupcakes with us. they did a great job.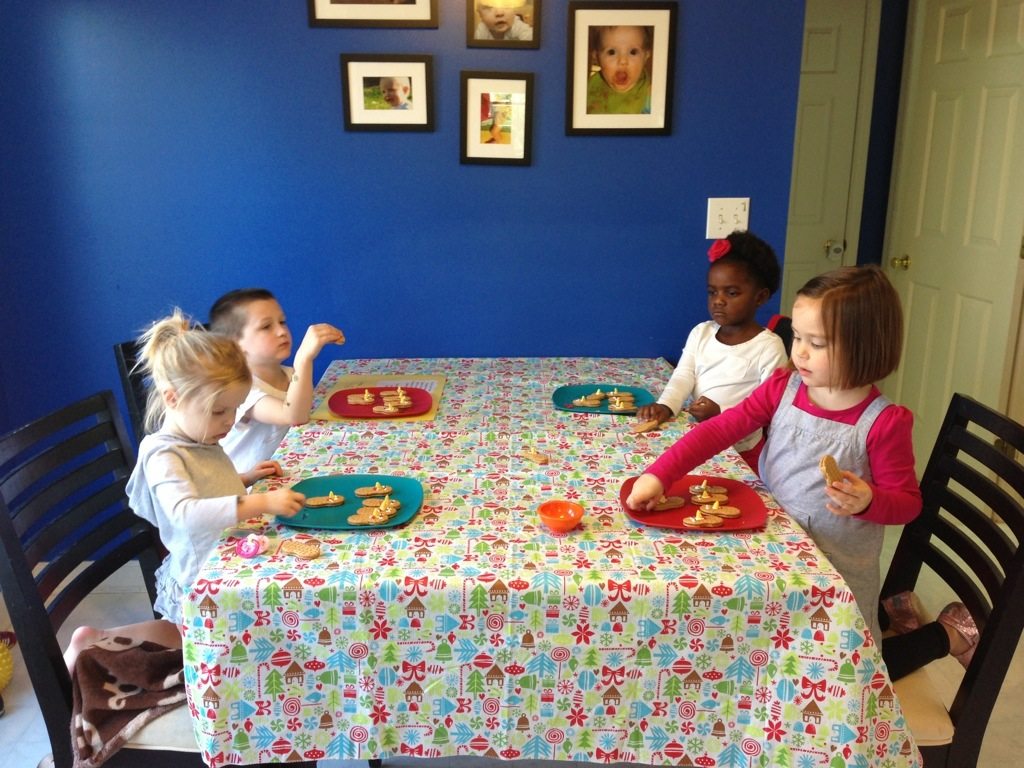 of course, i found the idea on pinterest. nutter butters for the turkey body. frosting for the eyes and the glue. i used starbursts for the nose, because candy corns are impossible to find after halloween, i guess. some upside down heart sprinkles i had on-hand made good waddles. and we cut out leaves from fruit rollups with a leaf cookie cutter for the feathers. that was the only part that didn't workout so well. very floppy. anyhow, here's the final product: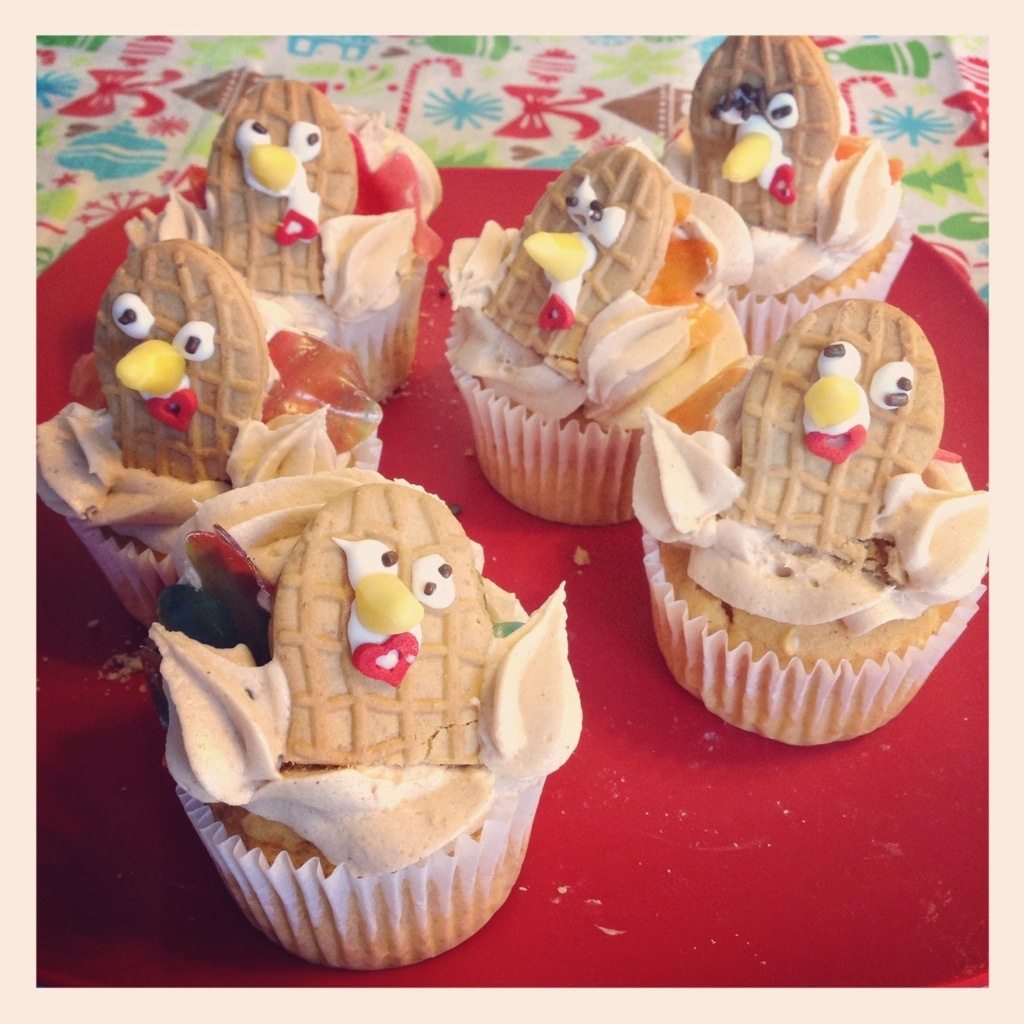 and an instagram collage of the participants.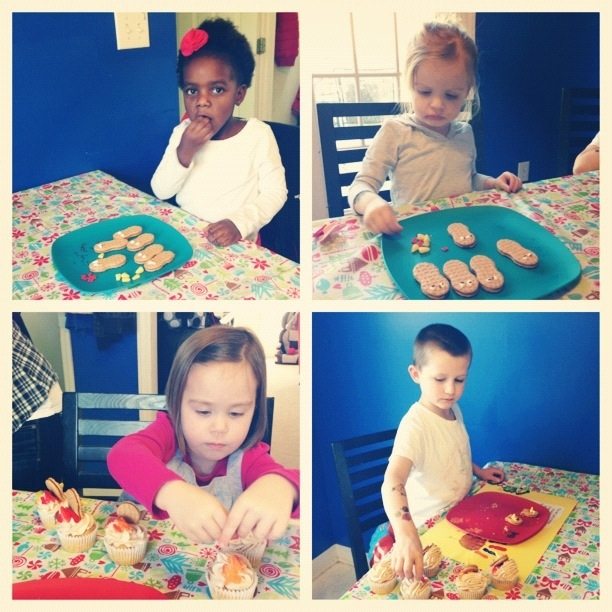 and that brings us to thanksgiving day. anna kicked off her morning helping derek paint (baste) the turkey.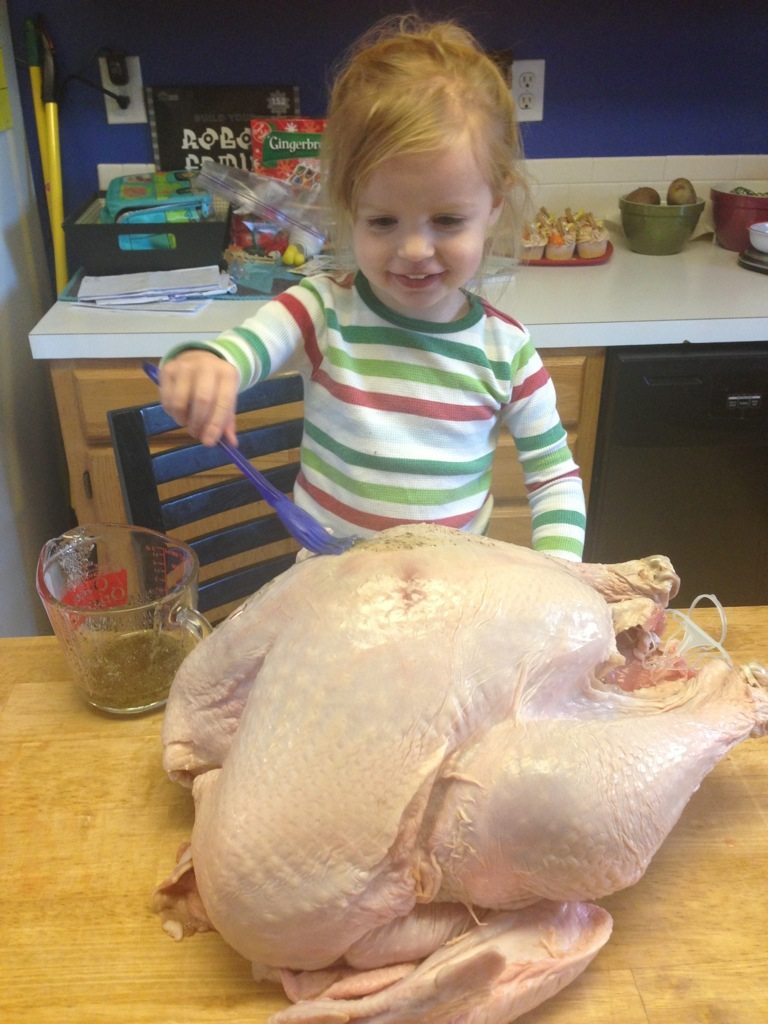 we scrambled all morning to get everything done. turkey. mashed potatoes. corn. trip the grocery store for newpaper (for the black friday ads). rye dip. bathed kids. and out the door.
at my sister-in-laws, anna clung closely to me and tended to her baby.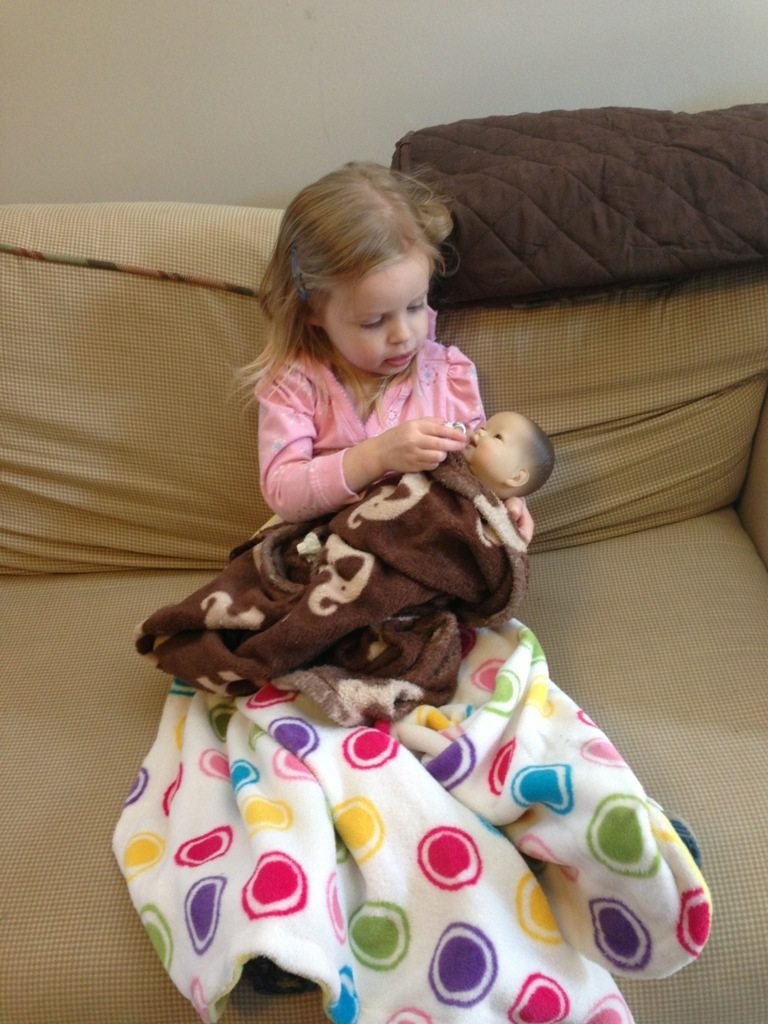 while isaac joined the boy posse and did boy things.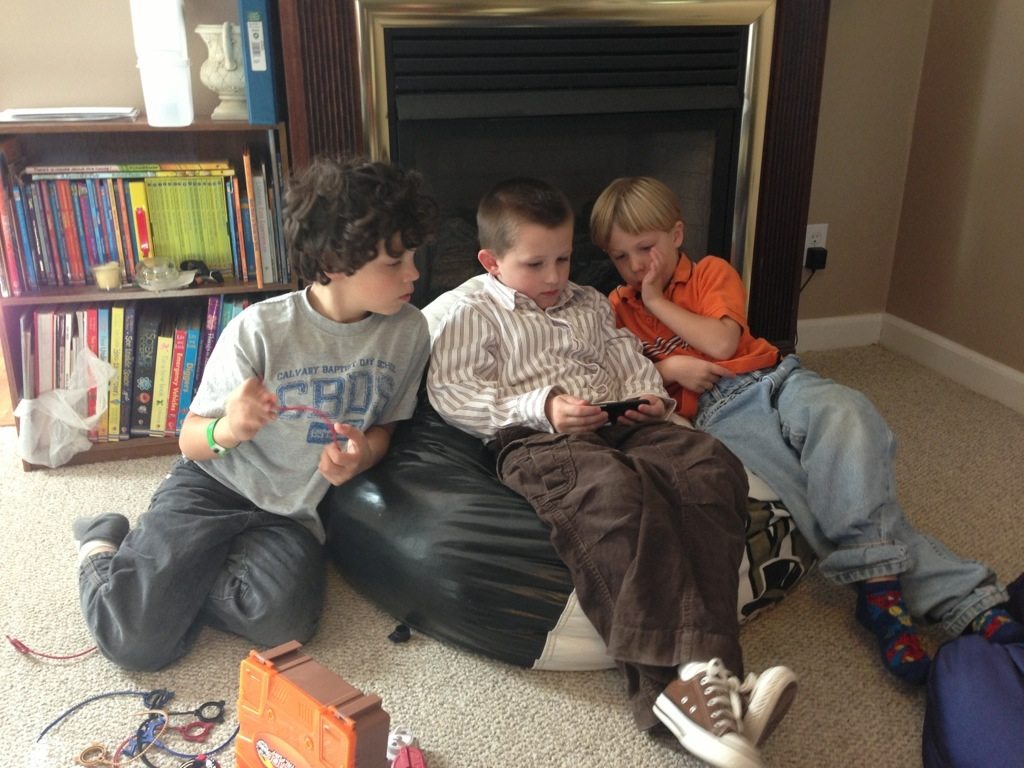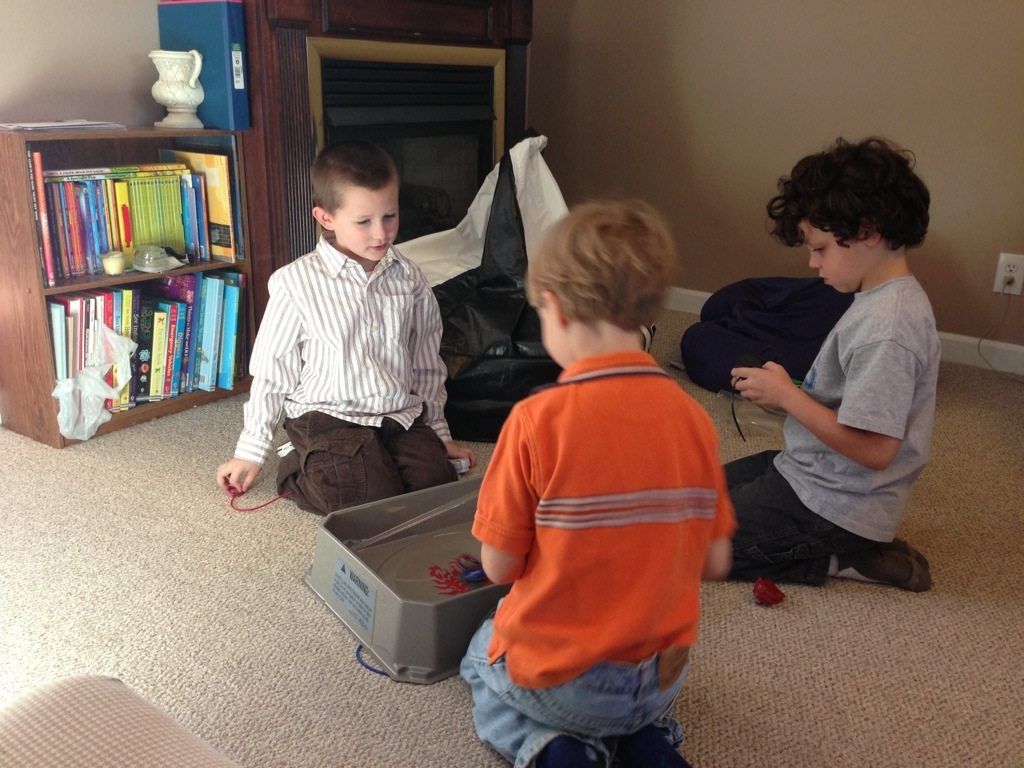 all the cousins at the kid table.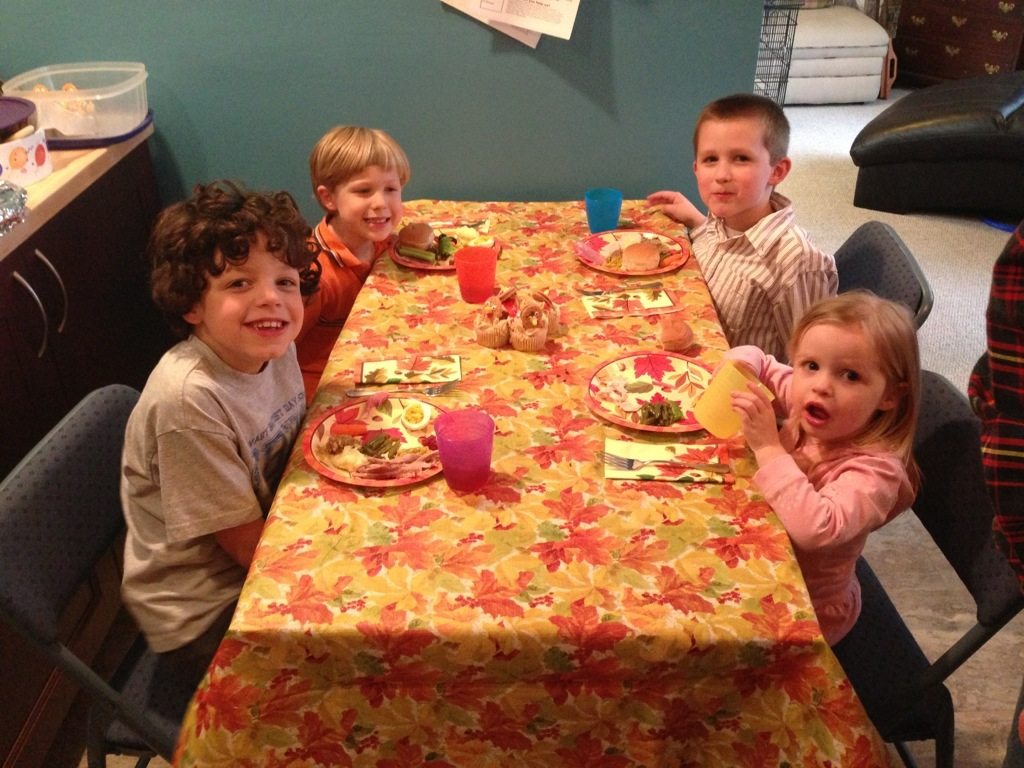 back at home, we cleaned up the mess left from mad morning dash and anna and i passed out on the couch for a little while. when we woke up, we decided bowling was in order. (brief history side note: when i was little we ALWAYS went bowling after thanksgiving. then, at some point it was abandoned. i don't know when or why, but i don't remember going after like age 10. after my gramma died when i was 22, we did it again one thanksgiving, but it wasn't the same. my gramma dying ruined everything.) anyhow, derek's parents and aunt madge came with us too.
anna loved it. she marched up. plopped down her ball and shoved it SLOWLY down the lane.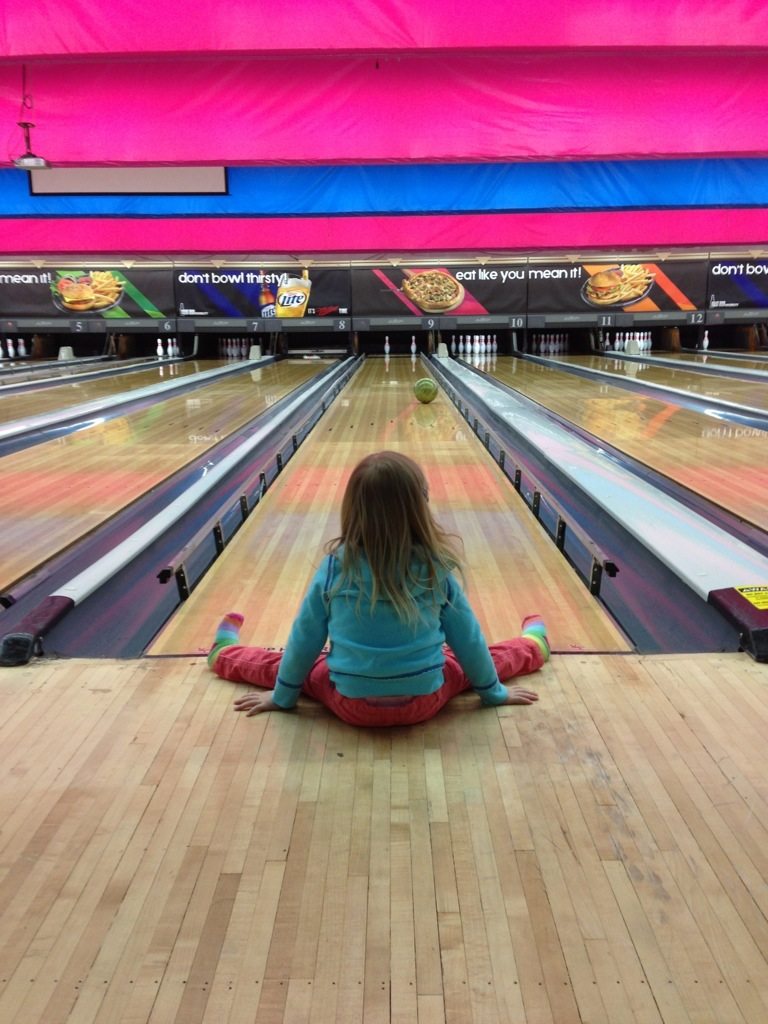 isaac, on the other hand, is an old pro and runs up and hurls the ball so fast that it's impossible to get a non-blurry pic of him. so i took this instead.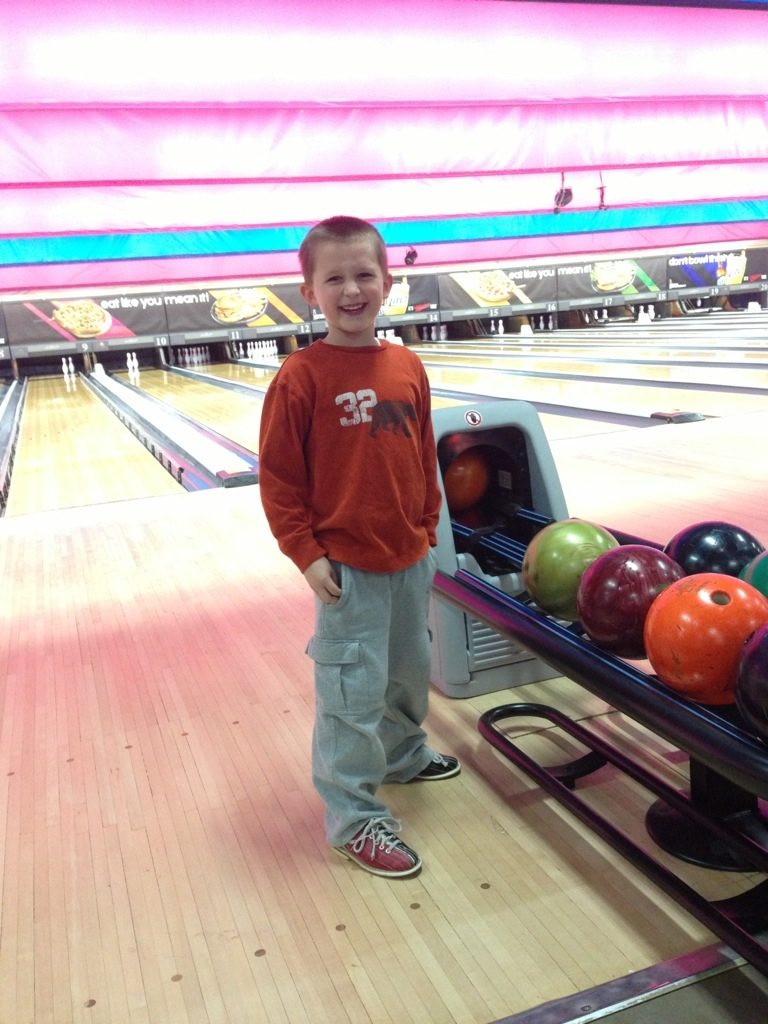 and this of the two of them.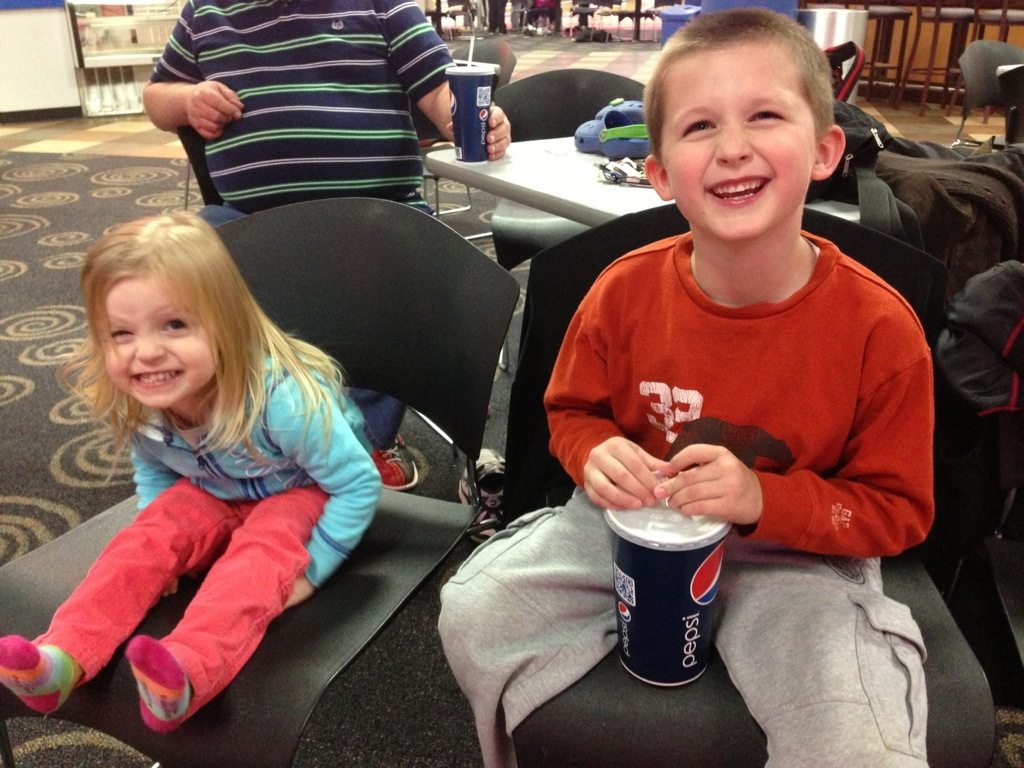 so, that concludes this massive post of birthdays and thanksgiving parties and thanksgiving playdates and thanksgiving. and an almost naked pic of my daughter. whatever.