so. well. we had a little excitement last week. on sunday night, i started to feel a little blah. then, that evening my lower back started to hurt. a lot. i hit up a heating pad and some baths and nothing was touching it. then, a fever rolled onto the scene. around 2 or so, i woke up derek, then threw up, and then got on the phone with the on call nurse from the baby/mom doc office. she said to tylenol up, and if my fever wasn't coming down and/or i couldn't keep fluids down, to head to the er. luckily, the tylenol worked. and i managed to keep everything else down. and i even slept a bit.
monday morning, i felt pretty terrible. i wandered around trying to find a surface in our house that i could be comfortable on. to no avail. i ate some toast. and hoped that it was only a 24 hour bug. only, around 4, my fever started to go back up. and tylenol didn't seem to matter. we called the on call nurse again, and she said we should head to urgent care. except we couldn't get ahold of them to make sure they had an OB, so we headed to the ER. (derek's parents had the kiddos, thankfully).
as luck would have it. as soon as we got to the ER, my fever broke and i was freezing cold and sweaty. the shoved a mask on my face and sent me for some tests anyways. so happy.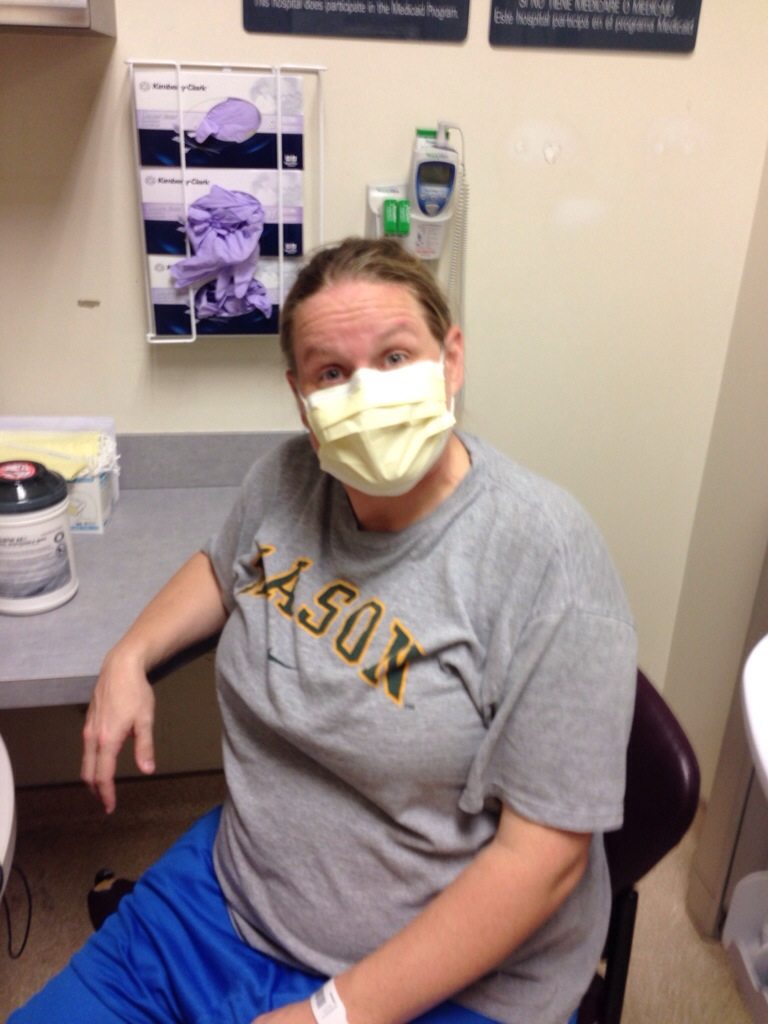 here's a selfie of me trying as hard as i could to be comfortable on the paper covered, vinyl coated table. miserable.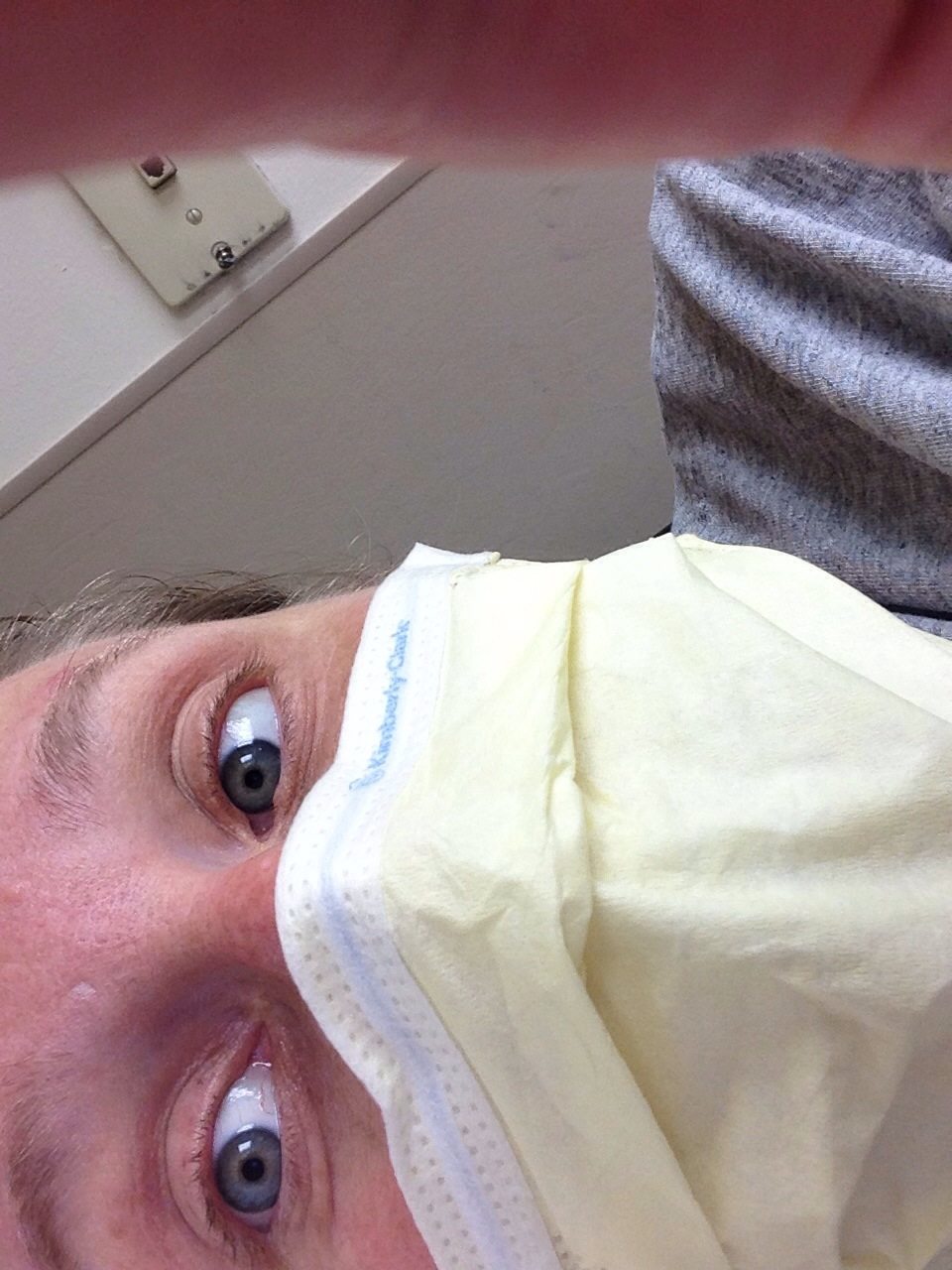 well. the test results rolled in and a kidney infection was diagnosed. which, the doctor informed me, after i seemed annoyed, is serious. and more serious when one is with child. so, up to labor and delivery i headed. to an even more uncomfortable bed. and a longer wait. and so many monitors. and quite a bit of disconnect between the nurses there and the folks in the er. and i was back to feeling quite terrible.
my least favorite doc from the practice showed up and jammed his fingers into my sides and declared that i would be there for a few days getting antibiotics and an iv. and rest. so, around 2 am, i was finally taken to my own room. if you're keeping track at home, i was in the er from 7 until 10ish. and then labor/delivery triage until 2ish. i was so tired. and uncomfortable. and miserable.
anyhooo… i settled in. hooked up to this thing for the next two days.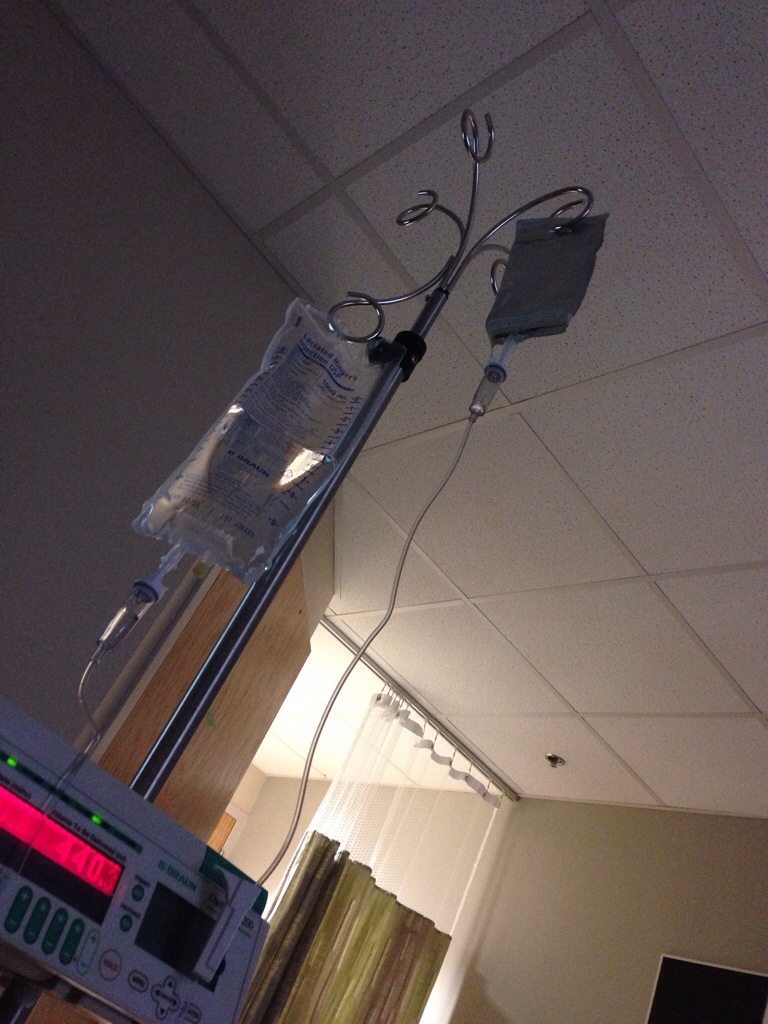 the kids were troopers. they stayed with derek's parents for the whole time. crazy aunt madge came to town and helped entertain. and they came to visit me on wednesday. isaac brought this note. 🙂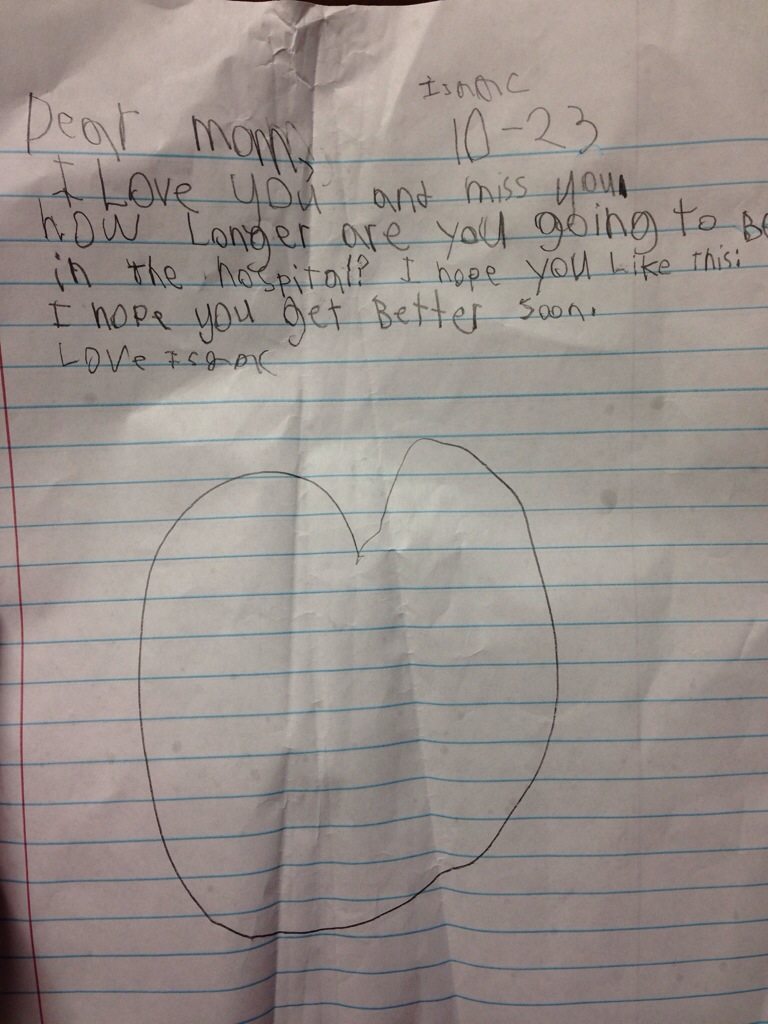 my tricky iv. gave me lots of trouble. everytime i moved, it would make the iv pump beep that i caused a block. and it was on my right hand. good times.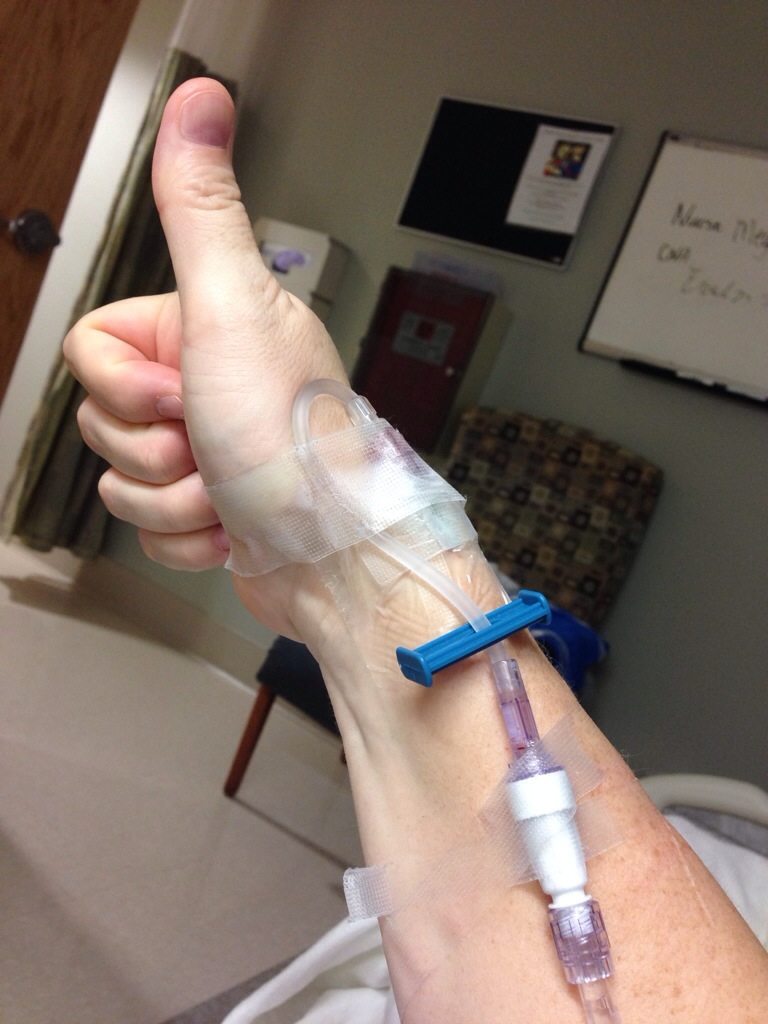 derek loaded up the walking dead episode on his ipad and brought it to me to watch. 🙂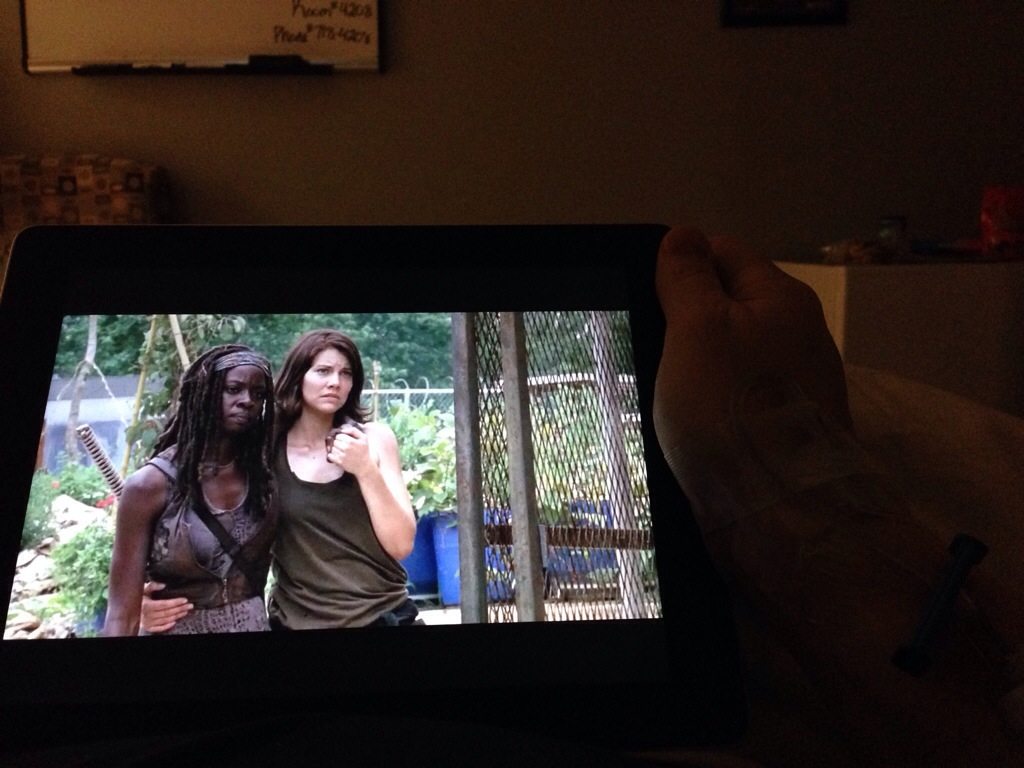 on thursday morning, i took this parting shot of my room. you know, for instagram.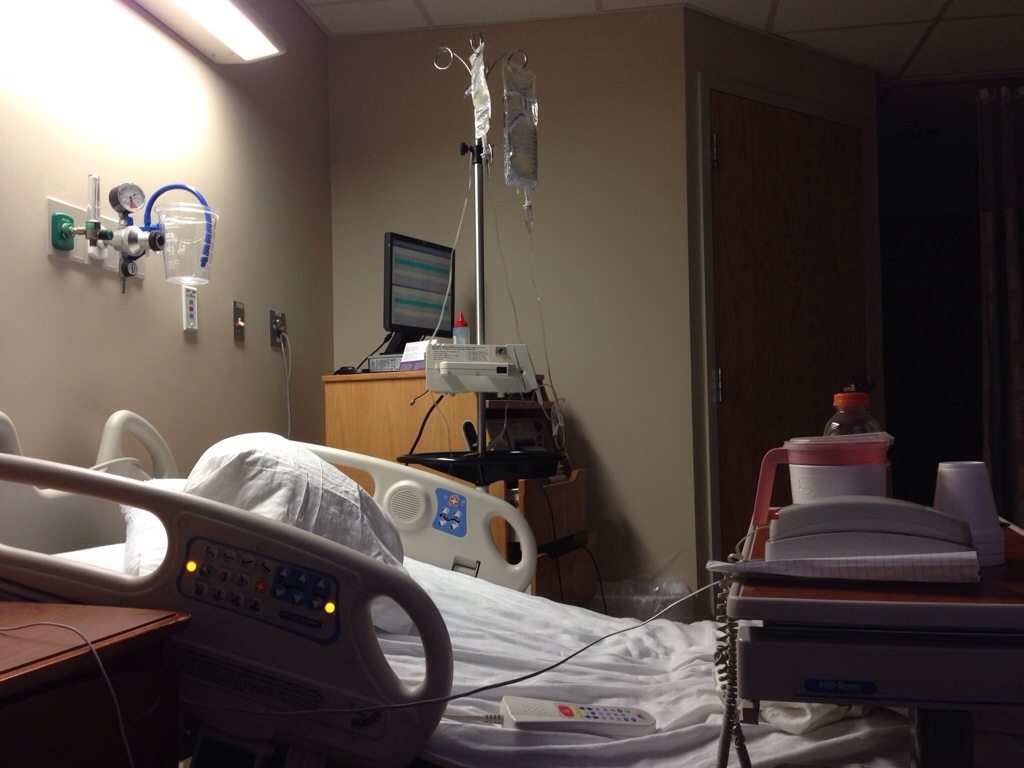 so, that's the crazy story of my kidneys. i'm still on antibiotics. the baby seemed fine throughout the ordeal. i'm 35 weeks this week. crazytown.
had another little scare on friday morning, while at my normal OB appointment. apparently, her heart rate was pretty low (around 100). they ran some tests. did an ultrasound (she's 5 lbs 7 oz). and determined everything was ok, but that her baseline heart rate was just a little low. i was not super excited about the thought of heading back to the hospital, so i'm pretty happy that didn't happen.
ok. the end.