ok.
so, we had the bright idea to attempt to camp with the three little people. one of whom, i may have mentioned, is the WORST sleeper. sounds fun, right?
derek did all of the legwork. he purchased and sorted and packed and prepared all of the supplies and sundries. (my new fave word). he even found a fab new-to-us tent on craigslist. it's definitely not new. it's from the seventies for sure. sears. canvas. yellow. anyhow, all i had to do was pack clothes and kids and drive out where he was already setting us up.
we went to an RV campsite and resort sort of place. it's not super far away. and it has activities, which is a necessity given our kids ages.
the first thing the kids wanted to do was go swimming. and since it was 150 degrees, we obliged. i was mostly in the perfectly cold water, so i only managed a few pics and this is one of them. super hazel.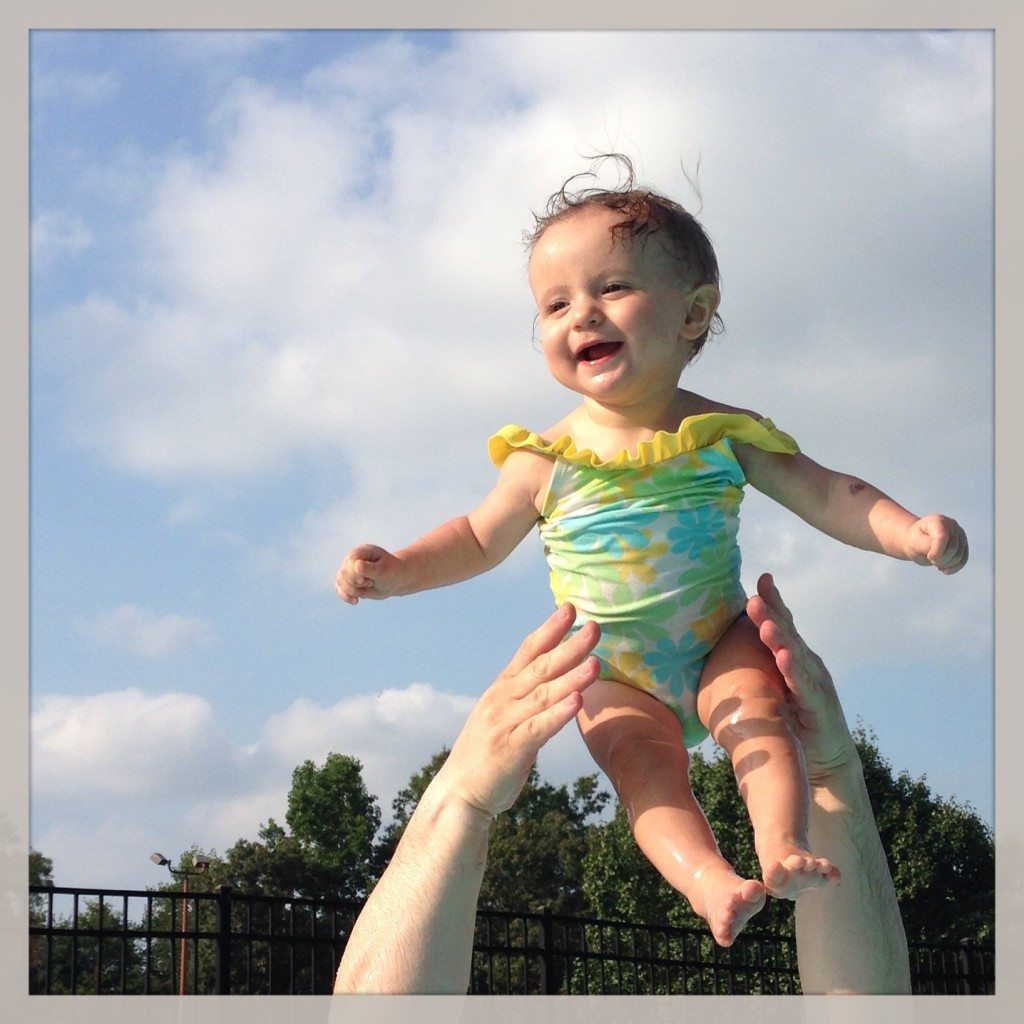 after we were cooled and all swimmed out, we settled into camp with the big yellow circus tent. seriously. check that thing out. ridiculously awesome. we had so many people stop by to admire it. and it is HUGE. we fit three camping mats. a toddler cot. a pack and play. all of our clothes and such. AND there was still walking room.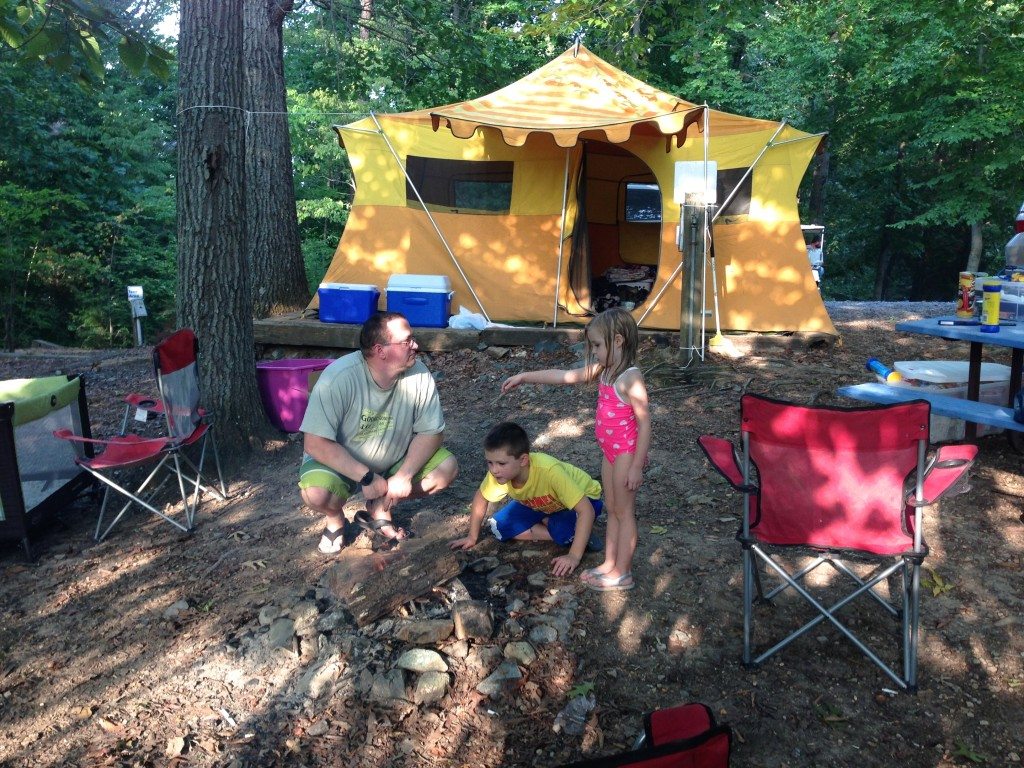 derek cooked us some dinner. on the fire. fun.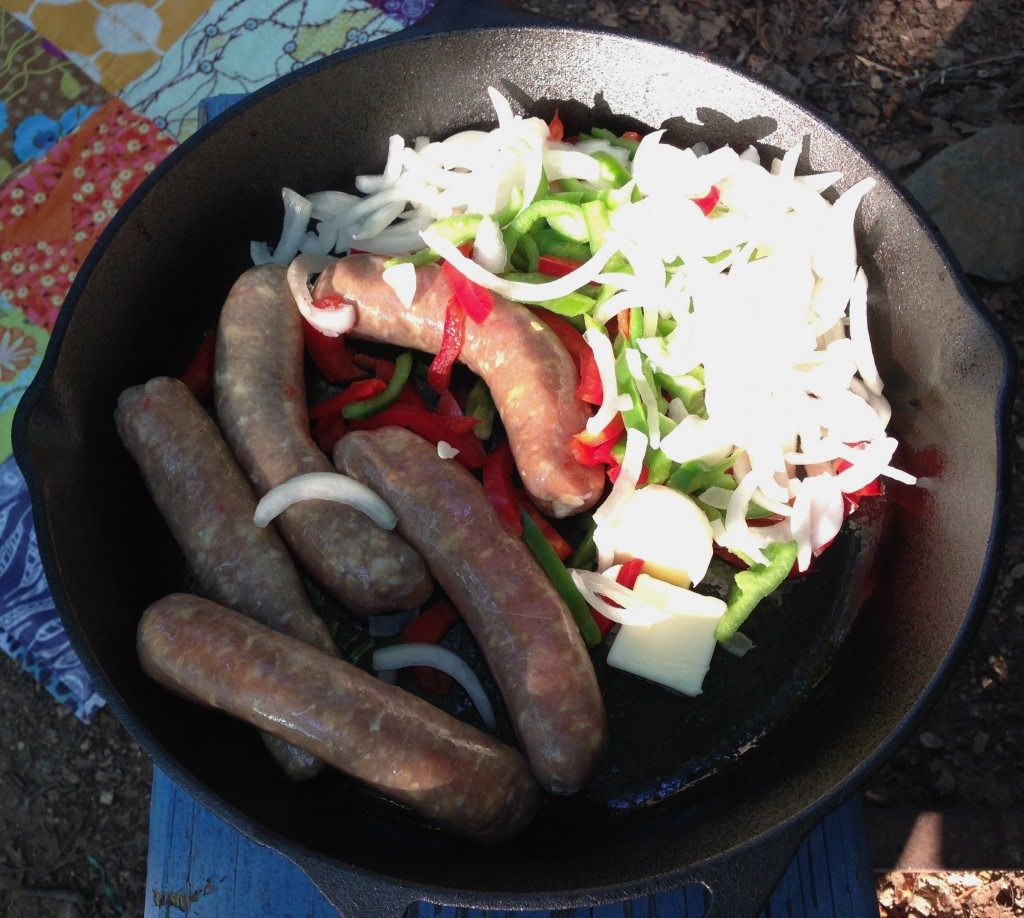 delicious fire cooked meats.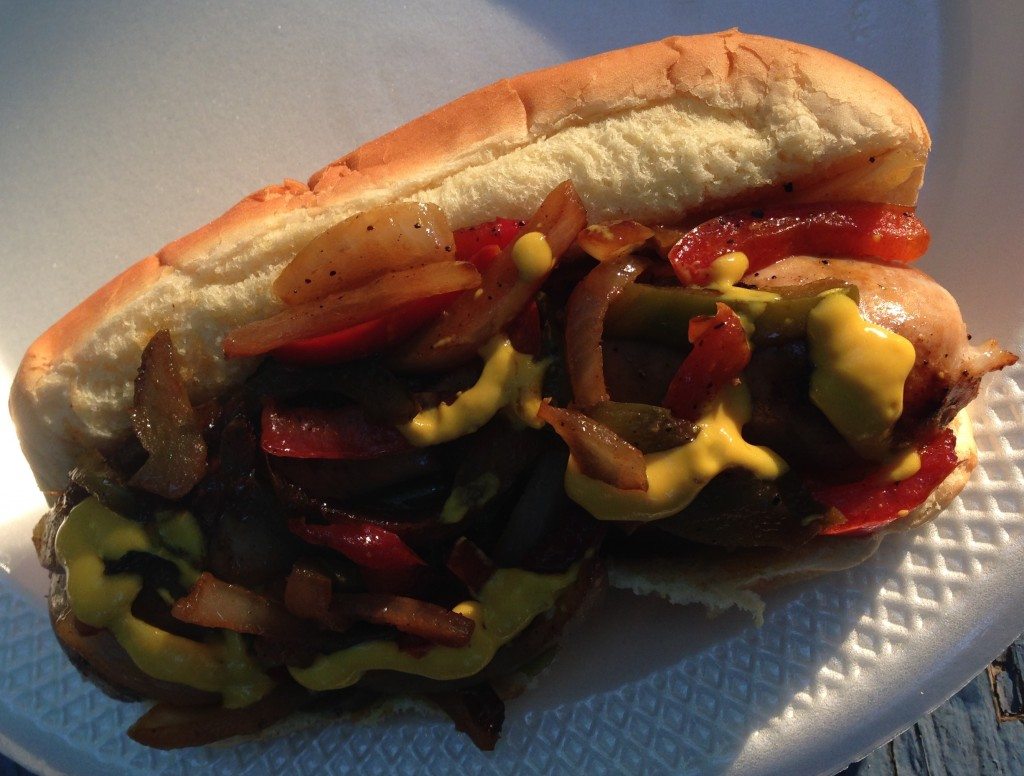 hazel had enough excitement and fell asleep while it was still light out. (it wouldn't last. she woke up later and then wound up on (in between) the mats with us all night. blerg.)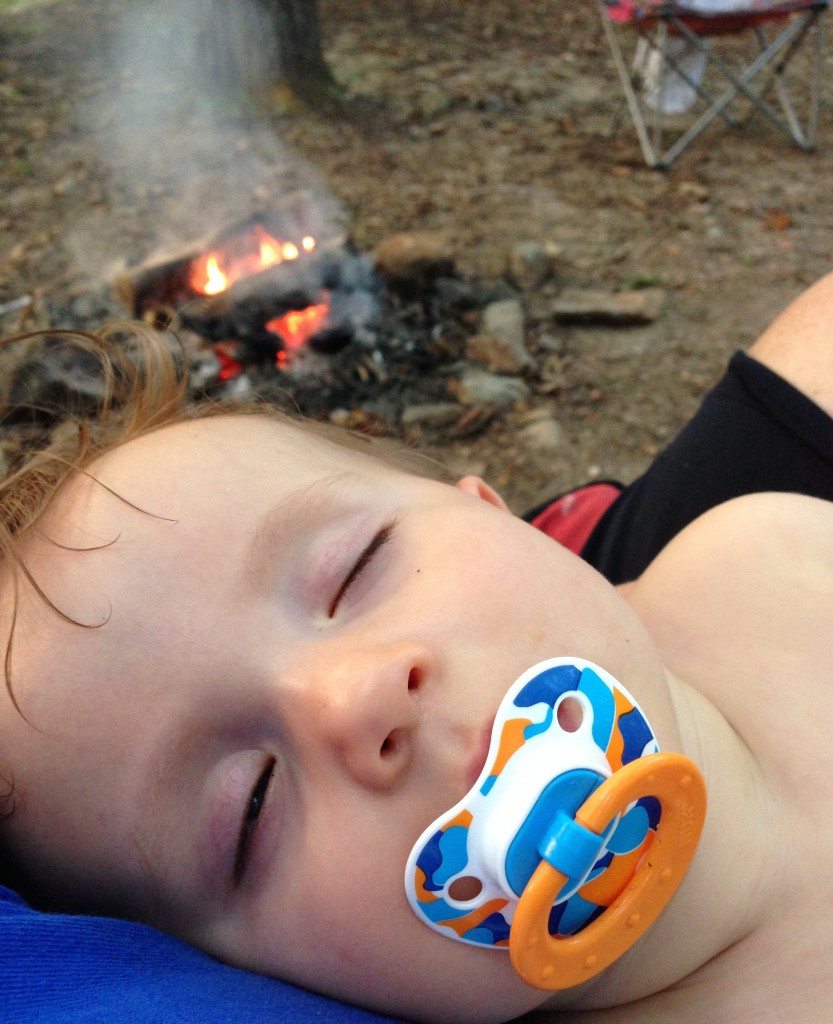 while she slept, derek busted out a few activities for the older two to do by lantern light.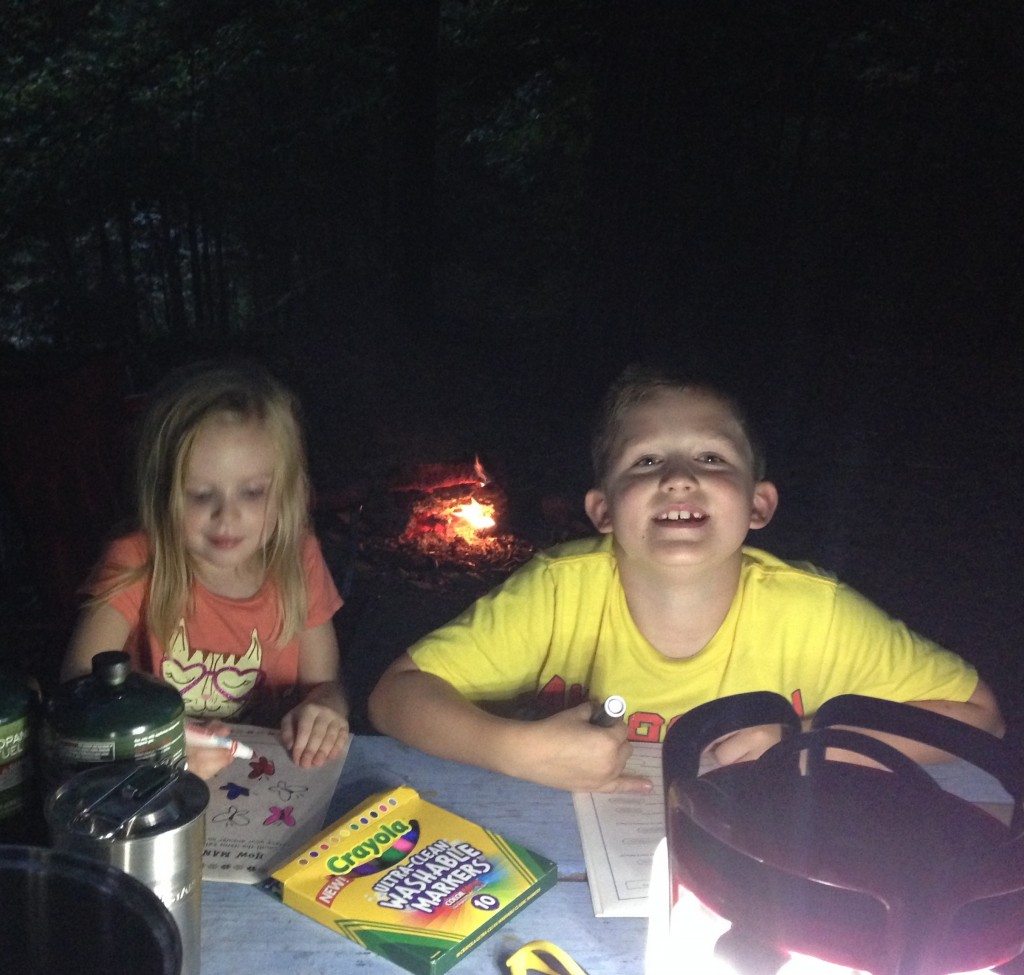 the night was rough. i feel like it's a good time to mention that hazel had a fever. we all had little colds and coughs earlier in the week. but, then she had a bit of a fever. she acted normal. and happy. but she was hot and a bit uncomfortable at night it seems.
the next morning, we headed to the activity center slash general store area. there was a craft from 10 to 11. it was foam stickers. and it killed about 7 minutes of our day.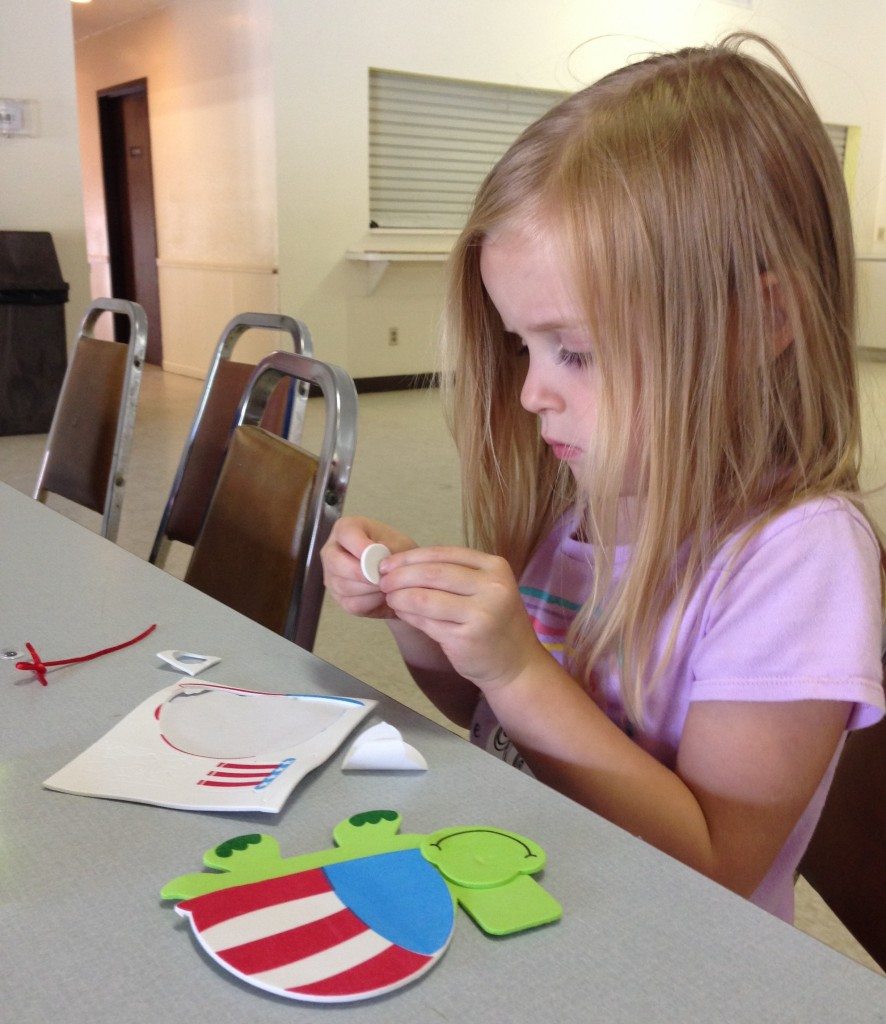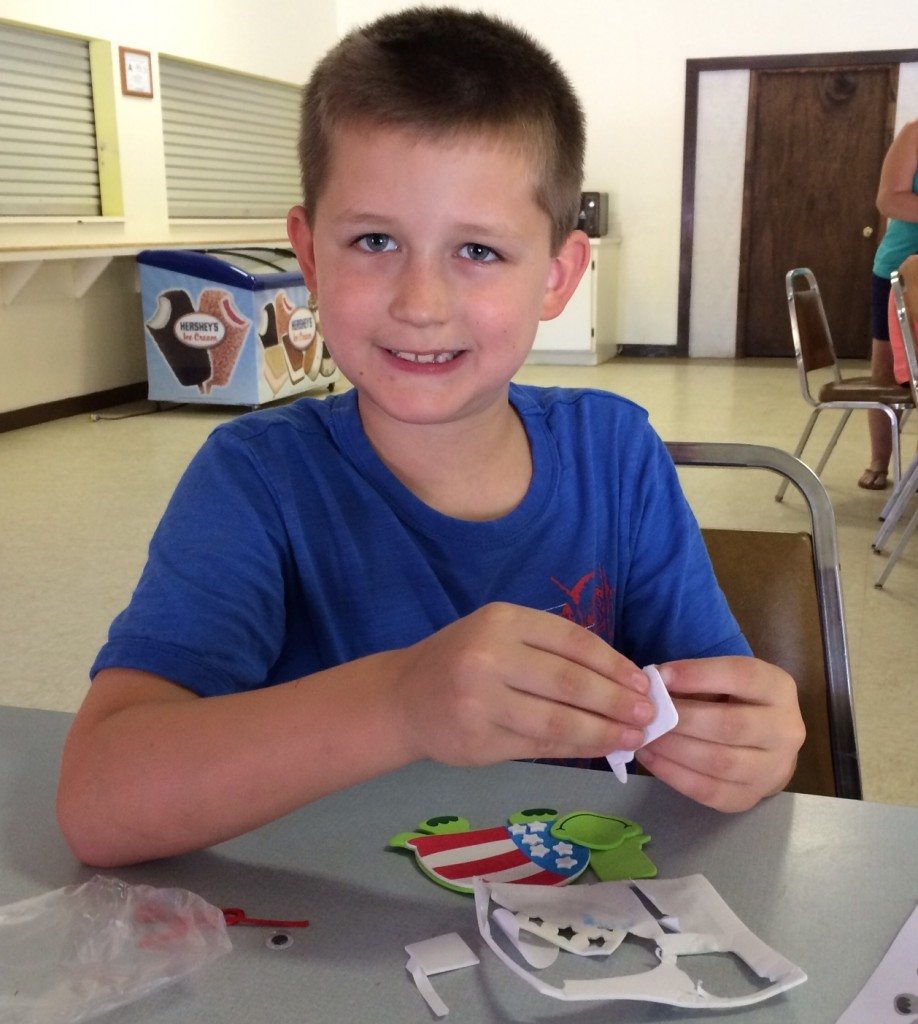 derek and isaac hit up the video game room.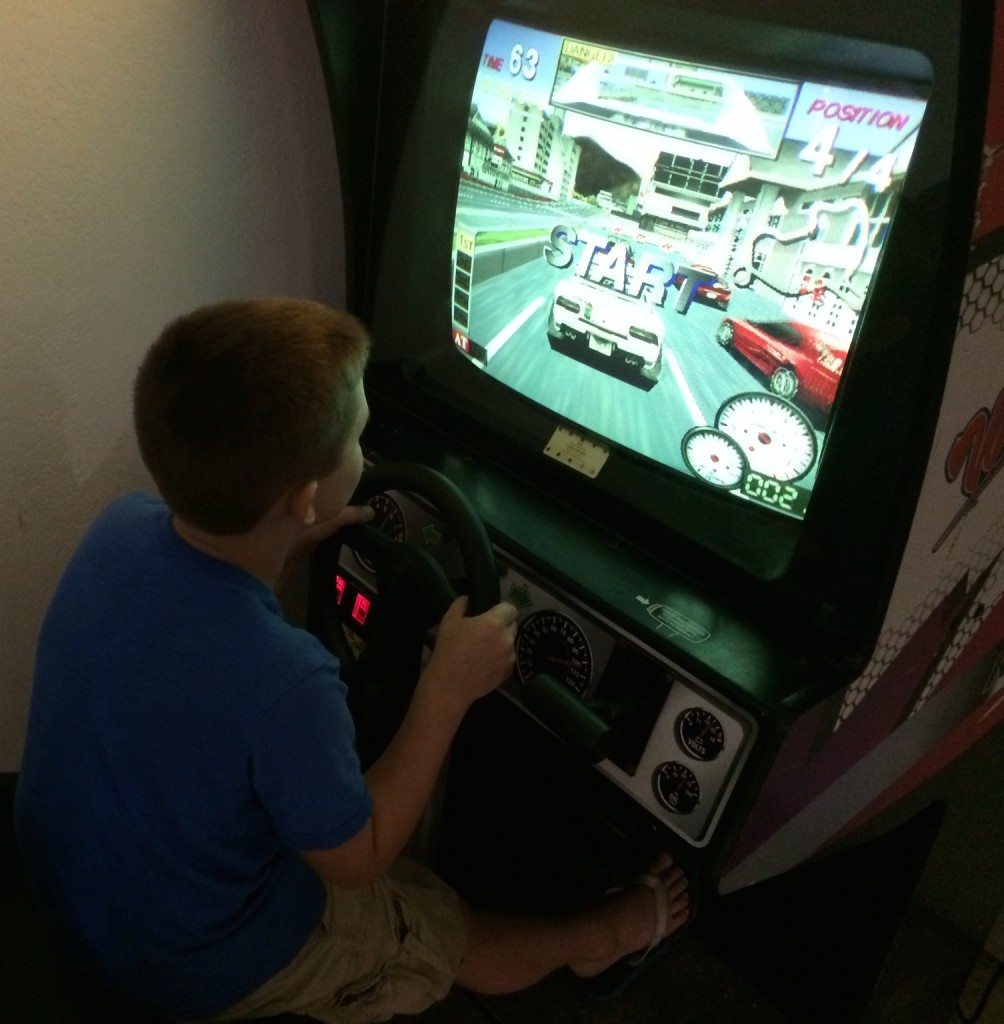 and then. since it was mid morning, we decided to get some icecream.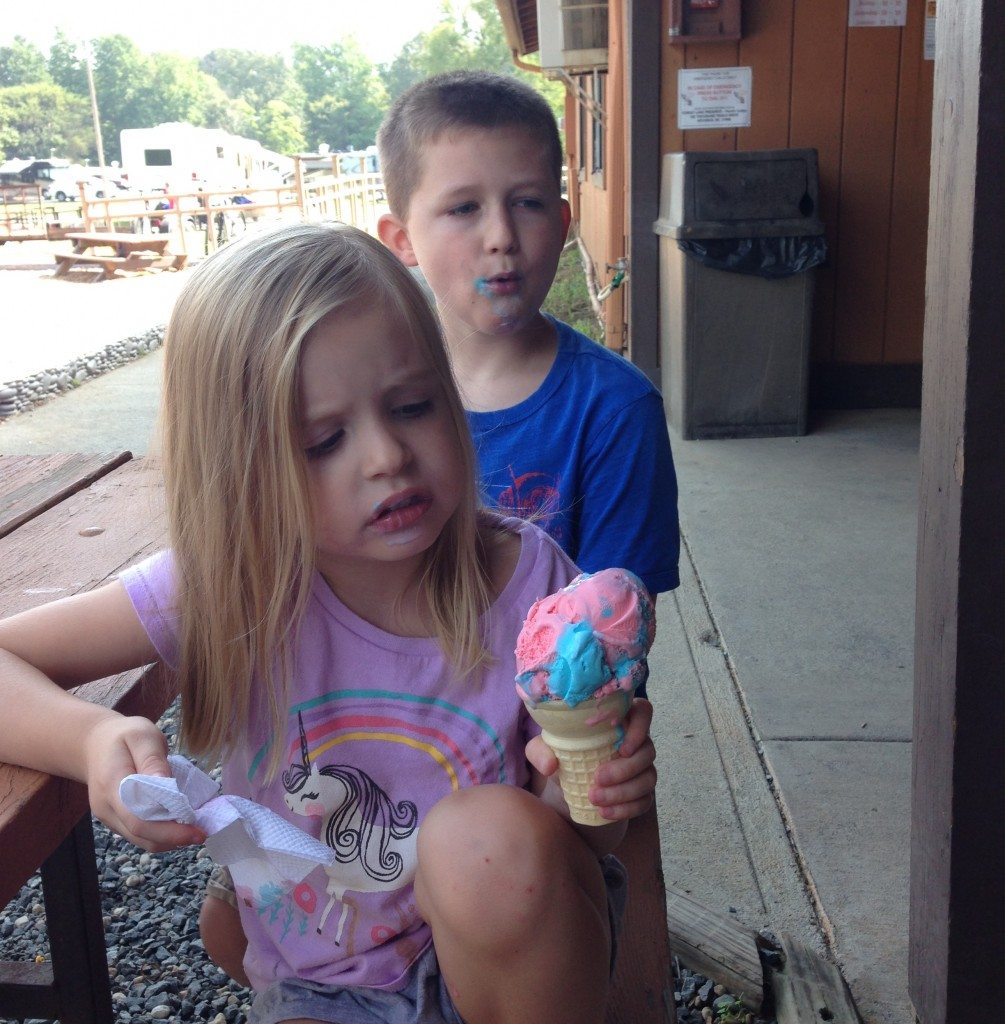 hazel was super excited to have her own cone. she screamed when i took it away to clean it up a bit. she's tired of sharing all the time.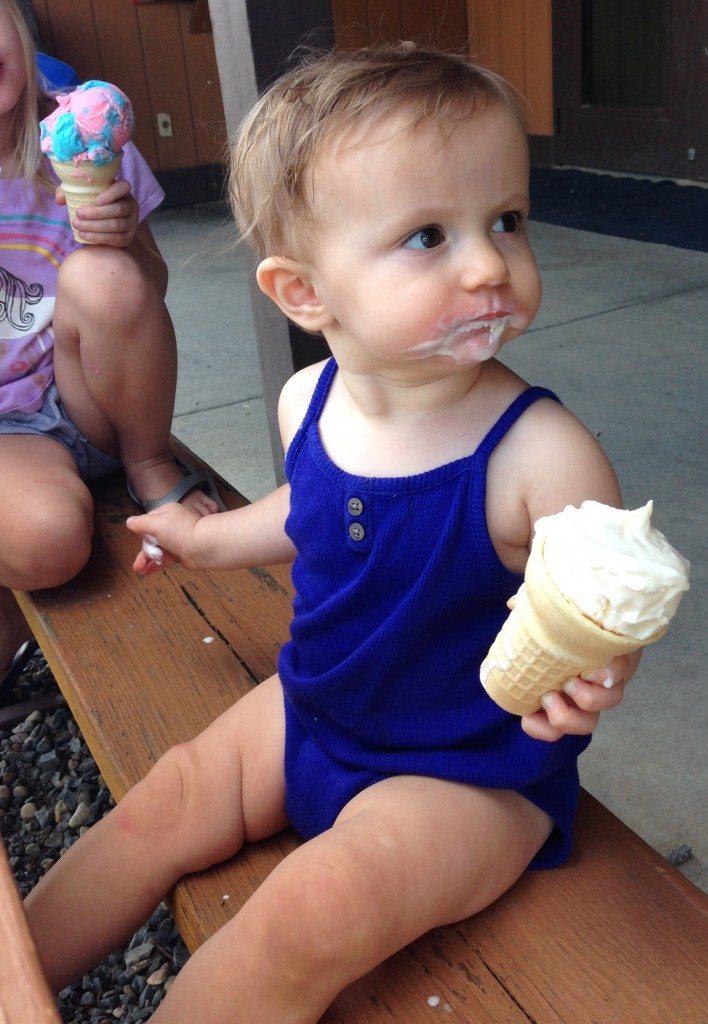 some more swimming. and then back to site. derek's parents visited for lunch. and brought hazel's booster seat which was a lifesaver. we could safely contain her from fires, rolling down hills and other camping dangers. she's a goof.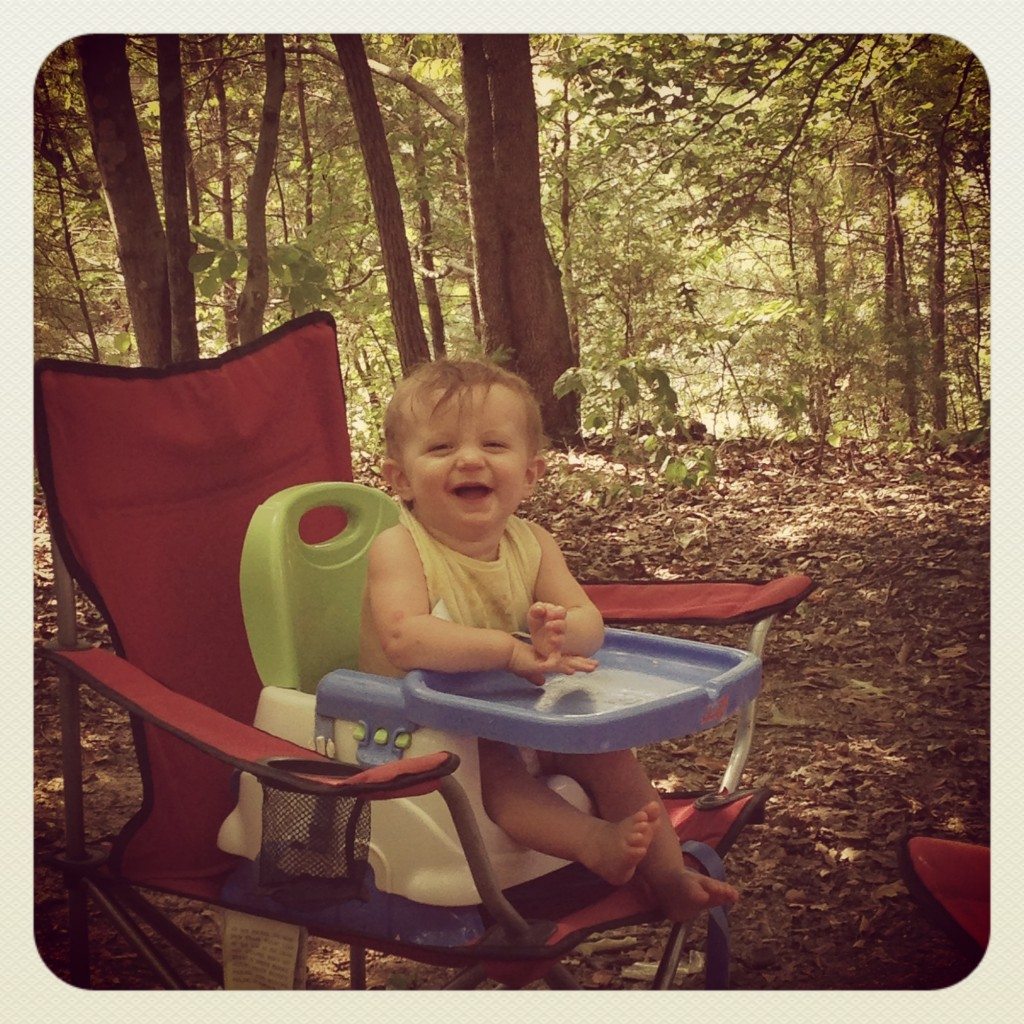 so, we made the executive decision that one of us was going to come home for the night with hazel and let her sleep in air conditioning and try to get a better night's rest. and the one of us was me. mostly because hazel seems to do better when i am the one putting her to bed. and because derek could campfire with kids. and he is an old pro at coffee. plus, i was way more tired from the night before than he was. so, we headed out (and just in case you're wondering, hazel was up until 1:00 am. but then she slept until 830 or so. and the fever was gone!)….
but. when i packed up the diaper bag, i accidentally took all of anna's pullups (she still wears them at night). so, derek had to construct this makeshift diaper for her. hahahaha.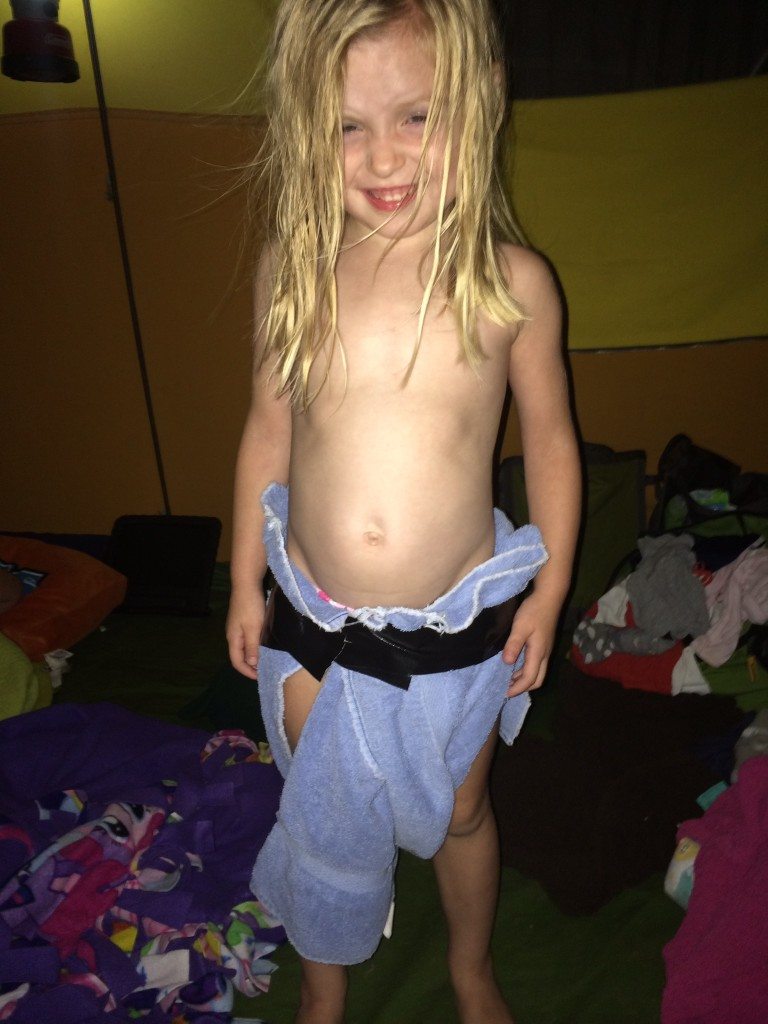 then, he pulled out the one trick we had up our sleeves. the ipad. and let the kids watch a movie in the tent. the gamble paid off, because they slept in the next morning.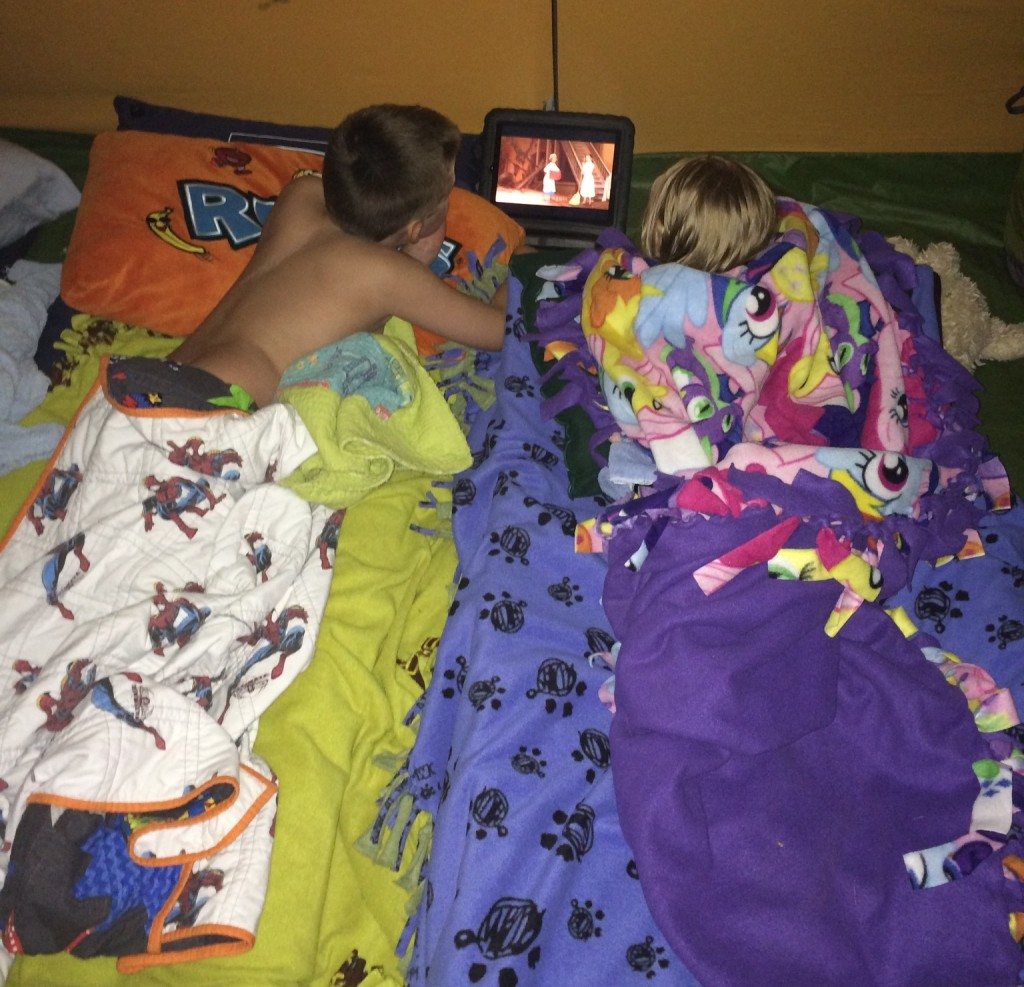 hazel took a bath. i took a shower. we picked up bojangles. and headed back out in the morning.
the kids finished up their movie over breakfast. and probably much coffee for derek.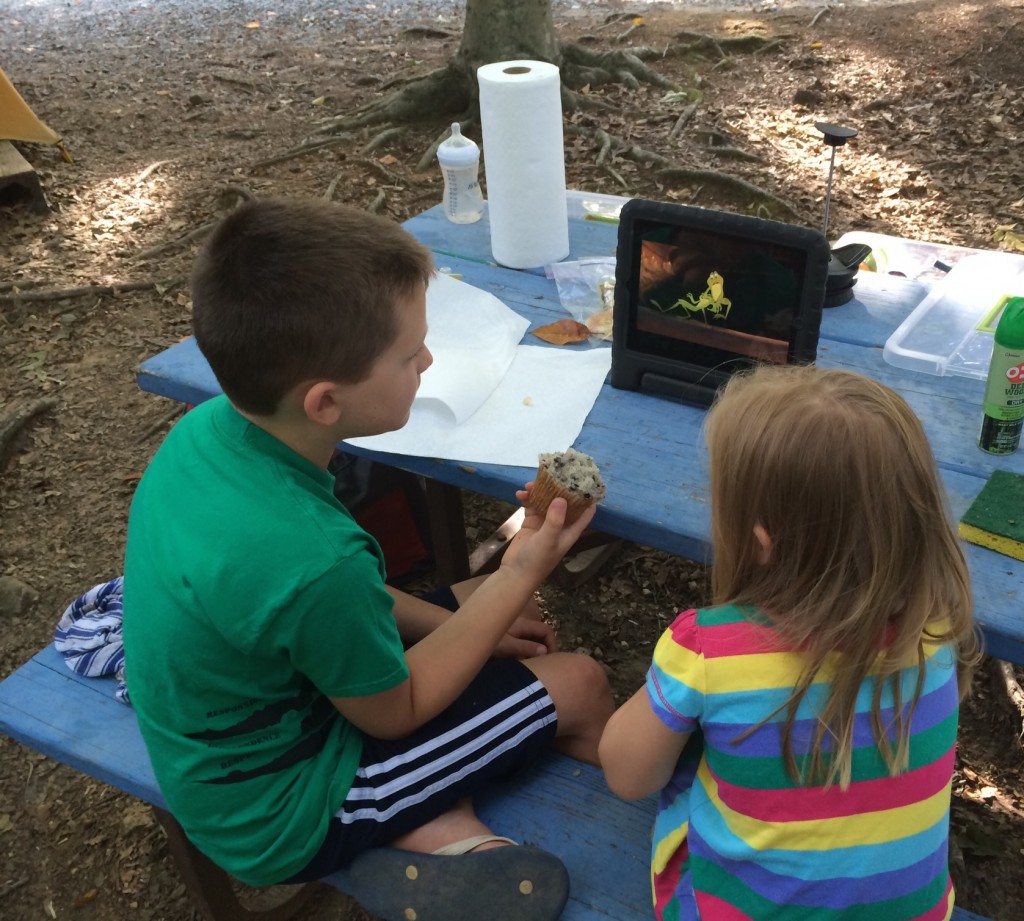 we spent most of the morning swimming. and then hazel and i took a nap in the tent.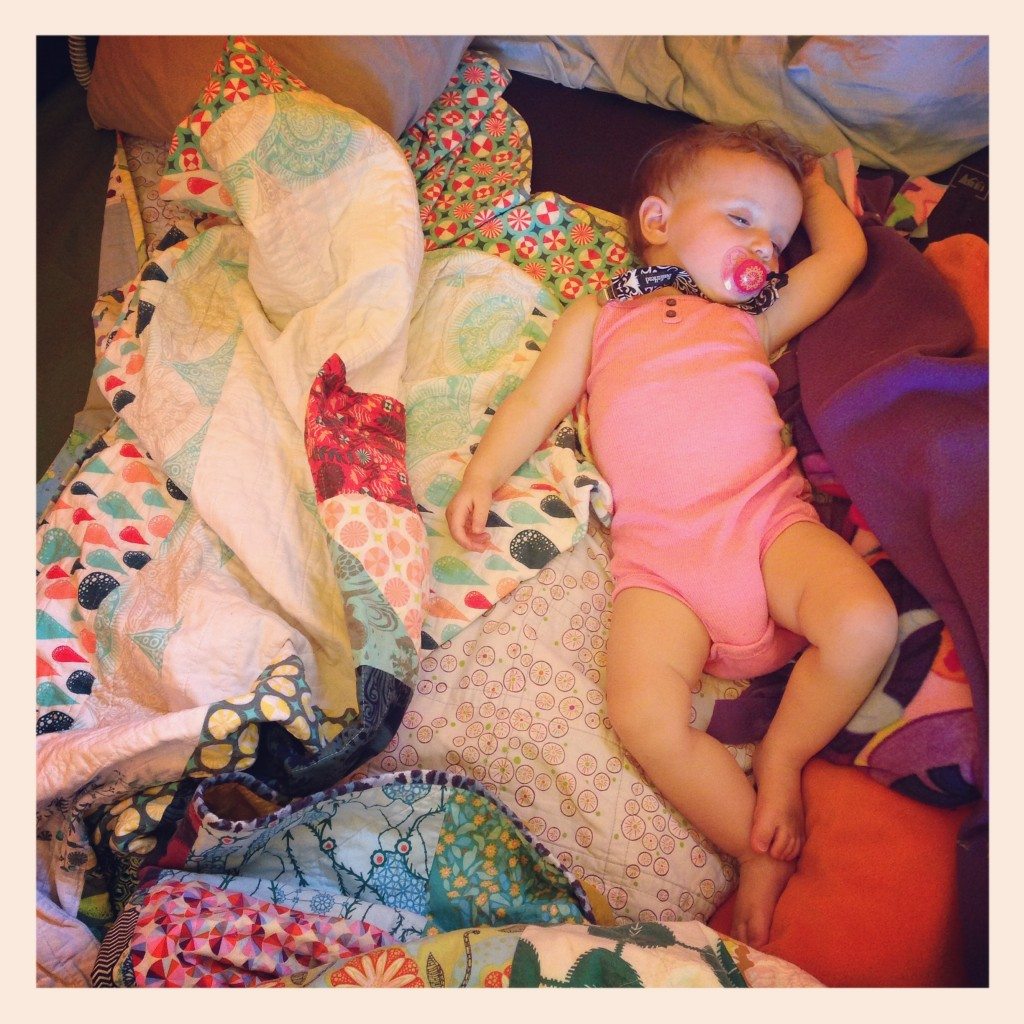 then, we decided to try out the beach and lake. while hazel kept sleeping. and derek broke down the camp.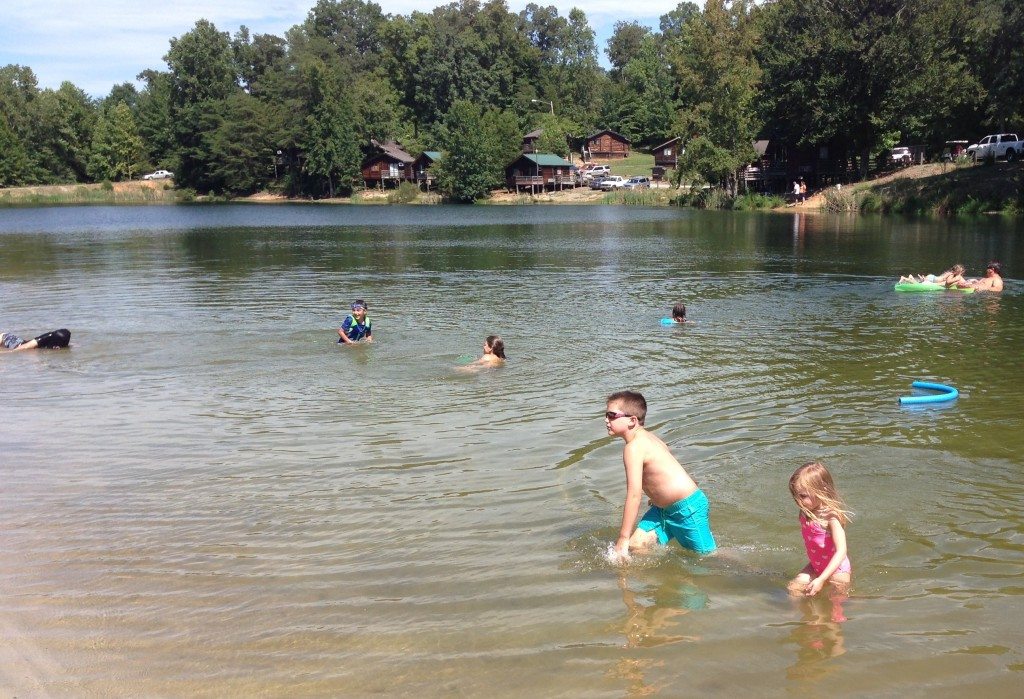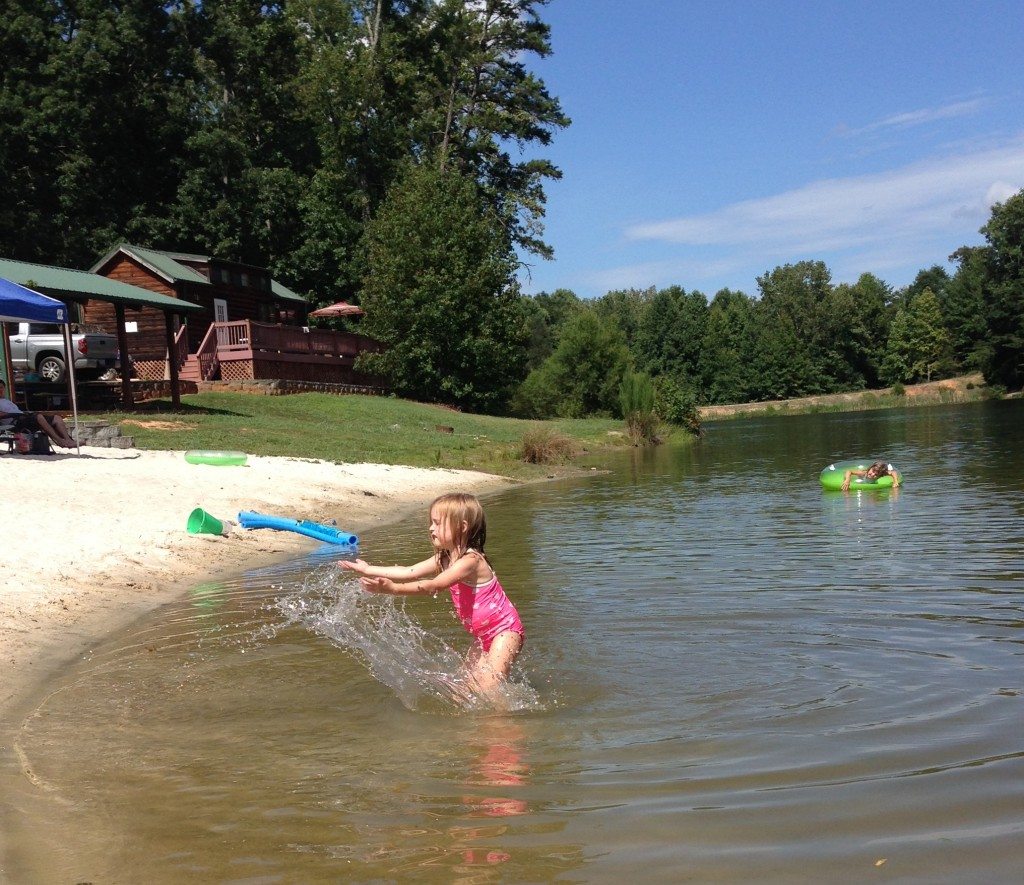 i forgot the life vests, so kids stayed nearby until they whined enough that i loaded them up to go get life vests. but first, i made them take this picture: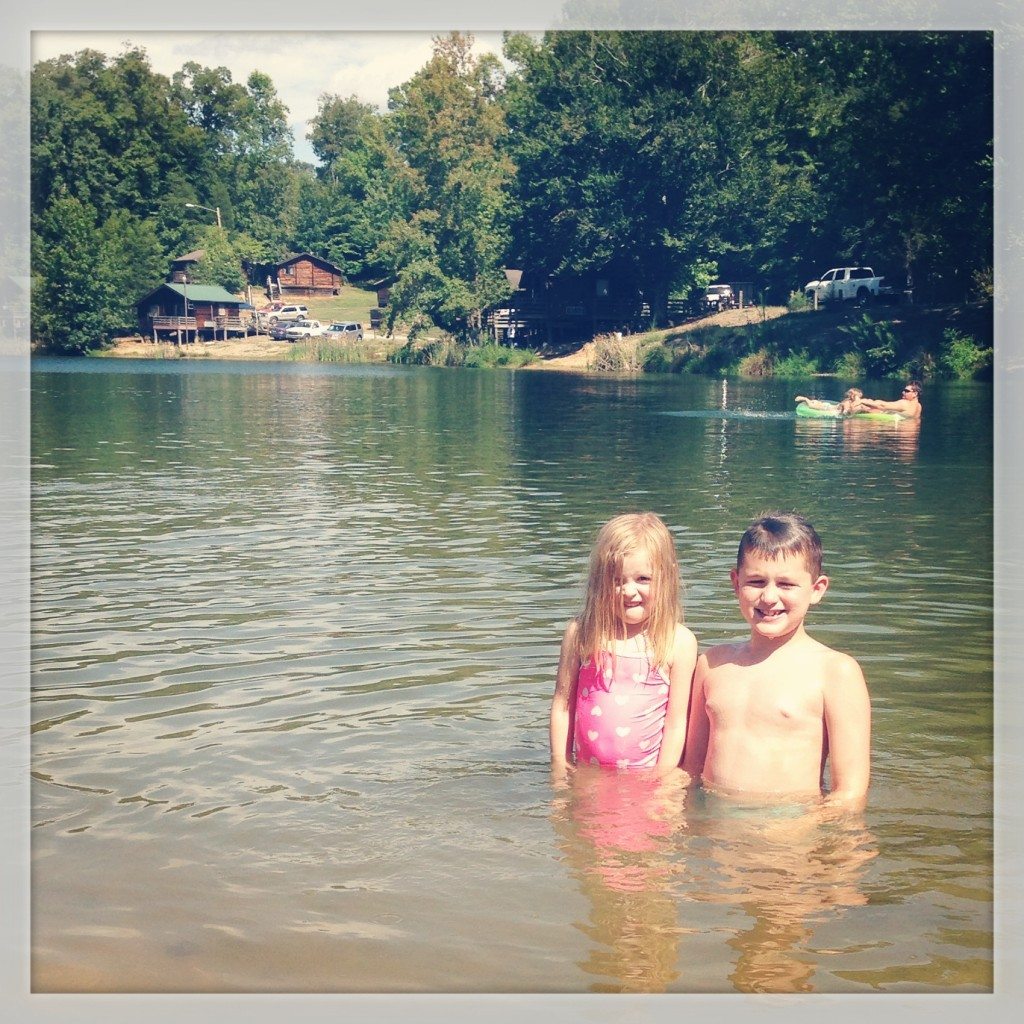 once they were firmly strapped into their foam life saving devices, they explored all over.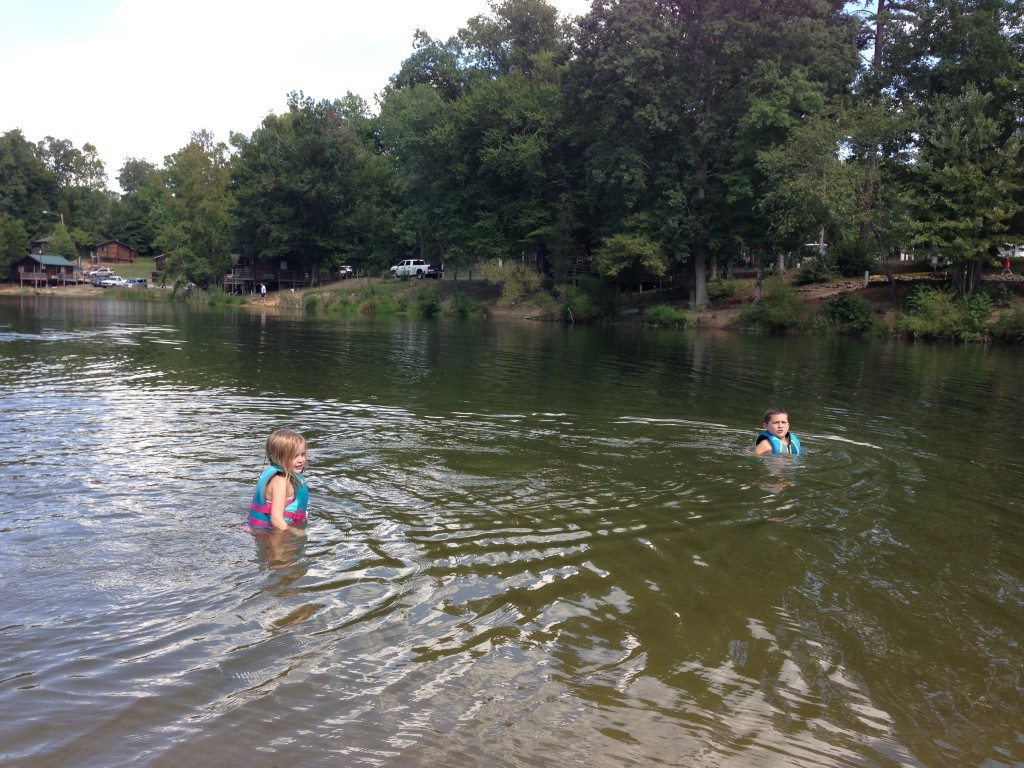 its hard to see. but that's isaac. across the lake. chasing down a duck.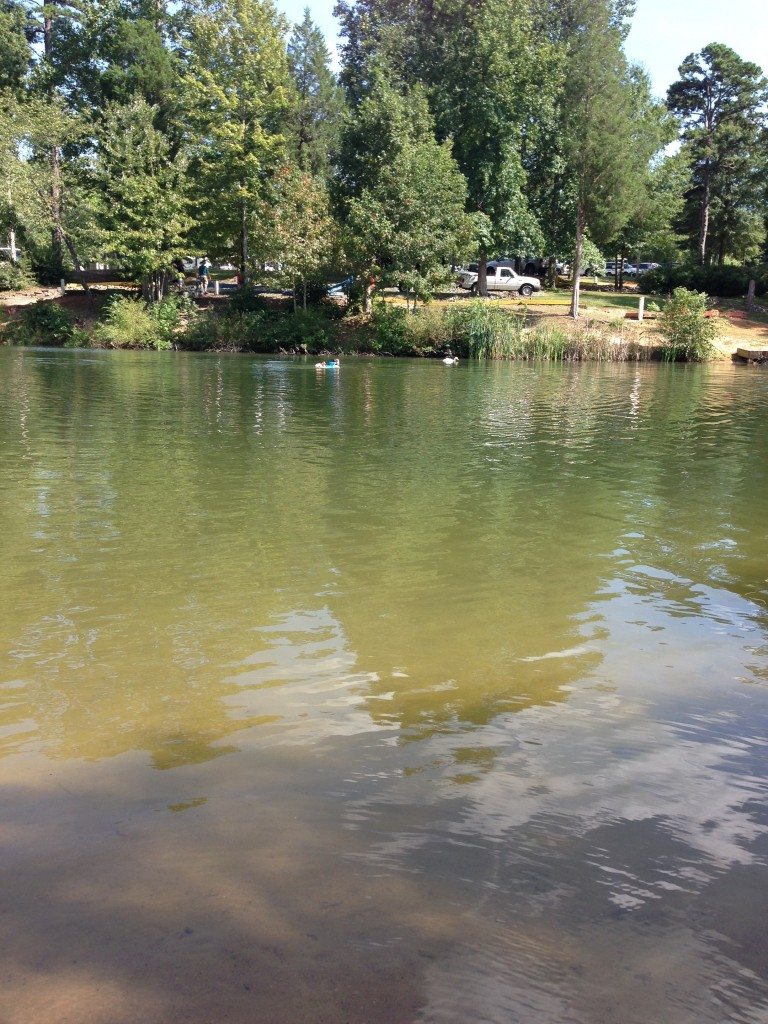 it was a beautiful (and scorching hot) day.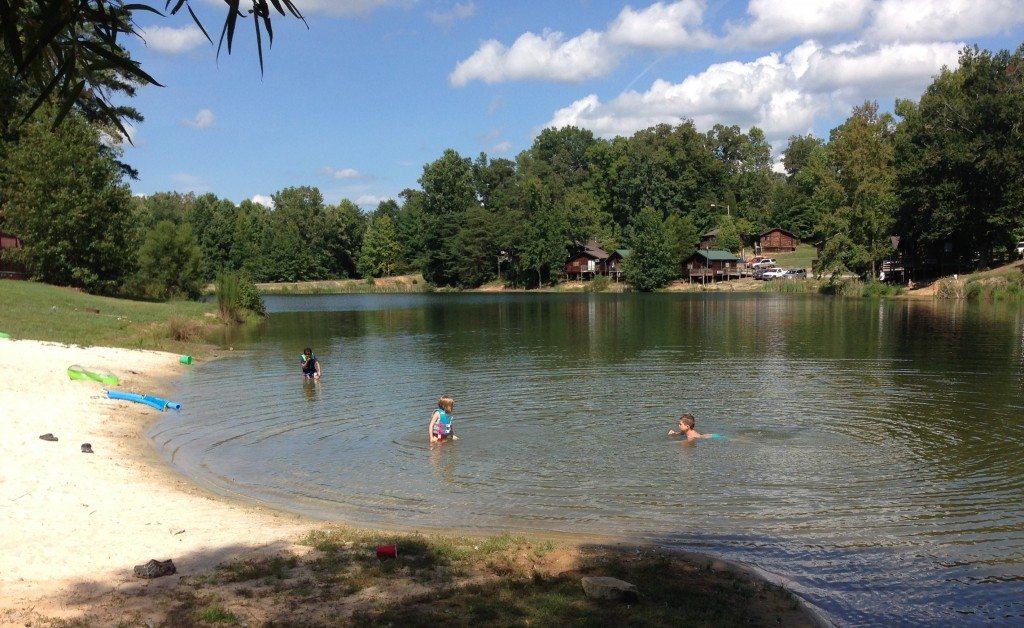 meanwhile, hazel woke up while derek was packing and he took this pic. yes, we took a fan. i made fun of derek about it, too. but, i was super thankful for it about 300 different times.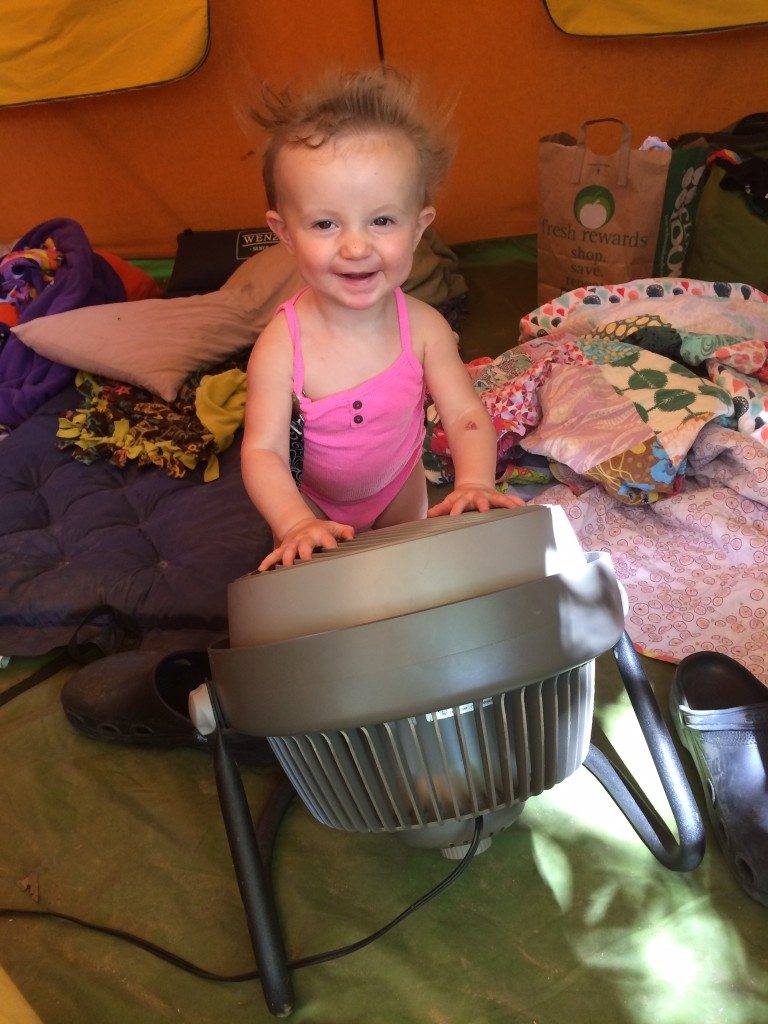 one last pic of the big yellow circus tent.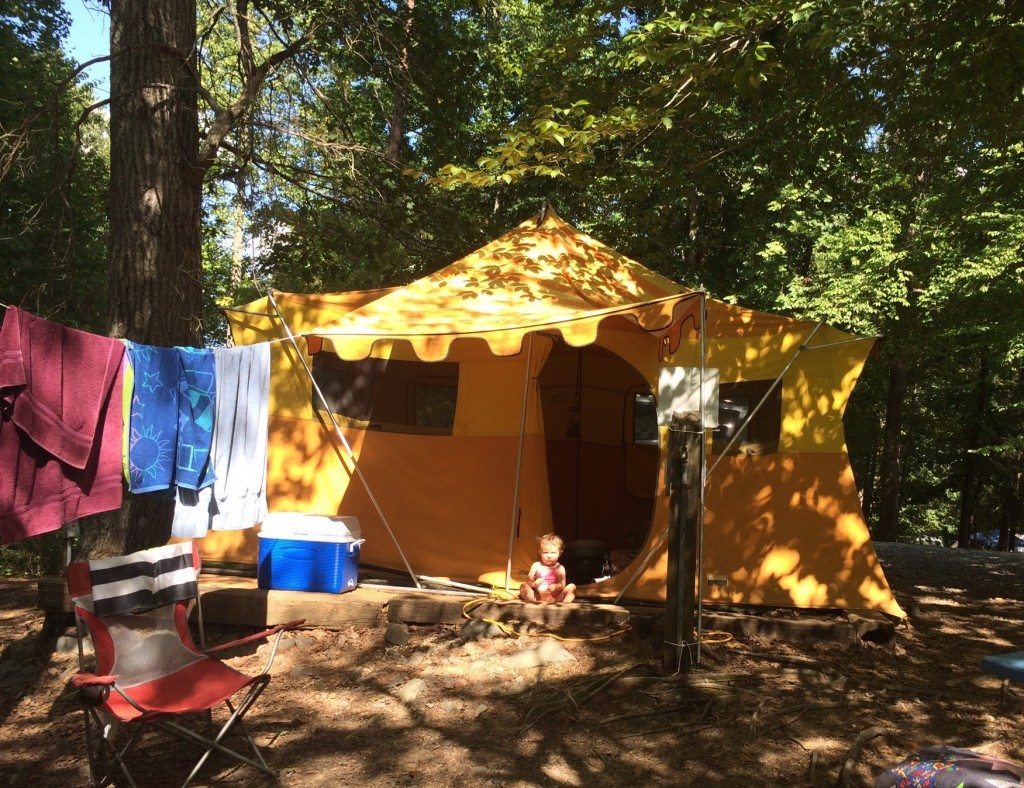 we came back from lake (and getting a cold drink and swimming in the pool some) and loaded all of the non-tent items and i took the kids home. derek finished with the tent (without three little people underfoot) and left shortly after we did. it was a great trip and i think we will definitely do it again. it would have been nice if it was cooler. if hazel wasn't sick. and if maybe we had a different tent location. we got to know our neighbors throughout the weekend and i look forward to maybe seeing them again.
anyhow. we spent all of labor day monday recovering. there was a MOUNTAIN of laundry. i'm still catching up.
and that's the tale of the big yellow circus tent lidbom camping adventure.