the first leg of the official official lidbom rambling road show was to a little spot in west virginia, about ten minutes north of charleston.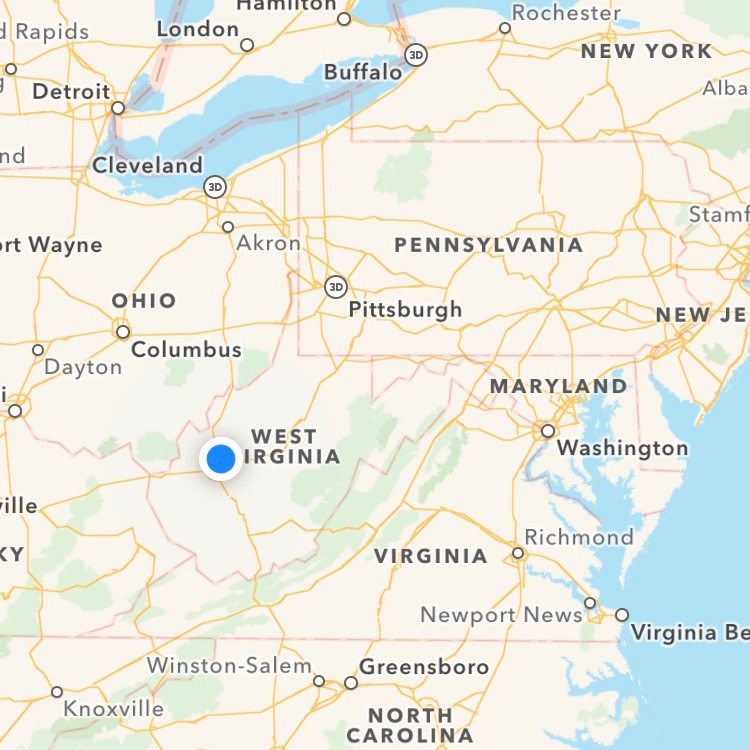 we arrived late at night and had to navigate some super windy, dark, narrow country roads. but we survived. this was what we were dealing with, only in daylight. and a kind of straight stretch so i wouldn't die snapping the pic.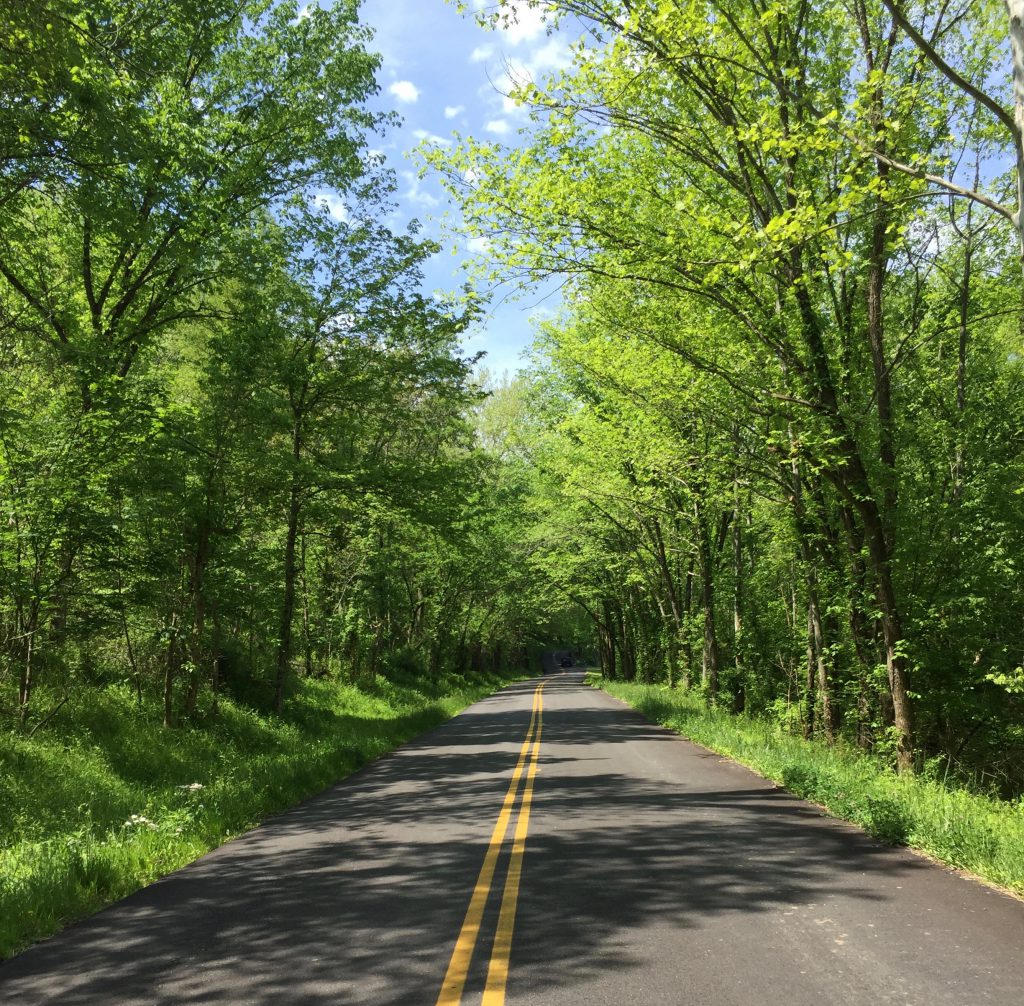 we spent the first day exploring the campground, registering, organizing our crap, and assembling a bunch of storage items from ikea. the site we were at was called rippling waters. i think it's part christian camp and conference center and part rv park. the tiny little church behind the lake made for a good "we are here" instagram post.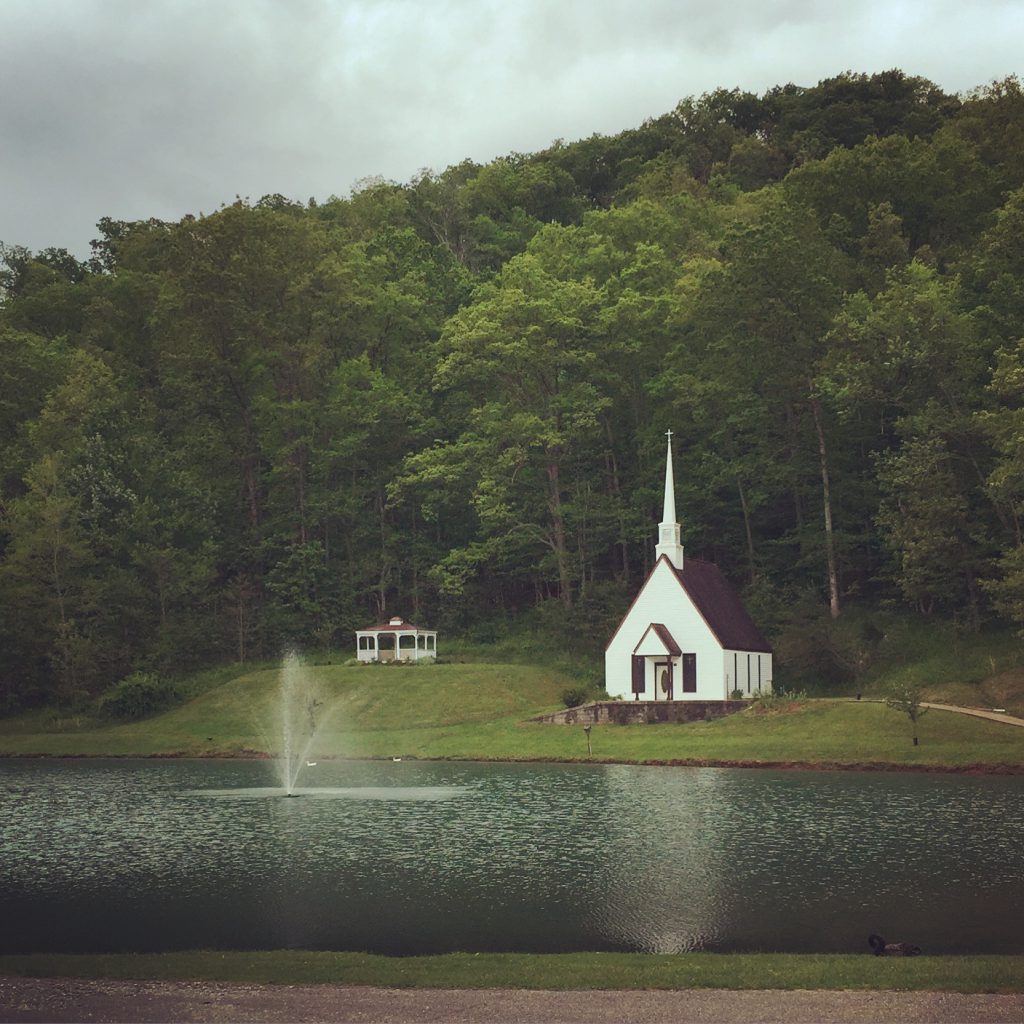 the older kids rode bikes A LOT. hazel was dying to join them. so, ike took her on a couple of spins around the loop.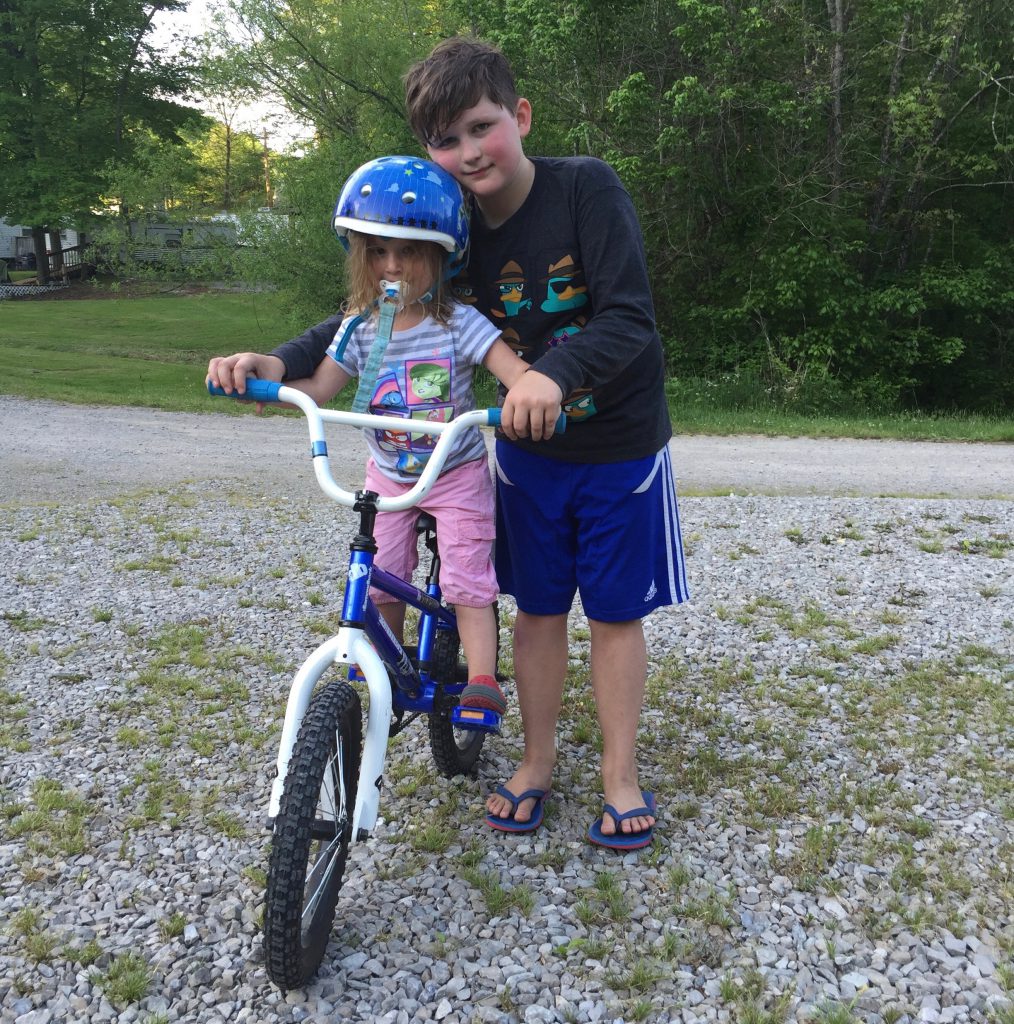 the official campfire pic. it started raining like crazy about 20 minutes later.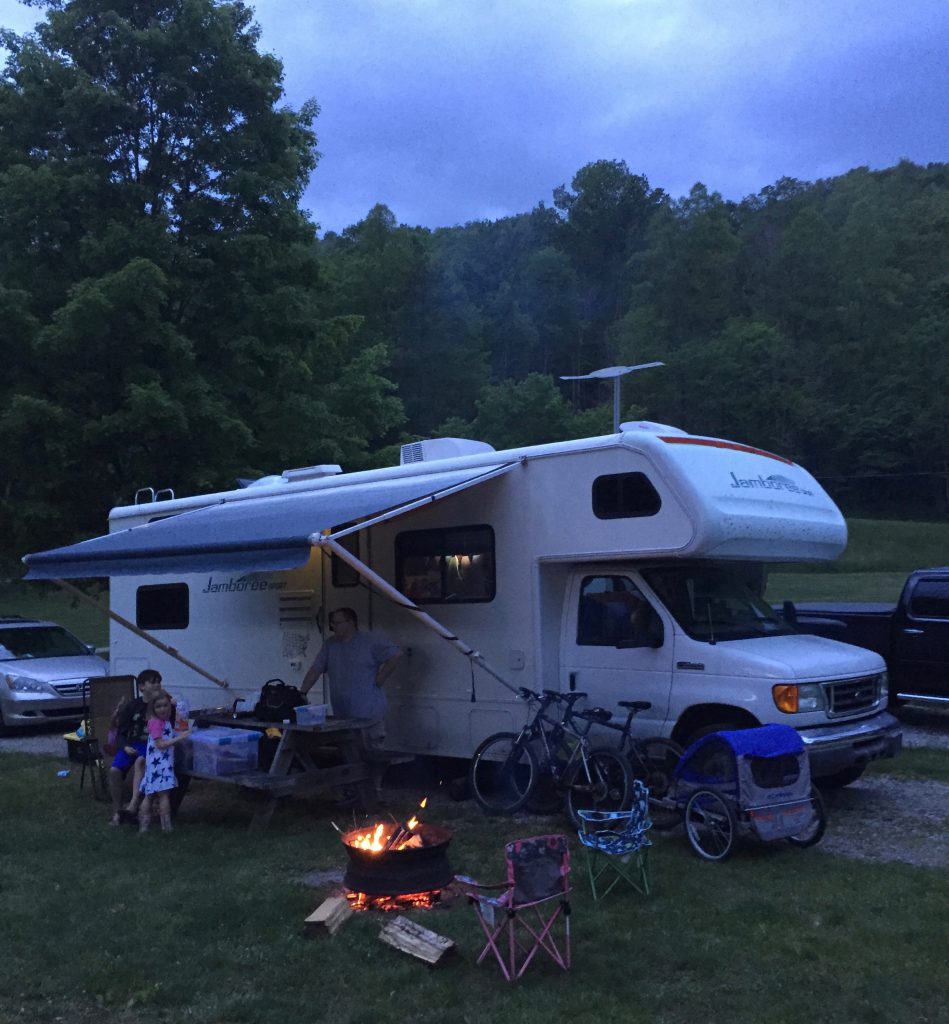 so, derek had told me that when we drove through charleston, isaac told him that he wanted to go back to see the capitol building. not wanting to miss an opportunity to indulge a non-minecraft interest, on our second day, i drove him there.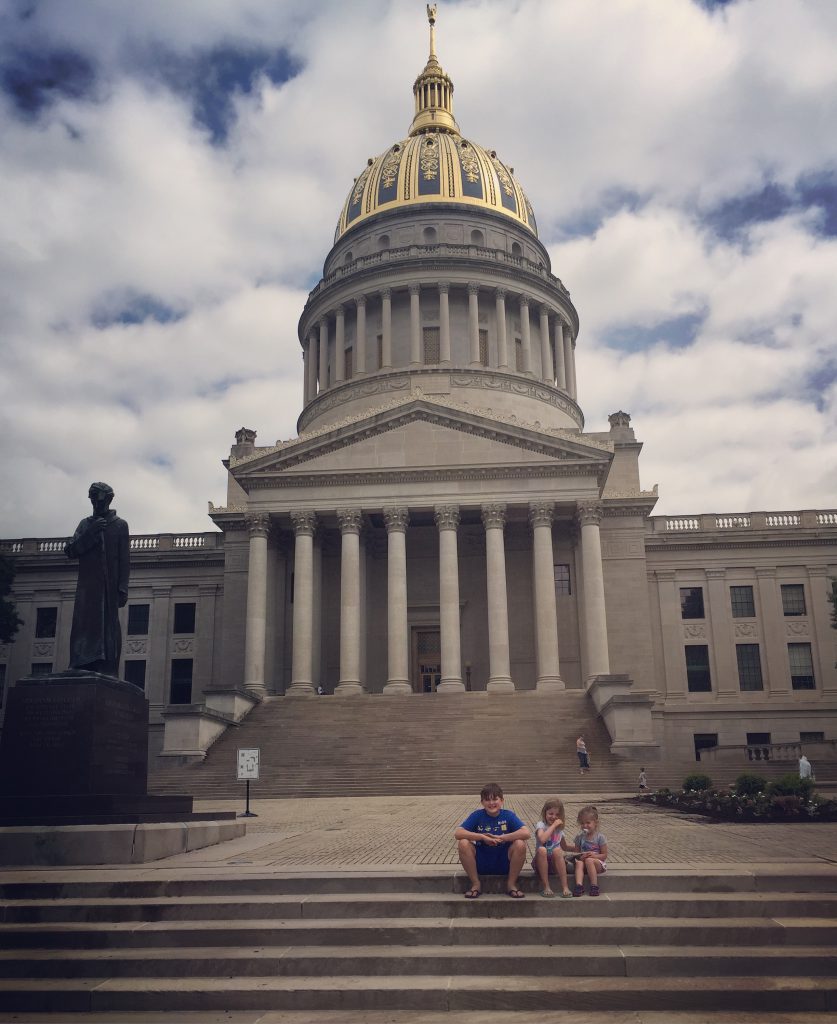 so many steps.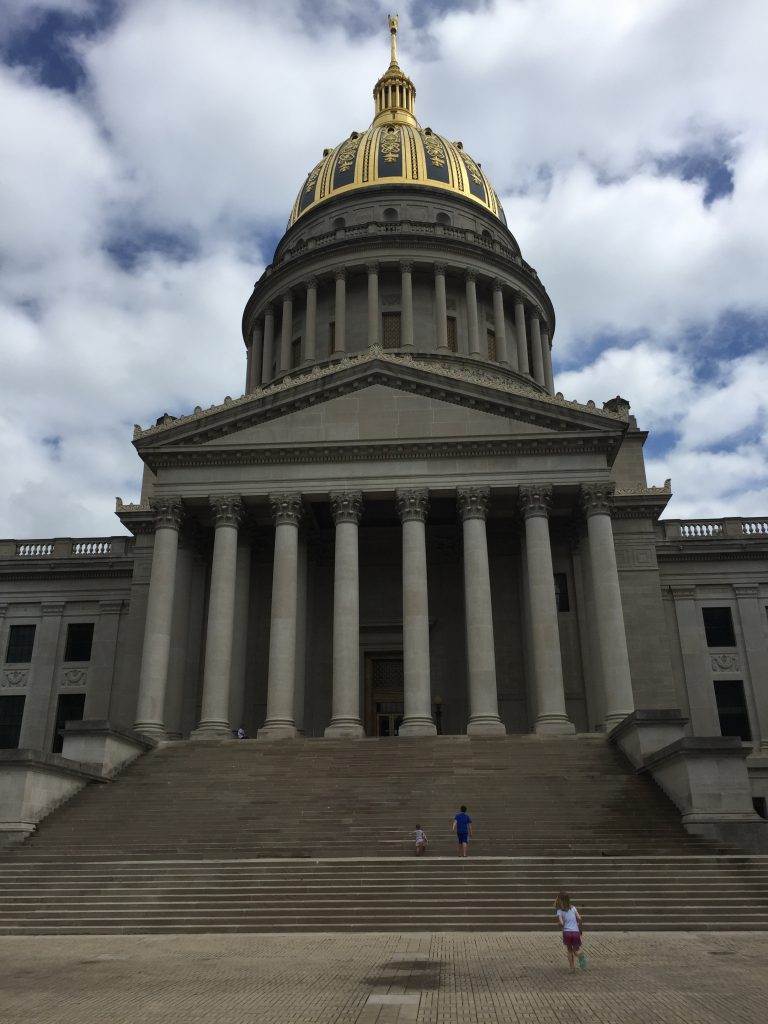 looking out over the river from the top.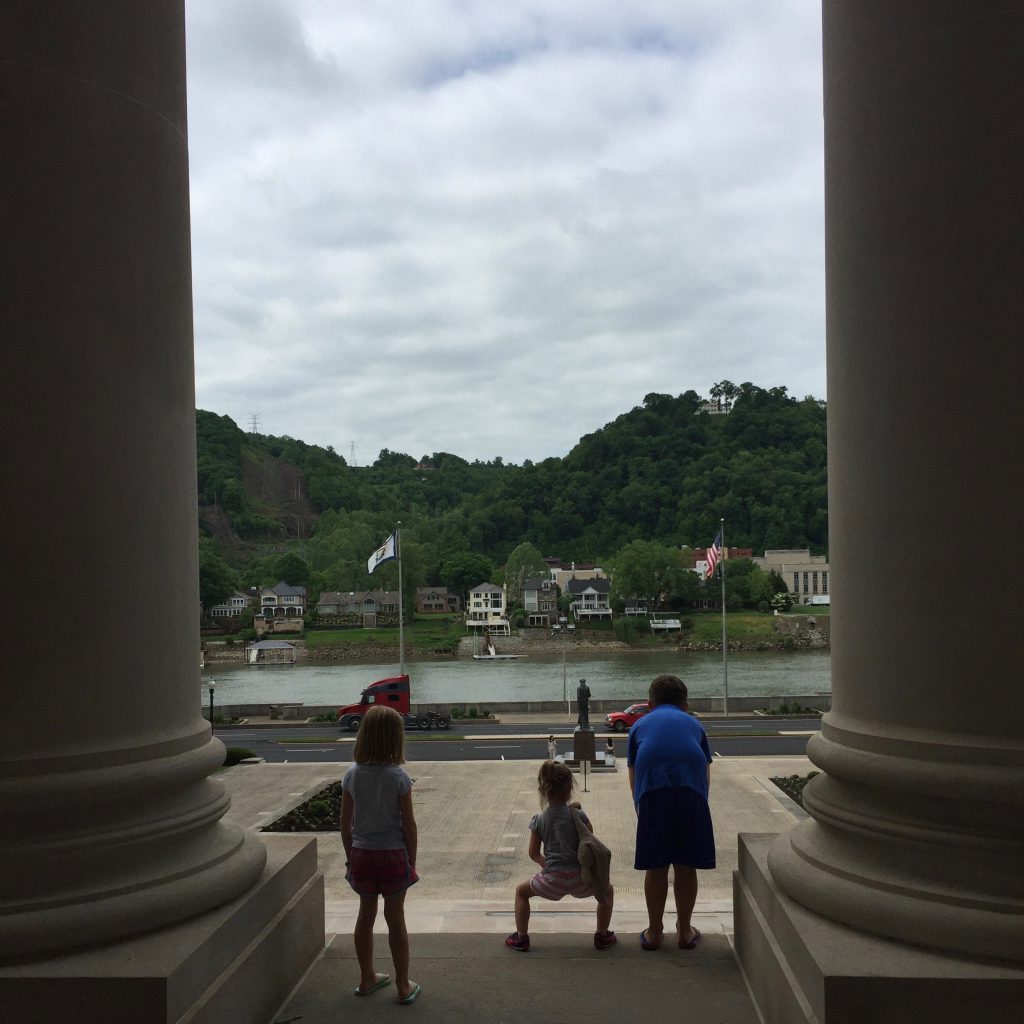 wv capitol building selfie.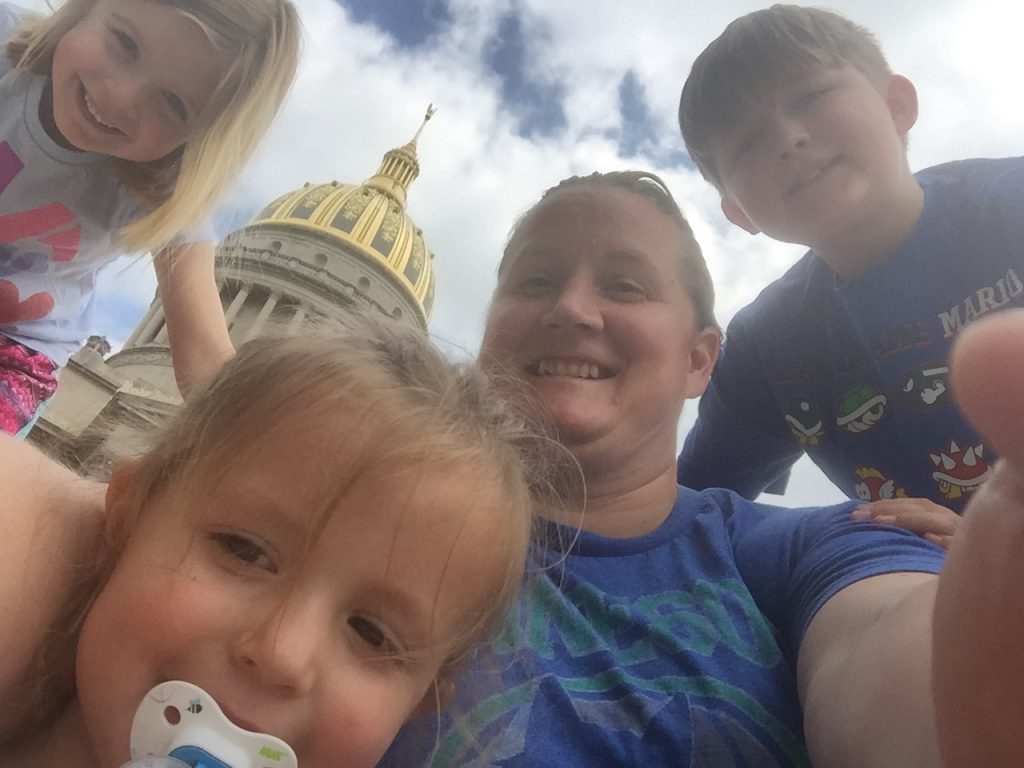 one last pic with honest abe. (we decided against posing with stonewall jackson).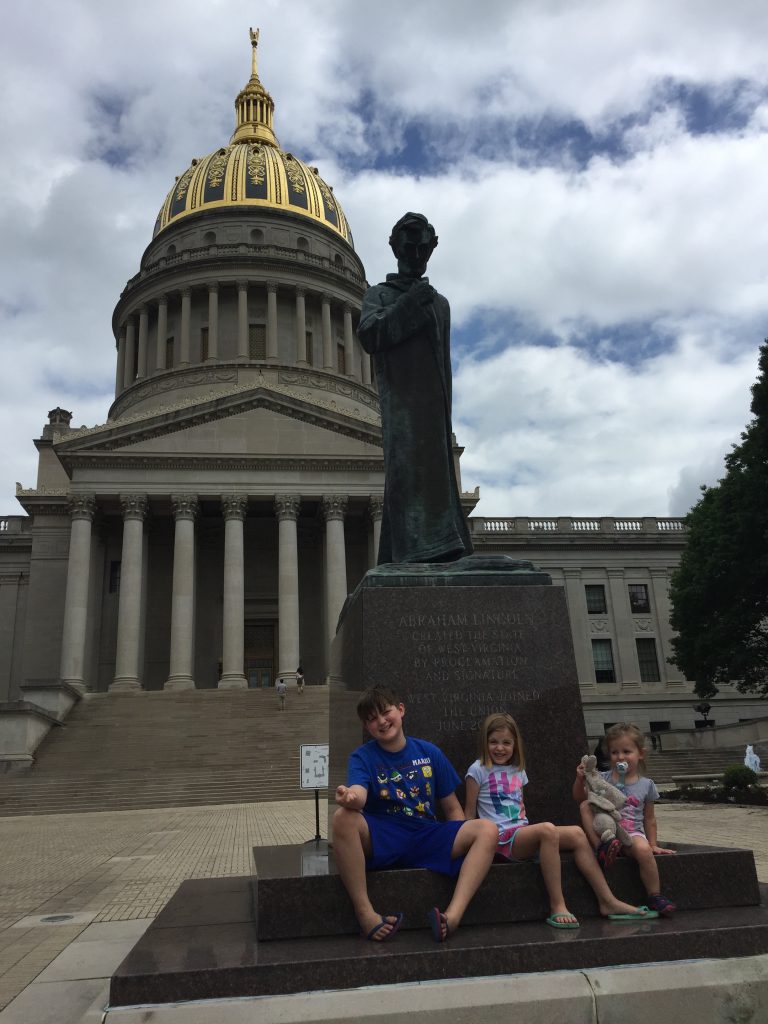 the capitol building visit was short and sweet and then we grabbed some lunch before putting our astc passport to good use and getting free admission to the clay center museum. it was pretty cool. not a TON to do, but all the things they did have were very awesome. one exhibit was "earth city" and everything was about the earth science of the landscape of west virginia (and some other locales).
river currents.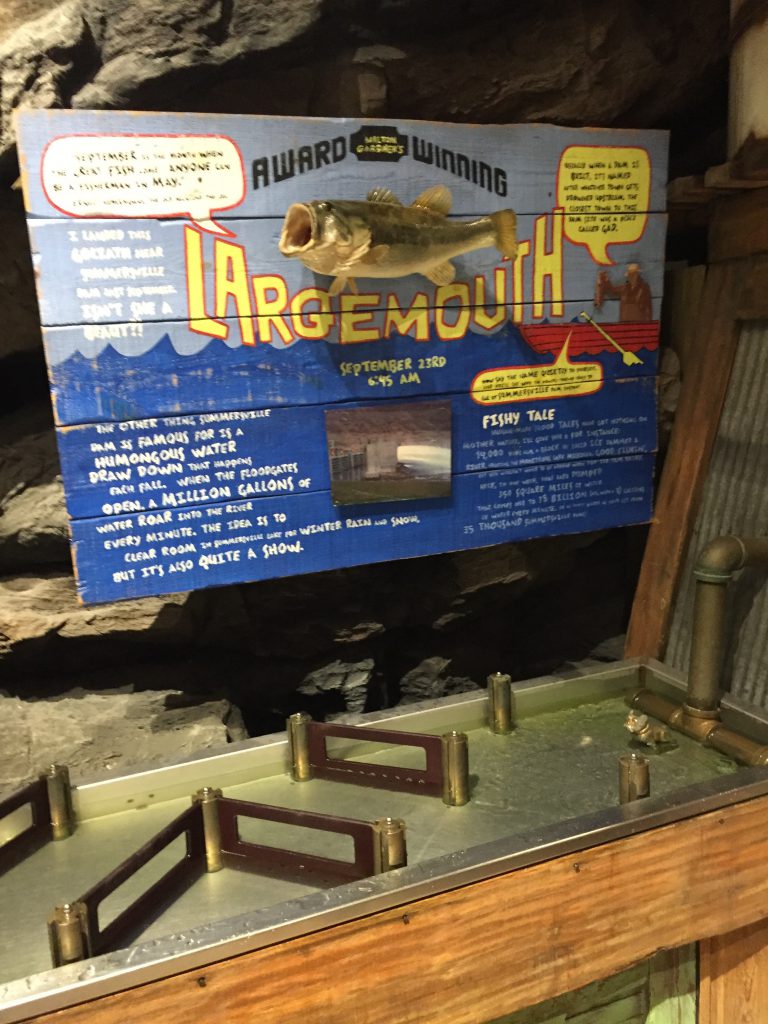 fog.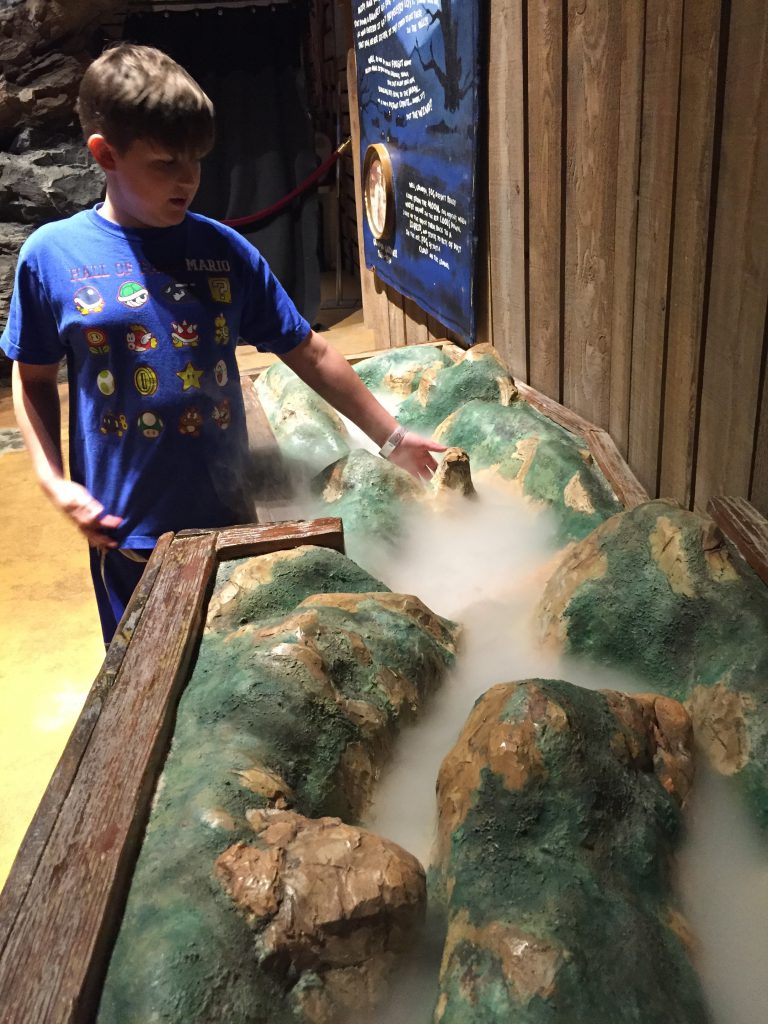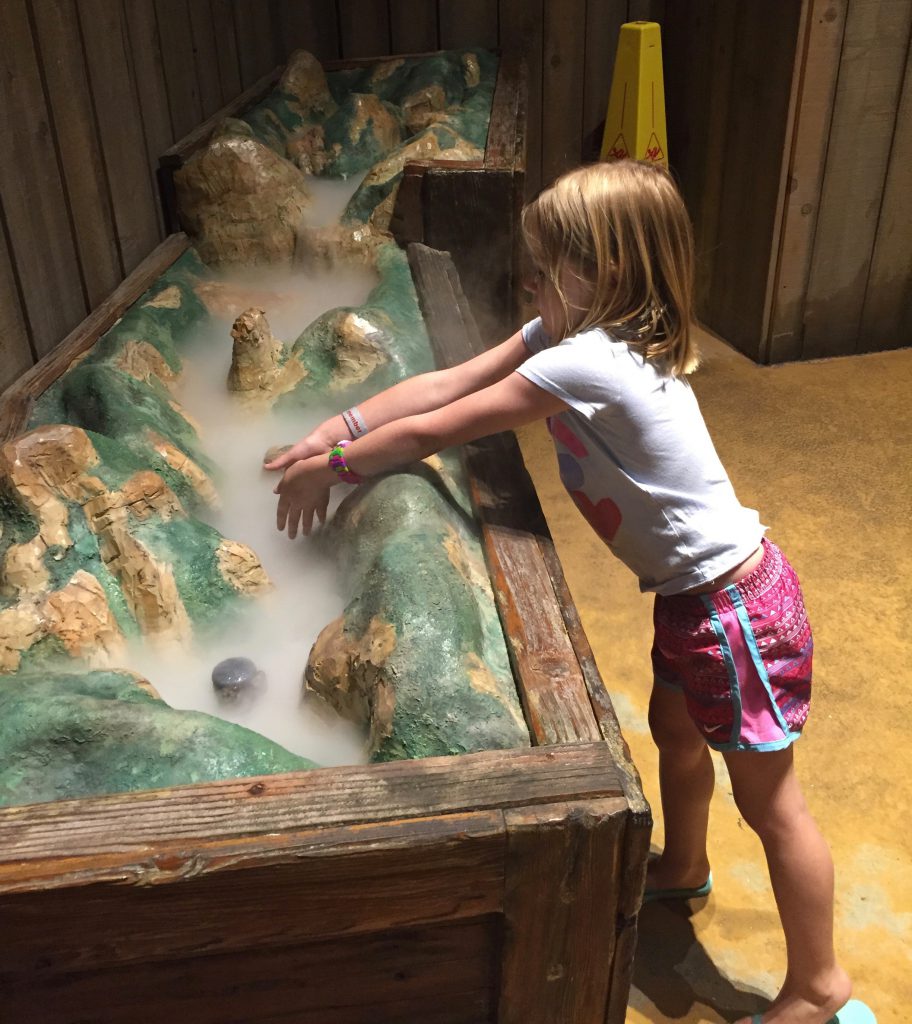 isaac was obsessed with this. it was a manual boot scooping water elevator? he turned the wheel. the boots scooped water. carried the water to a platform. dumped it. it splashed everywhere. repeat.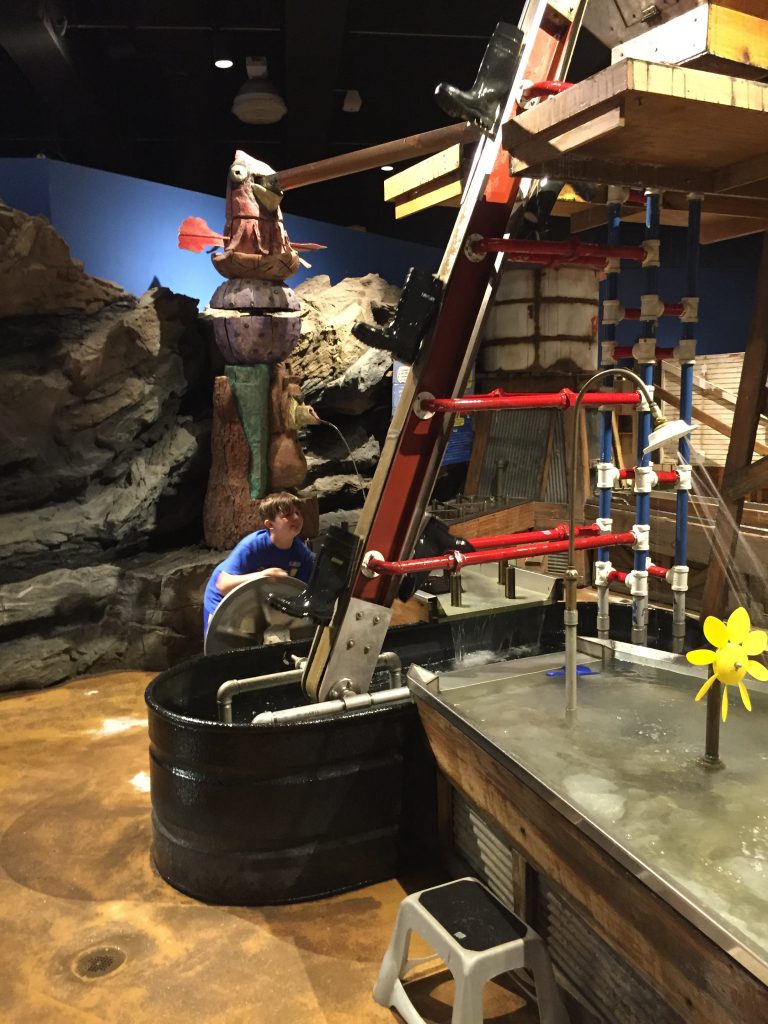 more fun learning about currents.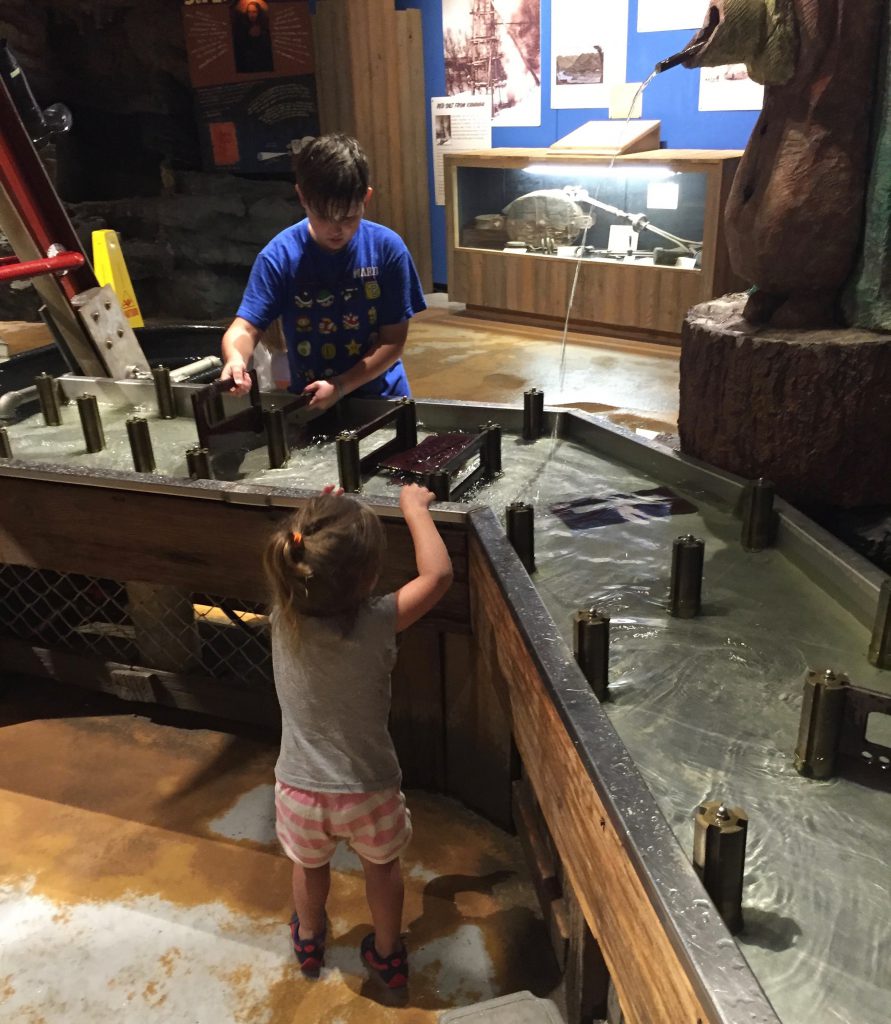 i'm not sure hazel was retaining any info about erosion here, but the sand/water play was fun.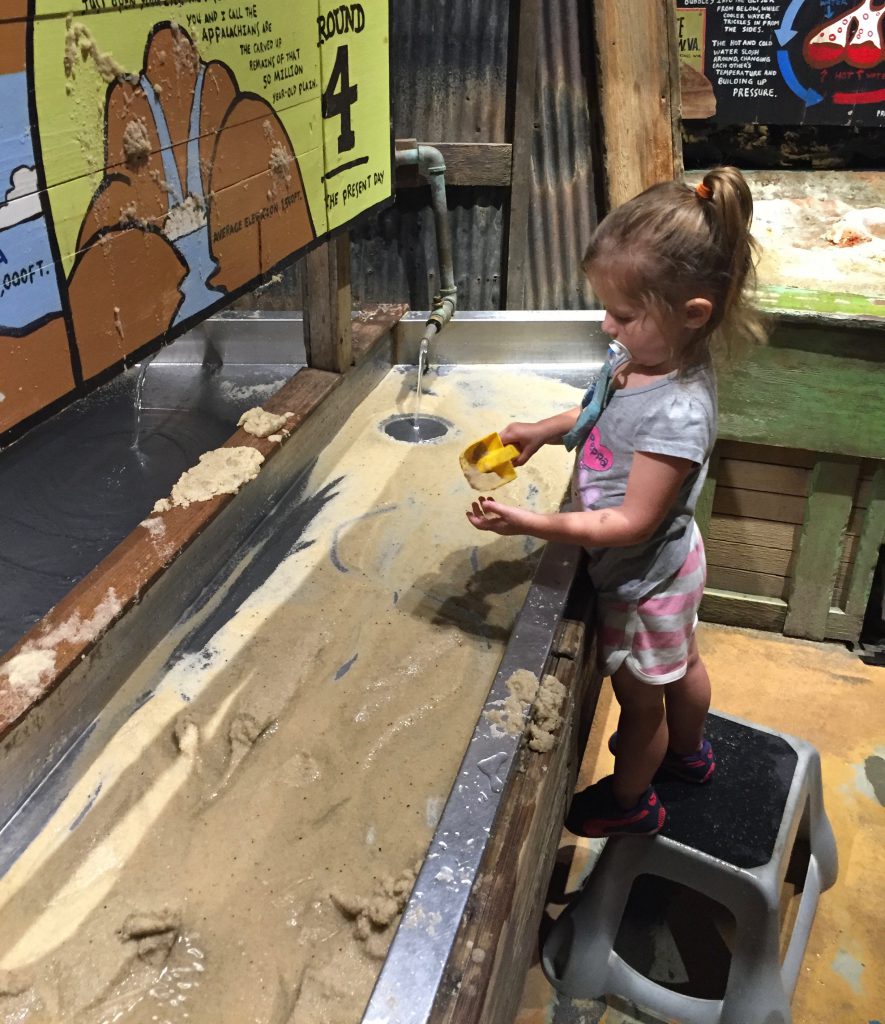 in another room, there were a bunch of tables set up, each with a challenge to be completed. anna was on a mission to complete five to win a prize, until a school field trip rolled in and took over all of the tables. oh well.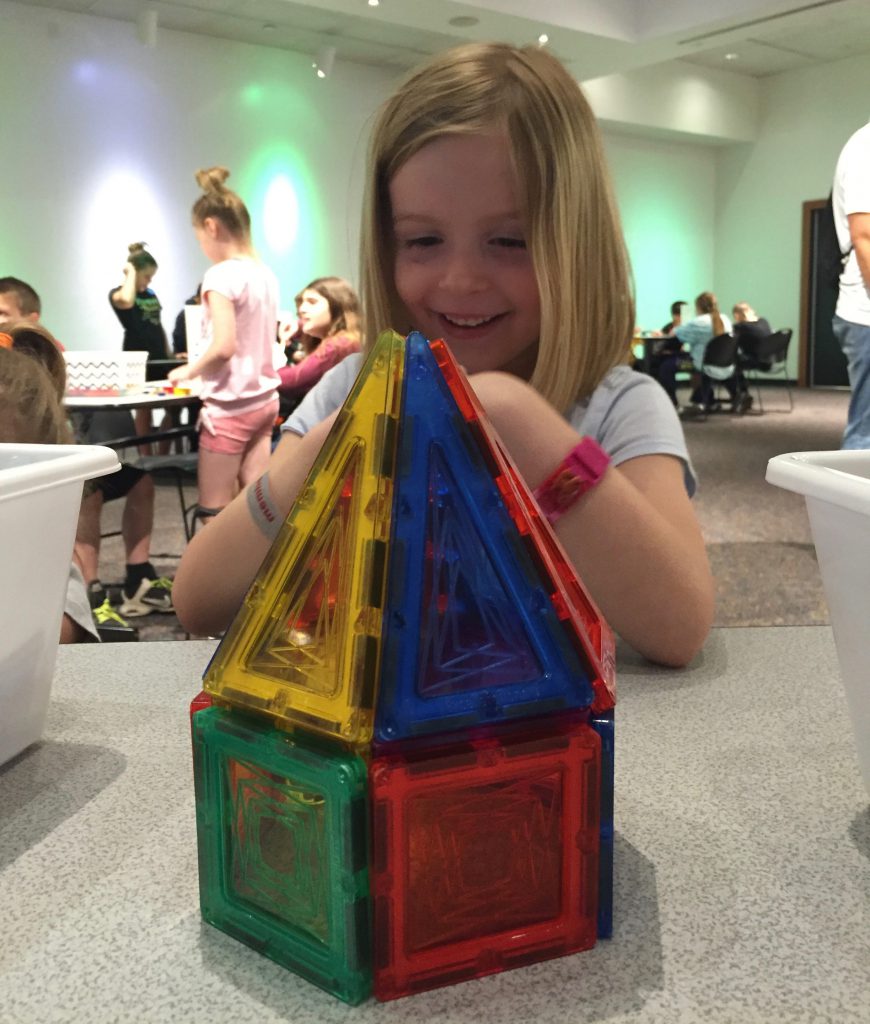 hazel was hard at work, too.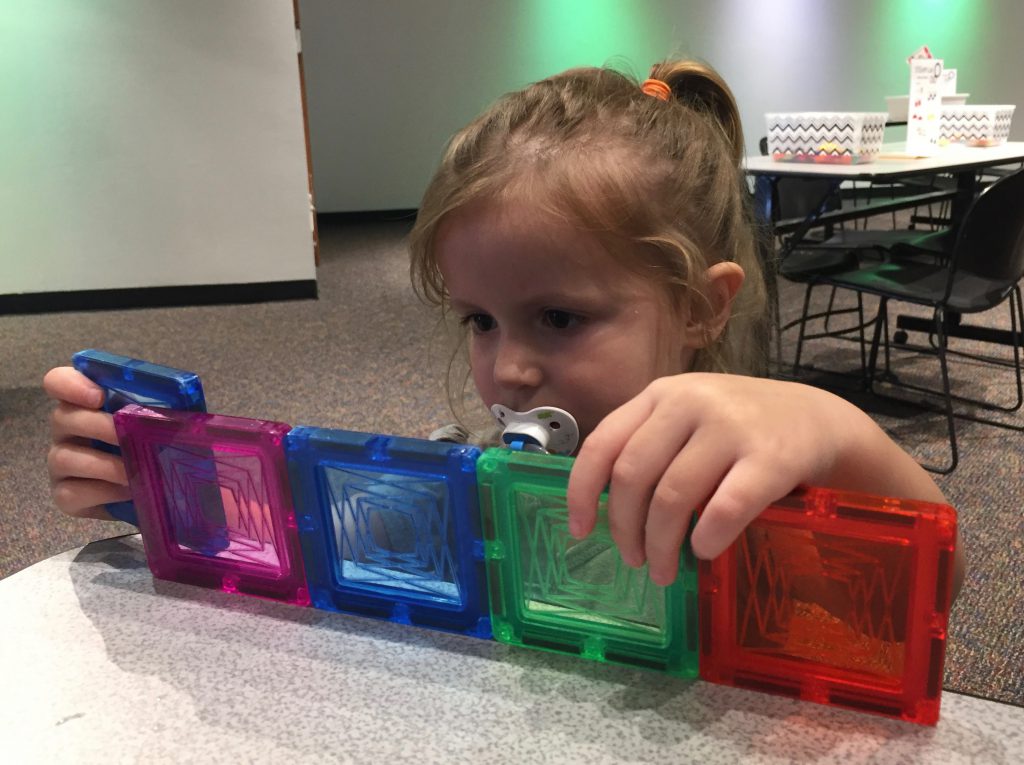 just when i thought we were ready to leave, we happened upon this giant maze. so, we spent thirty or so minutes being mesmerized by the balls racing through the track. it was pretty sweet.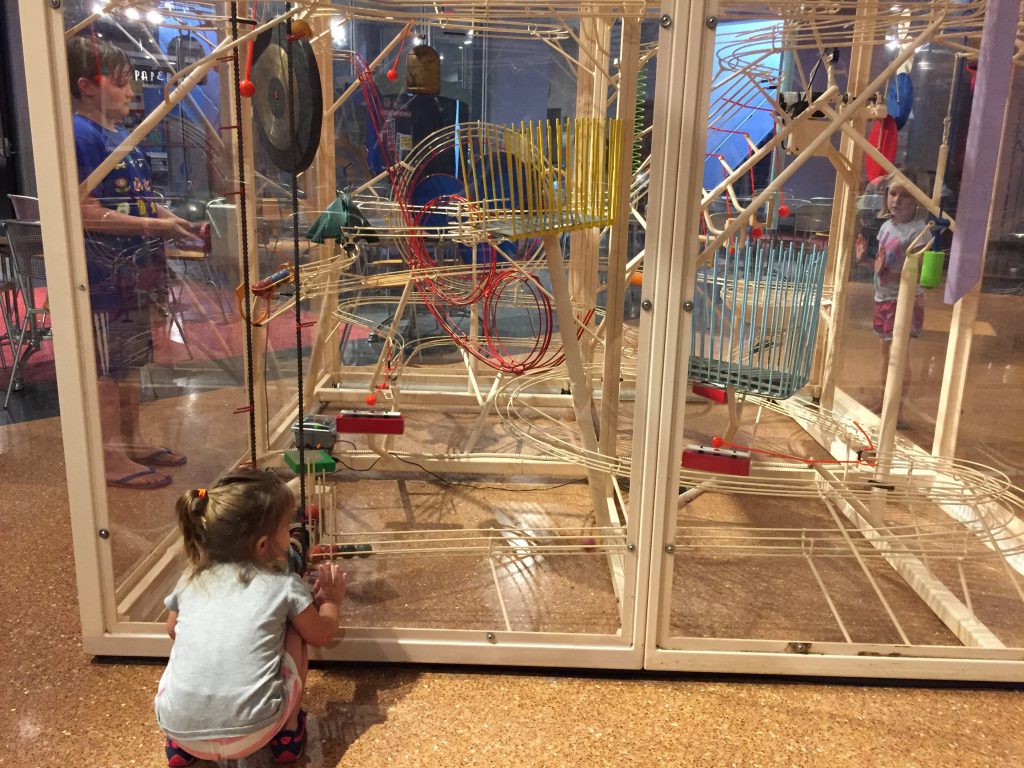 please note how wet ike is from the boot water scooper.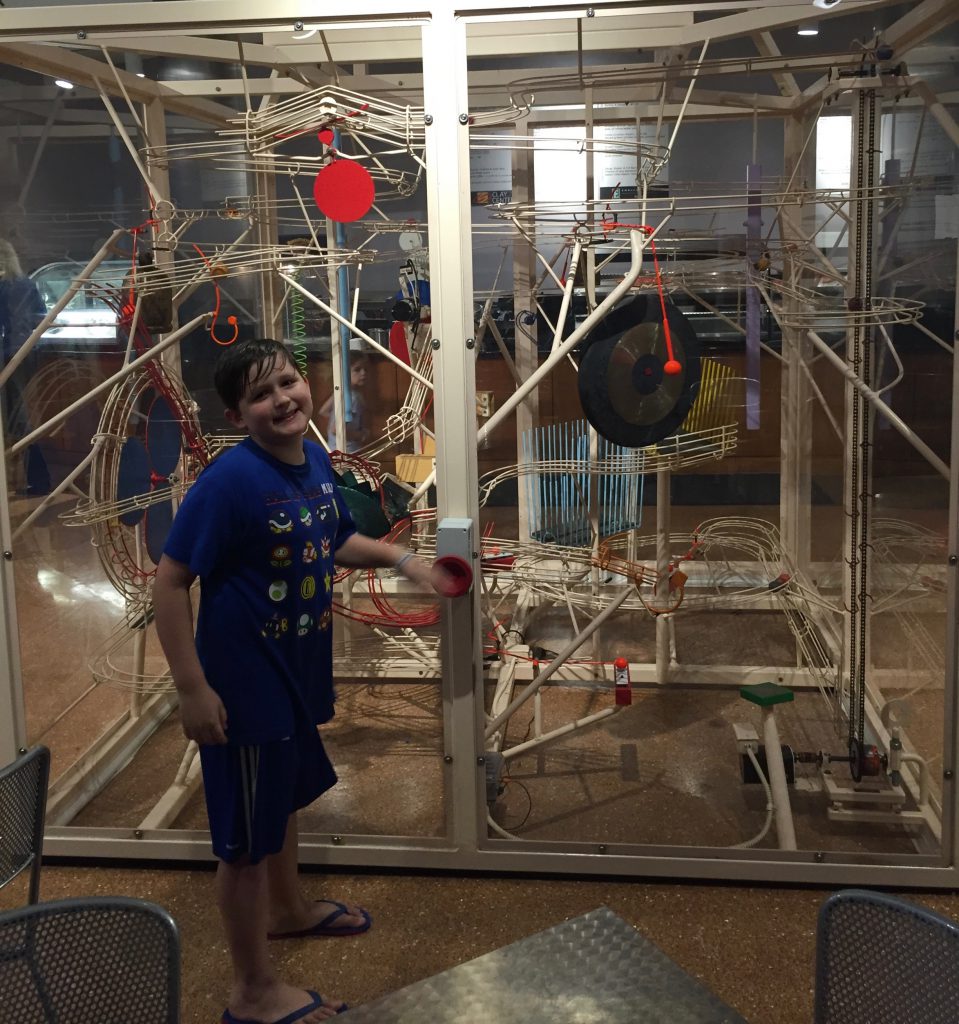 lid kid teamwork on the giant propeller crank.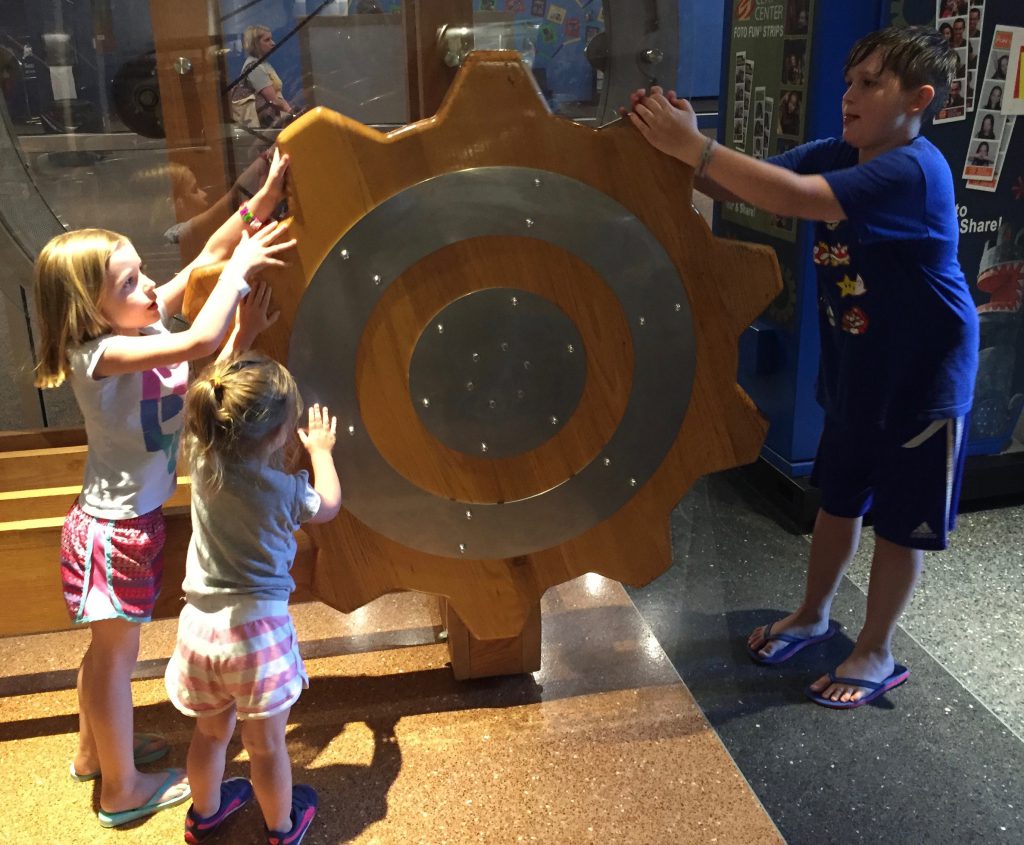 back at camp. more biking.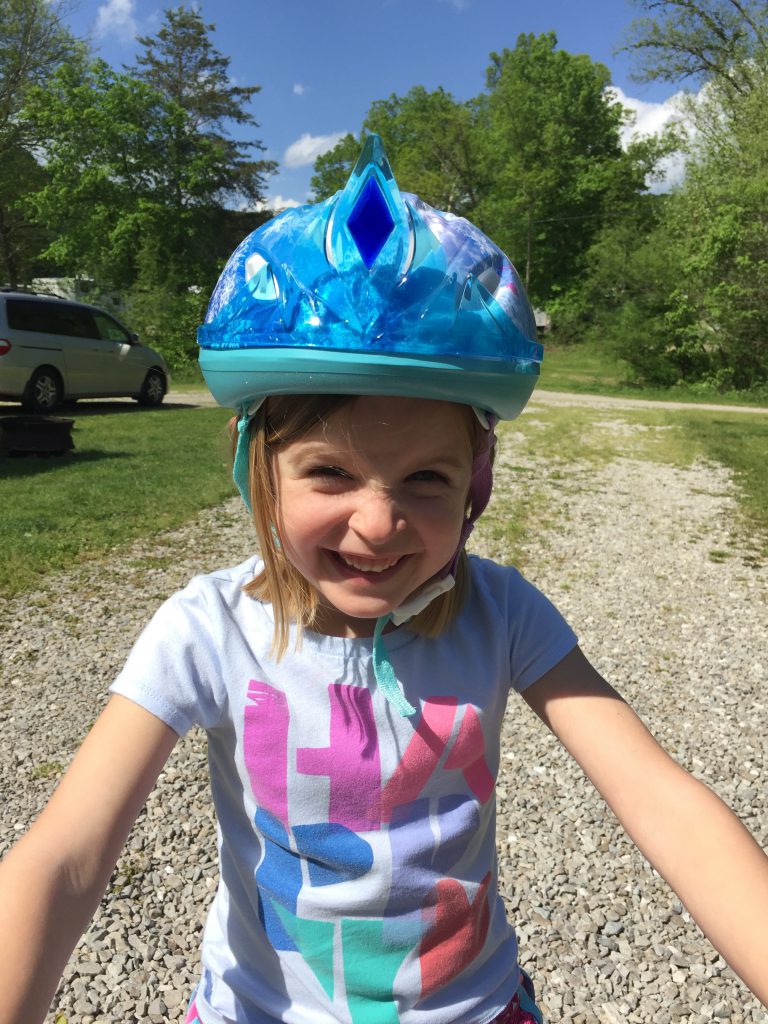 they loved riding their bikes down a big hill near our site.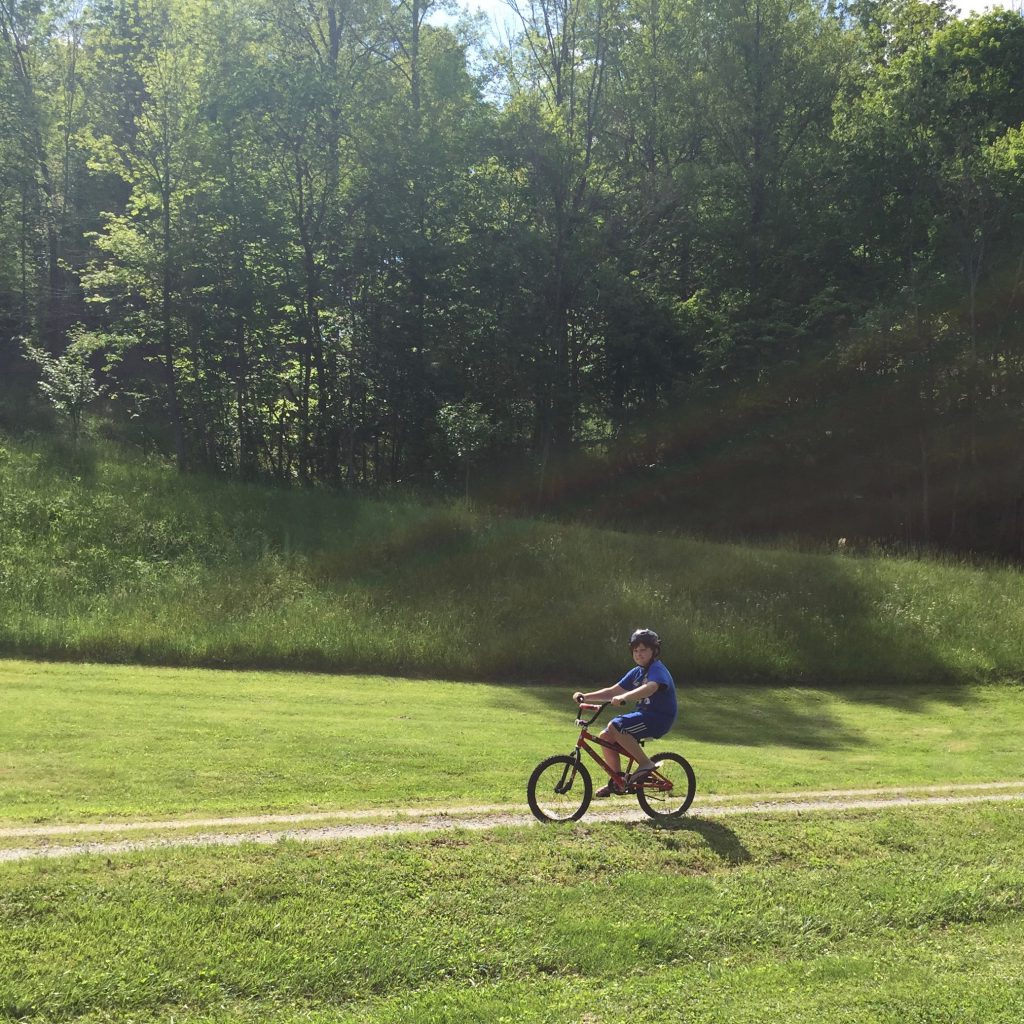 on day three, a hike was in order. i researched like crazy, because i was definitely not interested in being lost on the side of a wv mountain with three kiddos as night fell. we found the kanawha state forest and took a very strange drive through the backroads to get there. at the ranger office, a friendly lady told us to try the "overlook rock" trail. it sounded promising, like maybe with lots of views. so, we gave it a go…
pre hike selfie.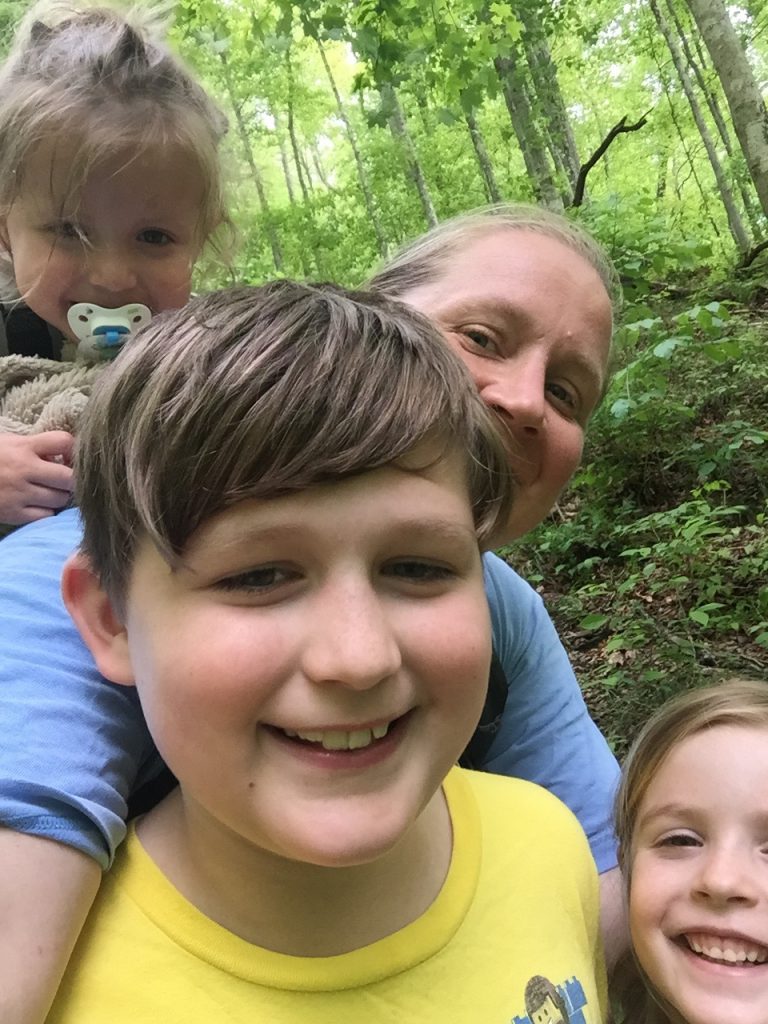 the hike was pretty much straight up. and then straight back down. and the straight up part ran along a little stream for a bit.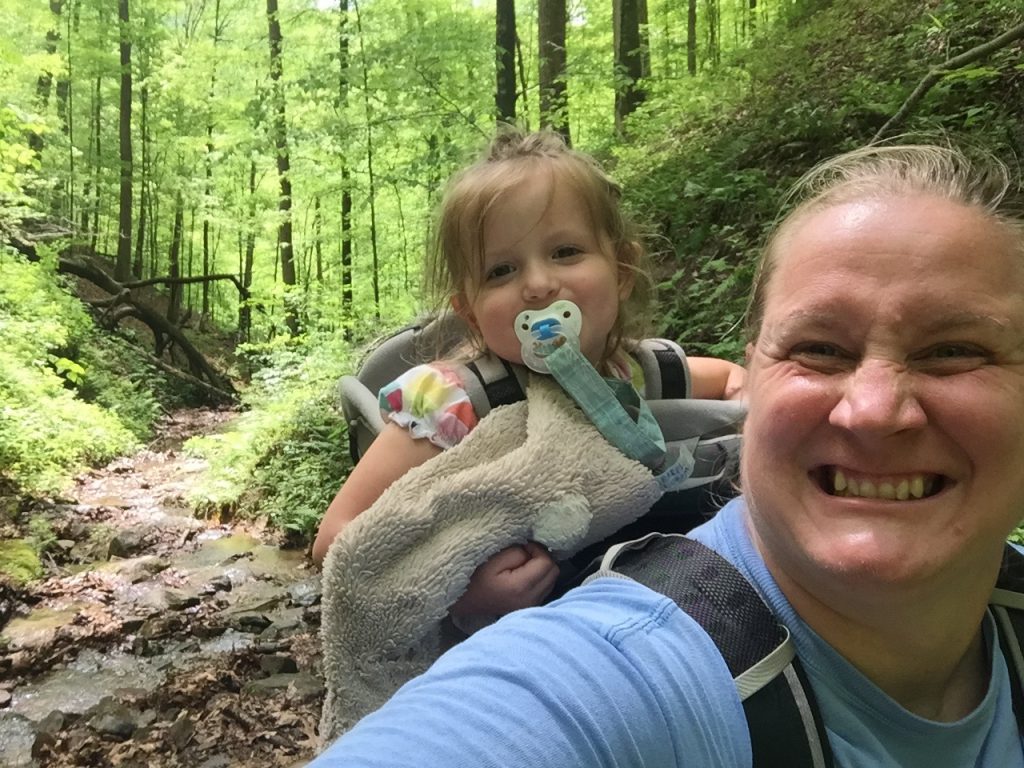 anna is an all-star hiker. i was pretty much dying. i'm fat and out of shape and i had a 40ish pound backpack on. isaac grew a bit grumbly after a good 1/2 mile of going uphill. but anna. she just bounced along, singing a little song the whole time.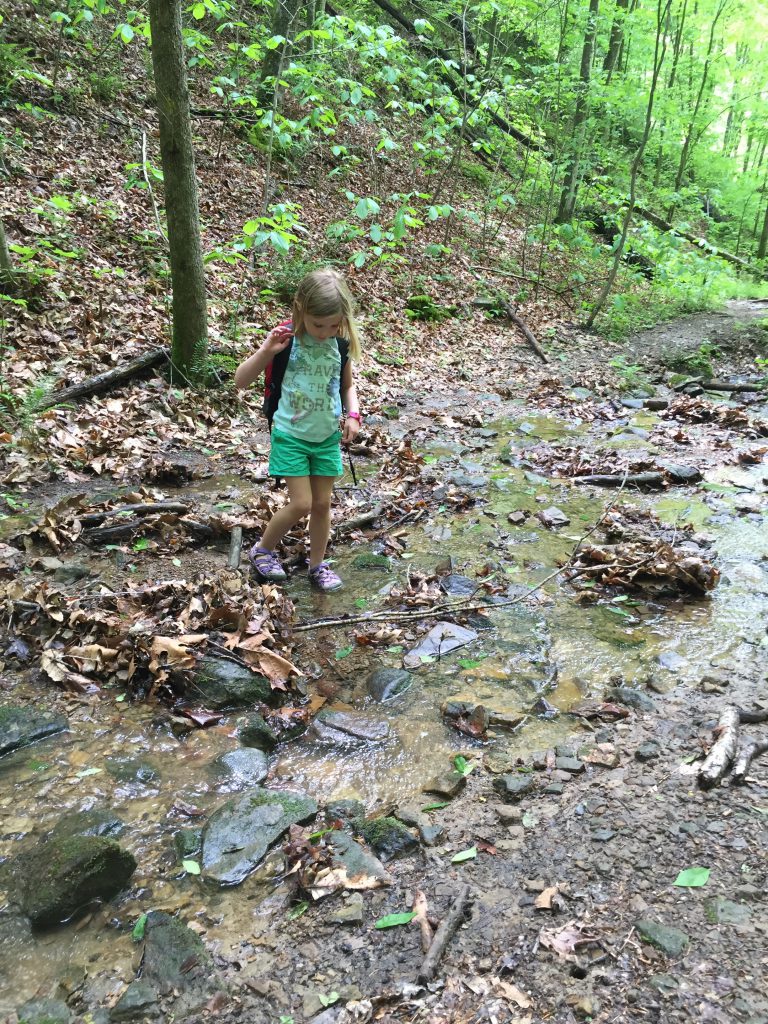 isaac insisted on wearing flip flops. he would never admit that some of his frustrations stemmed from poor footing. he made it to the end, but when we stopped at subway for lunch, he had a blowout getting out of the car and had to put sneakers on after all. i'm just thankful that the blowout didn't happen on the trail. i can't even imagine the whining.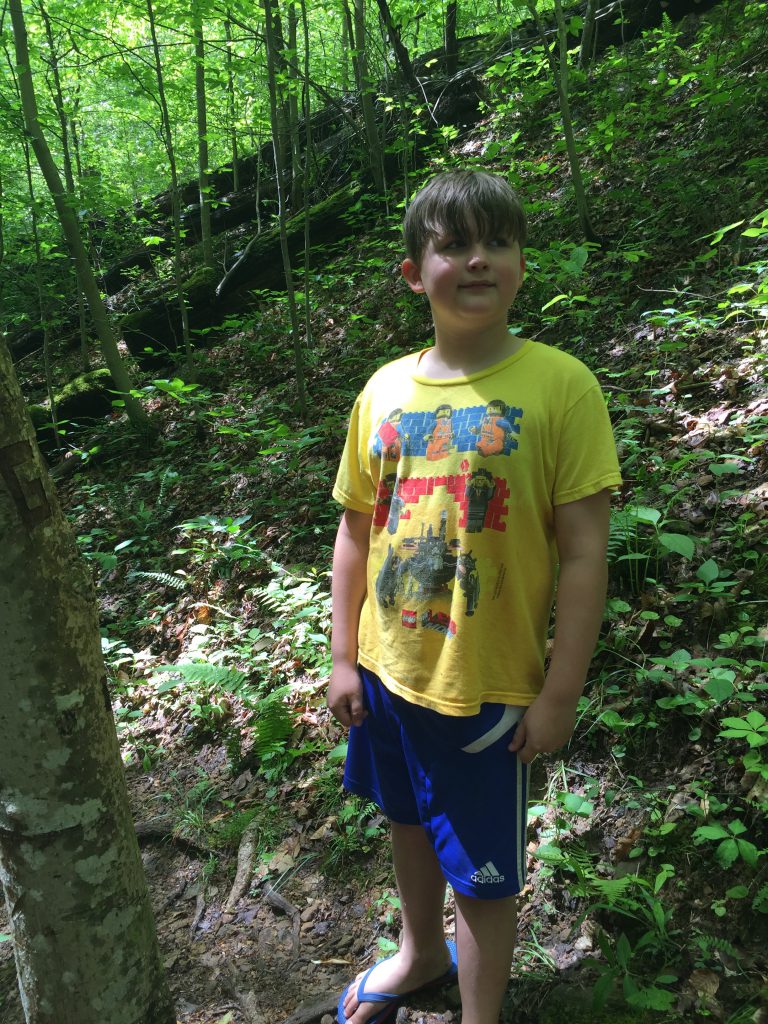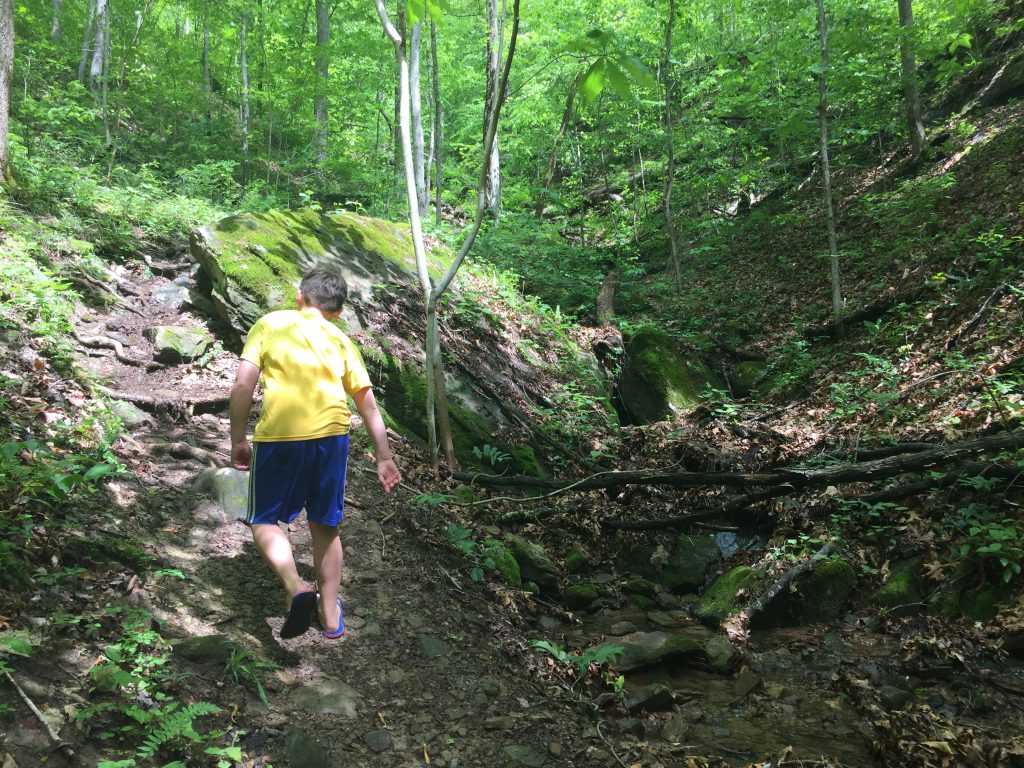 during the lengthy uphill, it was determined that walking sticks should be procured and put into use.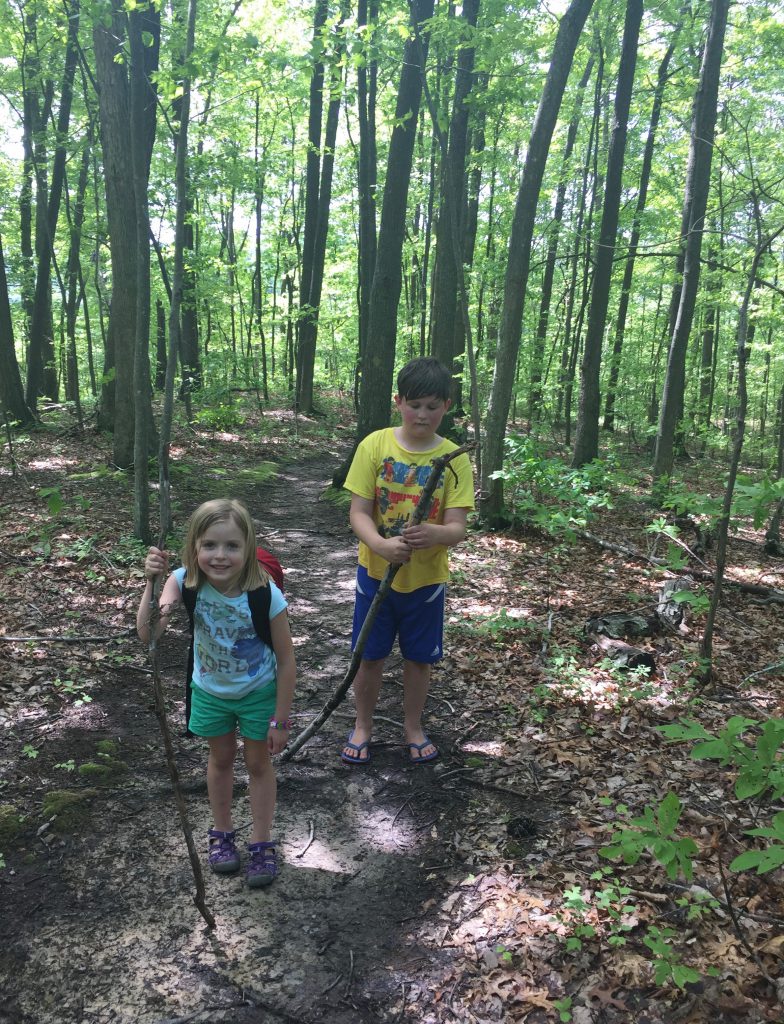 obstacles.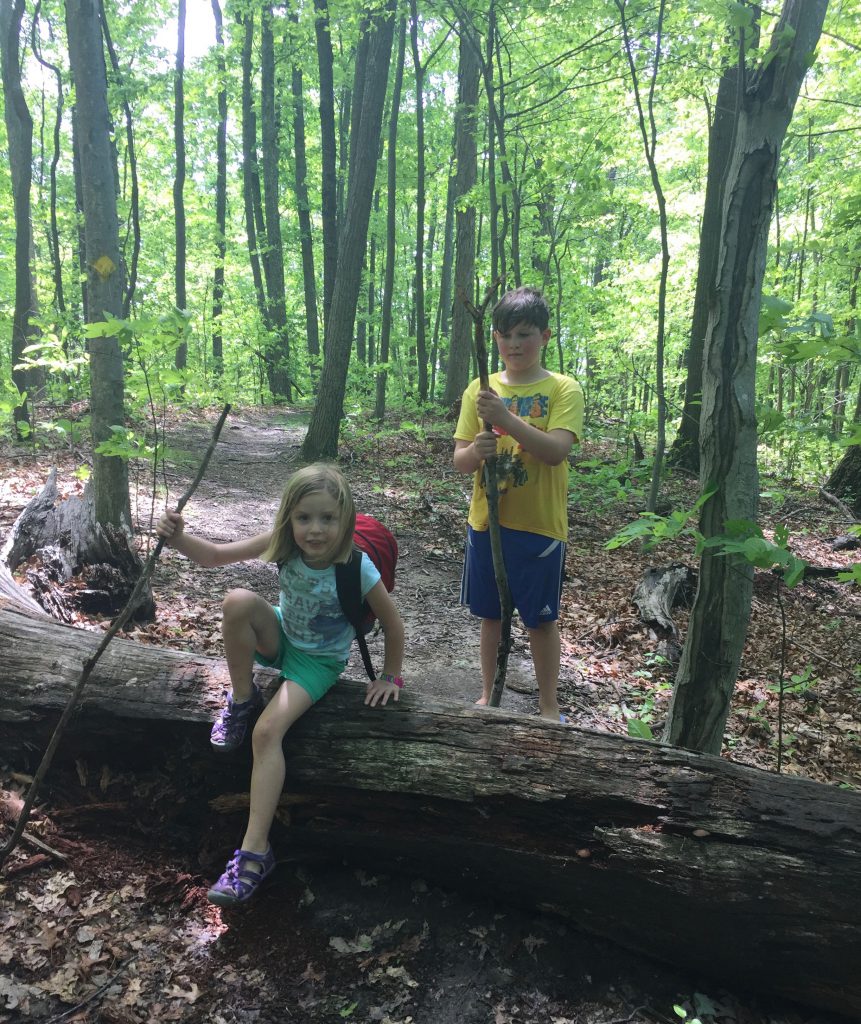 and then, back down. a little more treacherous. it seemed steeper than the path up.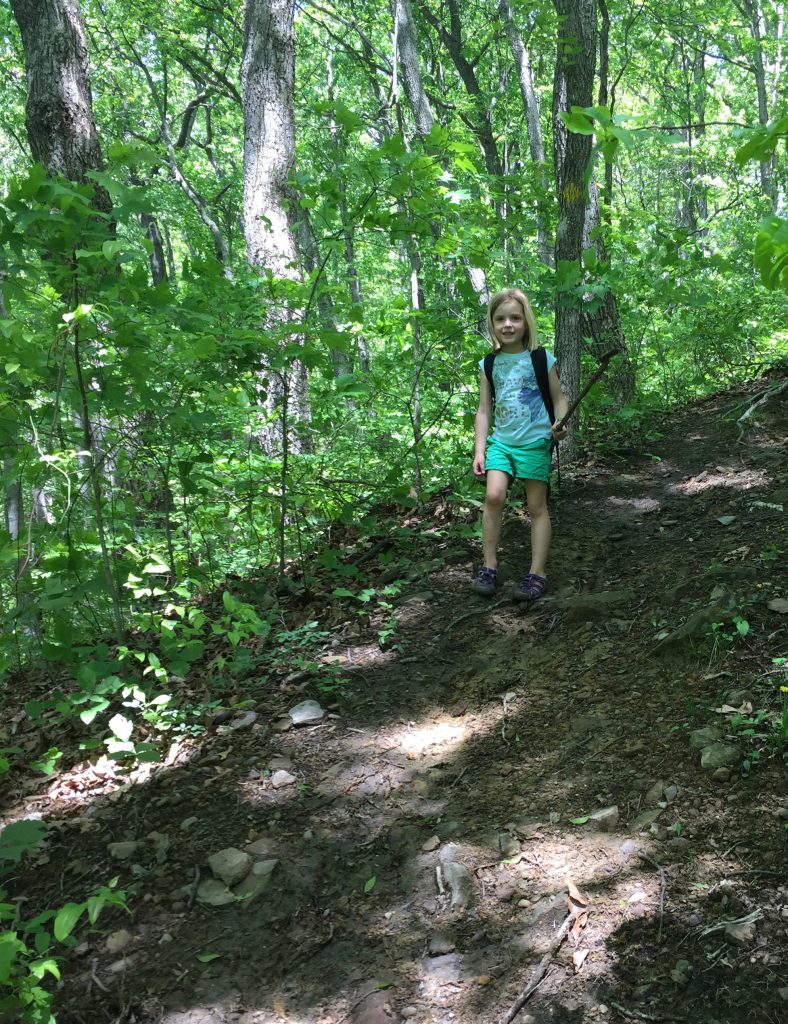 finally out of the woods and on the road back to the car, we stopped for a post hike selfie. hooray, we weren't eaten by a bear! and no one fell off a cliff! and we didn't get lost (mostly thanks to hazel's keen eye – watching for the yellow diamond blazes, and loudly announcing them for all of the wilderness to hear).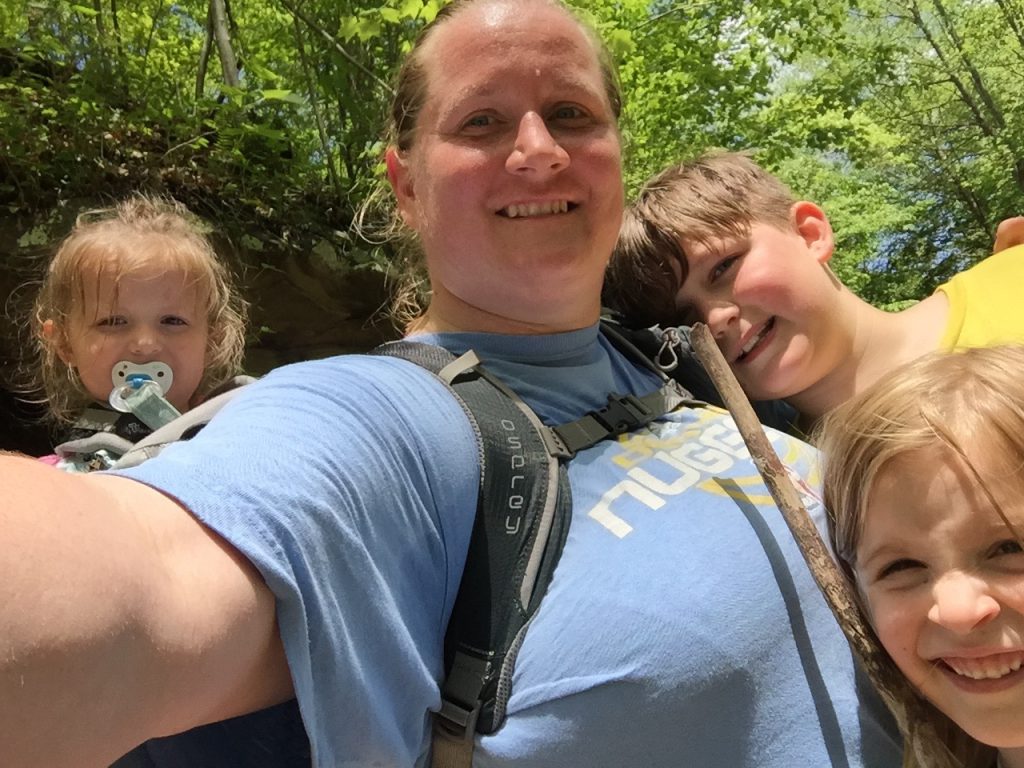 back at the camp, we had to go to the bath house to shower because we ran out of propane. here is a fresh and clean crazel, who did not want to get dressed in the bath house, so opted to wear a towel back to the camper.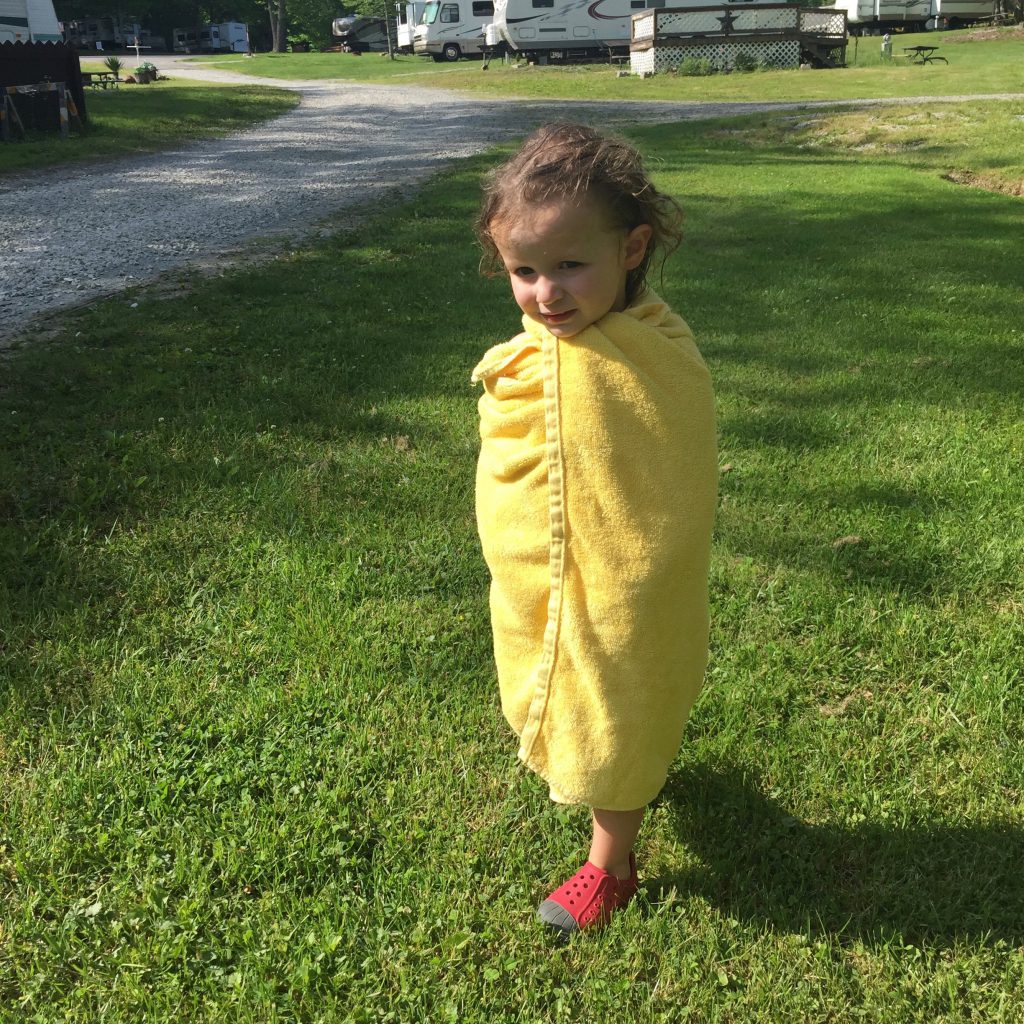 we were all pretty tired from our adventures, but hazel had skipped a nap for two days in a row, so she didn't make it past 6pm. little did we know…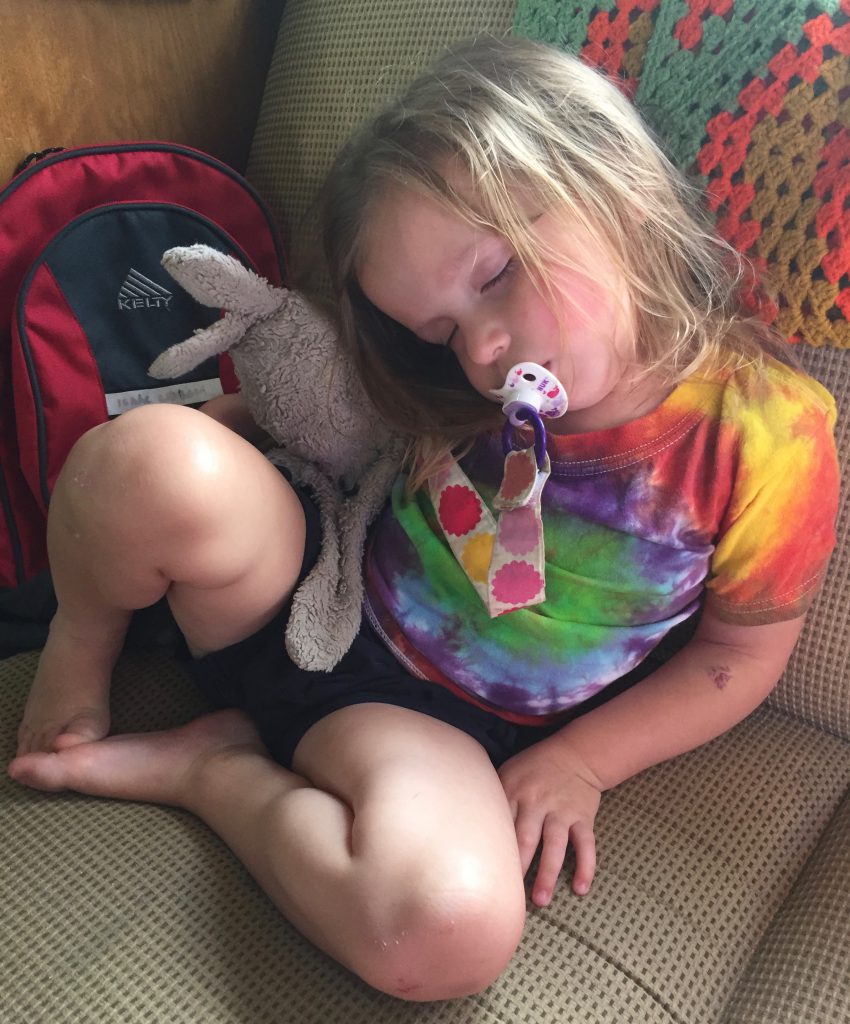 …that she was actually sick. she woke up at 10pm or so and vomited everywhere. she had a little fever, so we medicated her and put her back to bed. and then she vomited again at 530am.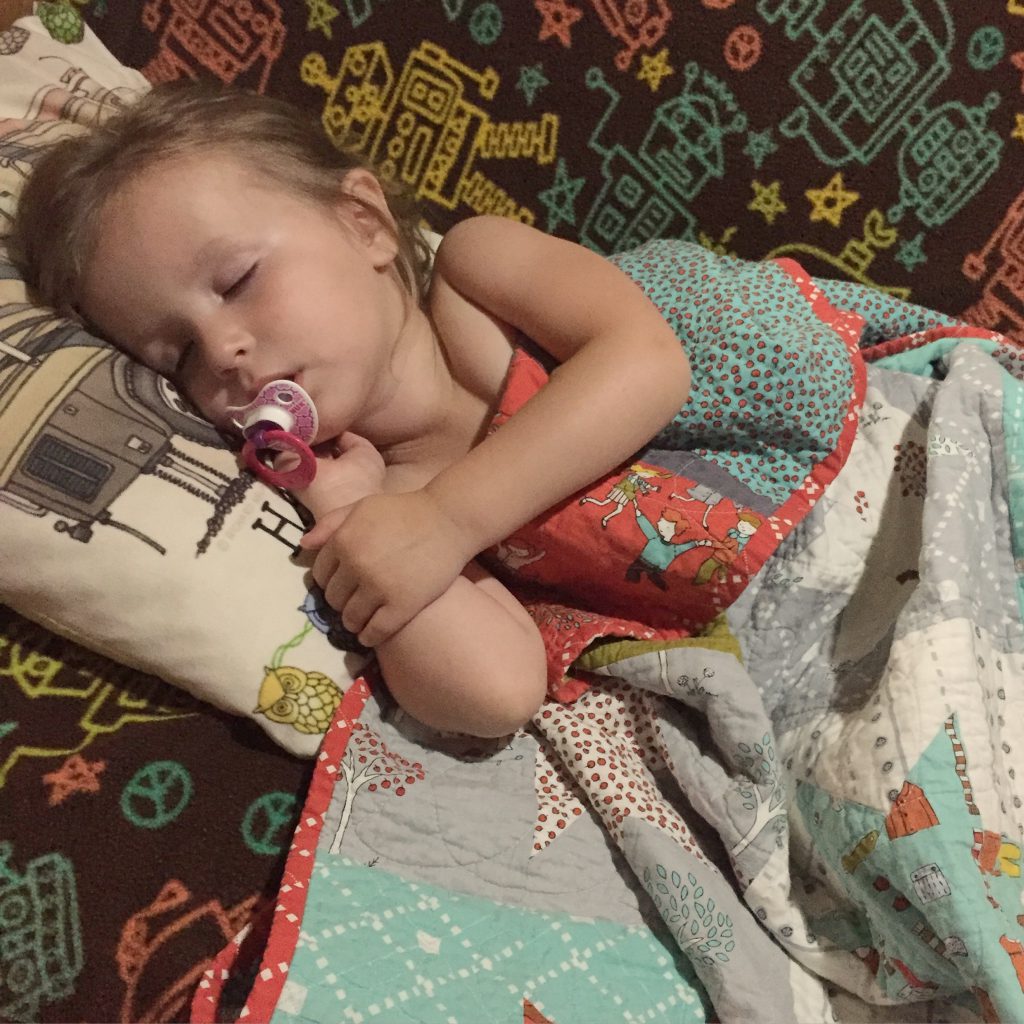 we decided that since it was almost the weekend, and we were going to be traveling, and she had that one ridiculous uti at christmas, and she's been having lots of accidents leading up to being sick, that we should try to get her into a doc. we spent all morning trying to find a place that would take a "new" patient. finally, we found this little gem. yes. a doc's office in a double wide. but, i'm not judging. because they accepted us and fixed us up. but still. a double wide.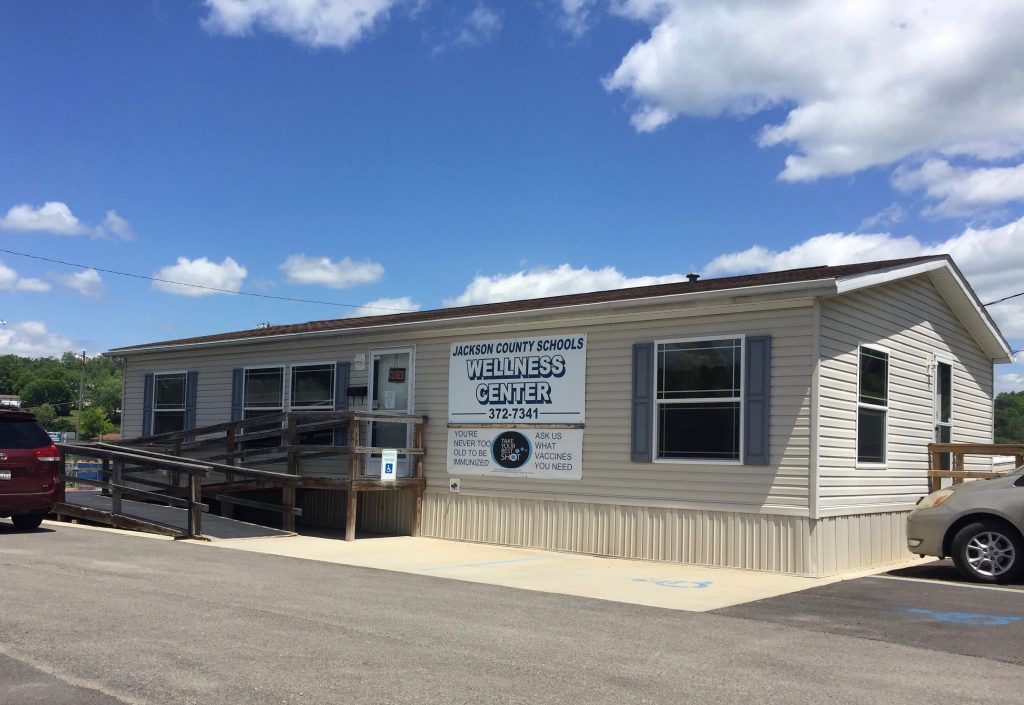 hazel was pathetic while we waited, but i think she was just tired. she was a champ during her check up. and then showed no signs of uti in her urine. but the doc, based on my description of symptoms and her history, went ahead and prescribed an antibiotic and sent her urine off to be cultured. we decided to wait for the culture results before starting her, and lo and behold, on monday morning we got the call that she did have a uti and i'm not a crazy person. (that's my own assessment).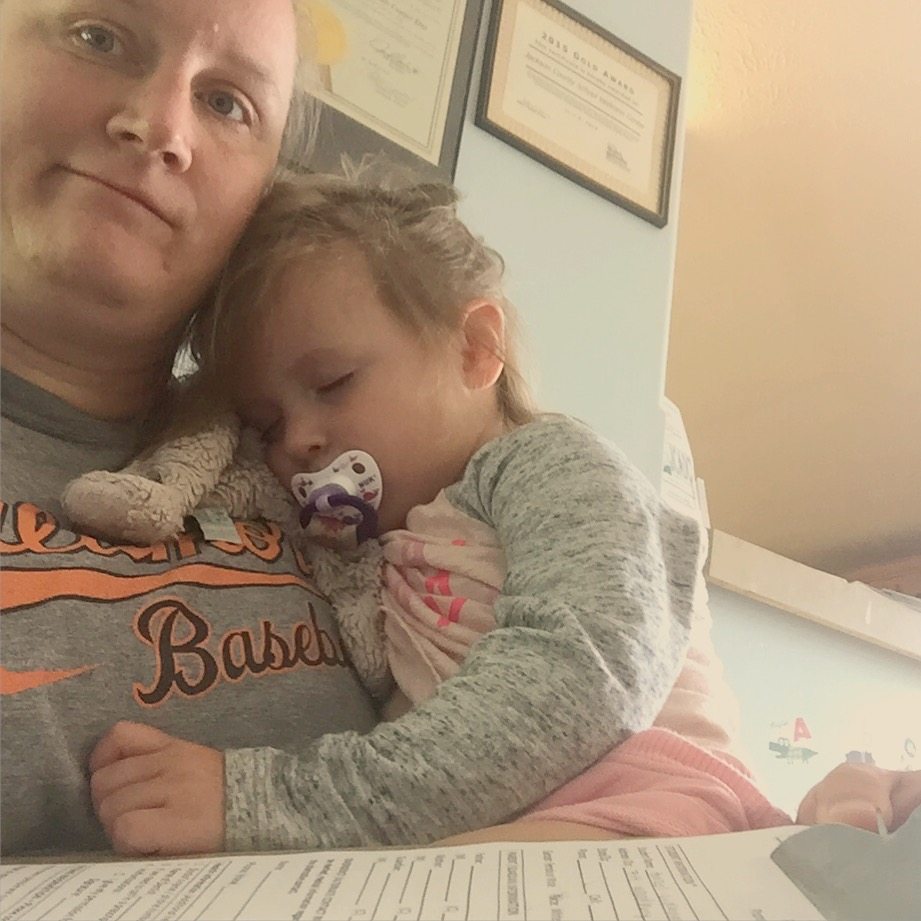 anyhow, when derek got off work that night, we got on the road to as far north as we could get without falling asleep and running off the road. here's the big old rambler pulling out of rippling waters campsite in wild and wonderful west virginia.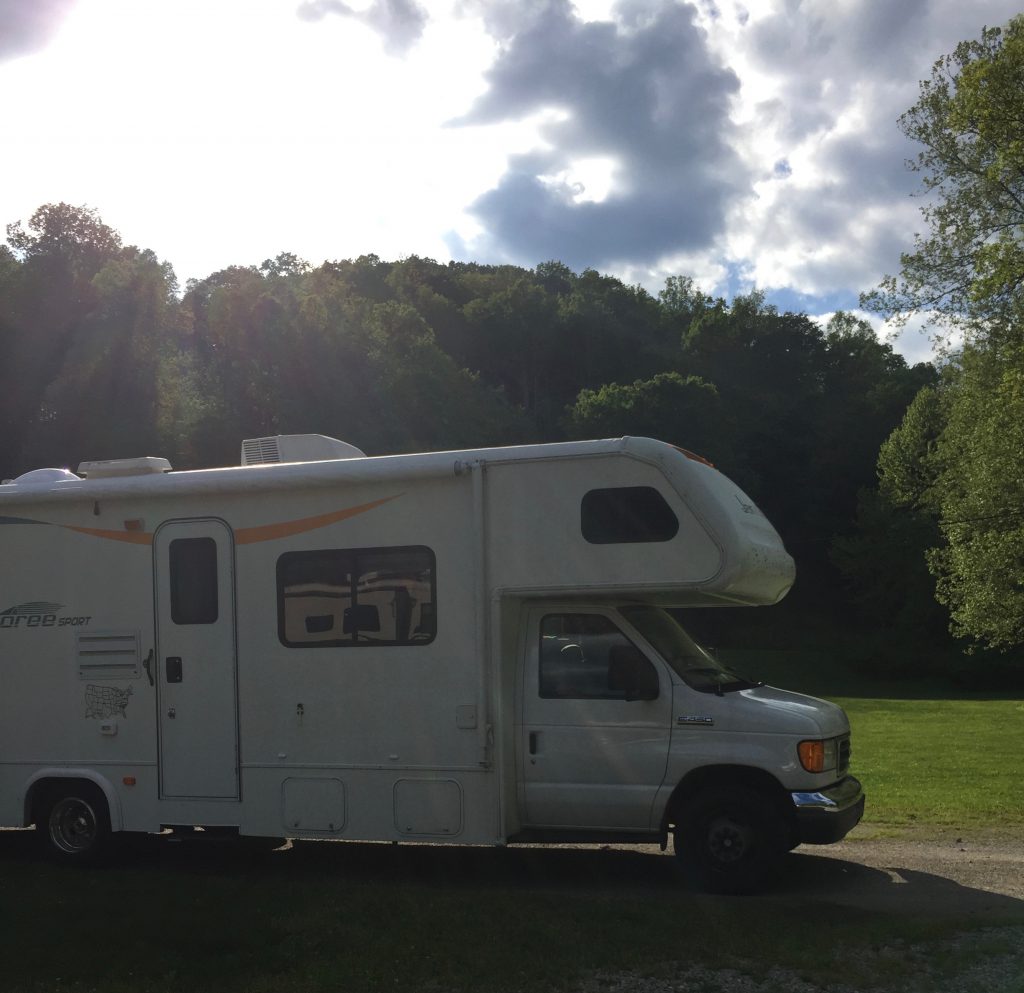 ike rides with derek. the girls with me. so, we stopped at mexican for dinner, since isaac in never down with going to mexican. never. and this place happened to have a cool donkey statue for us to pose with. 🙂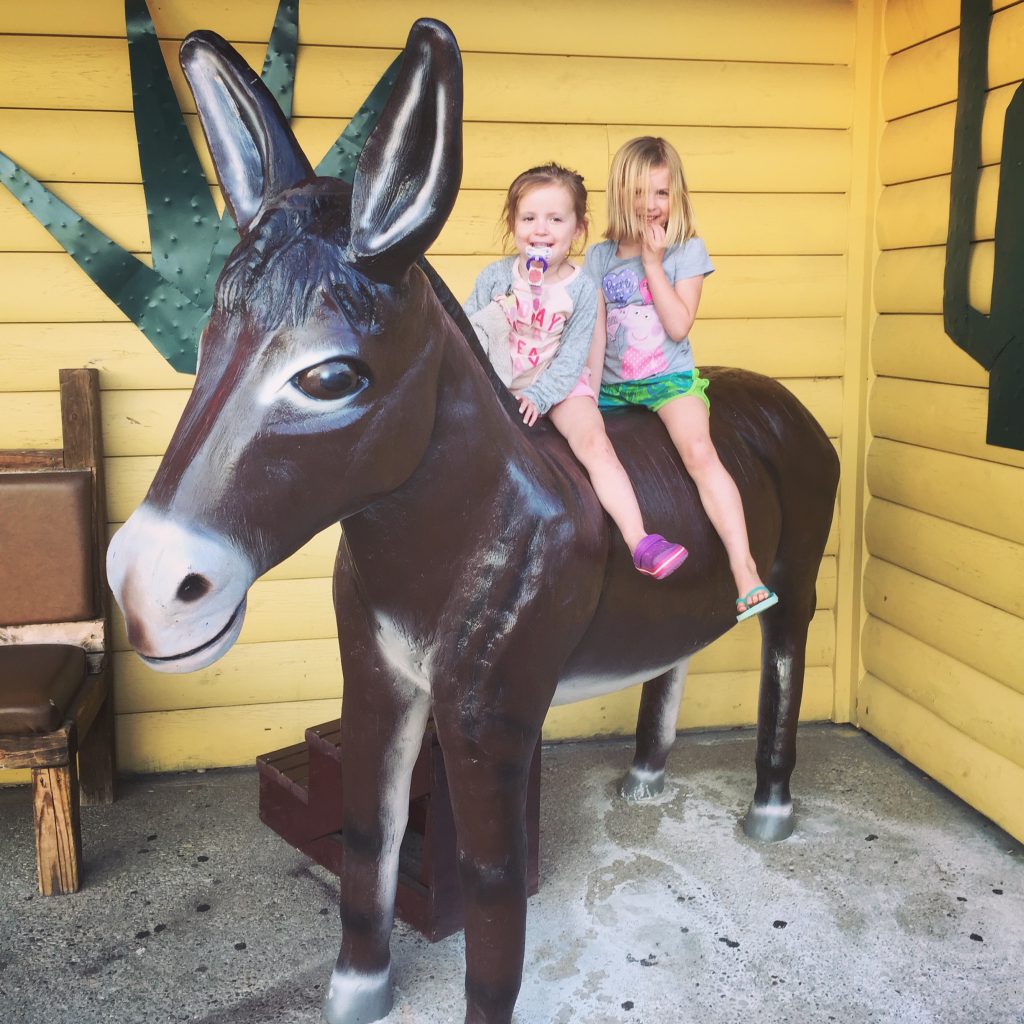 anyhow, we drove for awhile to a cracker barrel in ohio, where we spent the night before making the rest of the trip to western new york. we were reminded that 1) week night travel is miserable. 2) driving more than 2 hours at a time is miserable. and 3) driving two days in a row is miserable. but i'm sure we will do it again…