we took a slight detour on our drive from oliver lee to the walmart parking lot in albuquerque to visit the salinas pueblo missions national park. there are three mission ruins locations and a visitor center in the middle of them all. i had hoped to hit all three spots, but only two were on our driving route. one would have required an added 20-ish miles on the trip, so it was left out.
first up. the gran quivira ruins.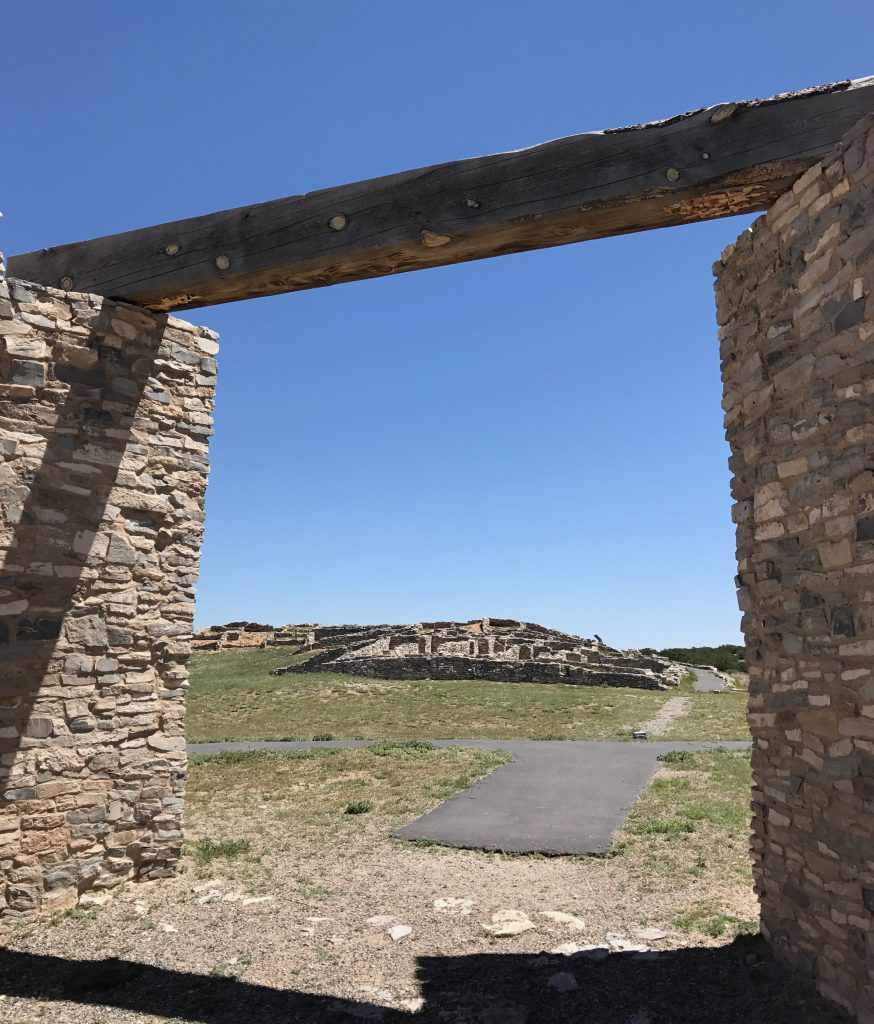 i would have loved to have spent a little more time learning about the history, but we were short on time and the kids were short on attention span and just wanted to run around.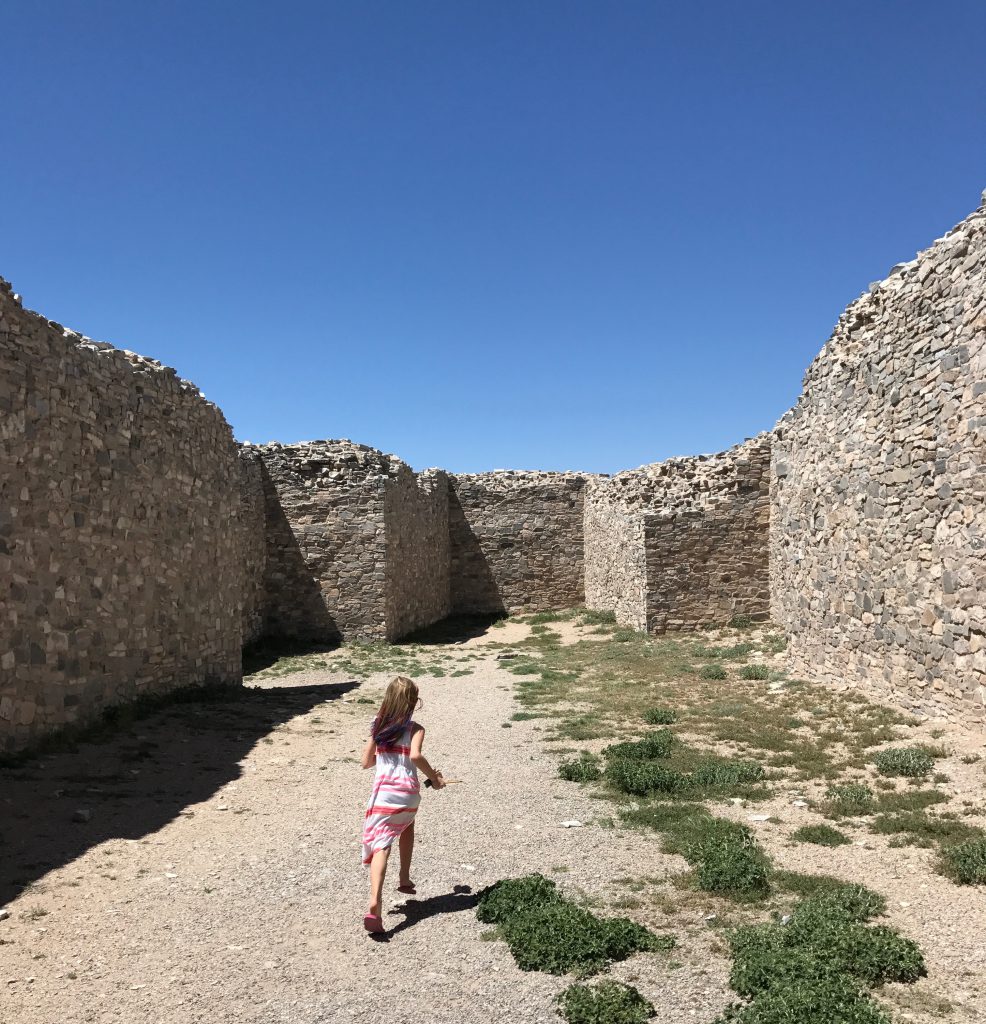 its so surreal to walk around the ruins of these civilizations and imagine what life was like.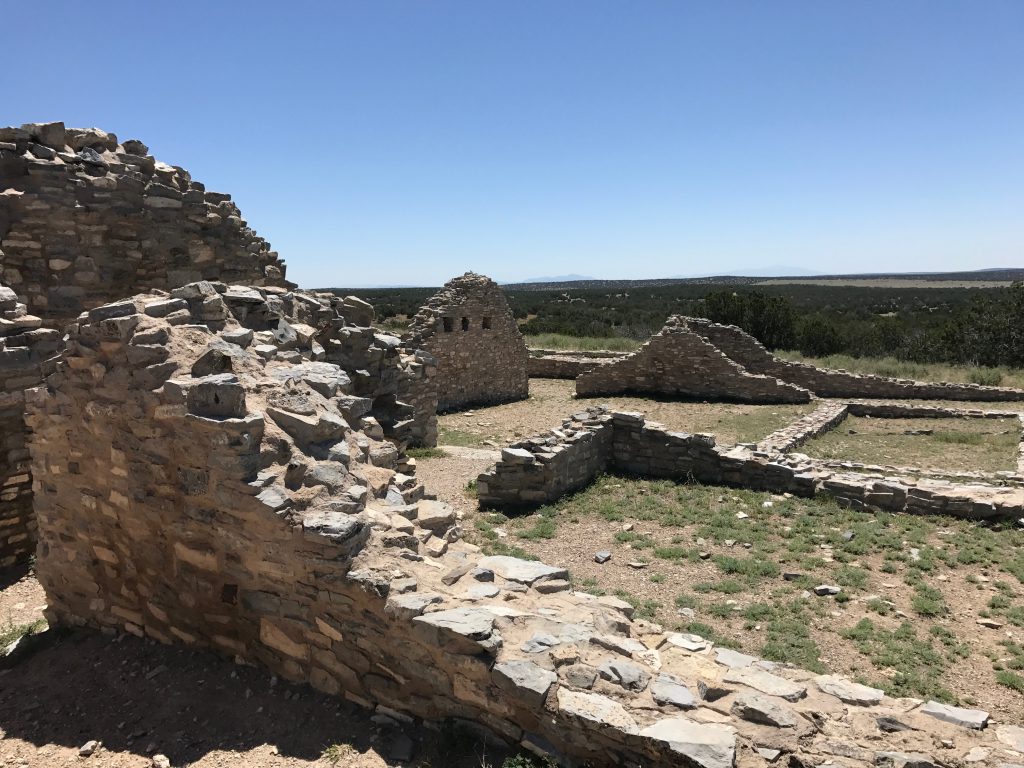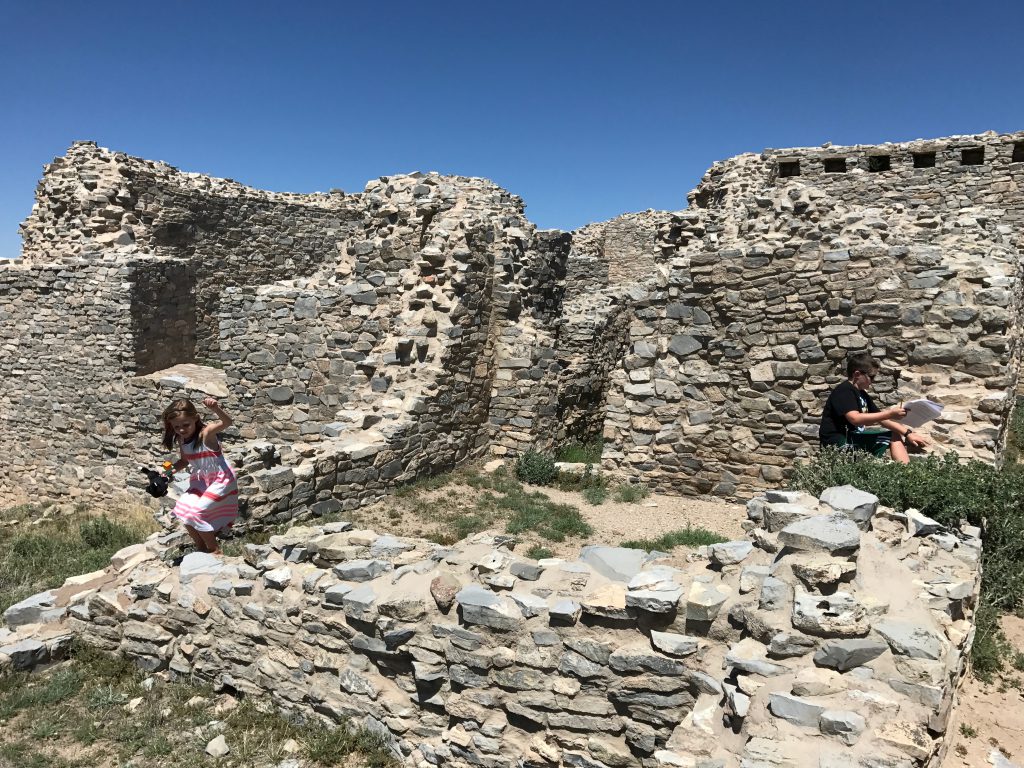 attempt at a decent pic. it was hard to corral them. there were varying attitudes. the reading was a little hard for anna but she wanted to do her junior ranger book. hazel tripped early on and skinned her knee and was just a disaster. and isaac was in a bad mood and ripped up his junior ranger book in anger about who knows what.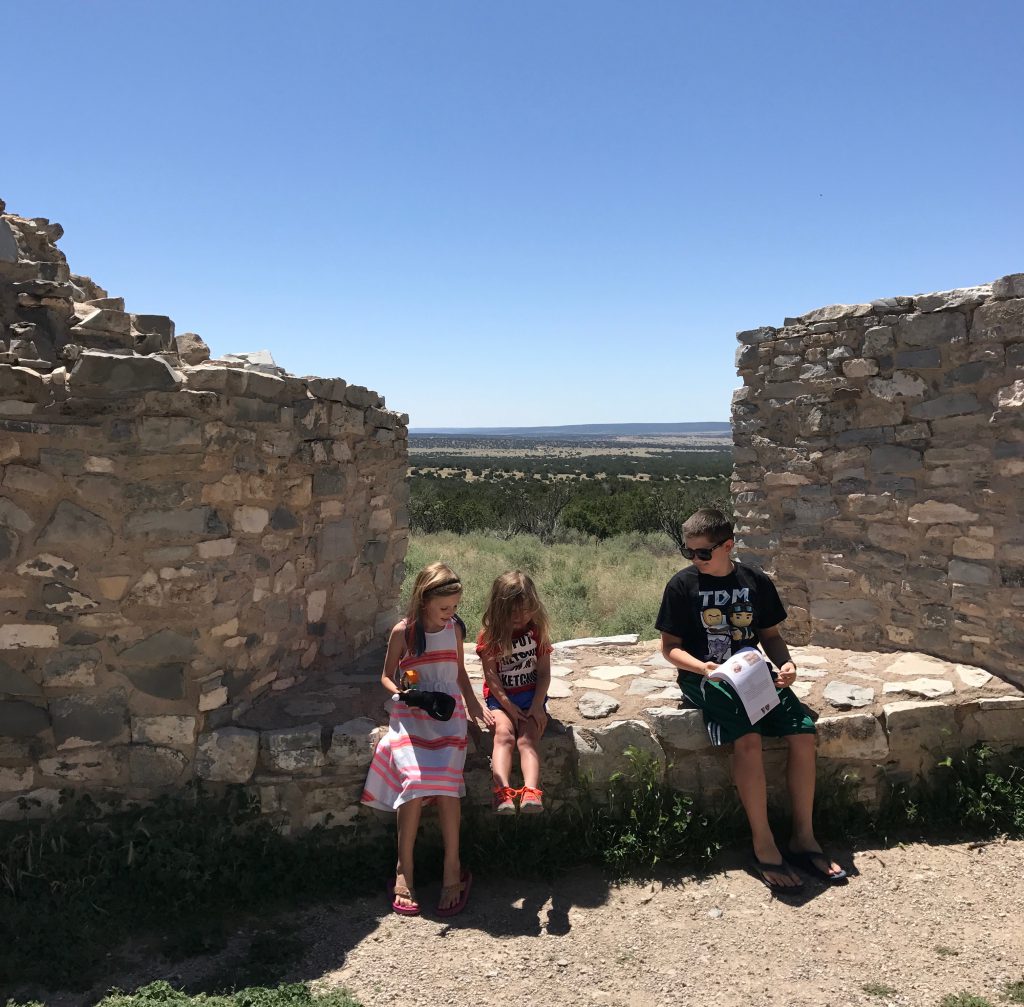 after our time at gran quivira, we drove into mountainair, new mexico, where the visitor center is located. we attempted to find some food too, but this was quite a sad little town. there was beautiful artwork and murals everywhere, but it felt like a ghost town. this mural was outside of a market, which was closed up and empty.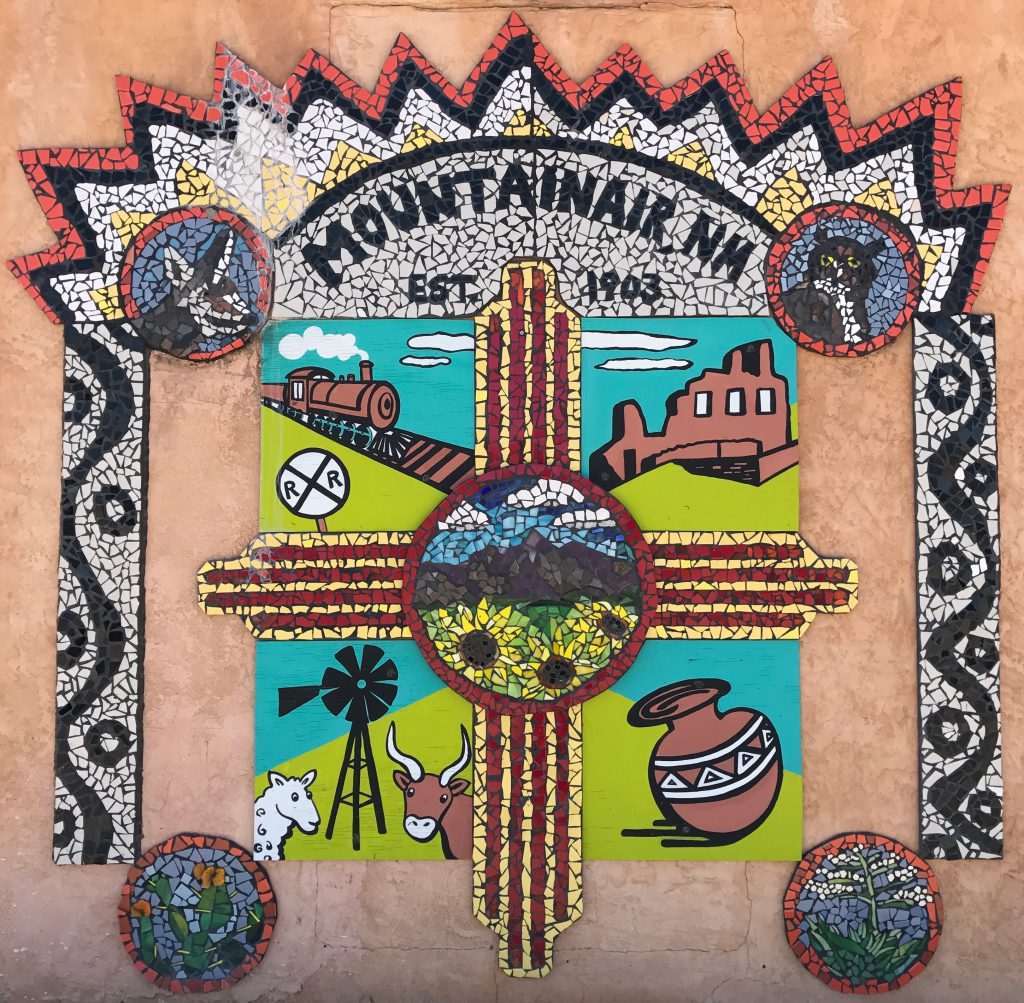 at the visitor center, we did a few activities for the junior ranger books. there was a cute little outside sitting area that we had to explore for some answers.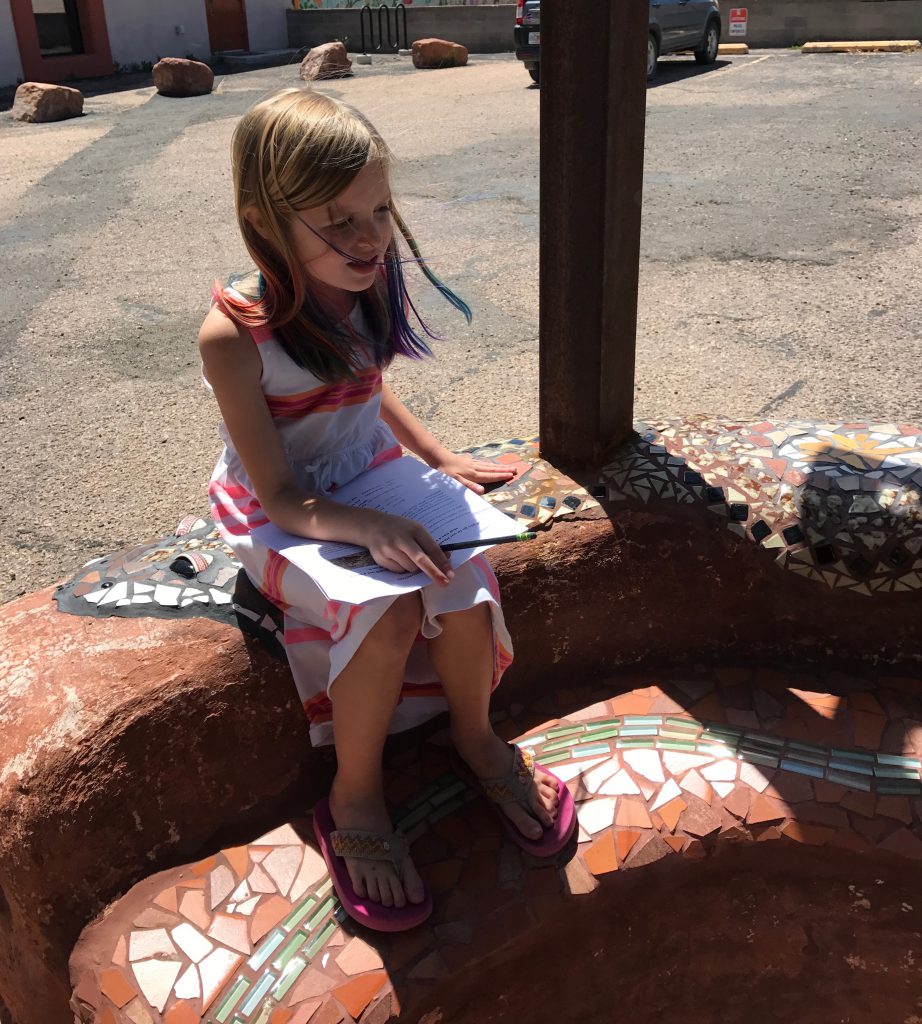 hazel worked hard on her book (with isaac's help). she just had to do a bit of matching and drawing. she LOVES when she can participate in the junior ranger programs.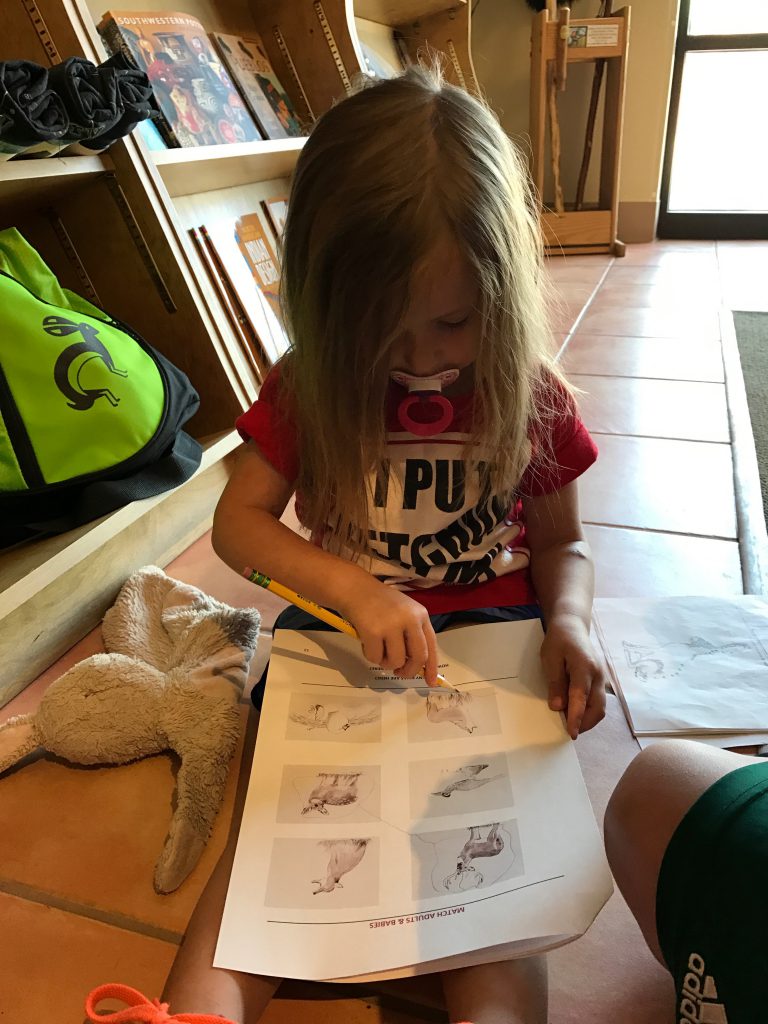 the ranger at the visitor center was awesome. she helped us look up answers we didn't know and was really sweet with the kids. and she lined them all out for a picture perfect swearing in.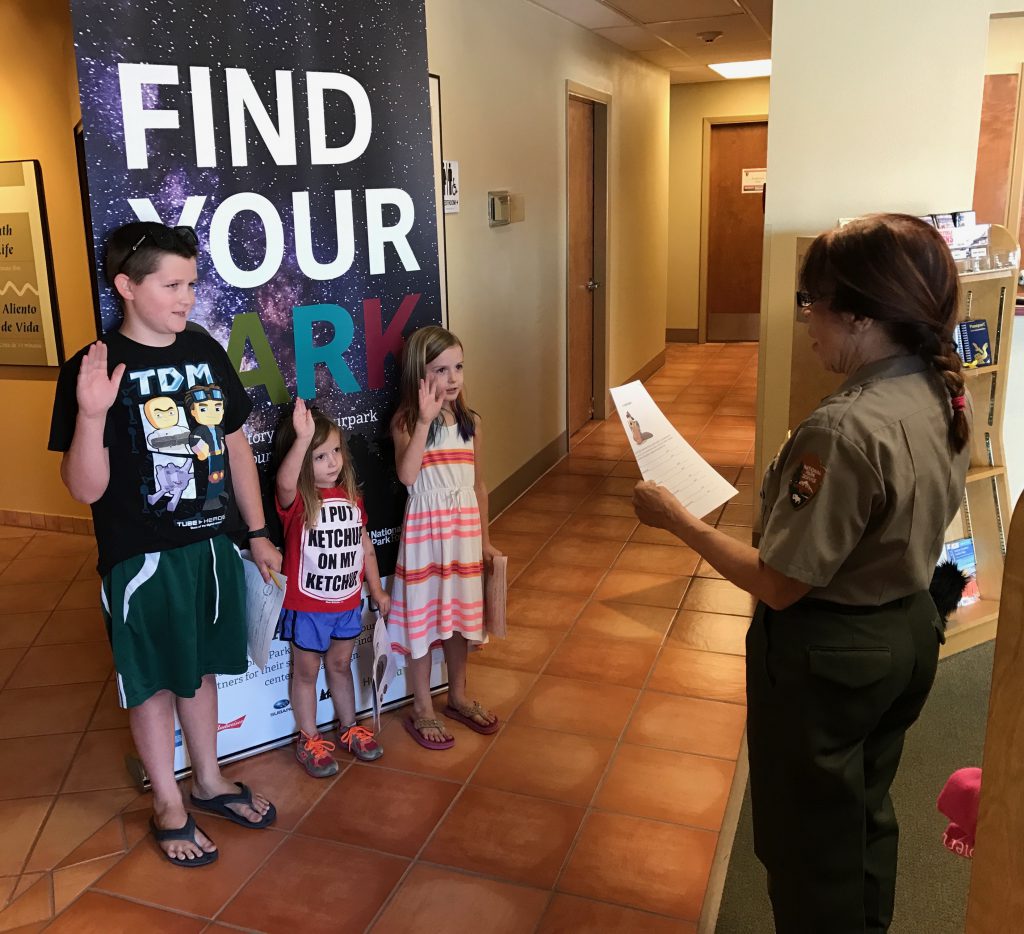 further along the road, we stopped at the quarai ruins.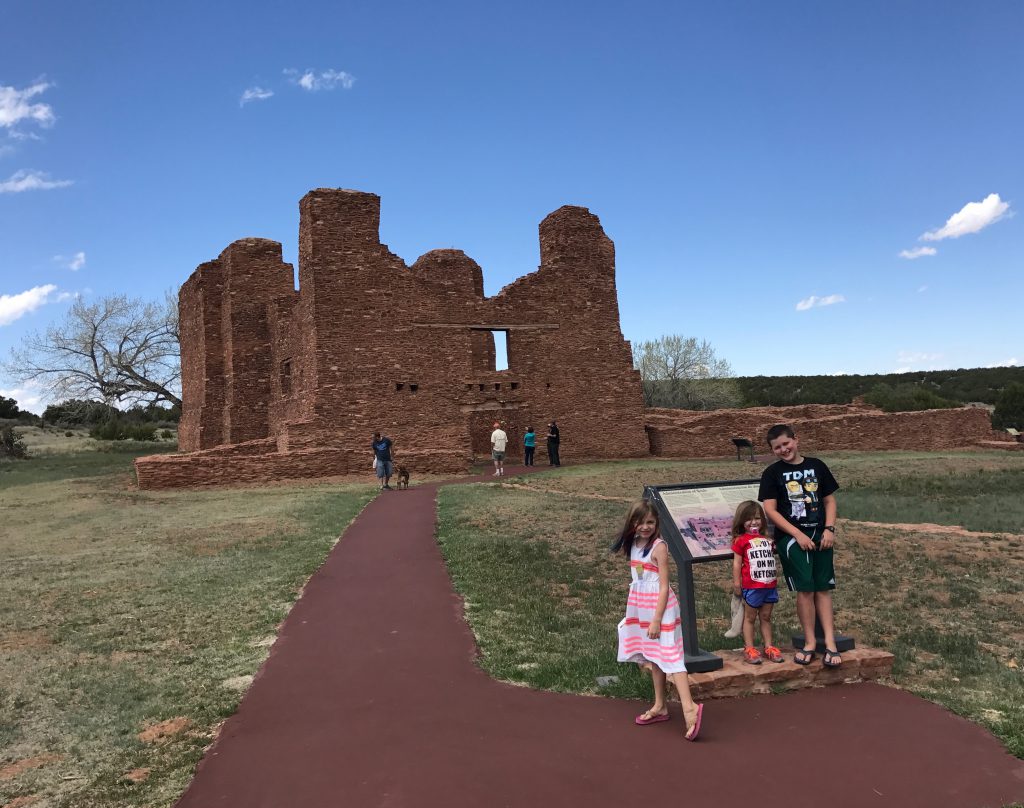 more running around.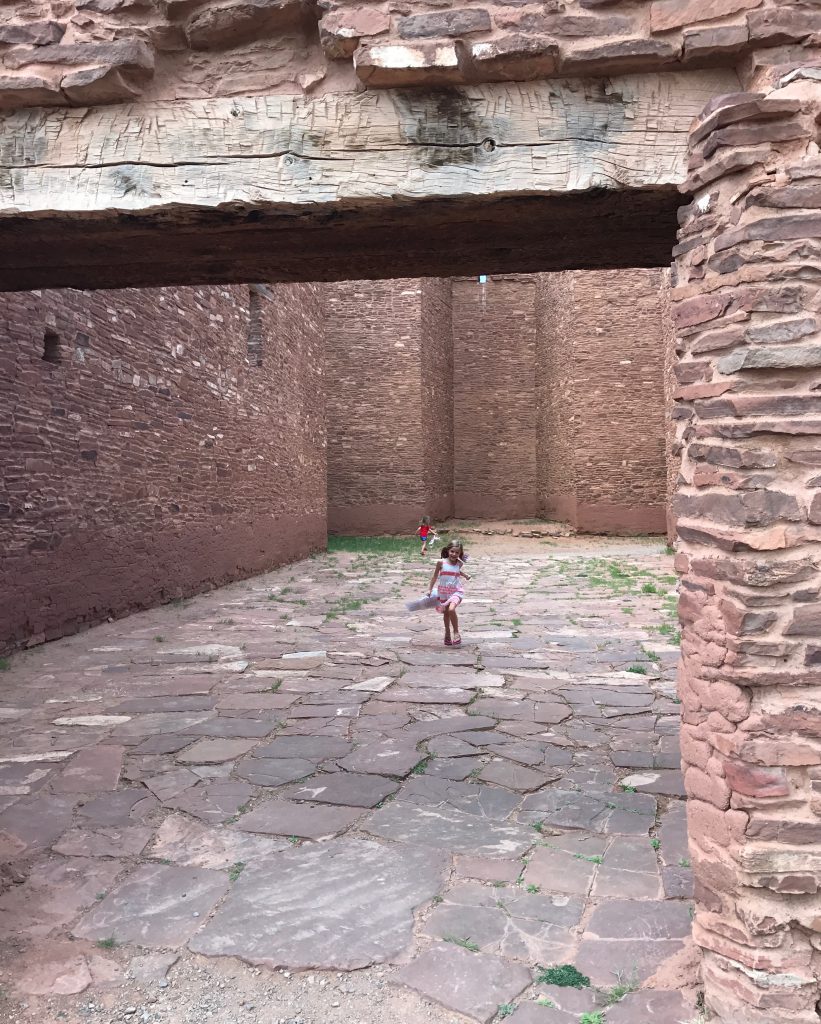 the ranger told them that when this was actually a mission, there was no seating in the church, people just had to kneel on the floor. she challenged the kiddos to see how long they could kneel on the flagstone rock floor. it wasn't long.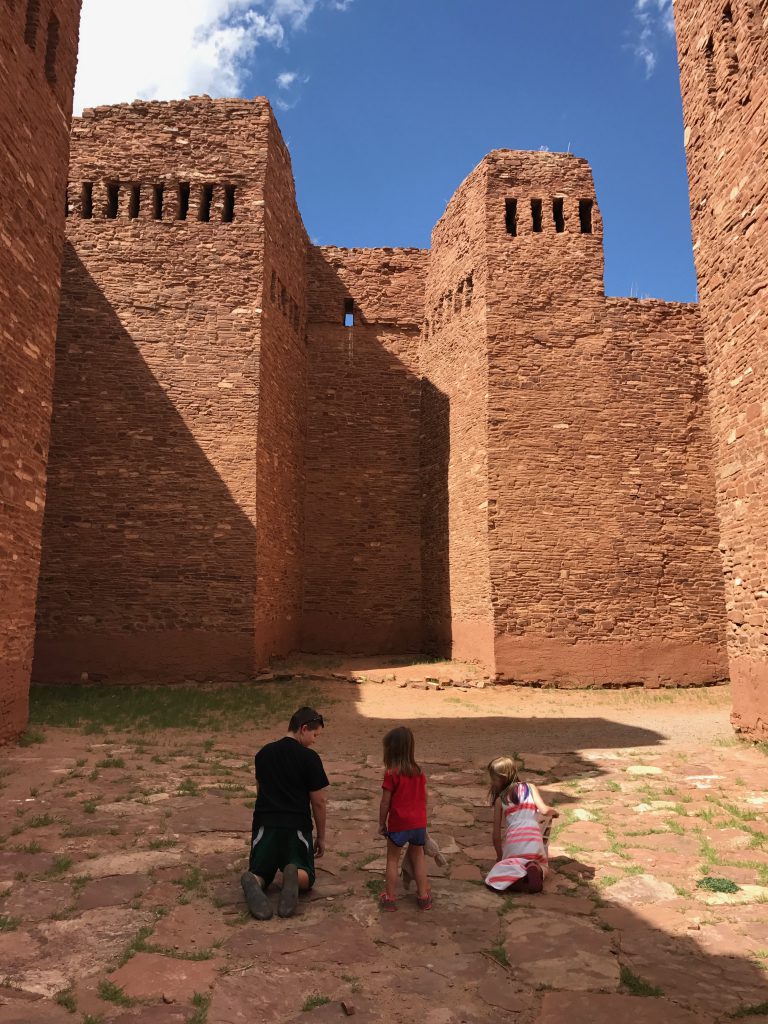 the walls were a little higher in this location, so the kids loved running around like it was a maze.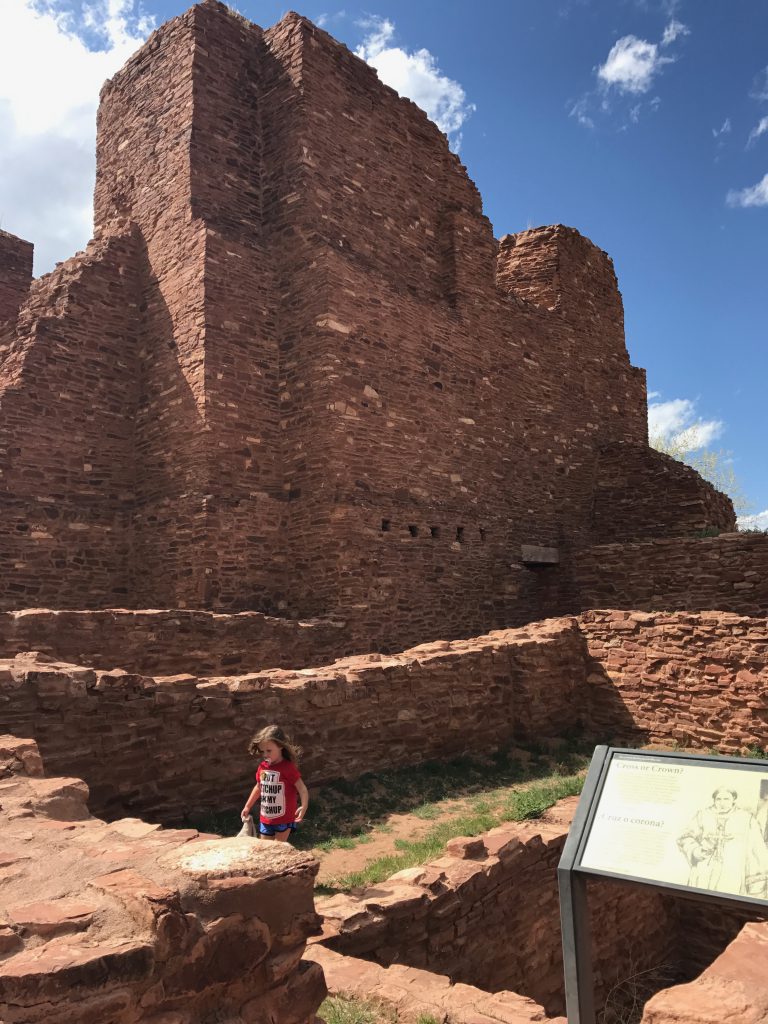 post visit photo shoot.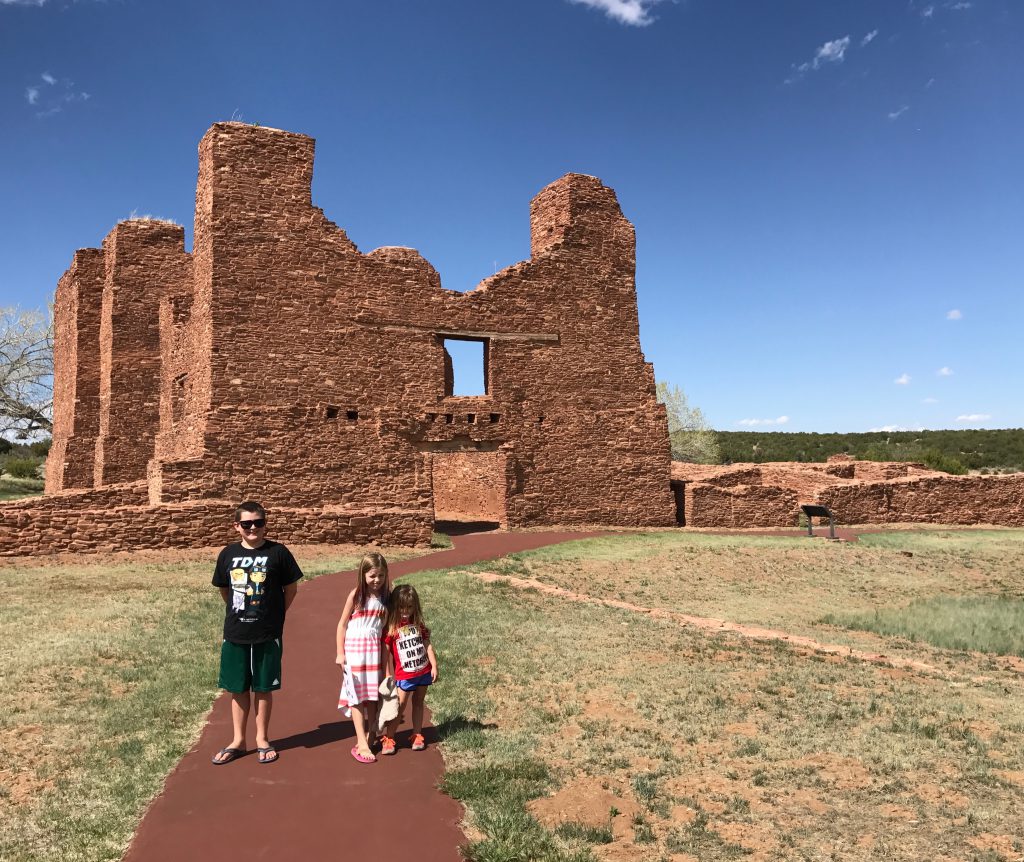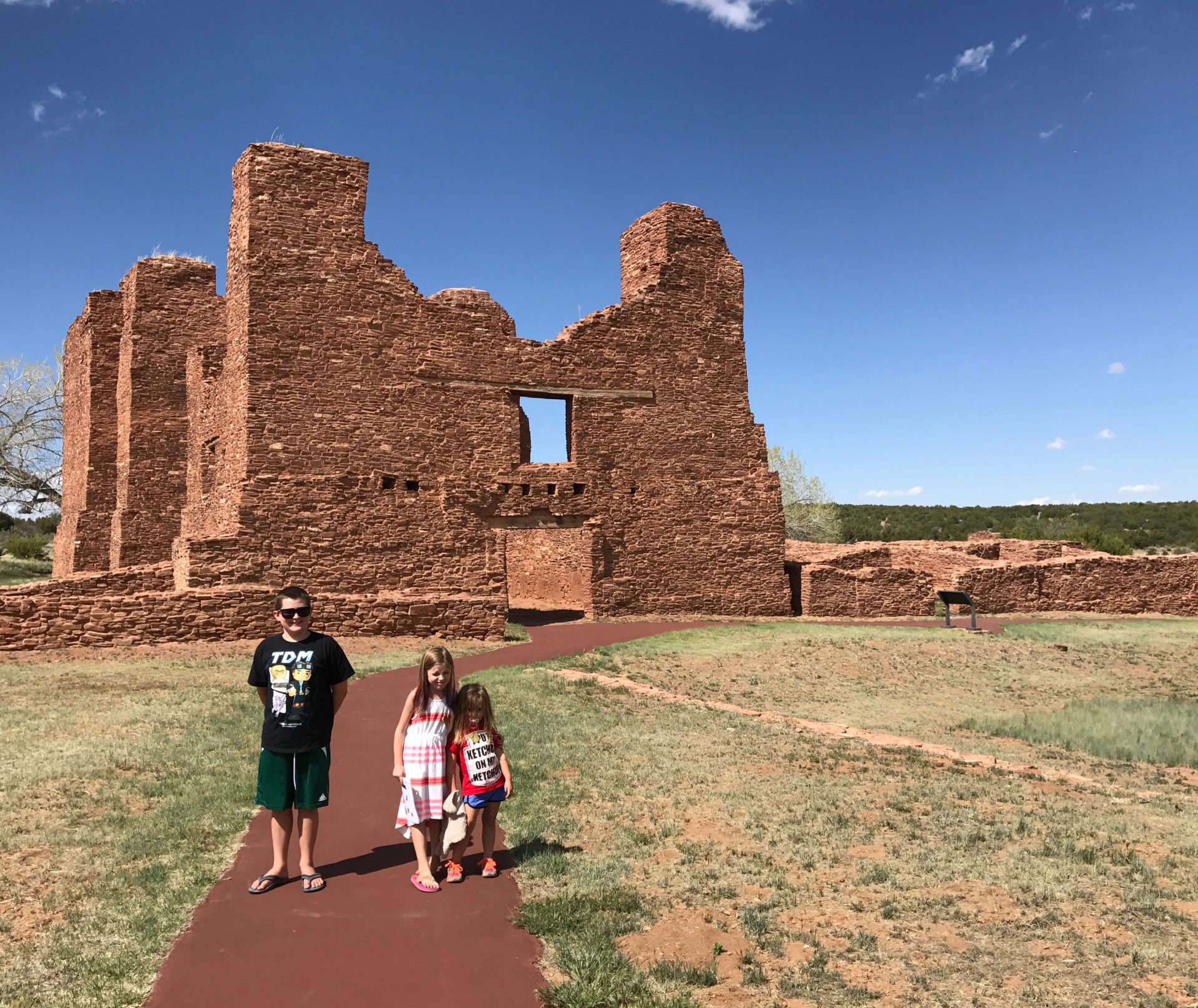 back at little visitor center/museum/entrance for quarai, we finished up the books to get a little ribbon to attach to the badge (we got one for each location we visited). hazel is a big fan of the dioramas.

and then. we were off to albuquerque.
of course we had to lay out the junior ranger flair and take a photo to document. this is anna's. (isaac is missing a few. he's not always game for junior rangering.)