sorry for the slacktitude in posting. we had a pretty busy week visiting friends and family in denver. then we were with family (and without computer) in vail. and now we are in rifle, colorado, with terrible internet, so uploading pictures takes a backseat to derek getting to do his job. he went in town today, to get some super fast internet, so i am going to try to cram all of the pictures through this sloooooowwwwww connection.
first up, our time in denver. we kicked it off with a lot of adventure. roxborough state park hike and the botanical gardens. for the rest of the week, we laid low and hung out with friends.
i was able to hang out with this old friend from winston-salem several times. we used to run in the same circles until she abandoned us for colorado. (i don't blame her). we kicked off our hangouts with a moms only night at torchy's tacos, which i thought i would never see again after we left austin.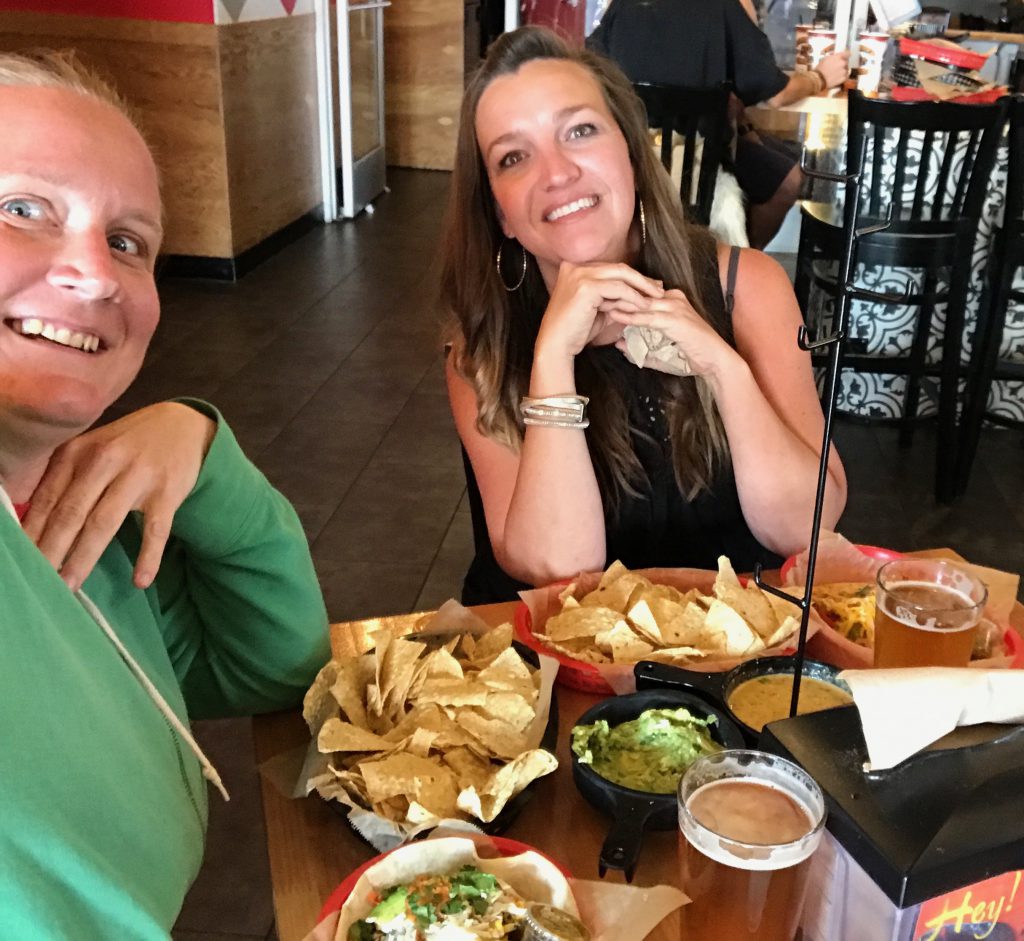 the morning before we went to the botanical gardens, we had the bright idea to stop at voodoo donuts. the line was out the door, so we prepared ourselves for a bit of a wait, but when we only moved a few feet in 15 minutes, and that was mostly due to people giving up and leaving the line, we realized voodoo donuts was not meant to be, and headed over to lamar's donuts. the donuts were as big as our heads. and there was no wait. unless you count the server waiting on us to decide.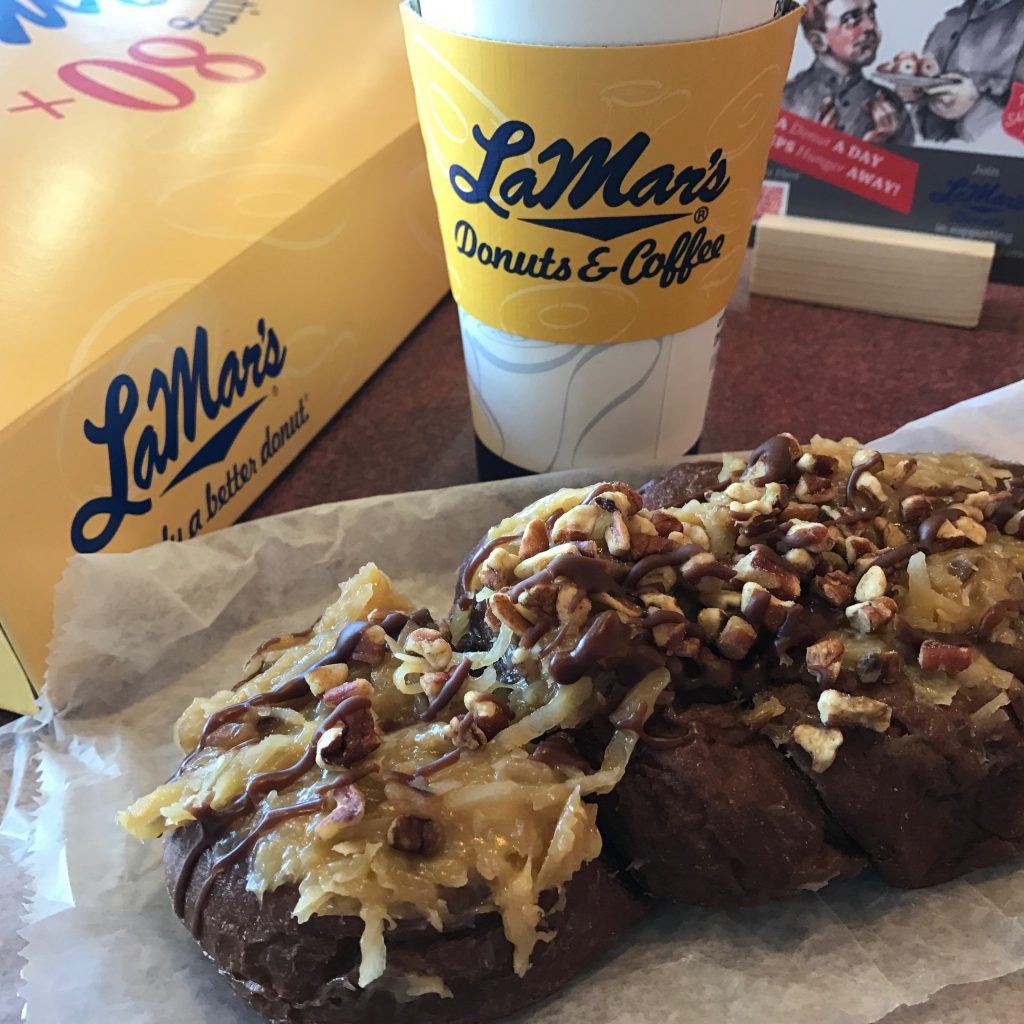 this is how crazel eats a donut.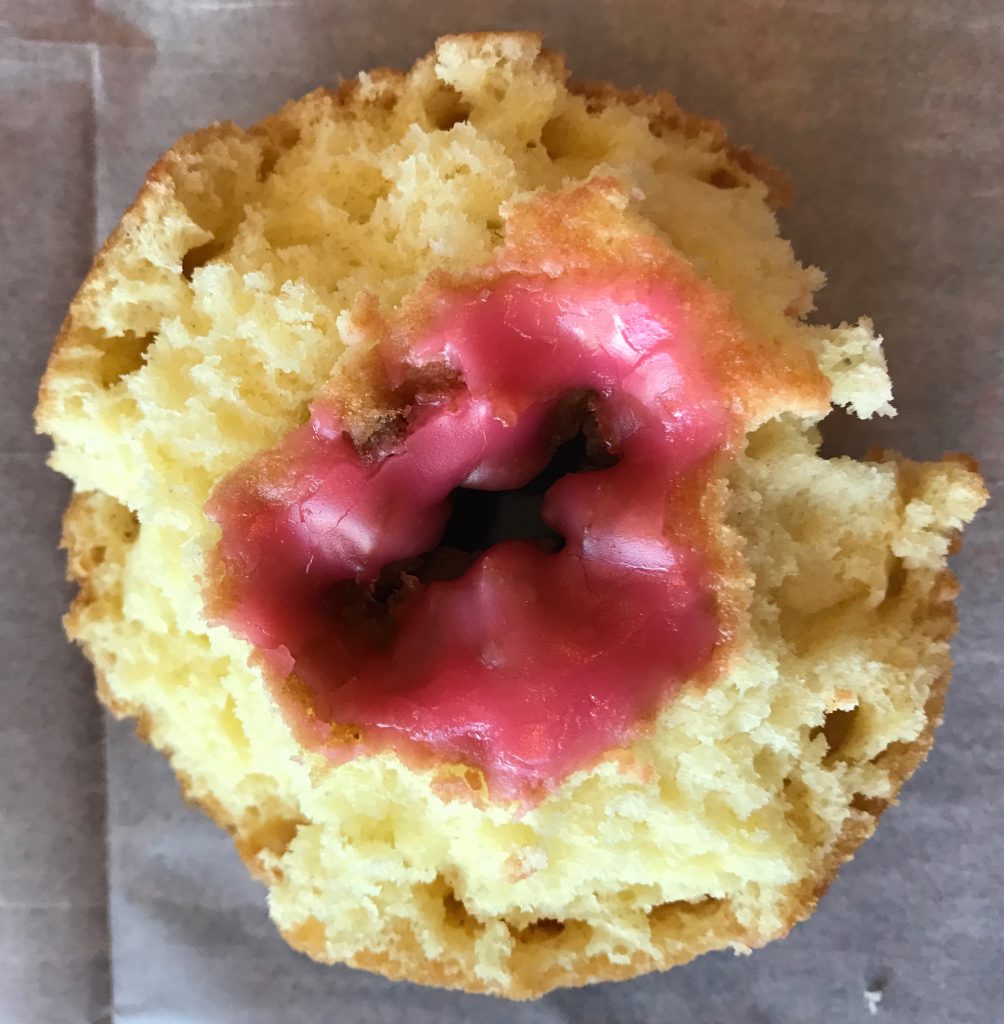 the two donut places, the botanical gardens and the place we were doing laundry were all in the general vicinity of downtown denver. we drove over to the capitol building, but parking was difficult and the one way streets had us a little crazy, so i settled for a driveby photo. not our best effort.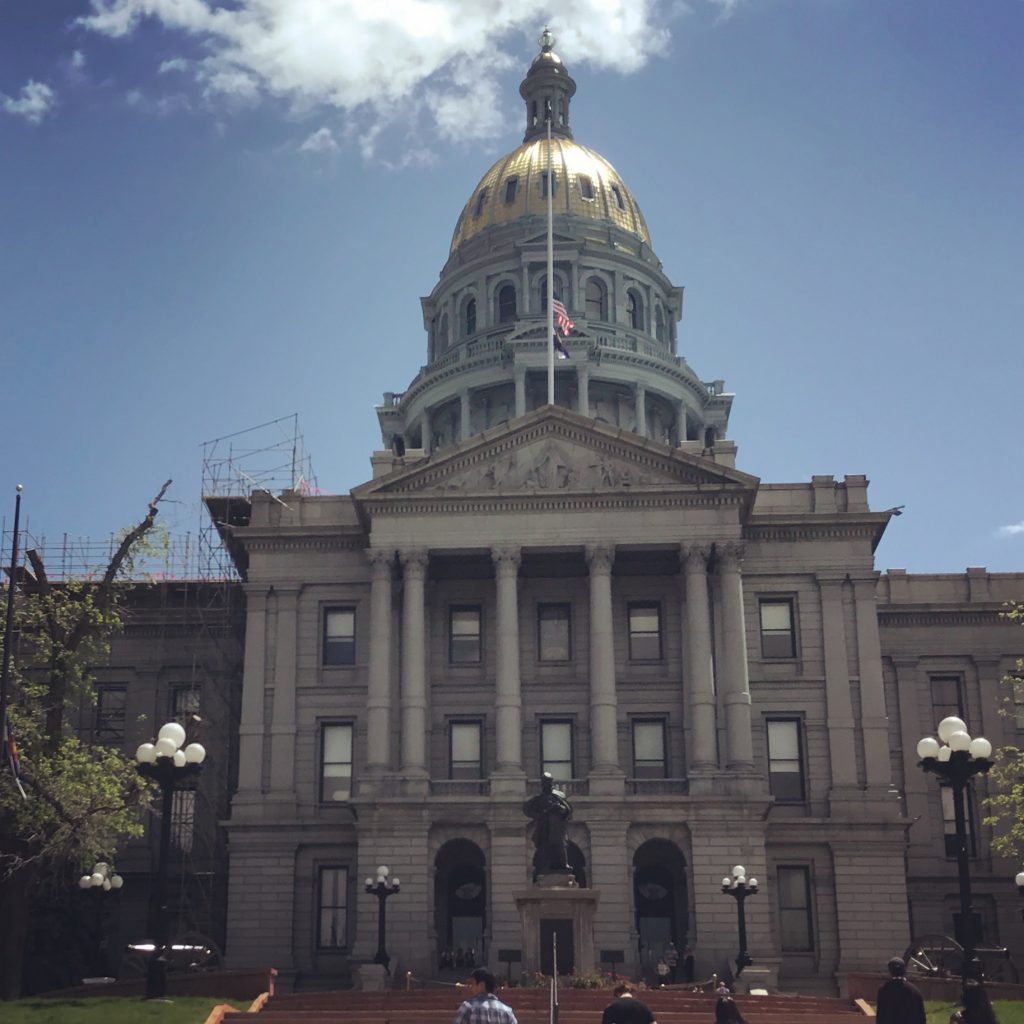 our second time hanging with my old friend (who has a name and it's chris) was at a little memorial day cookout at our camper. this time it was the whole gang, chris, her two kiddos and her ex-hubs, jason (who also ran in our circles in the day). anna and their oldest, grace, hit it off immediately and got to work doing their art thing.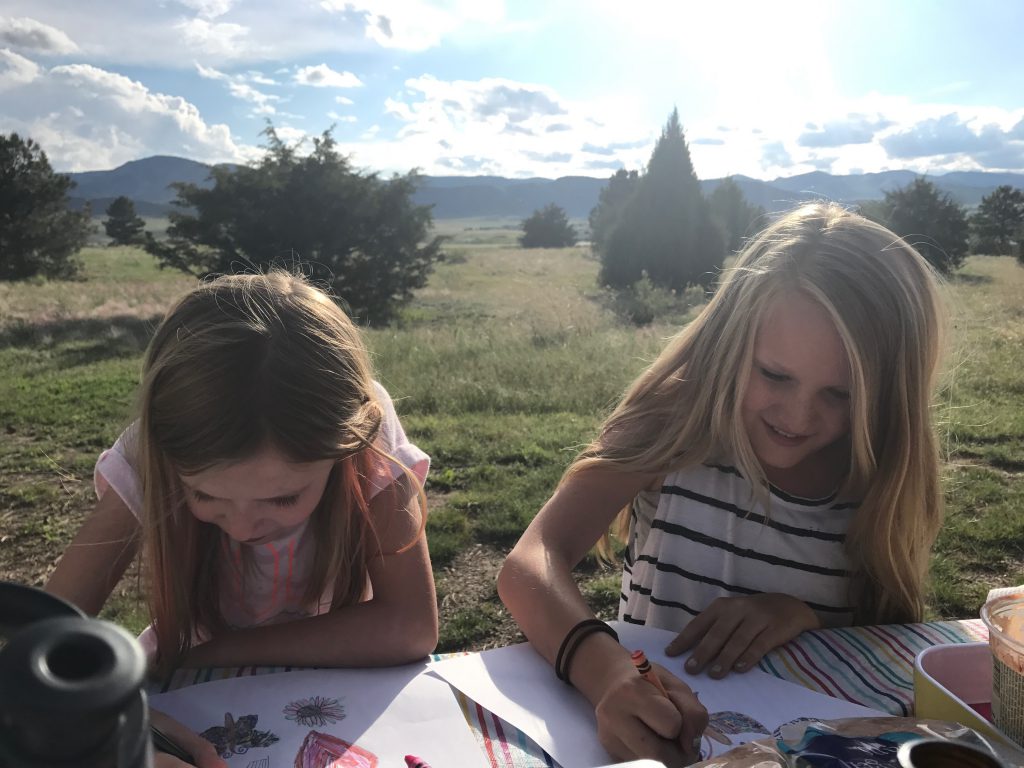 while everyone was distracted, hazel took the opportunity to eat an entire bag of doritos.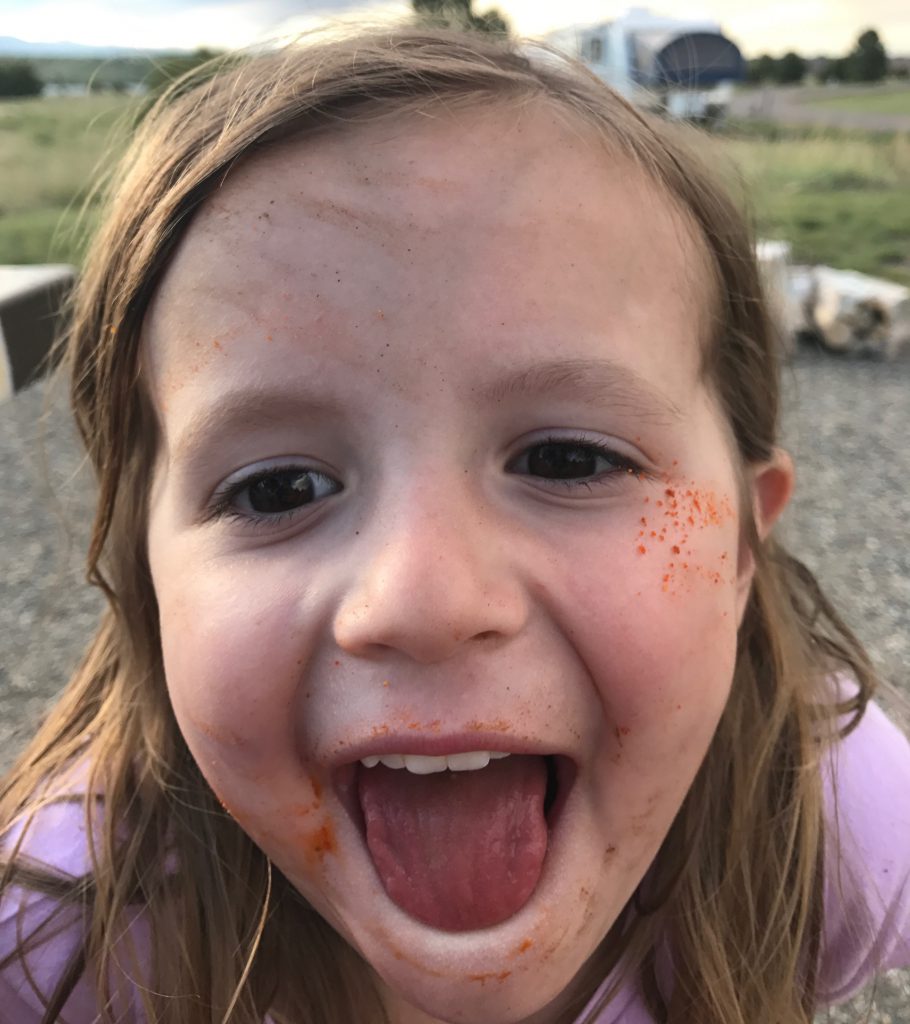 the big kids had a blast riding bikes and hazel and jason hit it off. here's an action shot of the camper life.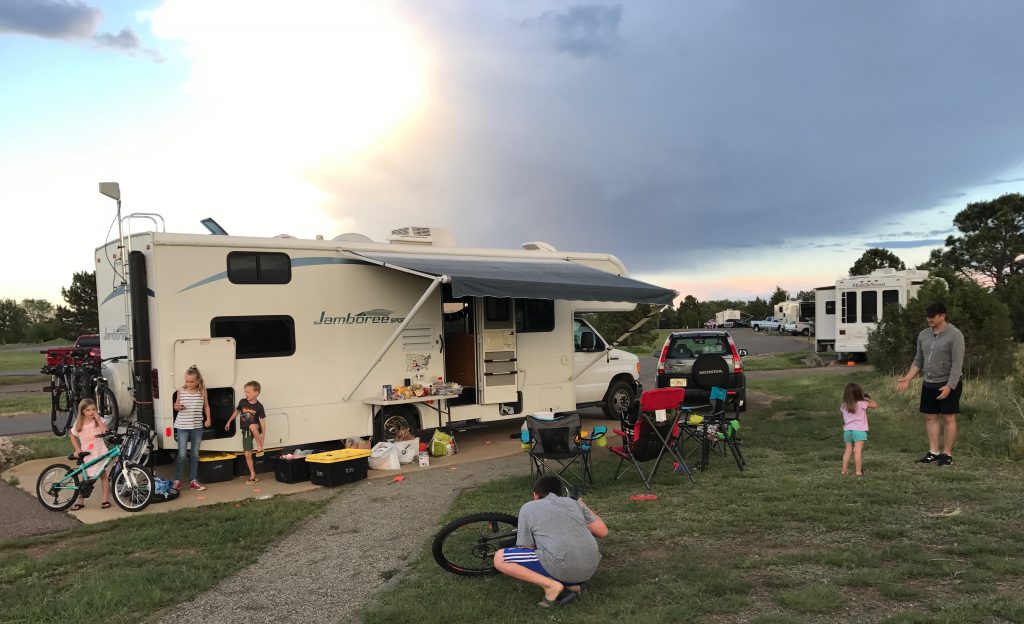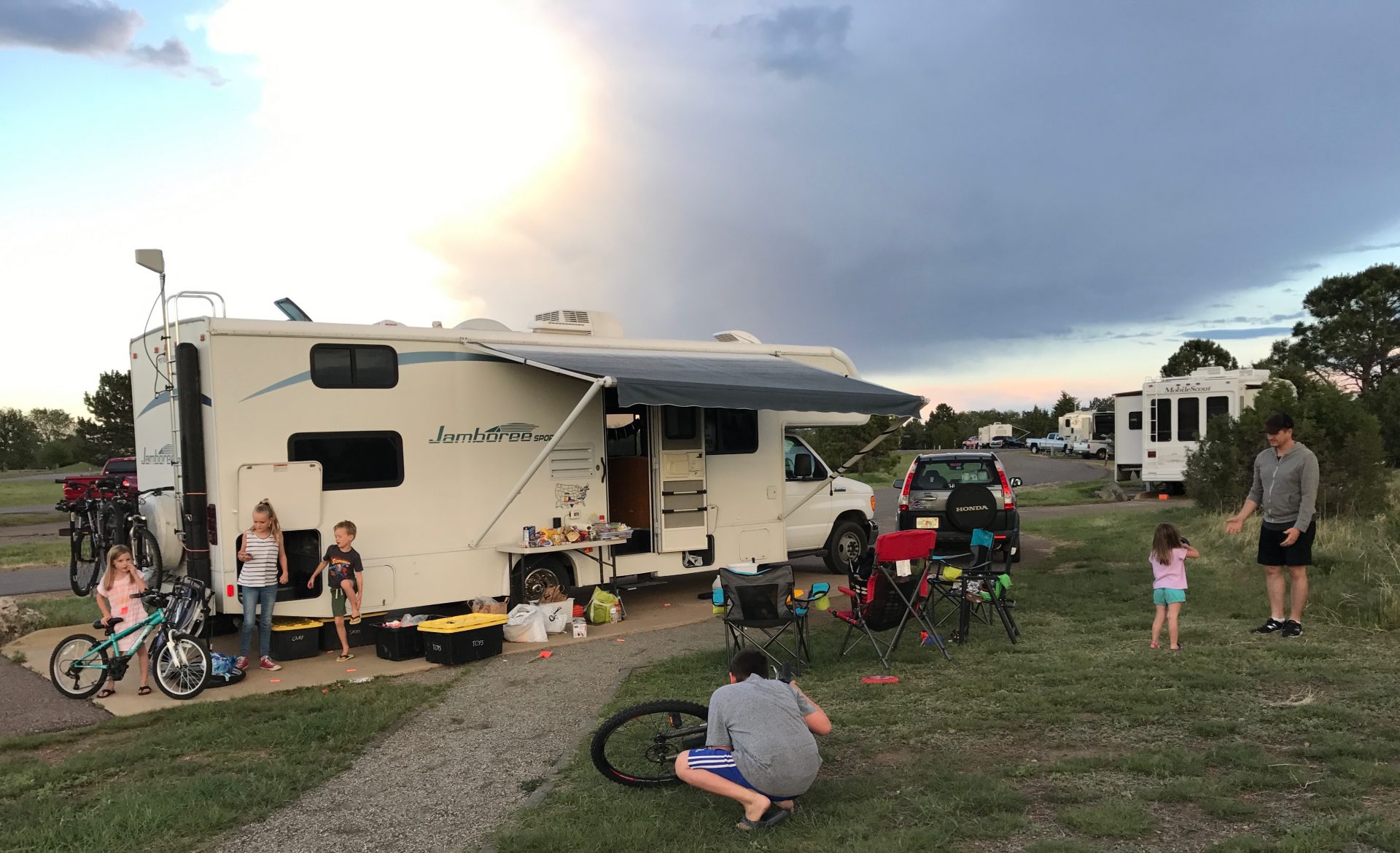 on another day, perhaps the next(?), we met with chris again, to go to littleton museum. it's basically an old homestead that still functions like it did in the 1800s-ish.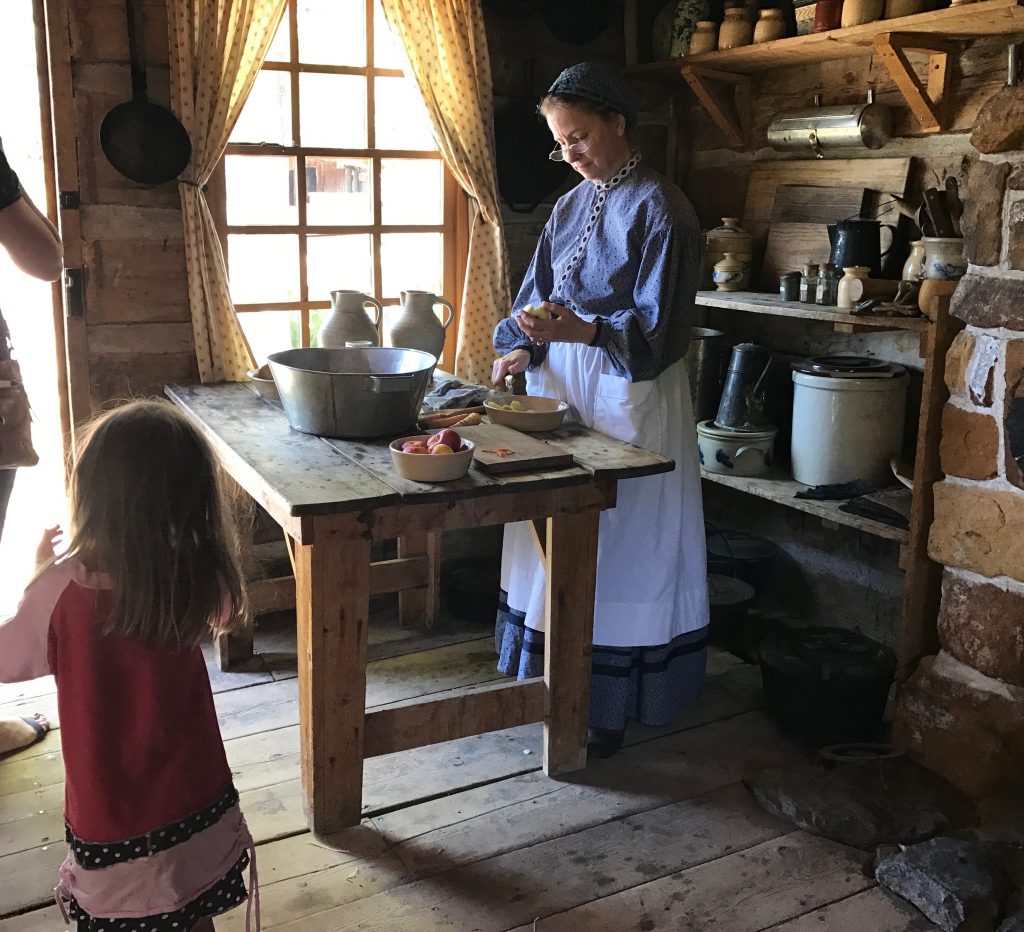 the highlight was the brand new baby sheep, but we couldn't get a good pic of them, due to overprotective mama sheeps and their location in a shady area. we could peek in at the bigger sheep though.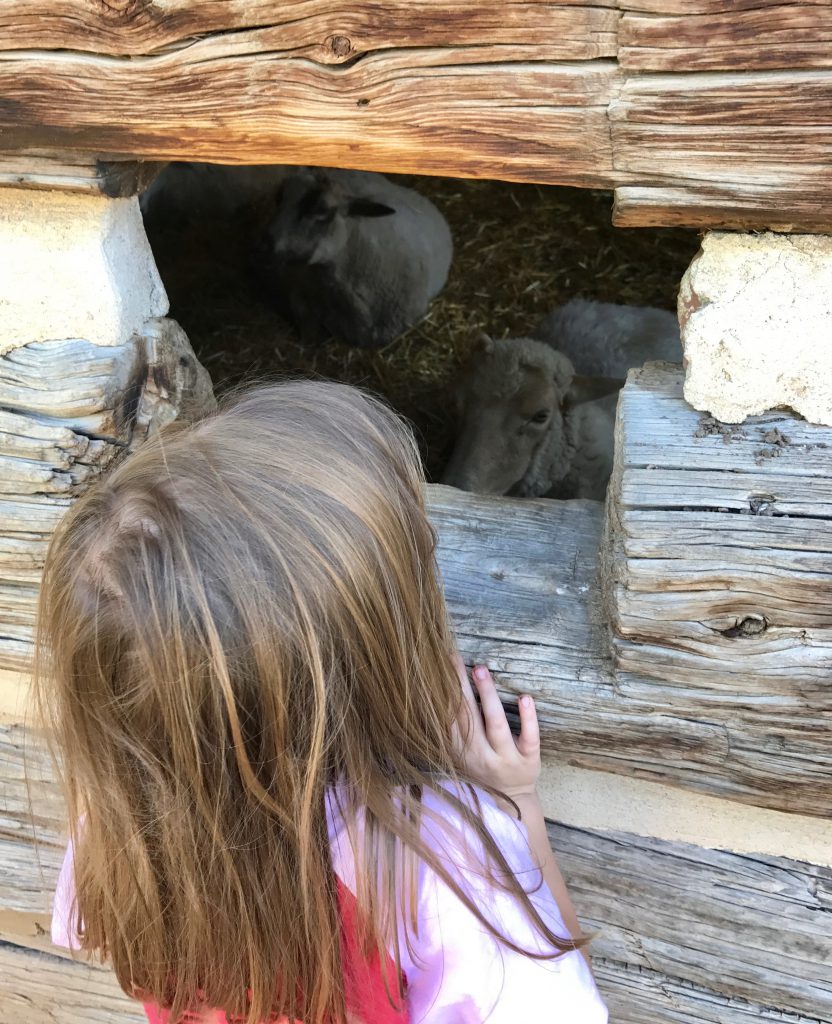 grace gave a little lesson in the one room school house. (she went to a camp at the museum last summer, so she was an old pro, full of interesting information. our personal guide on the tour). 🙂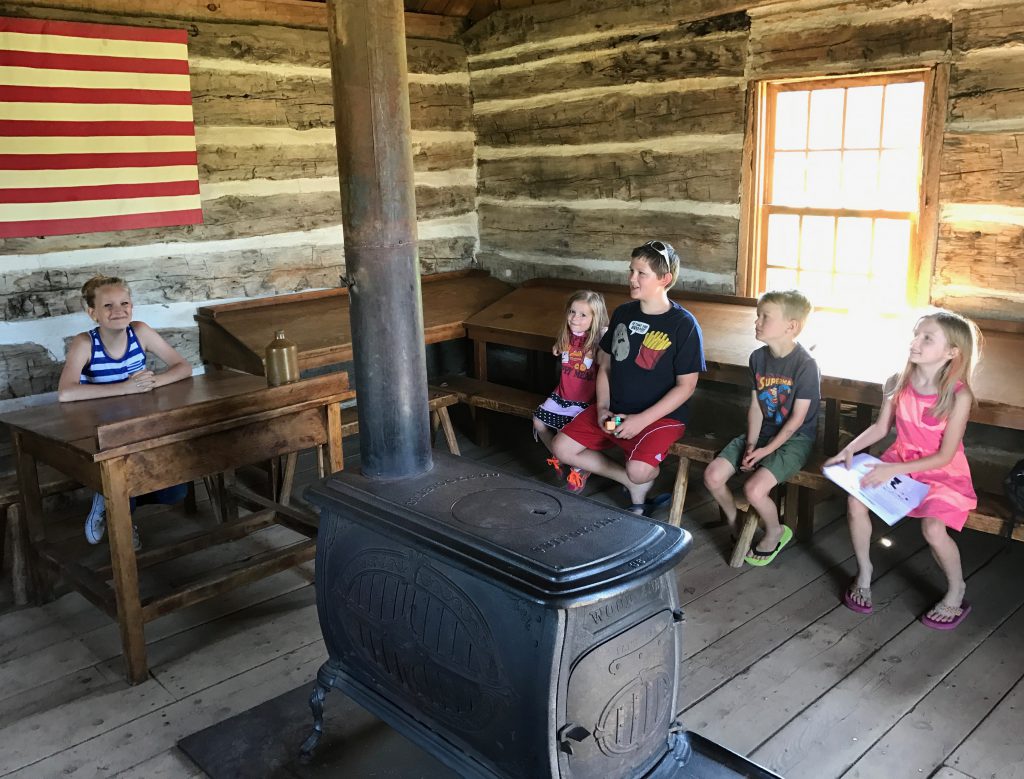 obviously, i had to take a picture of all the old quilts. i'm only posting one. you're welcome.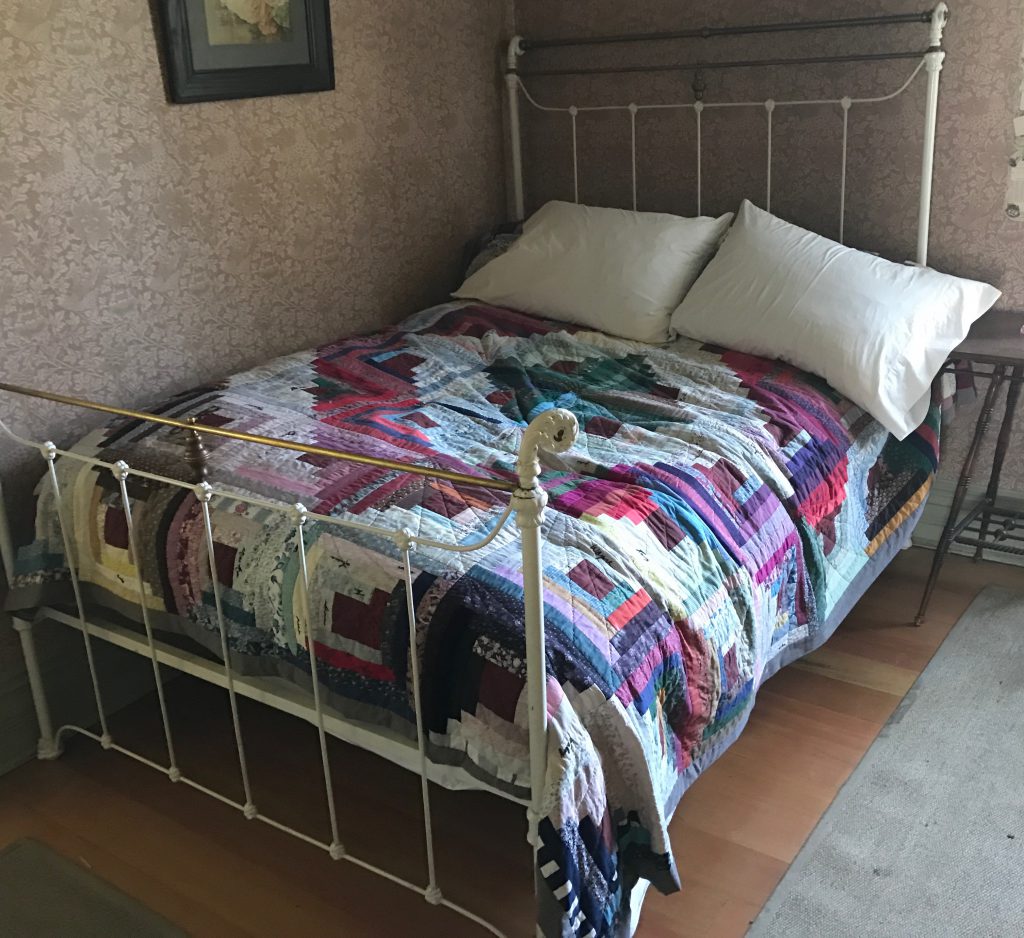 later, chris kept all my kiddos at her place, so i could run out and meet up with an old friend and his new wife. taylor is the son of my very good friend kristin boone (of the wonderful photos of my kids fame). he was also in the youth group at the church we all attended (chris included), once upon a time, back in winston-salem. anyhoo. he lives in denver now and had a few minutes to squeeze in a stroll around some gardens. so we did just that. 🙂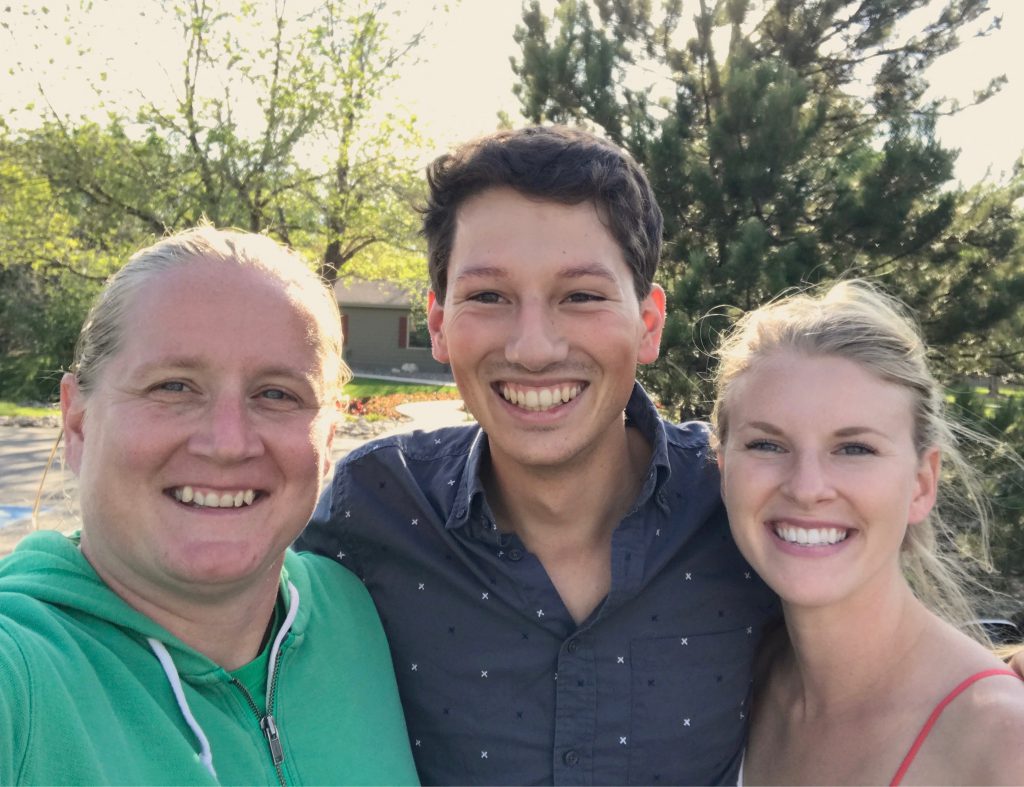 back at chris's, we had some dinner and the kids played. while the big kids were doing something, this tiny person asked me if i wanted to play chess. i humored her and told her to just set it up and then we could play. a few minutes later, i looked over and she had set it up *almost* perfectly. (the king and queen should be switched). i have no idea how she knew to do this. we then played a game of "now i take your guy" which i lost.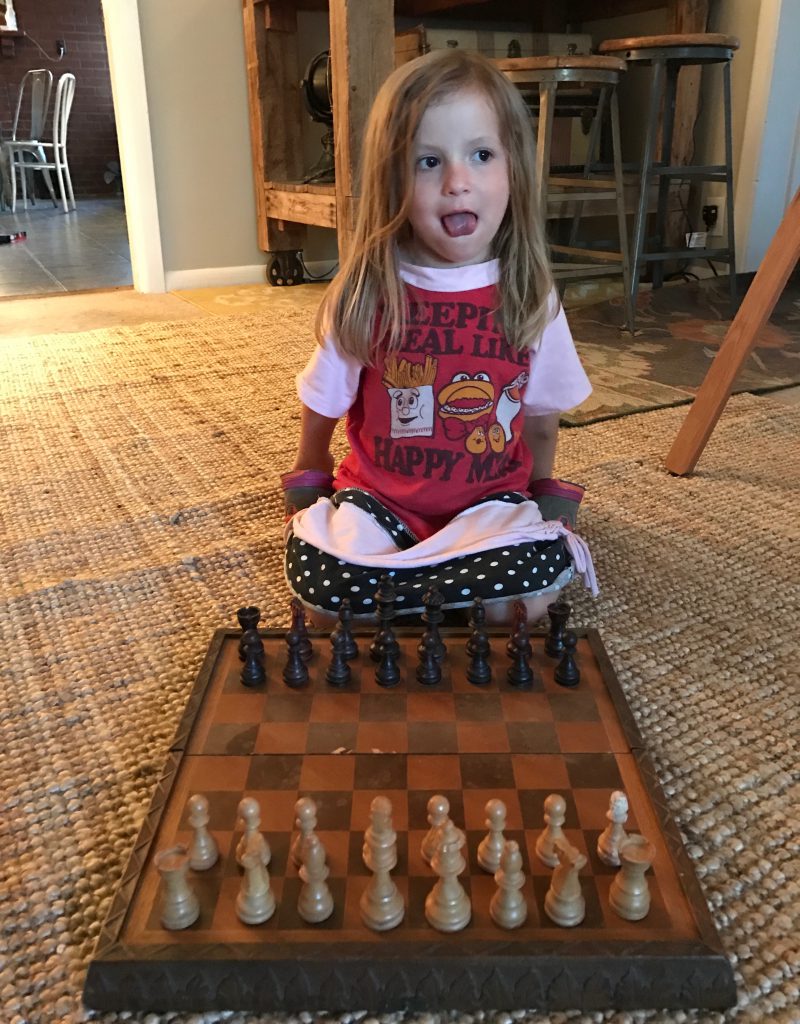 on another day, we drove out to castlerock with chris and posse to meet the same old friends from colorado springs that we had hung out with the week before. the big kids ran off into the woods together, where they were filming movie scenes i'm told. hazel got lost in a school group and nearly went back to the bus with them. when the big kids returned, we strolled over to the splash pad part of the park and found out that they were serving free lunch. so obviously, we let the kiddos all have at it.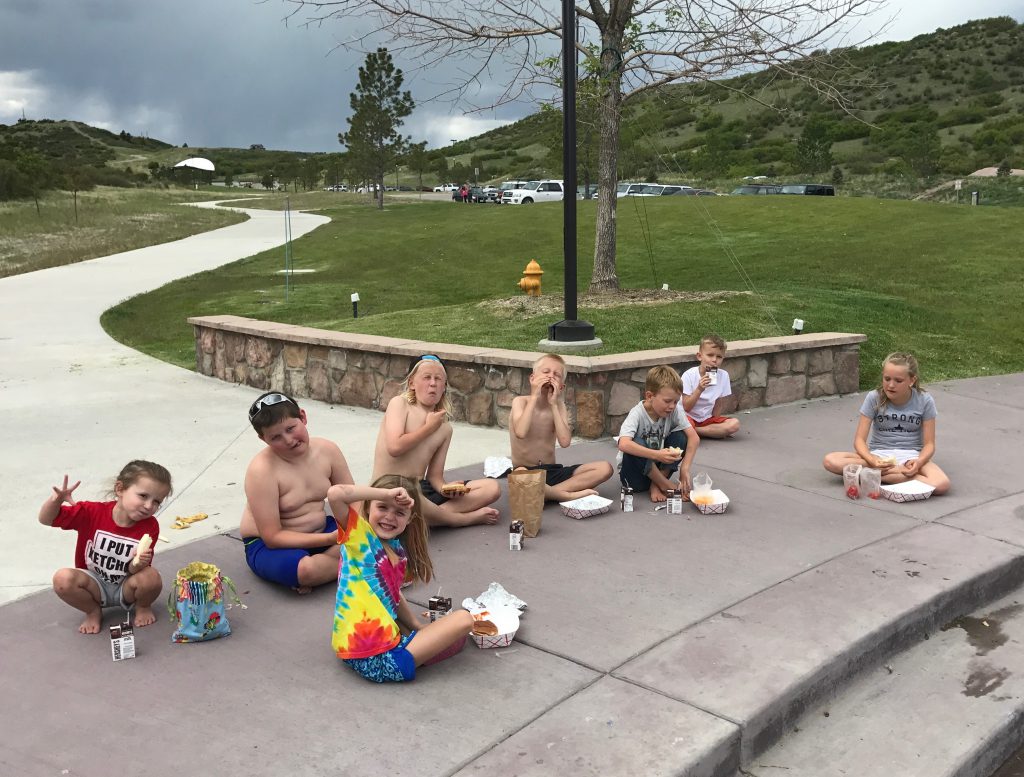 the free lunch did not prevent us from stopping at yolanda's tacos on the way home. after all, the grownups needed to eat. so good.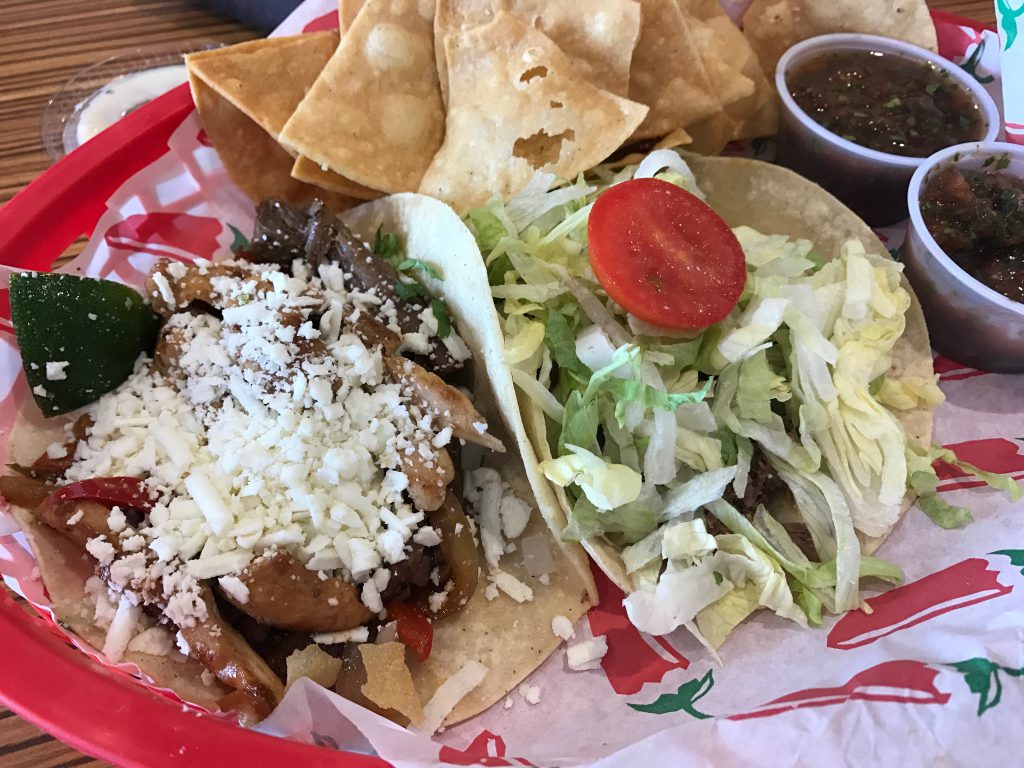 during the whole time i was with chris at the park and lunch, derek was with our honda crv, getting some recall work done and having our brakes looked at. when they came back with an amount of work that needed to be done that put us in that "how much money do you put in an old car" dilemma, we decided it was time to pull the trigger on a new vehicle. it's hard enough to deal with car repairs at home with two vehicles. but on the road, with just one, it's seriously annoying. so, i now present to you, the fanciest thing i have ever owned, my new subaru outback. i love it.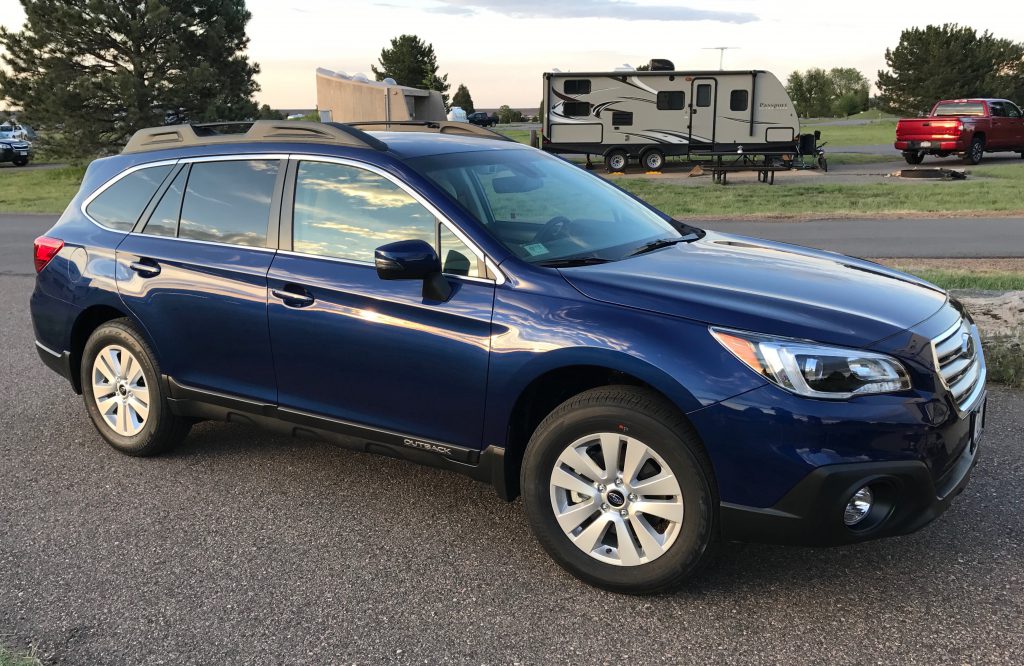 thanks to the new car payment, i'll be shopping exclusively at thrift stores for the next five years, so i figured i should get to it. i located an arc thrift store nearby, loaded up in the new subie and got my thrift on. i found some good stuff for the kiddos, but my highlight was this sweet crocheted granny square afghan. i love the colors so so much.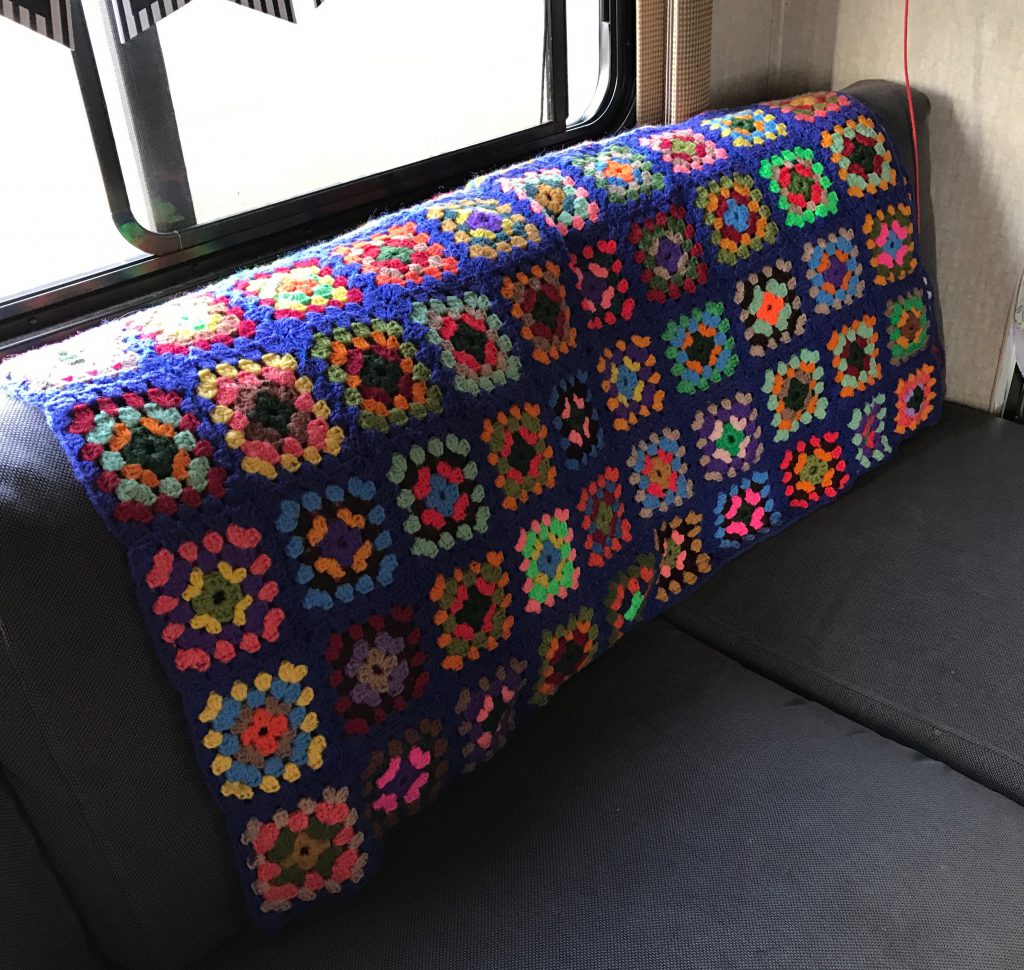 on our last possible night for a campfire, we used up our firewood and made a bunch of s'mores.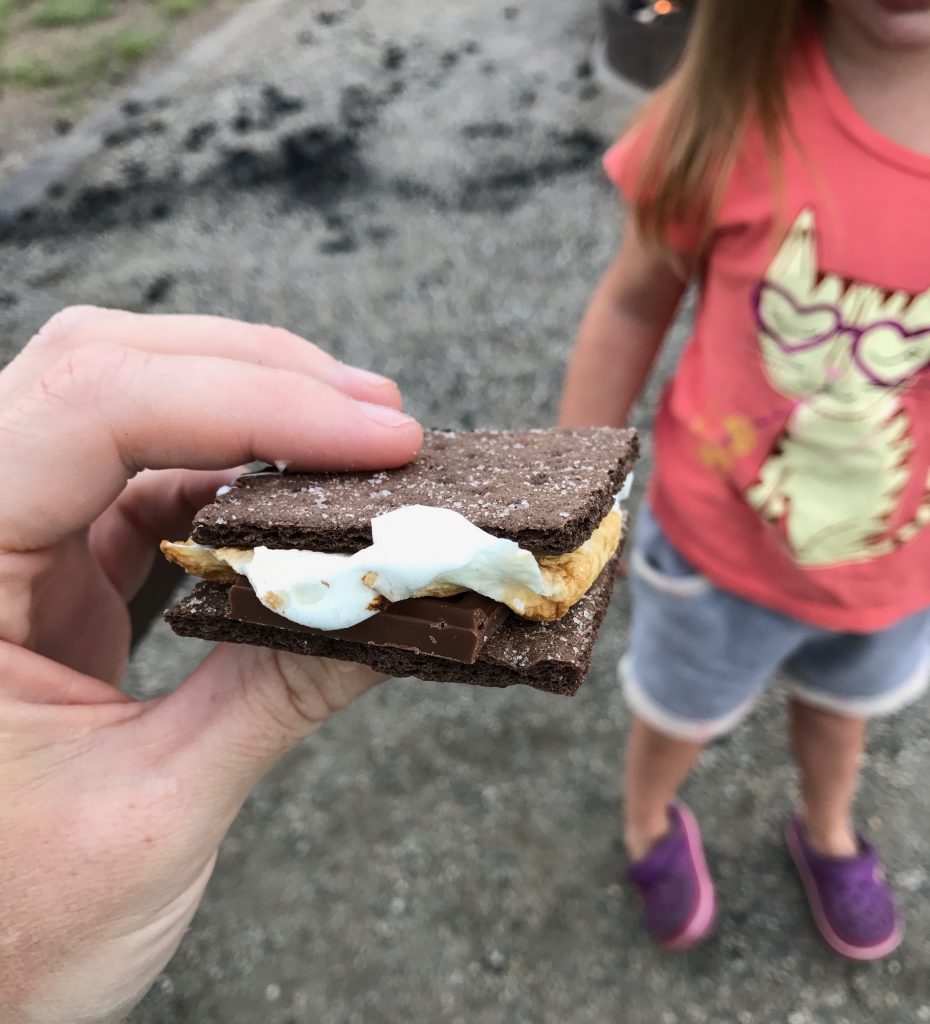 another thrift find. this cool hoodie. anna is the unabomber.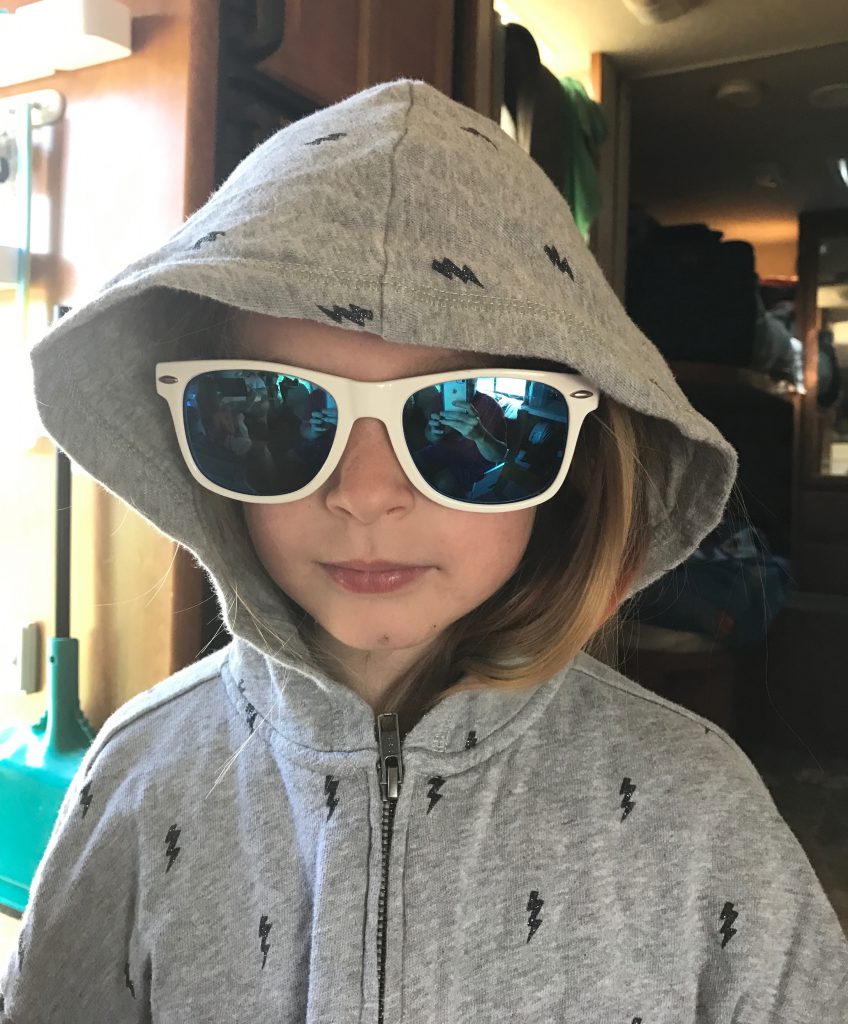 on our final day in denver, we went over to jason's apartment complex, for a quick dip in the pool and to say farewell to grace and liam. (isaac had spent the night with liam and they had a great time. my kids are really bummed to be leaving them).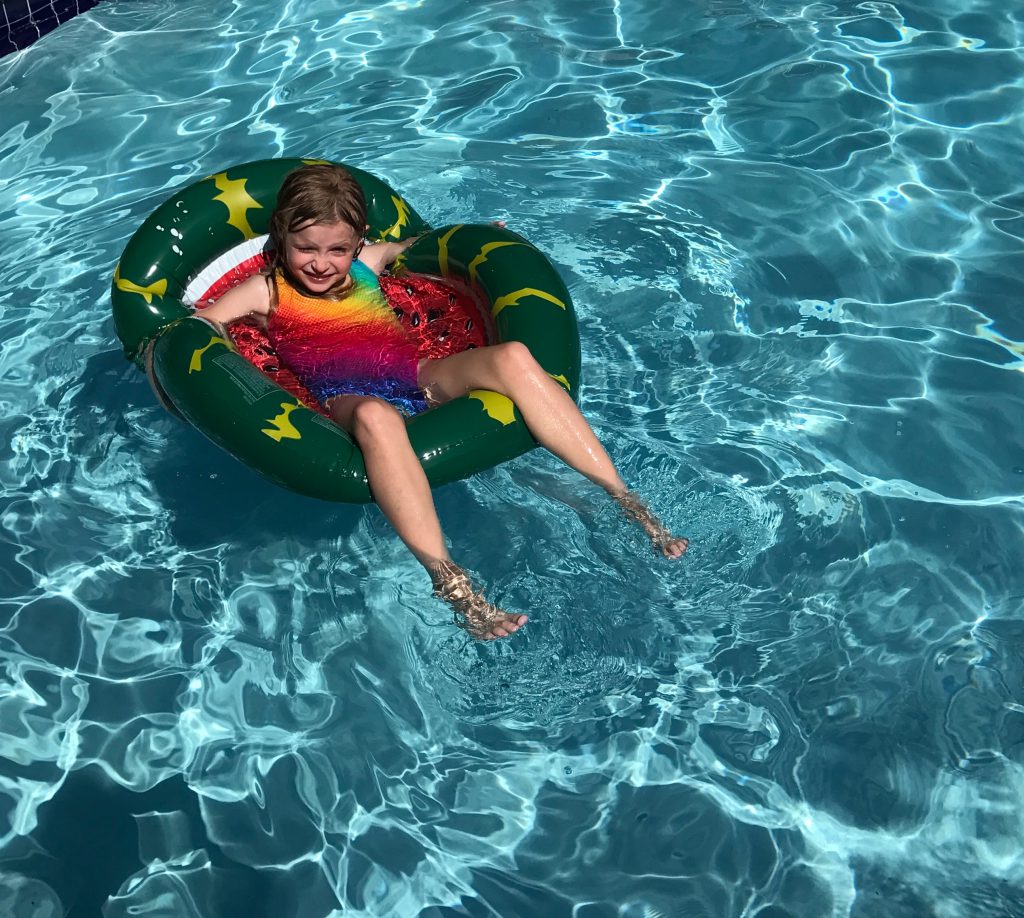 jason's girlfriend took this great pic of all the kids (hers included).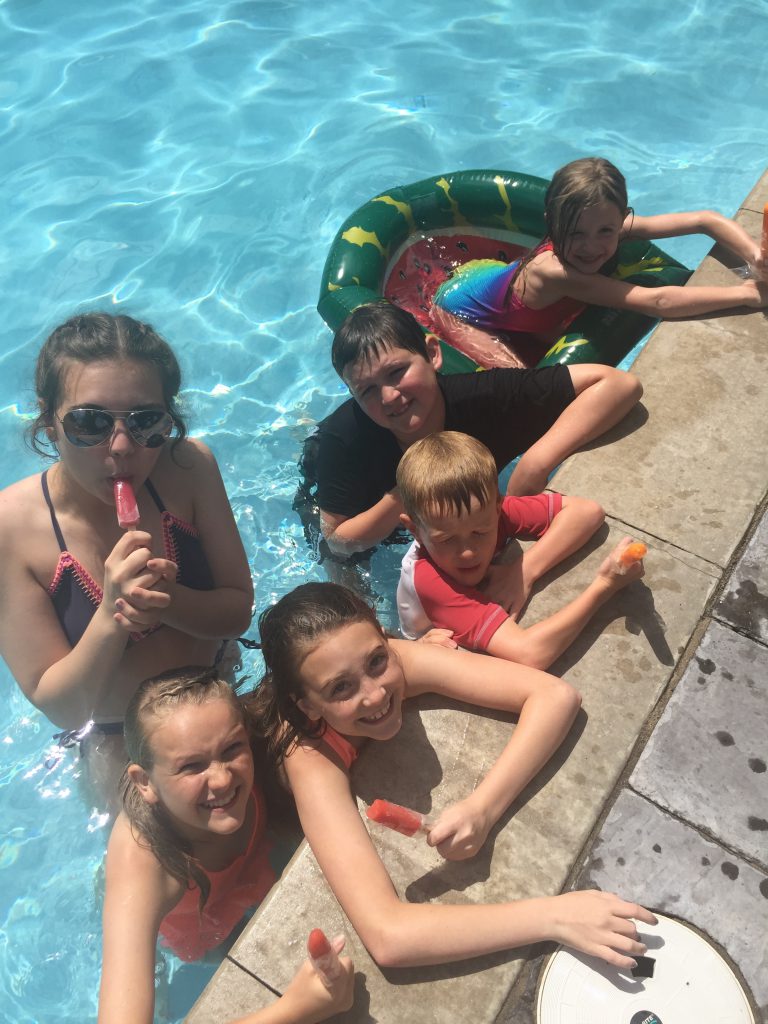 finally, on our very last night, we went over to my mom's cousin's house. if i've met her before (i'm sure i must have), i don't remember. we never spent a lot of time with my grampa's family that i remember growing up. i was actually kind of dreading the night, but we ended up having a blast. my kiddos hit it off with hers (two girls, 8 and 6) and anna, who has a paralyzing fear of my not being within eyesight, begged to spend the night. i was bummed that we didn't plan the hangout for earlier in the week so the kids could hang out again. oh well. maybe next time through…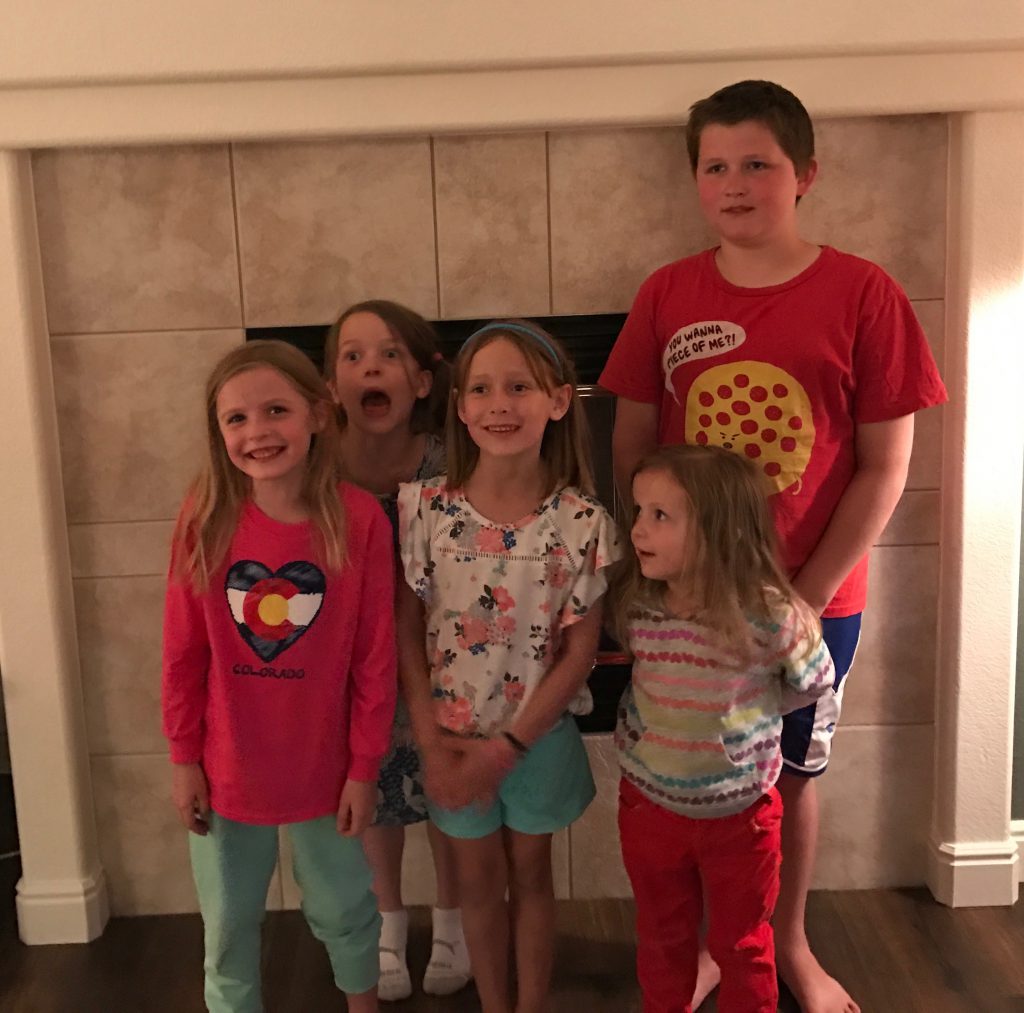 and thus ends our time in denver. it went by too quickly for sure.