ok. so canyonlands is basically divided into three parts, separated by the colorado and green rivers. to the north, is the island in the sky district, which has a lot of short hikes and overlooks, and is where we had gone for all of our adventures up until now. to the west is the maze district, which is mostly inaccessible except by 4×4 high clearance vehicles and extreme backpackers. to the east is the needles district, which is sort of a mix of the first two. anna and i decided that we wanted to explore the needles, but since it's a two hour drive from our campground (those pesky canyons), we determined that a camping trip was necessary. this time, hazel decided that she would like to accompany us. a girls trip!
we were trying to figure out the timing of it, because derek was studying for his test for the first two weeks in moab. and we have friends coming for our last week. so. the third week it would be. we chose a two day stretch that seemed to have good weather. we settled on last thursday to friday. so, on wednesday, we hit the grocery store to stock up on supplies and packed the car for an early morning adventure.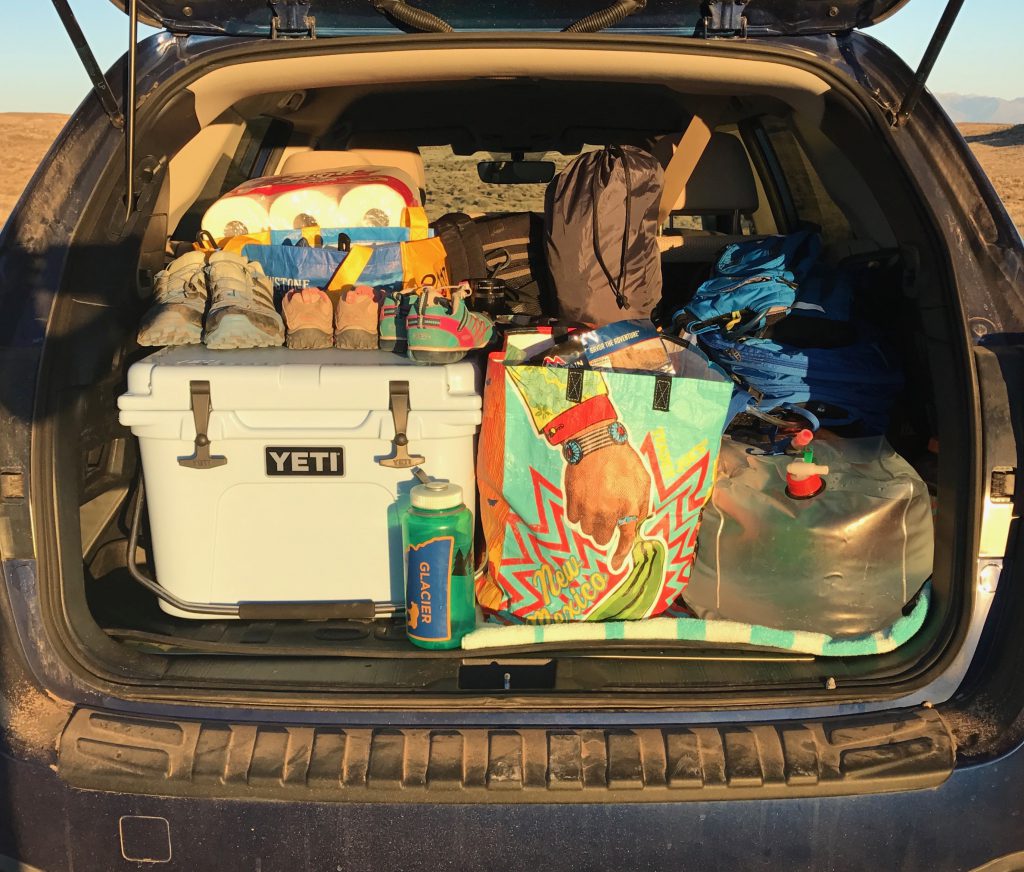 we left the campsite around 6 am, hoping to beat the masses flocking in to get a campsite at the 14 available first come first serve sites. as we rolled in, a man waved at us an indicated that he would be checking out and we could stake claim to his site. we filled out our envelope, put in some cash, stuffed it in the pay station and got our ticket up on the post as fast as we could. he let us leave a chair to ensure our stake was claimed. then we took off for a couple of hours to let them finish their breakfast and camp breakdown in peace. we decided to take a drive down a windy dirt road towards elephant hill.
when the road for normal vehicles ended (and we do not have a 4×4 high clearance jeep with fancy special self rescuing equipment), we parked and headed down a hiking trail. it quickly turned adventurous, starting with this fun staircase.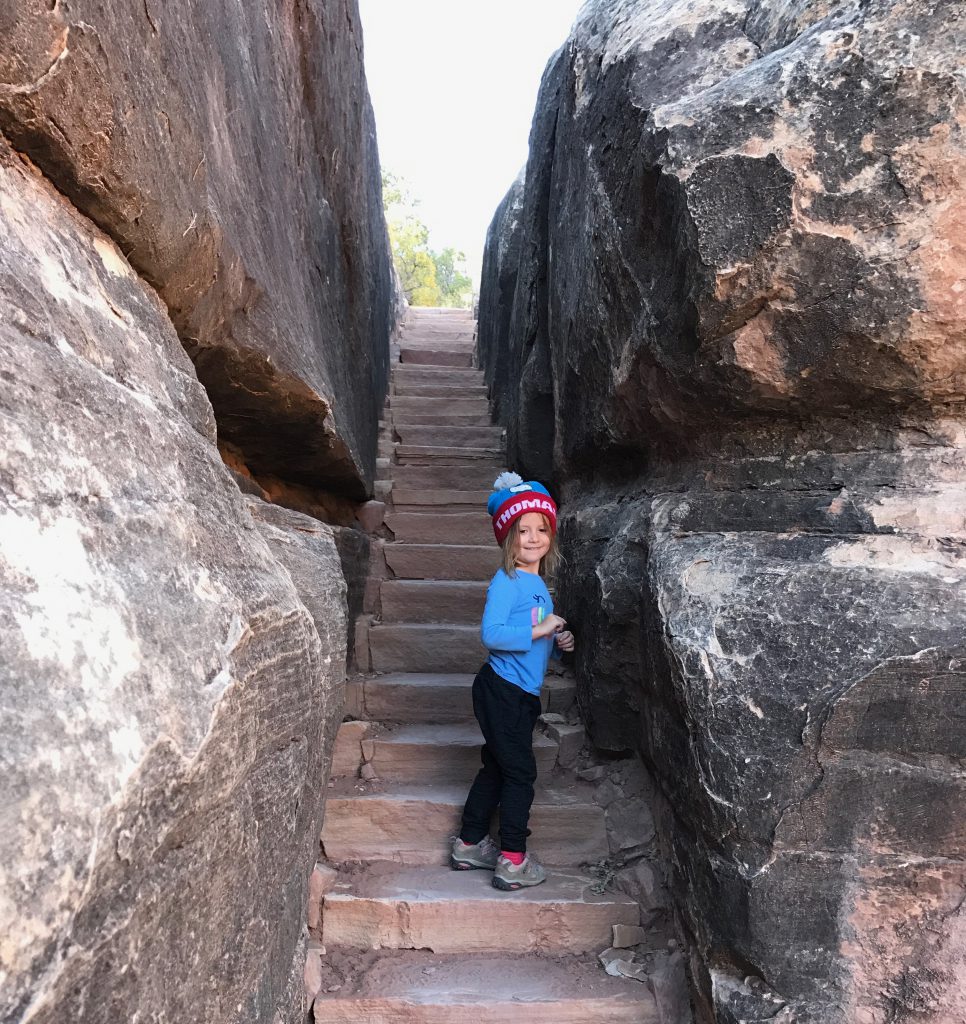 we didn't go too far. the sign pretty much said it was 6 miles to whatever spot the trail led to so we knew we were only just goofing around for a bit. anna tested out her new camera, taking some shots of the beautiful scenery.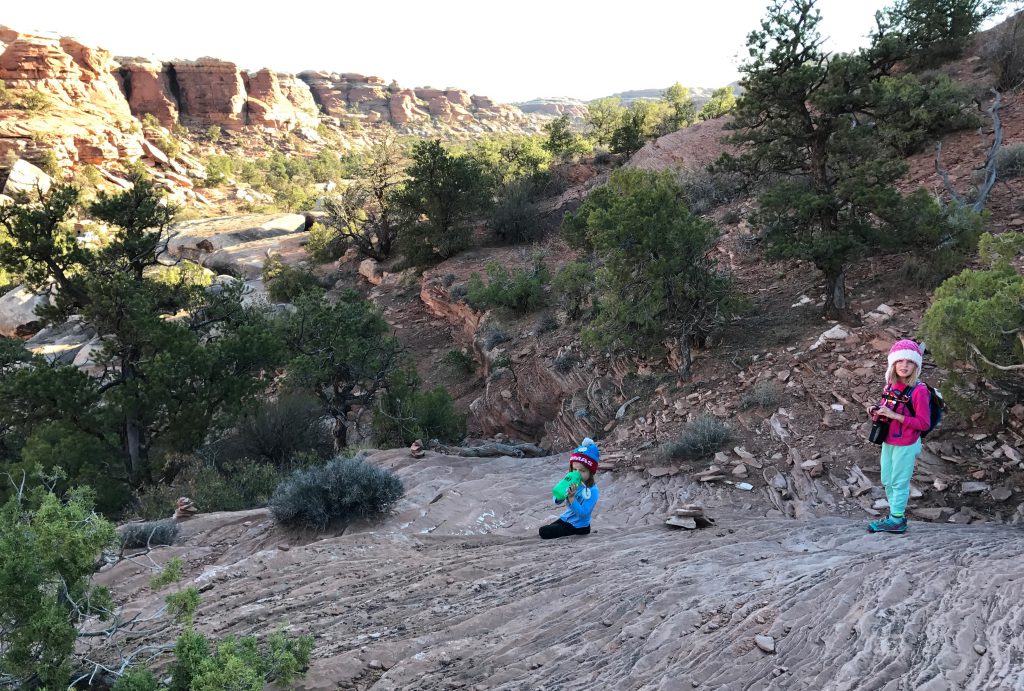 my cute little outdoorsgirl.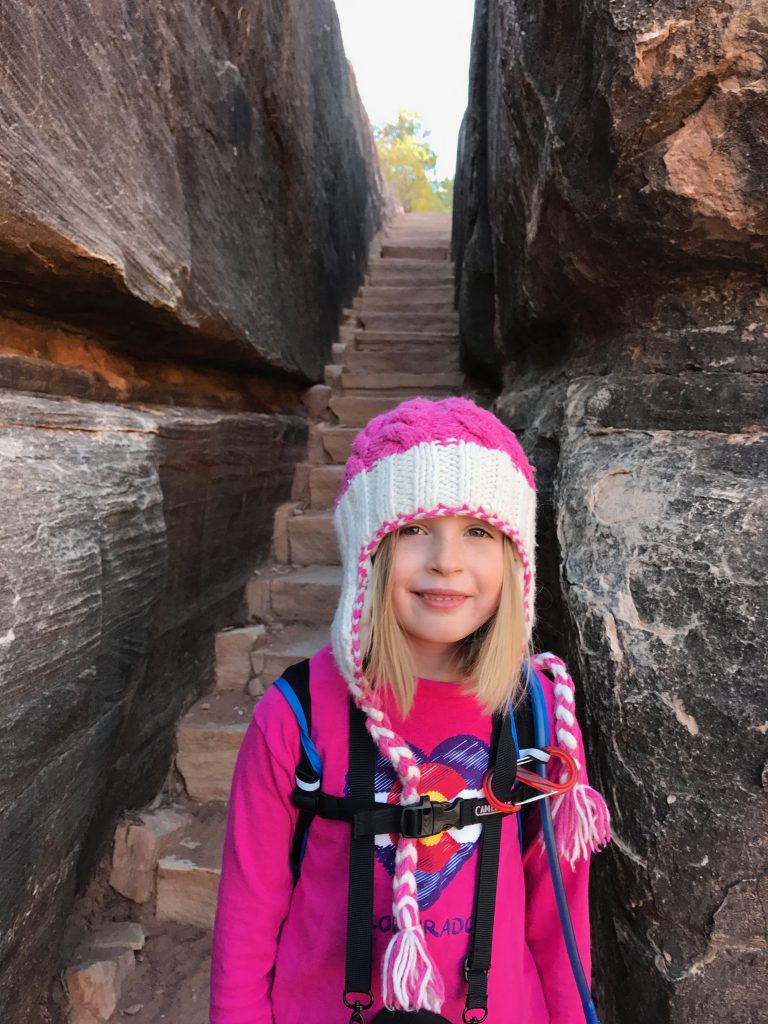 anna insisted on this "look at this big rock i climbed" photo.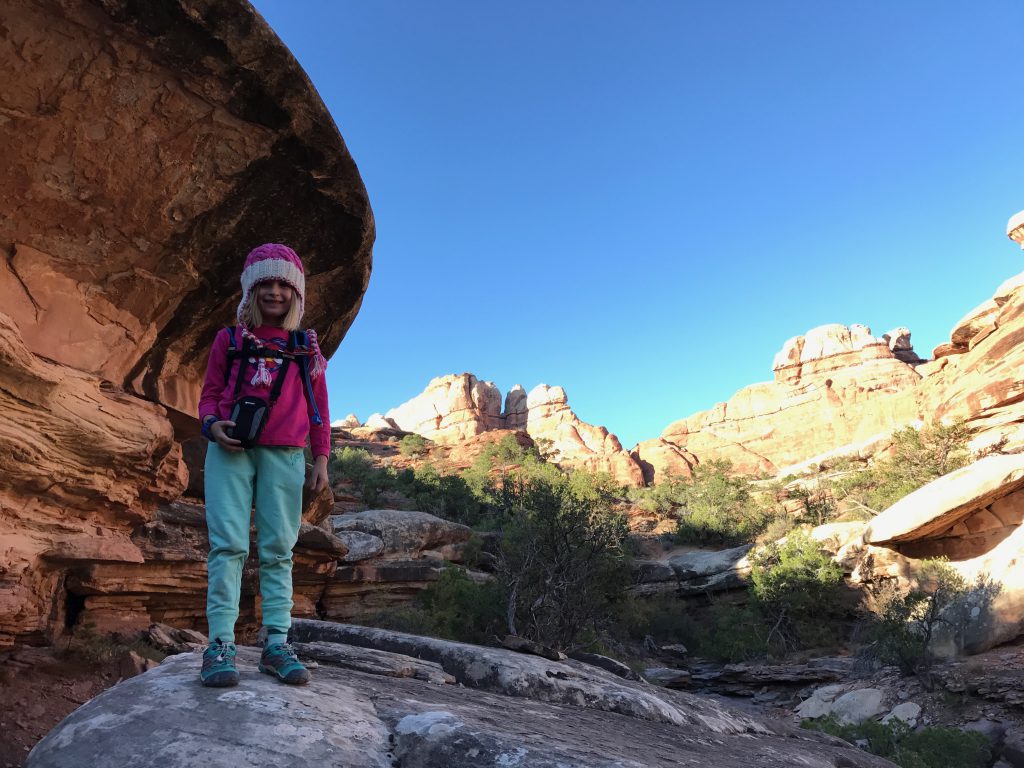 when we got back, we drove through the campground to see if our site was empty yet and it was, so we set up camp. er. i set up camp while the girls played. then we backtracked to the visitor center to get a map and some information about hikes. while i was there, i somehow managed to tweak my back just right, making me worried that this entire trip was going to be complete misery. i popped a bunch of ibuprofen that i found in the glove compartment and crossed my fingers. then, we decided to take the official scenic drive through the park, getting our bearings and hopping out at the end to take some pictures at the overlooks.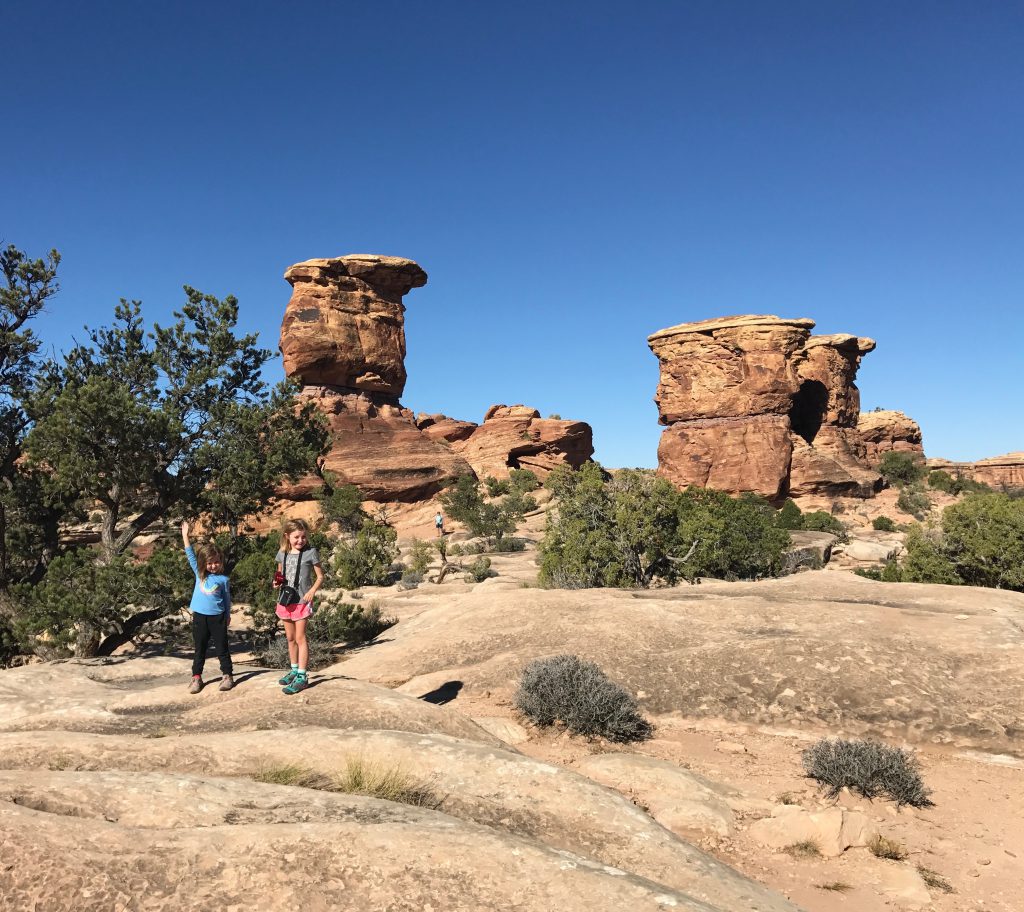 of course we couldn't just look out, we had to do a bit of climbing.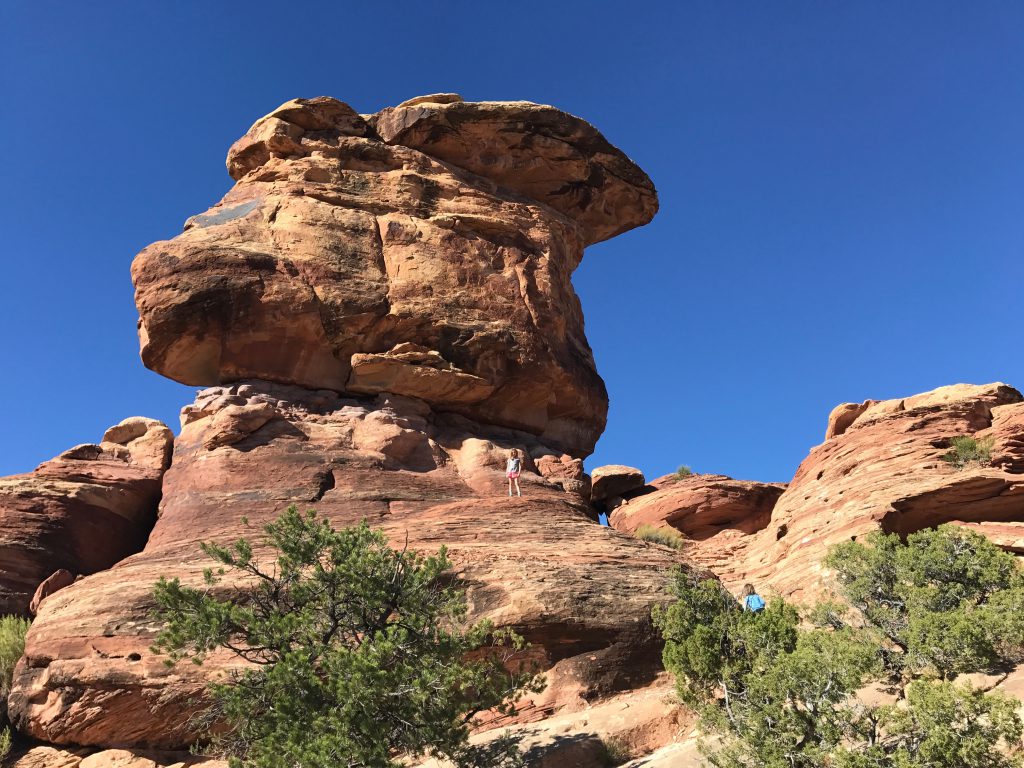 back at our campsite, i convinced the girls to relax in the tent with me for a bit, to see if my back would start to feel better. relax as much as you can with a thin blow up pad separating my back from the cold hard ground. they were happy to oblige, for a bit, before they began climbing all over the rocks that made the backdrop of our campsite.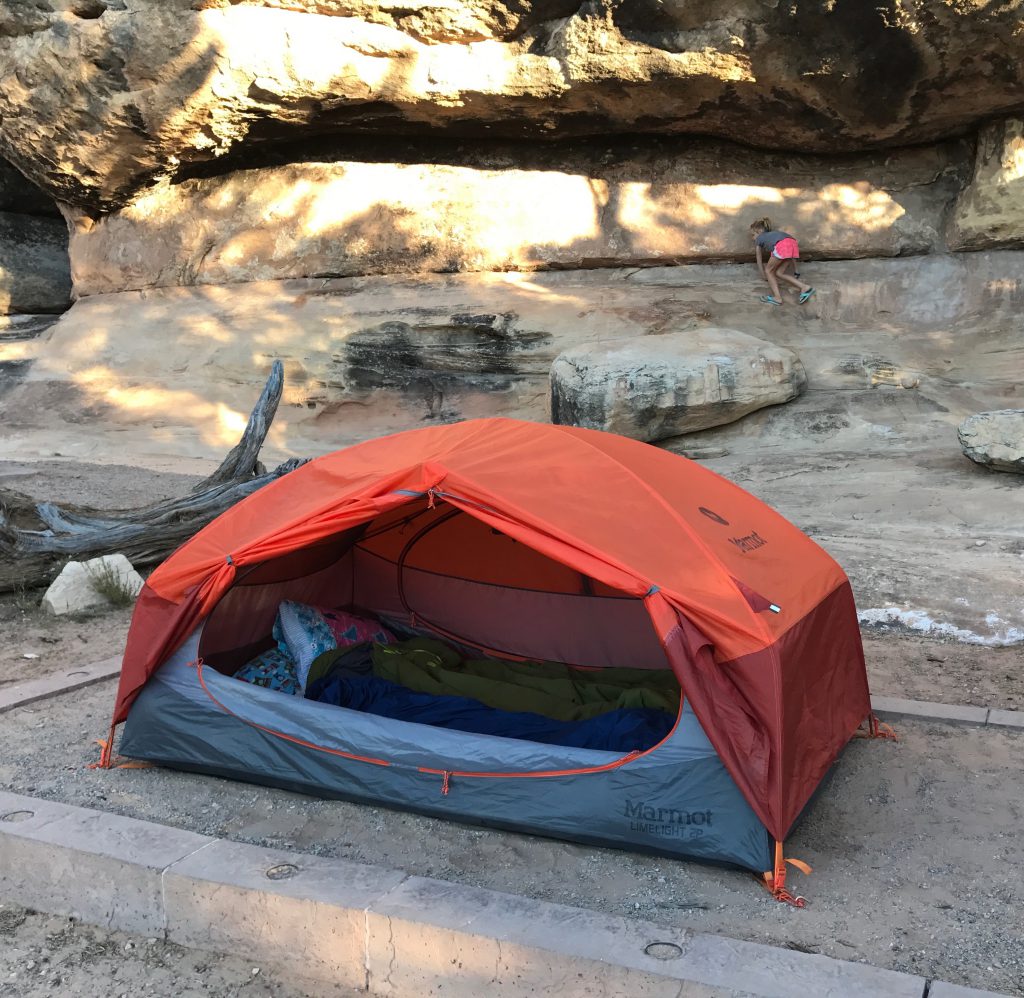 i actually felt a lot better, thankfully, and we decided to take a little two mile loop hike from our campground. it started off pretty chill. a stroll through the desert. then the fun rock stuff started.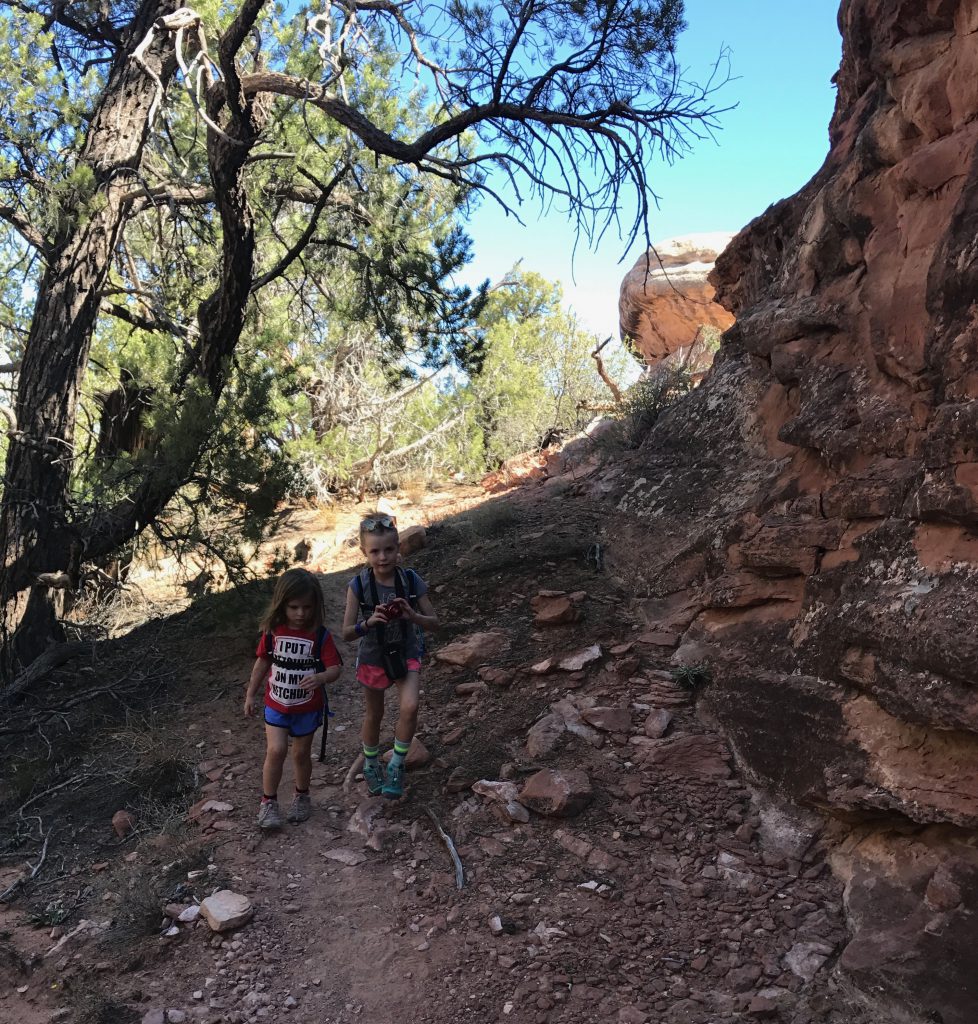 we made our way up a pour off. anna, of course, took the hard way.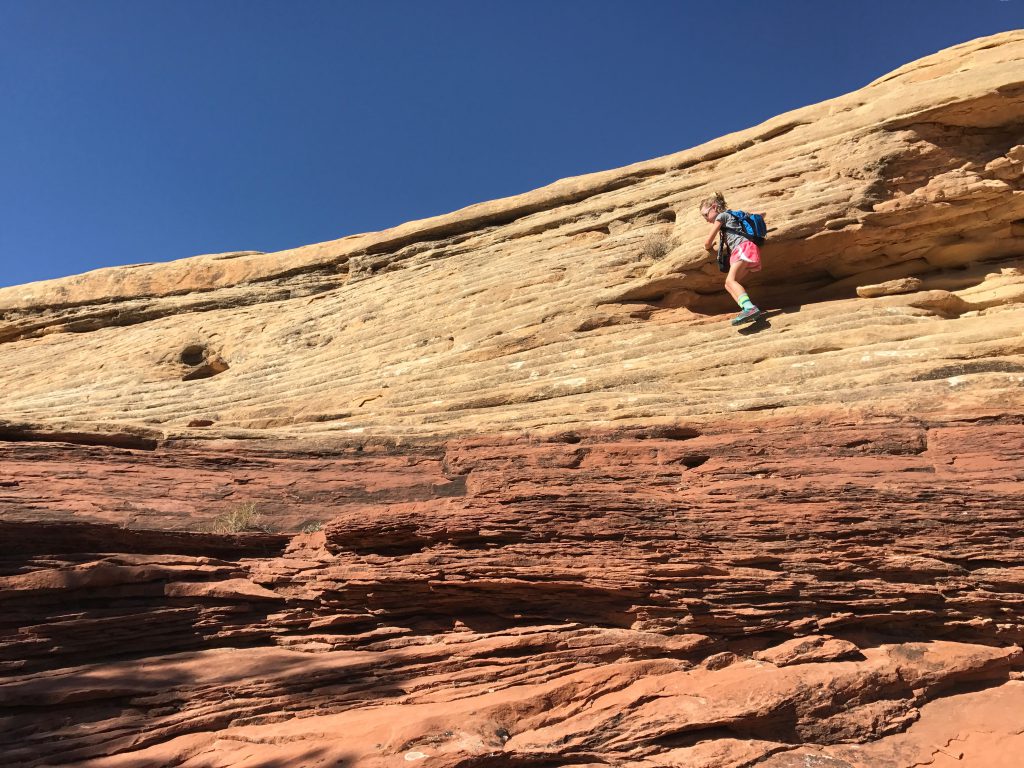 hazel and i went the easy way, preferring to save our energy for the obstacles ahead.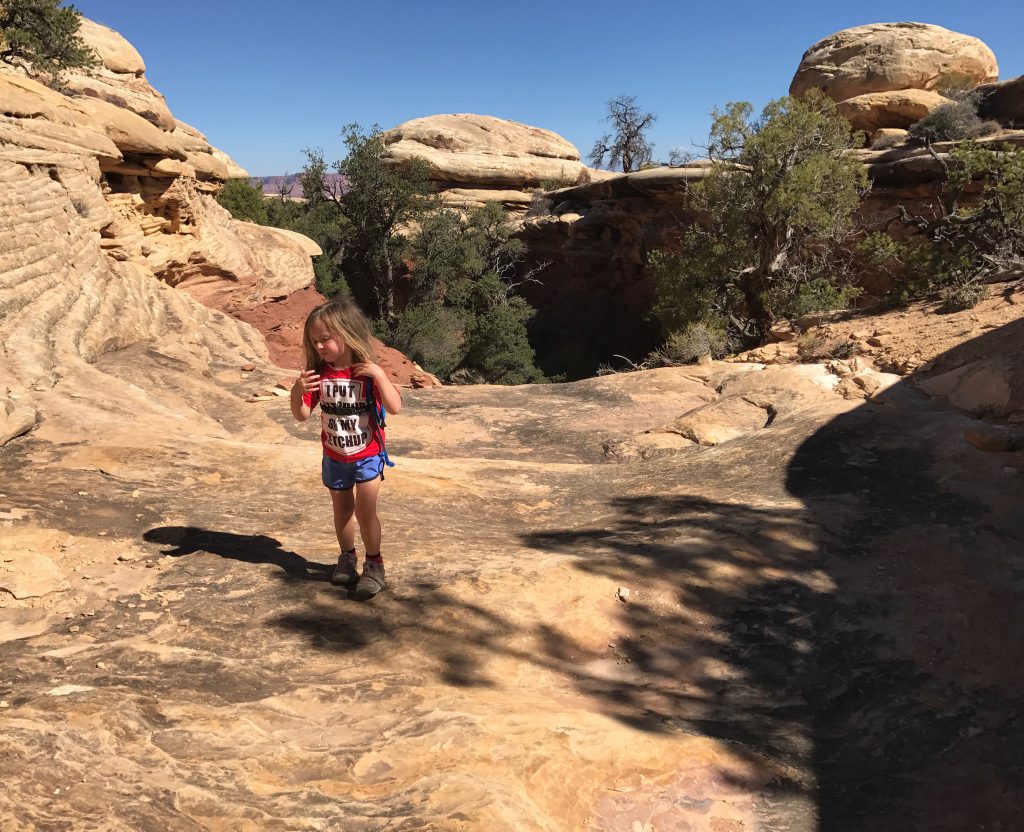 part of the trail was on this giant solid rock. the only way to navigate the trail was to follow the cairns, which are basically pyramid shaped stacks of rocks. unfortunately, folks like to make their own cairns, even though they're not supposed to, so i'm always worried that we are following a rogue trail. here you can see the cairn, on the lower left hand side, just in front of the bush in the white rock area.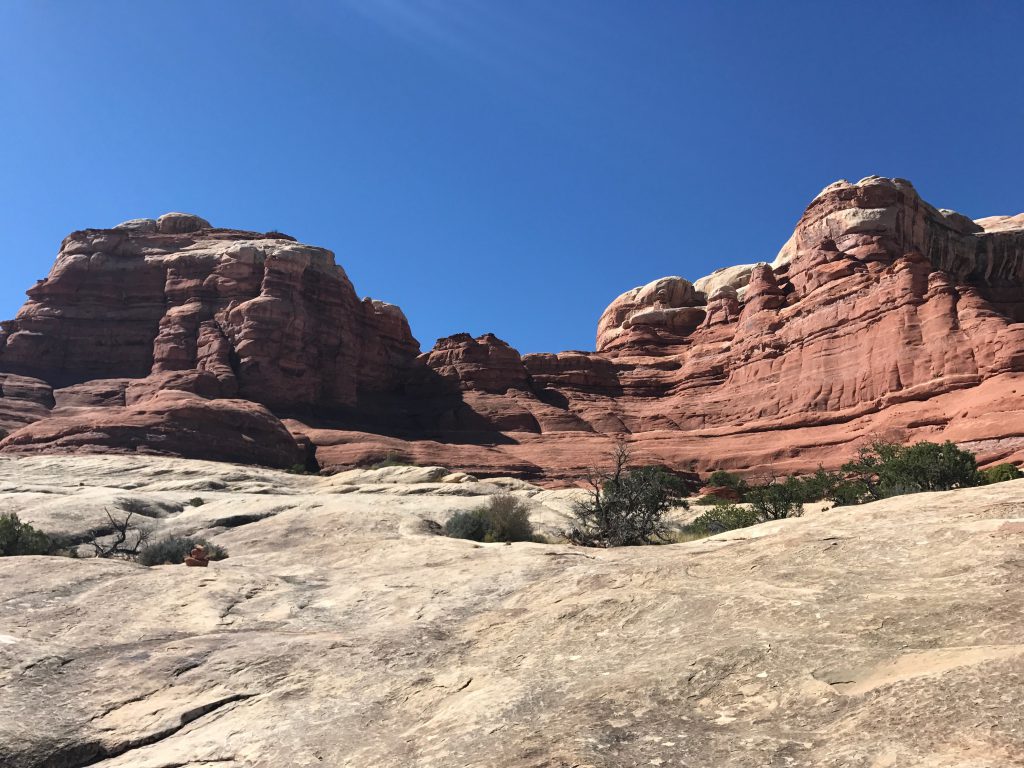 making our way.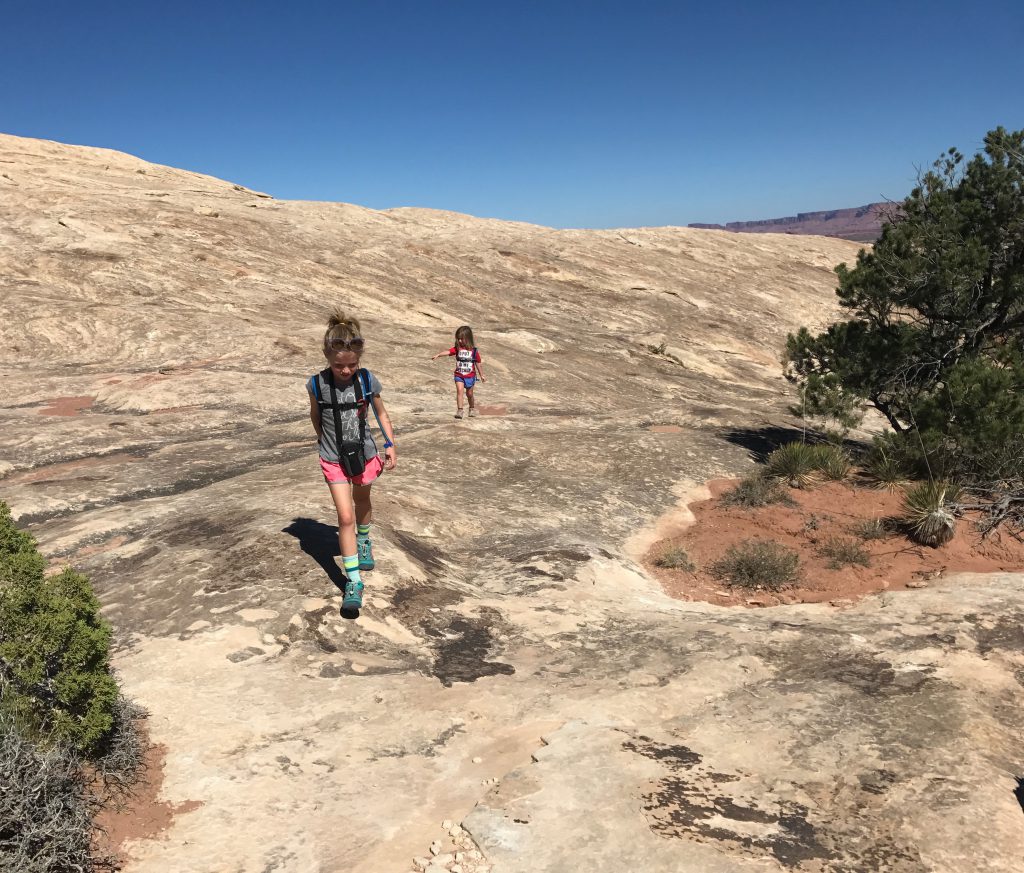 i'm not sure if this was actually the trail or not. i suspect it was just a side trip for adventurous anna.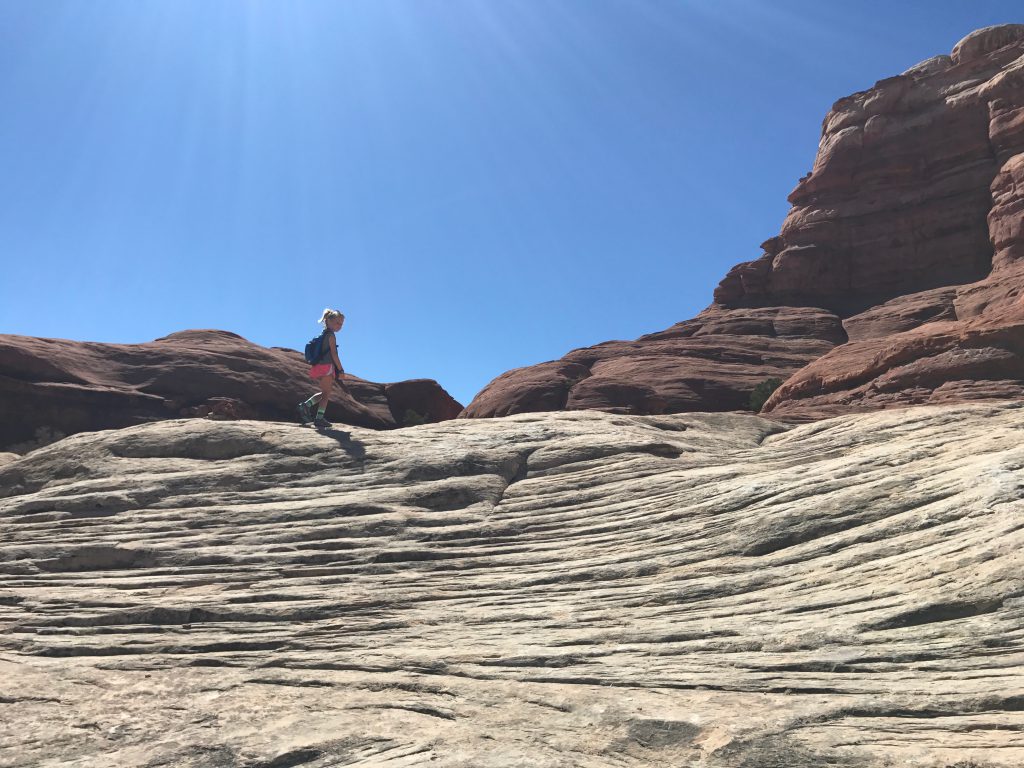 photography time.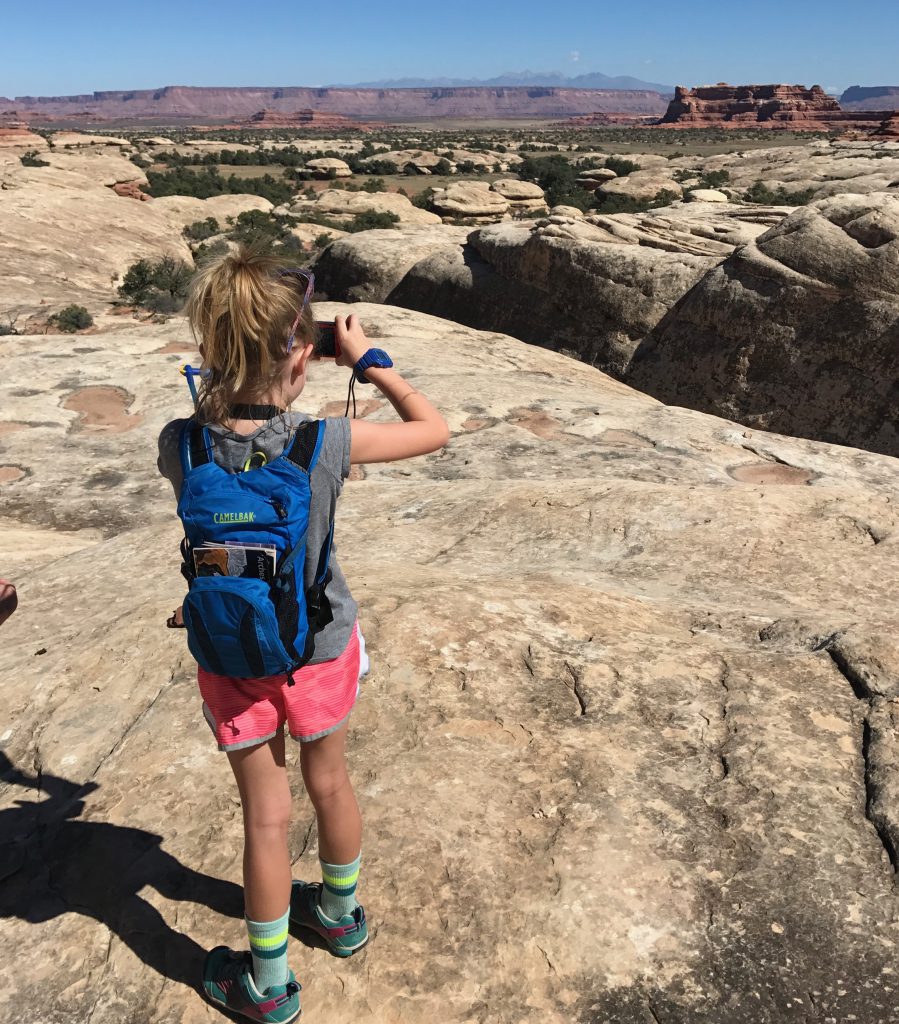 hazel was awesome. she had a blast and trudged along, insisting that she didn't need any help.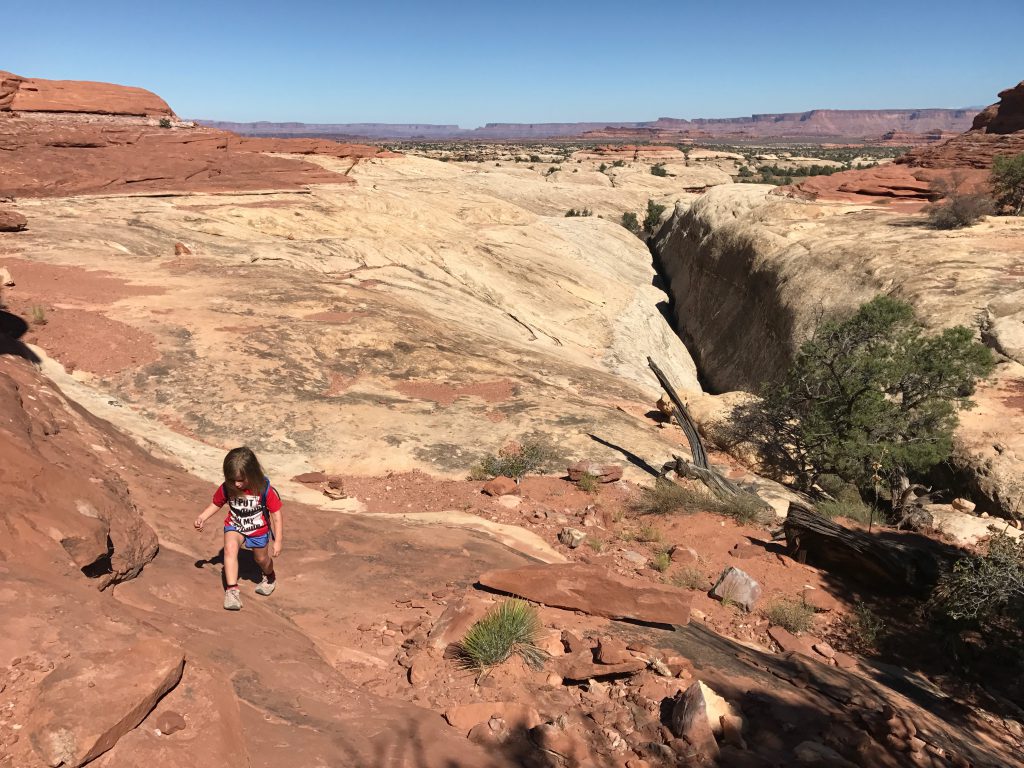 our map had a spot marked "crack". so, we knew that we were not lost when we happened upon this, well, crack.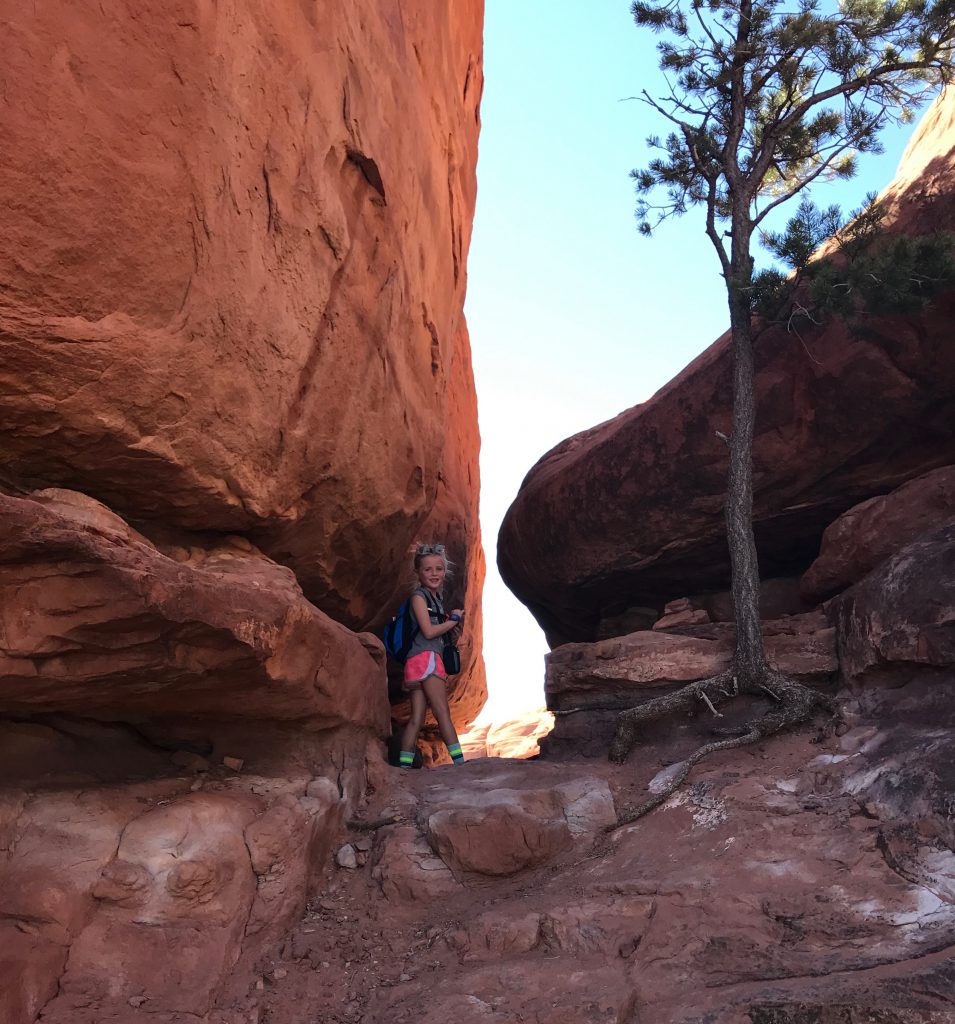 the other side of the crack.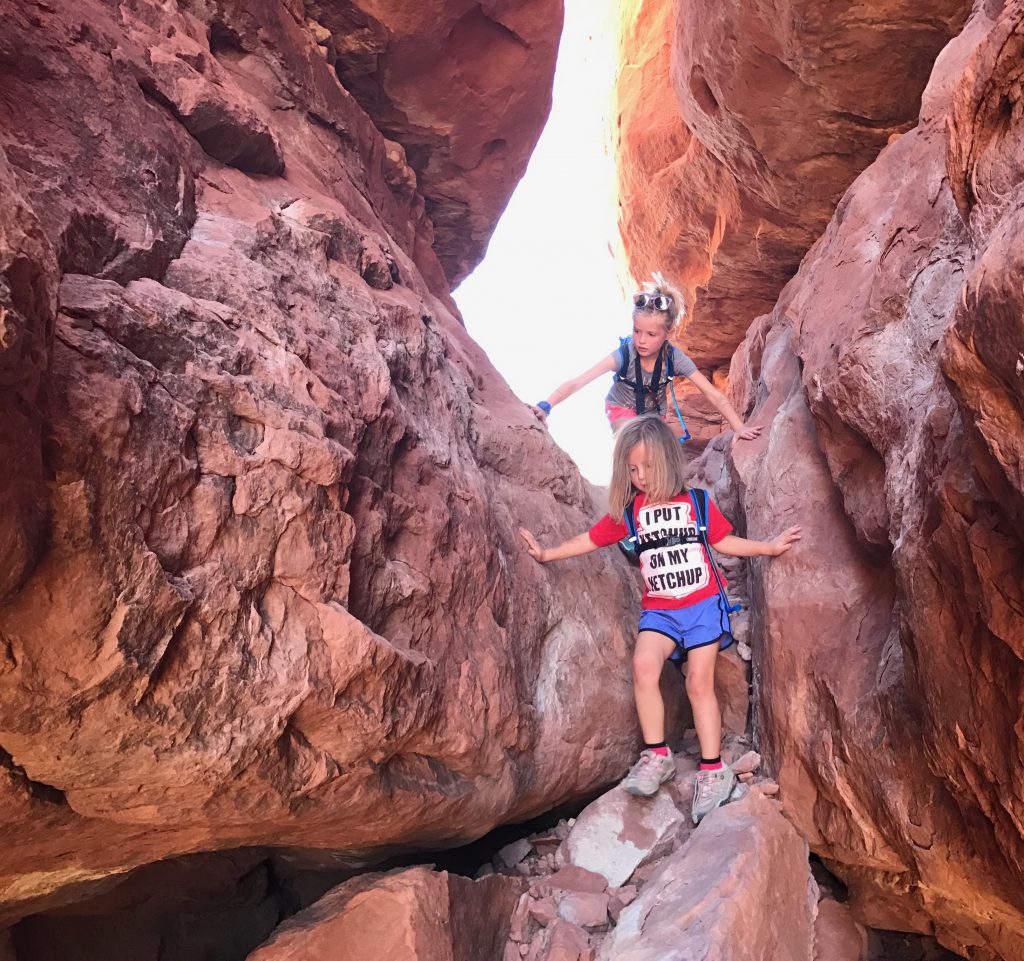 the views on the other side were pretty amazing.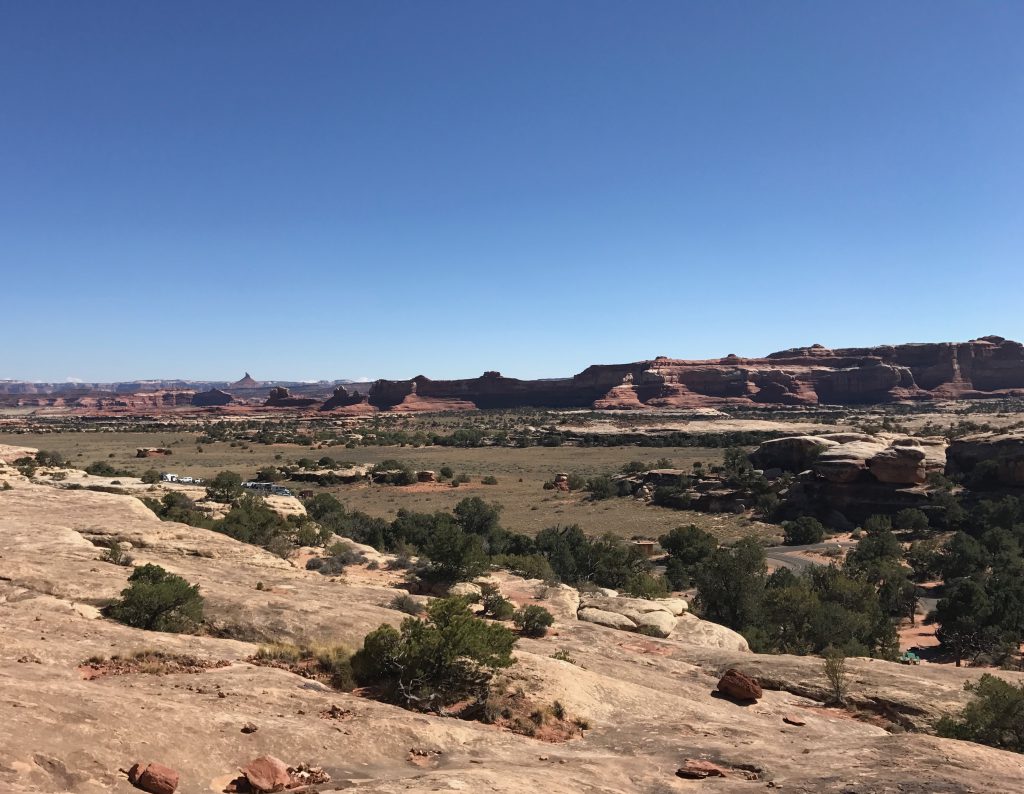 this was one of our first sort of treacherous bits. it was a very thin sort of ledge on a pretty steep rock face. hazel and anna shuffled along without incident.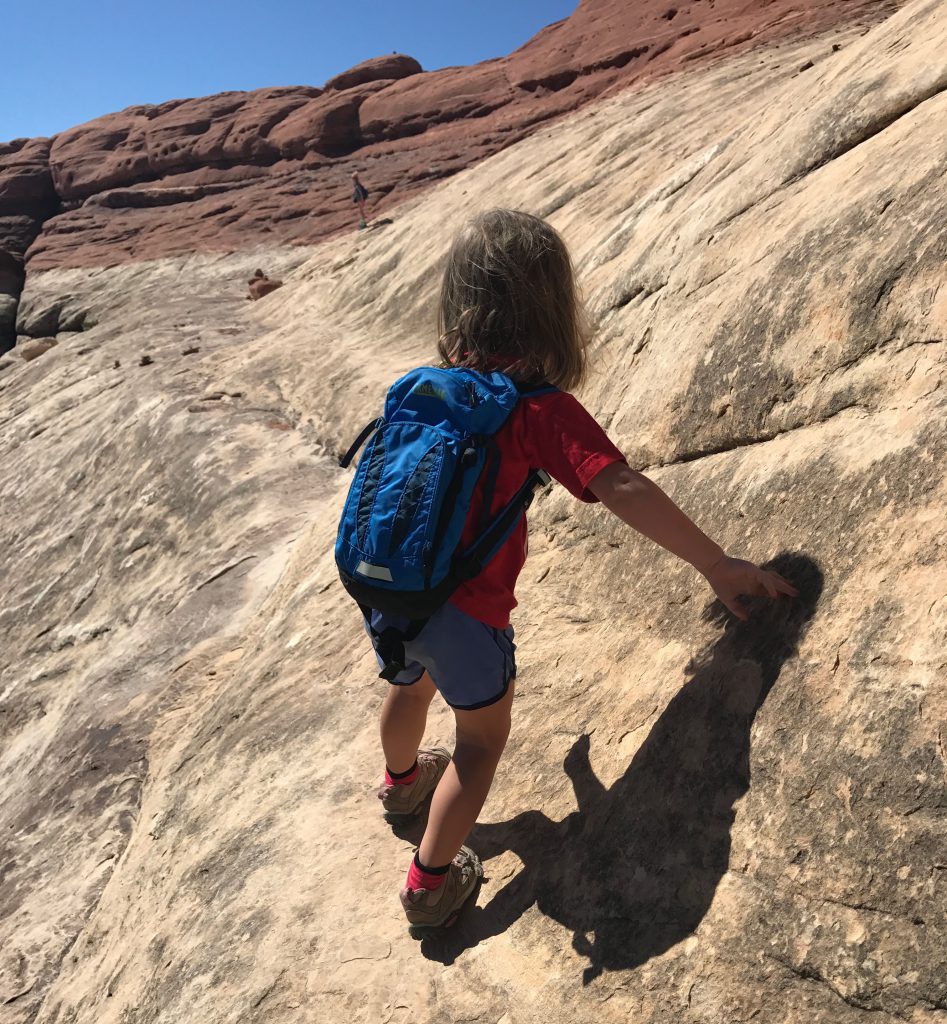 then, we reached the part that was labeled on our map as "cable". it led on a slant up to the long saddle of the mountain/rock we had been slowly ascending all along. there was a bit of rock blasted out for foot holds, but they weren't conveniently place for tiny people to be able to still reach the cable. nonetheless, the lid girls made short work of it and we were soon standing atop of some red rocks, looking at the needles.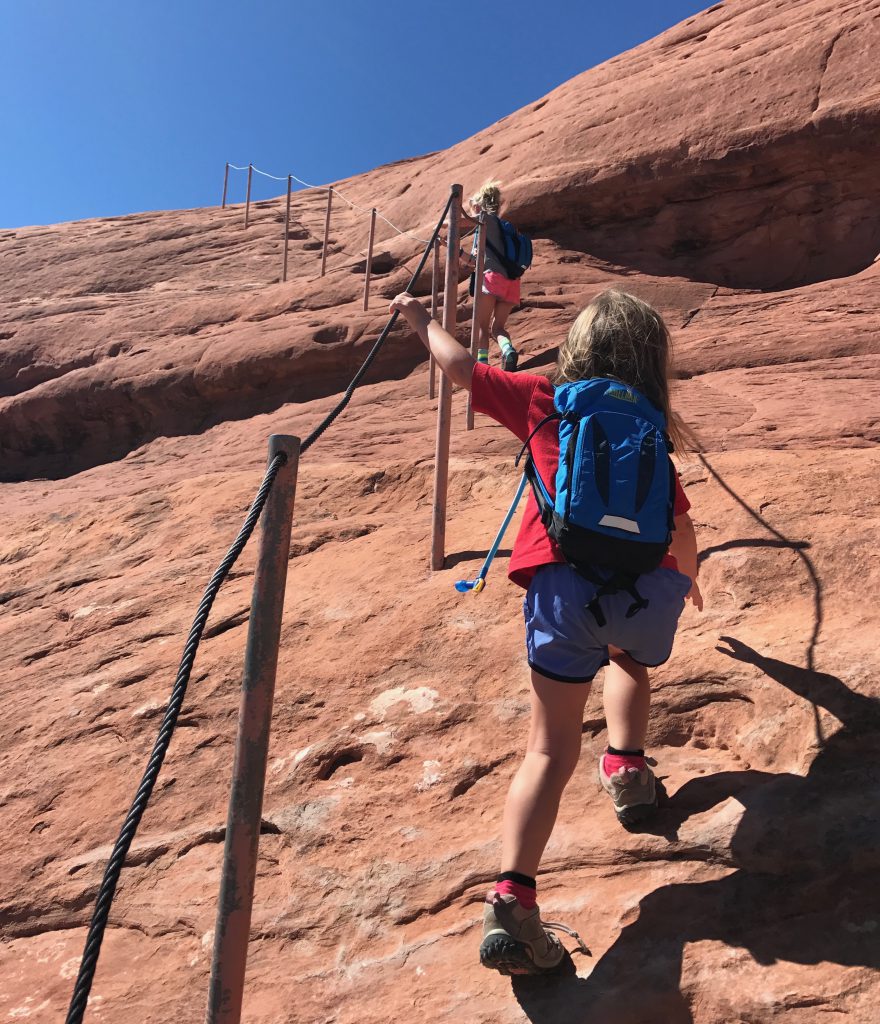 aforementioned needles.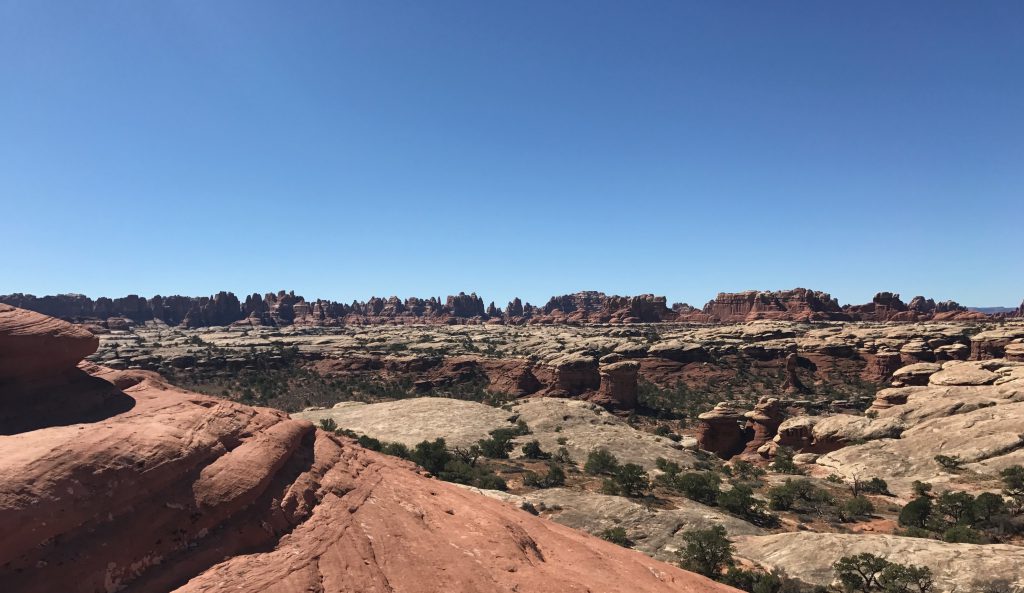 sassy girls needles photo op.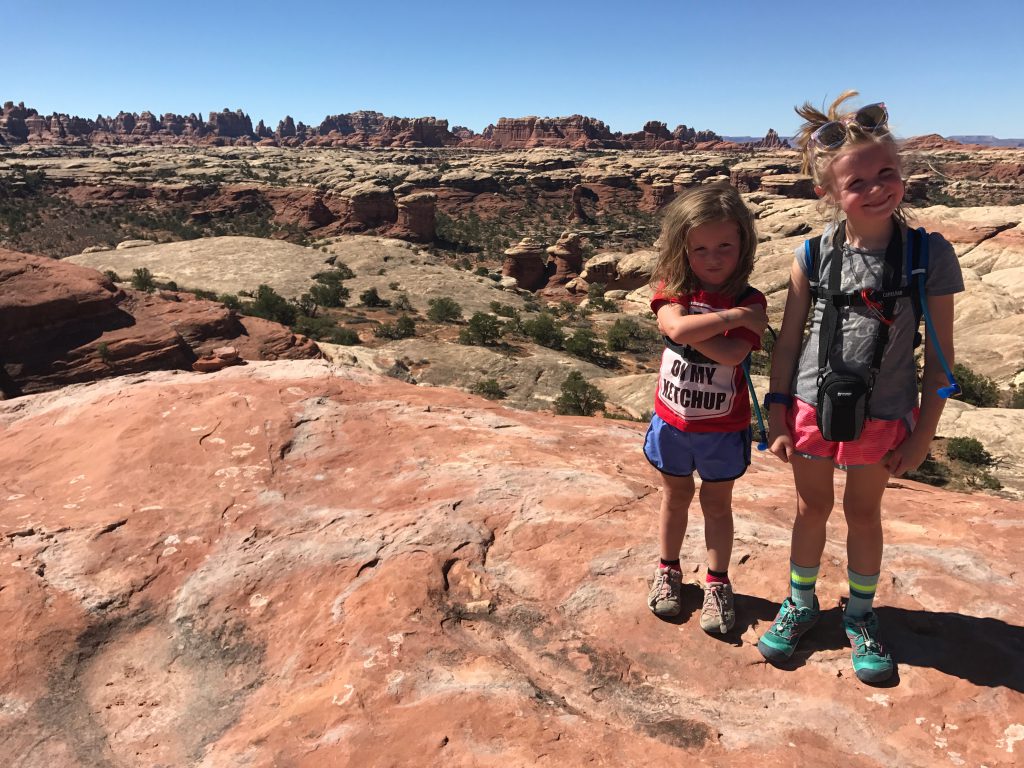 we traveled along the top of the rock wall type formation. it was the second time i was a little nervous. but the girls did fine and no one died.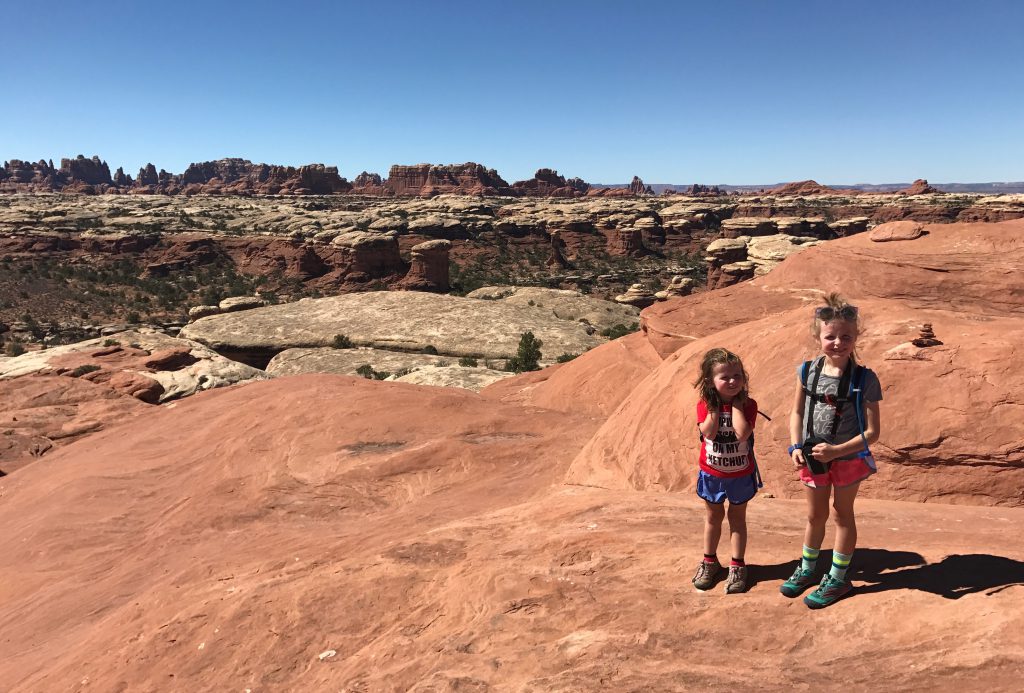 we came down into a less dangerous area and i was able to relax a bit. :).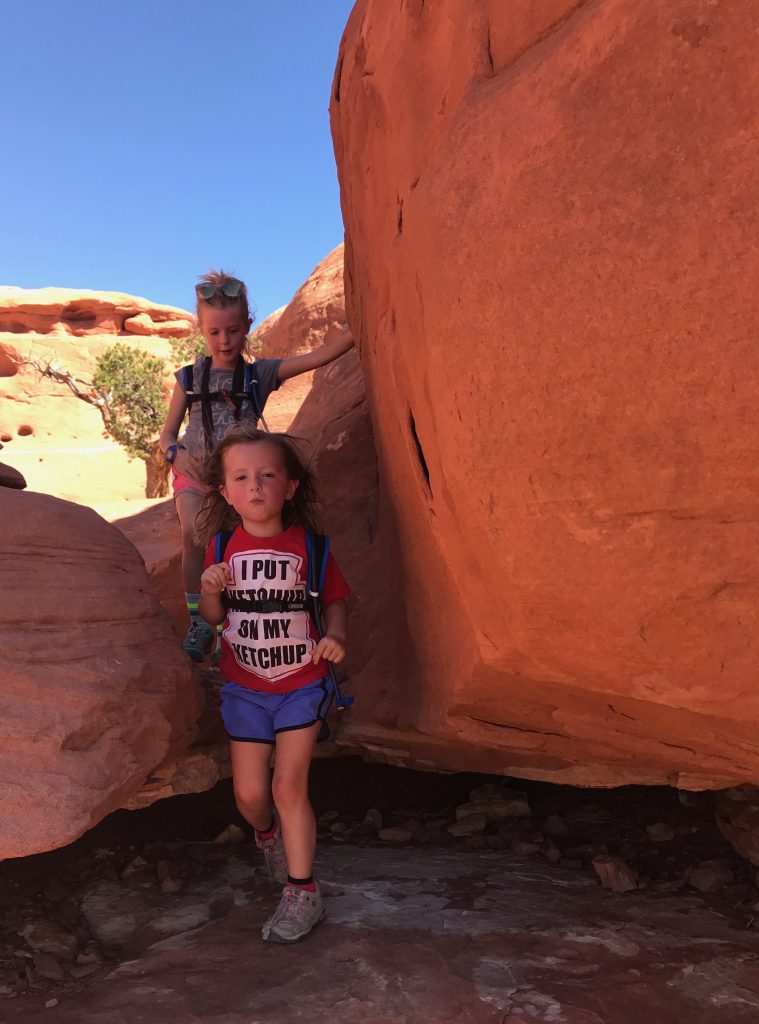 then we found this cool little alcove like area with a bunch of swiss cheese holes in it.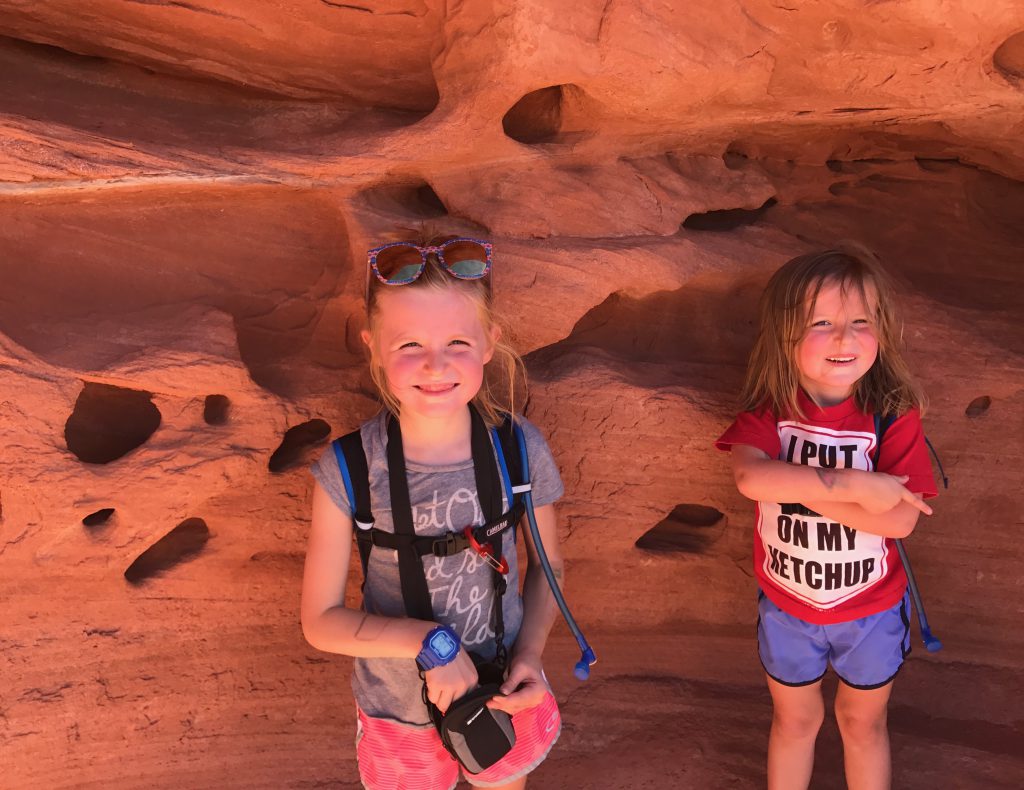 as i was taking pics of the girls in the alcove, hazel shouted out "selfie!!" so i obviously had to oblige.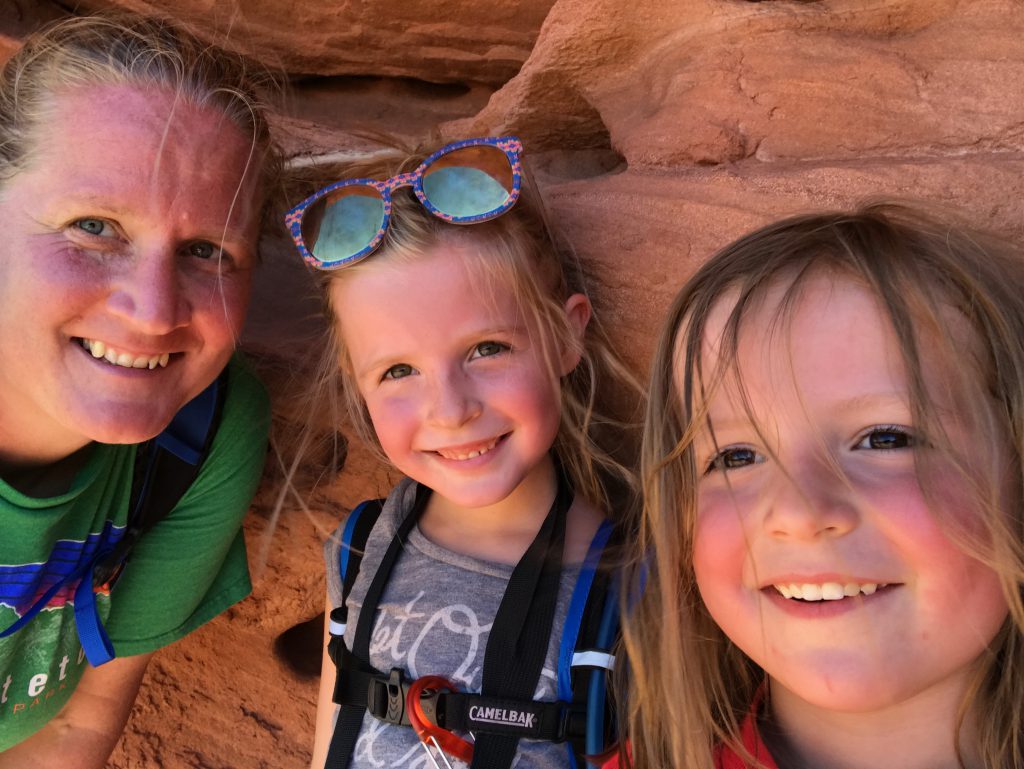 the needles in the distance were so cool. i'm not sure if you can actually hike into them, but we want to.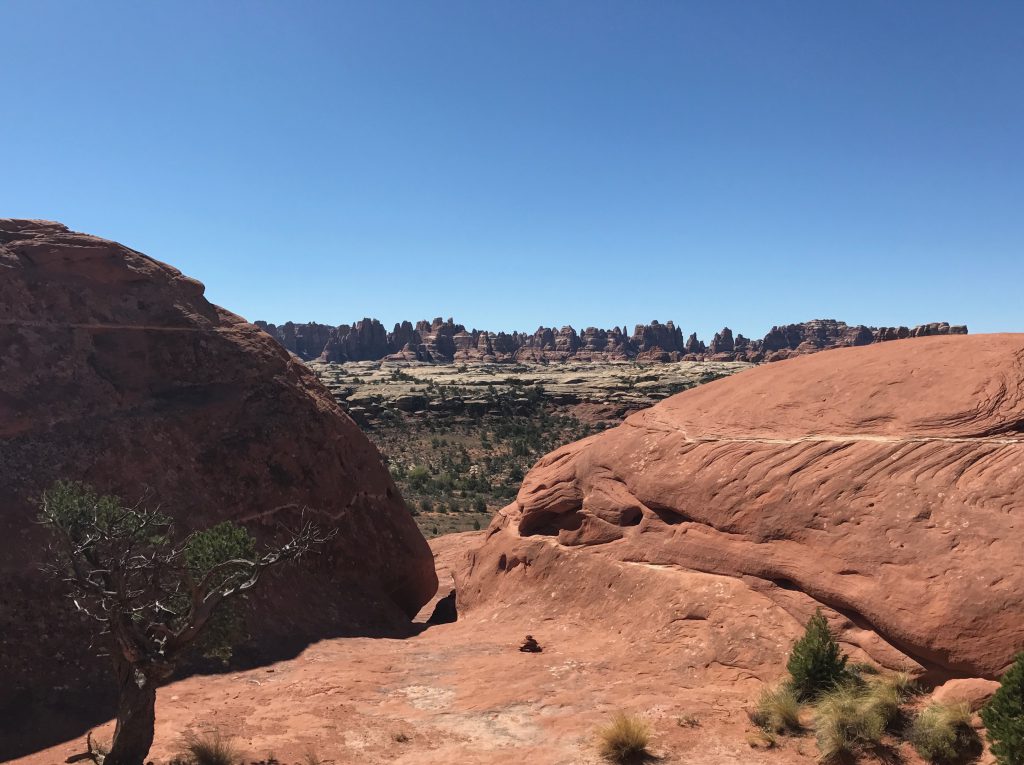 this kid. is getting so big, so fast.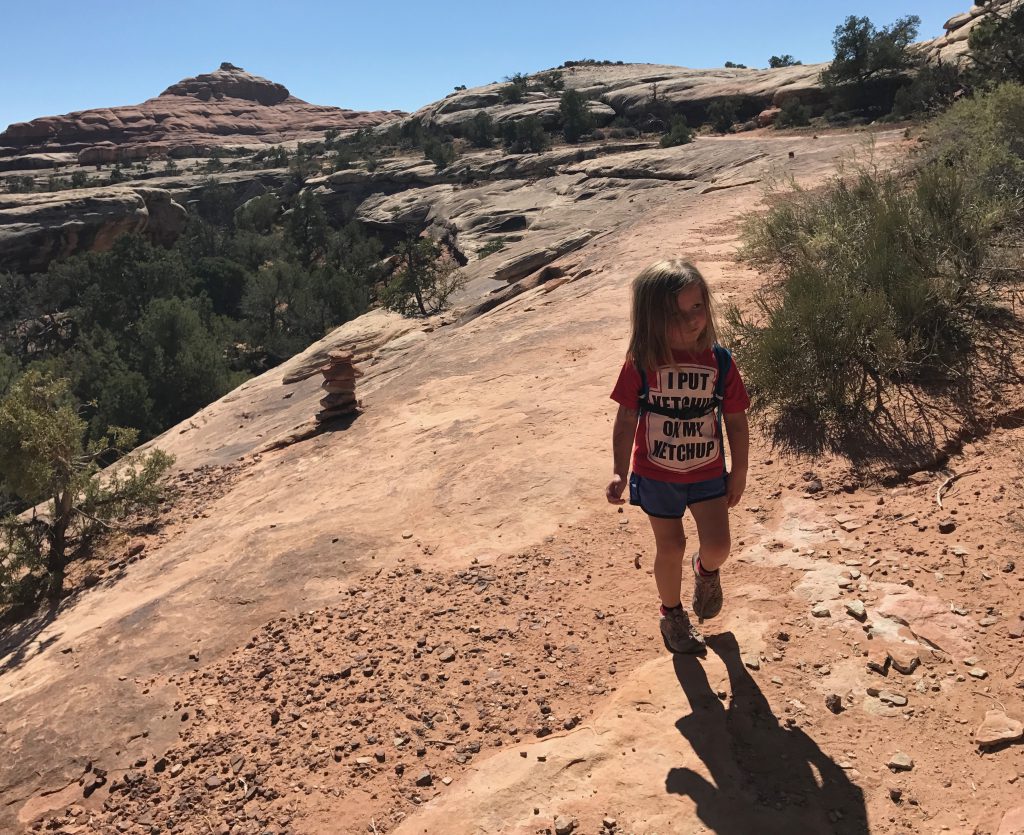 we finally reached the spot that was marked "tunnel" and we knew the rest of the hike was downhill from here, literally and figuratively.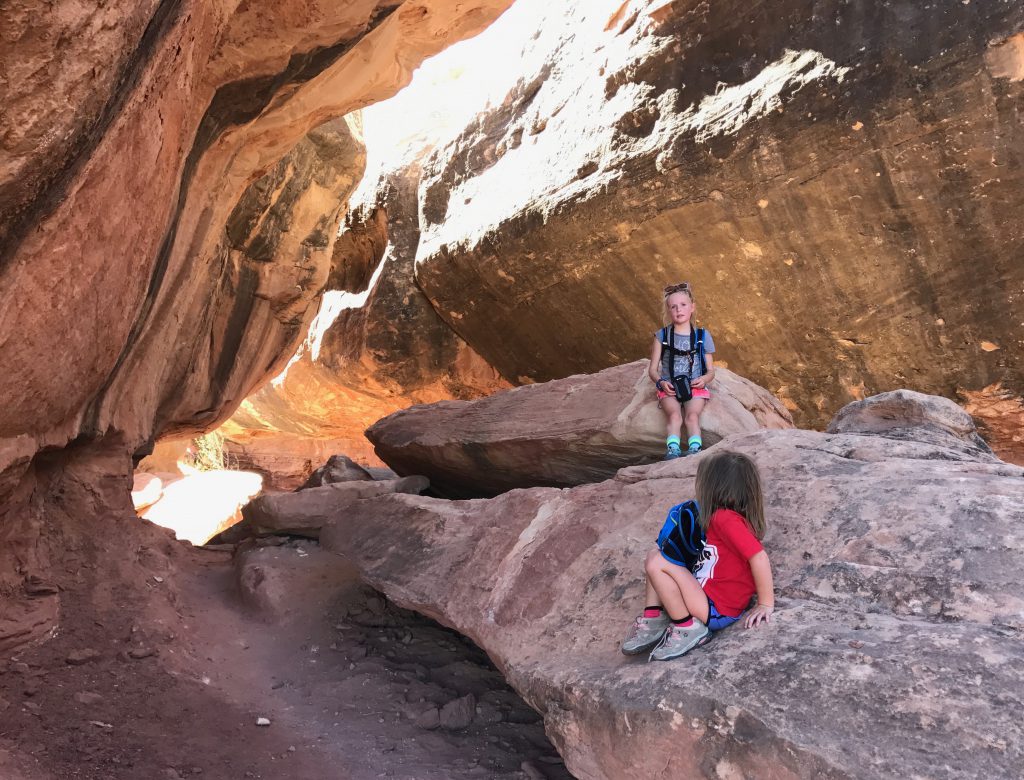 we finished up strong and the girls were total champs. we rolled back over to the visitor center to get a bit of wifi to let derek know that we had secured a campsite and would be spending the night AND that no one had died on our super awesome hike. by then we were starving, so we went back to the campsite to cook dinner. we tested out our new jetboil, making some steak and peppers (for me) and some camp chicken and noodles (for anna). hazel went with yogurt, her standby. in the end, both girls had oatmeal and i had way too much steak.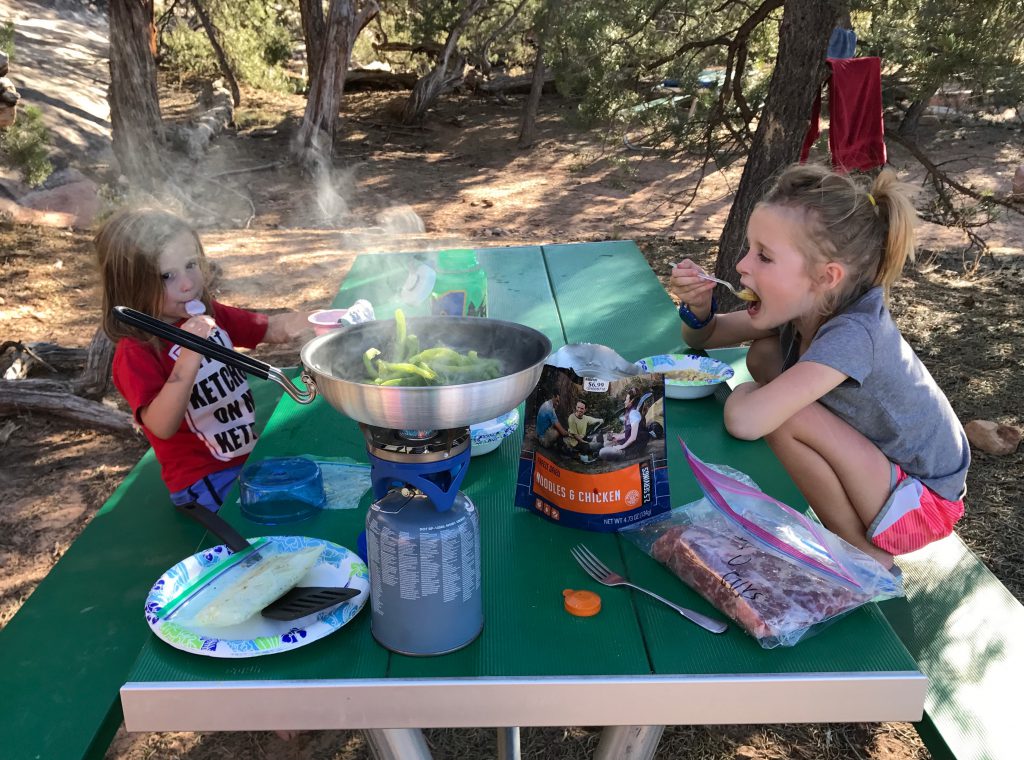 anna liked her camp food at first, but only had a few bites before deciding that she didn't really love it after all. i estimate that she took about 3 bites, making each approximately $2.33. oh well.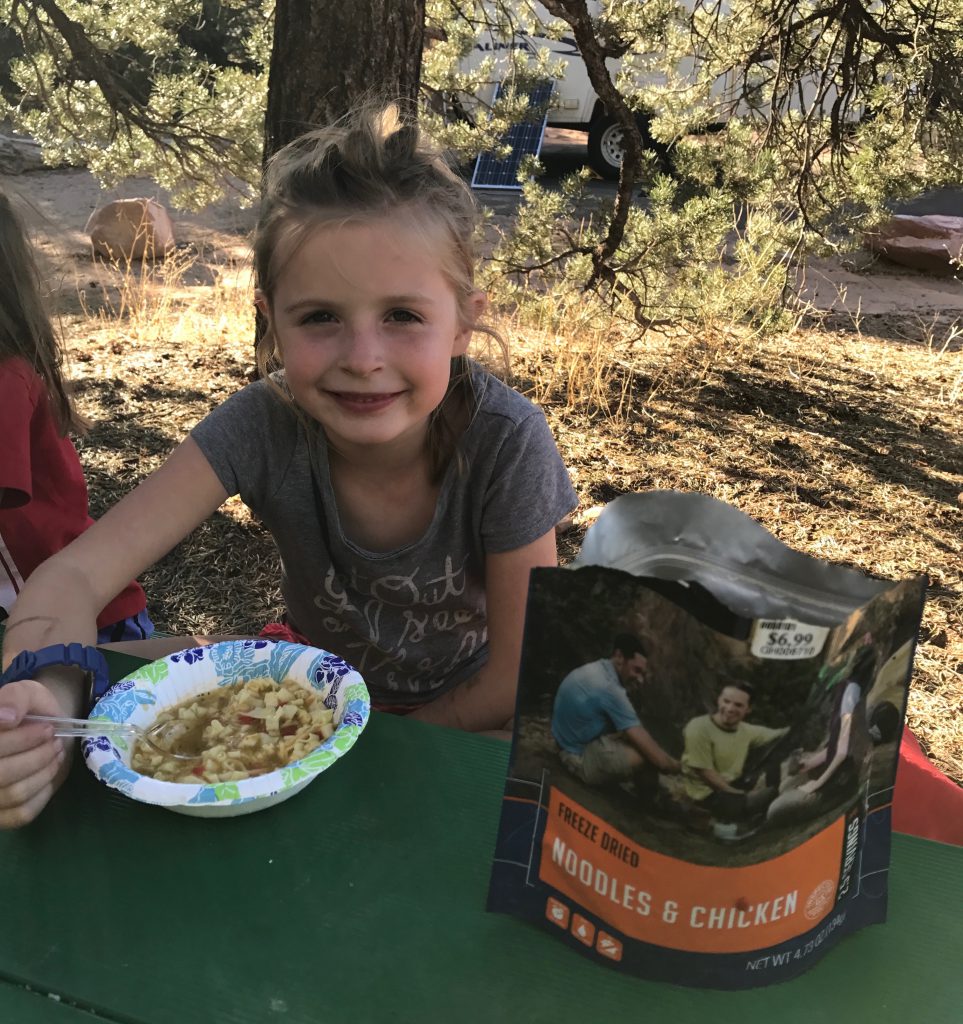 after dinner, our neighbors told us about a ranger program in the other (fancy pants reservation) campground. the talk was about the geology of the park, and anna claims that one of her possible future careers is a geologist, so we decided to give it a go. we learned a lot and anna insisted i take a picture of the big presentation board for her, so she could come back and color her black and white line drawing of the sedimentary layers.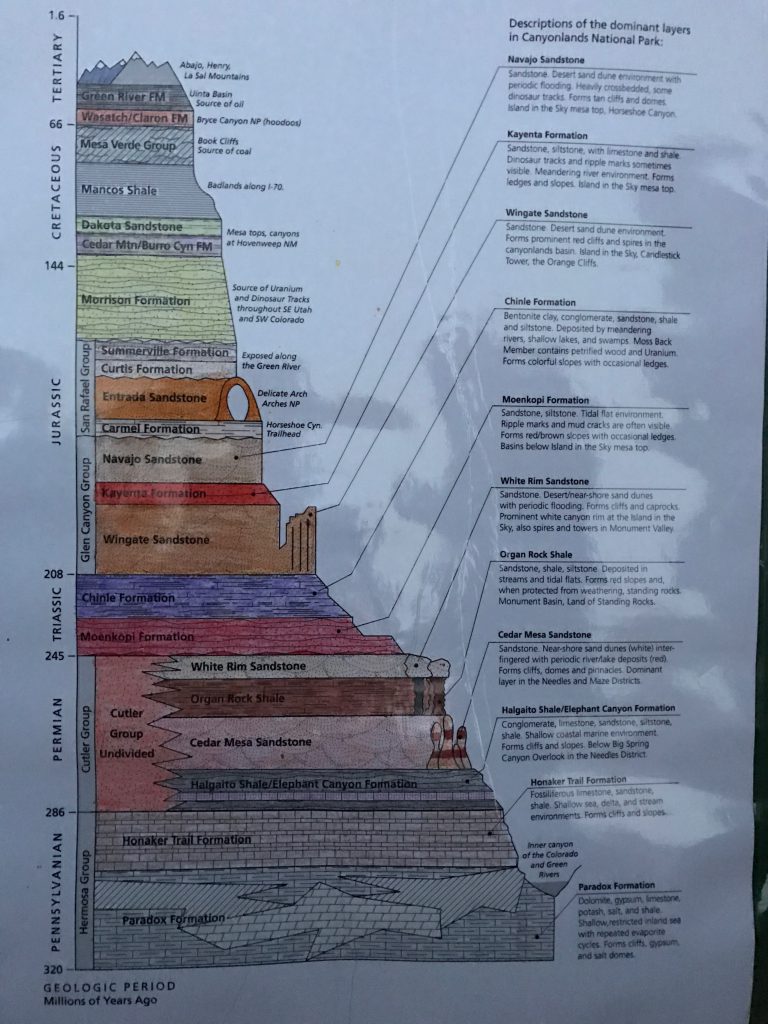 ok. so. now it's night time. the girls eat a bunch of cheezits for a bedtime snack. we hit up the bathroom to brush teeth. we get all bundled up and into our cozy sleeping bags. and we are off to sleep.
around 1 am, anna wakes me up and says she doesn't feel well. she lies there, moaning and whimpering. i lie there, hearing all of the outside noises that one hears in the quiet wilderness. she's sure she's going to be sick. i'm running through possible scenarious. i decide to run to the car (about 8 feet away) and get a beloved santa fe trader joes bag, in the event that she does throw up. a few minutes later, it all went down. vomit city. it was clear though, and thankfully, that it was just an unsettled stomach from excessive cheezit consumption the before bed. (this has happened before).
so, i set the cheezit vomit bag just outside the tent, inside the vestibule area. i'm mostly sure that i can't leave the girls to take it to the trash. and it's a little leaky. and i'm not entirely sure there won't be another episode. then i start imagining all of the predators we are possibly luring to our site with the vomit bag wafting into the wilderness. i hear a number of sounds that i thing sound like bears sniffing around, hoping to locate a three-human burrito for a snack. turns out, i think it was our neighbors, shuffling around in their tent. my mind was definitely getting the best of me. fortunately, i was also very tired, so i eventually drifted off to sleep. when we awoke in the morning, alive and well and uneaten, i quickly assessed that coffee was necessary. immediately, full strength, and in large quantities. so i put the jetboil back to work, this time with our brand new aeropress.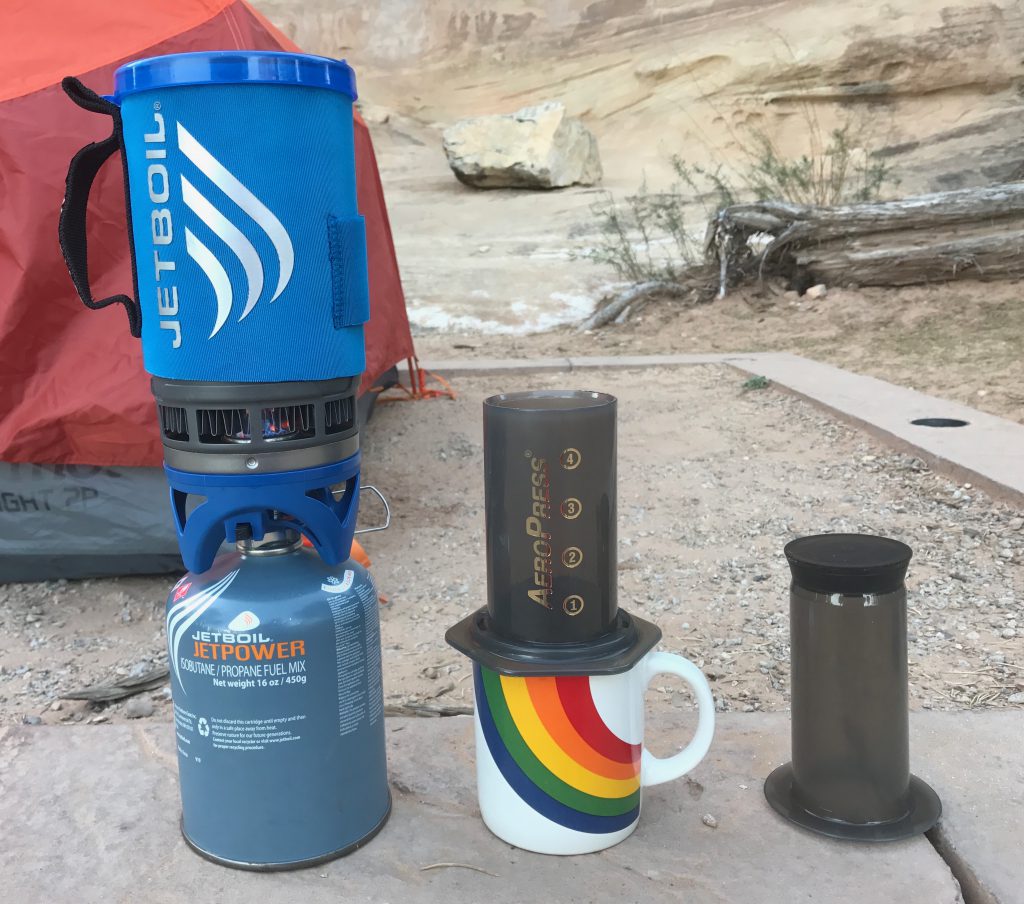 i sat outside and enjoyed the fall brisk morning air, while the girls stayed in the tent, nice and cozy.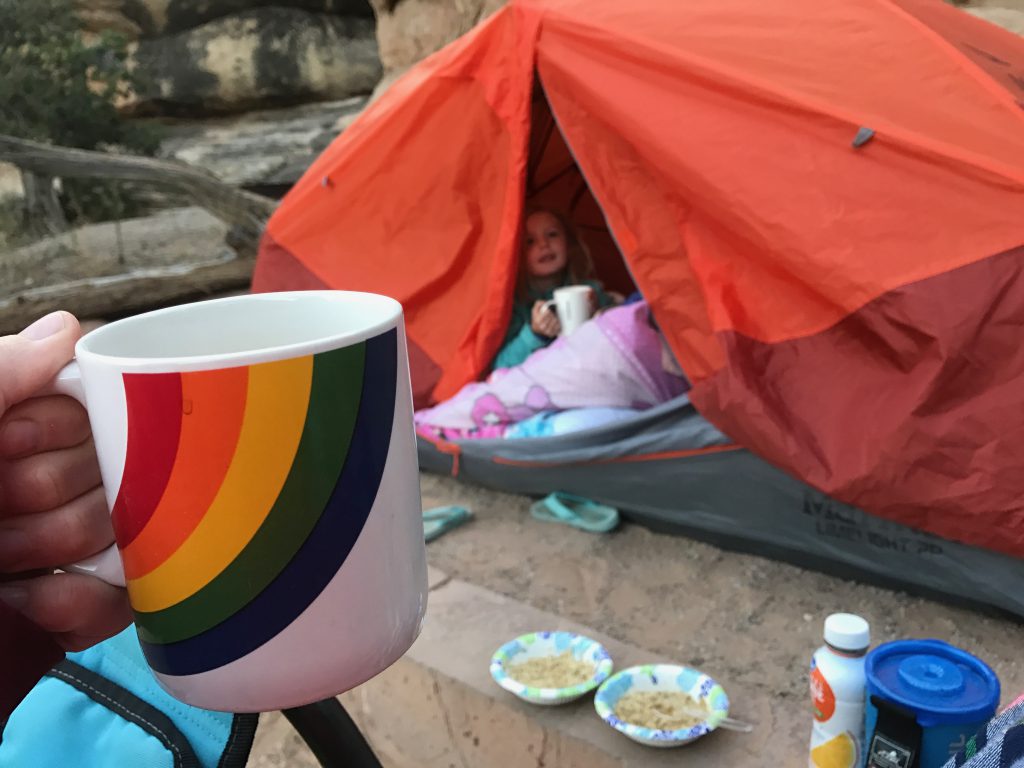 the graciously allowed me to serve them breakfast in bed, so they could stay warm and i could freeze to death.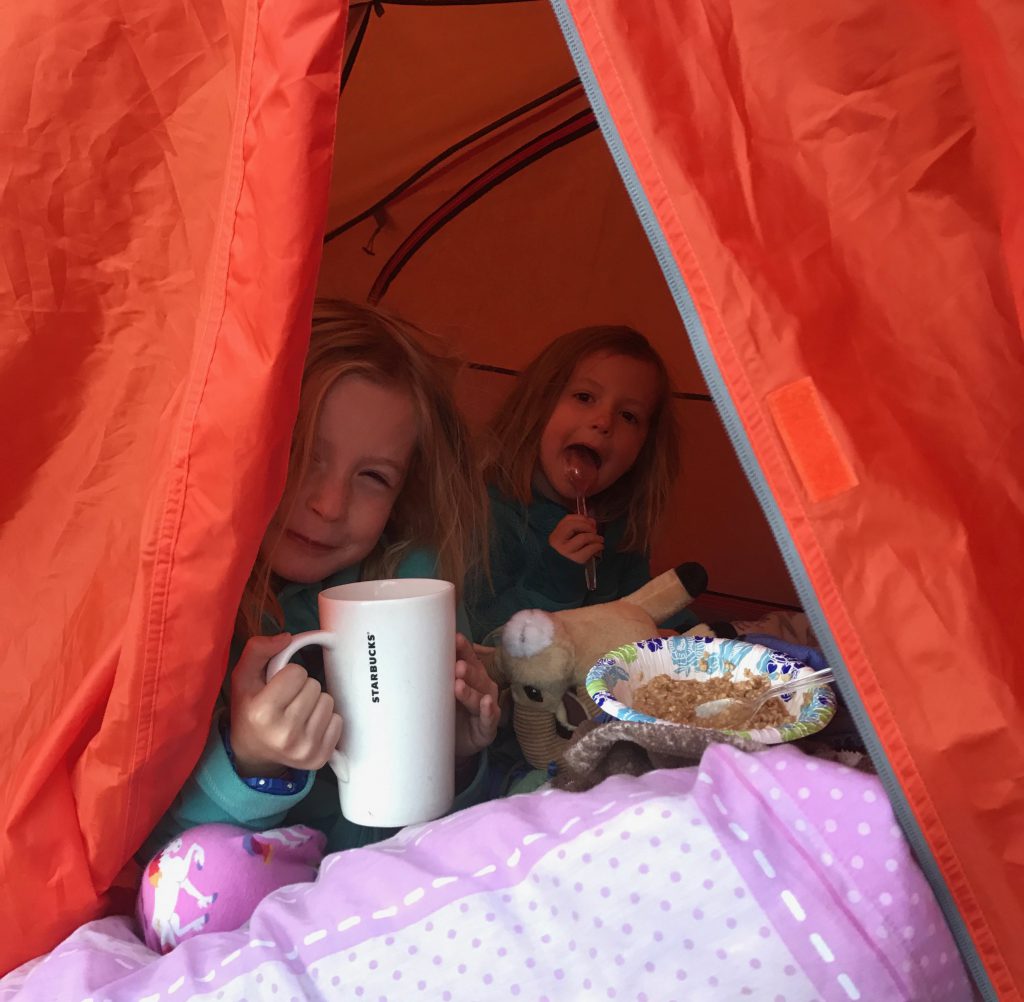 we had hoped to spend the day in the park, doing some more hiking, but after our crazy night, we decided to just pack up camp and head home. on the way home, anna slept the entire way, but insisted that she was only pretending when i asked her about it. you tell me… real or fake?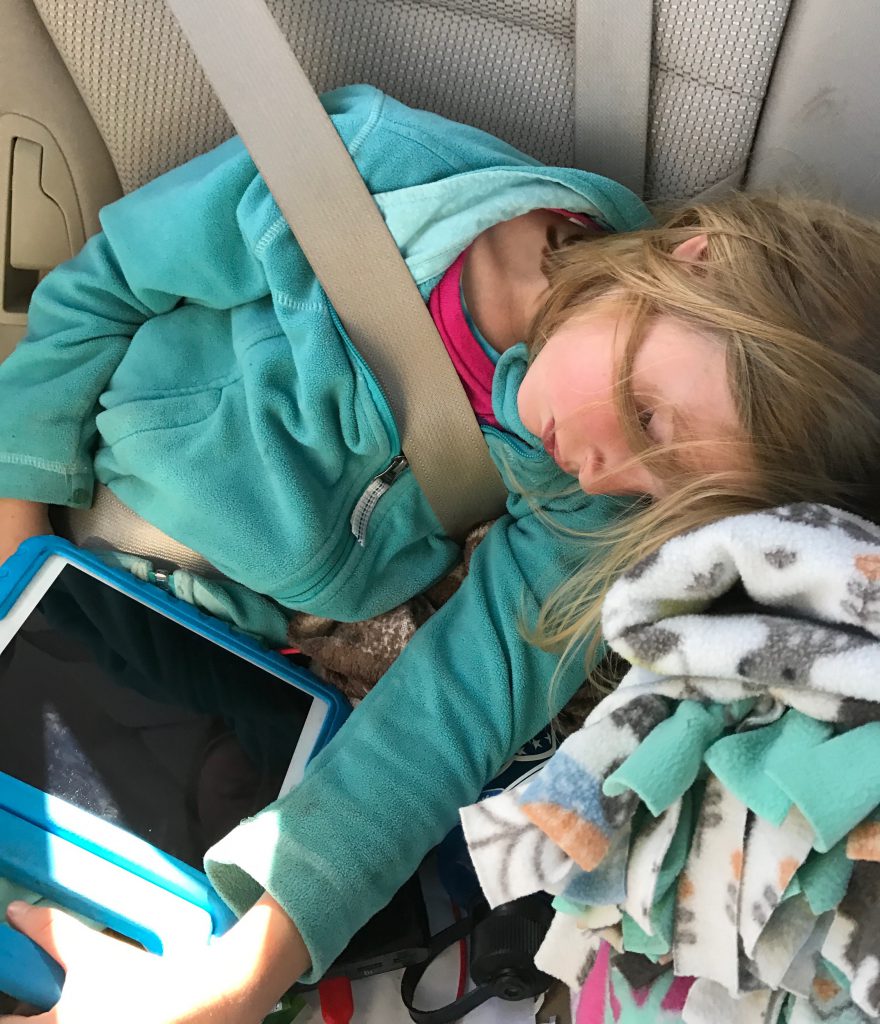 we had a great time on our girls weekend. i can't believe that the crazelnut is this big but i'm so happy she can join our adventures. anna did say that she still wants to have one-on-one camping trips, so we will have to have some of each i guess. also, maybe a bigger tent.