when we were coming into arizona, we passed a sign for organ pipe cactus national monument, which i had never heard of. our reservations weren't anywhere near the park, so i figured we would just have to miss out. then, when our plans changed, due to the hot water heater drama, and we were coming back through sort of the way we came,
i started concocting a plan to get over there.
we (the lid girls and i) decided to leave a couple days early, head over to organ pipe cactus national monument for a bit of tent camping and adventure seeking, and then we would meet up with the lid boys at the next location. it would be our first camping adventure since the great vomit (and imagined bear attack) fiasco in canyonlands. and it was our first attempt at more than one night.
we got up thursday and loaded up the car for the three hour trek to the park. it was pretty hot, pushing 90°, and i didn't have a whole lot of help setting up camp. we made sure to pick a spot with an actual organ pipe cactus, since all of the sites with covered picnic areas were already taken.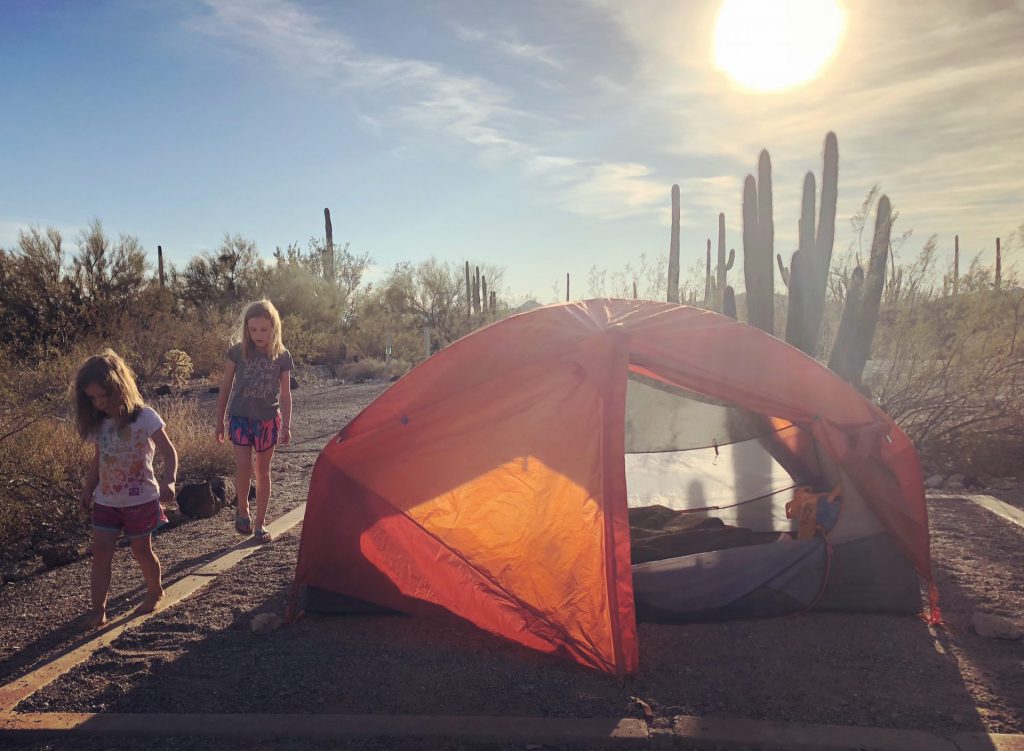 we laid low the first afternoon. we checked out the visitor center, picked up junior ranger books and planned what we would do the next day. anna brought her hat/mitten combo and the girls took turns playing dress up, while i hid out in the tent, researching.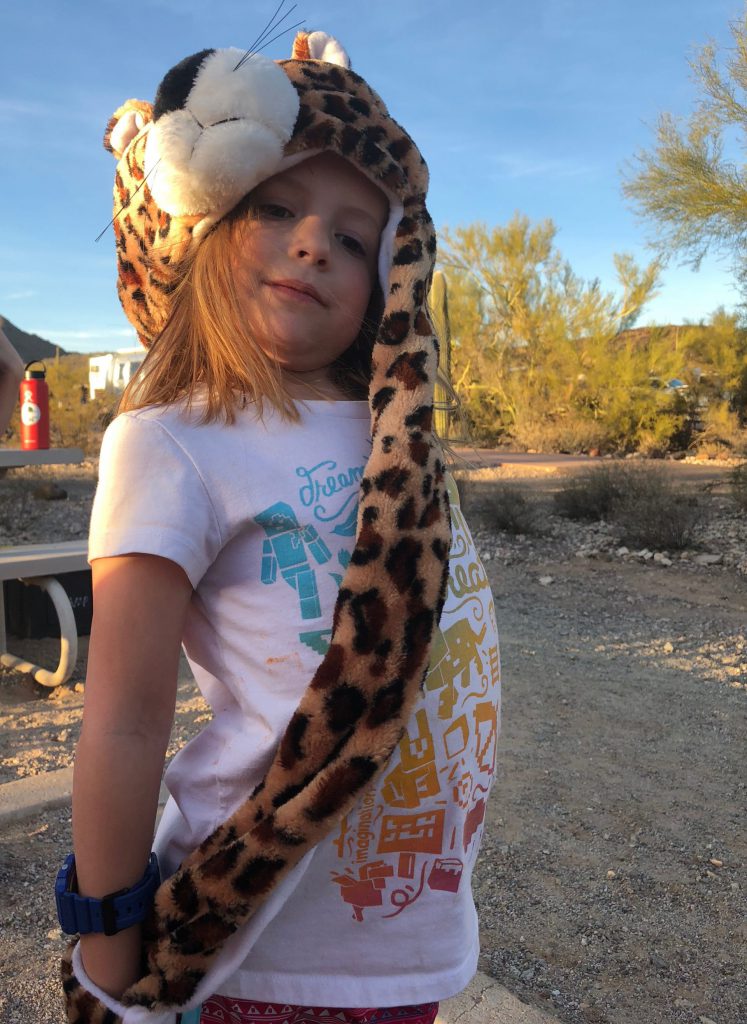 when evening rolled in, we wandered just out of the campground area, to take some sunset pictures.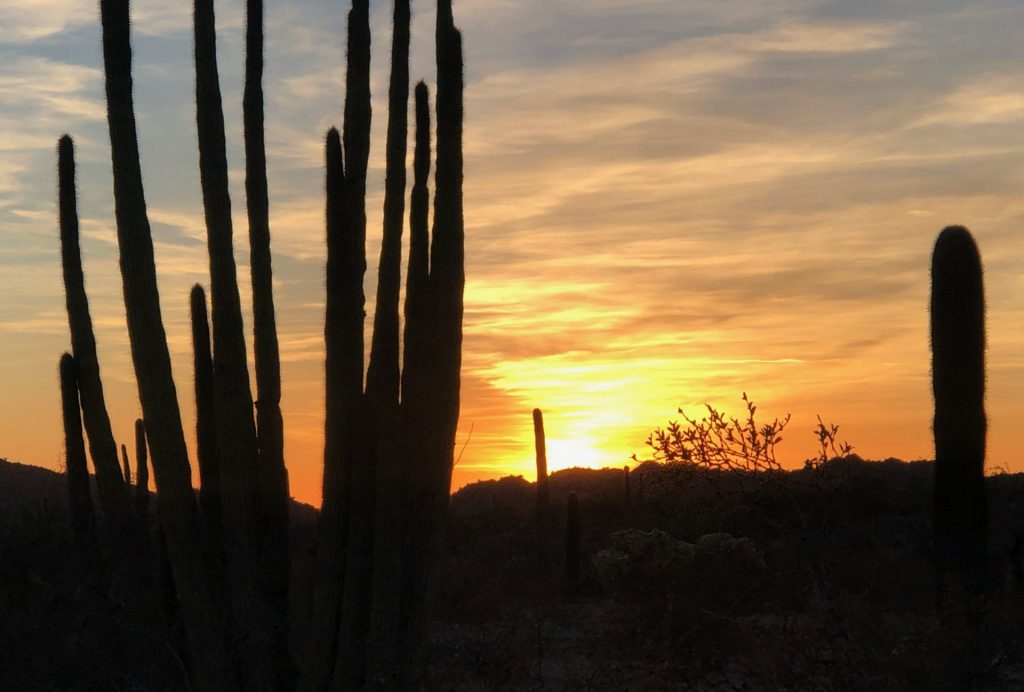 hazel got a cactus spine stuck in her flip flop and freaked out, so we weren't able to wait around long enough for the sky to turn all sorts of shades of pink and purple, so i had to watch that from our campsite.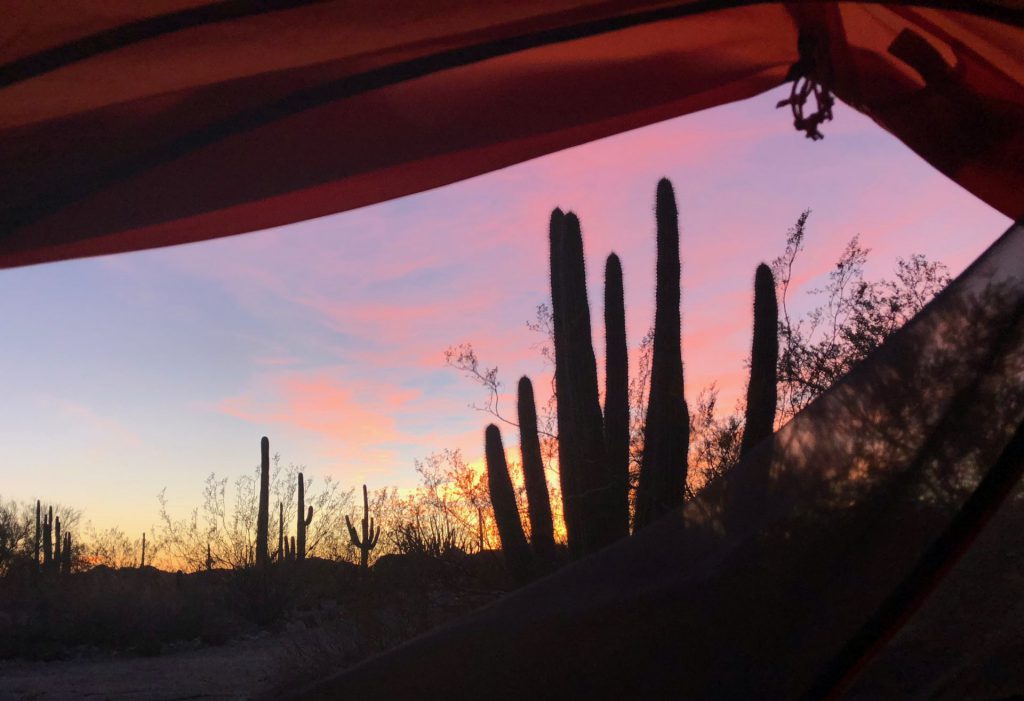 thankfully, after a long day of packing and driving and setting up, the girls were willing to go to bed at like 7pm. i was more than happy to do the same.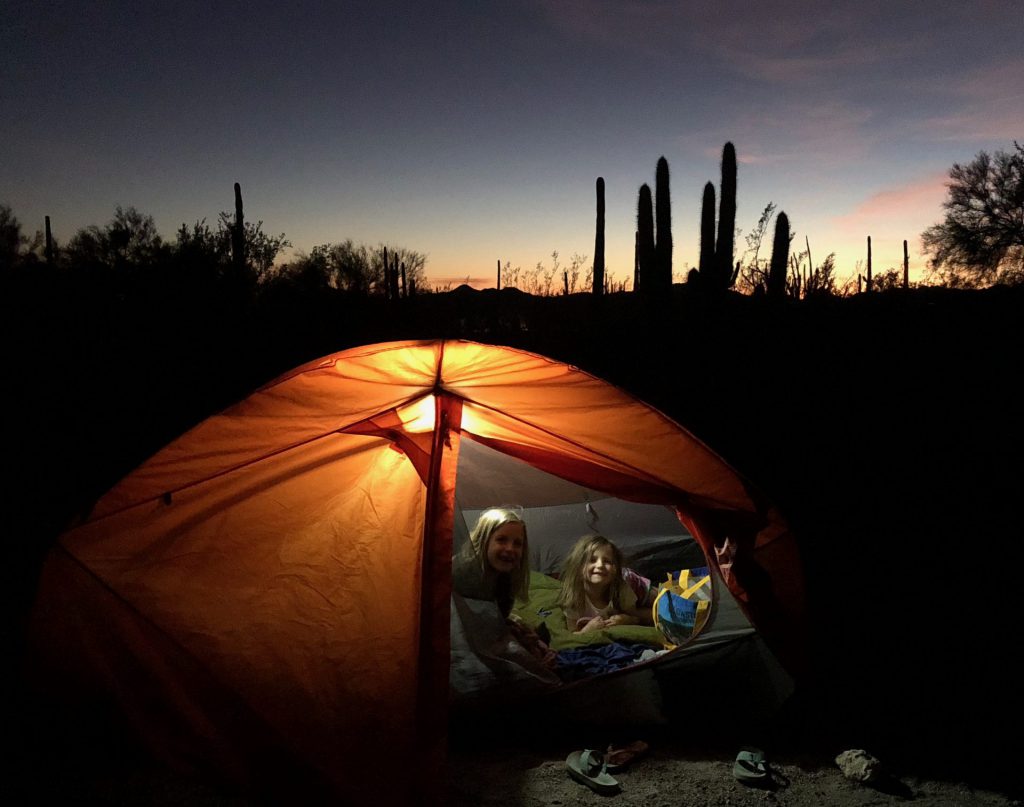 so. the campground (twin peaks) is pretty great. it's laid out like a big fan, with rows fanning out from the check in station. the first 10 or so rows are for rvs. the next to last row is for rvs, but no generators. and the last row, is for tent campers. which is great, because there's a buffer from all the noisy rvs and we were on they end, giving us the best views. BUT. the dump station is just on the other side of our row. and if you know anything about rvers, you know that they are mostly retirees. and if you know anything about retiree rvers, it's that they like to get an early start to get on the road. so, before 7, on both mornings, there were loud rvs rumbling around to the dump station and getting the aforementioned early start on their day.
that said, we woke up just a little before seven, a big groggy and bedheaded, and started our day. it was a little more chilly overnight than we anticipated. i think it got down to 37°. fortunately, we brought 3 blankets, 3 sleeping bags, and 4 quilts, so everyone was nice and cozy. but hot beverages were still in order… hot chocolate for the girls…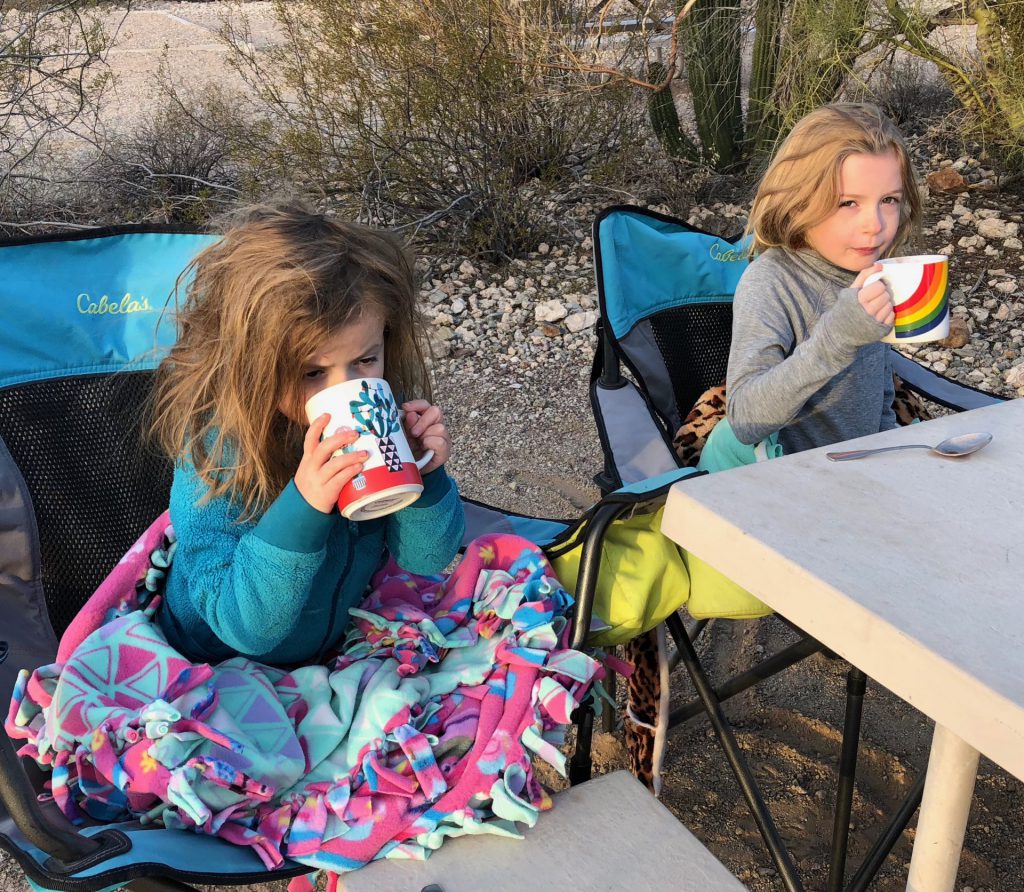 plenty of coffee for me…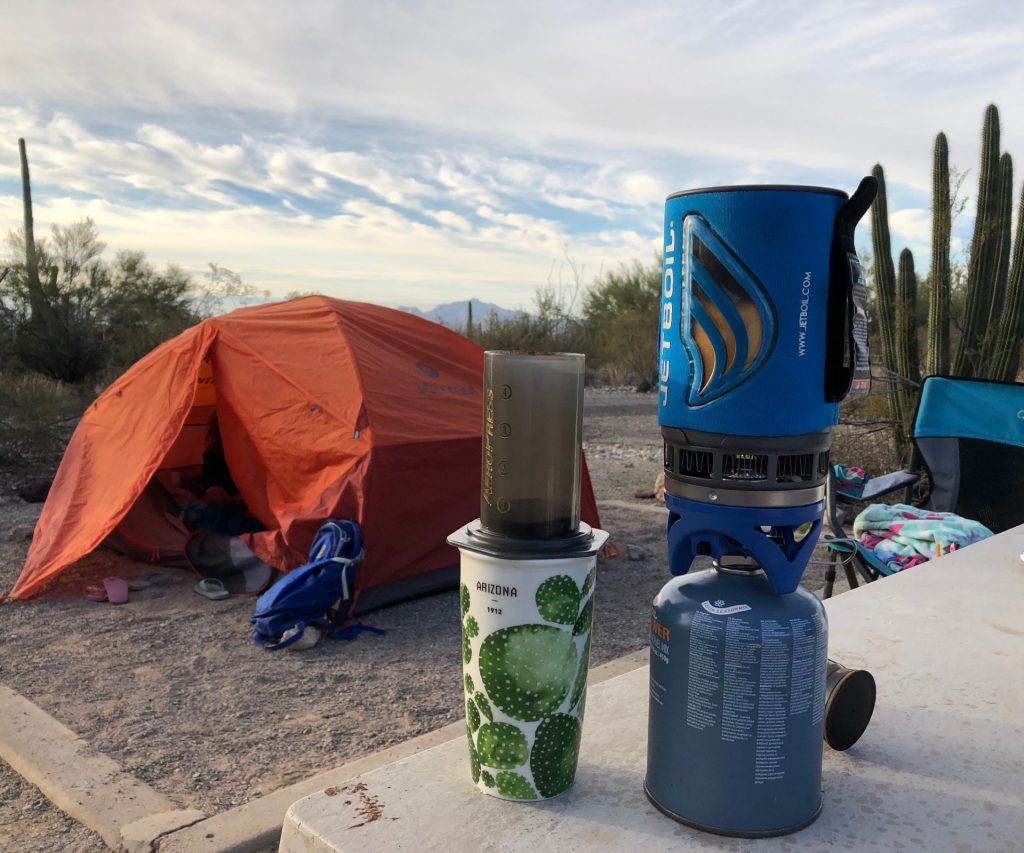 i'm almost positive hazel is not hungover, but this picture paints a different story.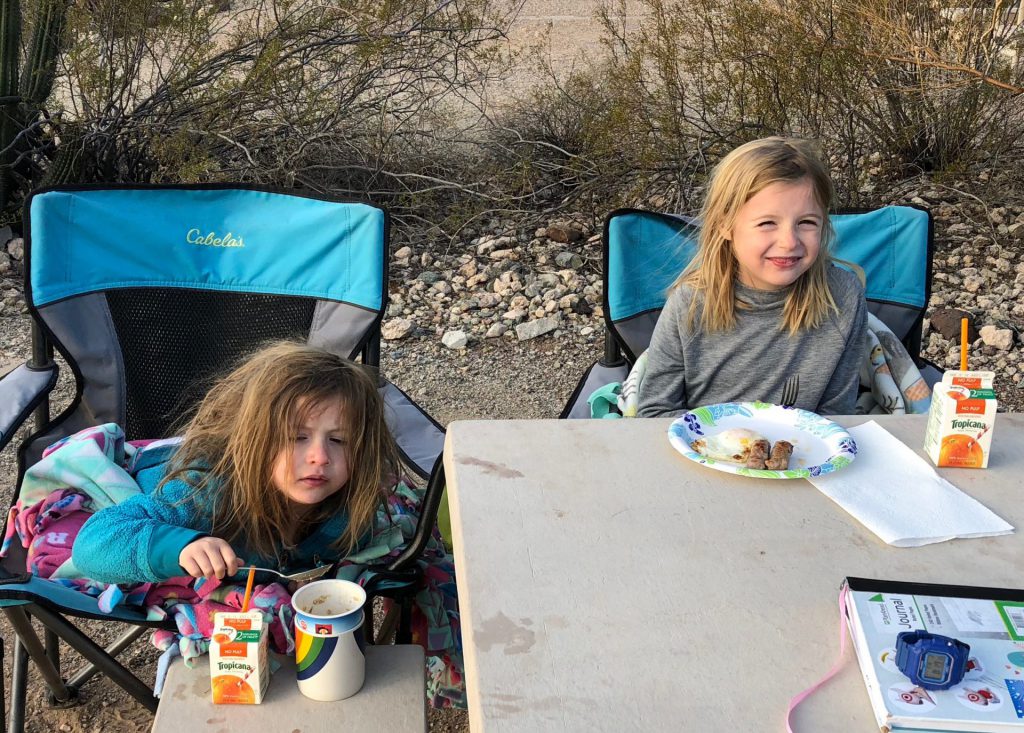 we were super excited to spot a bunch of wildlife in our campsite. a bunny passed through at one point, and a quail was scrambling down the road at another. a raven's nest was in a tree nearby and he helped himself to two sausage links left briefly unattended. we also spotted this guy in "our" organ pipe cactus. we think he's a curved bill thrasher.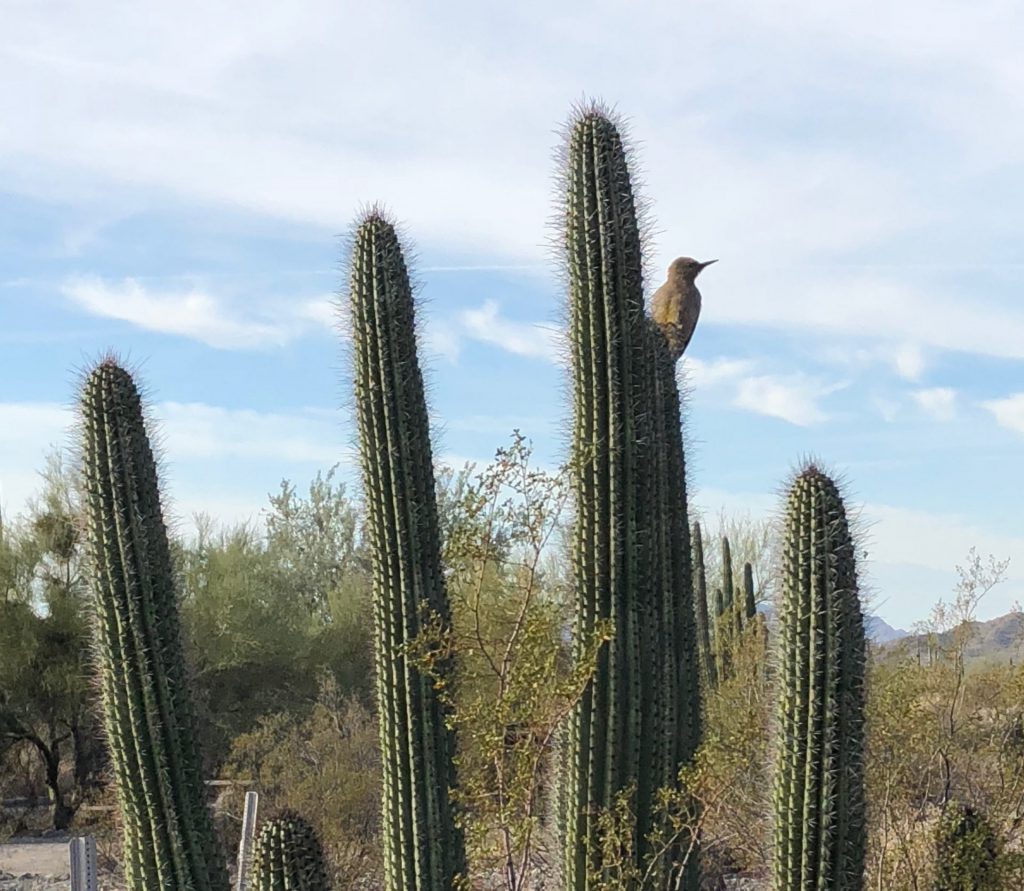 we got ready and got out of the campsite around 10, hoping to beat the miserable heat of the middle afternoon. our plan was to drive the ajo mountain scenic loop, which is a dirt road, around 21 miles long, and takes about an hour and a half to complete. the views were pretty great, but hard to capture in a photo.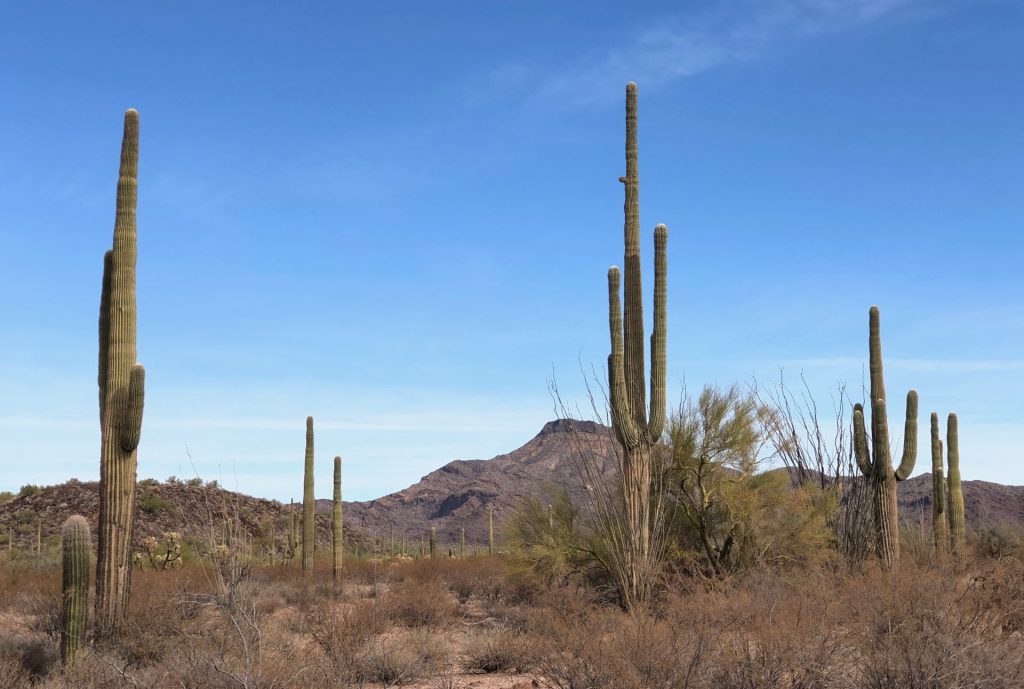 so. this is an organ pipe cactus. the only place in the united states they can be found is in the national monument. they are all over mexico, though. the "stalks" are about half the diameter of a saguaro and they don't grow quite as tall, but they can still get pretty massive and are breathtaking when you see a mountainside covered in them.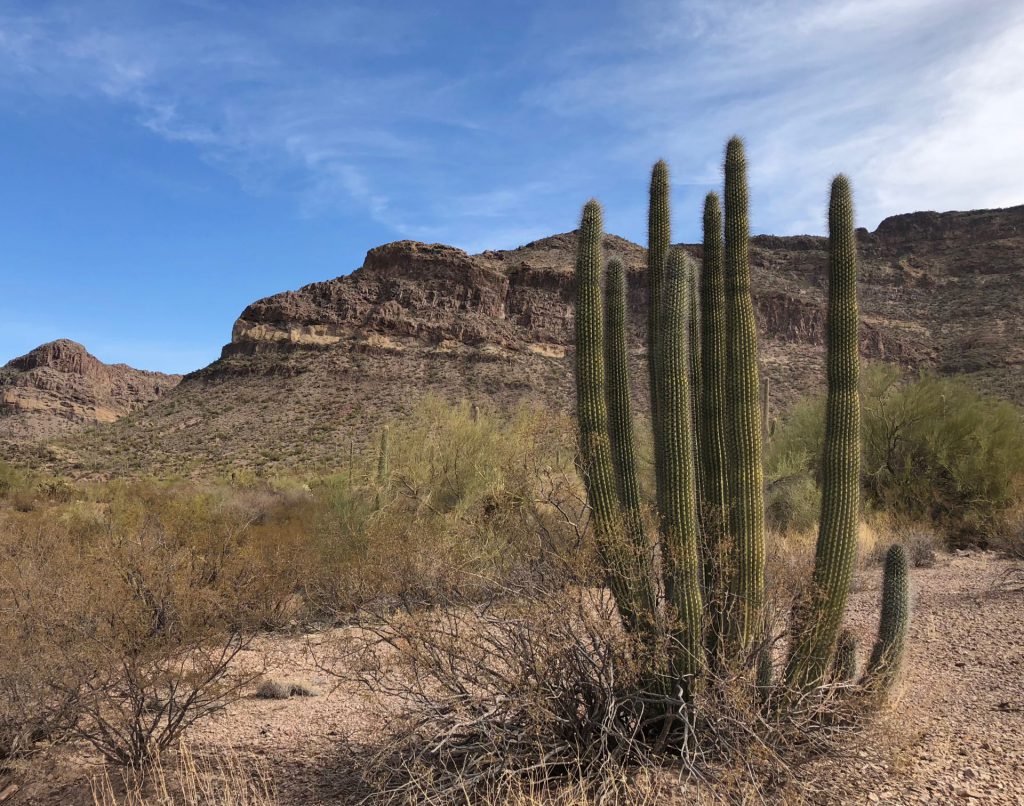 the park also has tons of saguaros, which are still our favorite. the kids like to name them. "backpack with two arms", "waving guy"… etc.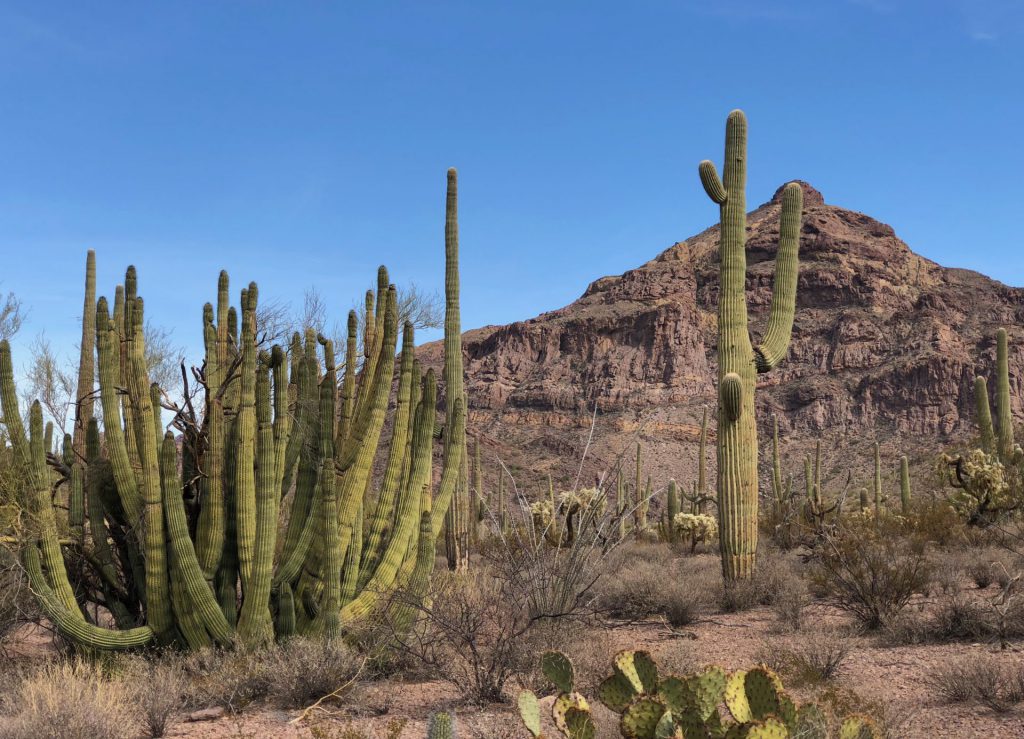 somehow, as we cruised through, we spotted this guy, hanging out on the highest point, a lone saguaro in a relatively flat area. i'm not sure what sort of bird it was, but some crude research makes me think it might be a caracaras.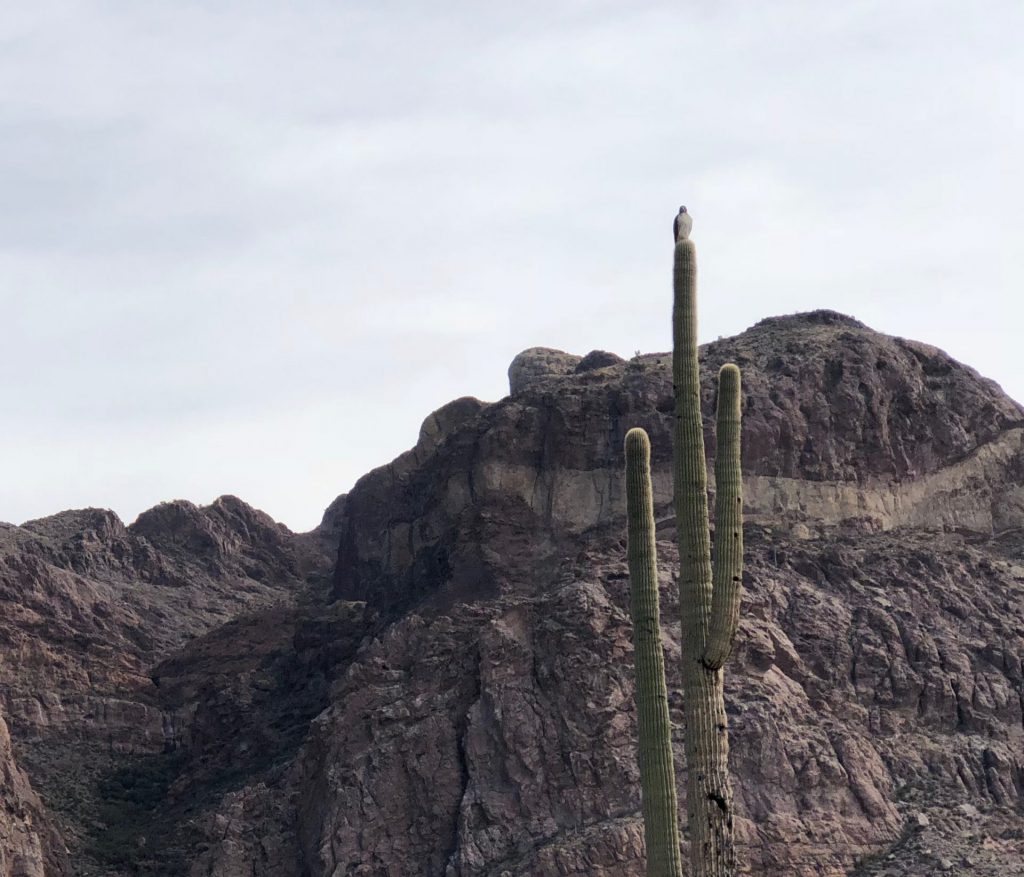 about halfway through our drive on the loop, we stopped to get out and do a bit of hiking on the arch canyon trail. the first .6 miles is pretty easy, which was perfect for this out of shape crew. the girls stopped to touch every cactus possible.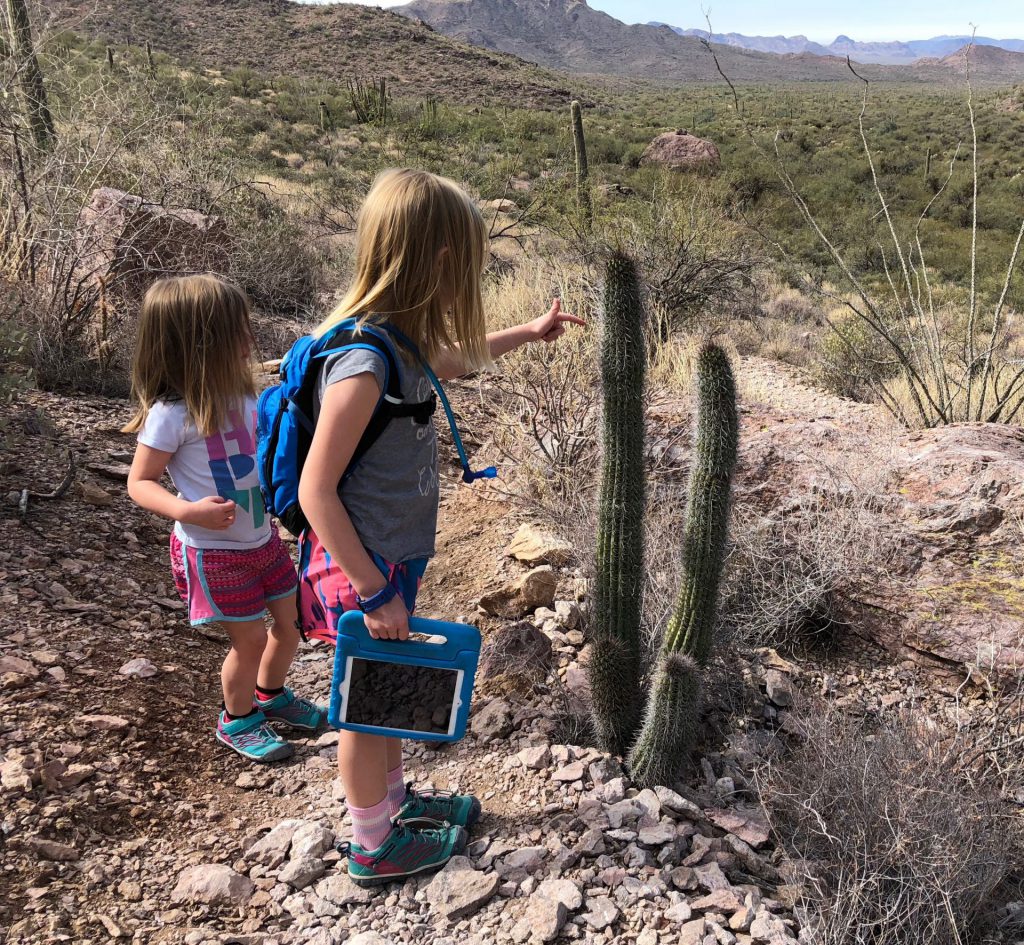 the view as we got a bit higher was pretty great.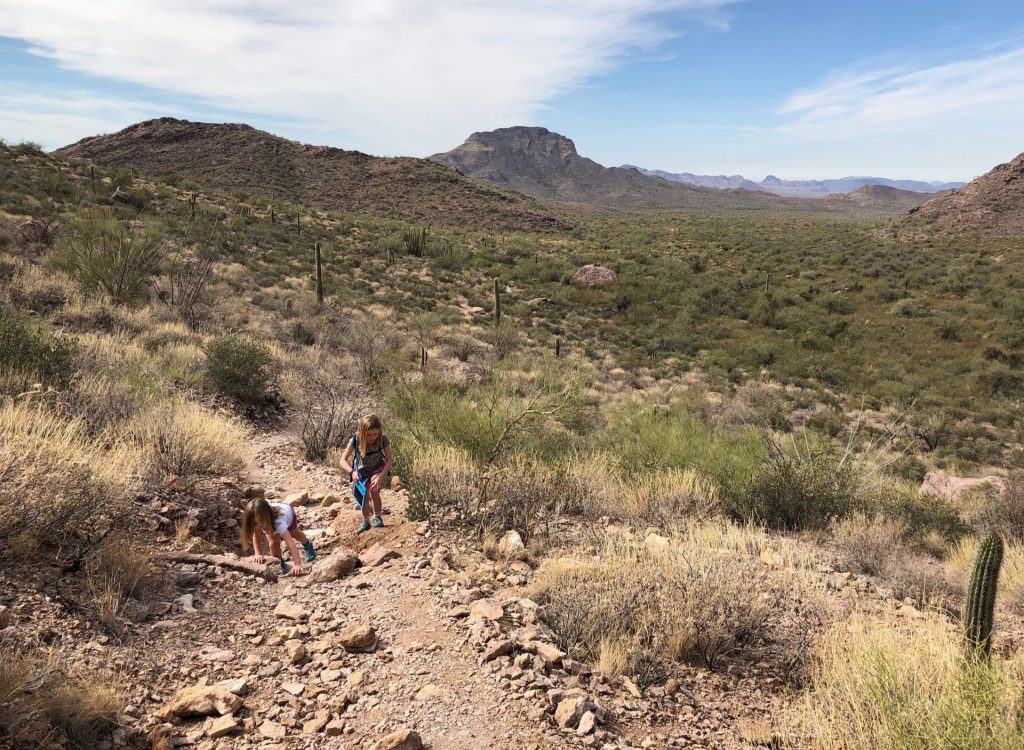 and the view heading into the canyon wasn't too bad either.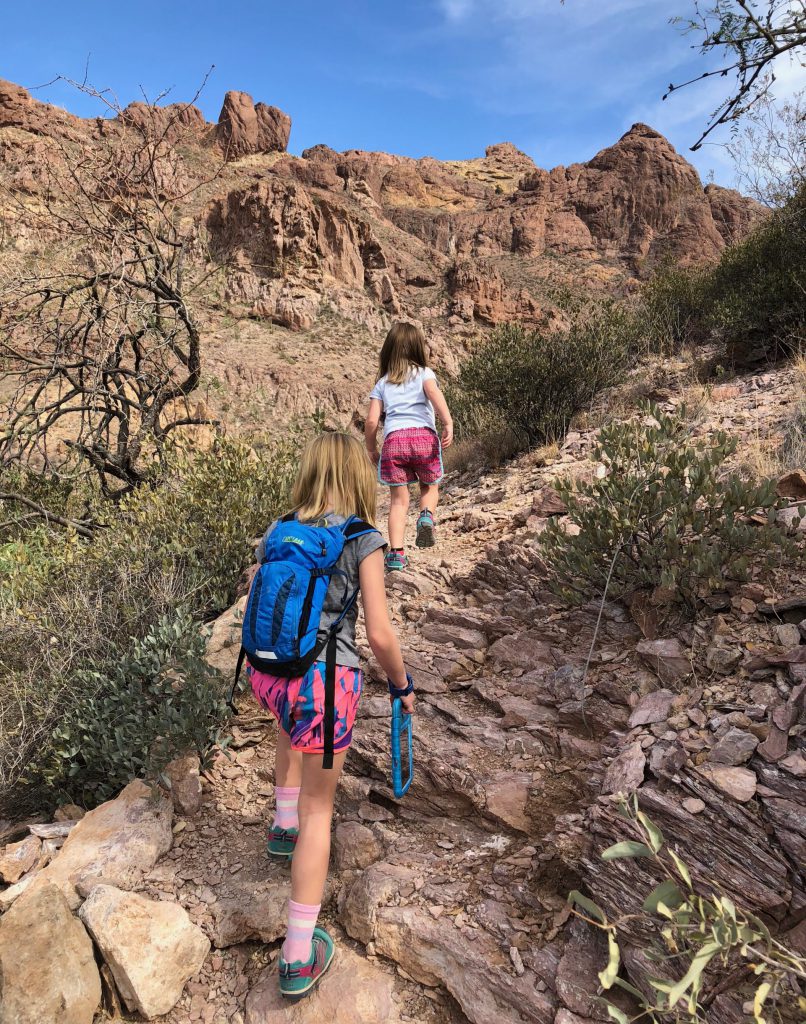 the trail was pretty rocky, which made for a few stumbles here and there, but overall the girls did excellent.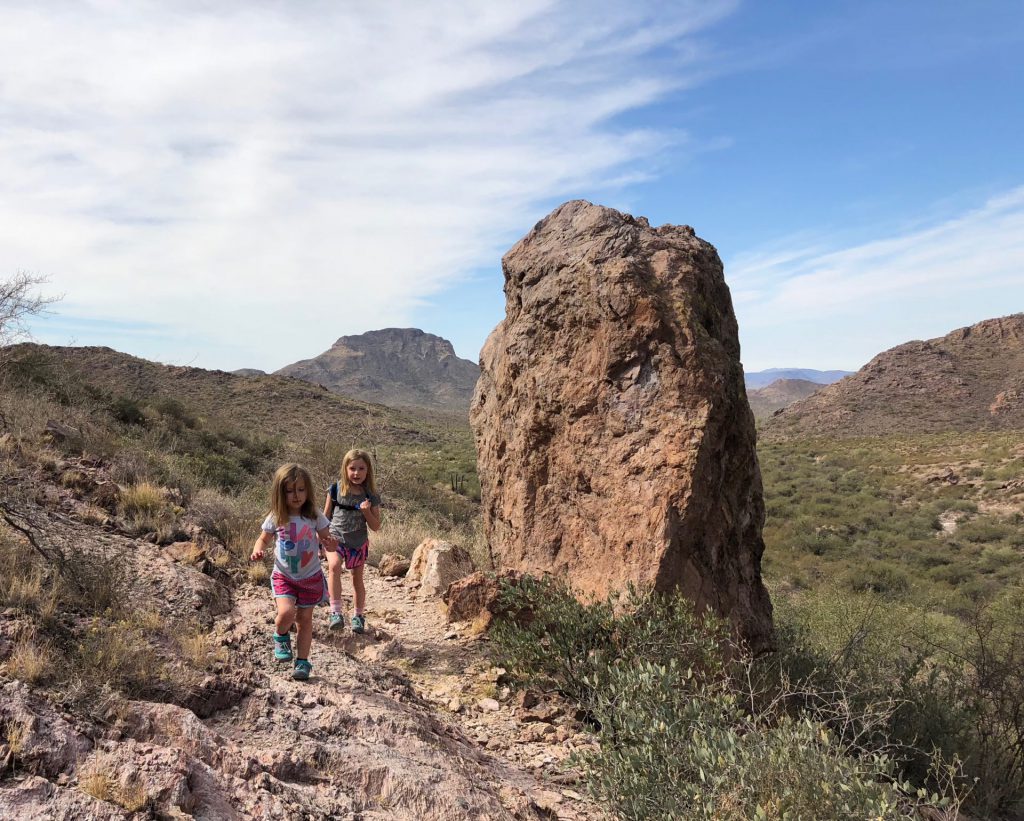 around the .6 mile point or so, we came to this sign. it says "smuggling and/or illegal immigration are common in this area due to the proximity to the international border. please be aware of your surroundings at all times and do not travel alone in remote areas. dial 911 to report suspicious activity."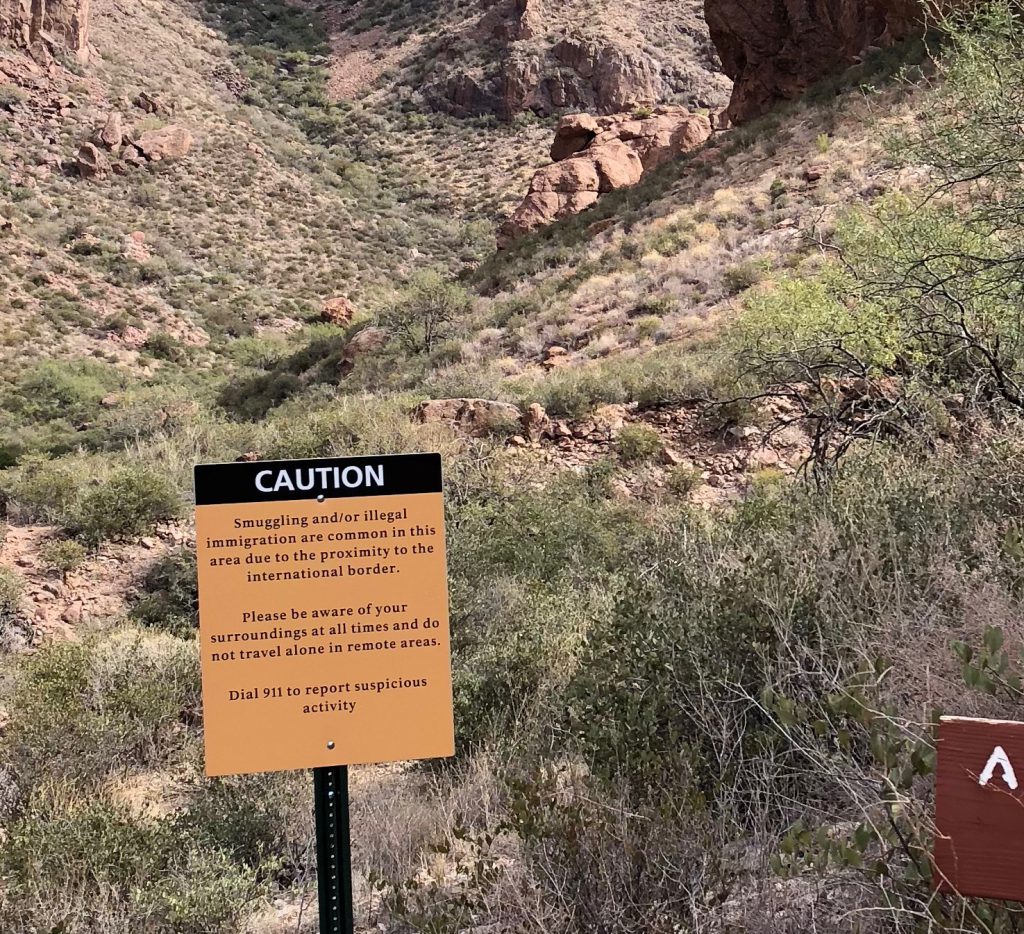 the hike then splits, up the arch, or ahead past this sign. the hike to the arch was really steep and rocky and i we had already seen several groups of adults turn back, so we decided .6 miles was enough and turned it around to hike back out.
the girls worked on their junior ranger books on the way out. which made the chunky rocky terrain extra treacherous.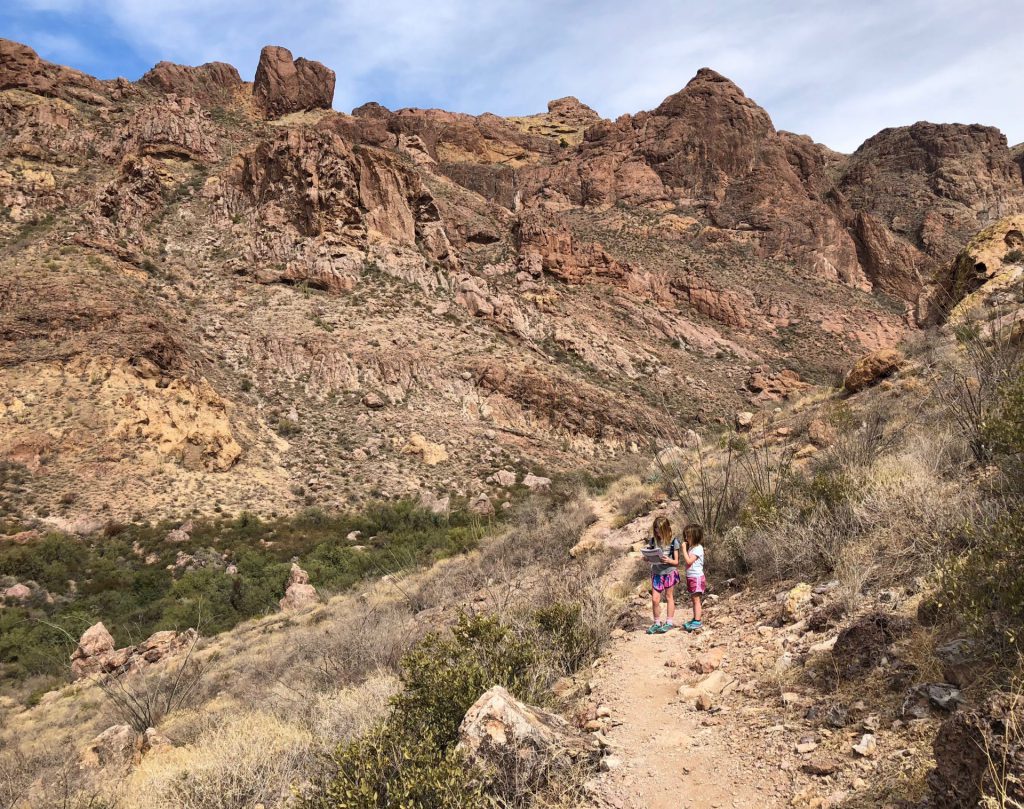 i LOVE this picture of hazel, flying through the air to keep up with anna.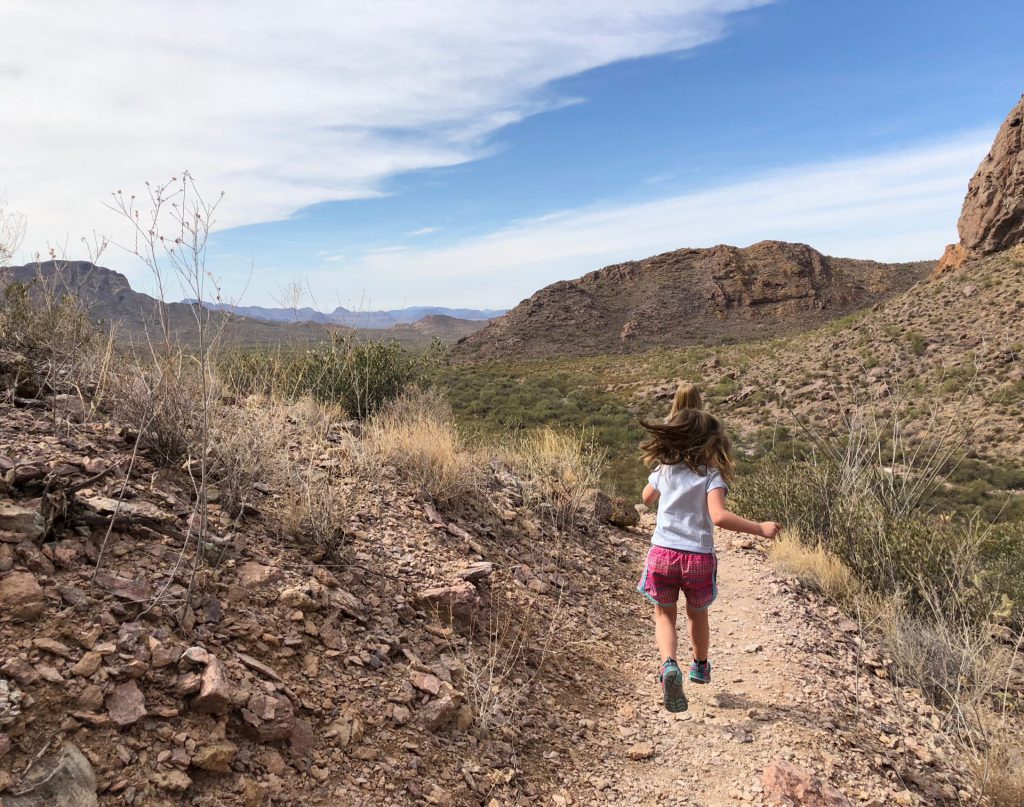 for their junior ranger books, they were supposed to sit quietly and listen to the sounds around them for three minutes. we stopped to do this several times, hearing buzzing bees and chirping birds at first. and then. the loudest jets ever started flying overhead for the last half of our hike. and it was making hazel insane. she's not a fan, and walked out with her hands covering her ears. also. there's a decent shot of the arch of arch canyon, that we didn't make it to.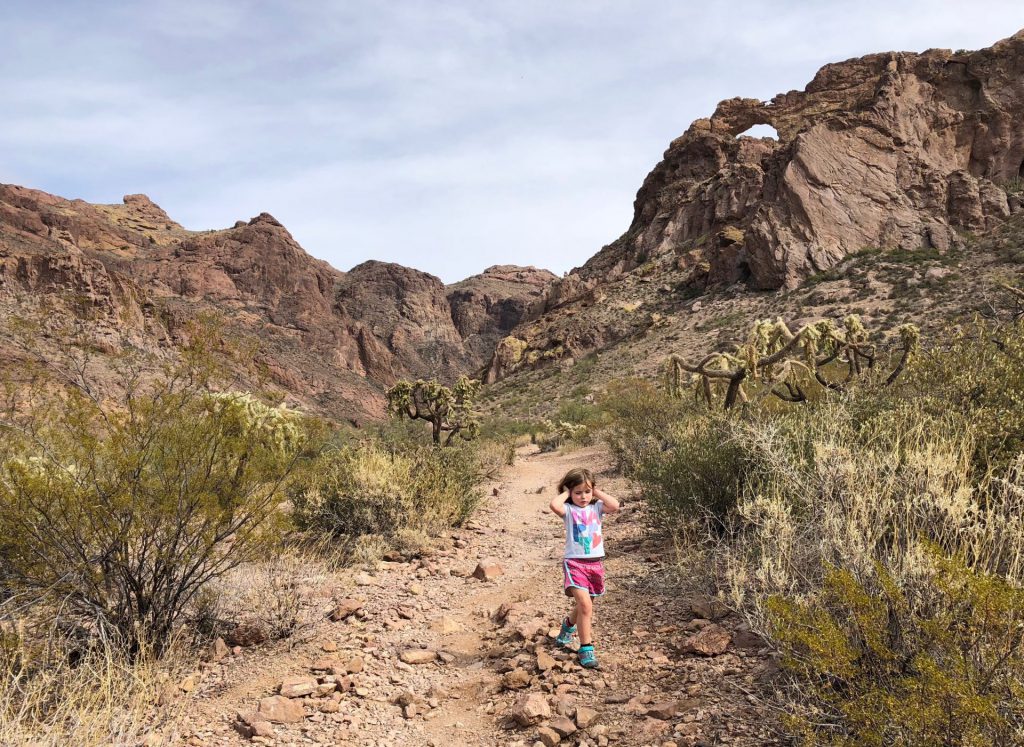 touching more spiky things. this time an ocotillo. and crazel being a crazel.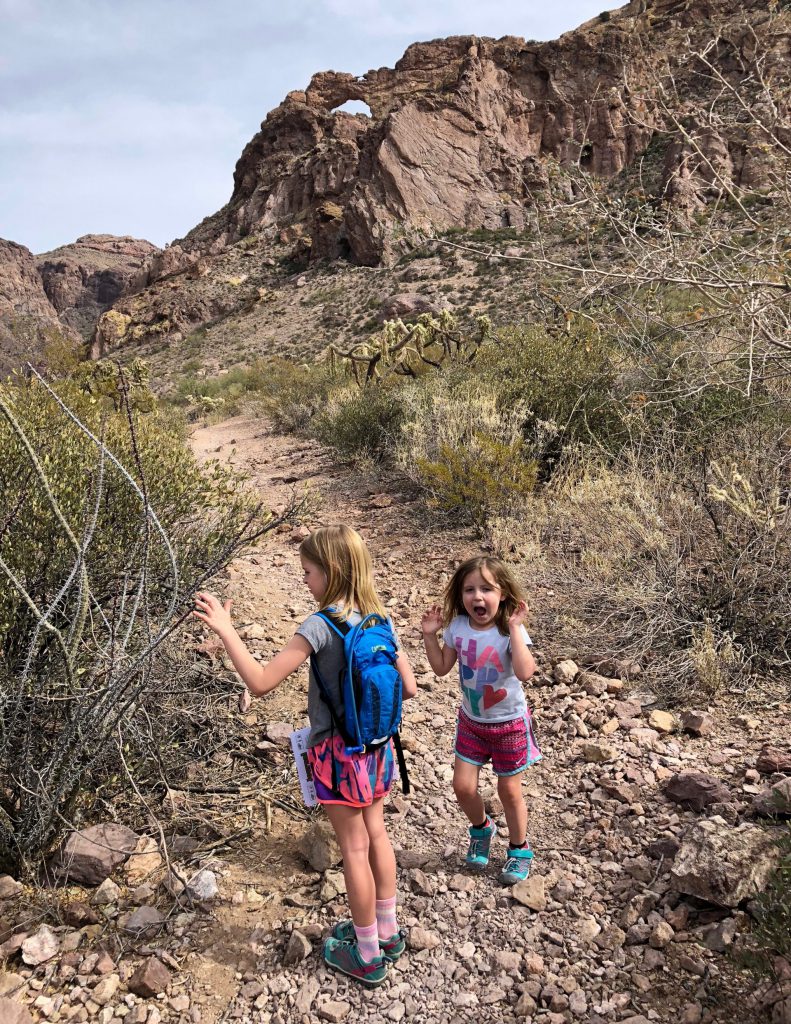 anna and mom selfie with arch. hazel declined our offer to be in the selfie.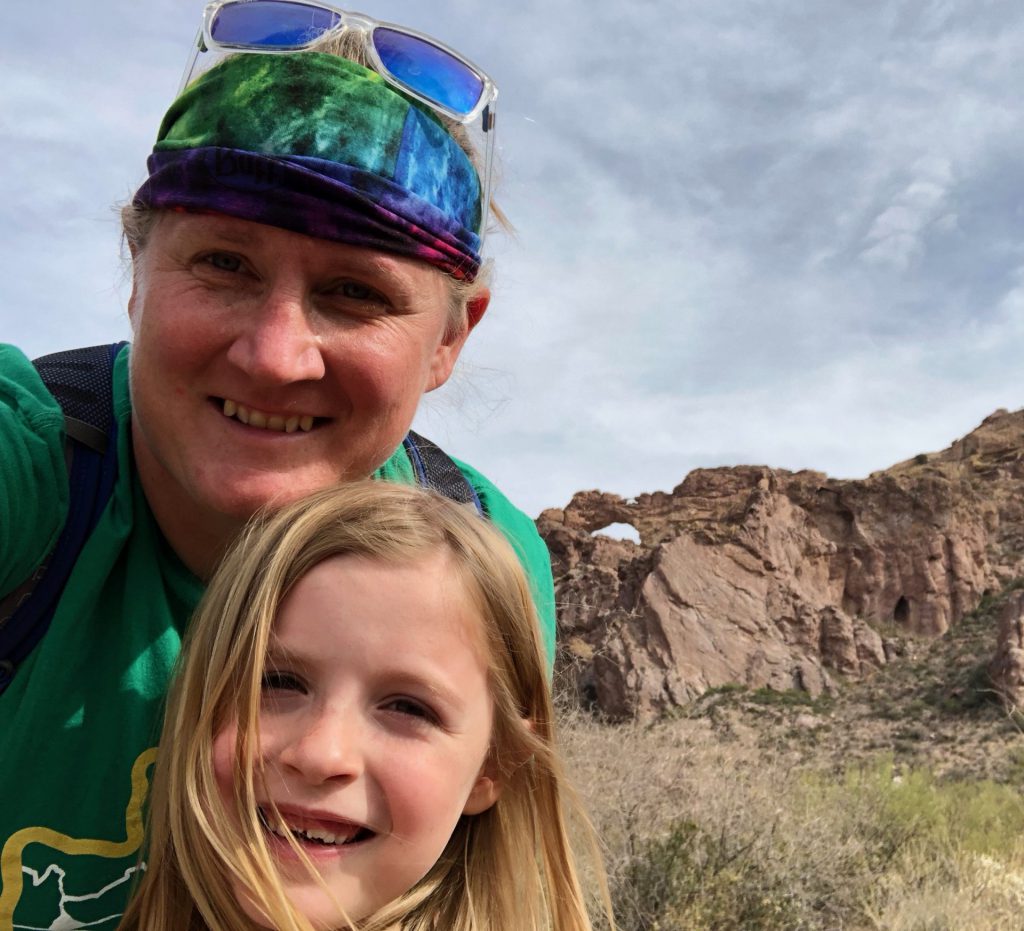 we had a quick snack/lunch at the car and then got back on the road for the final half of the loop drive. there were so many great places to stop and check things out and i regret not getting a guide from the visitor center for the drive.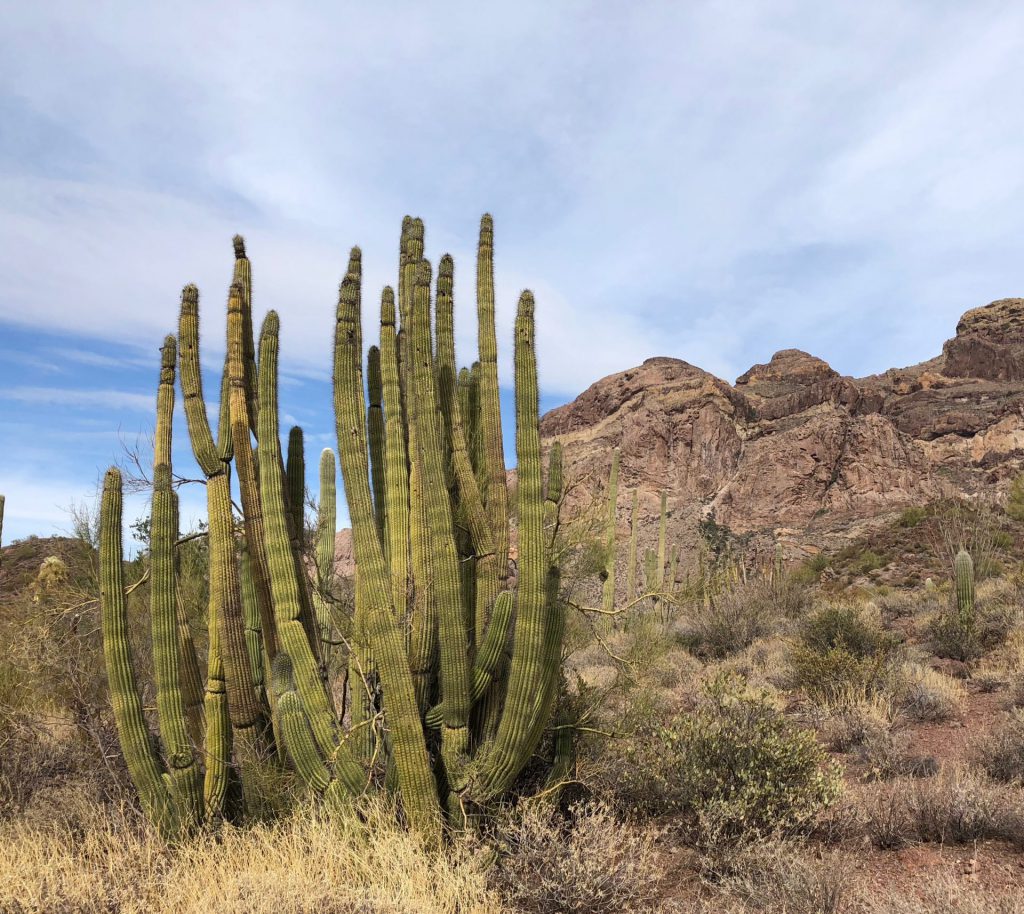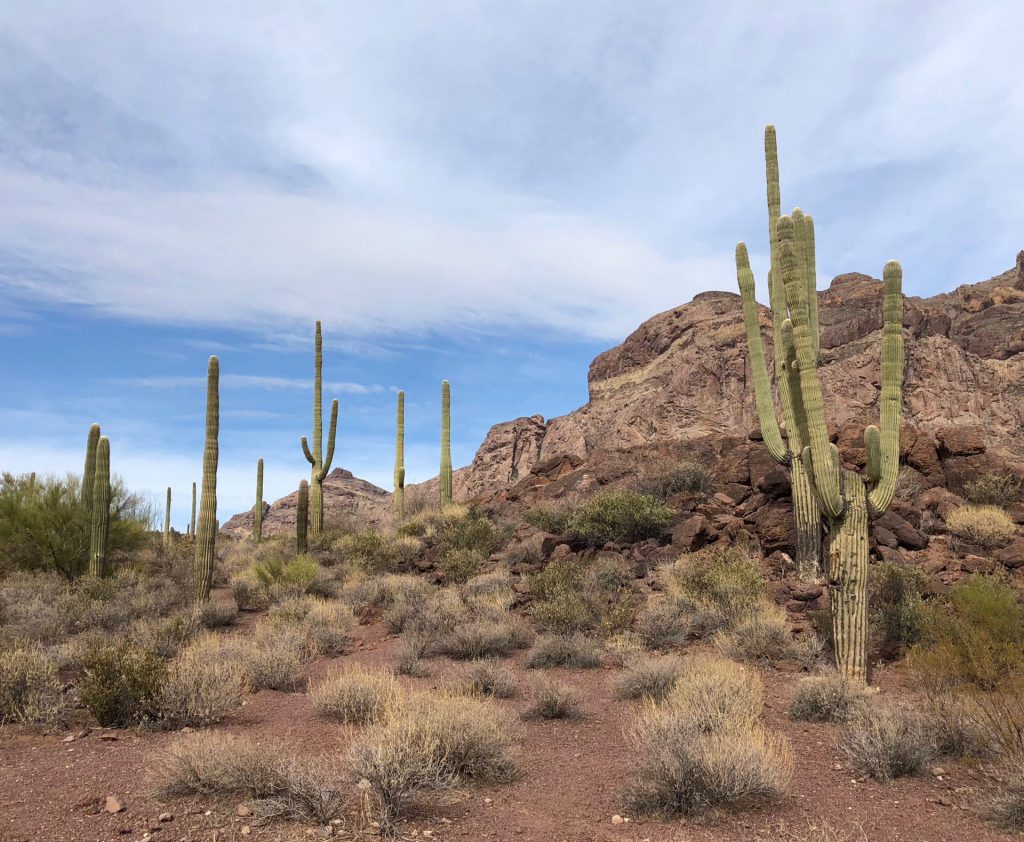 we went straight to the visitor center after our drive, where we walked a short nature trail and the girls finished up their books.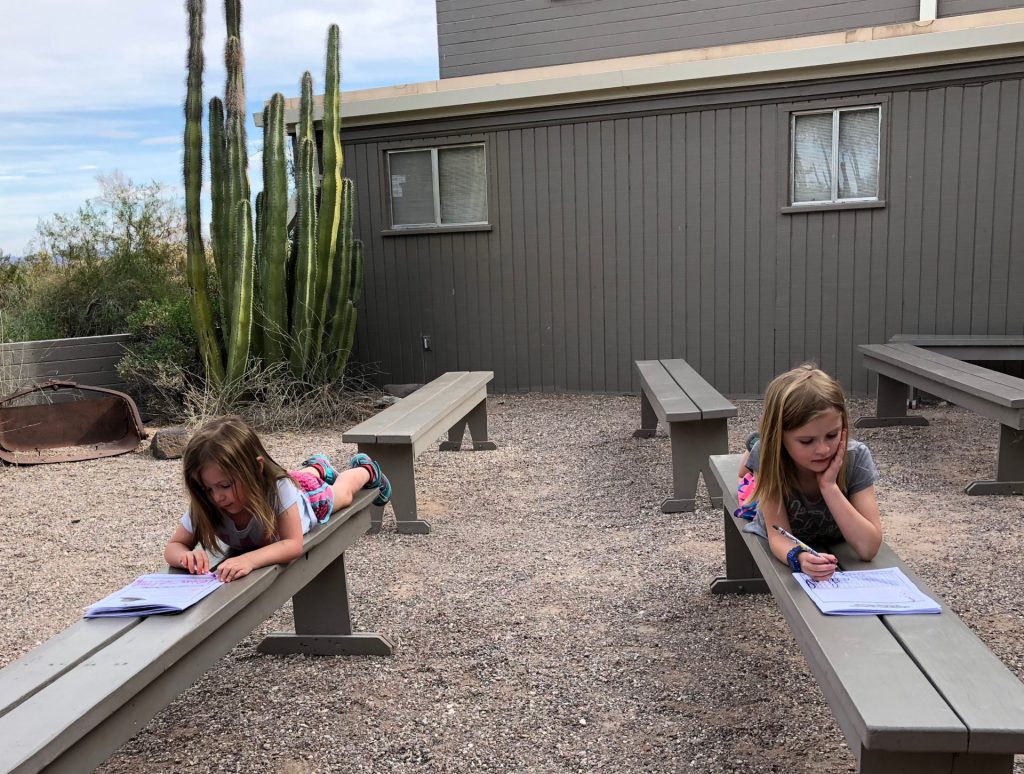 then a friendly ranger chatted with them and swore them in as junior rangers.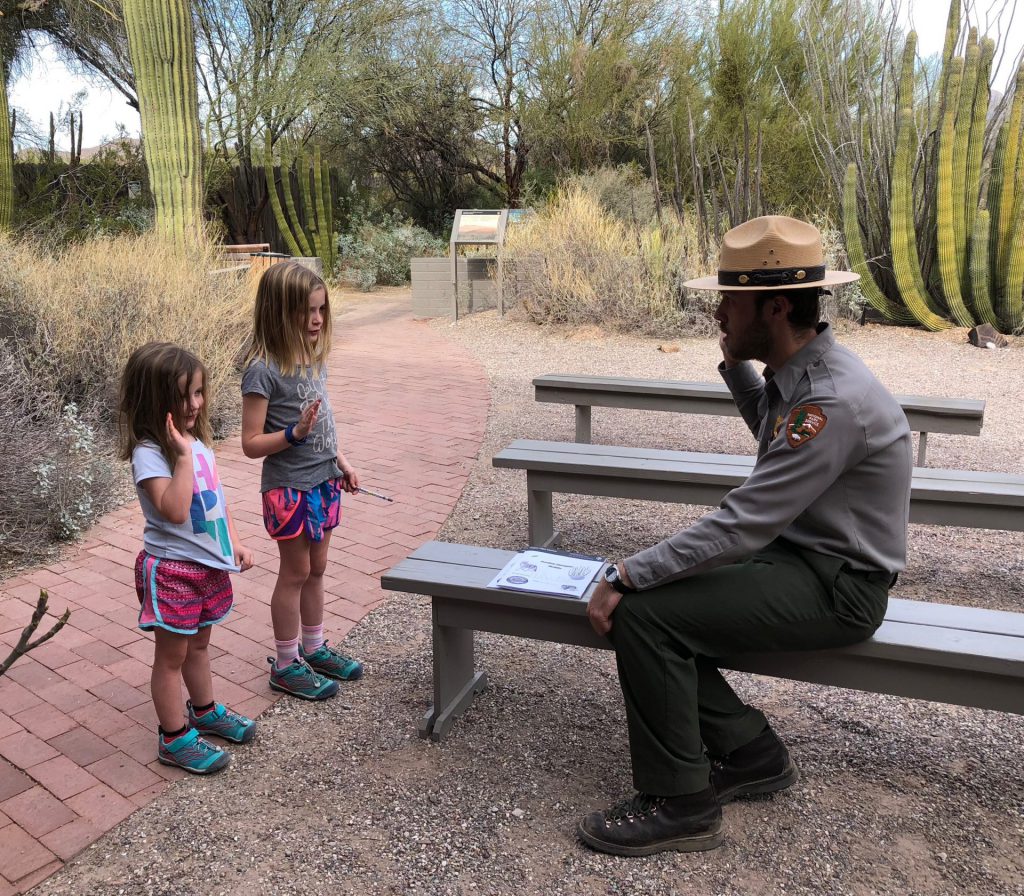 and we went back to our site to chill out for a bit. super roughing it with ipads and battery packs.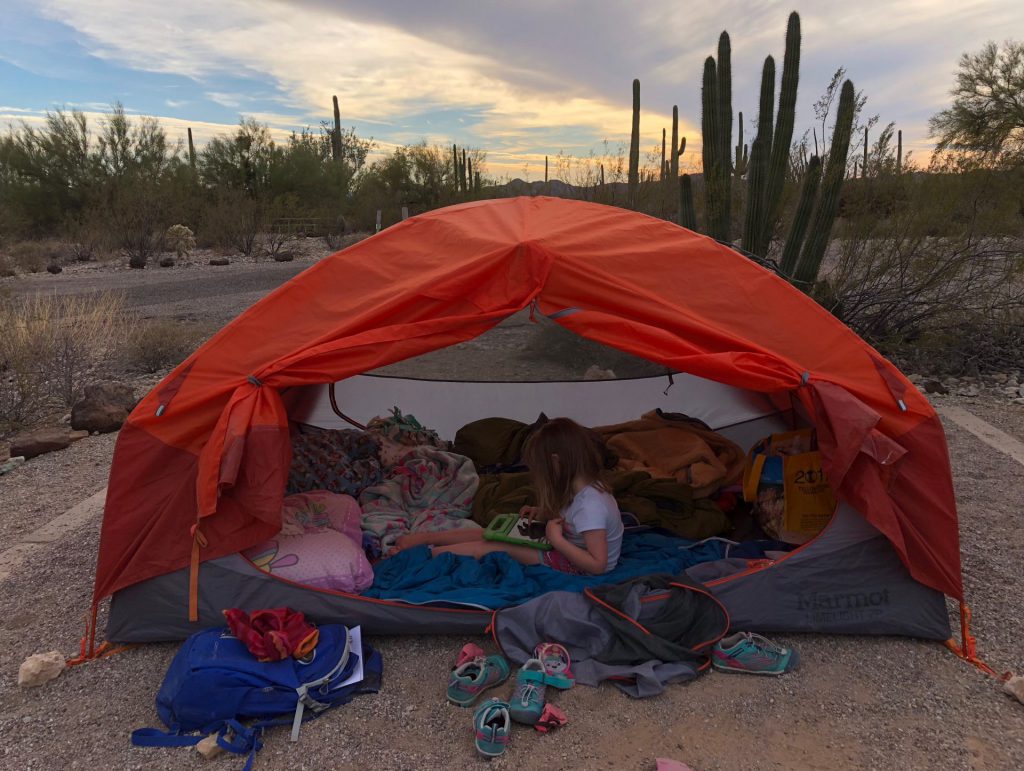 a few minutes before sunset, we set out to get the perfect organ pipe cactus sunset picture. as we waited, we touched a bunch of cactuses spines.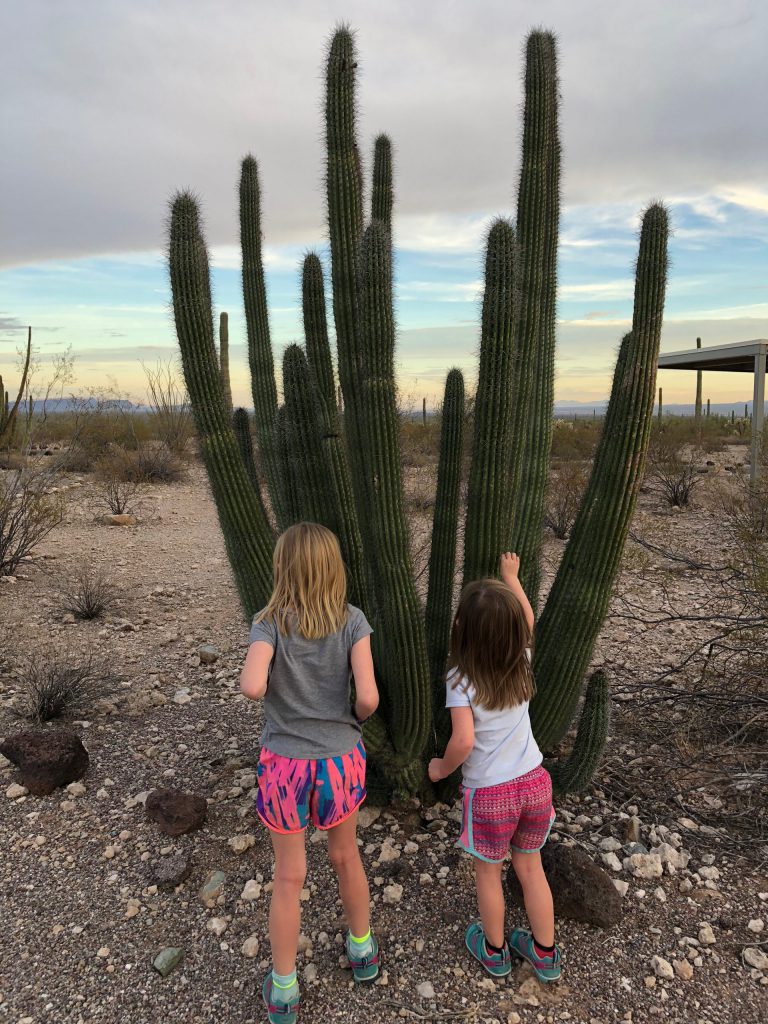 we think this is a baby organ pipe cactus, but if they grown at the speed of saguaros, it's probably not a baby after all.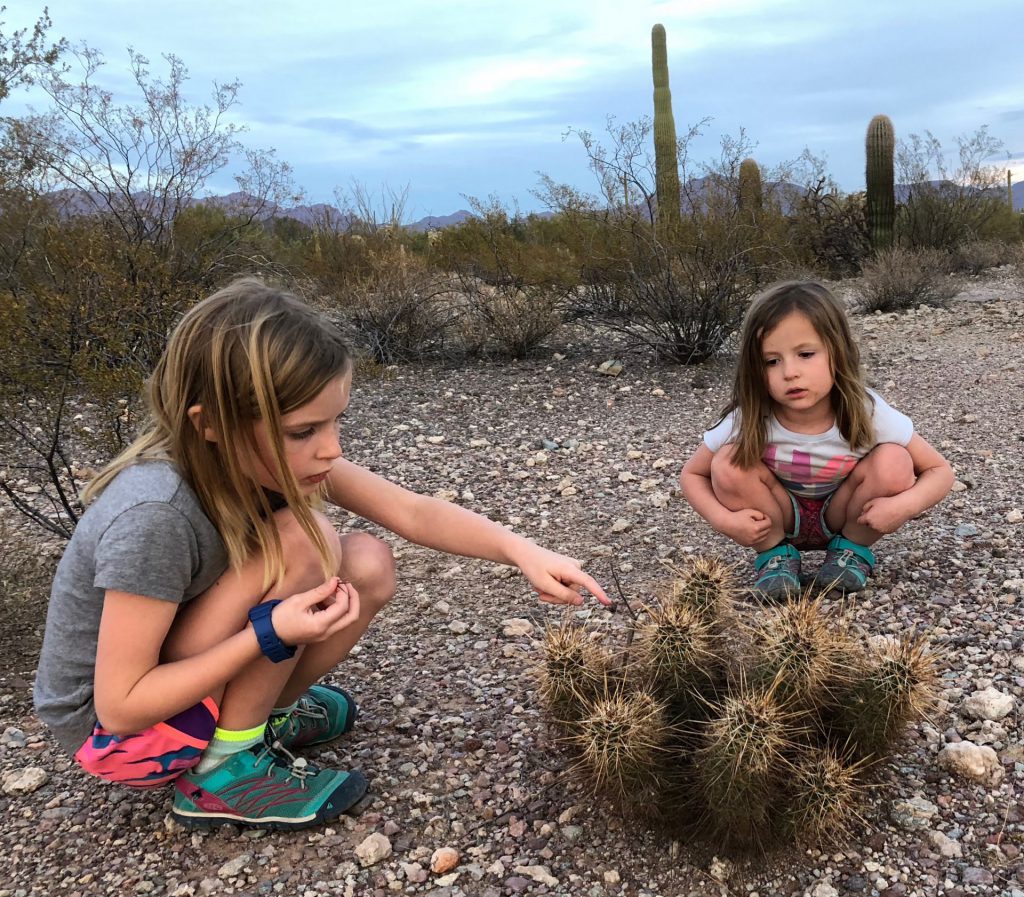 we have learned a lot about nurse plants and how cactuses tend to start growing close to certain other types of trees and shrubs. they offer protection during the first years of the cactus's life, allowing it to get a good start and not get trampled or scorched by the sun. so, we were on the lookout for baby cactuses, growing under nurse plants.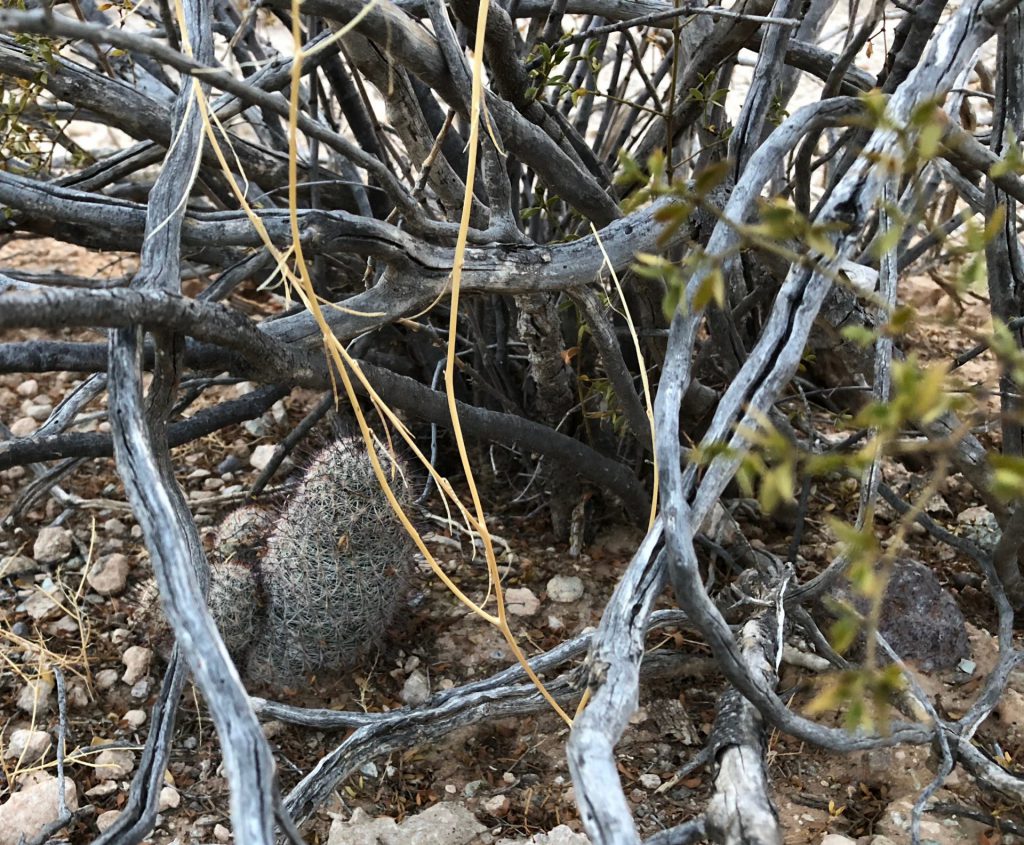 finally, the sun began to set. and we found our perfect organ pipe cactus.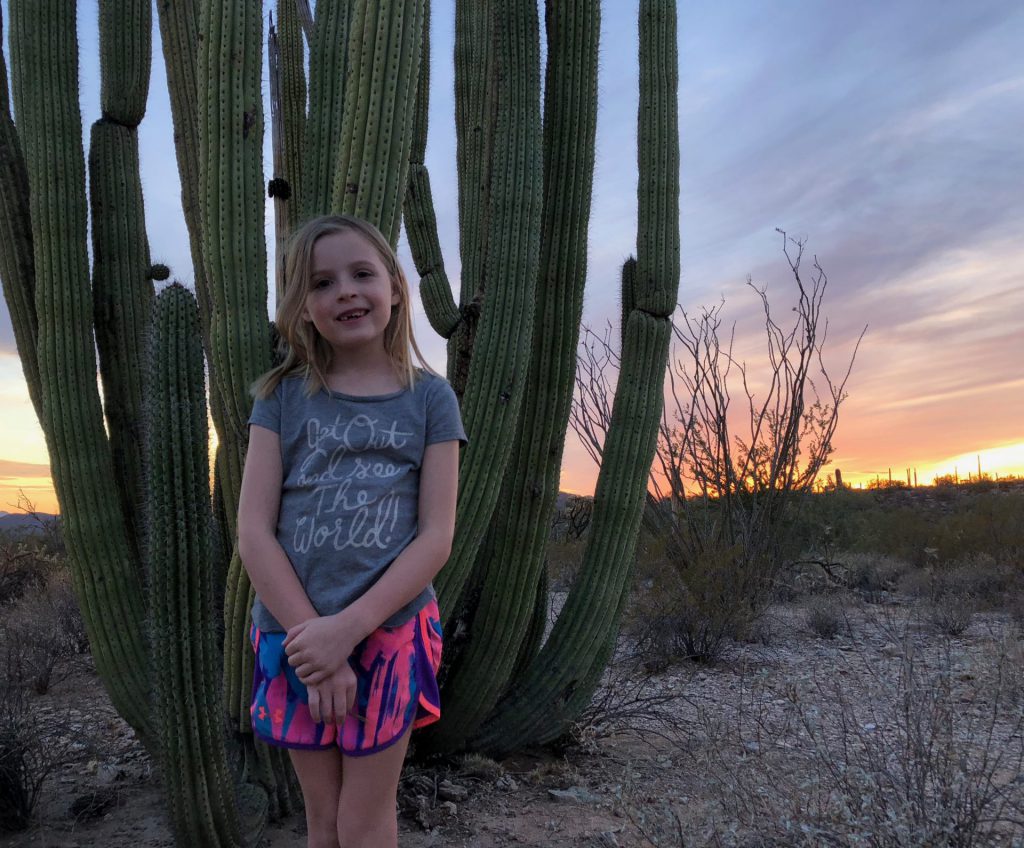 i think this was the top of a very young saguaro, which made for a cool shot, while we waited for the earth to rotate to just the right spot.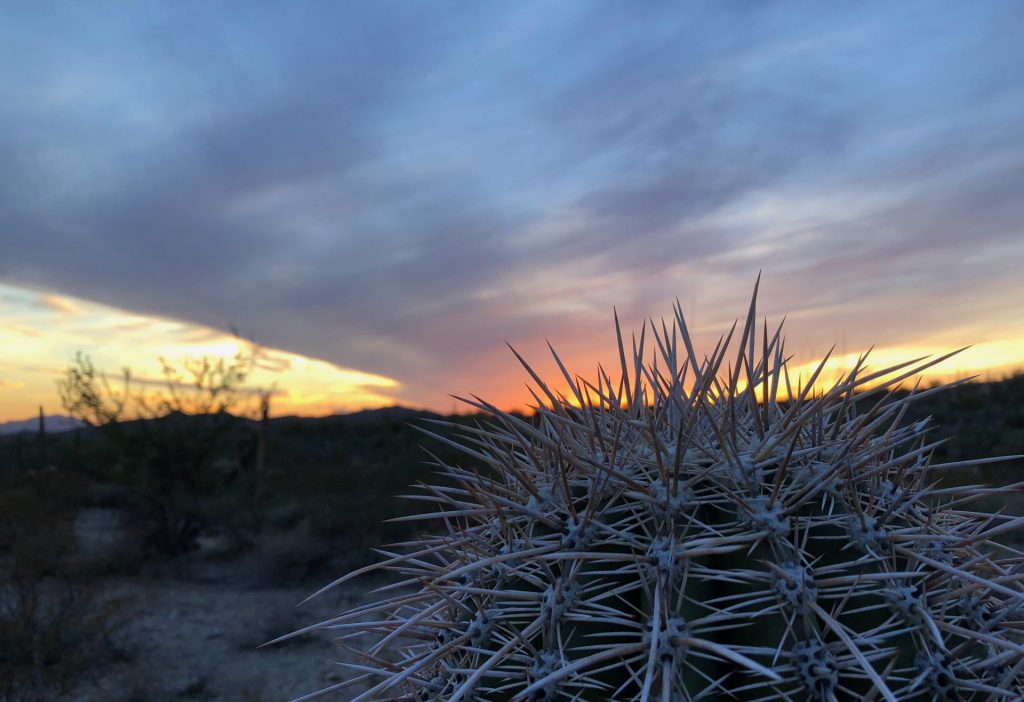 almost perfect…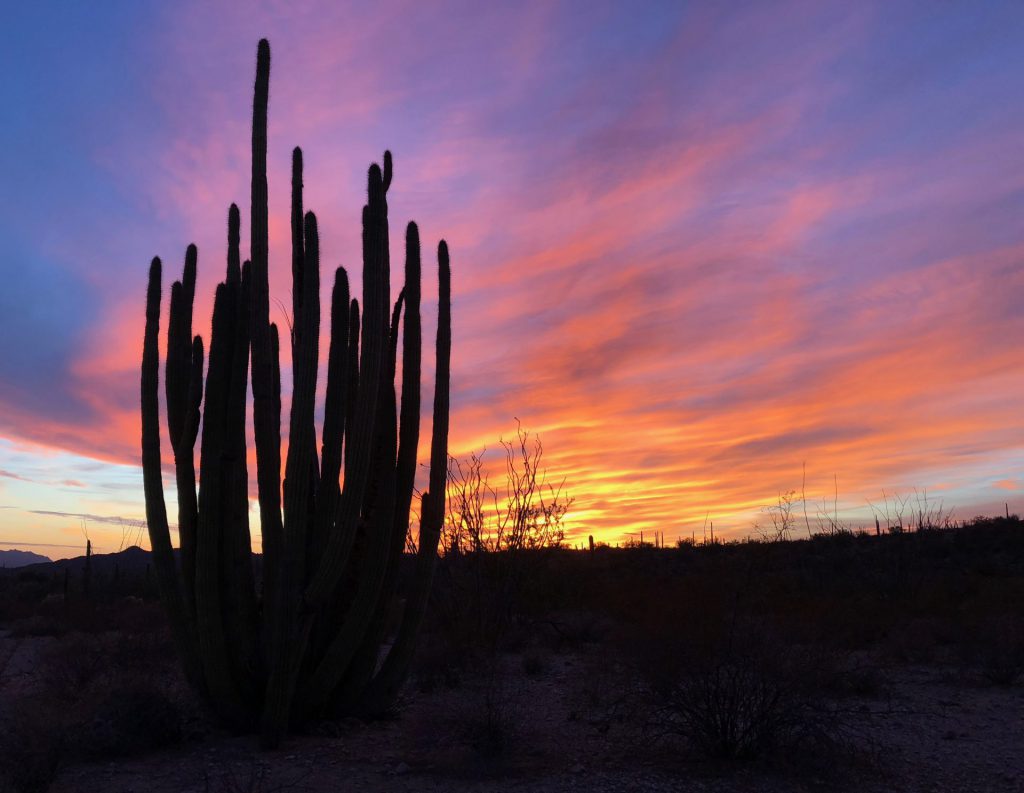 and then, behold, the perfect organ pipe cactus desert sunset silhouette.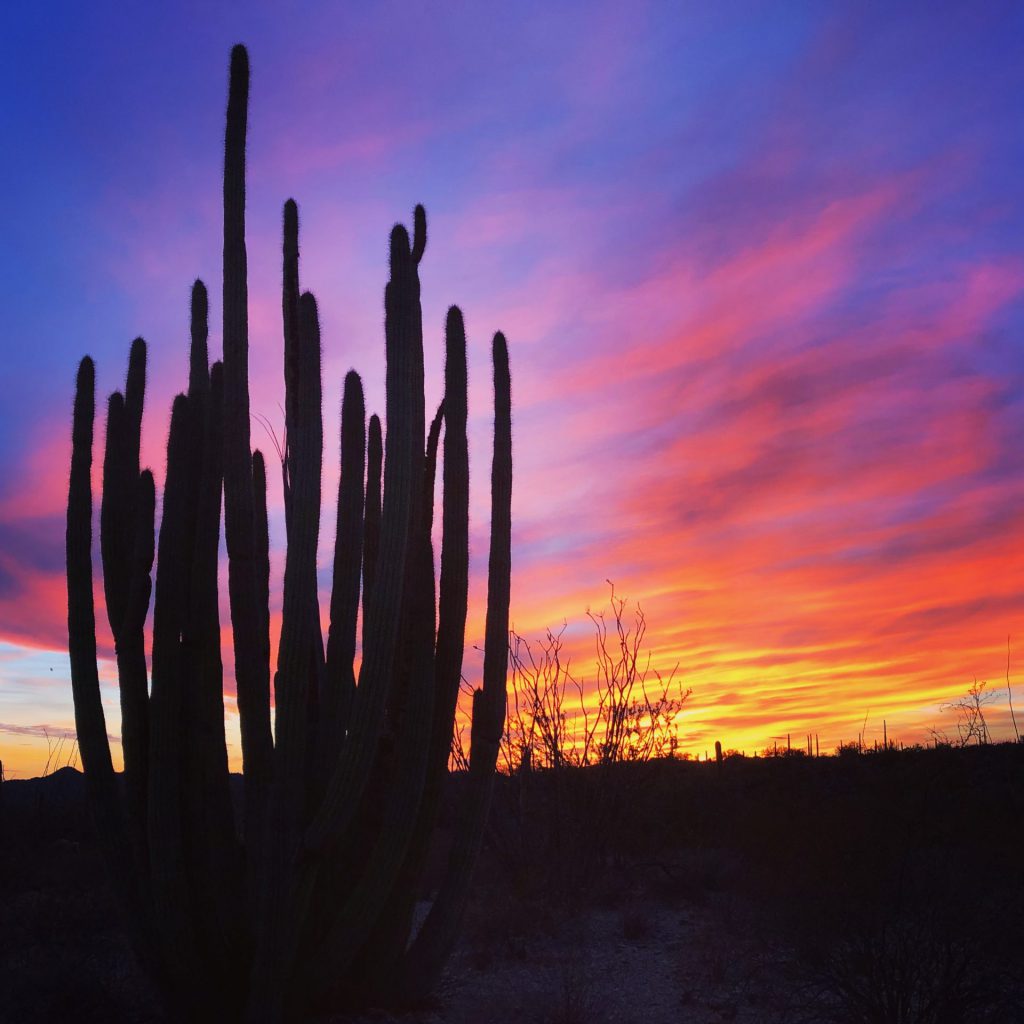 the sky was crazy amazing. but it was also getting dark and we were surrounded by dangerous spiky stuff, so we started back. but i made sure to keep turning around and taking pictures.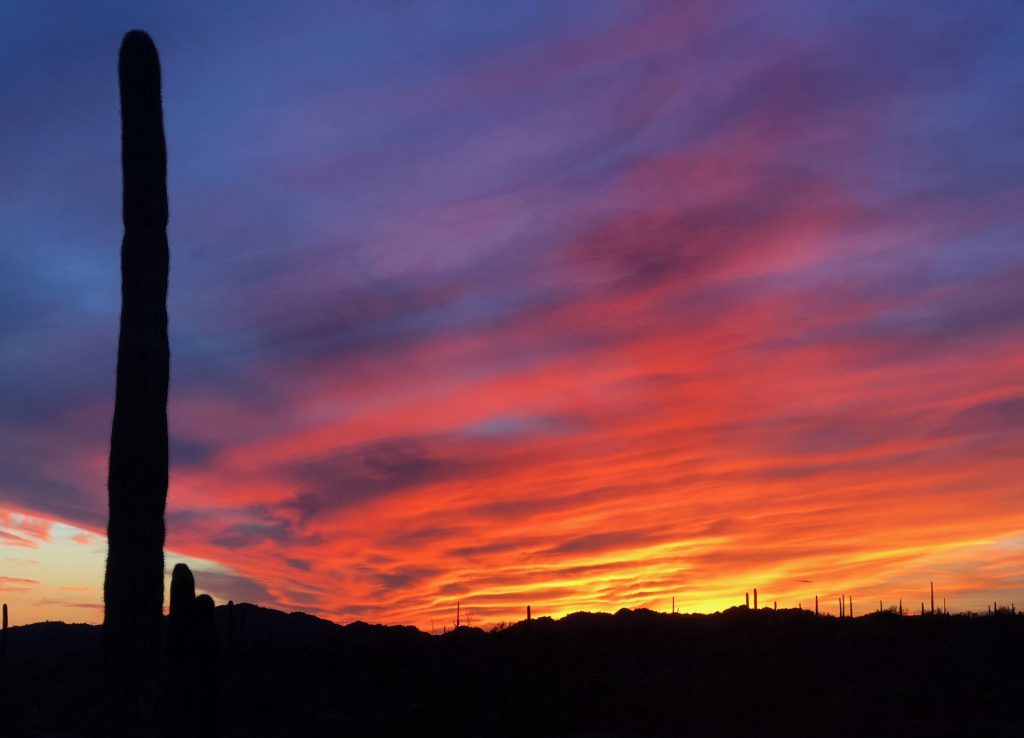 once we were back, we bundled up and went to the amphitheater, to catch a ranger program about constellations. hazel fell asleep and missed the moment when the entire place laughed at her hilarious constellation drawing of a "weird bird". when she woke up on the way home, we told her about it and she was pleased to know that she was the class clown of the ranger program. we were pretty exhausted at this point and sleep came easily. and morning came rough. at least for me. so much coffee needed. round one.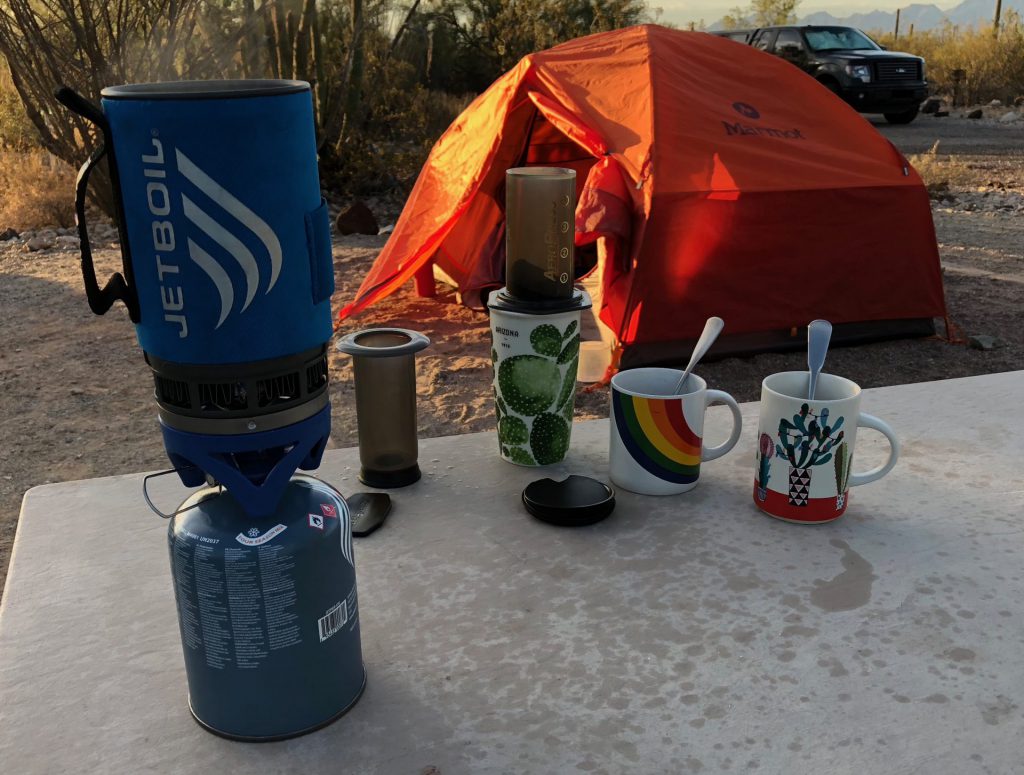 and two. with cute girls looking on.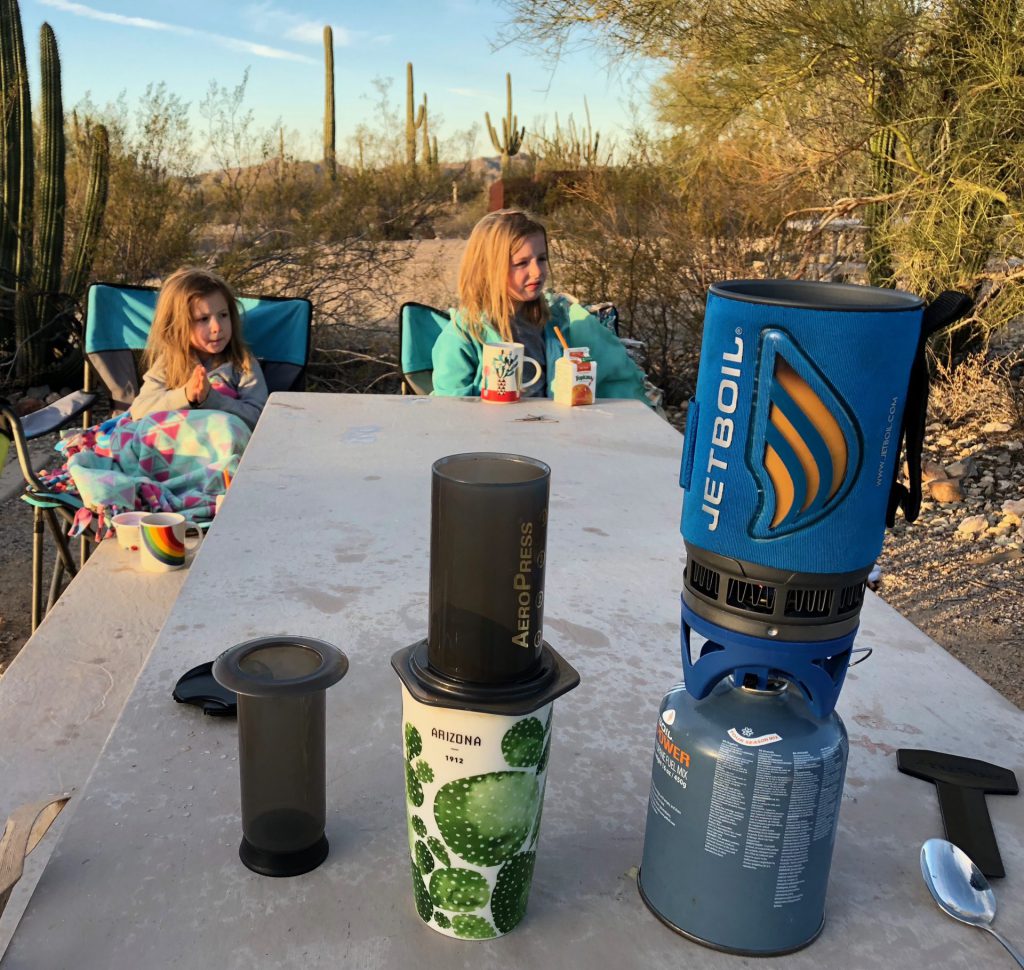 after breakfast, we broke camp and got on the road. we had a four hour drive ahead of us, but we were planning to stop in a little town just north of the park, to do a bit of exploring and have lunch. and that will be my next post. 🙂