well.
it's been awhile. so much to catch up on.
we rolled into 22 days ago. we stayed in a hotel for the first few days, while our camper was looked at for possible water damage. then we were back in the camper for a week, while we worked out the details with insurance and adjusters and such to repair the confirmed water damage. and then we have been back in a hotel for another week-ish. my parents came and left in this time. and we celebrated my birthday (sort of) and thanksgiving (also sort of). hopefully, the camper will be finished up in a few hours and we will get all moved back in and be back on the road tomorrow.
we have managed to take a few fun excursions, but we have mostly laid low and enjoyed the space and tv and wifi and bath tubs of the hotel. we were barely settled in when the girls took their first bath. anna has been scavenging bath toys from various places. plastic cups, straws, spoons. whatever she can find.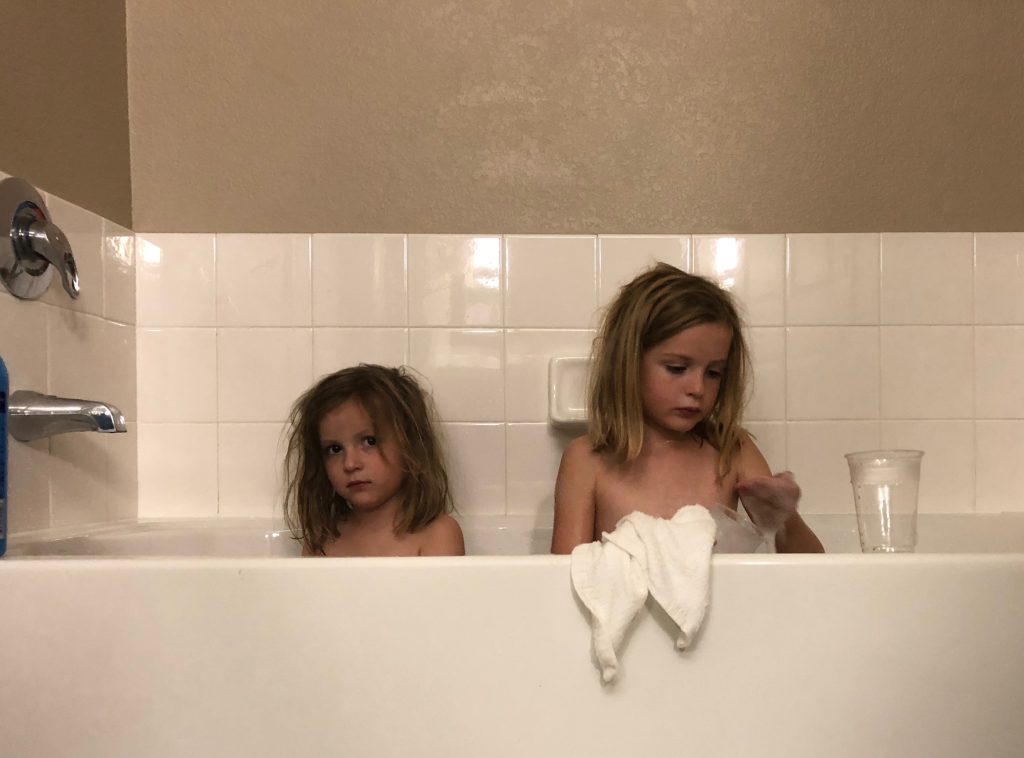 we ventured out to the venetian casino to get a taste of vegas life. the kids weren't really impressed. but they definitely made note of the fake sky, painted on the ceiling. the next day, as we walked around outside, hazel asked me if the sky was real or fake.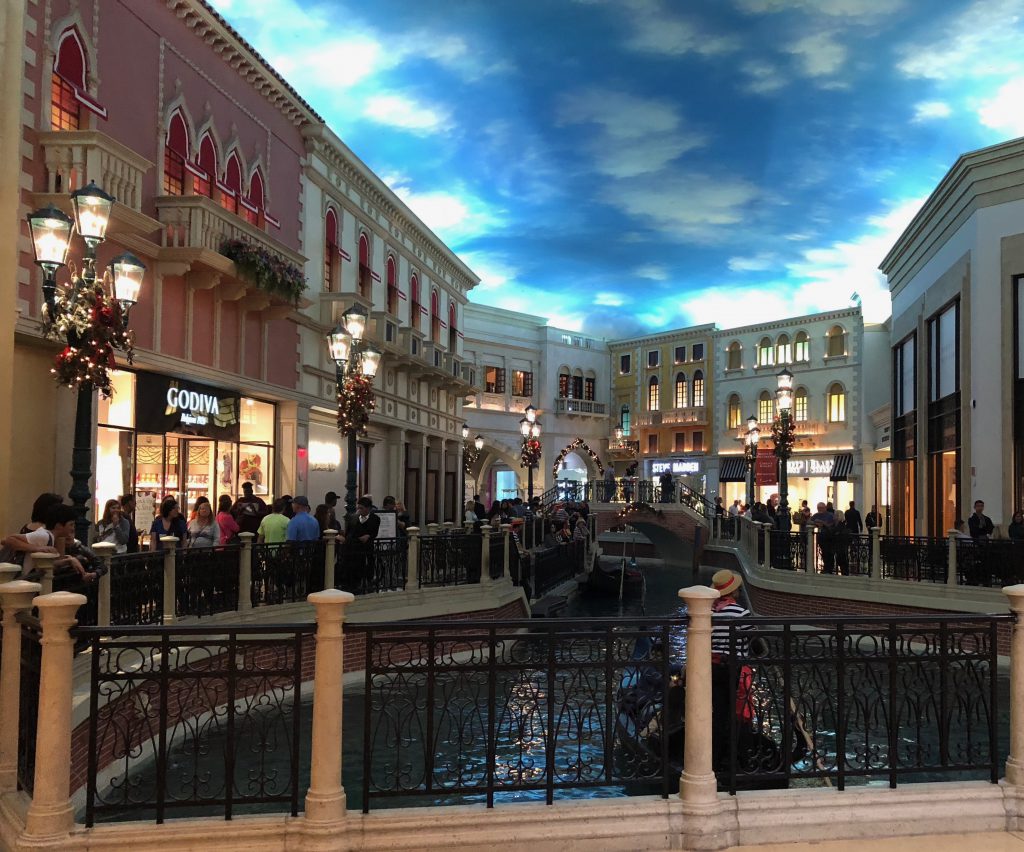 obviously, i took the kids on an excursion to get a photo with the welcome to las vegas sign. we only had to make 7 u-turns to get there. the memorial to the victims of the recent shooting was very sad. and prompted some discussion about the state of america.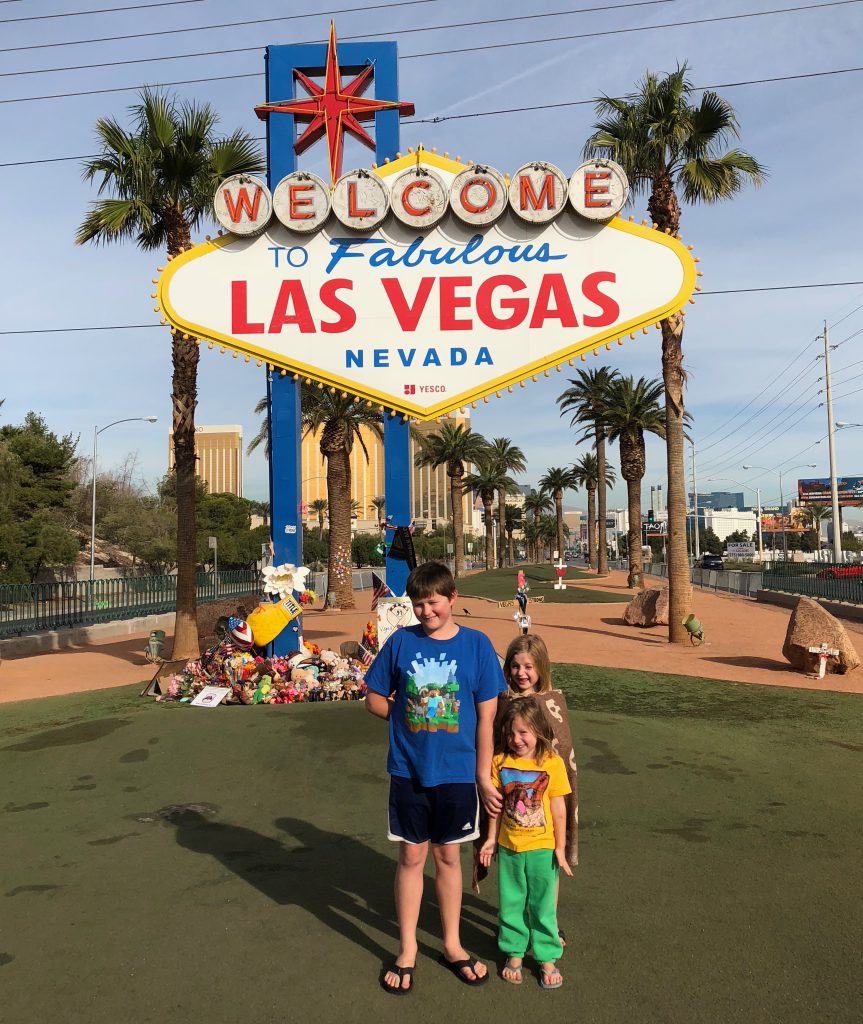 our first few days of hotel life meant we had to eat out way more than normal. we also learned that just finding somewhere to eat on a map and driving there is not always an option in vegas. we had to park in a parking garage, trudge through a casino, go back outside to a promenade, just to get a tasty and cheap-ish meal at in-n-out.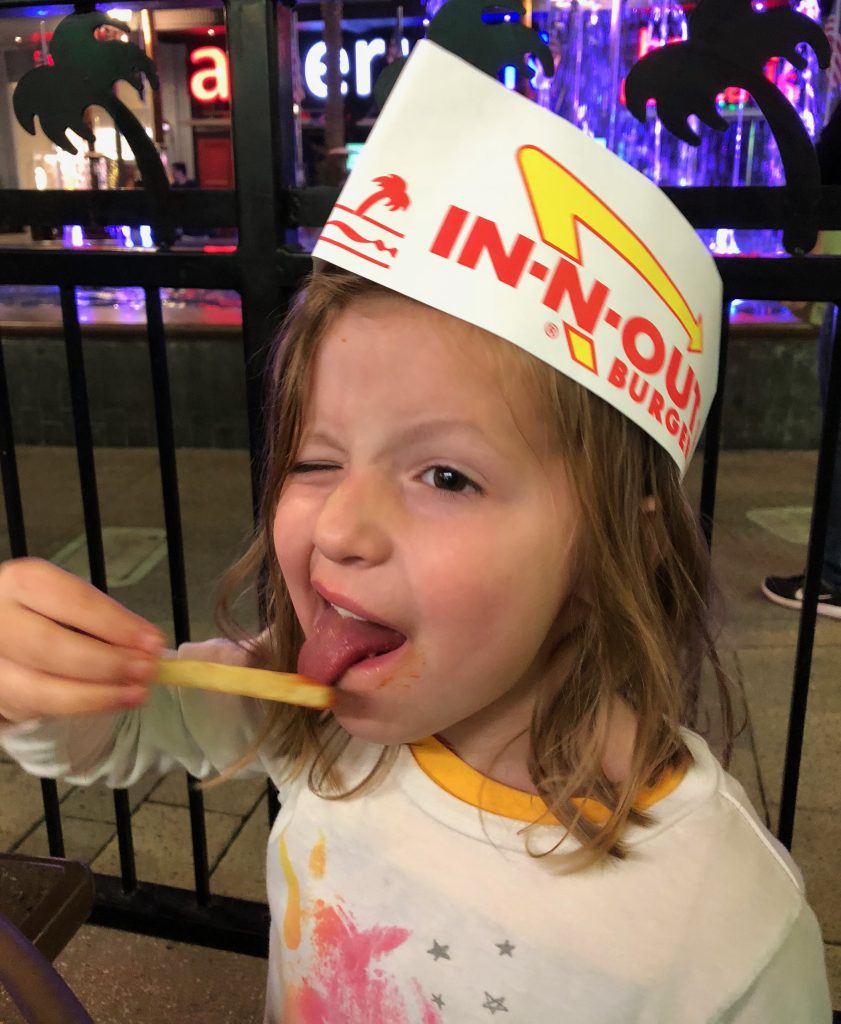 and then, there was a sprinkles cupcakes next door, so we obviously had to try that.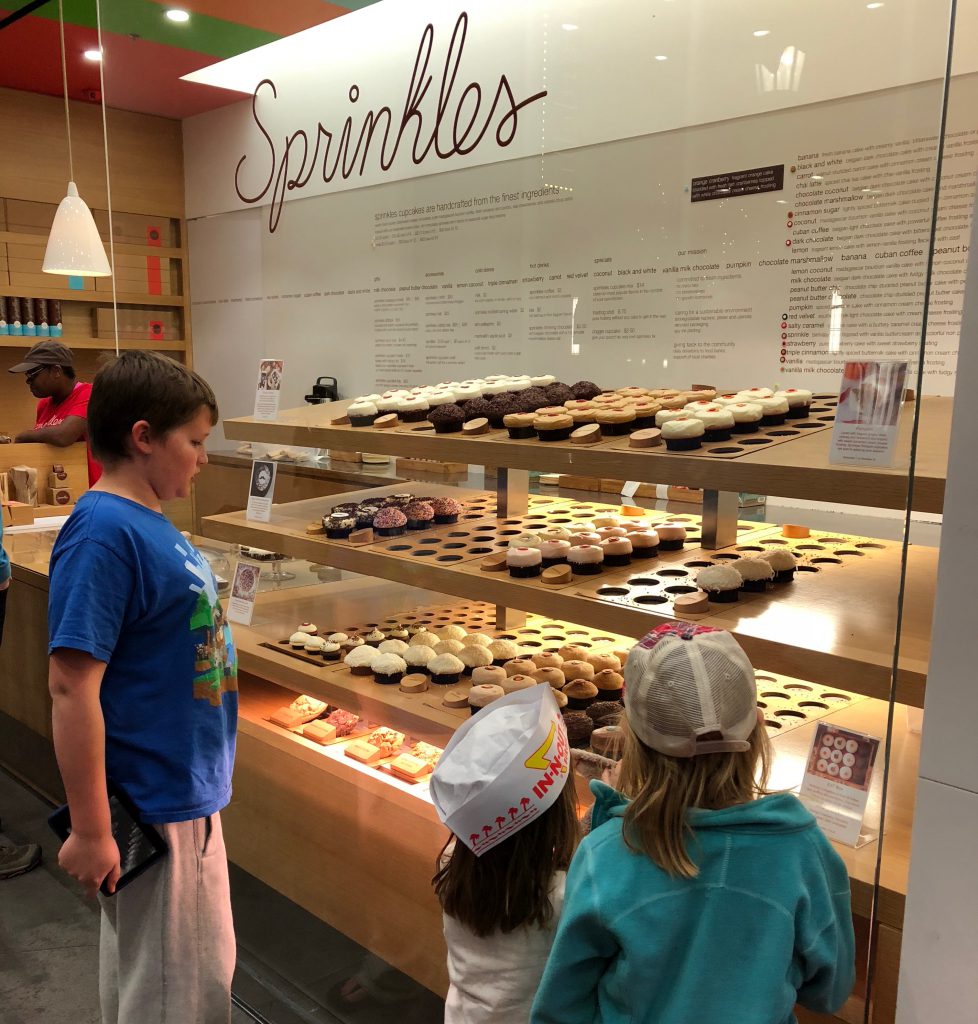 so. a week before we arrived in vegas, was "fall back" to daylight standard time. then, we crossed into a new time zone. so sleeping schedules were wacky. hazel was getting up at like 5 am. since derek had to work at 6 (he's still on east coast 9-5 hours), he would set her up with some toys to hopefully keep her happy while the kids kept sleeping. bathroom legos.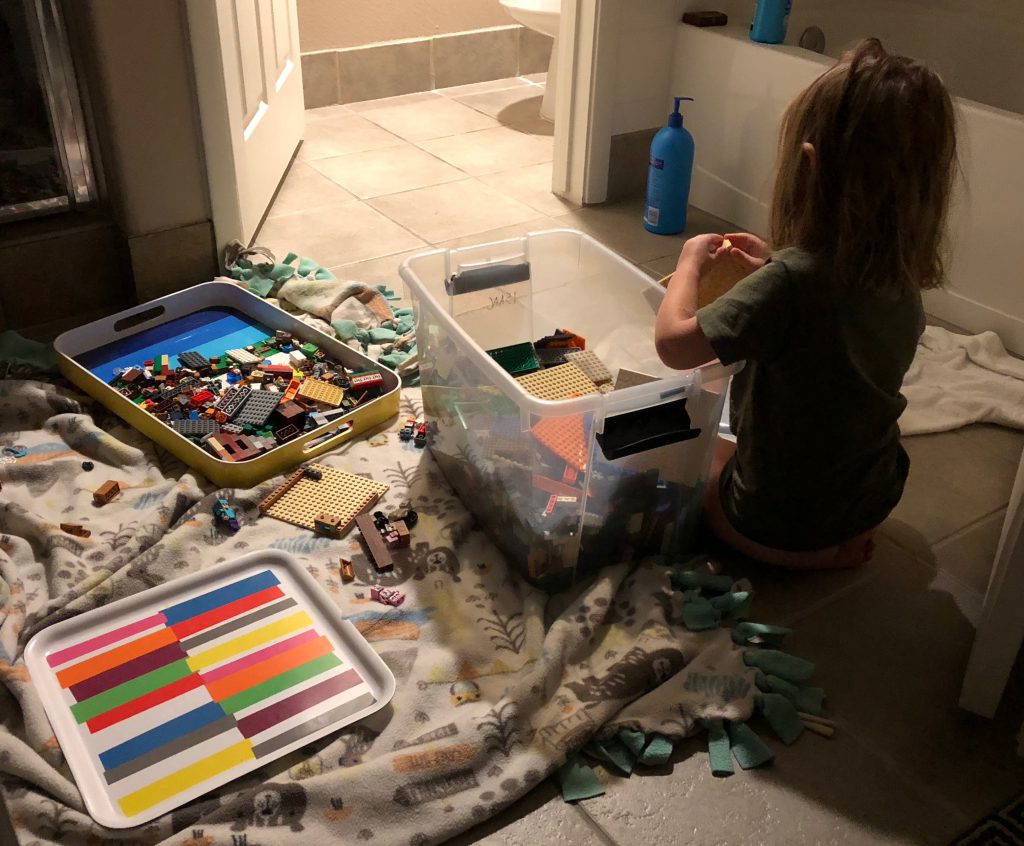 morning sun creeping through the curtains legos.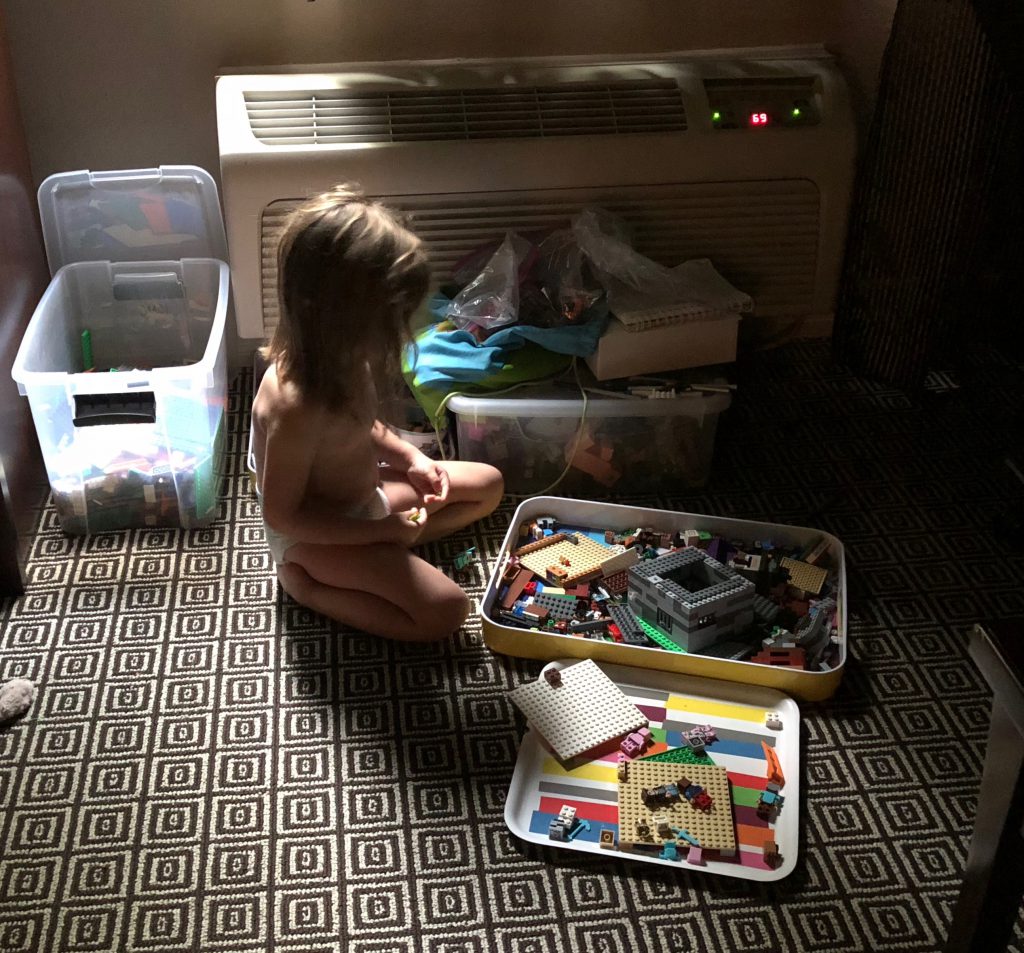 we had quite a bit of laundry to catch up on, so one day we found the worst and scariest part of town, and hit up the laundromat. there was a homeless lady sitting outside drinking vodka. and crazy construction that required we park in the strip mall nearby and walk over. and i only had to make like four u-turns to get there. progress.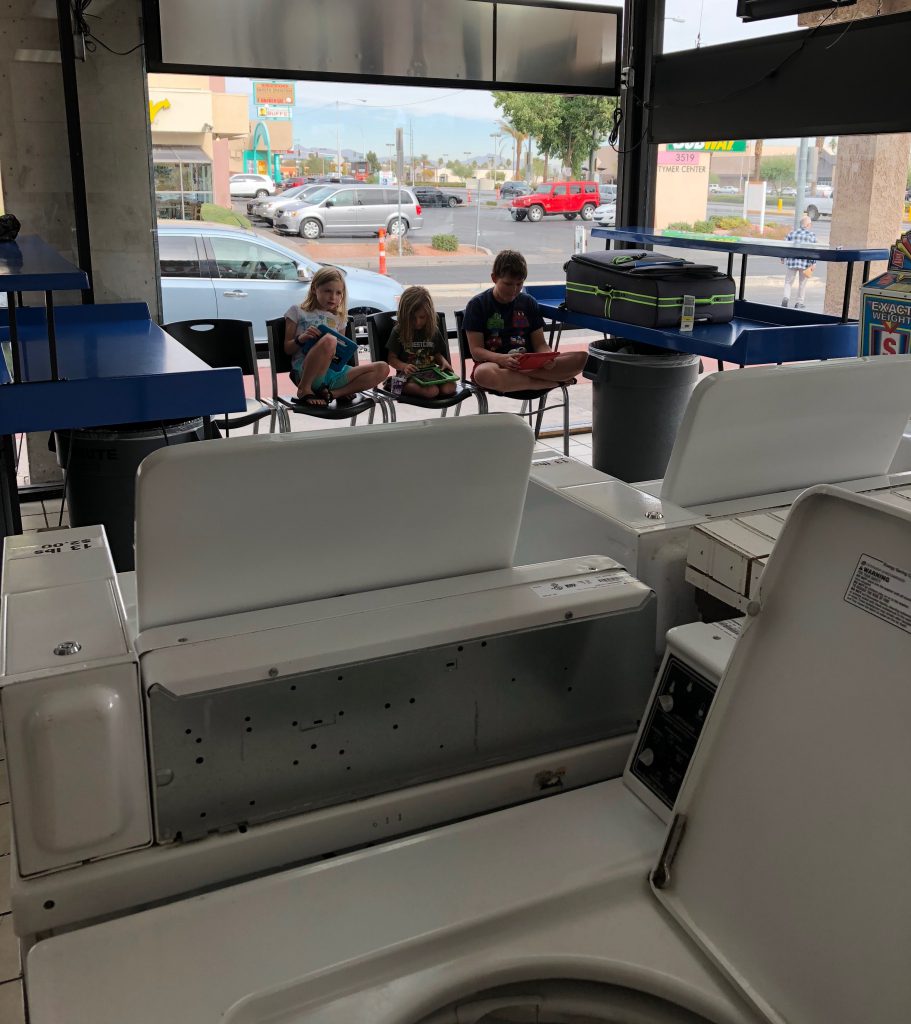 our camper, was sad and lonely in the hotel parking lot, the views decidedly less beautiful than the months previous.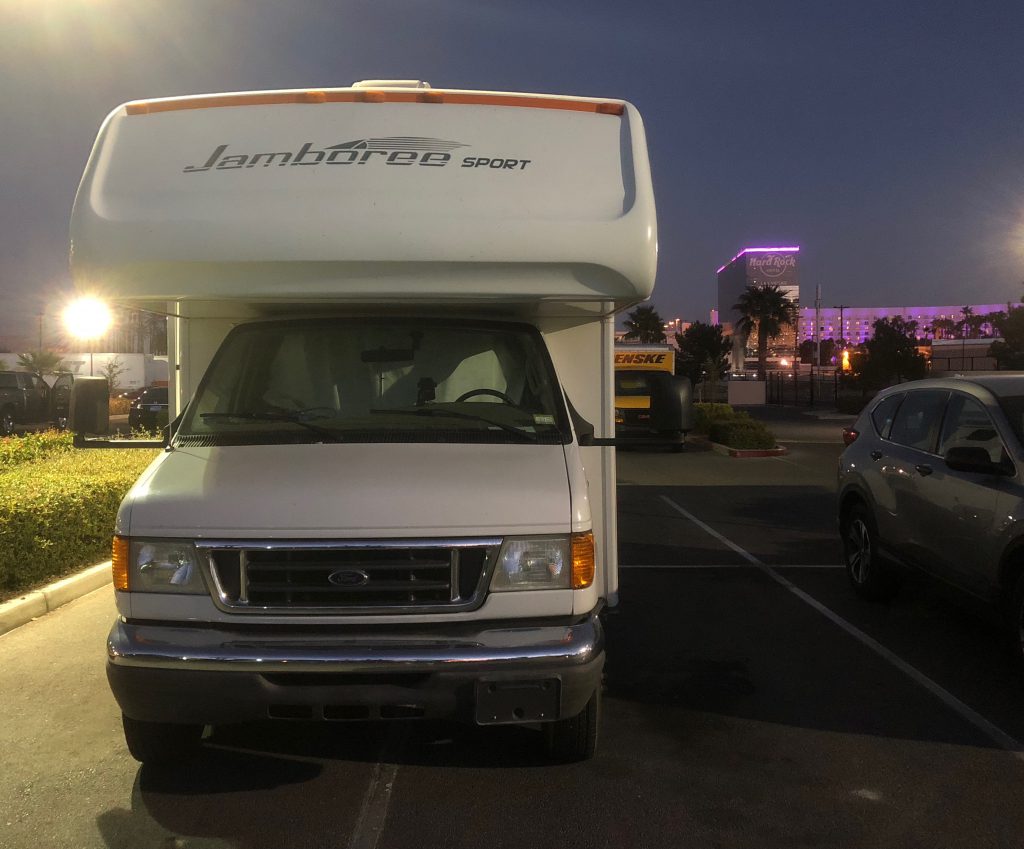 then. it was my birthday. my parents got in that morning and were incredibly tired with the time change. everyone is on the keto diet and the kids are terrible eaters and we were struggling with decision making, so we picked up chipotle and pizza to appease all parties. so, i celebrated my birthday in the hotel room, with some ipas and the biggest burrito i've ever had and a grocery store pumpkin cheesecake.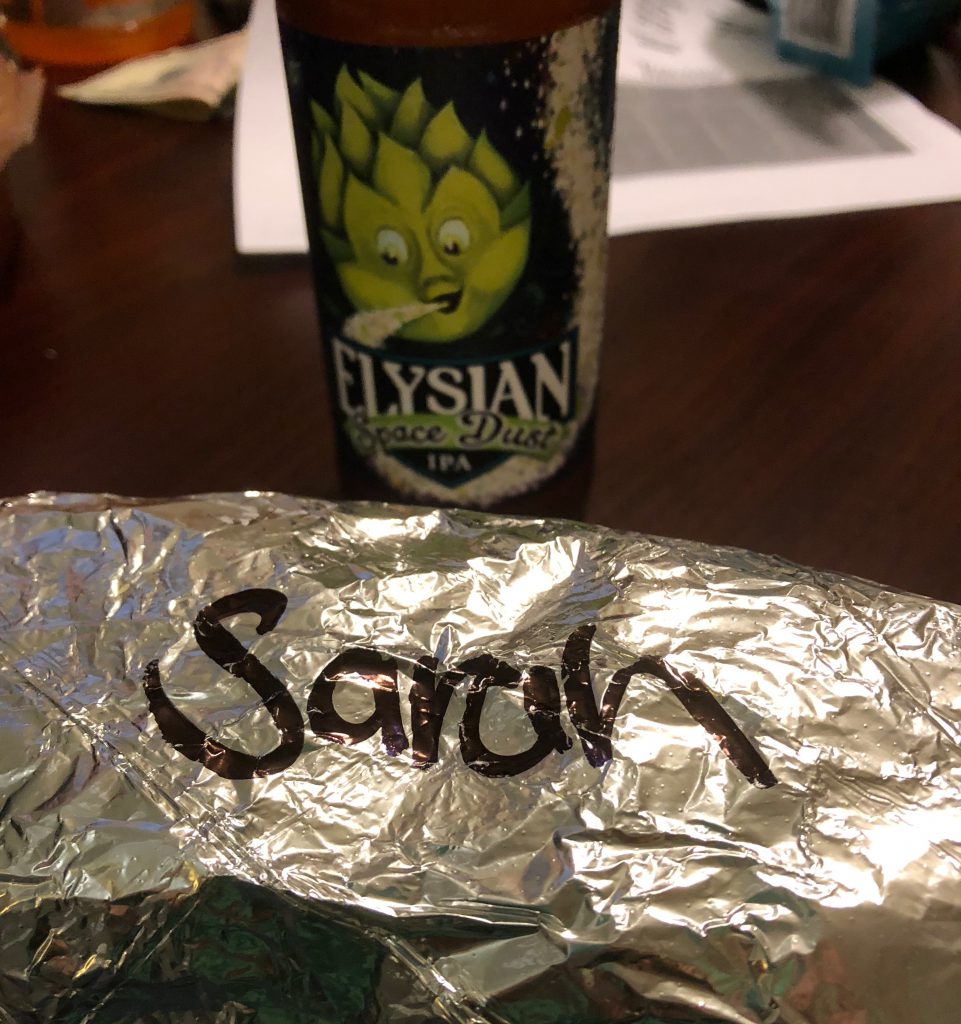 (pumpkin cheesecake note: hazel ate most of it. i don't know how she didn't pop. her belly was rock hard. the next morning, we were chatting and for some reason i had to tell her that it wasn't my birthday anymore. she replied, "because i ruined it?" i had no idea what she was talking about, and asked her why she thought she ruined it and she said, "because i ate all of your cheesecake.")
with a good night of sleep under our belts, we dragged new gramma to the bellagio to check out the christmas decorations at the gardens. so many flowers. hazel was not a fan of the robot tree and his shifty eyes that were looking at her.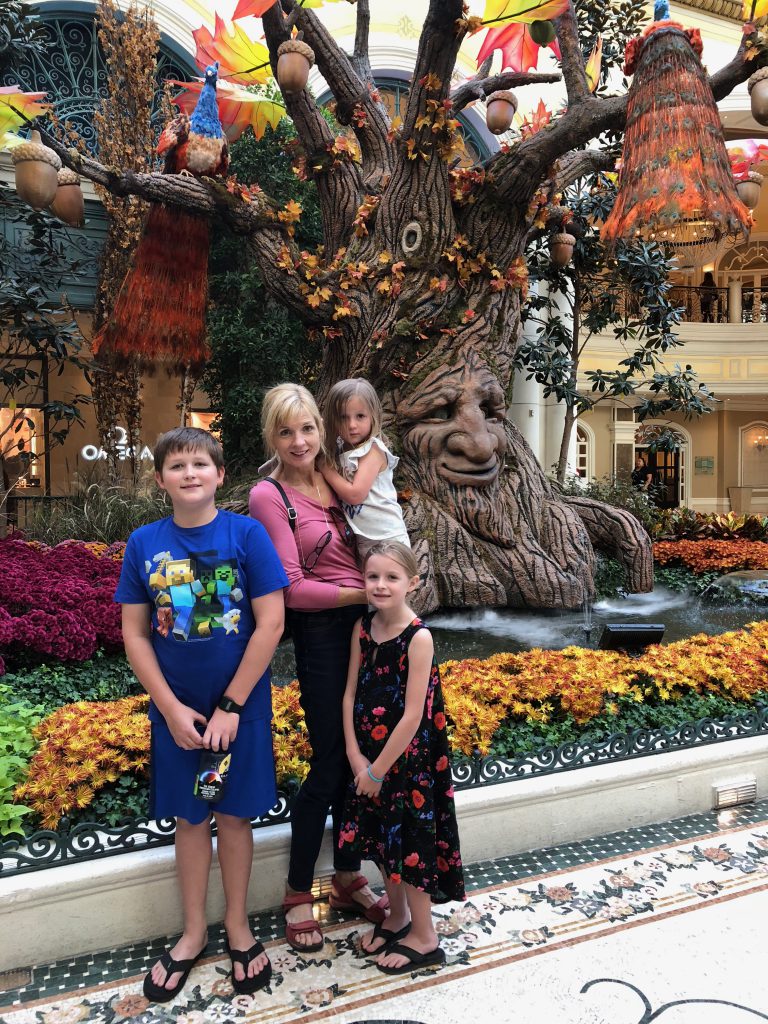 peacocks.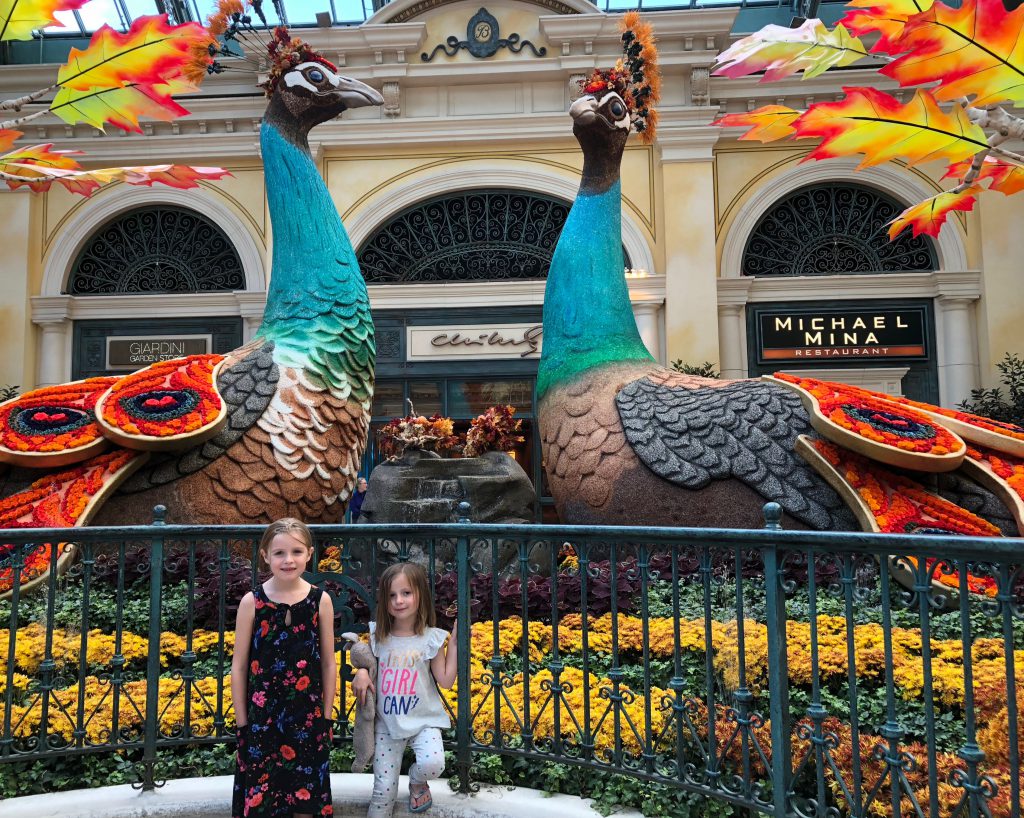 we are hoping to get back to the bellagio this evening to see the christmas decorations. but there's a lot to do to get out of vegas, so it might not make the cut.
later, isaac and grampa terry stayed back while the rest of us took a trip on the high roller ferris wheel. we had the entire pod to ourself. hazel settled in for the revolution (it takes about a half hour to go all the way around).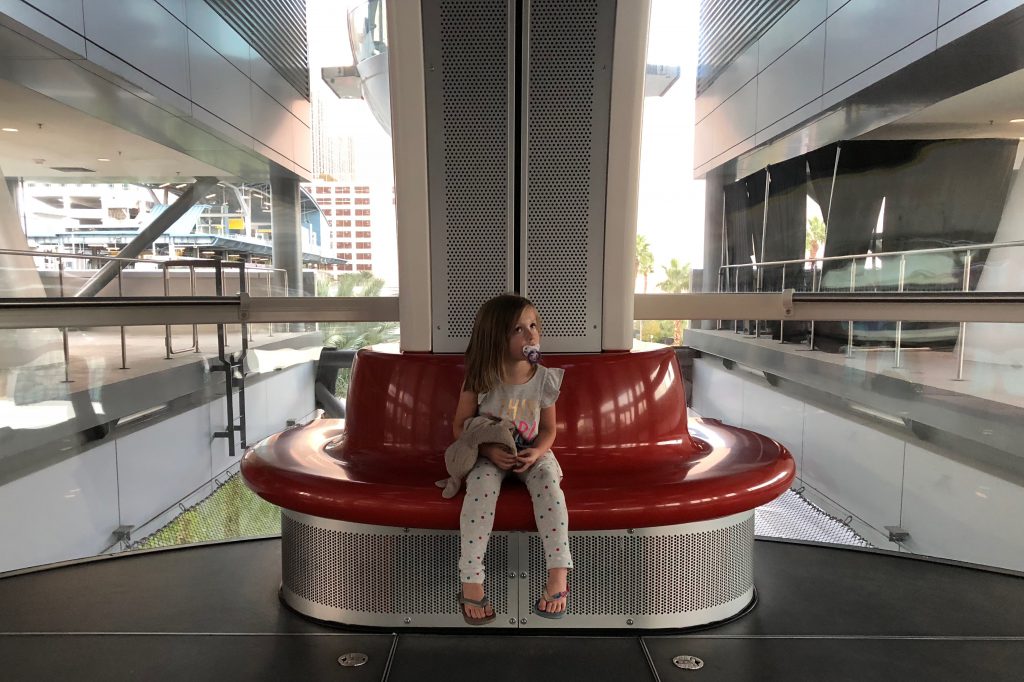 we had a pretty great view of the sun setting behind the mountains.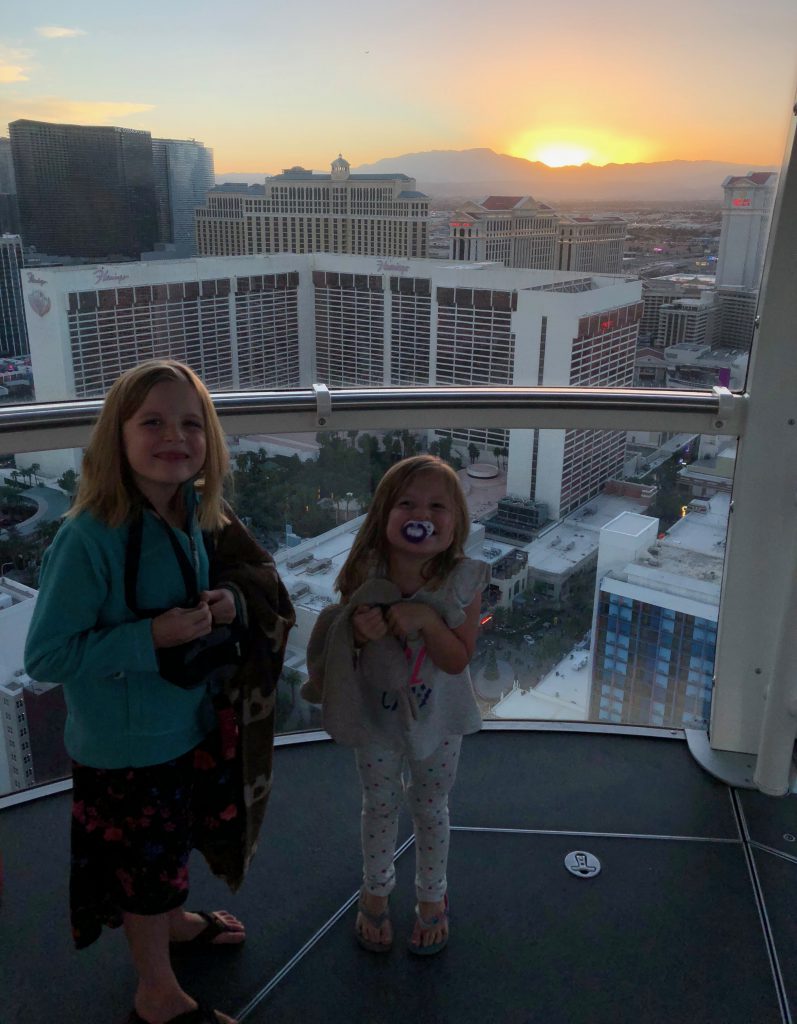 almost at the top, i took this picture of the pod in front of us.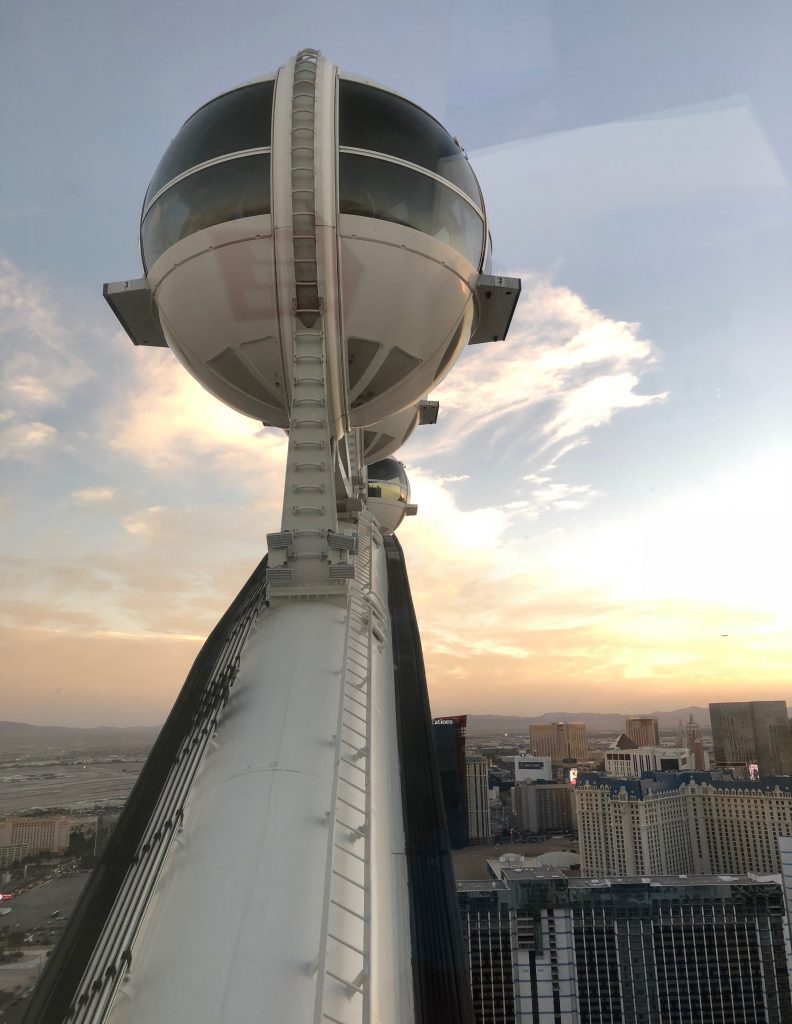 the high roller, as seen from below, as night set in.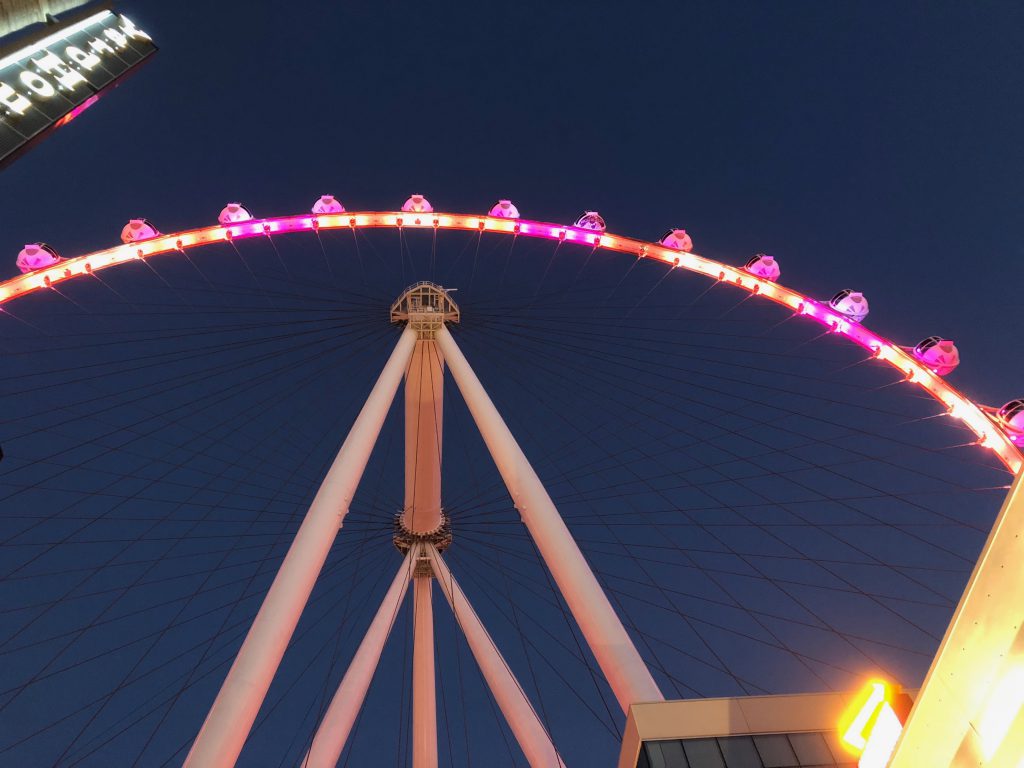 we walked around the strip for a bit, hoping to see the bellagio fountain show, but it was too windy, so it was canceled apparently. we headed back to the car before things on the strip got too out of control, but not before passing some nearly topless ladies that i think we successfully distracted our kiddos from seeing. 🙂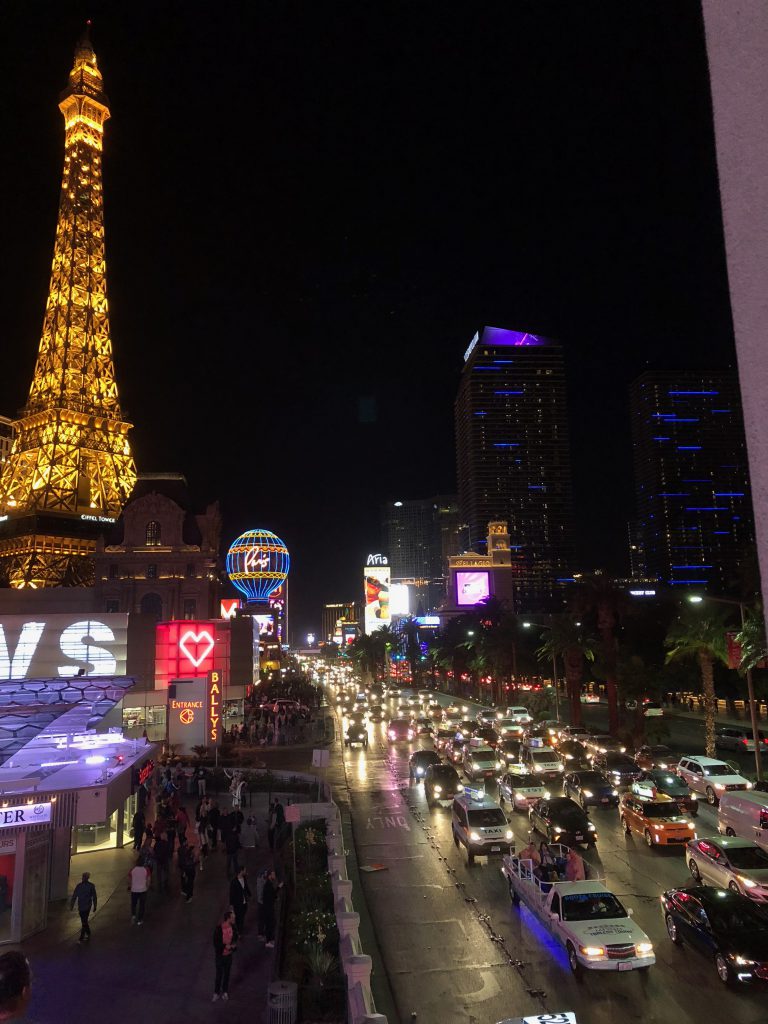 derek and i got to have a date night (that doubled as a belated birthday meal), while my parents kept the kiddos at the hotel. we went to a brazilian steak house, where you are constantly bombarded by chefs rushing around with various meats on sticks. i seriously ate so much beef. and a bit of chicken. but mostly beef.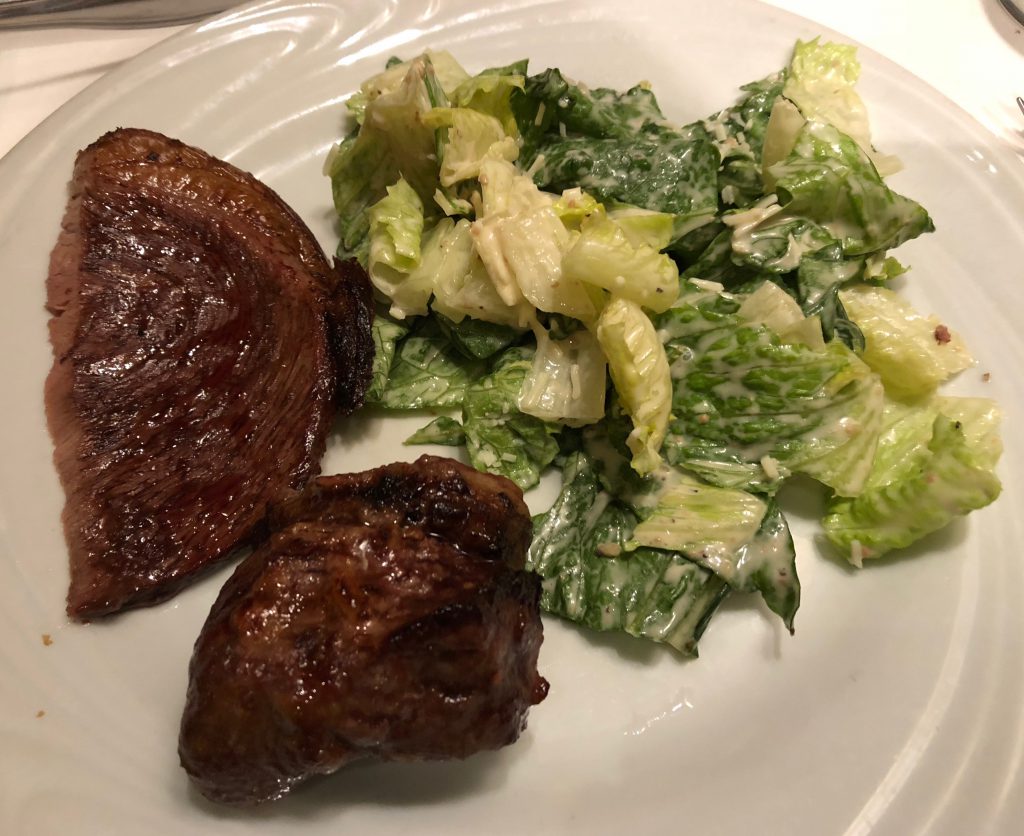 the next day, we had a bit of excitement, when anna was finally ready for us to pull a tooth that had been dangling around her mouth.
the day before thanksgiving was the last day with my parents. (they will make some more blog appearances in the next few posts about our adventures). we went out to dinner at a casino buffet, as our last hurrah/thanksgiving meal with them. and it derailed me completely from the keto diet. oh well. these three did NOT get their money's worth.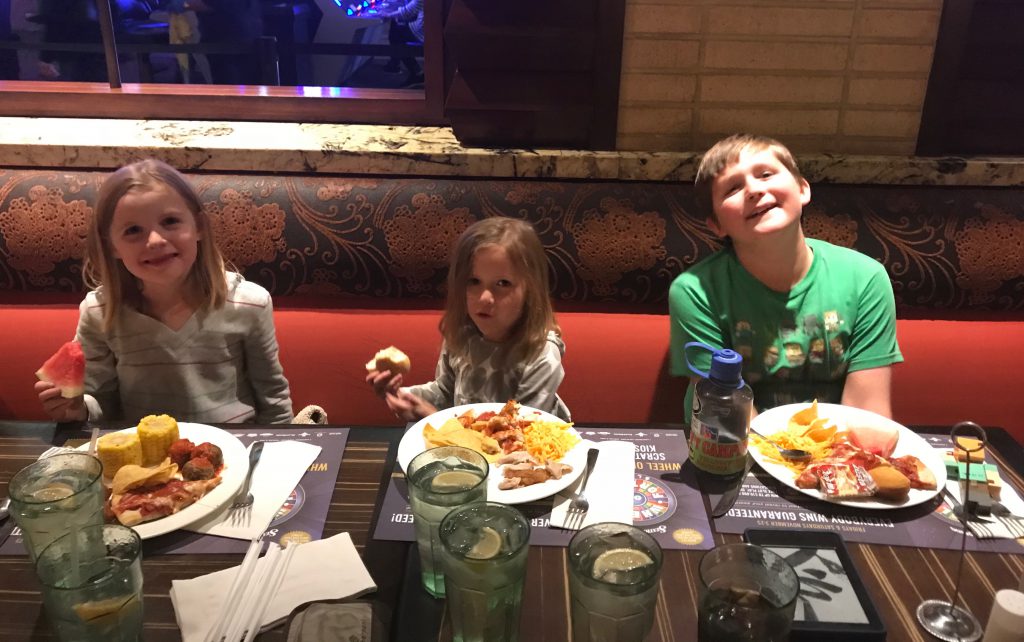 the next day, thanksgiving, we watched a bit of the thanksgiving day parade. which is strange not being live. and hit up a donut shop for a healthy breakfast (and terrrrrrible coffee).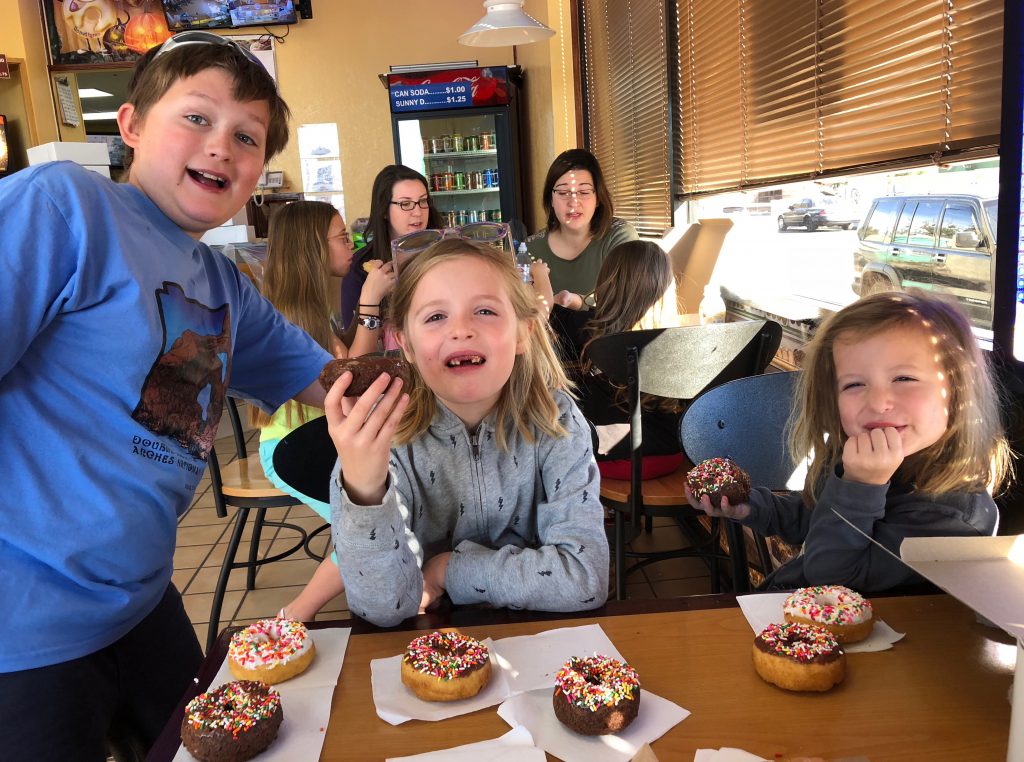 also, did you notice that anna lost another tooth? she lost it overnight with very little fanfare. and now she can sing "all i want for christmas is my two front teeth"…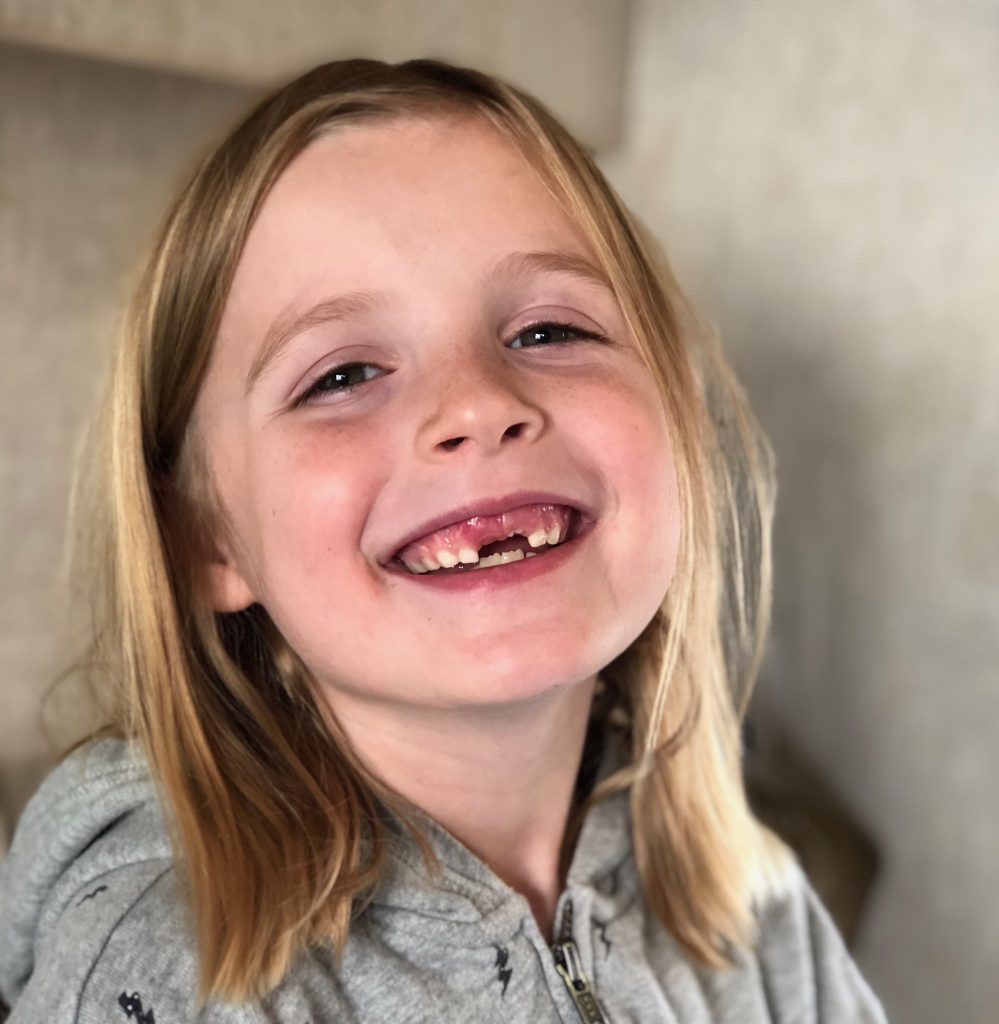 after donuts, we went to see the movie coco. so good. we can't wait for it to come out on itunes.
we debated whether or not to have a legit thanksgiving meal (turkey, etc) or go against traditions. either way, we wanted to eat out and not have messes because we had to get our camper ready to be in the shop. we debated a vegas casino buffet but knew our kids would not get their moneys worth, so we went with golden corral. it was packed!!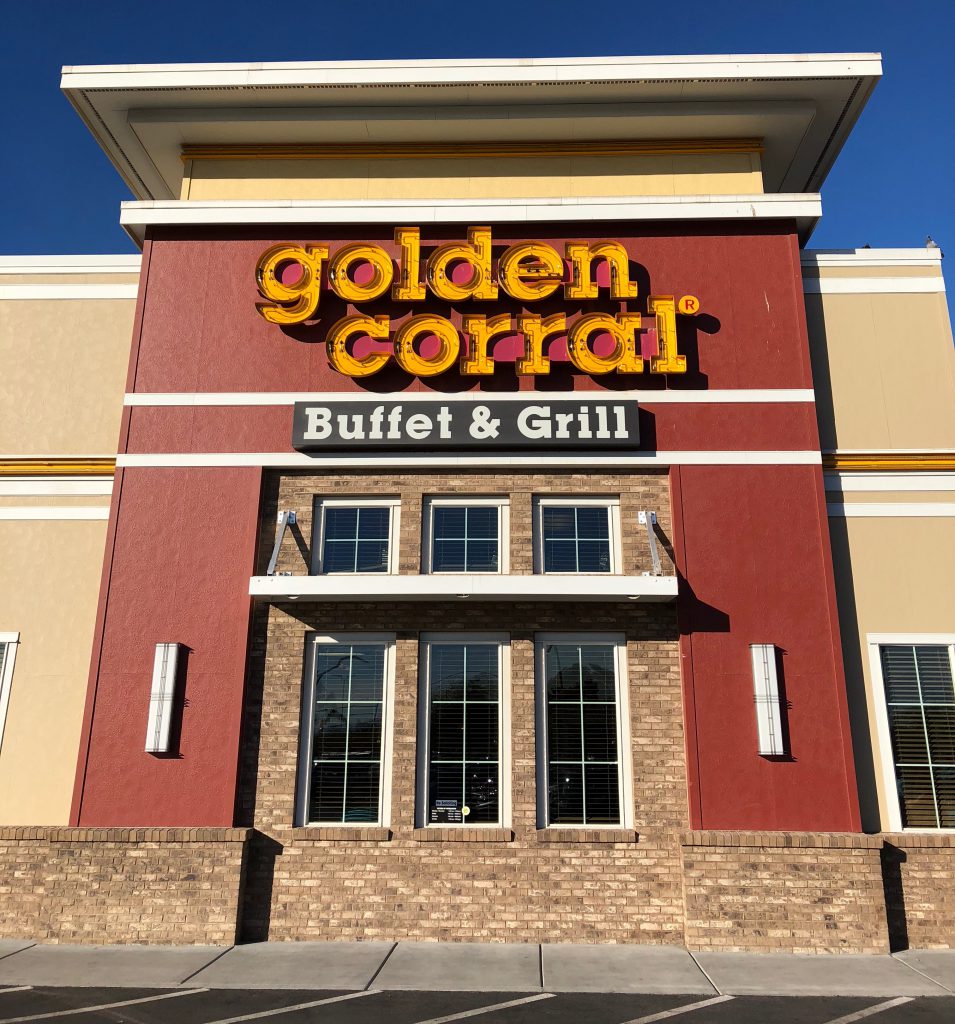 my official "traditional" thanksgiving plate. (with some bourbon chicken, because golden corral).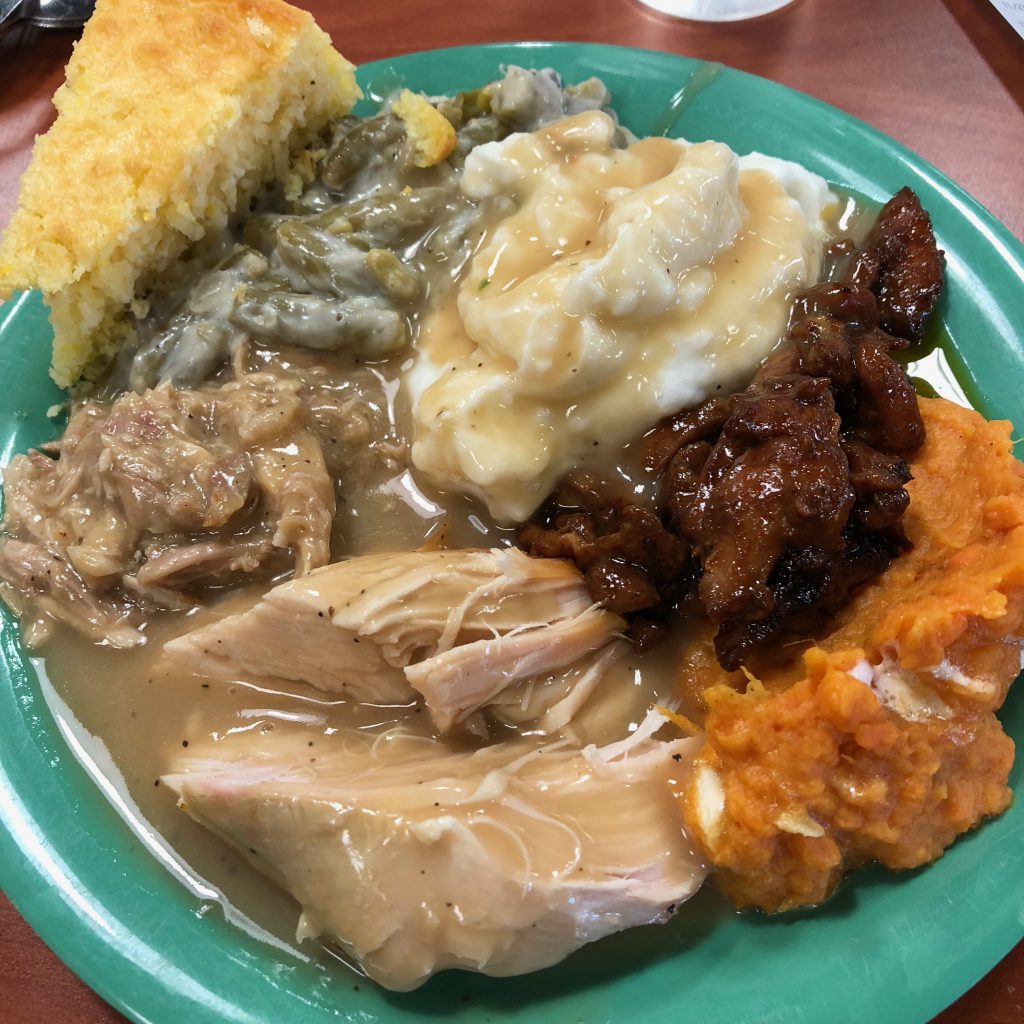 if i thought it was packed when we were on our way in, it was crazy packed when we left. the line was out the door and wrapped around the front of the building. (when we got there, the line was to the door).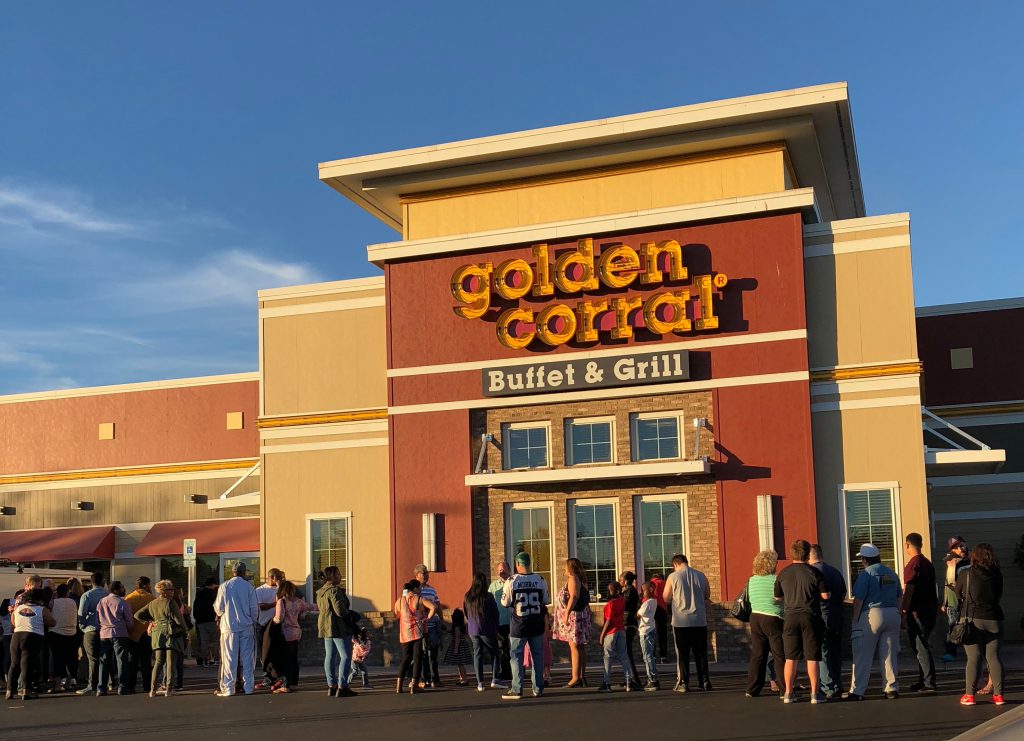 on saturday, we made our way back to hotel life. this time, instead of a fancy-ish casino hotel, we were staying near the airport at a residence inn. it has two bedrooms, two baths, a kitchen, living room, pullout couch and three tvs. it's fantastic. AND. free continental breakfast. we have had sooooooo many waffles.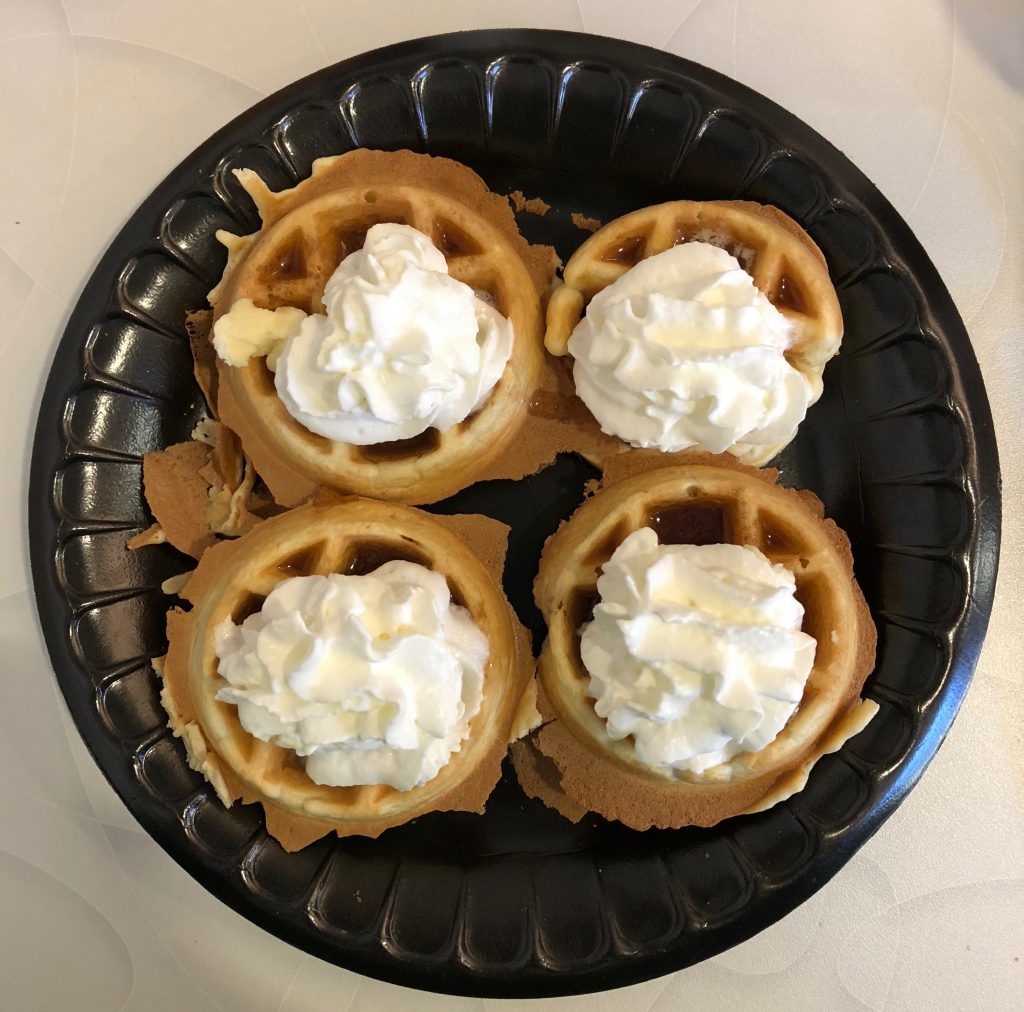 even with all the space, we are so ready to get out of vegas. i'm not really a fan. it takes so long to get anywhere. nothing is pretty. it's just blah. we have been to pretty much every single target in town, where i picked up some matching jammies for the girls. i've made pj bottoms for all three kids for the last few years, but isaac informed me that he was out this year, and sewing isn't the easiest task on the road, so my streak comes to an end. also, hazel in unable to take a normal picture.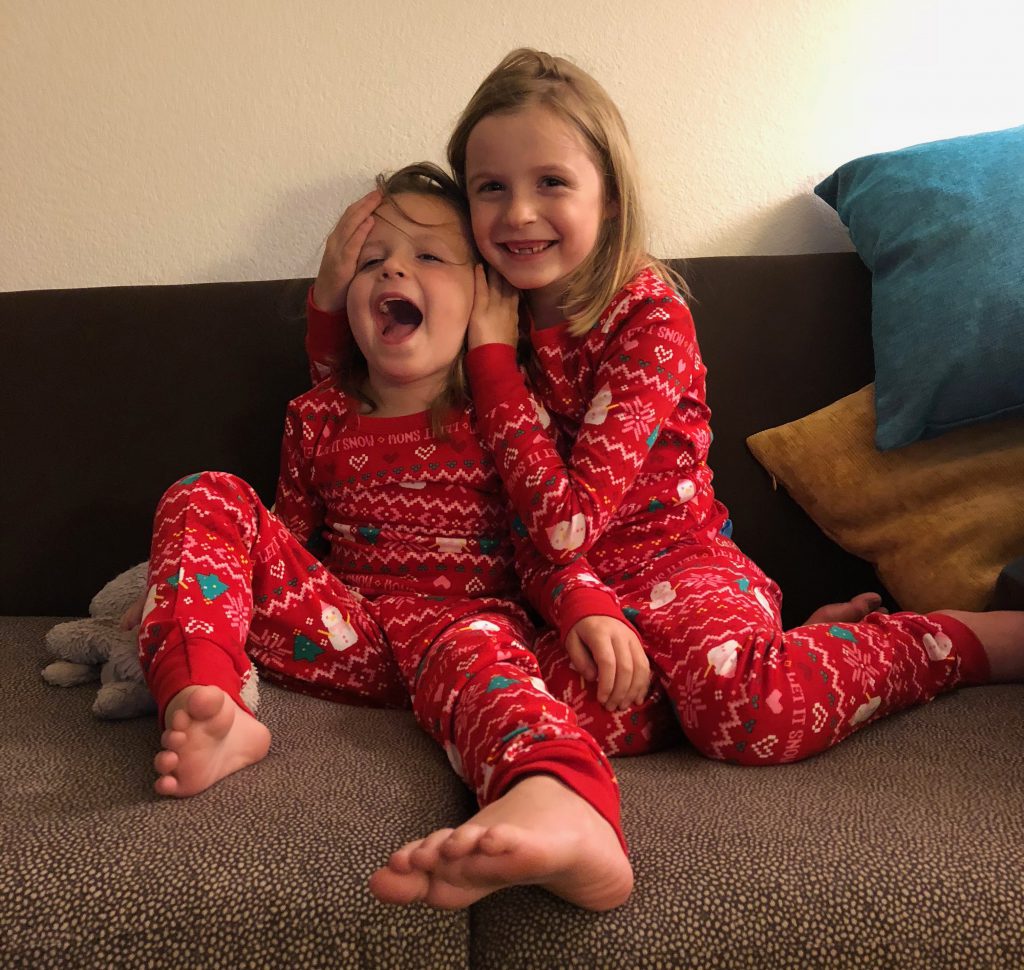 here she is, attempting to be normal. meanwhile, anna is always camera ready.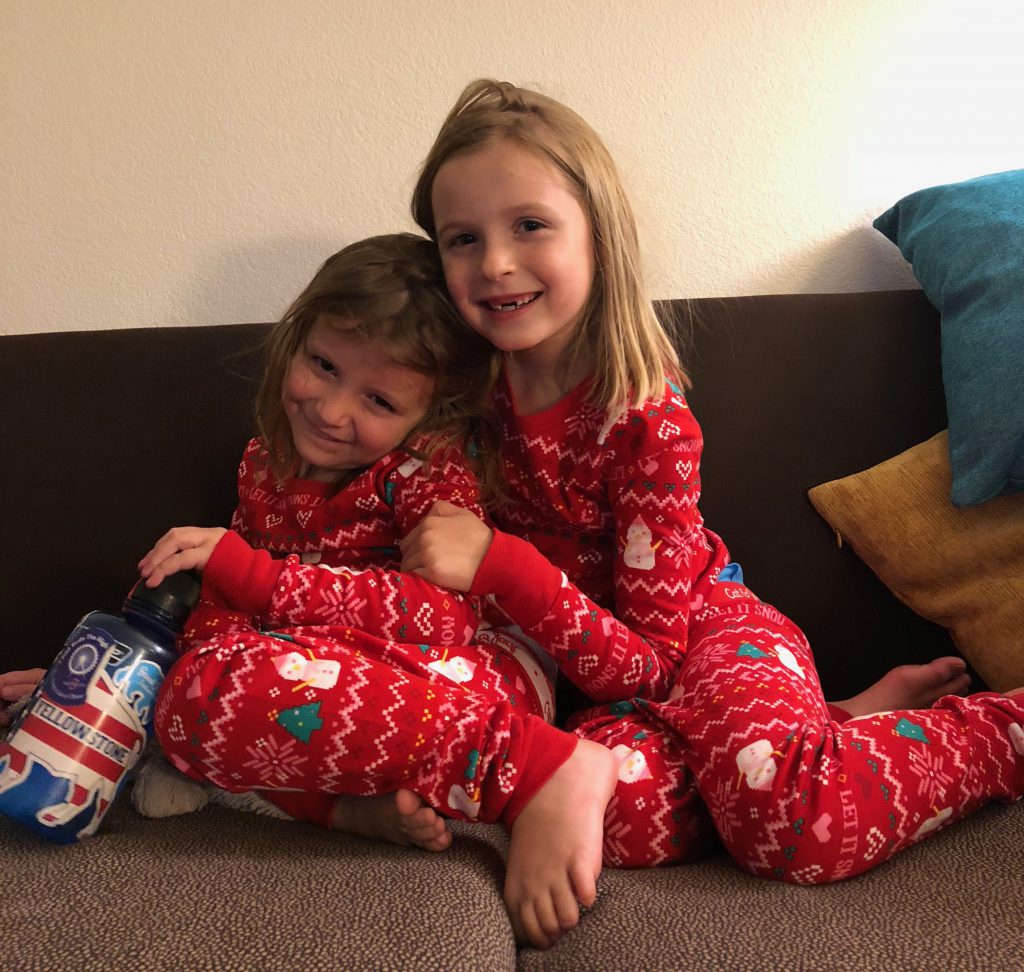 hotel movie night.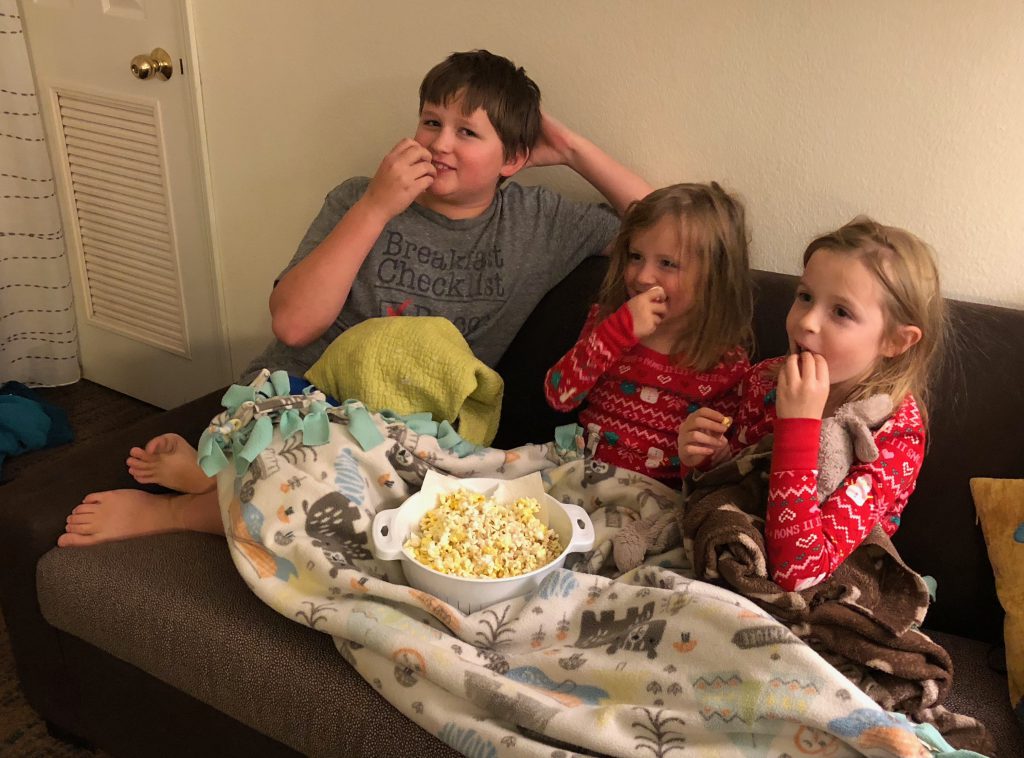 the girls have been sleeping on the pullout couch. i can't stand the cuteness.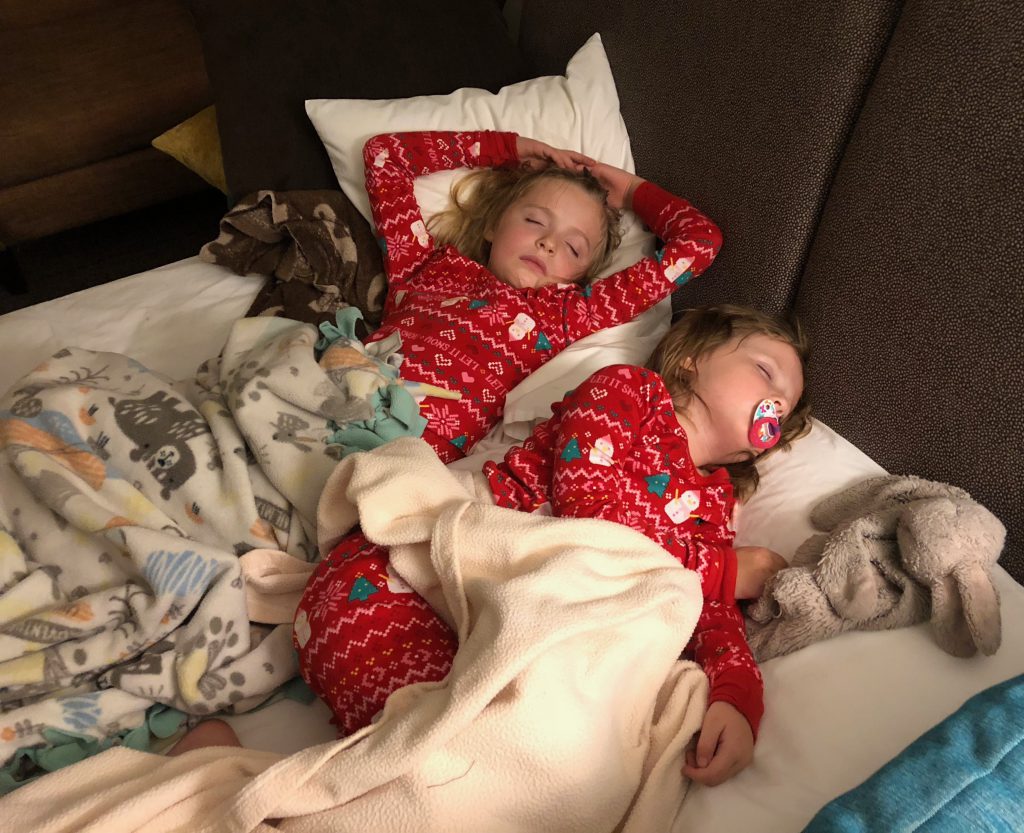 earlier this year, i read "wonder" with the big kids. ever since we finished, they have been dying to see the movie. we left hazel at the hotel with derek and hit up a matinee. (by the way, all theaters in vegas are inside casinos, which is super annoying.)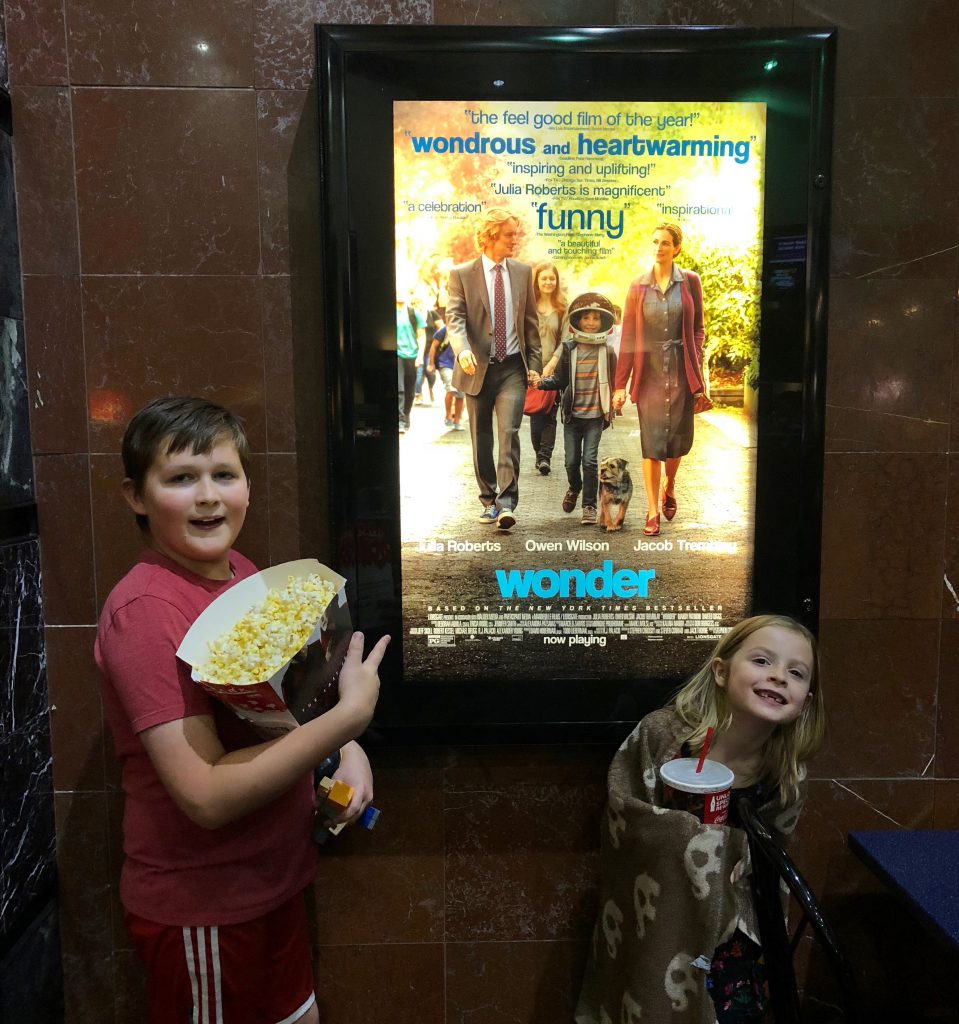 we are pretty close to an ikea, so we obviously had to go get some necessities. most importantly, pillow forms for my christmas pillows that derek's mom sent out to us. and new fabric to make dinette bench cushions. and since we were already there, might as well get some meatballs, right?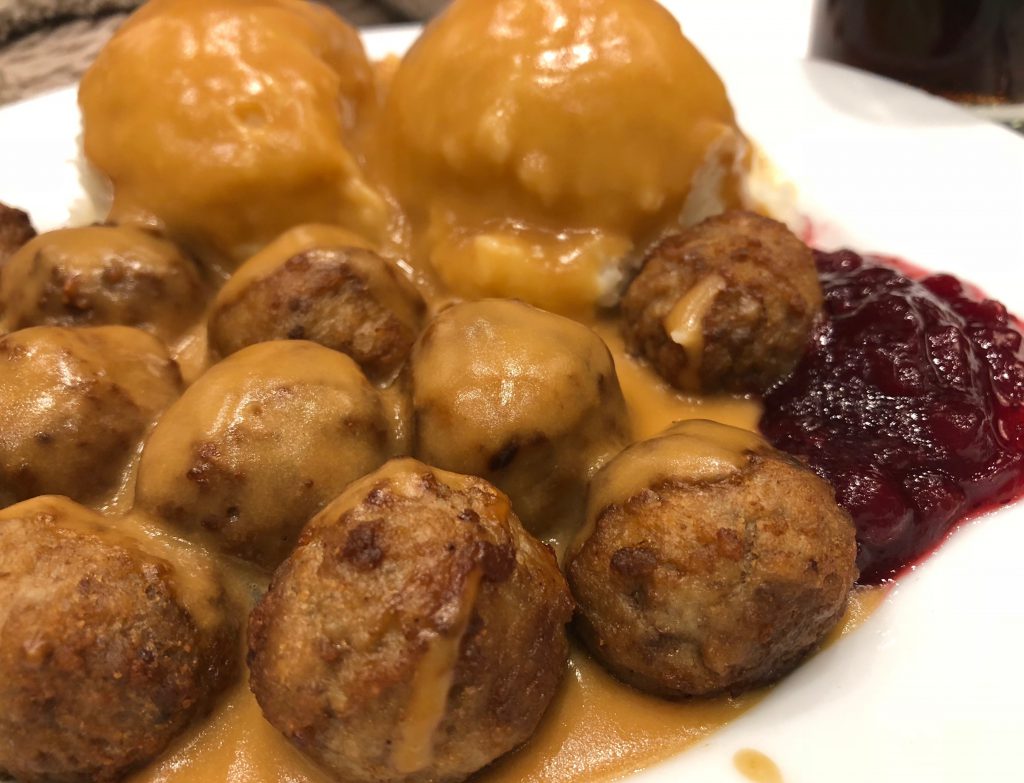 out and about, we drove past the luxor pyramid.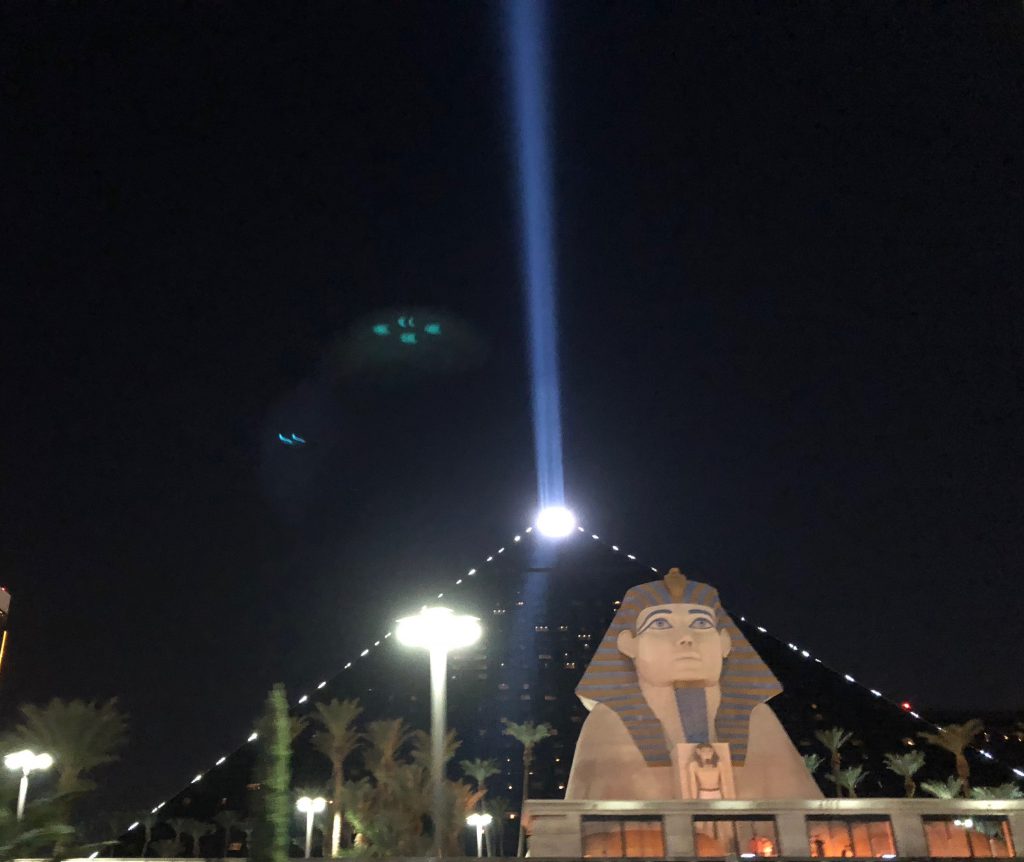 and we FINALLY caught the bellagio fountain show. well, anna and i did. derek stayed in the car with grumpy isaac and a hazel who doesn't really care.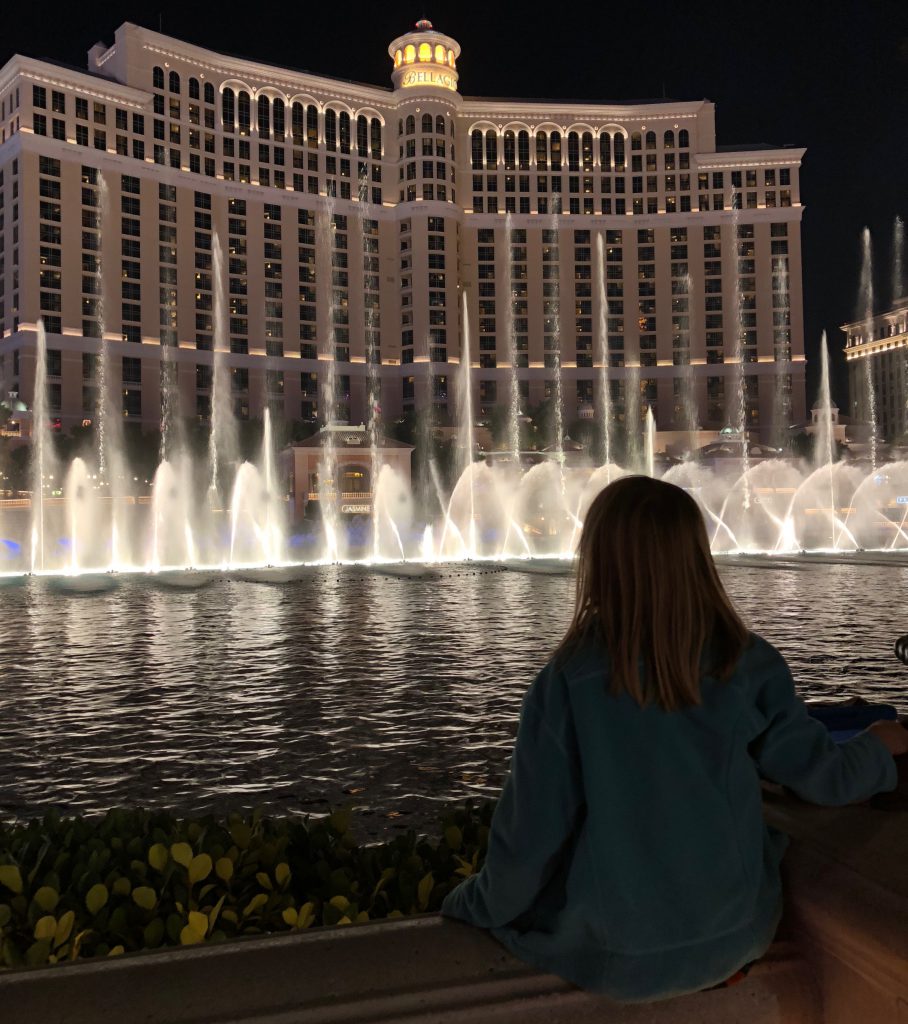 leading up to our trip, whenever we told people we were going to vegas, they would tell us about this wonderful kid-friendly place called circus circus. so, finally we made our way there. and it was the worst. basically, an overpriced arcade, with some rip-off carnival games, and then worst of all, claw machines. these claw machines spoke directly to my kids' souls. minecraft guys in this one. paw patrol in another. after a few failed attempt, isaac and hazel were in a puddle of tears. (anna was matter of fact, "these games are designed to just take your money" and was unfazed by losing (our) money).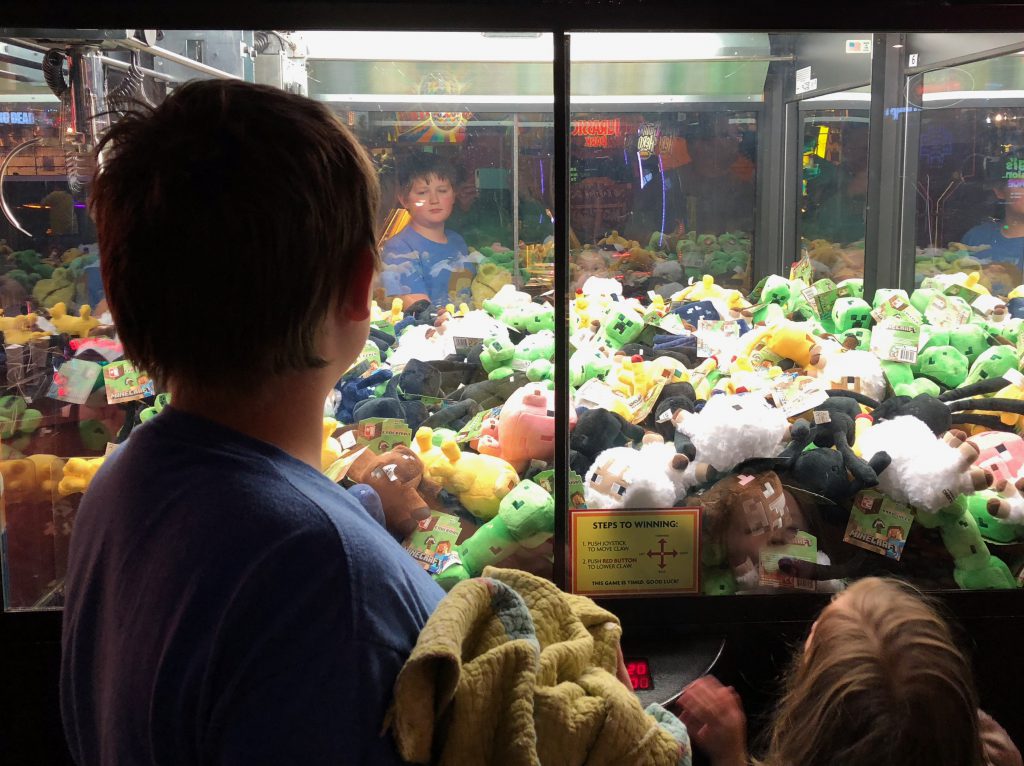 we did have a little fun, playing air hockey.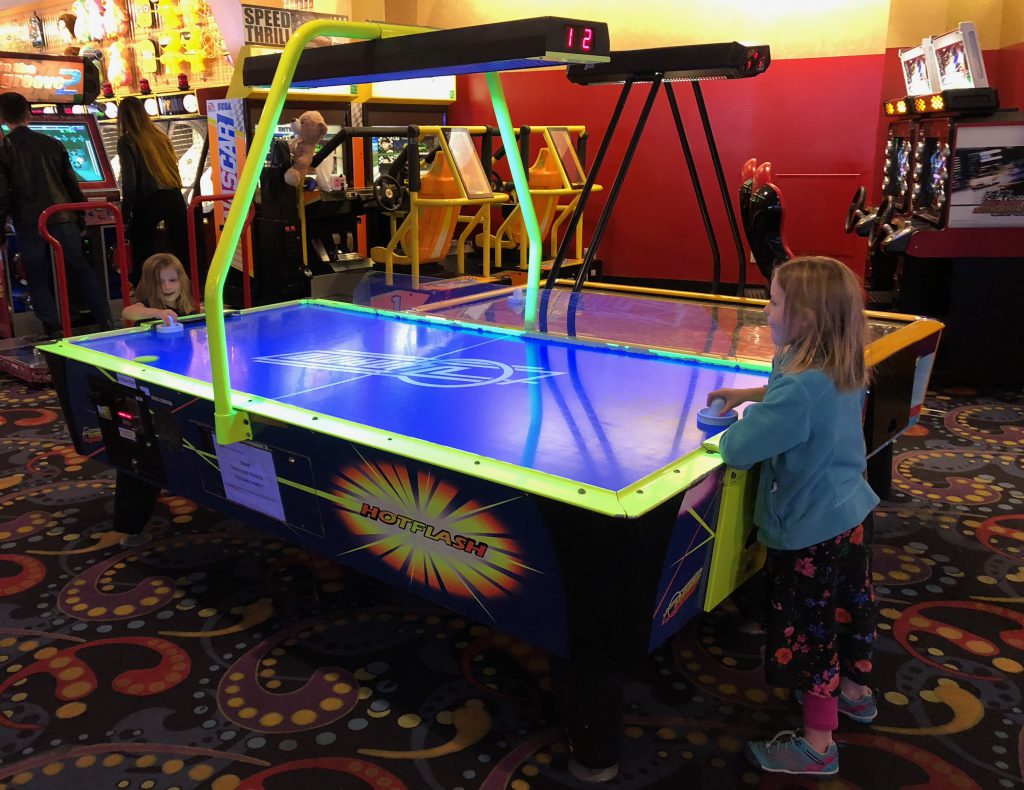 and we caught a trapeze show that lifted some spirits.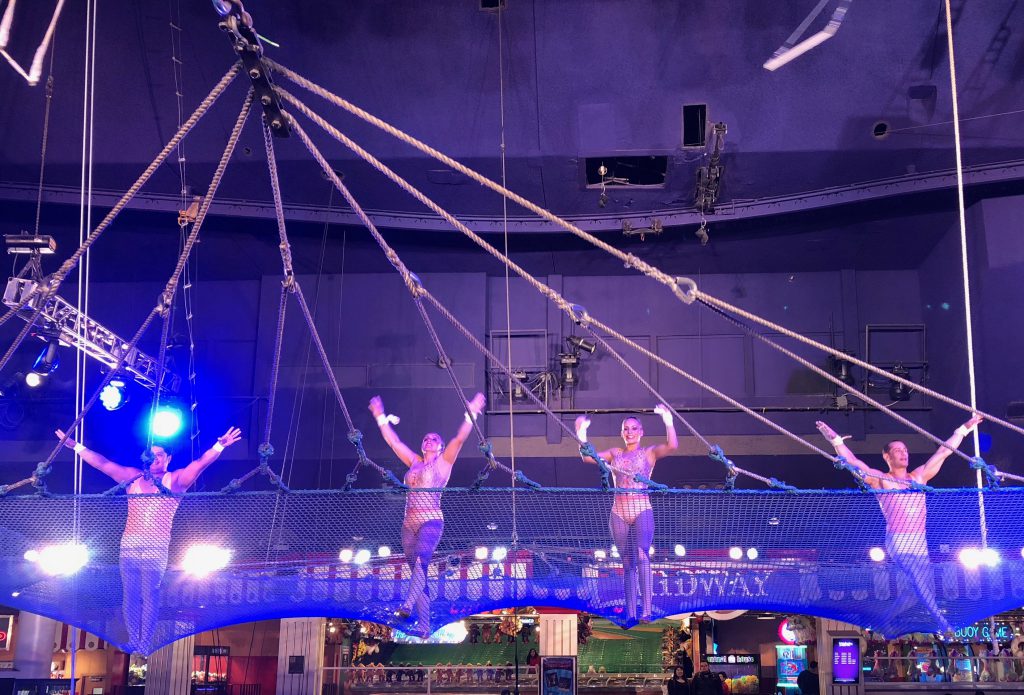 yesterday, we went on our final big adventure. the kids LOVE american ninja warrior. the make courses when they can. and turn our hikes into pretend courses. so, derek found a place in town that had a course, along with trampolines and a climbing wall and laser tag and a zip line. the kids were so excited. most of the course was hard for hazel, but she was a pro and this weird obstacle.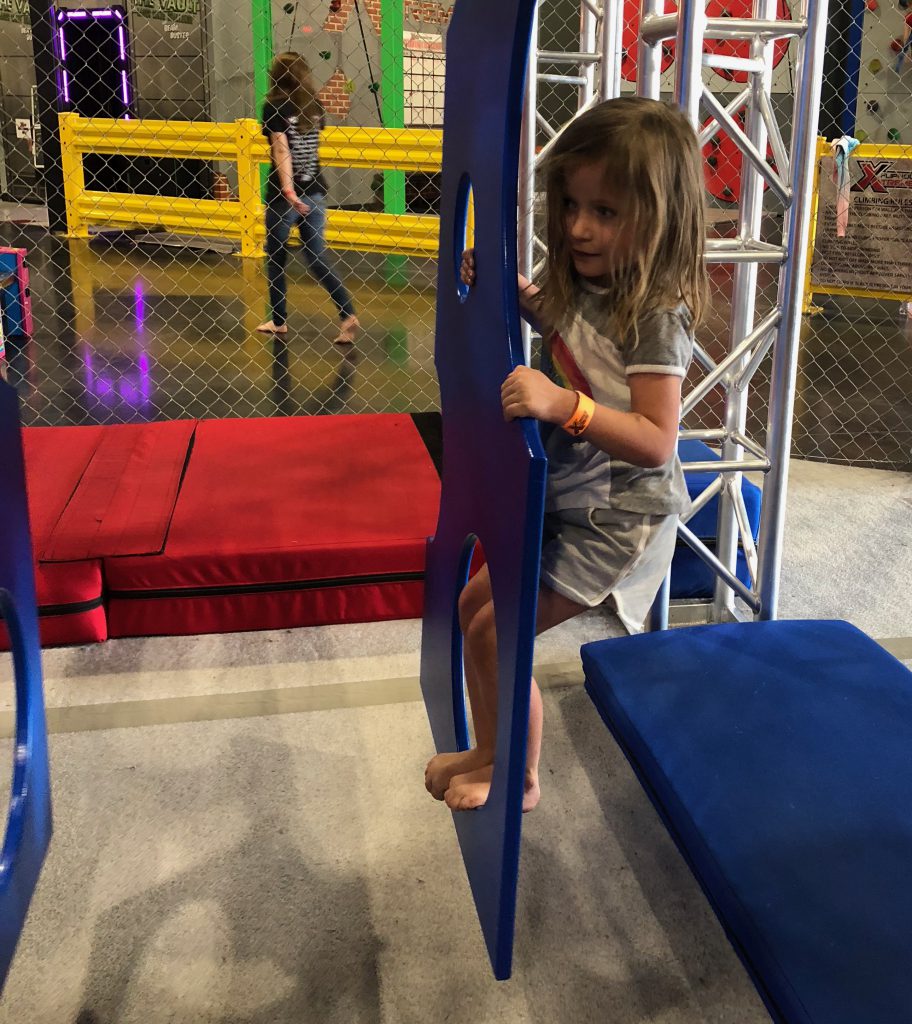 anna did great, but a lot of the stuff is designed for bigger kids and was just physically impossible for her.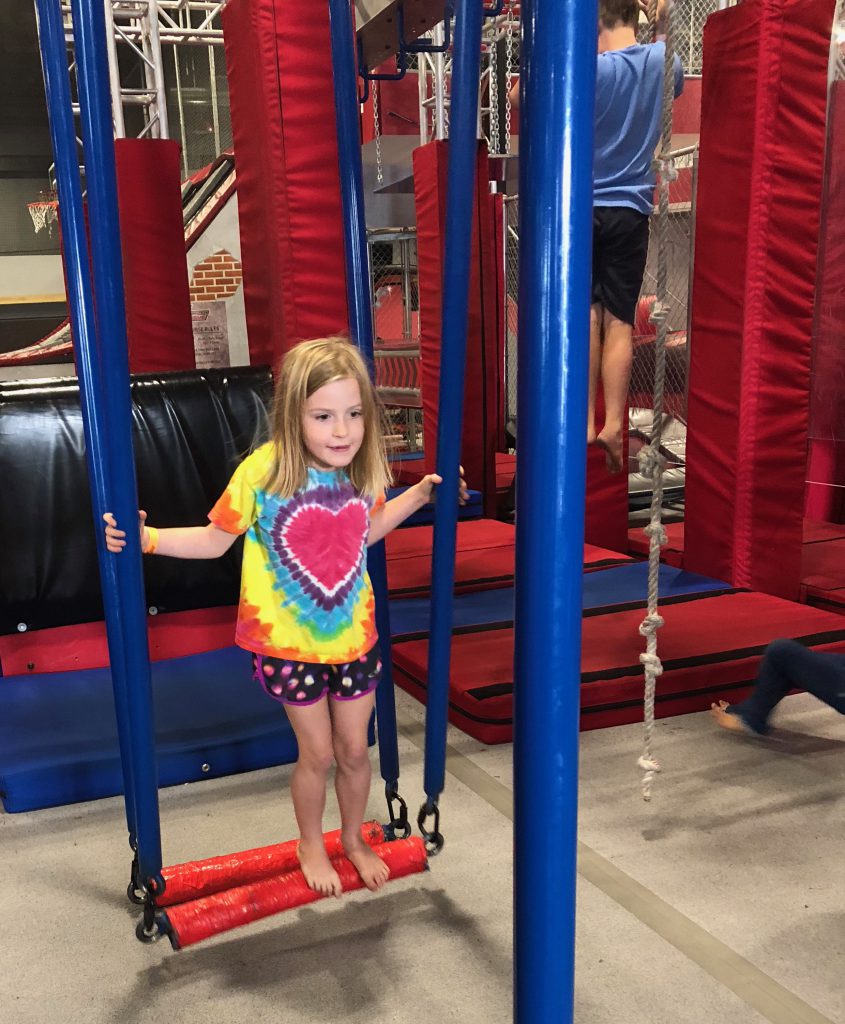 isaac also did great, but then freaked out because we had just come from eating lunch and he was sure he was going to throw up.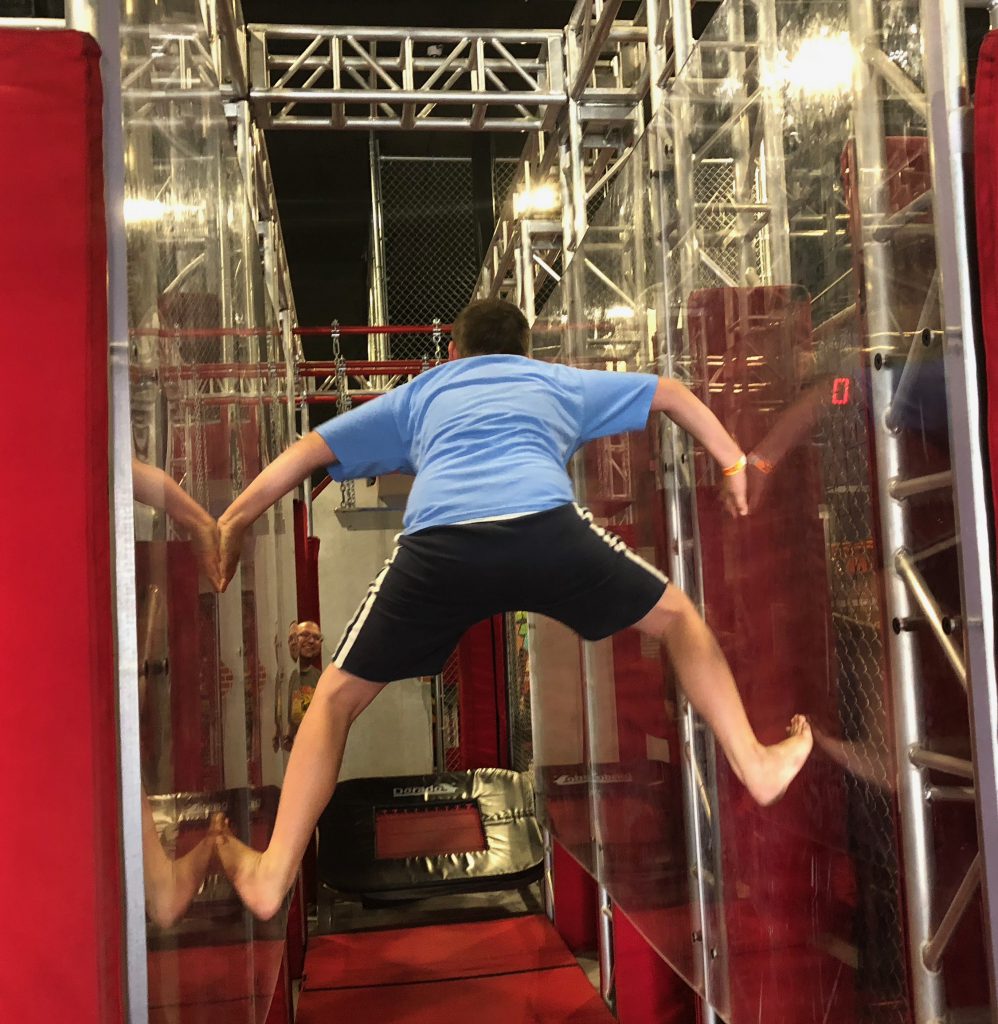 we spent most of the rest of our time on the trampolines, where the lidkids hopped their little hearts out.
and. that's mostly our time in vegas. except for some adventures that necessitate their very own posts. i seriously cant wait to get the heck out of here…