when we parted ways with the grandlidboms, they headed back to nc, and we made our way to arizona. our first stop was in yuma, just across the border. we had a quick little stay in the front yard of a random strangers house, who we found via boondockerswelcome.com. (basically, it's a subscription service that allows rv folks to connect with folks who will allow them to park on their property for free. sometimes there's electric and water, which is awesome. plus, usually the people with the houses also rv part time, so it's fun to meet like minded people in this way.)
we didn't do much in yuma. mostly just recovered from our hectic holidays. also, we may or may not have eaten at a mexican food truck more than once. so. good.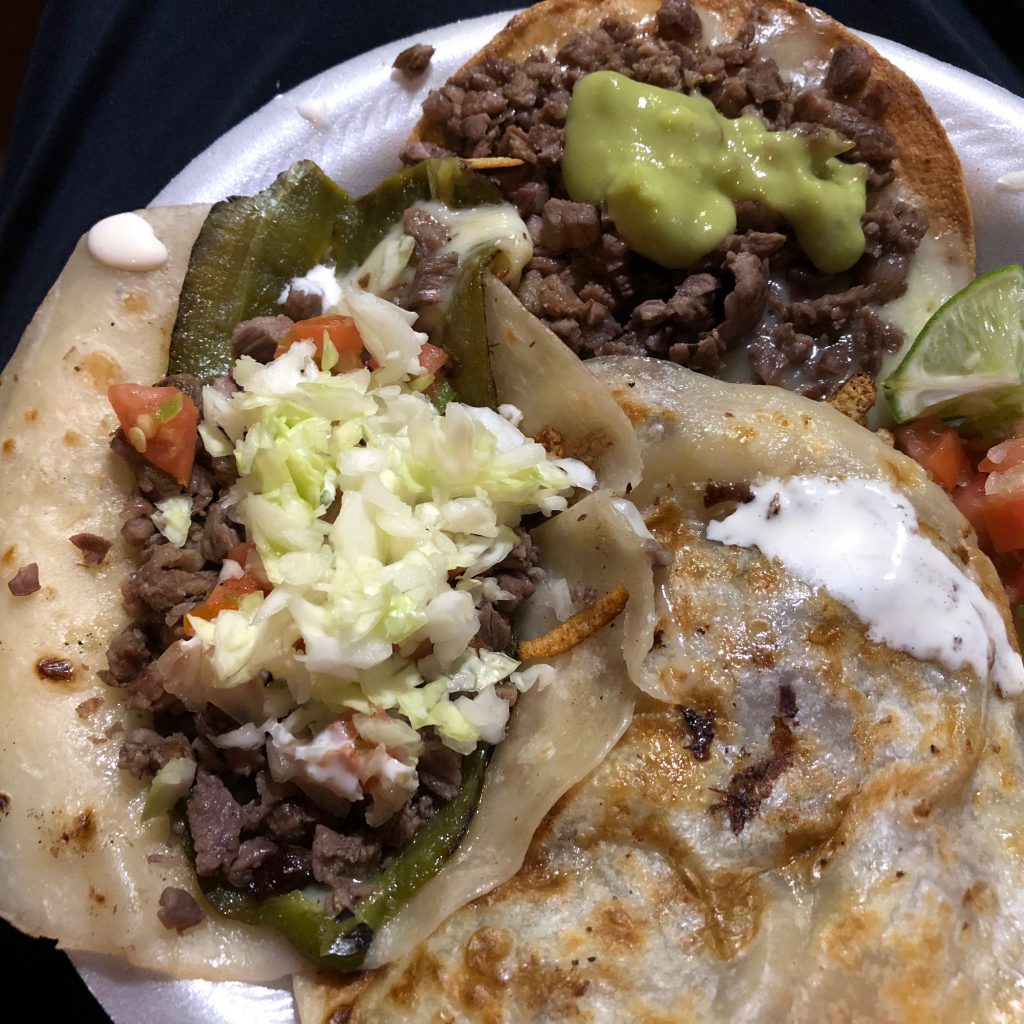 the lidkids made me these robot masks for christmas, but i didn't get a good picture at the time. so, during a bit of post christmas purging, i made them pose with the masks, before "filing them away".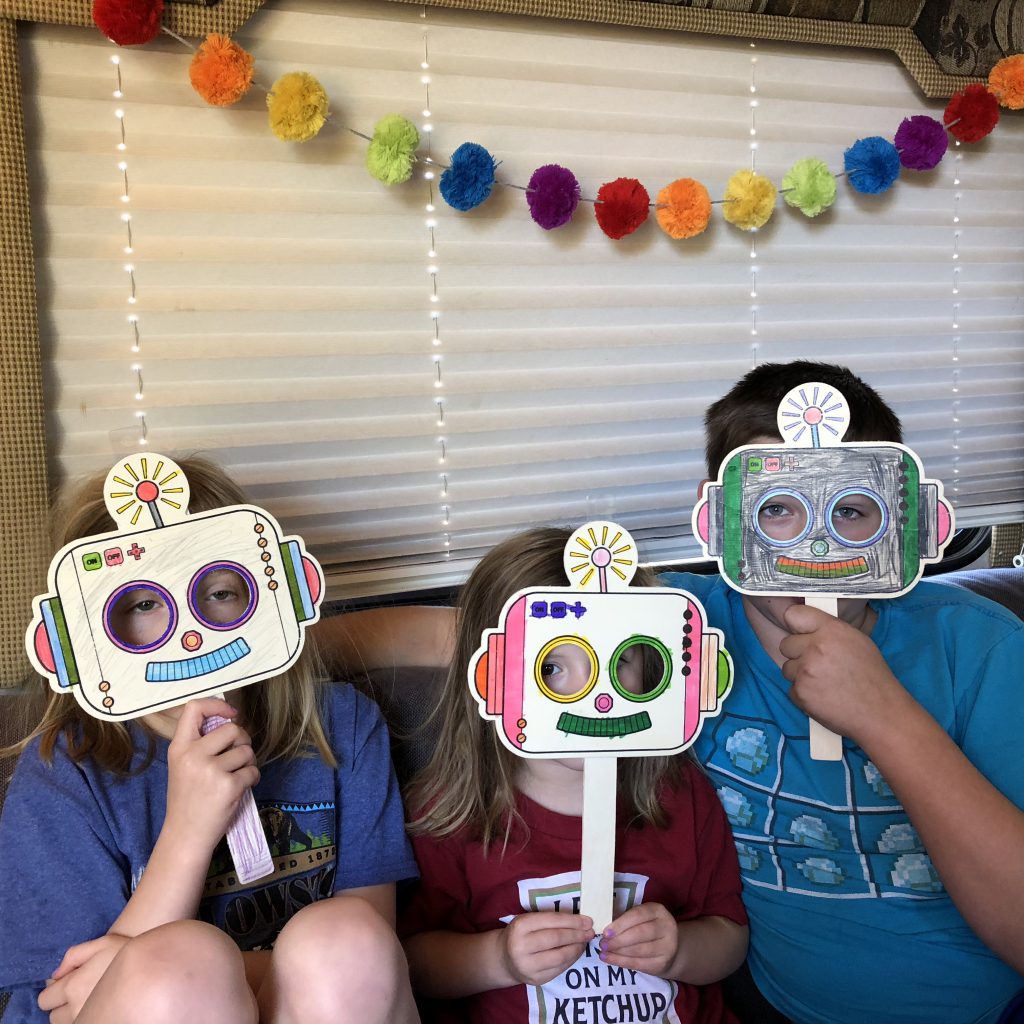 after yuma, we were off to mesa. as is usually the case, we got way too far ahead of derek and we were also hungry, so we stopped at chick fil a, for a little taste of "home". we decided to taste test all of the dipping sauces, just to make sure we were making the right decisions on what to order with our food.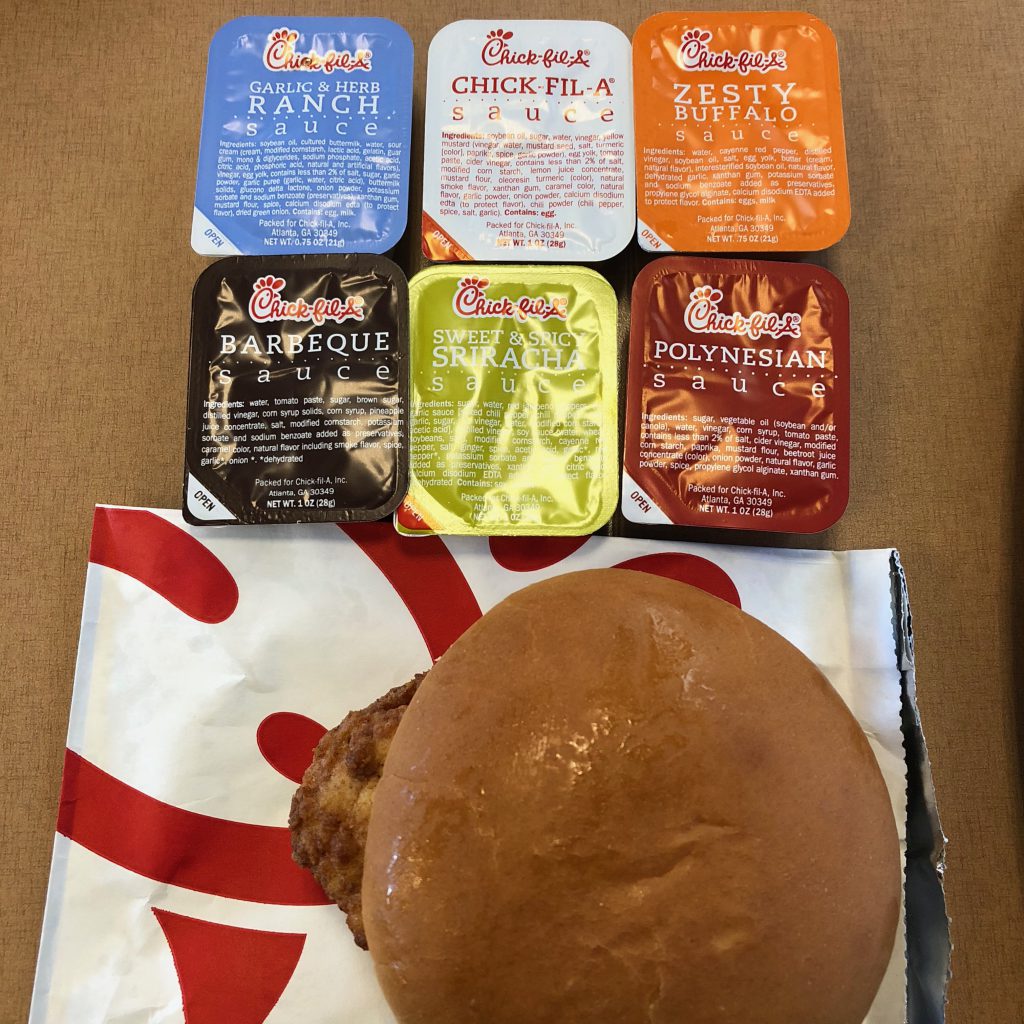 finally. we all arrived in mesa and set up. we had 13 or so days planned in the area, so we were excited to spread out a little. the rv park, monte vista, was a mix of rv sites and permanent mobile homes, and it was mostly a retired community. the rv sites were awesome, with a perfectly level concrete slab. everyone was happy.
we busted out the sparklers for new years.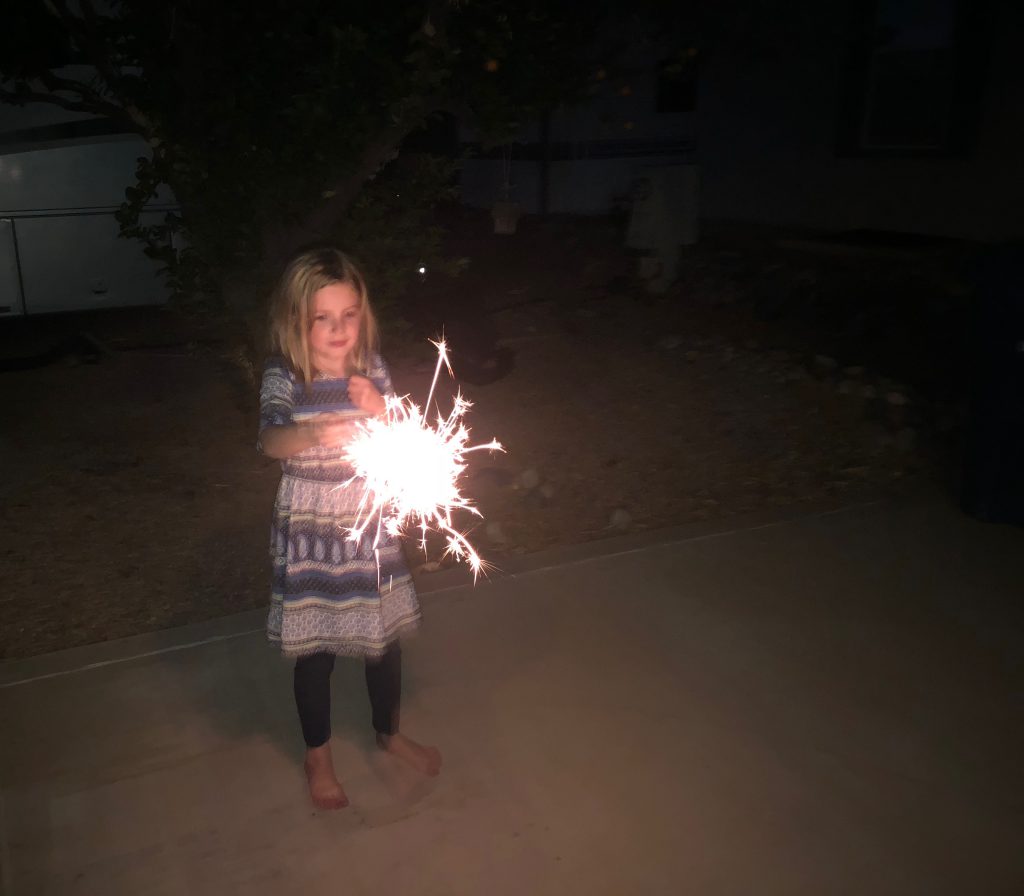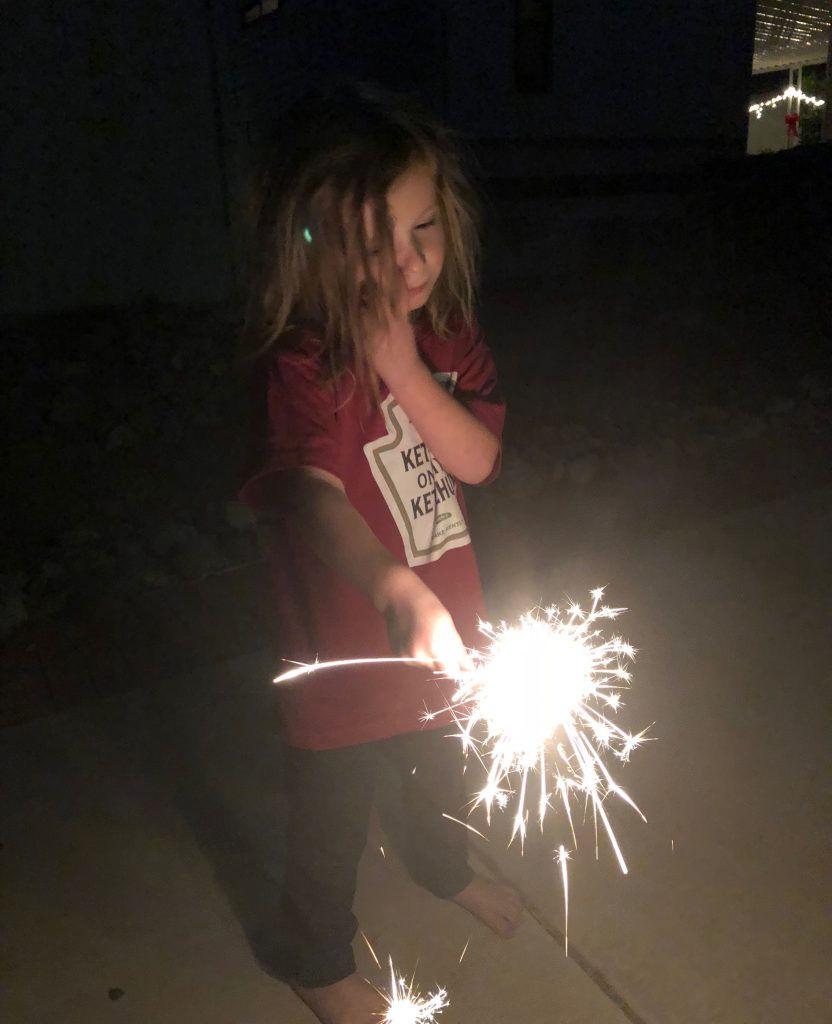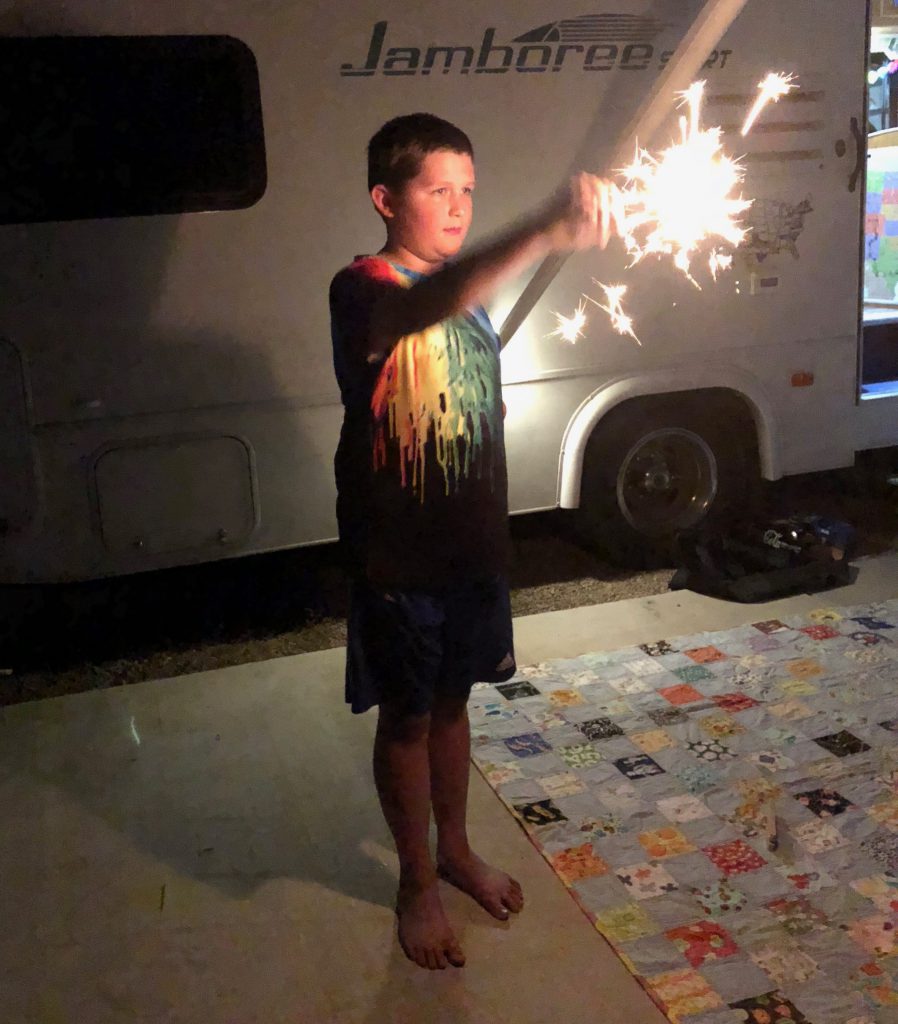 and had big lazy breakfast meat filled breakfasts.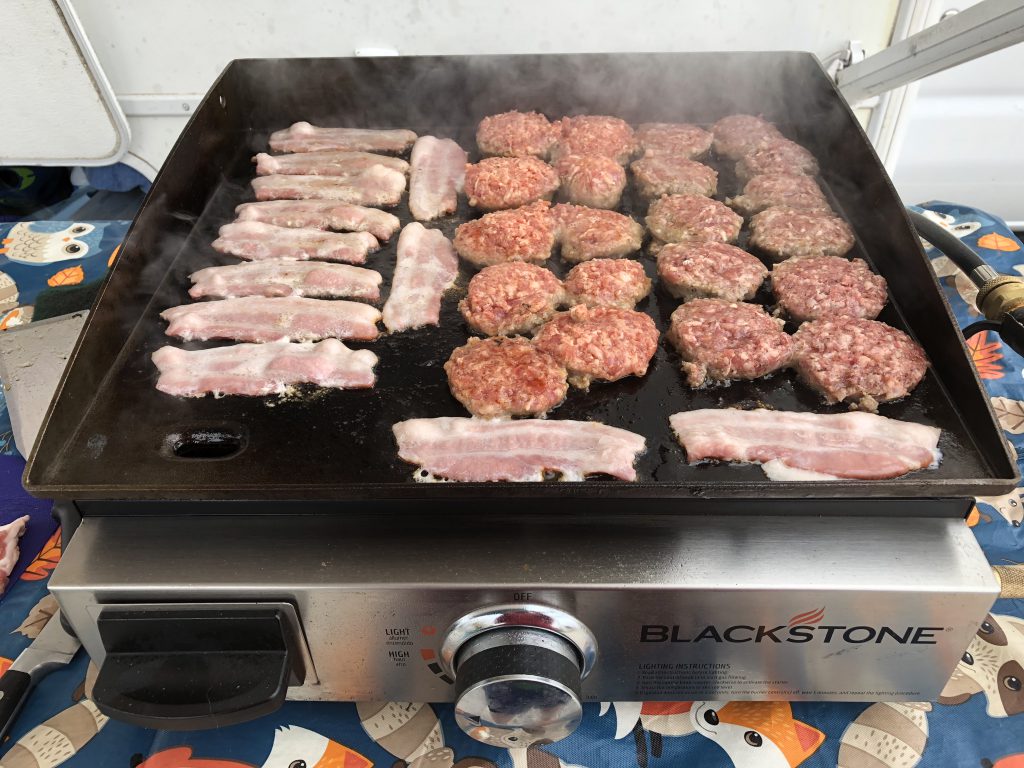 we stopped for dinner at this really cool place called organ stop pizza. the pizza was nothing to write home about, but the whole dining area was filled with a massive pipe organ, and every hour, the pipe organ master would spiral up from the ground and fill the place with loud music for 45 minutes. he took requests, so we were happy he chose ours, "linus and lucy", but he also played a beauty and the beast montage and let it go from frozen. it was definitely a different experience, for sure.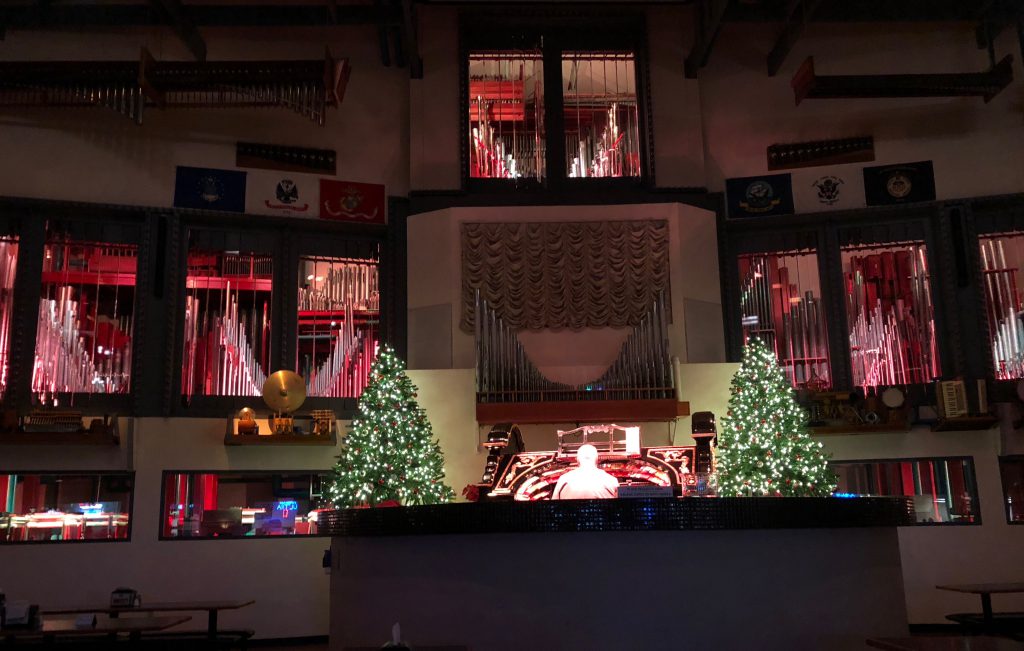 the new years eve super moon brought about some conversations about outer space and eclipses and such. then i found this little drawing of anna's. (i could write an entire blog about little scraps of drawings and thoughts by anna).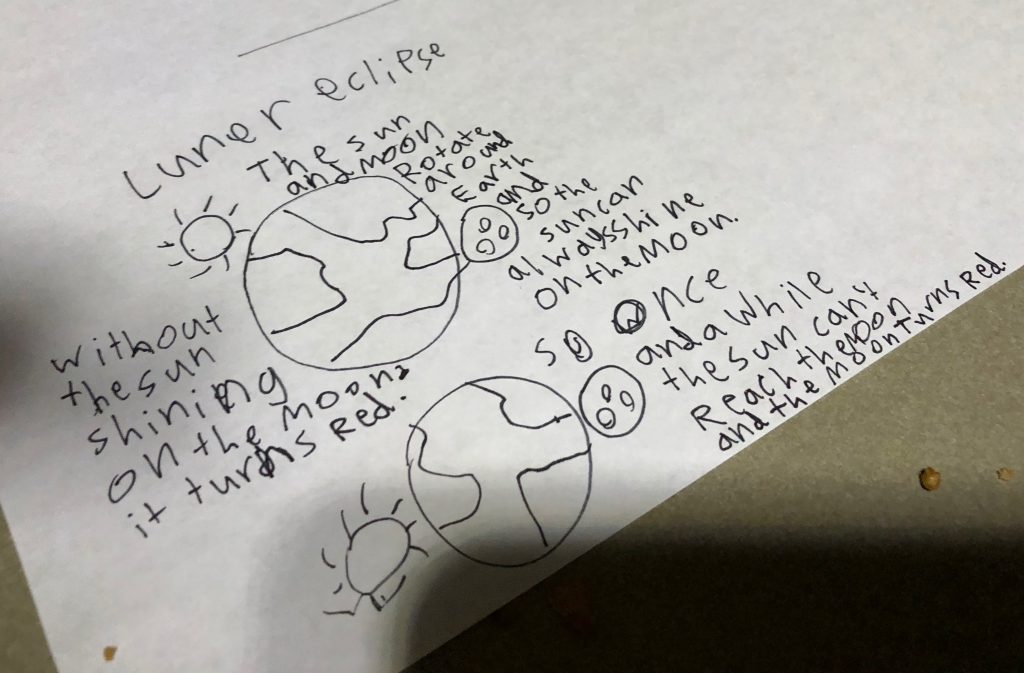 and then, there was a vomiter. it was short lived, so i don't think she had a bug. maybe just a food not sitting right, or gagging or something.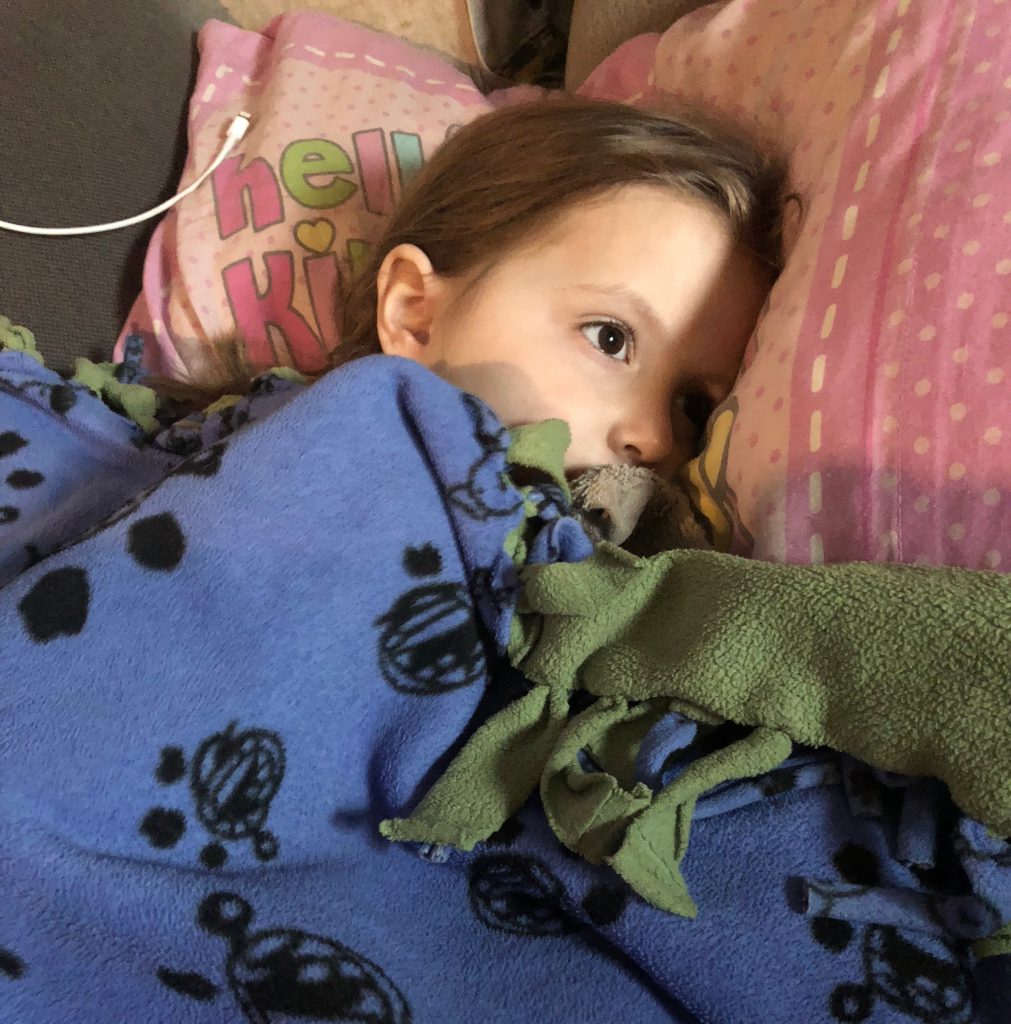 i debated a separate post for our visit to the idea museum, but in the end figured i would cram it here. i only took the girls. isaac was having a rough day and "opted" to stay home and do some extra school, which was probably for the best, because the museum was geared for a younger crowd. when we first arrived, the place was overrun with school groups (another reason why it was probably best that isaac wasn't with us). so, we found a school group free area and waited them out.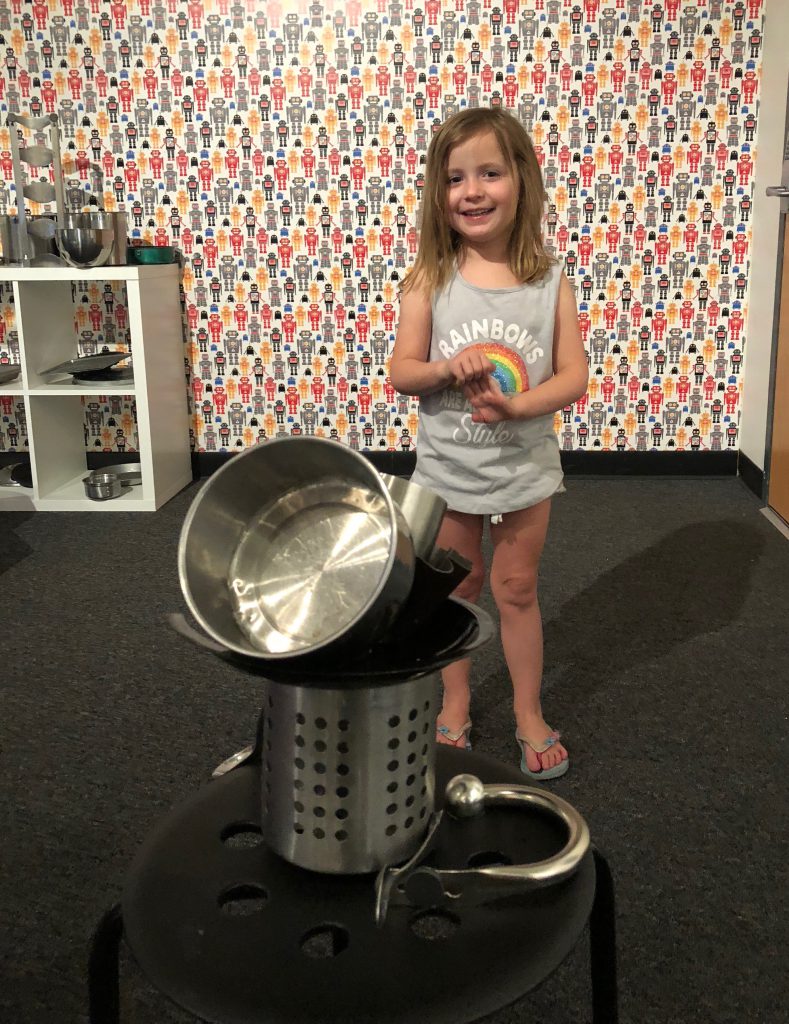 this castle area was school group free until we constructed an epic castle, and then suddenly we found ourselves surrounded. but then suddenly, they were summoned to the bus, and the place was all ours.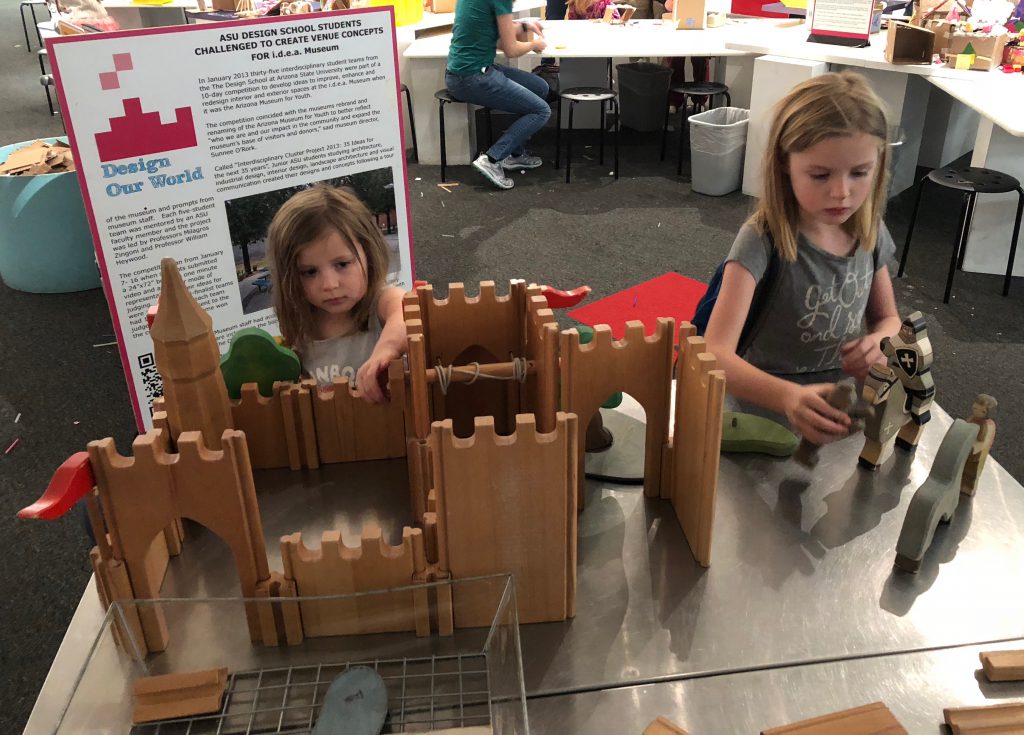 the coolest (and main) part of the museum was the art hub. kids could gather up all sorts of craft scraps and recycled materials and construct whatever their little heart desired. the museum encouraged kids to build houses and buildings to add to their "city", so anna and hazel went with that, mostly.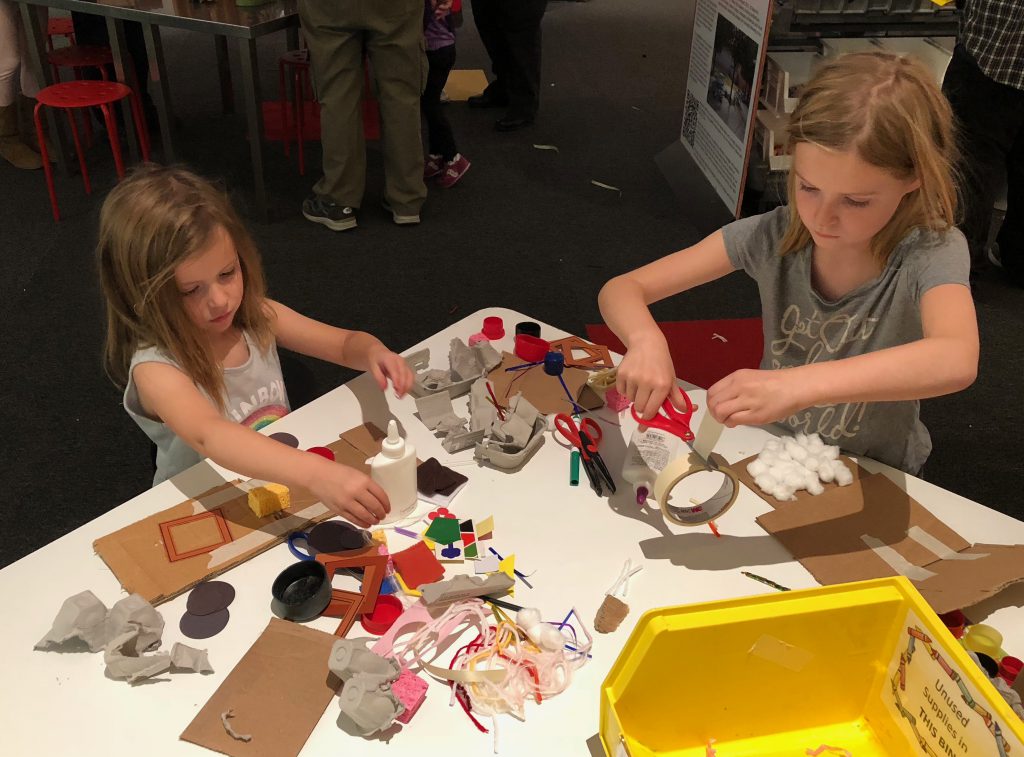 they worked diligently for hours.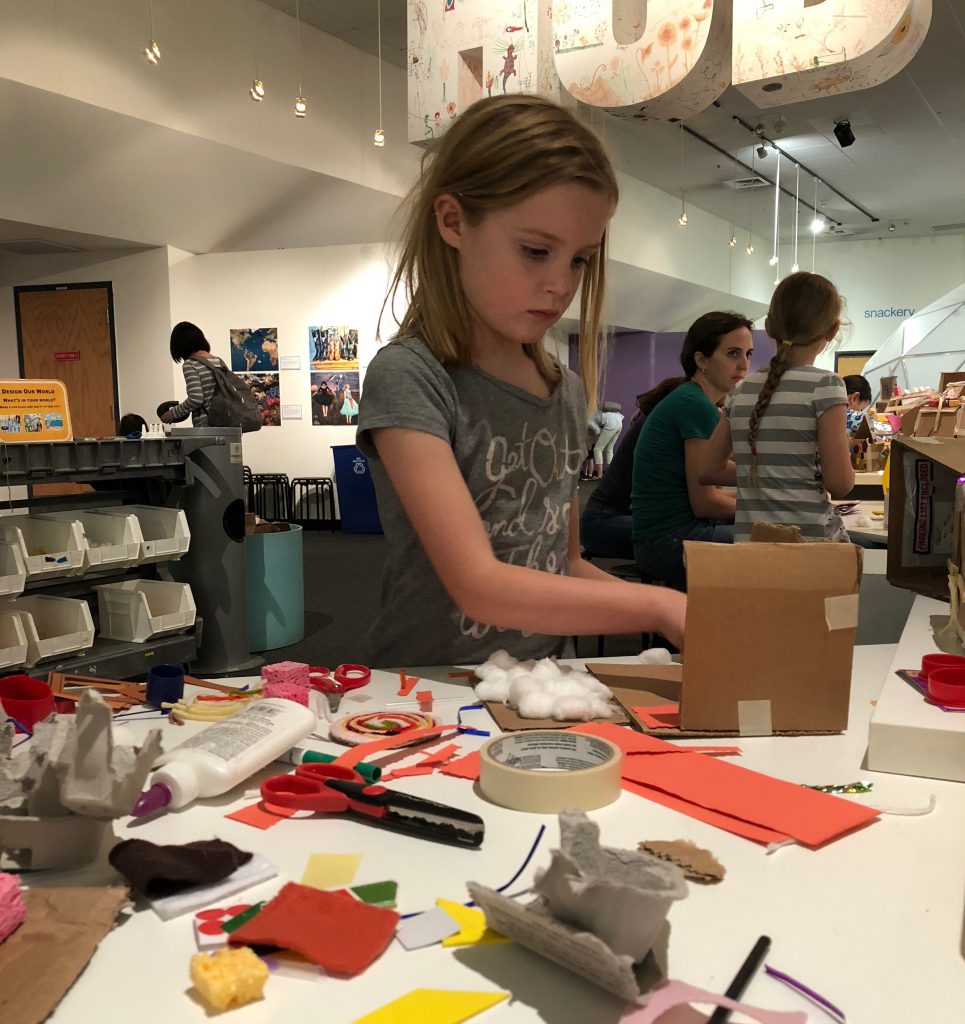 hazel used an entire bottle of glue. it's her favorite art medium.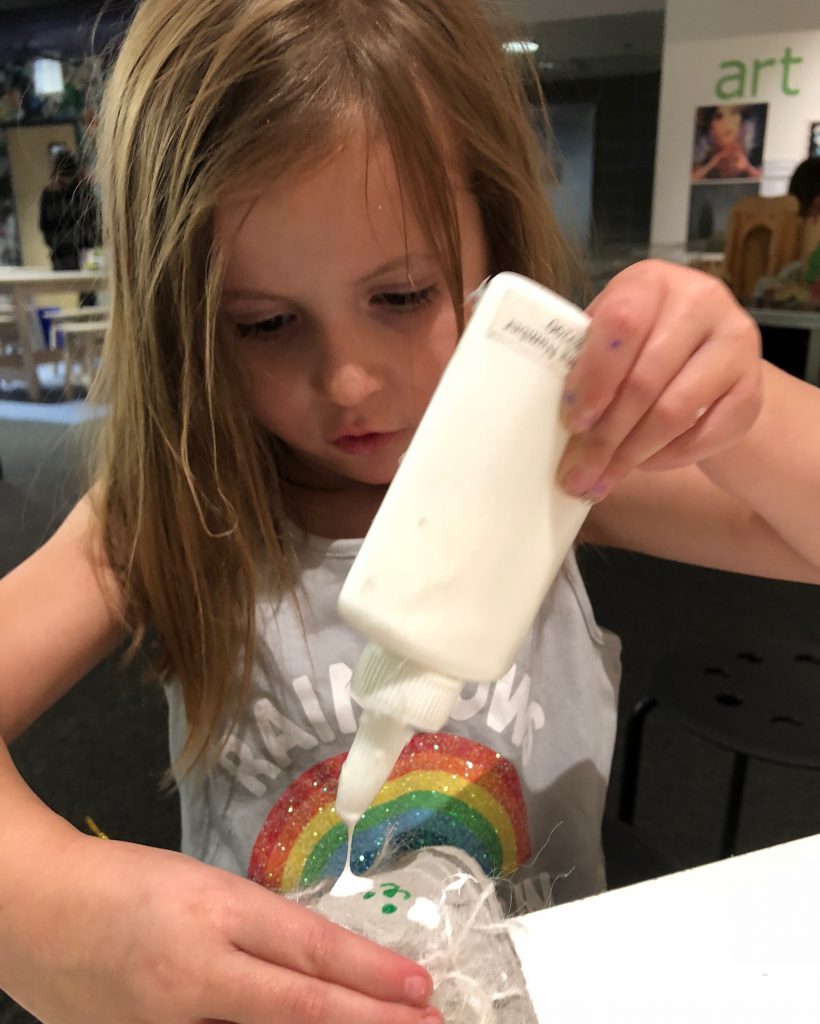 eventually, their creations were complete. here is anna's diorama. (i didn't get a shot of hazel's abstract art because she wanted to leave it in the museum city).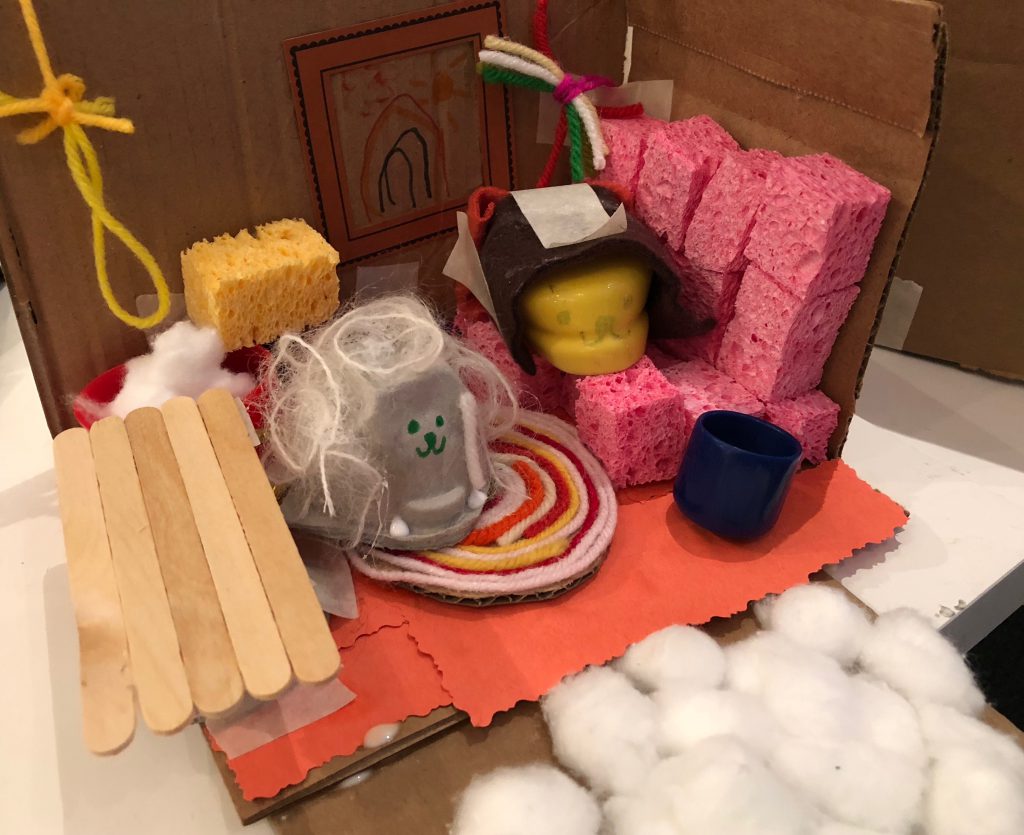 we had a bit of a snack and frolick in a foam covered gym sort of area, before checking out the rest of the museum. nothing was as cool as the art hub, though. we did put up a streamer of plastic on their words of encouragement wall.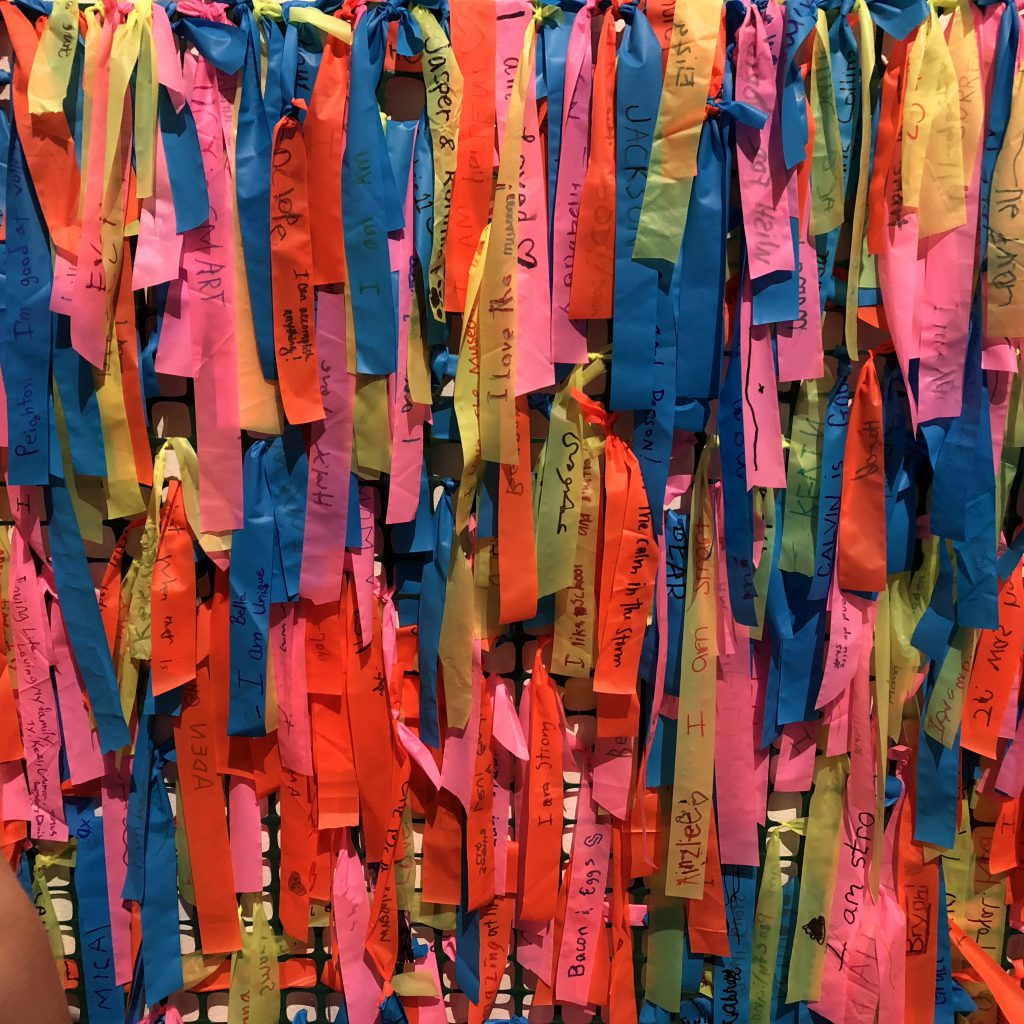 it was a pretty cool museum, made extra cool because it was 1/2 price, thanks to our children's museum membership.
ok. back to everyday boring stuff. like this amazing delicious greek meal we had after our zoo trip. i seriously couuld eat this for every day for the rest of my life.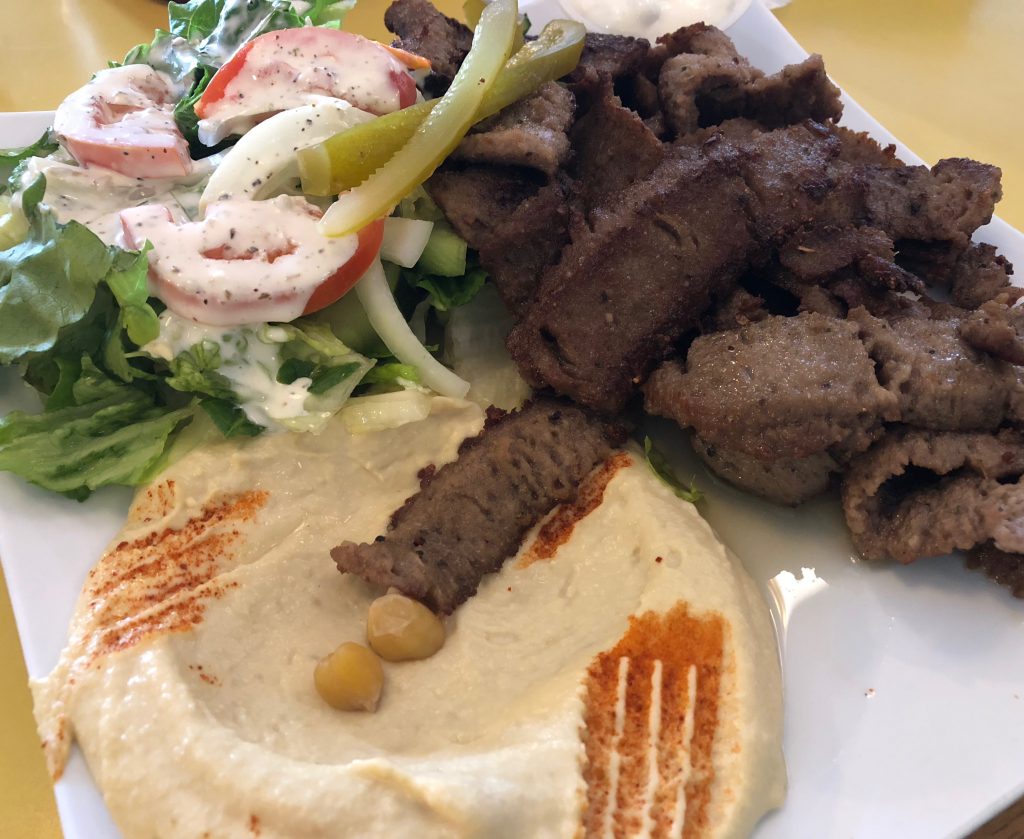 so. i have a high school friend who now lives in mesa with her family. she was a couple of grades ahead of me, but her sisters were in my grade and we all played varsity softball together, and were good pals. she was actually the pitcher, and threw very very hard, and was the catcher, and our team was decent and we had a lot of fun. anyhow, we were able to hang out with her family a few times, once earlier in the week, and then one night, i went with them to a hockey game. arizona coyotes vs. ny rangers.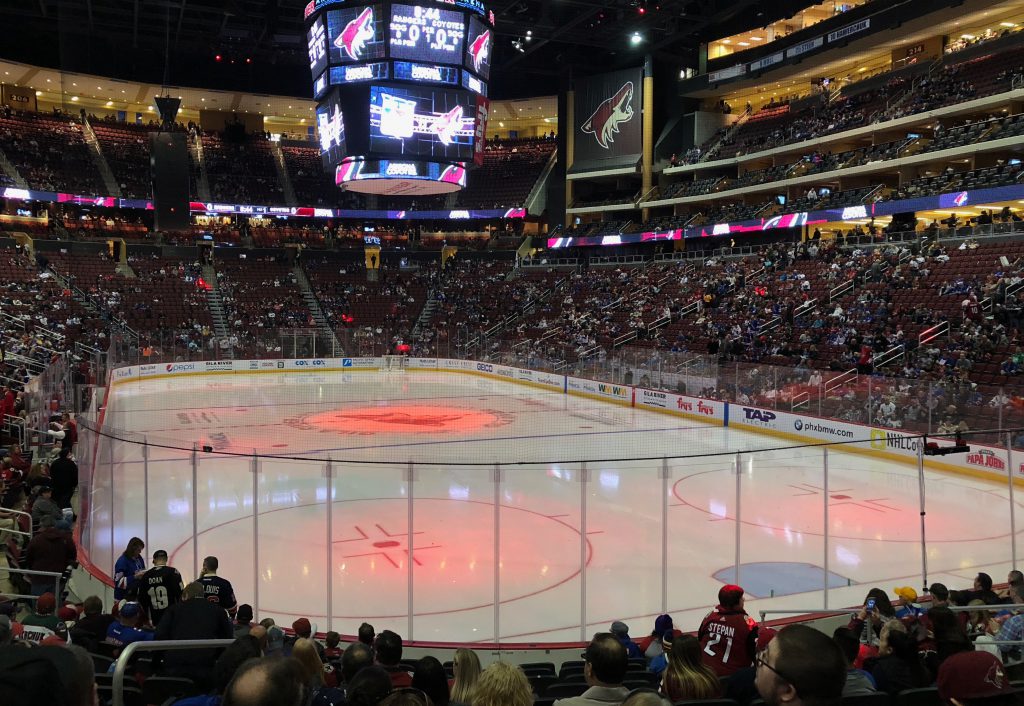 me and alise. we are so cool.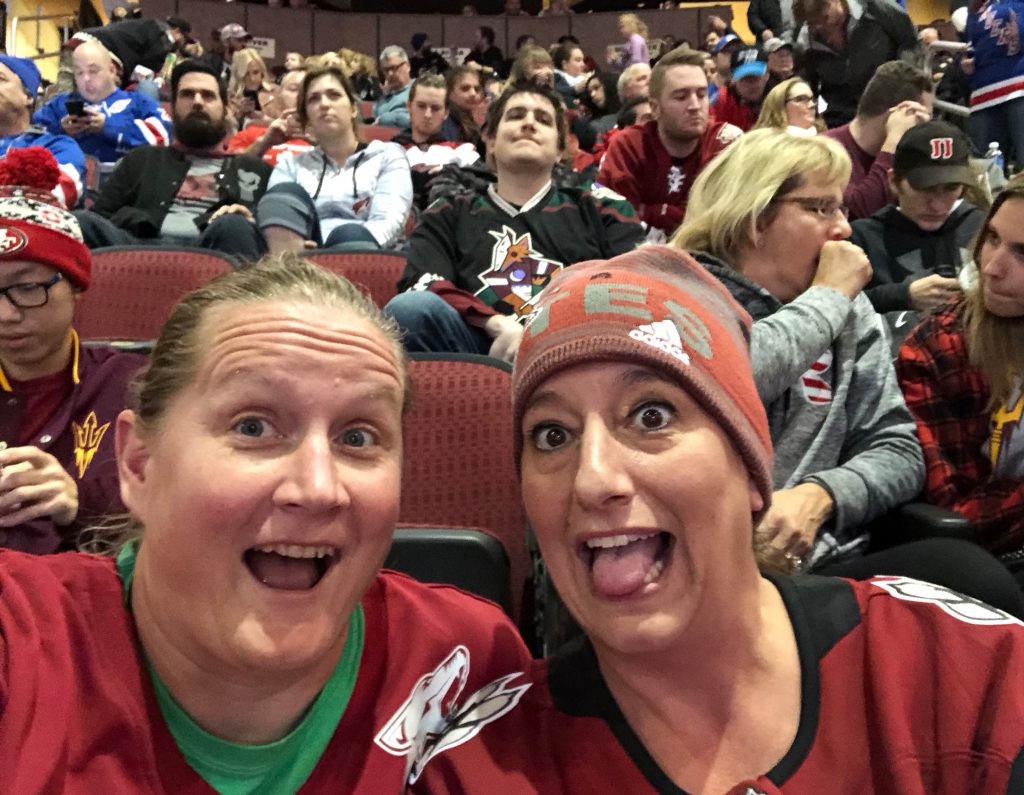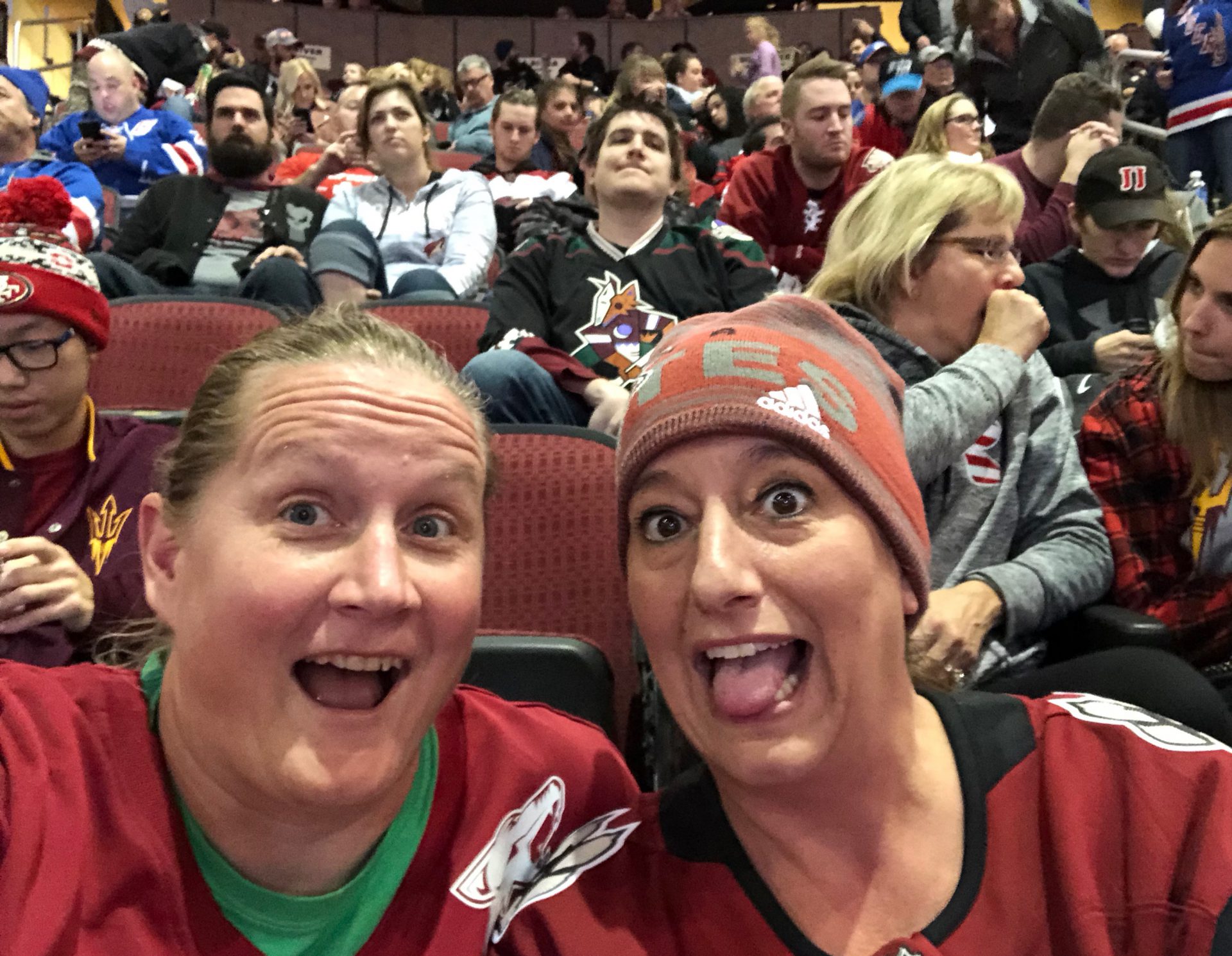 it was a great game and we had good seats and we had a blast, even though the coyotes ended up losing in the overtime shootout.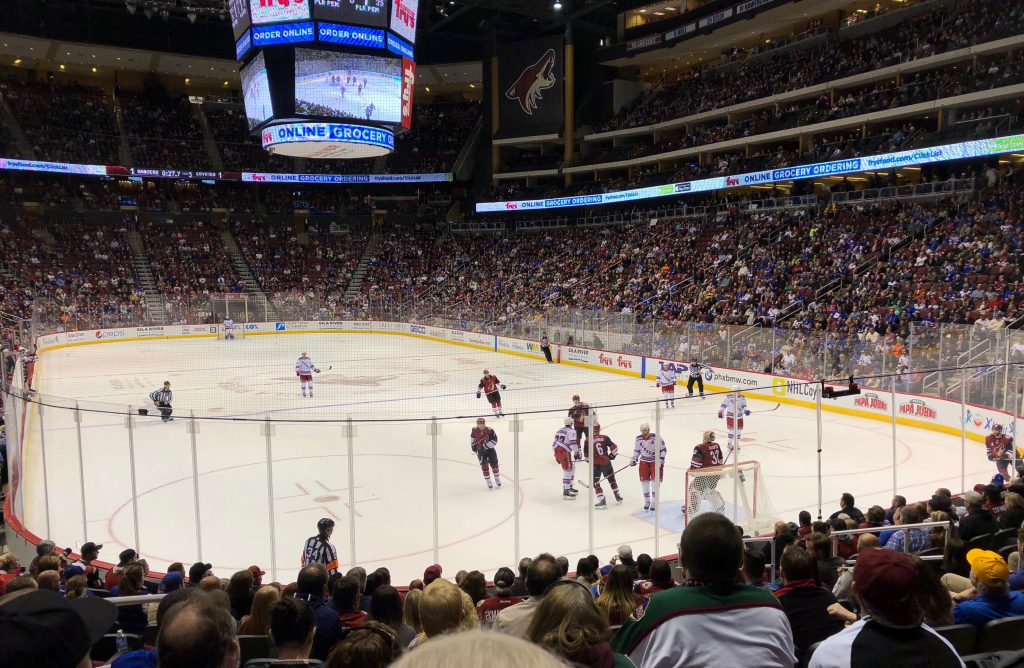 the next day, we headed back over to their house, to watch the buffalo bills in their first playoff game since 1999. we were so excited. but, the game was painful and the bills lost, but not because of our lack of cheering or eating party food.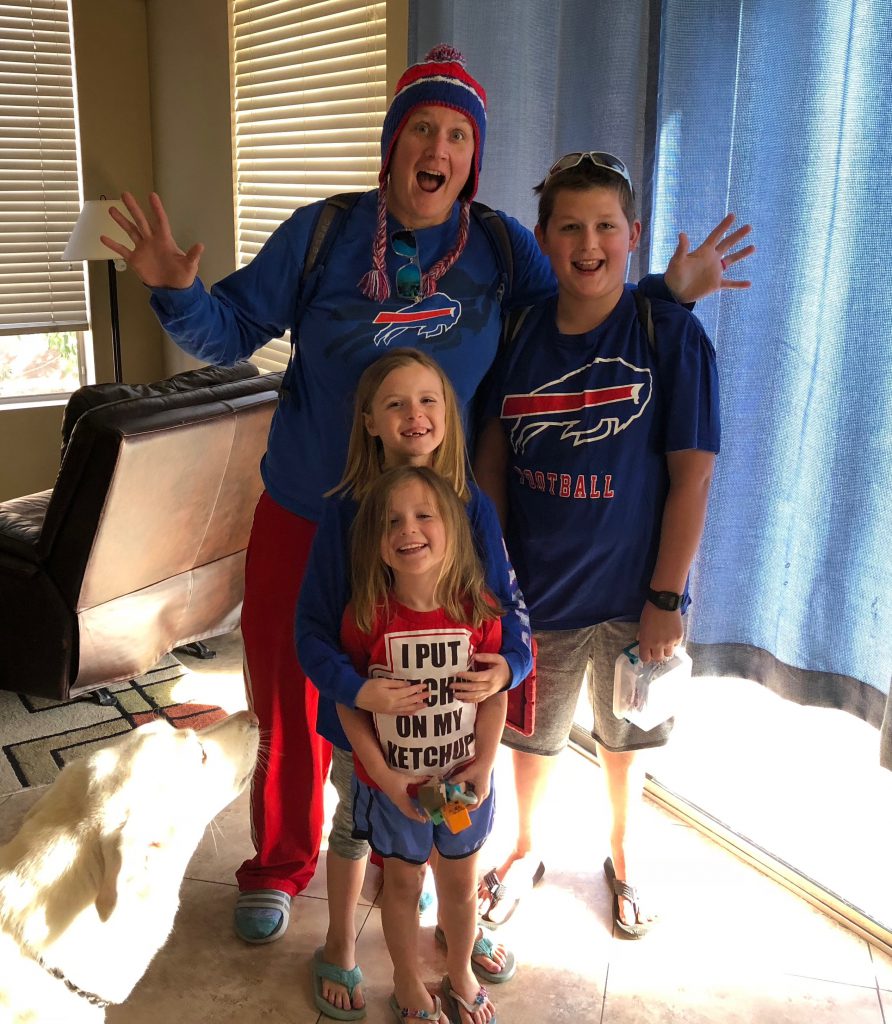 we have been trying to get back to some semblance of a routine and normal life. the scheduled life seems to agree with anna, who loves a good checklist. my favorite is "maybe hug hazel" which i later found out was not because anna was uncertain but because hazel often spurns her advances.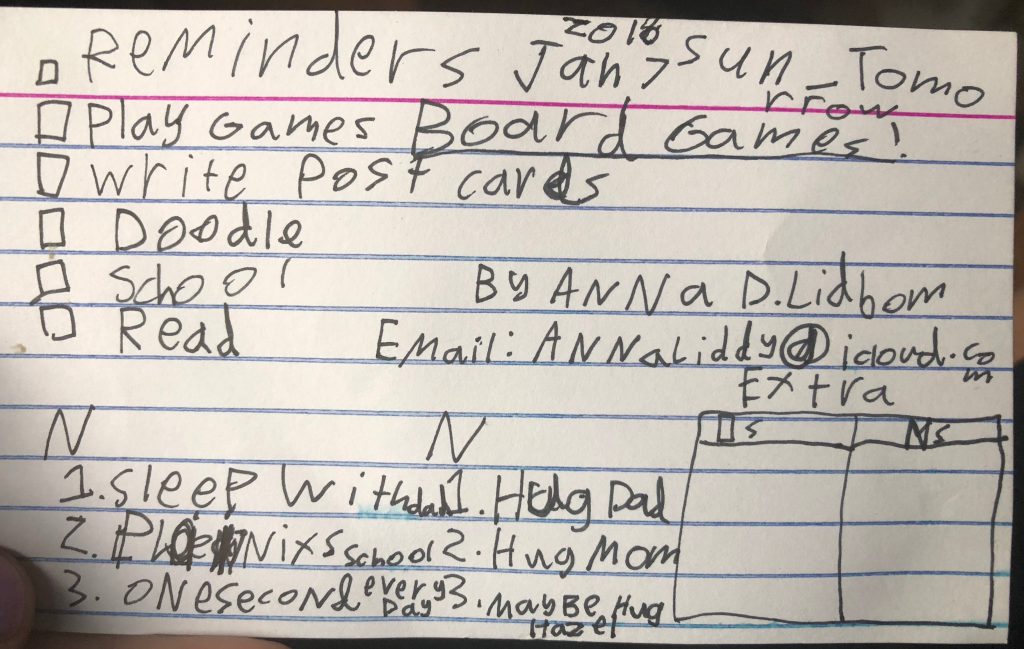 the big kids have begun attempting to teach hazel to read, using these cool word puzzles my mom got her for christmas.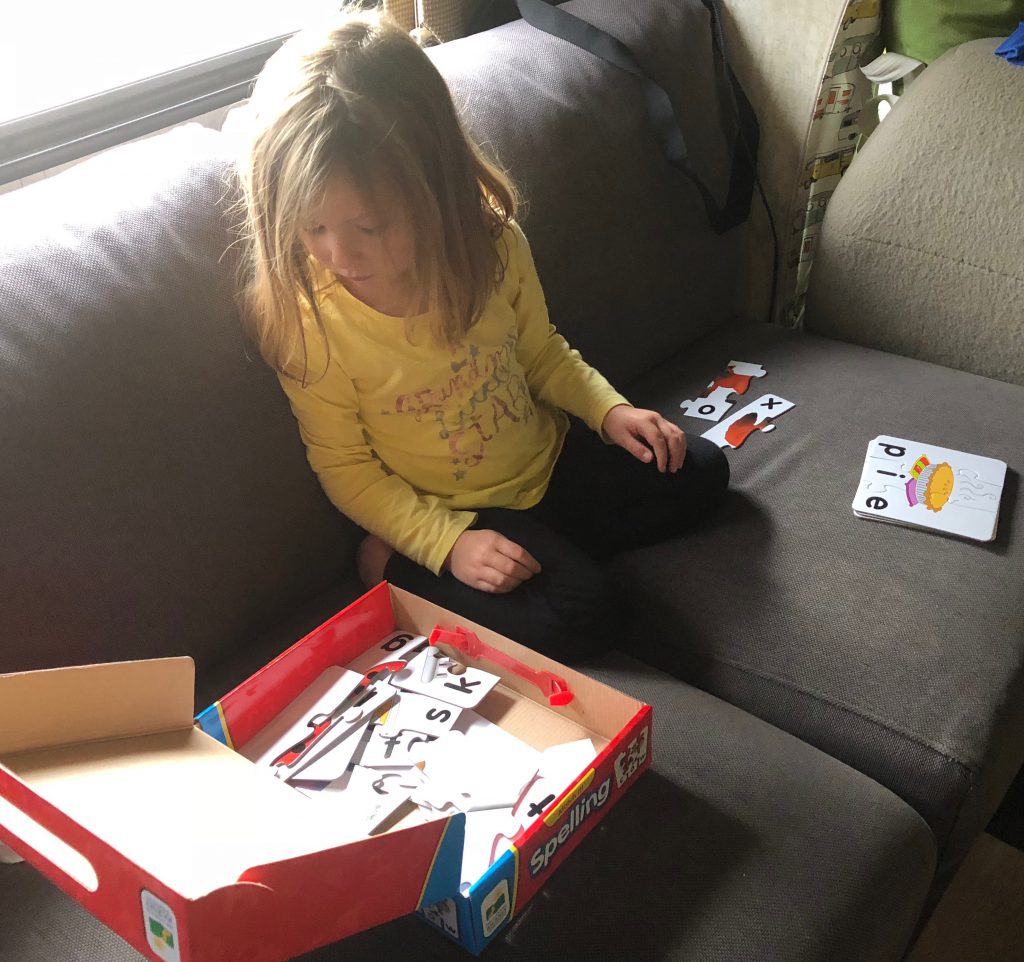 before we left mesa, derek got my car detailed. (it was nasty). since hazel was due for a car seat to booster seat transition, we pulled the trigger, to avoid putting the old nasty car seat into my super clean car. we threw away the old one in the dumpster, but took a picture, to remember the car seat that we got when isaac was 5 months old. so sad.

hazel loves her new car seat, but was a bit confused. after she climbed in, she asked us where the button was, the button that turns it on, to boost her. 🙂
finally, it was time to leave mesa. derek and isaac rode together and stopped for propane, which gave us enough time to swing by the arizona capitol building in phoenix, to check another capital off our list.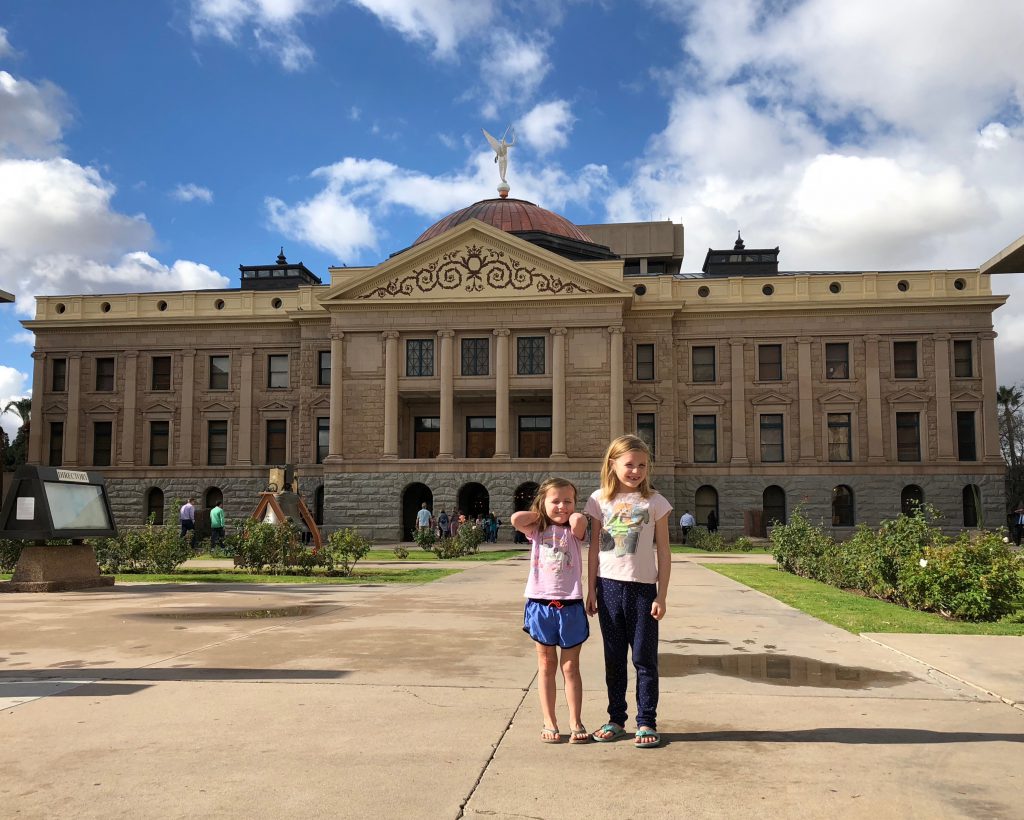 disclaimer: this is actually the old capitol building and is now a museum. the new one is an ugly, boring building behind it, and we would have had to go through security to get there. the museum information lady told us that this was the picture we wanted and was used whenever folks talked about the capitol. we took her advice. 🙂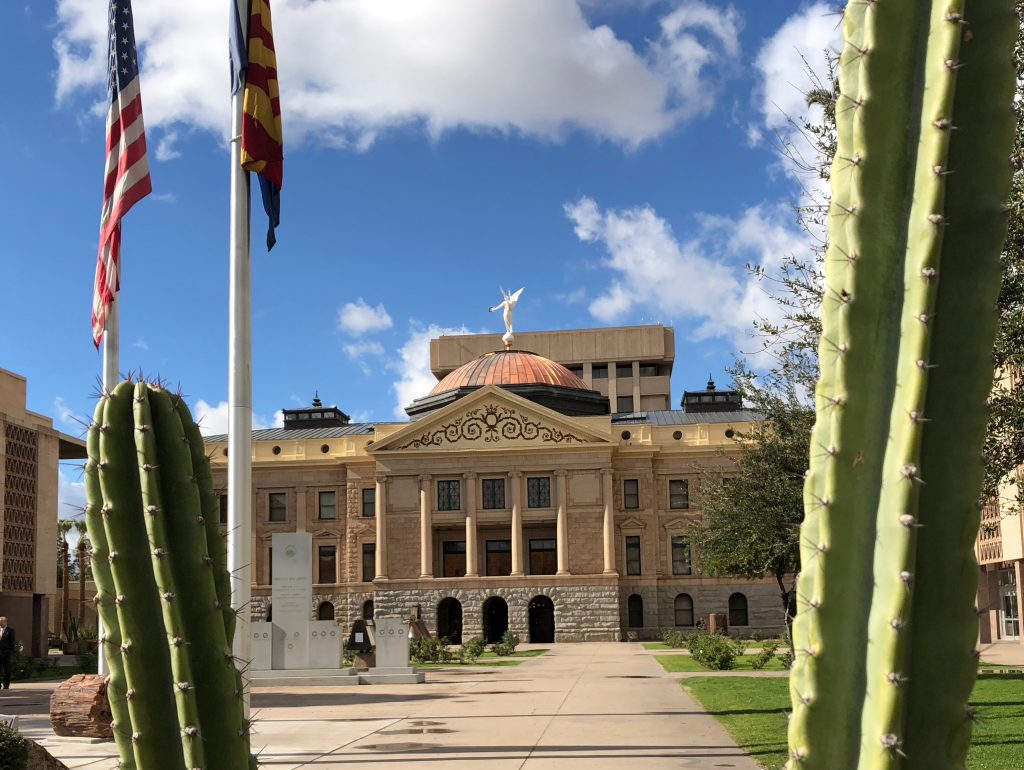 and then. we moved on to tucson….