on thursday, the kids and i loaded up and headed off to check out tumacácori national historical park. (pronounced too-mah-KAH-kohr-ee, we would learn). basically, it's the ruins of an old spanish mission, a few miles north of the mexican border, and it was chock full of information about the history of when catholic european explorers attempted to assimilate with the native folks who already inhabited the area.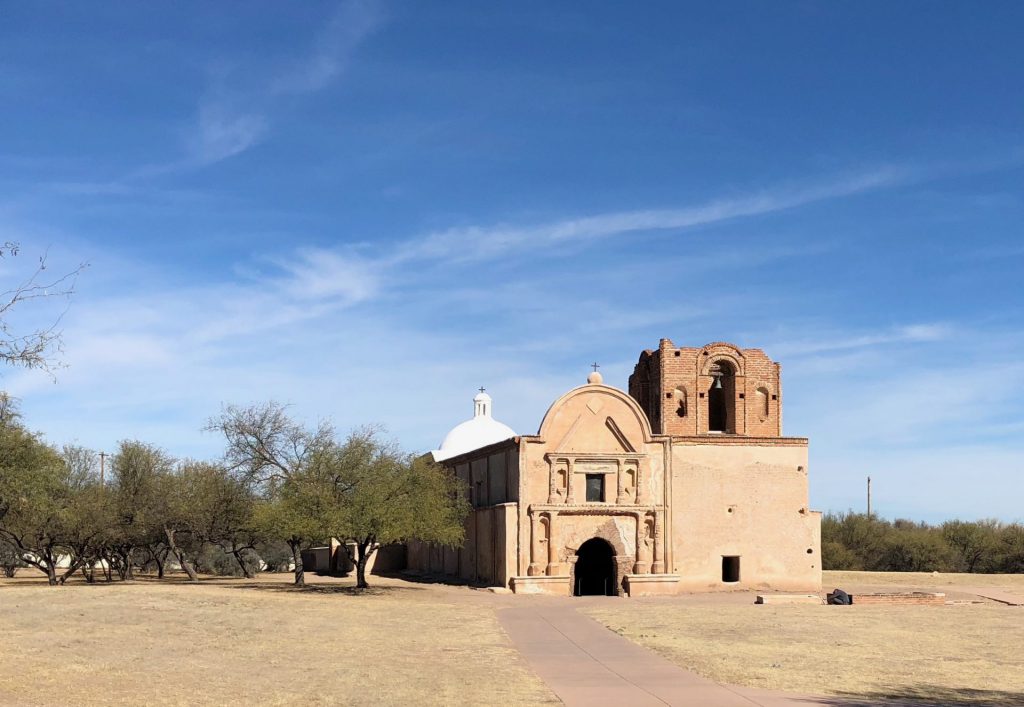 the drive was about 1:15 and the kids were glad to play their ipads the whole way. upon arrival, we made the executive decision to leave our snacks in the car, so we were pleasantly surprised to happen upon a little tent, where we could get free, fresh made tortillas, filled with beans and very spicy salsa.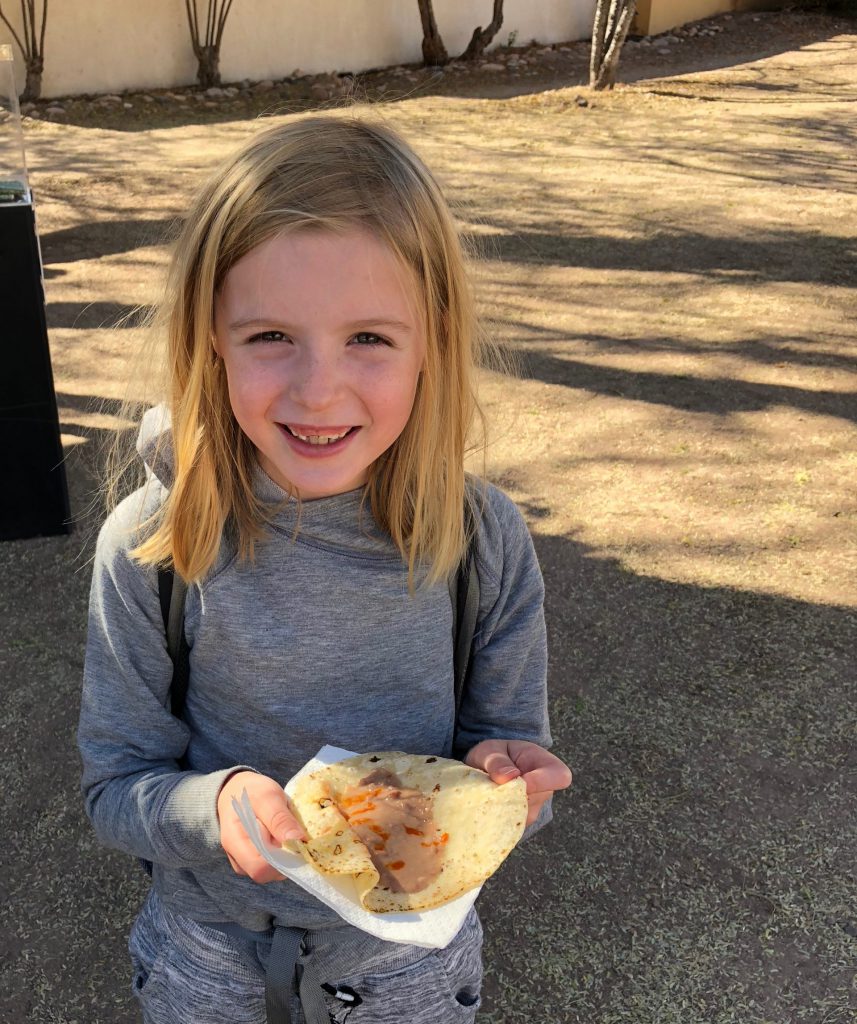 isaac opted for bean and salsa free.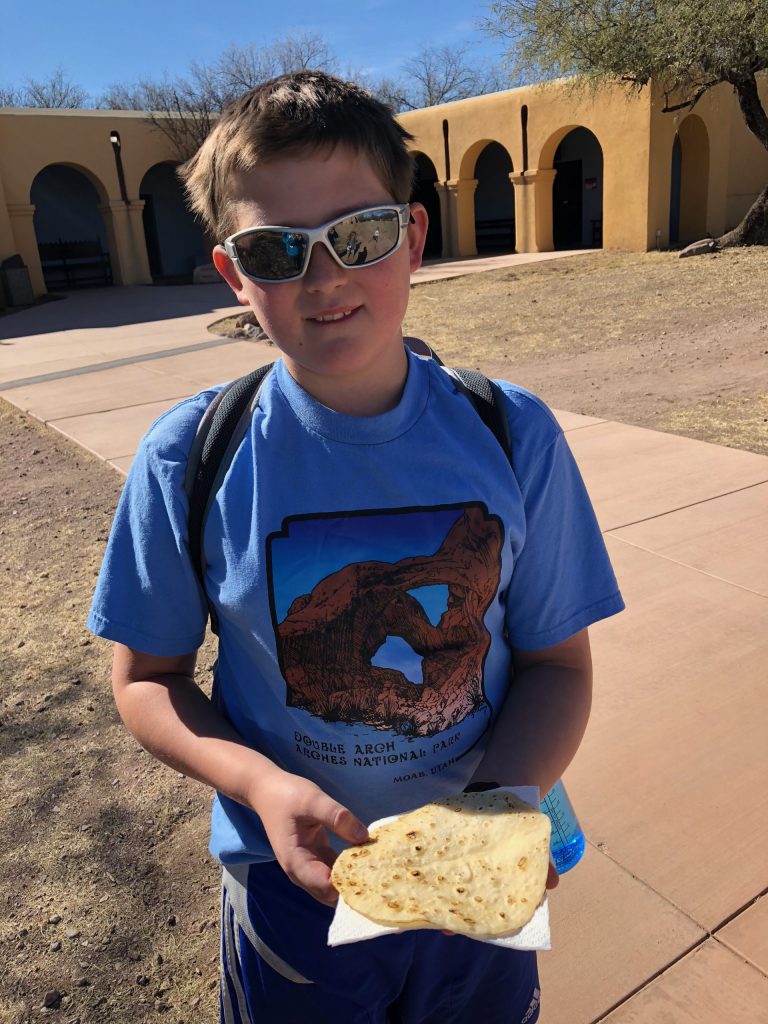 as did hazel.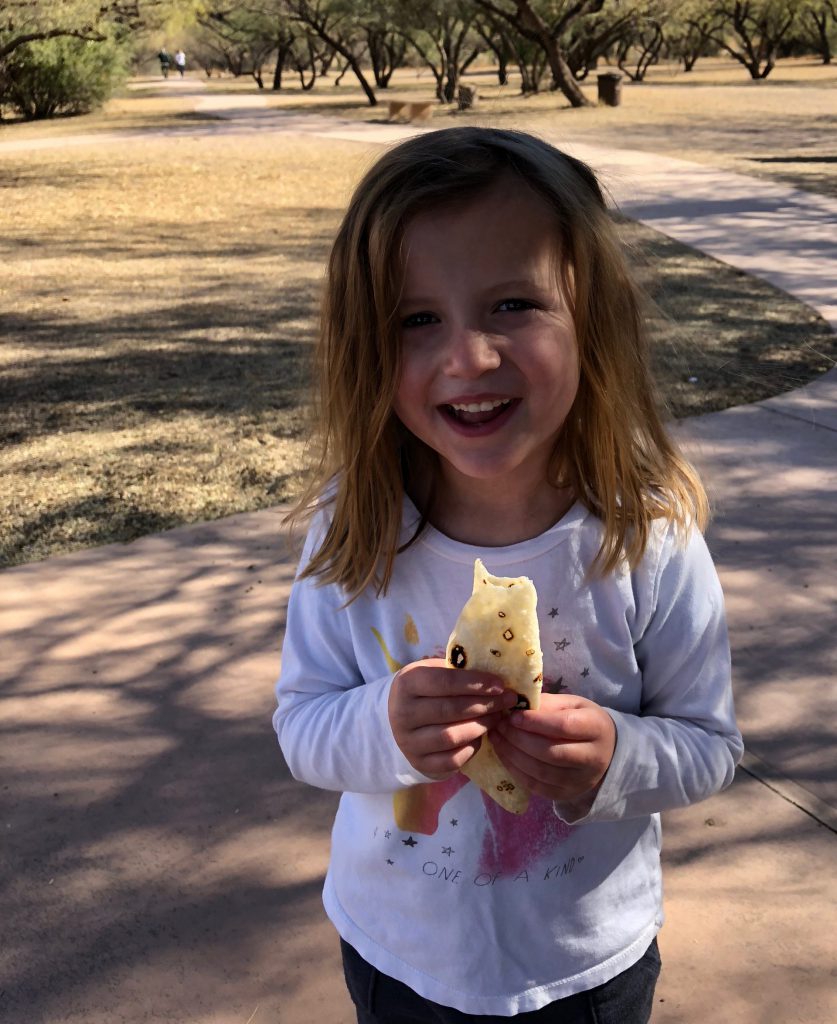 after our tortilla brunch, we began our exploring. instead of a traditional junior ranger book, we were given a self guided tour book, filled with questions for the kids to answer along the way, and be prepared to talk about with the ranger when we got back. the tour took us through the garden and into a little museum area. we stopped at this father kino statue and isaac and anna remembered him from our visit to casa grande.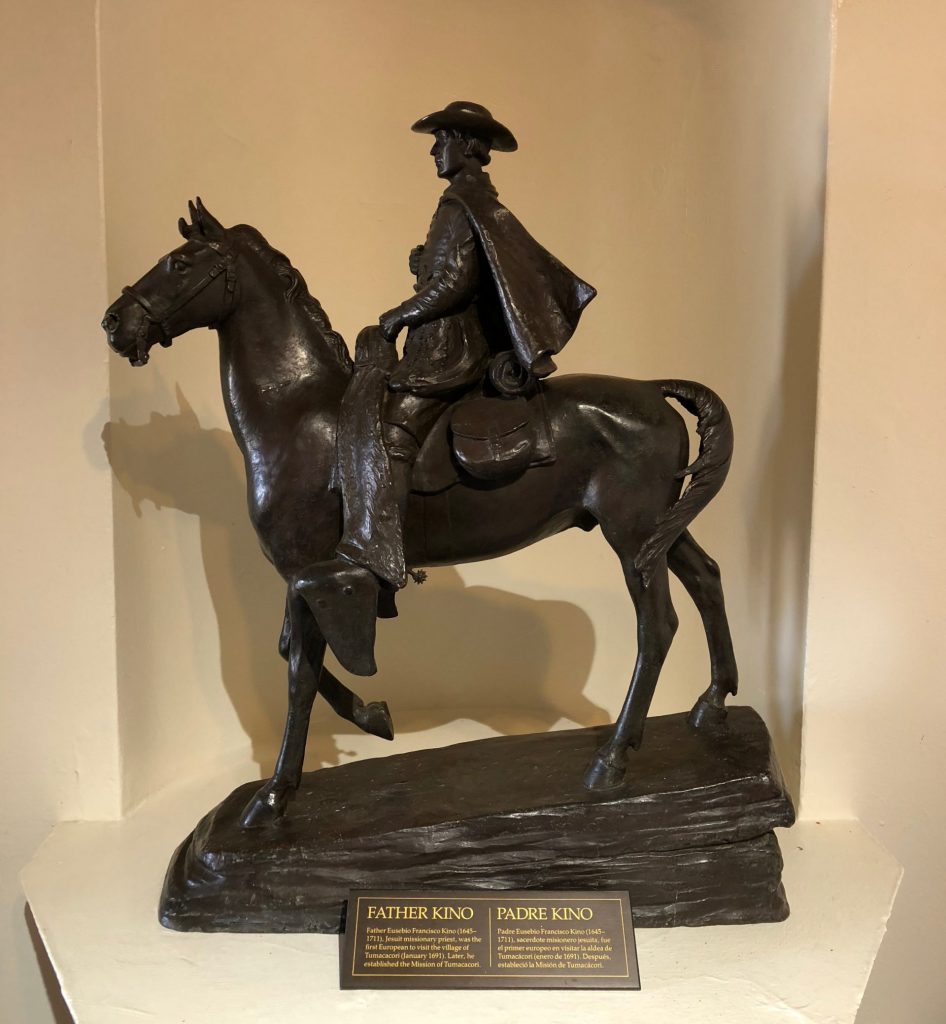 then it was time to check out the church.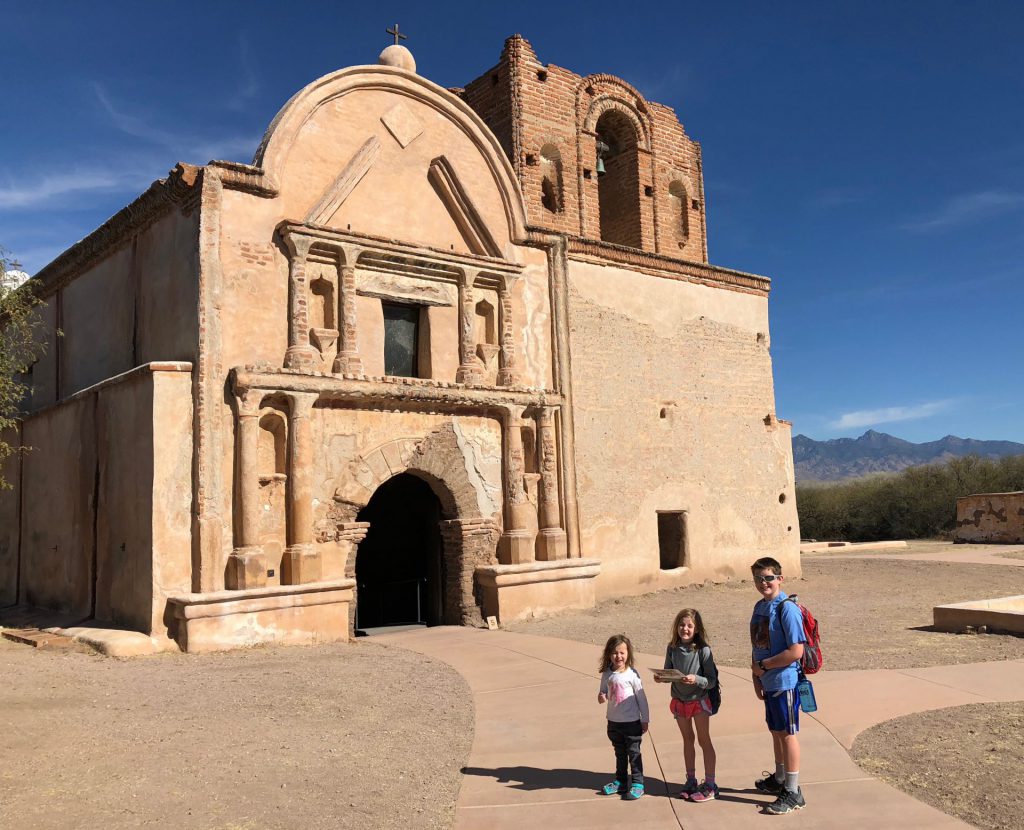 inside the sanctuary.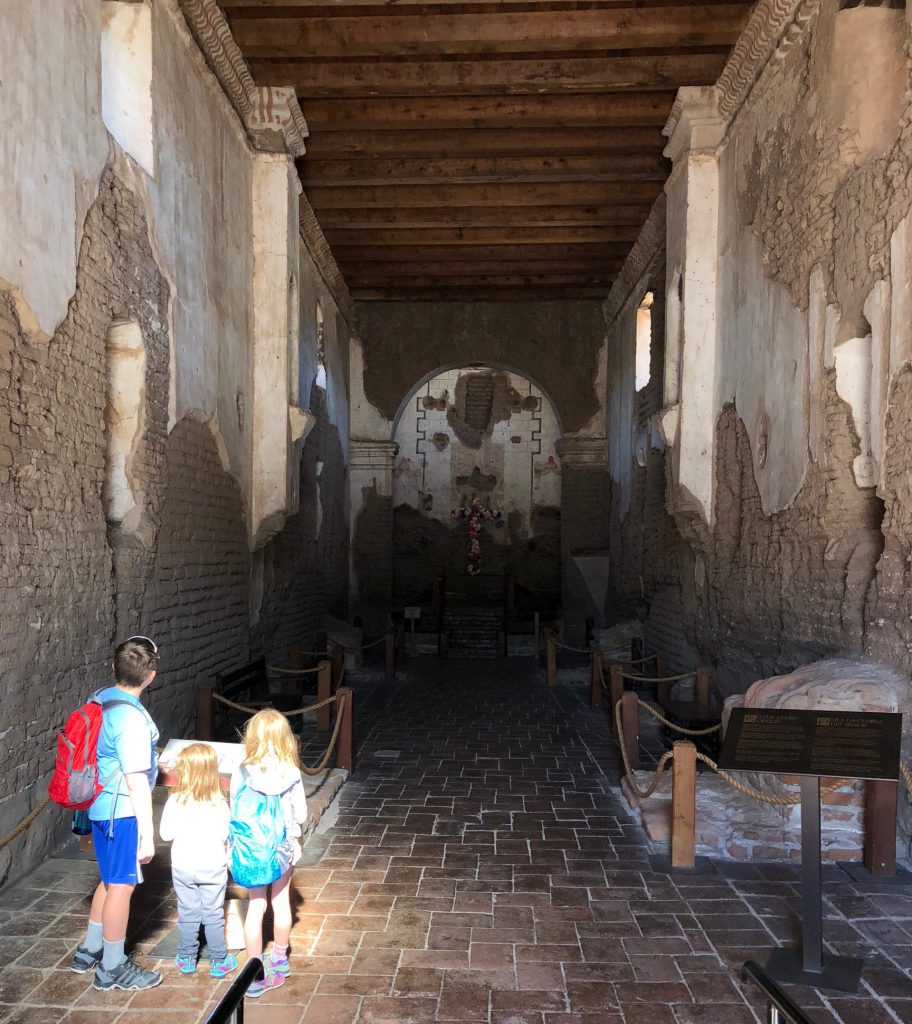 flower cross.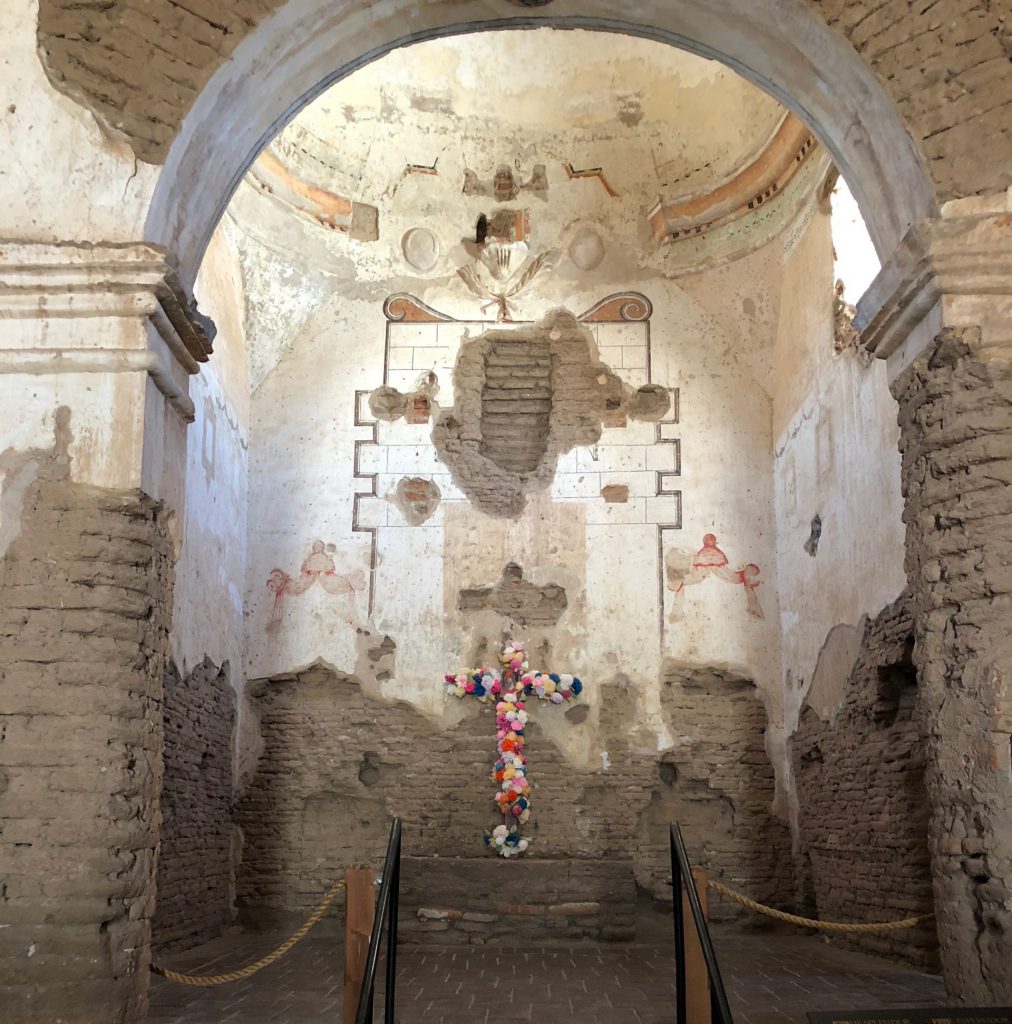 outside, there was a cemetery. but these are from more recent burials (early 1900s). no one knows where the original cemetery is located, but they do know there were about 600 burials, from records kept by the church leaders.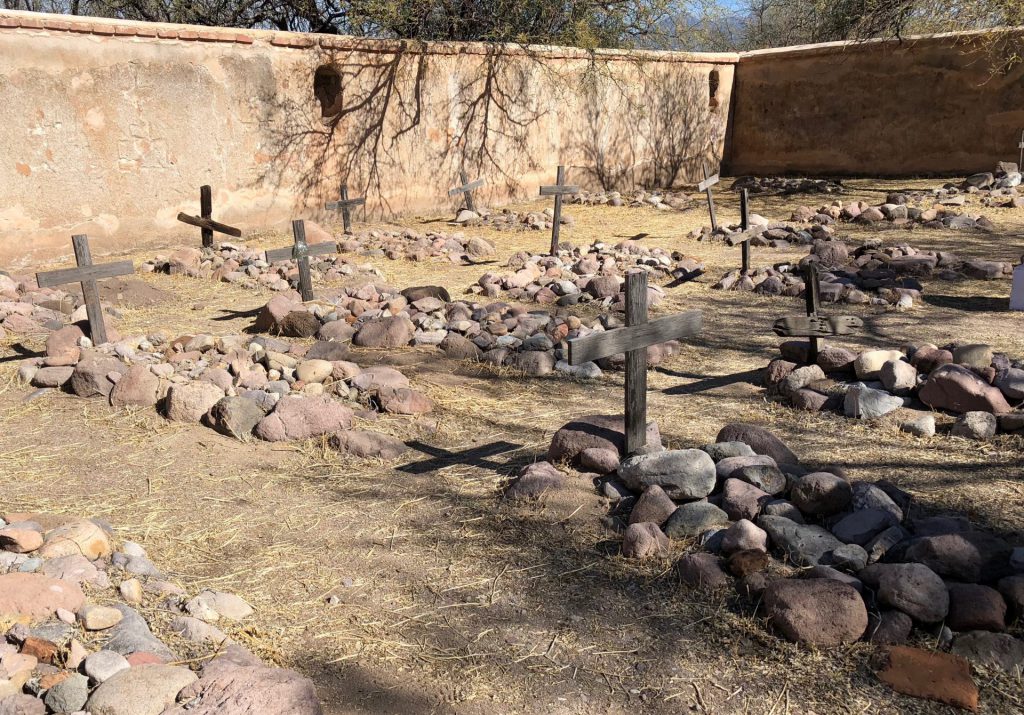 another church pic. it was a beautiful day and i couldn't help taking a bunch of photos, with the blue skies and the mountain backdrop.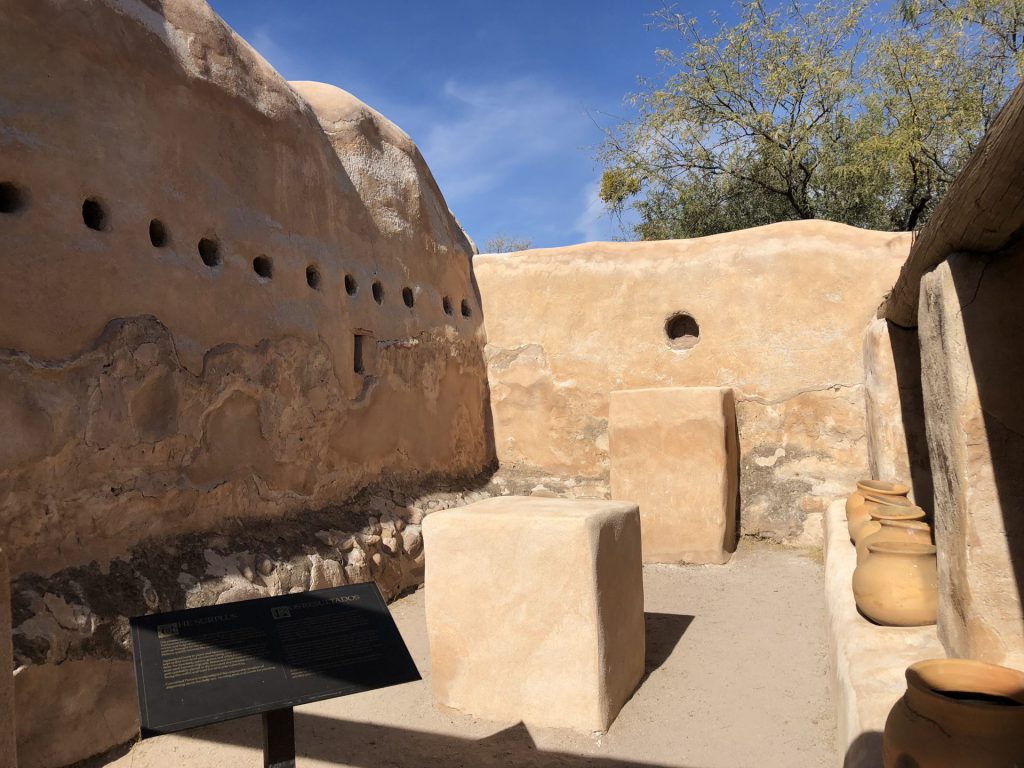 food storage hut. the kids figured out from the holes, that there was a second floor, lost over the years. that, and a staircase leading to nothing. 🙂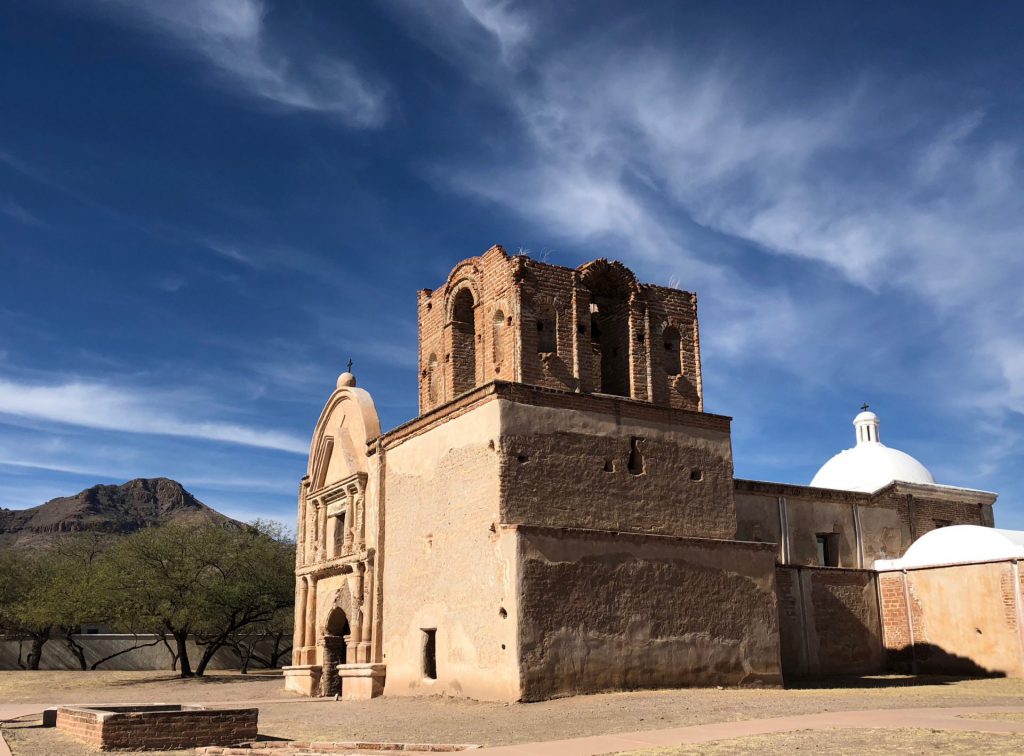 our tour took us to some other, less photogenic parts, an old kiln, an orchard, and a compuerta, which is a sort of holding tank for water that came in through an irrigation ditch from the santa cruz river, nearby. the last bit of our tour took us into a museum, where the kids learned a bit more about the native folks in the area before the europeans came to take over. but their favorite part was a diorama of what the inside of the church would have looked like back in the day. it was hard to get a glare free picture through the glass.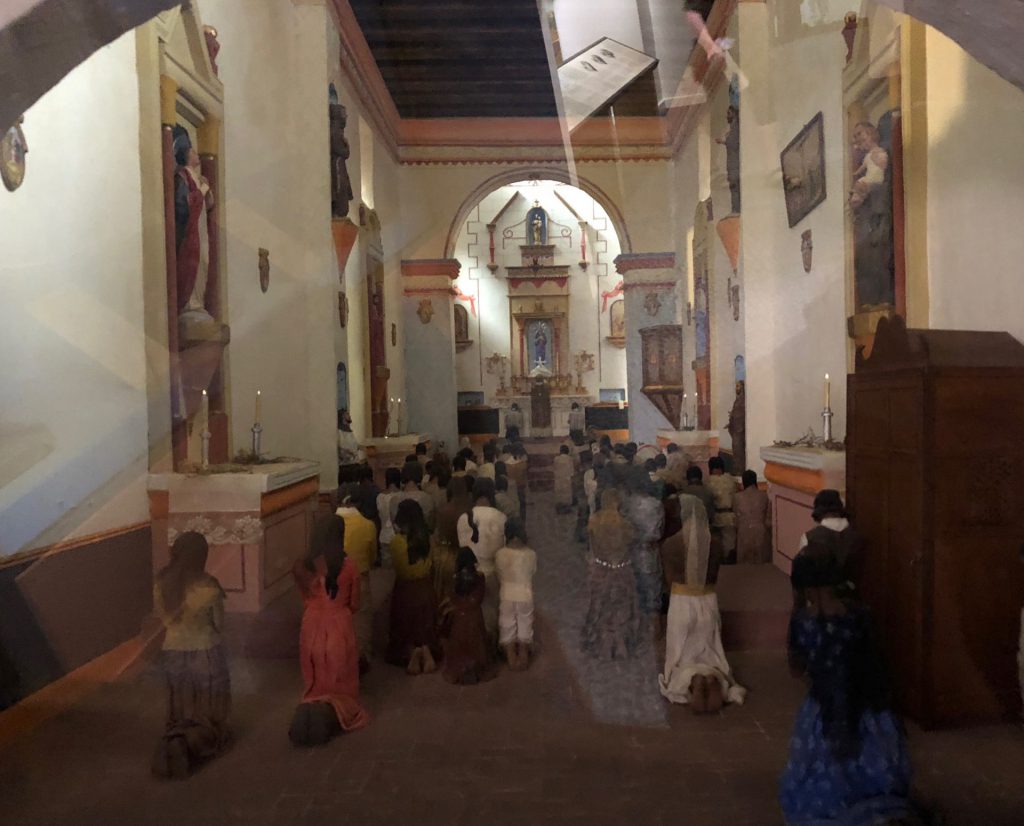 we finished up by getting sworn in, collecting junior ranger badges and buying commemorative patches, stickers and tokens. and then we got back on the road. since we were so close to mexico, there's a checkpoint heading north, but it turns out that if you're a white mom with three kids in the back of your subaru outback, you get waved right on through.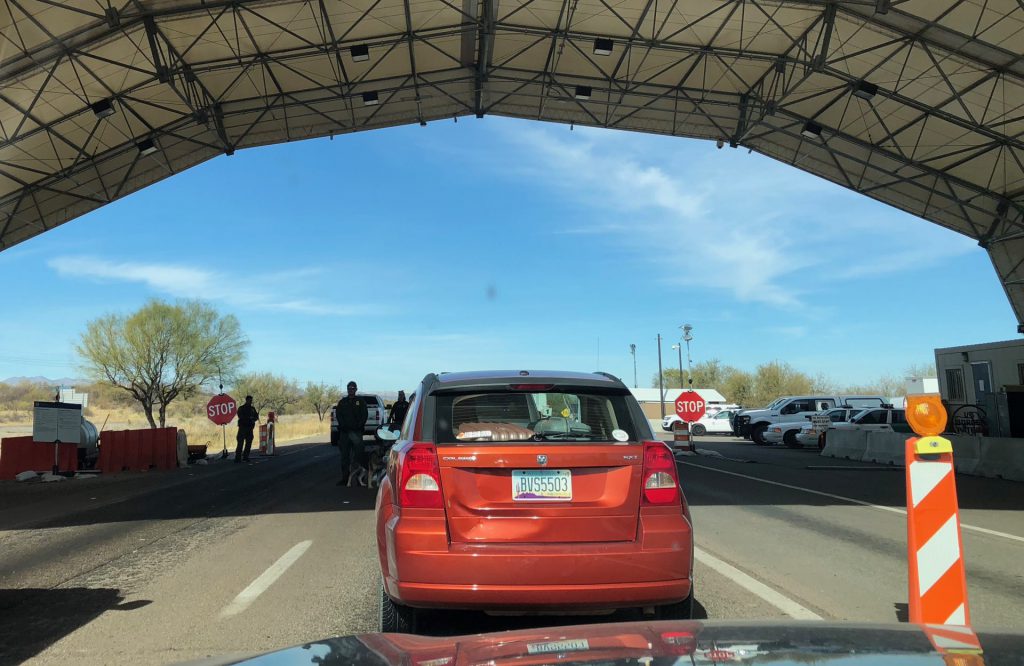 another interesting tidbit. the distances on signs were measured in metric. as they should be. but in all our other times of being close-ish to mexico, we haven't seen this.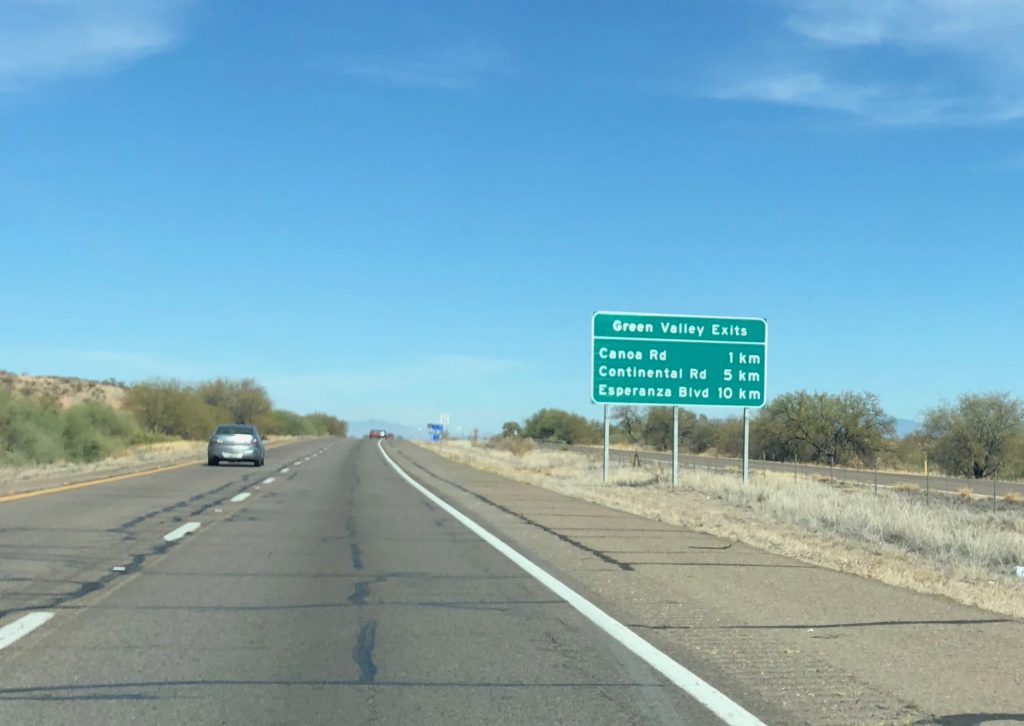 having only eaten a bean tortilla for an early lunch, we were pretty hungry, so we stopped for mexican on the way home. it's part of our immersive learning process. 🙂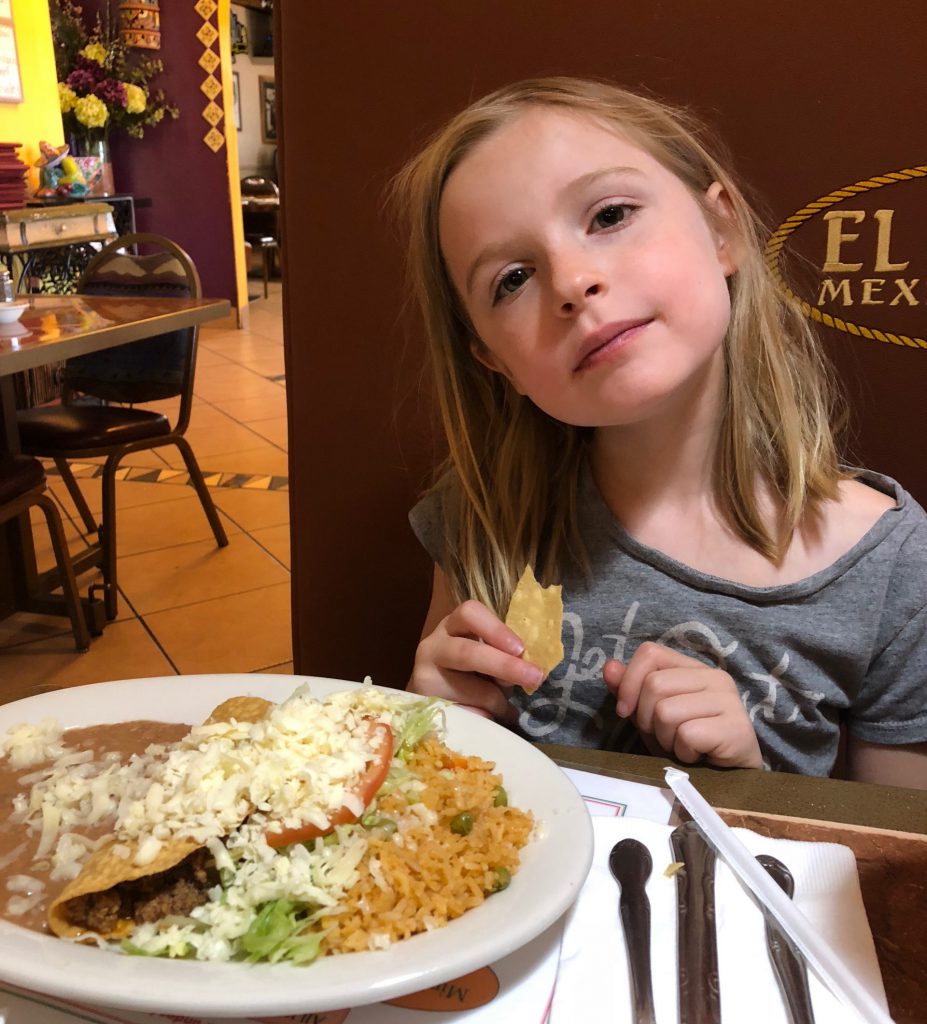 tumacacori was pretty cool. and i'm glad we went when we did, instead of waiting for derek to be able to go this weekend, because it's completely shutdown, thanks to the incompetent politicians who have shut down our government. blerg.