we had high hopes for death valley. the drive in was pretty intense. you have to go over two mountain ranges, which is tough on derek driving this billion ton rv.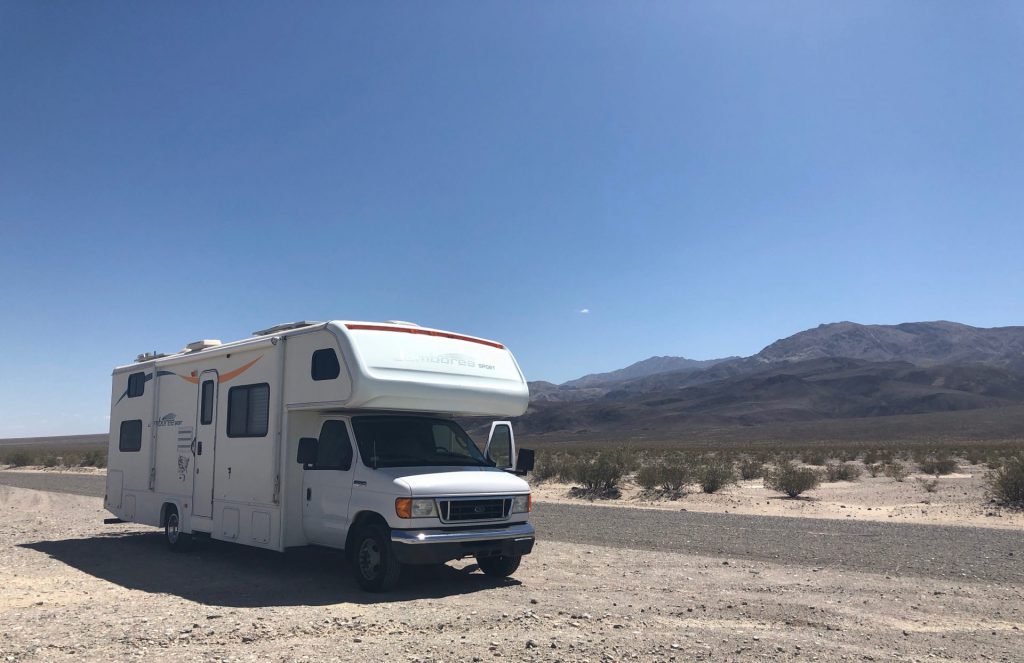 the road and scenery was exactly how you would imagine they would be in a place called death valley.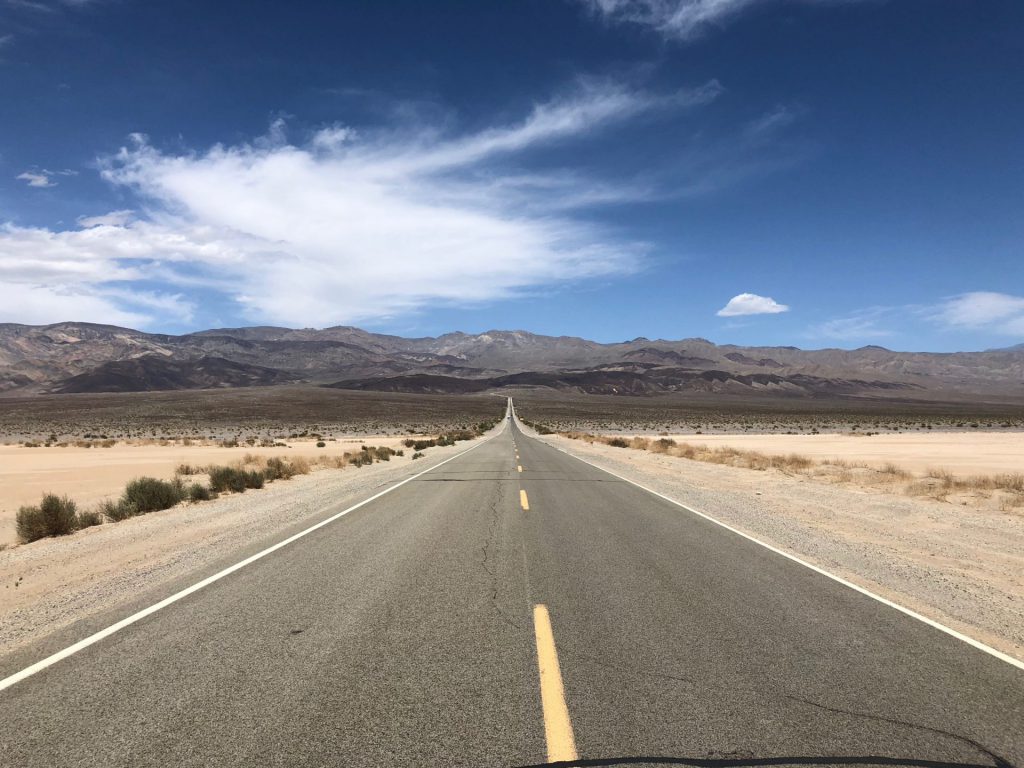 once we met back up at the camper, we hopped back into the car to drive over to the visitor center to get the kids some junior ranger books and watch the park video and figure out a game plan. it was around 4:00pm when we arrived and it was still pretty warm. ;). but, the temps were decidedly cooler than they had been the previous week.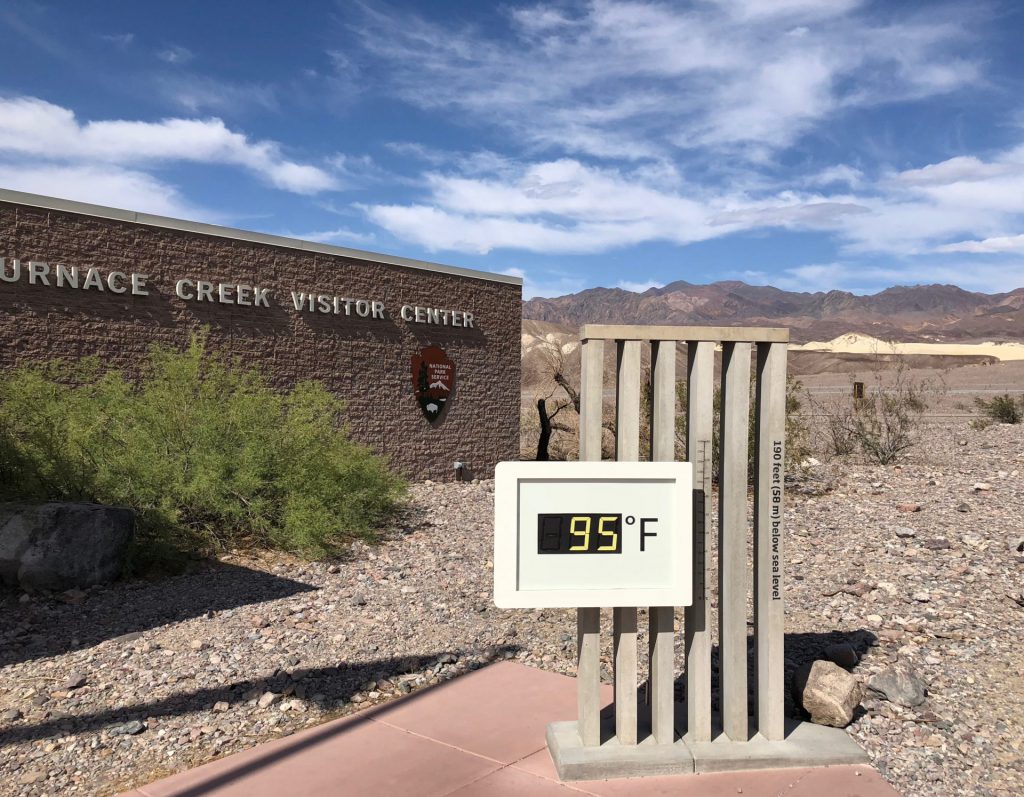 well. we quickly realized that the internet situation was not going to allow derek to be able to work. so, after the long stressful drive in on a saturday, we decided that we would spend all day sunday doing as much as we possibly could, and then turn around and drive back out on monday morning. ugh.
death valley is HUGE. the size of connecticut. we knew we could barely scratch the surface. and that the day would have a lot of driving. so we charged up all the technologies and let the kids have at it, as we drove from place to place. the scenery out the window didn't change a lot, or at least very quickly.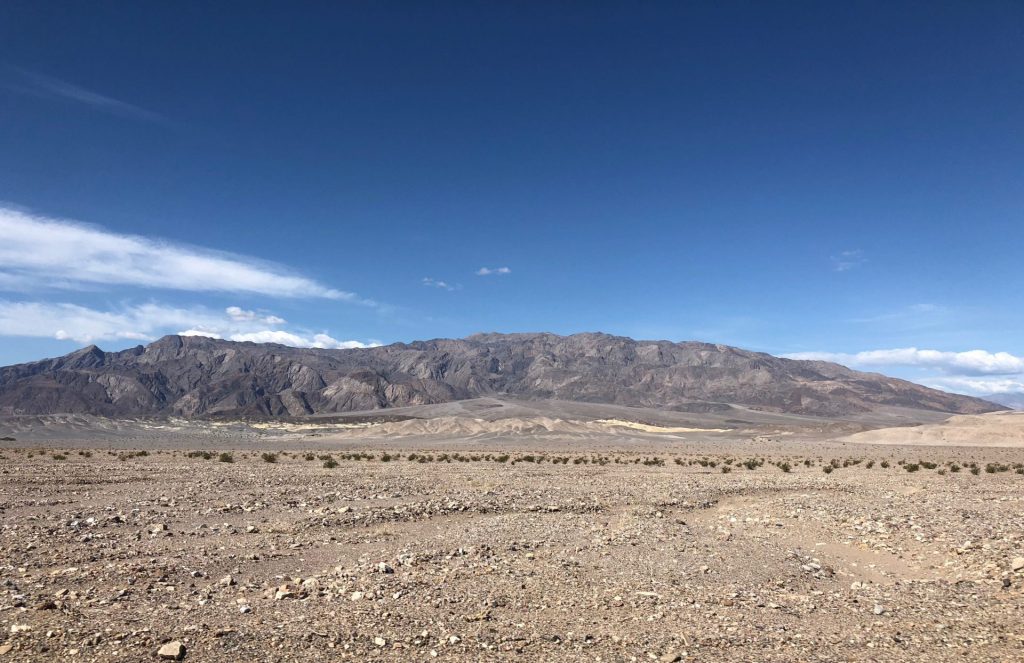 our first stop was badwater basin. the lowest point in all of north america, at 282 ft BELOW sea level.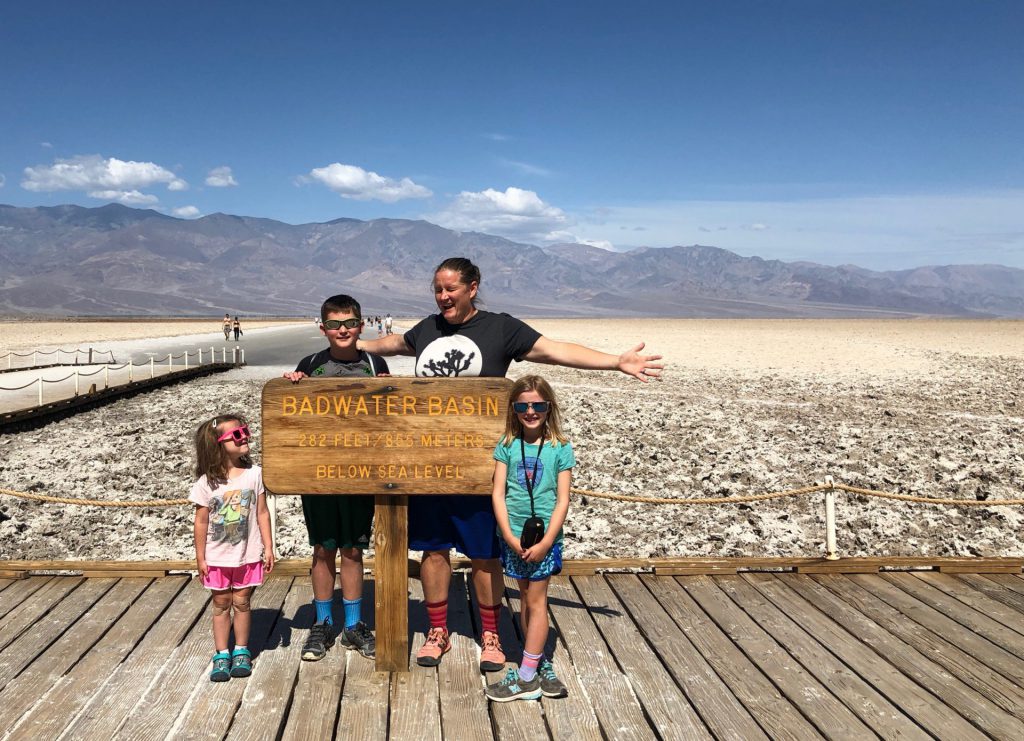 we (i) made the executive decision that we should walk out from the actual (nasty) basin to the salt flats further away from the road. the kids were a little grumbly, but they marched along.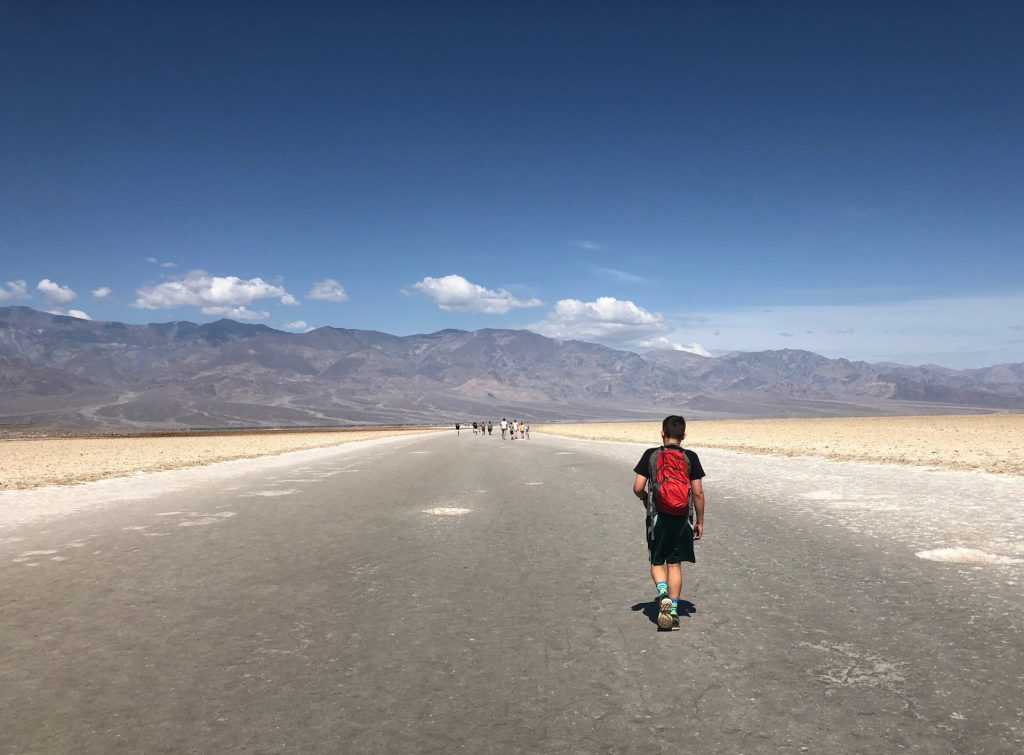 it was very strange. the crunchy salt under your feet. the slushy salt puddles. it seemed like snow, but it wasn't because it was super hot.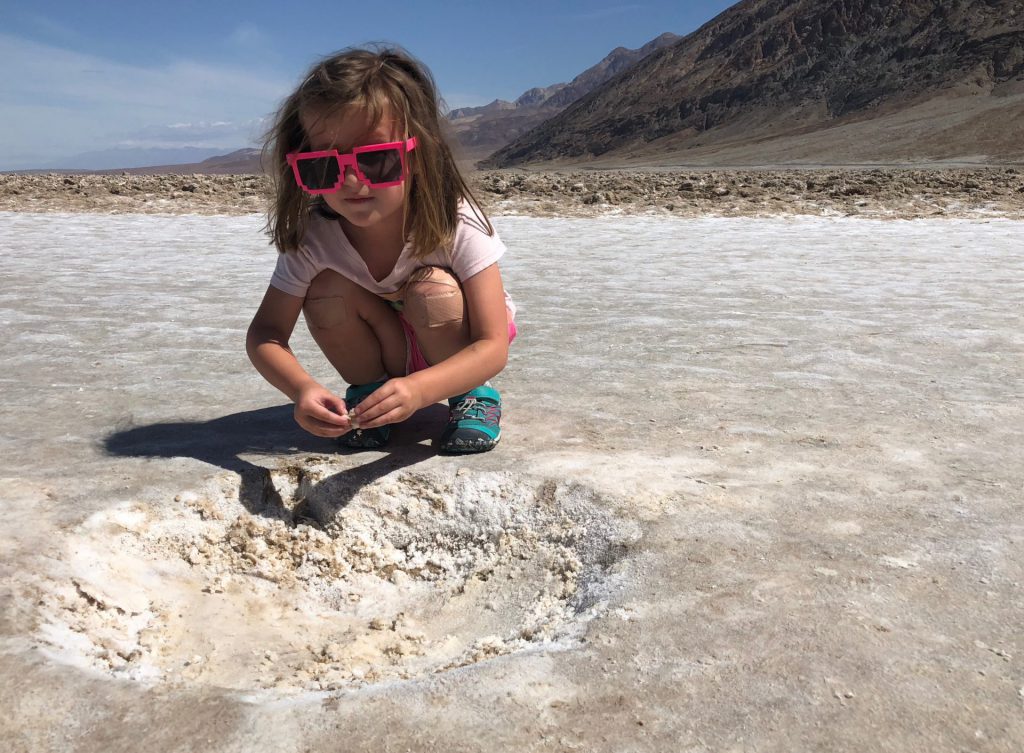 i ended up carrying hazel for a lot of the way, because i didn't want to start the day on a bad foot.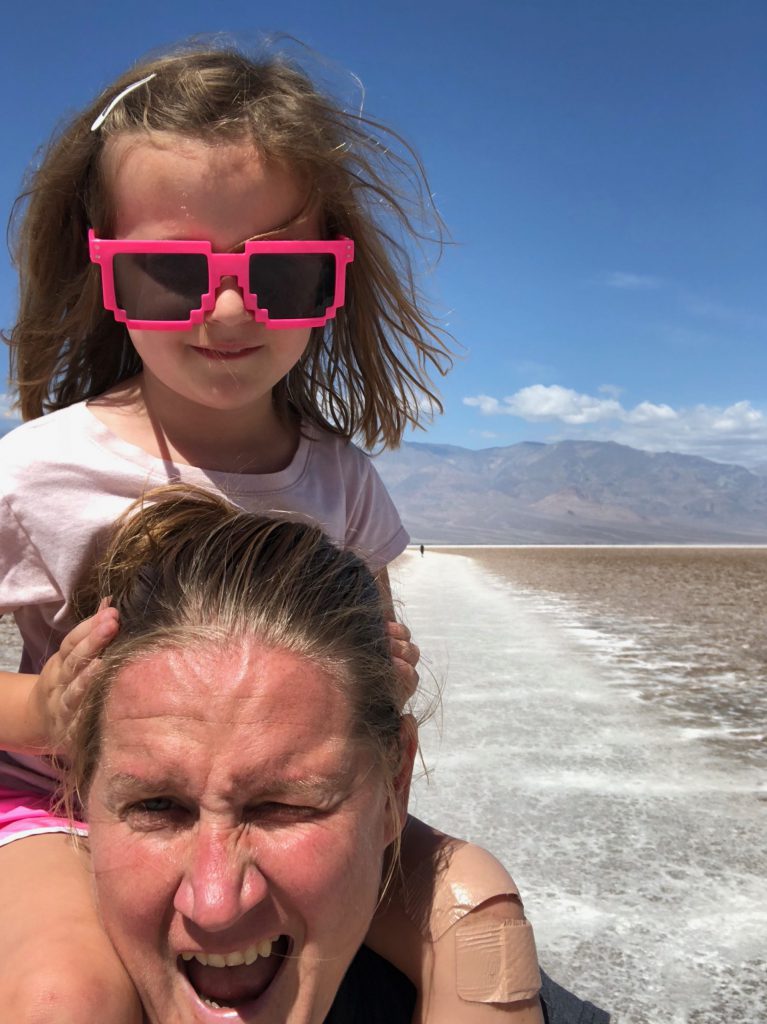 almost a mile later, and we arrived. and it was worth it.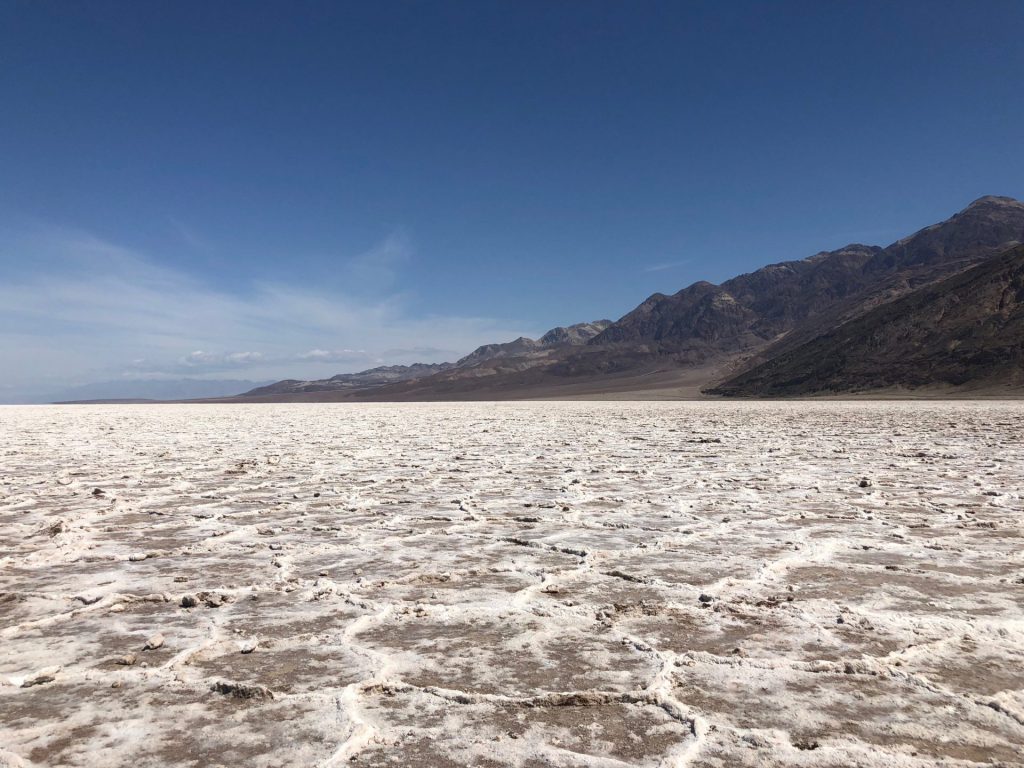 then we wandered around like goons, taking a thousand pictures of the same thing.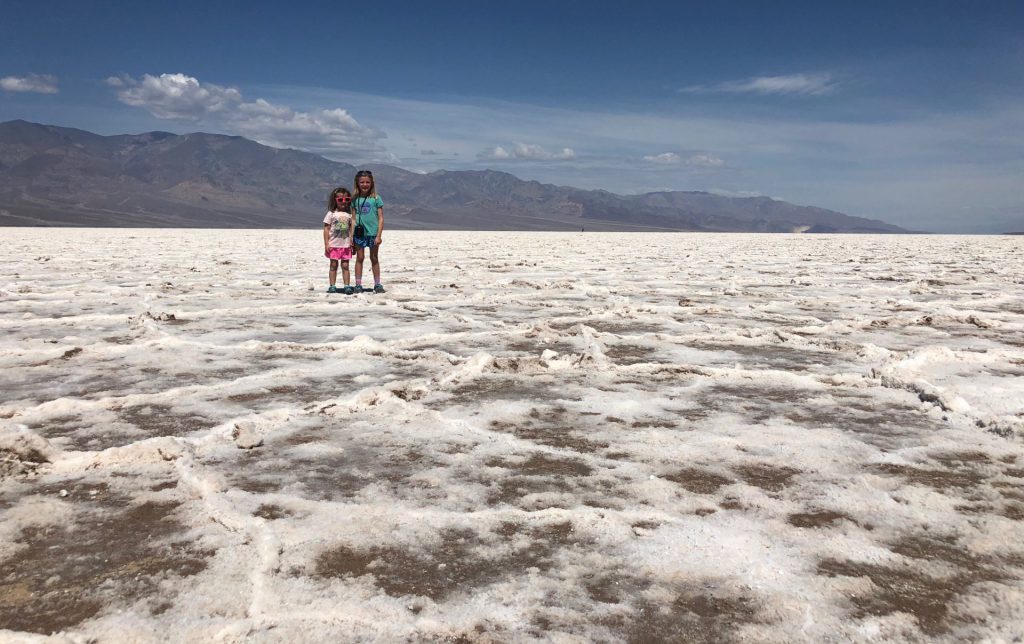 see what i mean? it was just so cool. plus, we timed it just right. when we started hiking, there were tons of folks out there. as we got closer and closer, it was clearing out. by the time we arrived, there was nobody but us and the next people were still a few hundred yards back. it was like our own personal salt flat.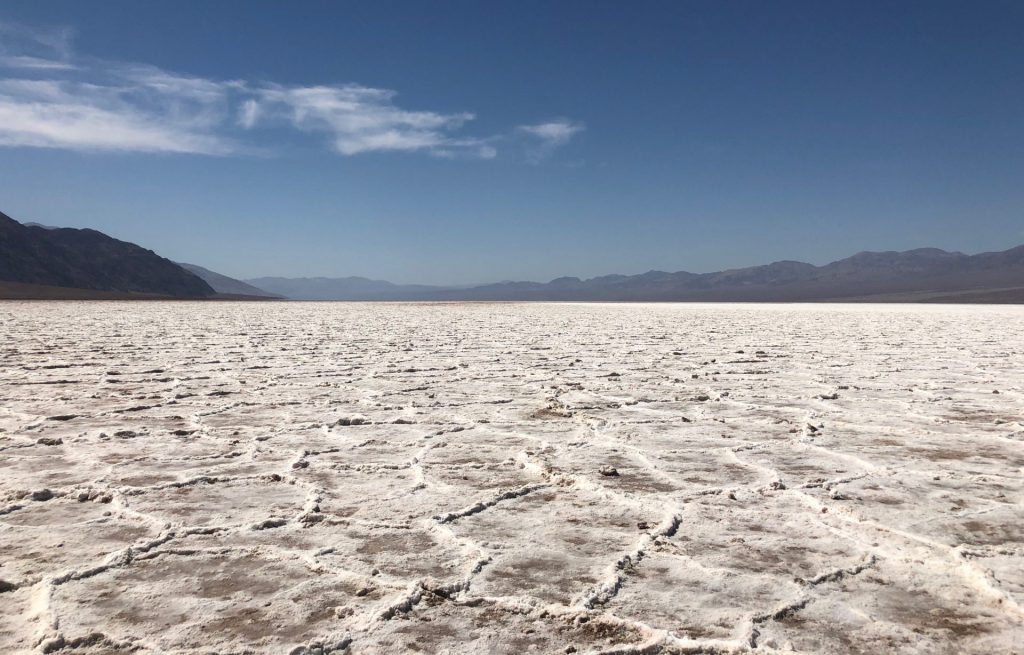 this guy was not super impressed. he doesn't handle the heat well.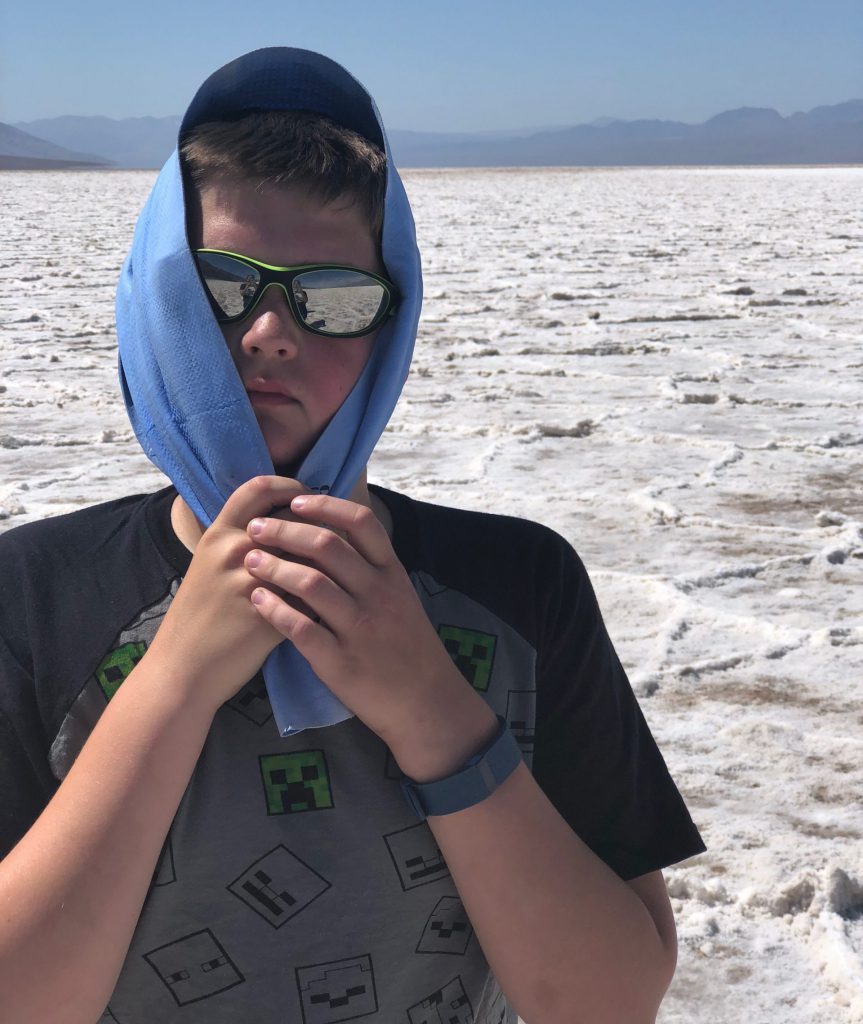 hazel had a grand old time, hopping around in the different polygons formed by the salt deposited on the dried/cracked ground.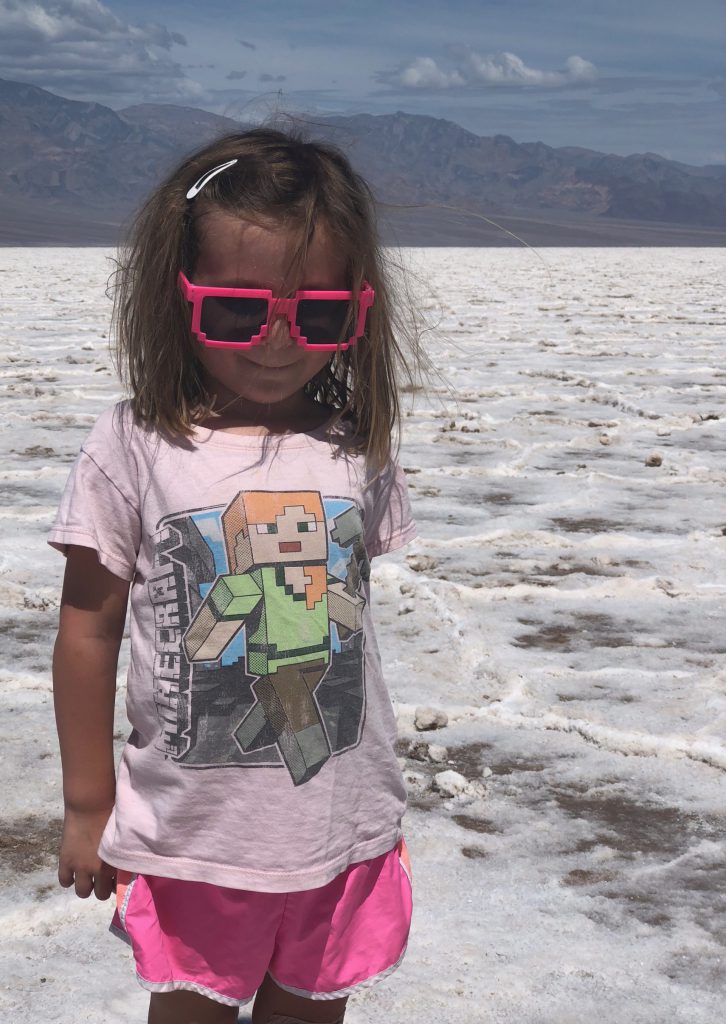 derek found this hunk of pure white salt. we definitely all took a taste. 🙂 it was salty.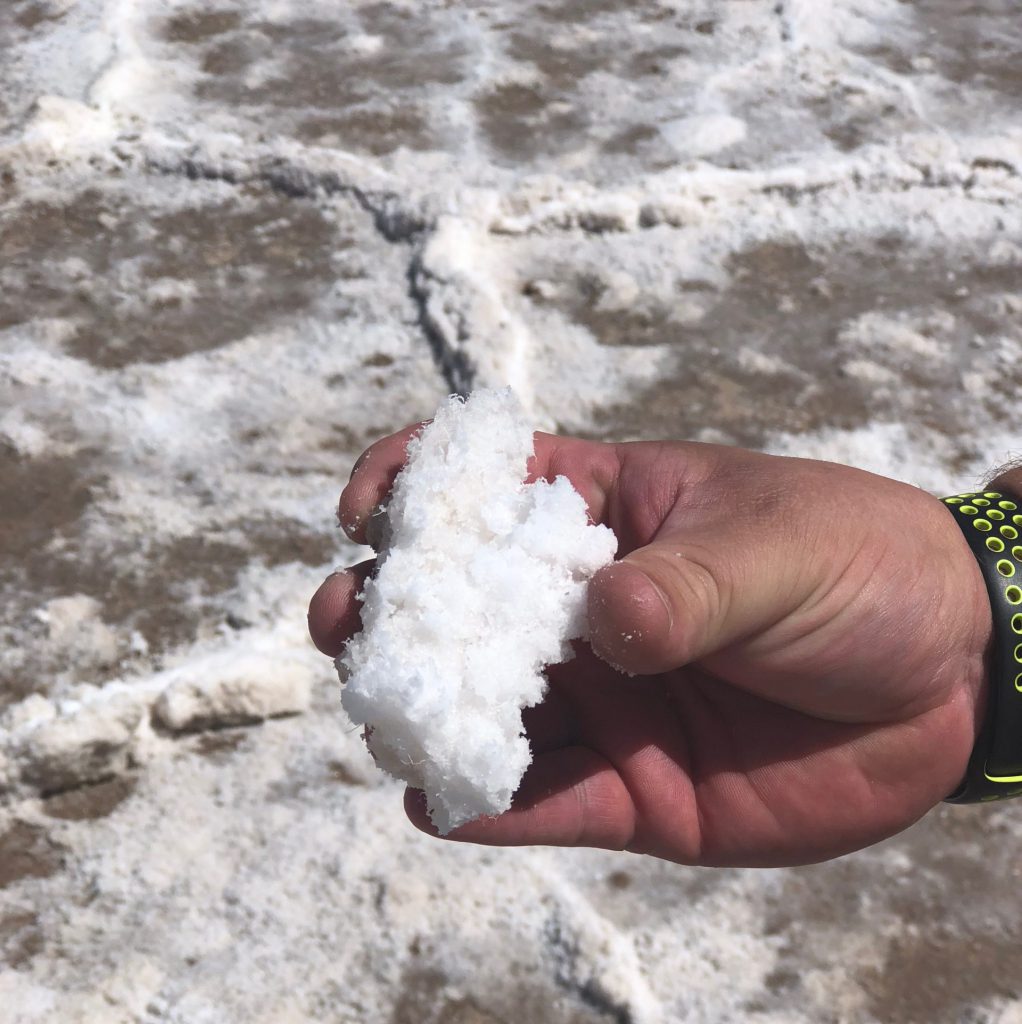 me and the goons. photo by derek.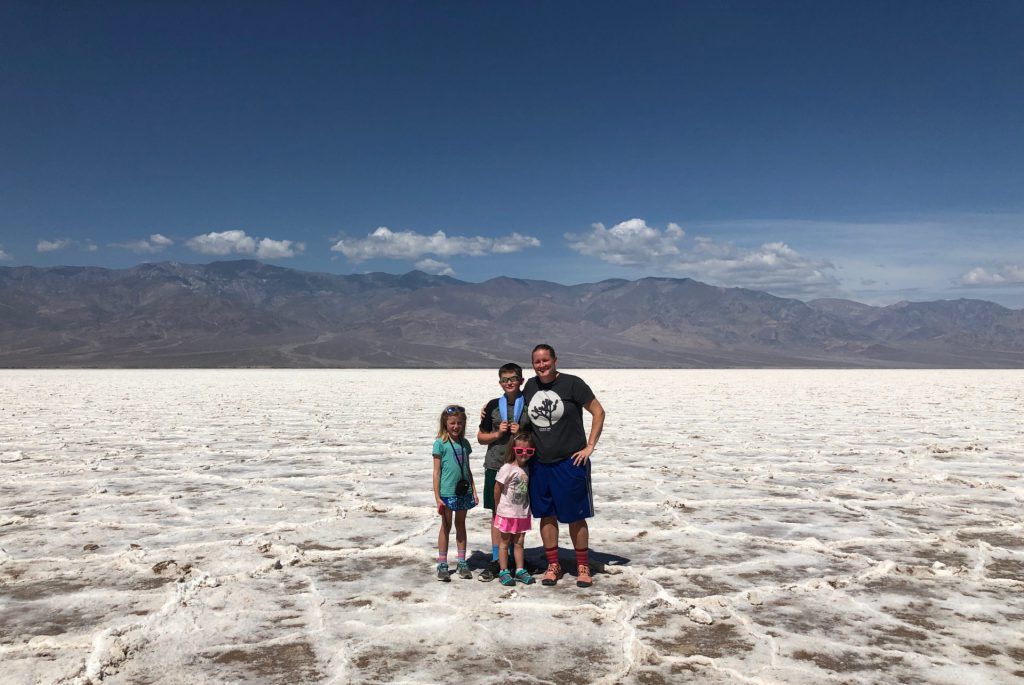 jumping annababy.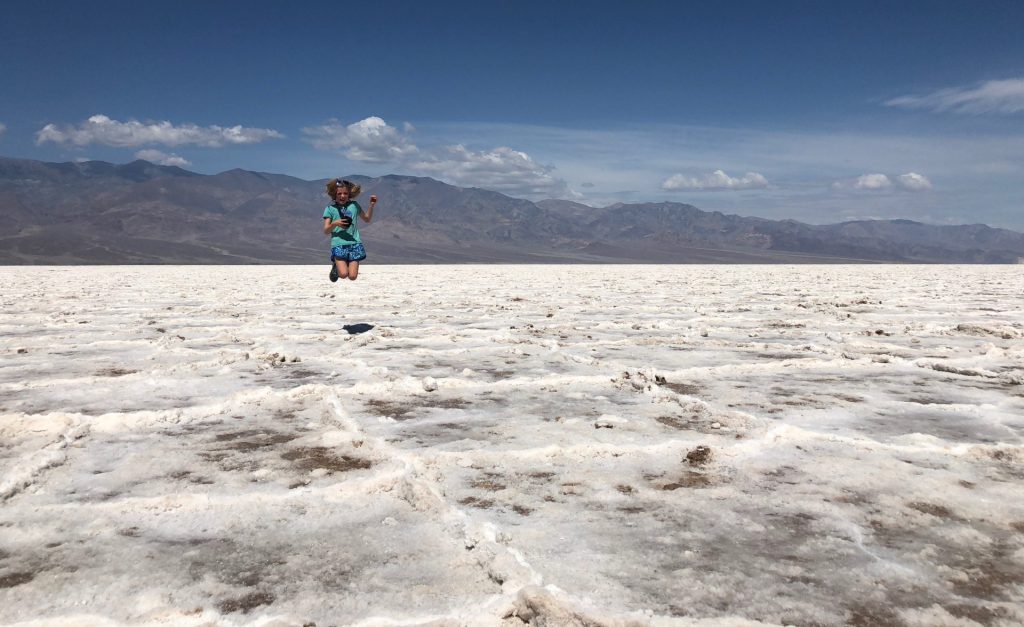 feet pic.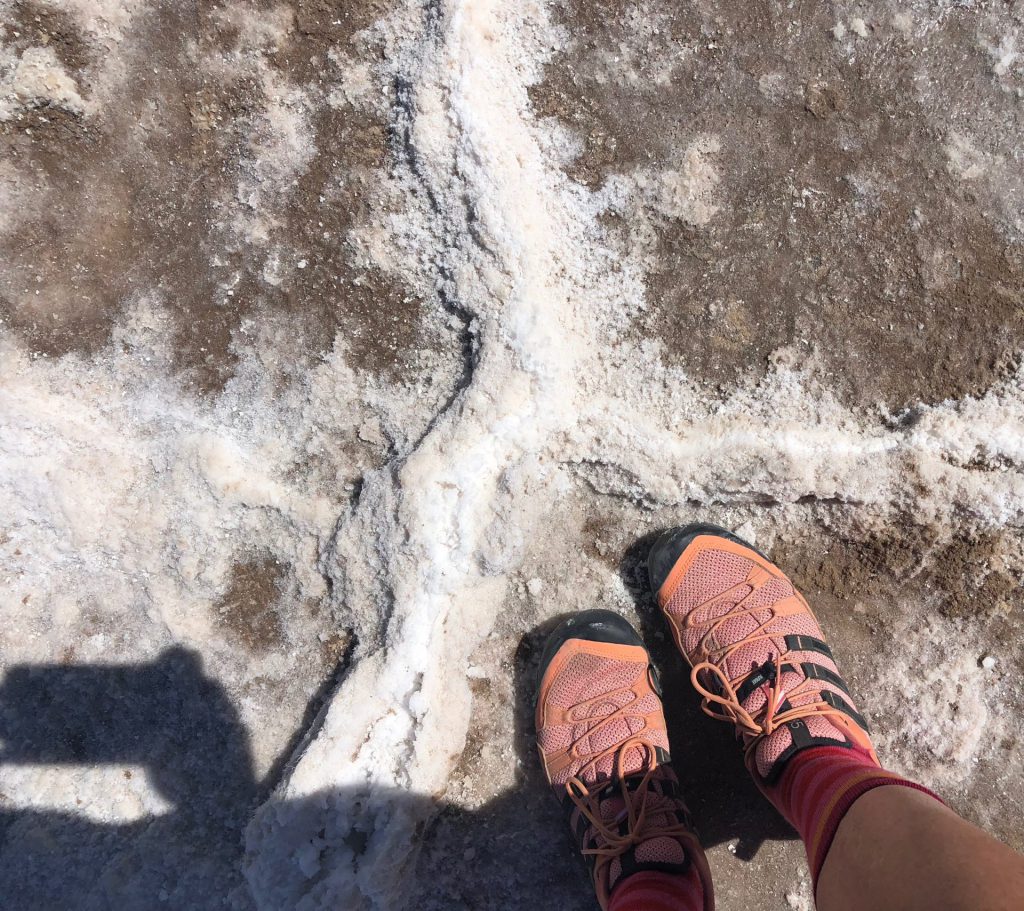 after we had seen all there was to see (salt), we walked the mile back. it seemed to go much more quickly. isaac was wearing a fitbit and was happy to keep us up to date on how many steps he had walked. and hazel was busy counting randomly. and anna was excited about how cool the salt flats were.
our next stop on the day was the artists palette drive. it's a one way road, that winds through some slightly more colorful rocks, with the main attraction being the artists palette, where a huge patch of rocks are "painted" in a rainbow of colors, thanks to geology and chemistry and such. we hopped out. took some pics. hopped back in. and continued on our merry way.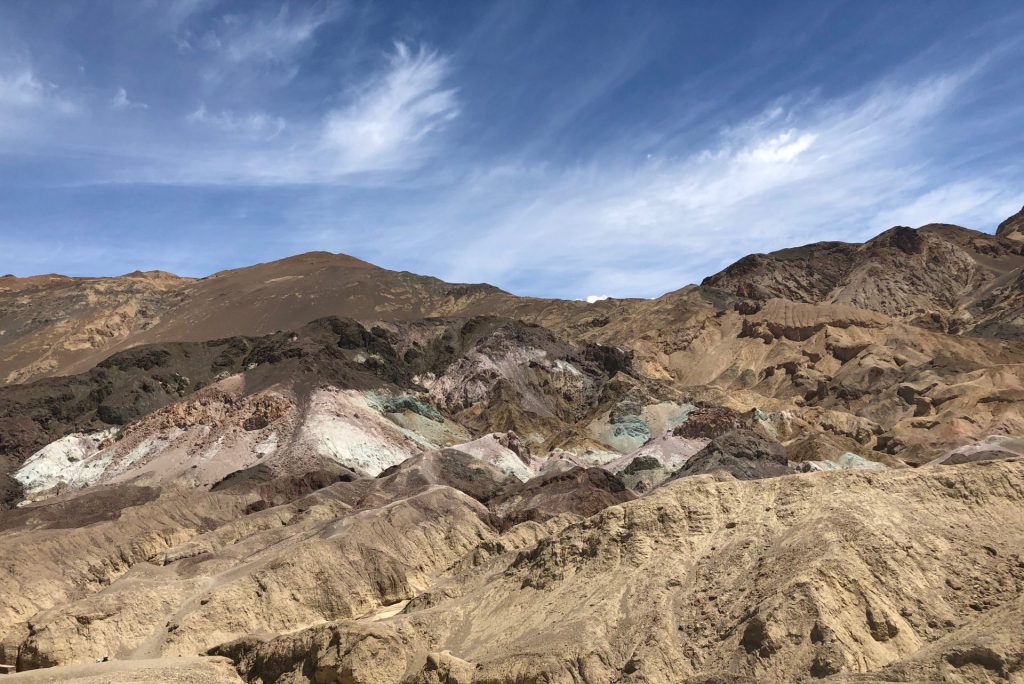 stop number three was zabriskie point. i noticed that a lot of the patches and postcards featured this viewpoint, so i figured it must be worth a stop. the walk up to the overlook was pretty steep and hazel was DONE. but she made it. the pics don't do it justice.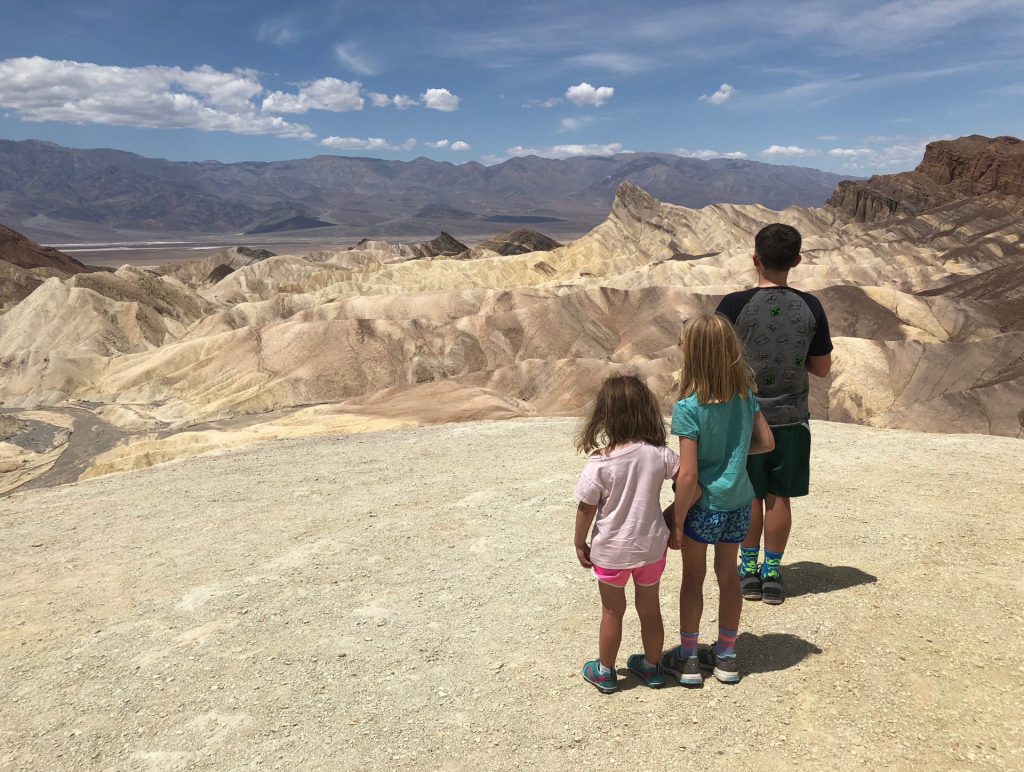 how hazel really feels.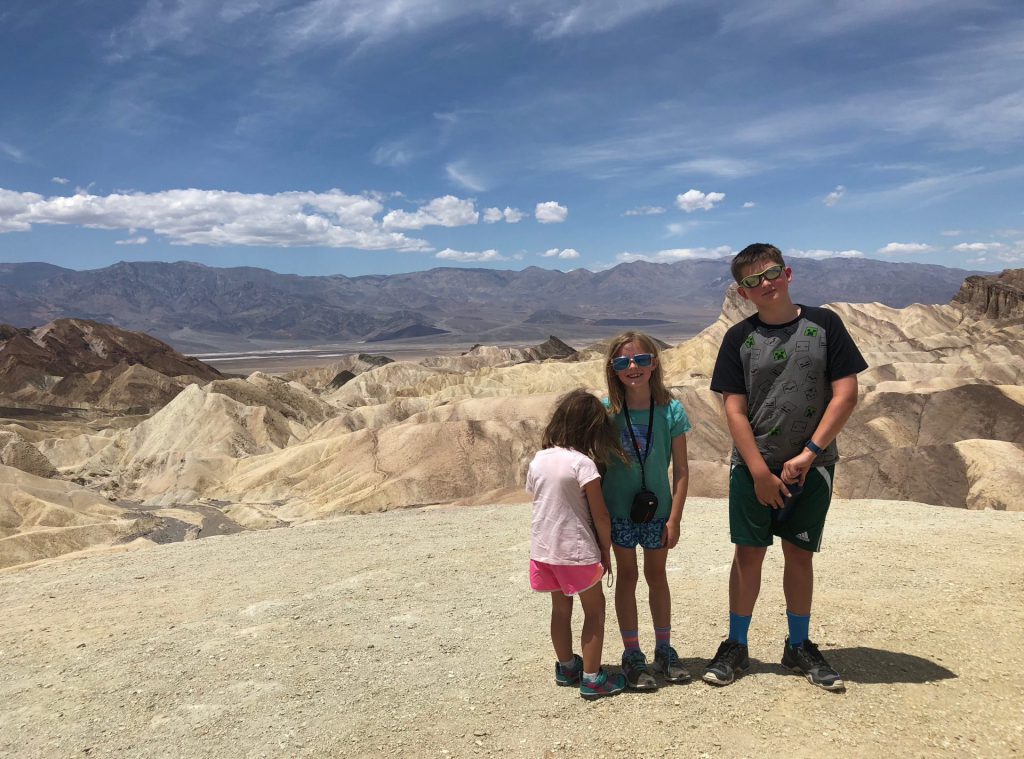 meanwhile, derek was taking pics from the overlook, down at us on the trail.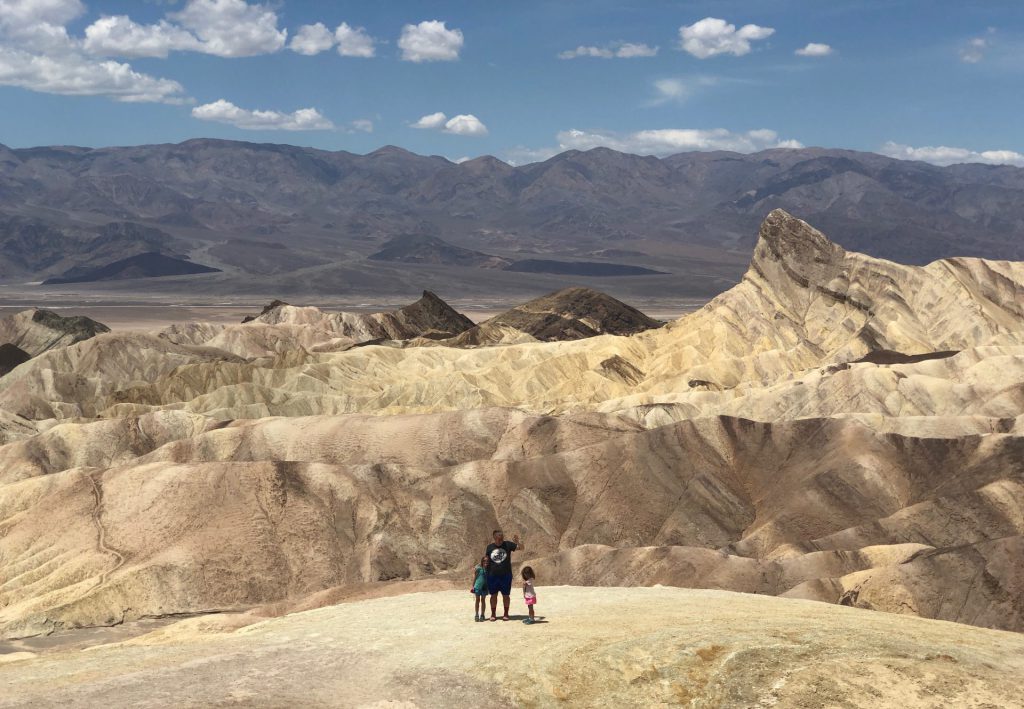 the mini nature photographer.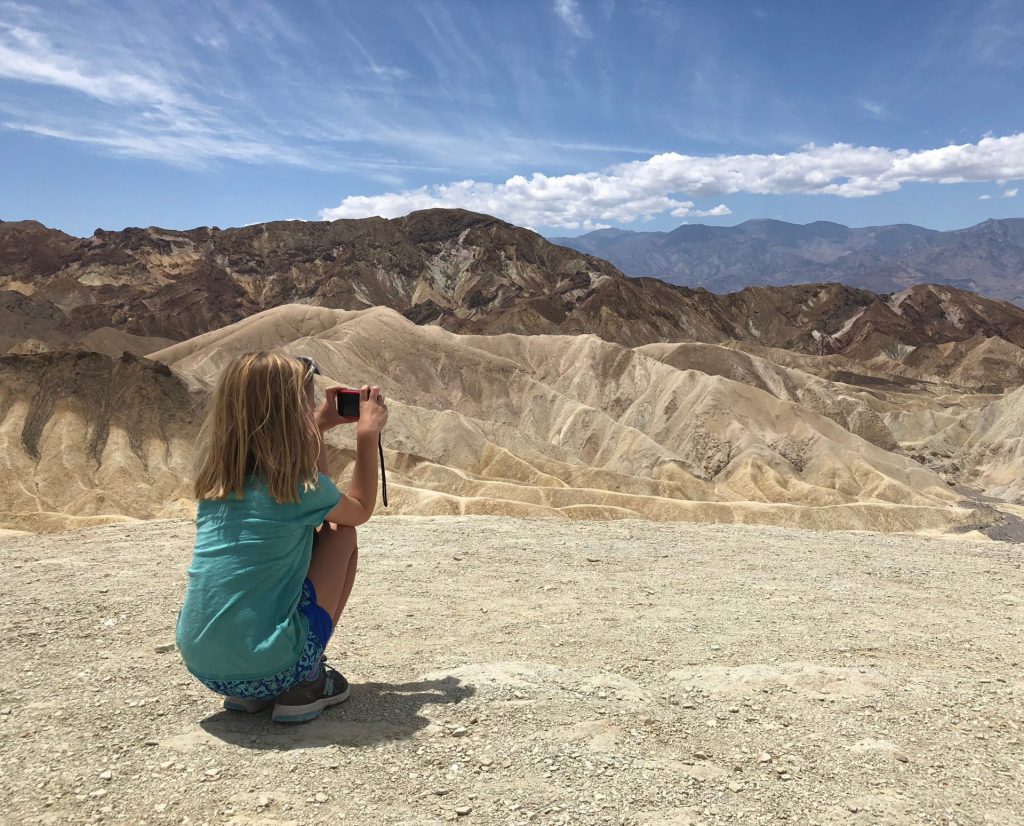 i made isaac take this picture of me. i need to work on his composition skills.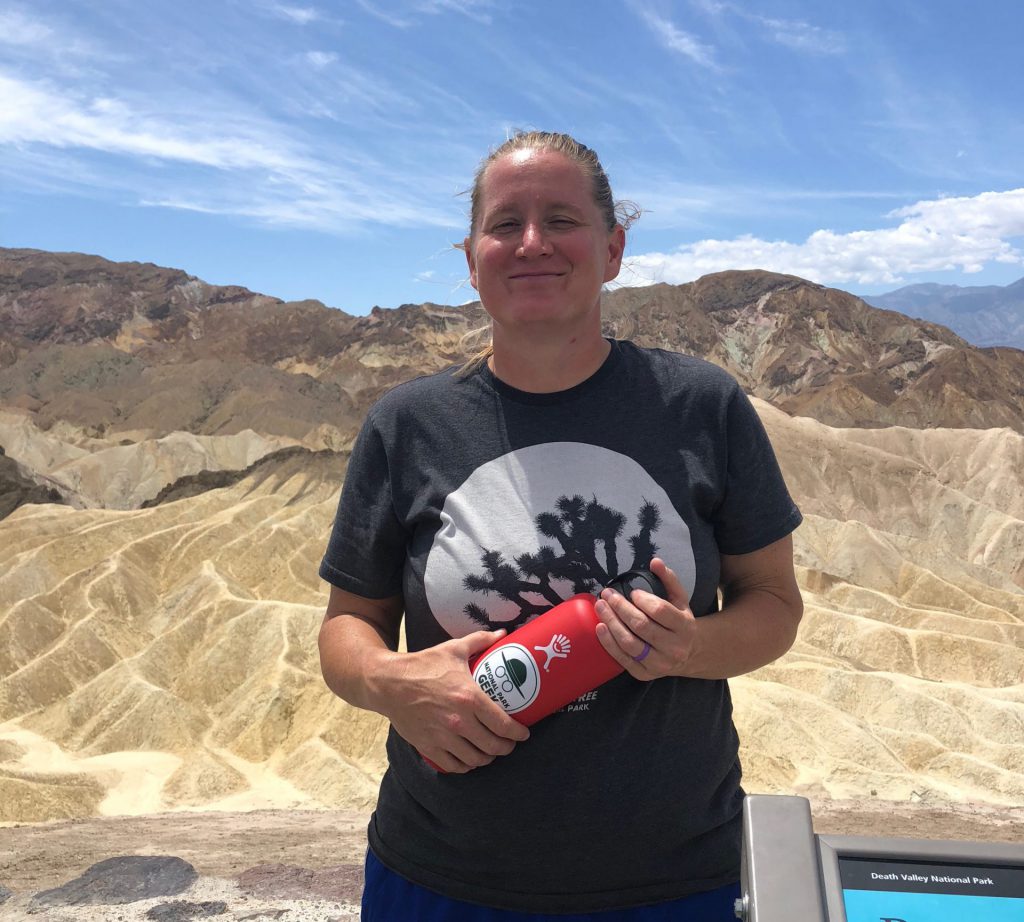 after we had sufficiently taken in all the views from zabriskie point, we headed out to dante's view which is advertised as a pretty amazing look out over the valley. it's something like 5400 feet above sea level, and you can see the lowest point down below, and across to the tallest point in the park, the 11k-ish foot high telescope peak, in the panamint range.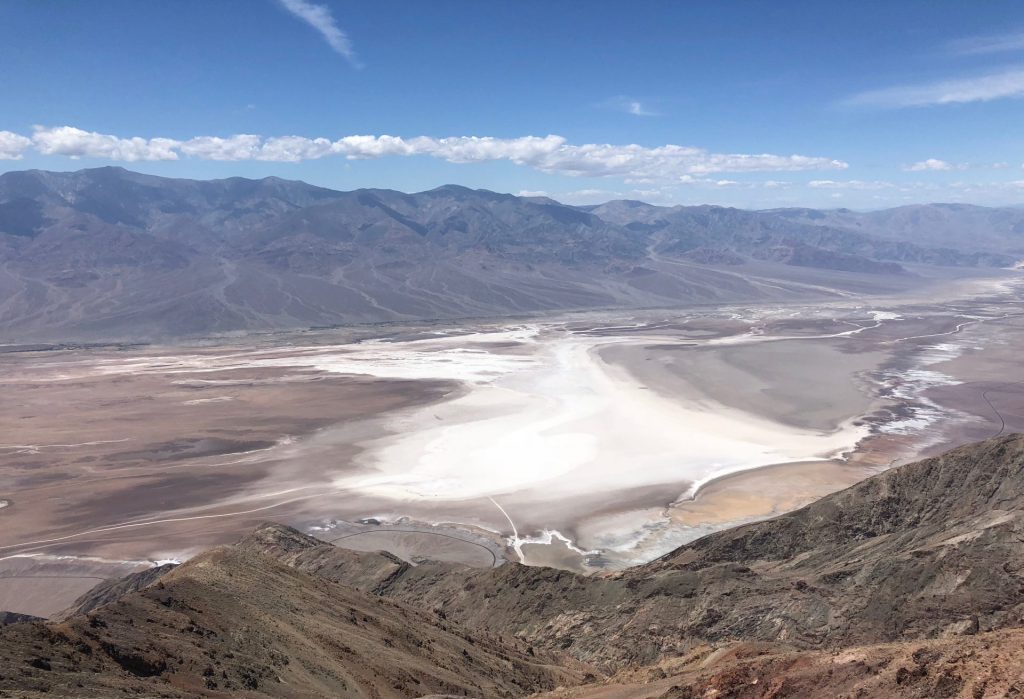 from the overlook point and parking lot, there was a little trail, so anna and i hiked a little further out, to get a better view. 😉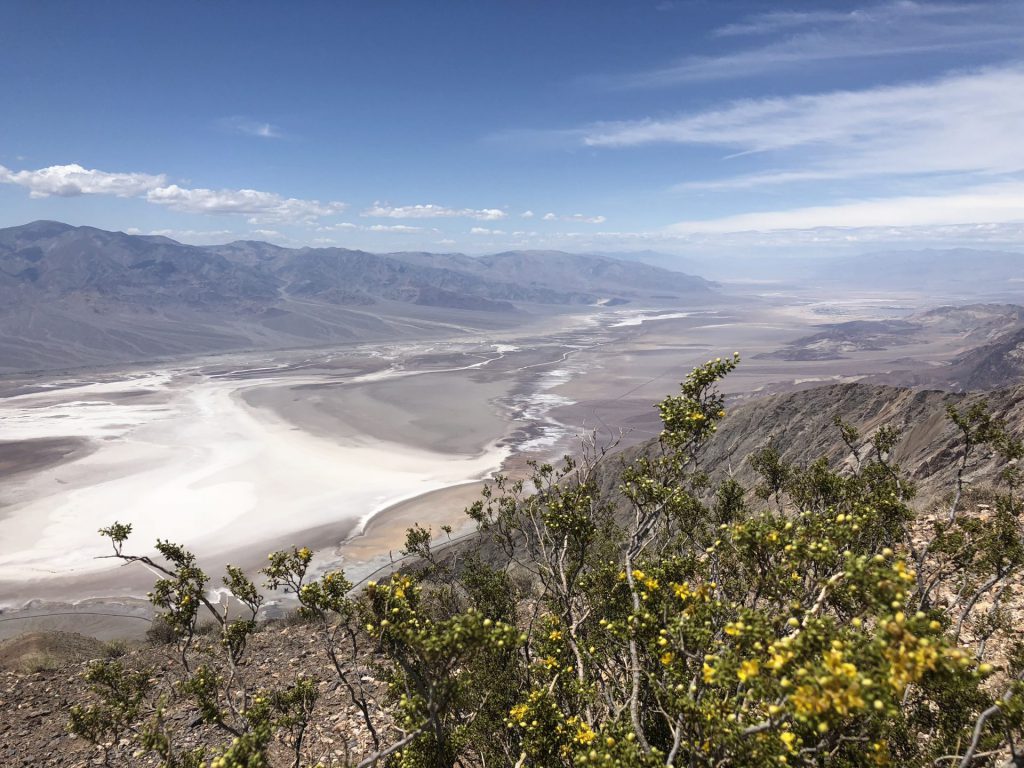 more mini nature photography.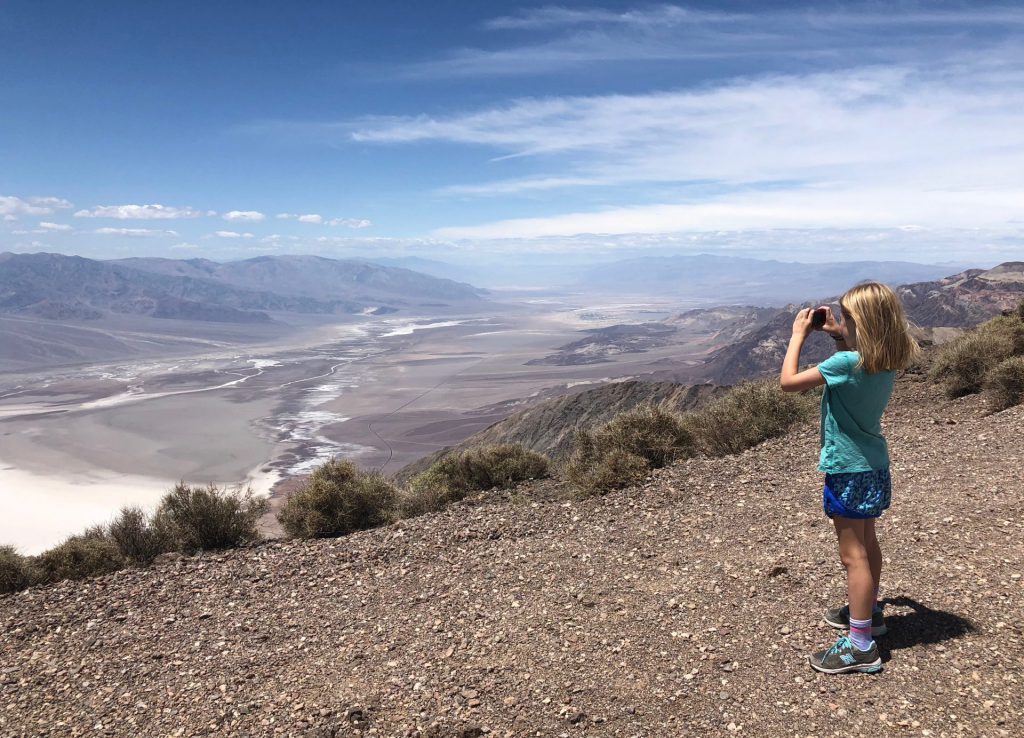 i love pops of color in desert life.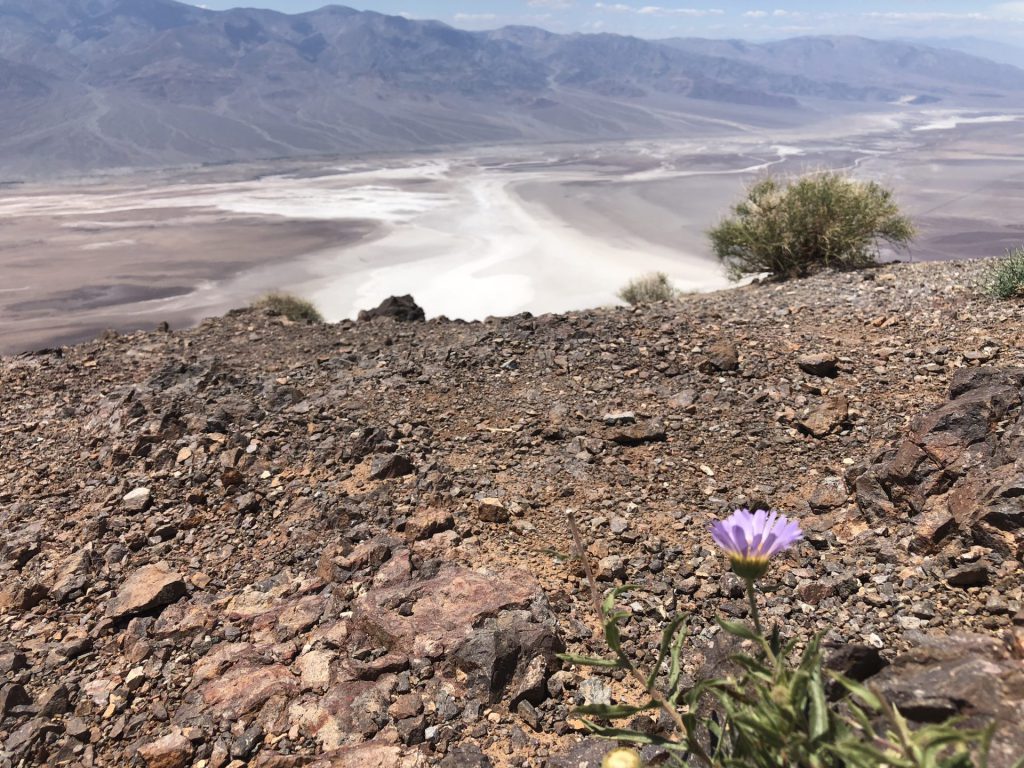 we took a little break to take in the views and take a foot pic per anna's request. the white line in the valley floor that is just above my foot is the one-ish mile walk we took out to the flats earlier.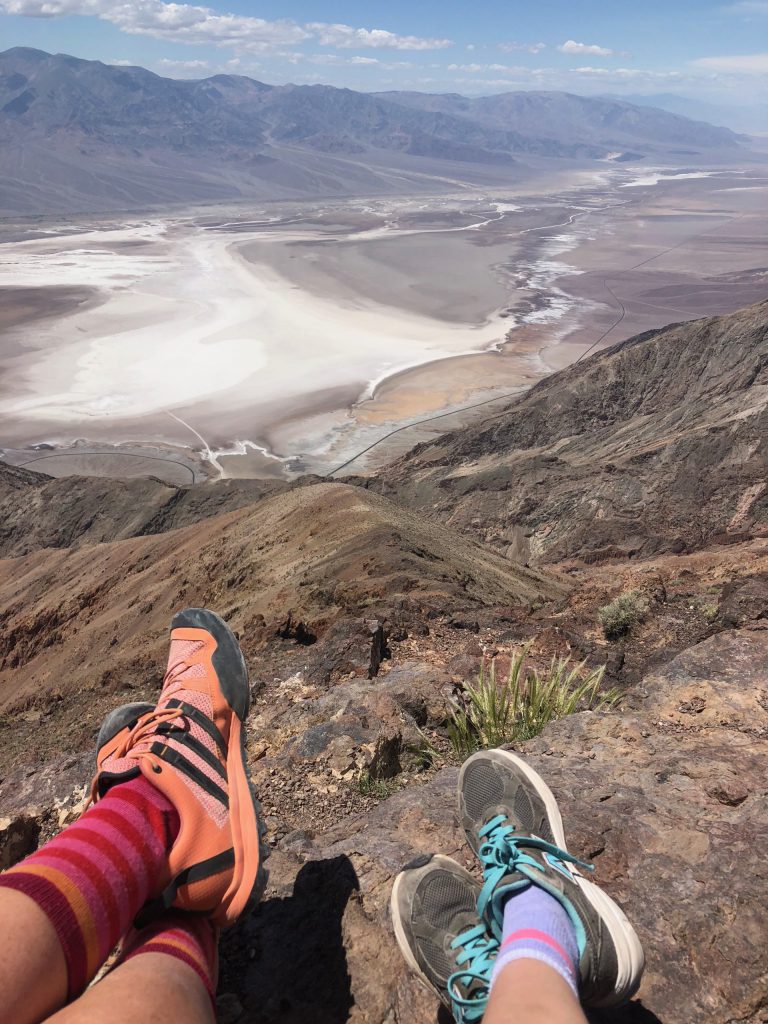 of course anna found some rocks to climb on.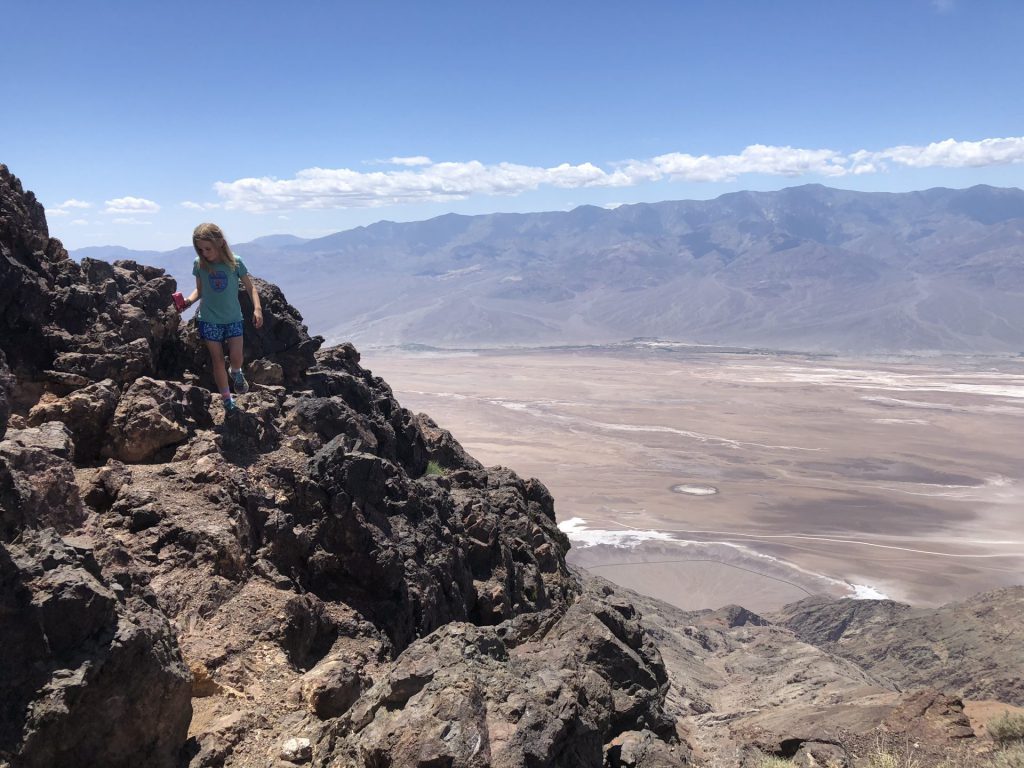 some friendly fellow hikers took our pic together, me and my little adventurer.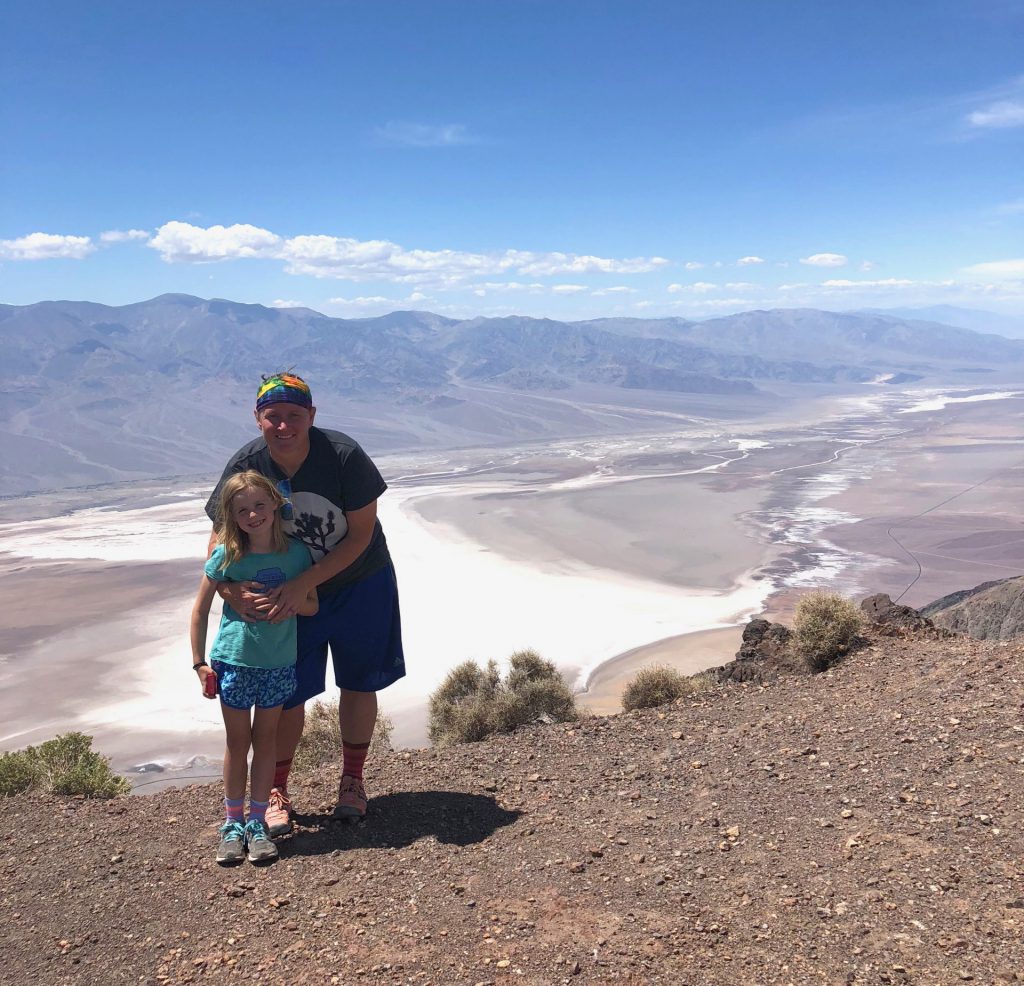 we hustled back to our waiting party and started to make our way back to the campsite. but then, a little side road beckoned us. the "20 mule team canyon" road was pretty short, but wound through the sandy hills, giving a pretty good sense of what life would have been like for the first travelers and miners to attempt to pass through this area.
the cracked ground was my favorite. it's so death valley.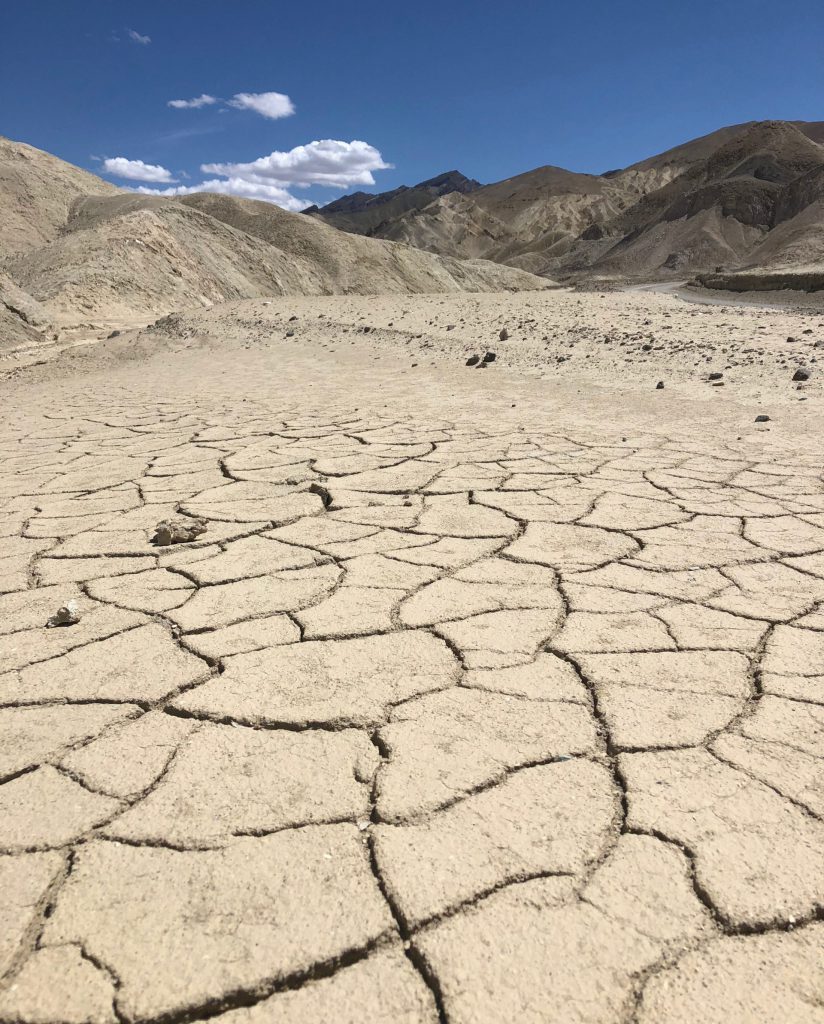 last official stop. the visitor center. to get all junior rangered up.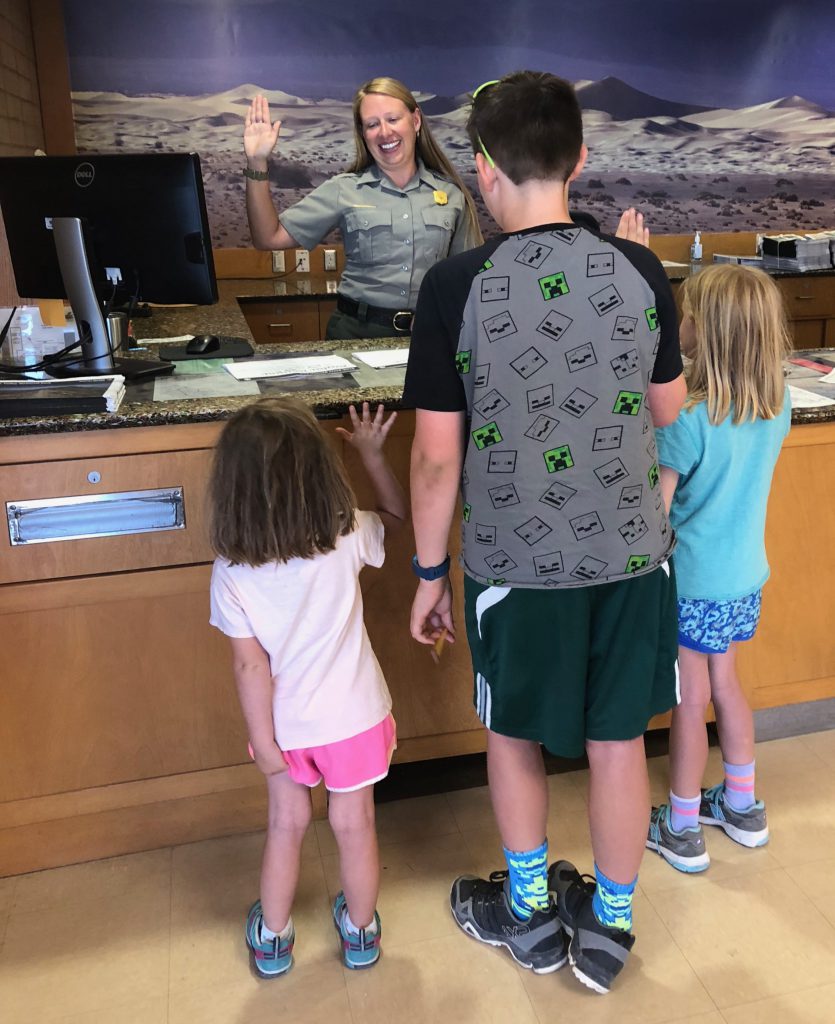 i had high hopes that the kids would want to explore the mesquite sand dunes which were pretty close to our campsite. but they were exhausted. and it was hot. so, when we passed by, derek just sat in the car with them, while i hopped out for some pictures.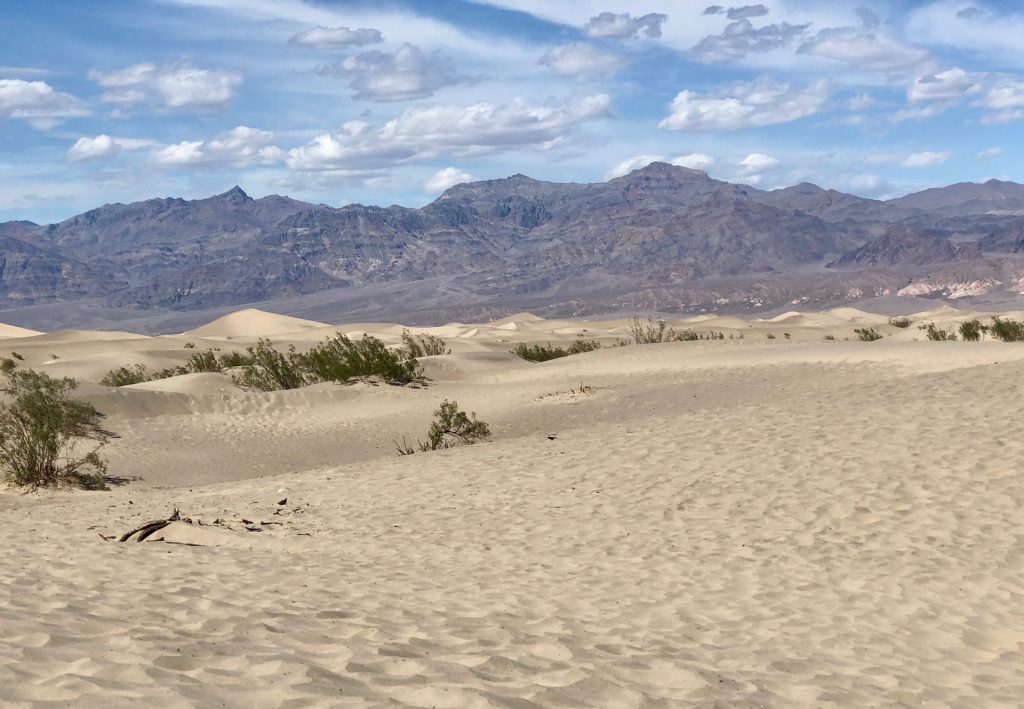 when we got back, derek and anna went off to check out a slot canyon, while i lounged around with ike and hazel and read and cleaned and instagrammed our day. :).
finally, derek capped off our death valley extravaganza by taking the kiddos out to hunt for scorpions. i'm good with staying in for that. :). they found one pretty big guy and documented him in regular light…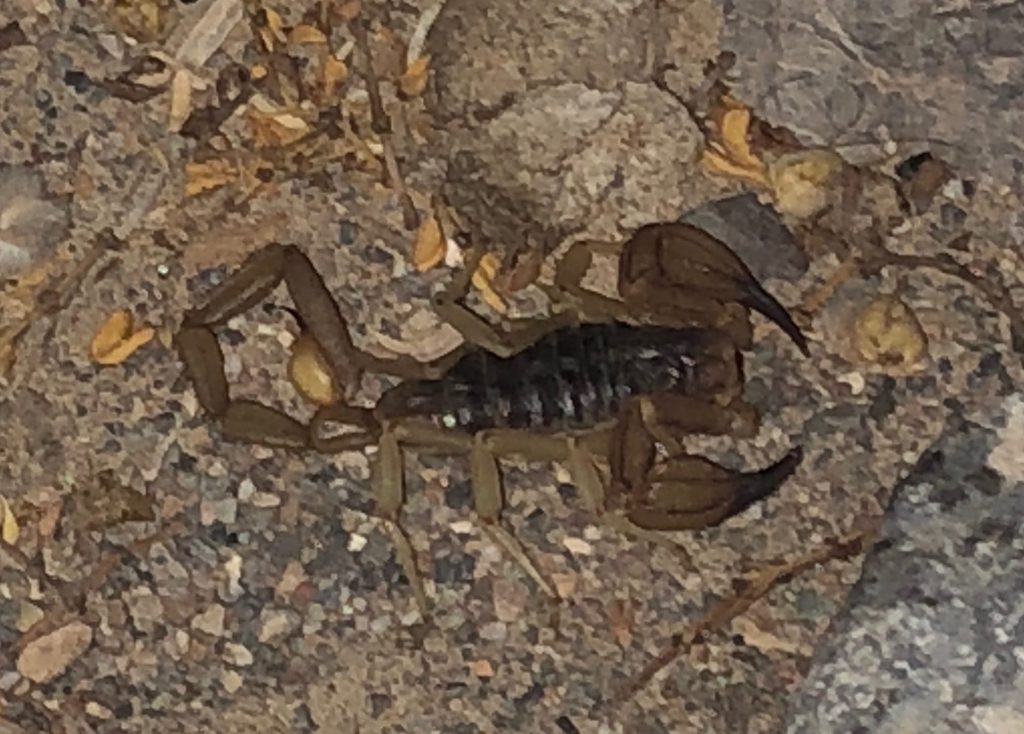 and black light…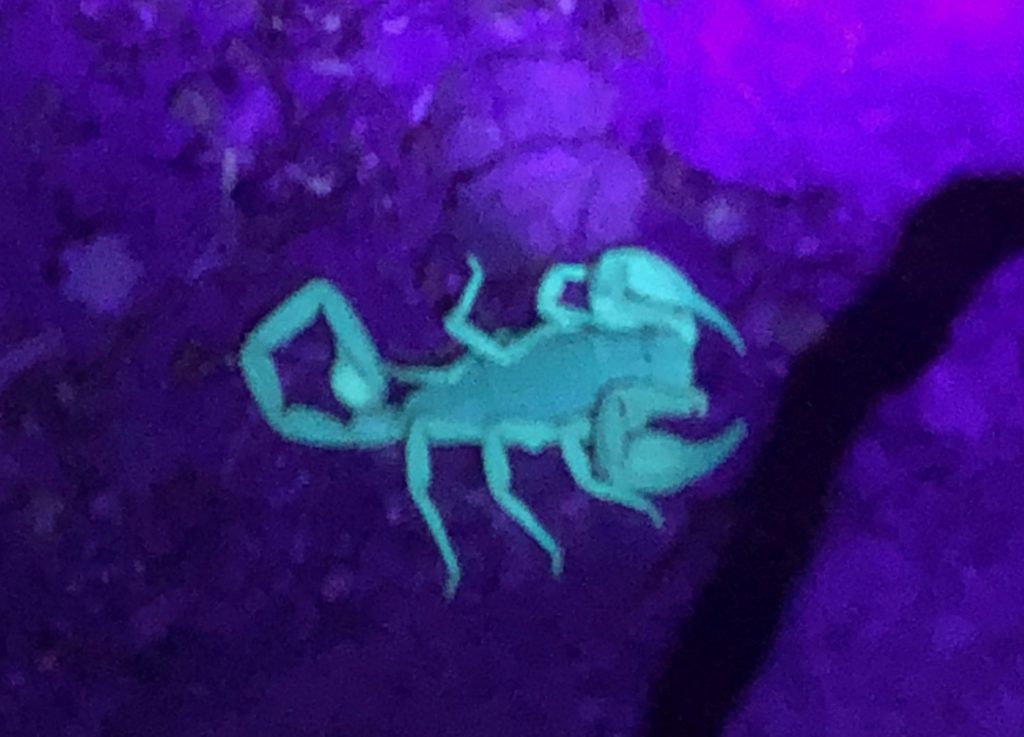 and that's the end of our pretty epic death valley day.
the next day, derek departed for our new campground, while the lidkids and i squeezed in one last death valley adventure, before getting on the road….