it has been a LONG time since our last visit from the grandlidboms. we spent christmas in san diego with them, so it had been over six months by the time our lake tahoe visit rolled around, and the kids could barely contain themselves. we arrived and set up a little before they were able to drive in, giving me time to get my grubby kids all cleaned up and presentable for grandparents. and then they pulled in…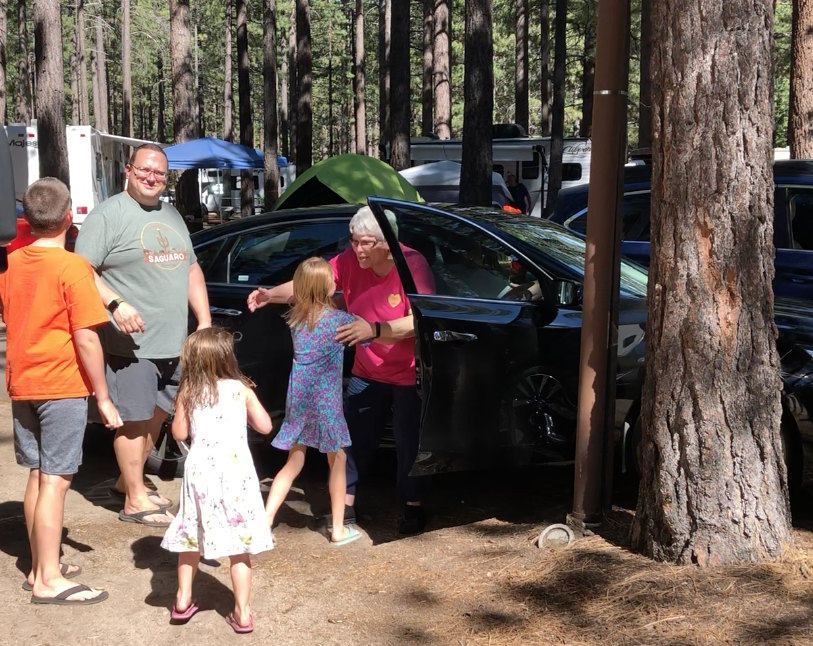 we had a low key first evening, doing a bit of planning, eating leftovers and packing up the kids and sending them over to spend all the nights with the grandlidboms. the next day, we went on a quick little excursion to hike at taylor creek and check out the visitor center. firstly, a pre-hike family photo.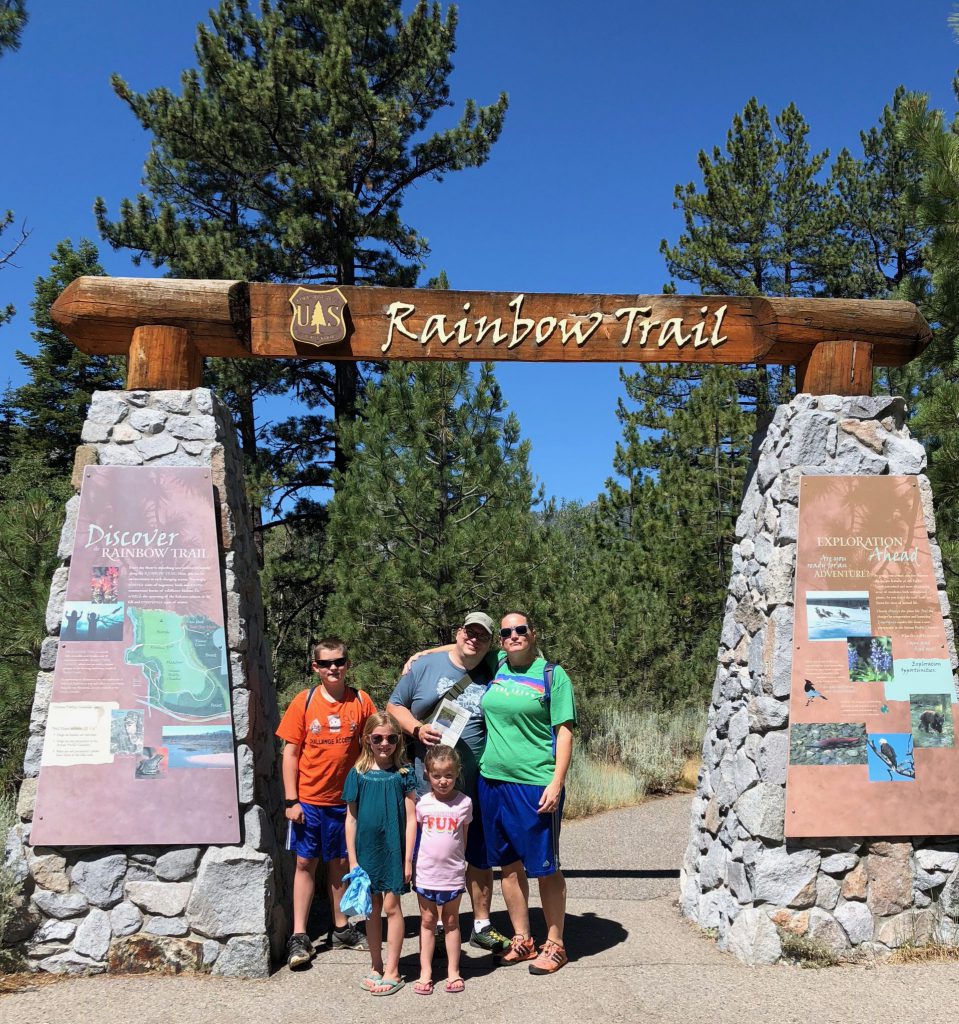 it was more of a leisurely stroll along a paved path than a hike.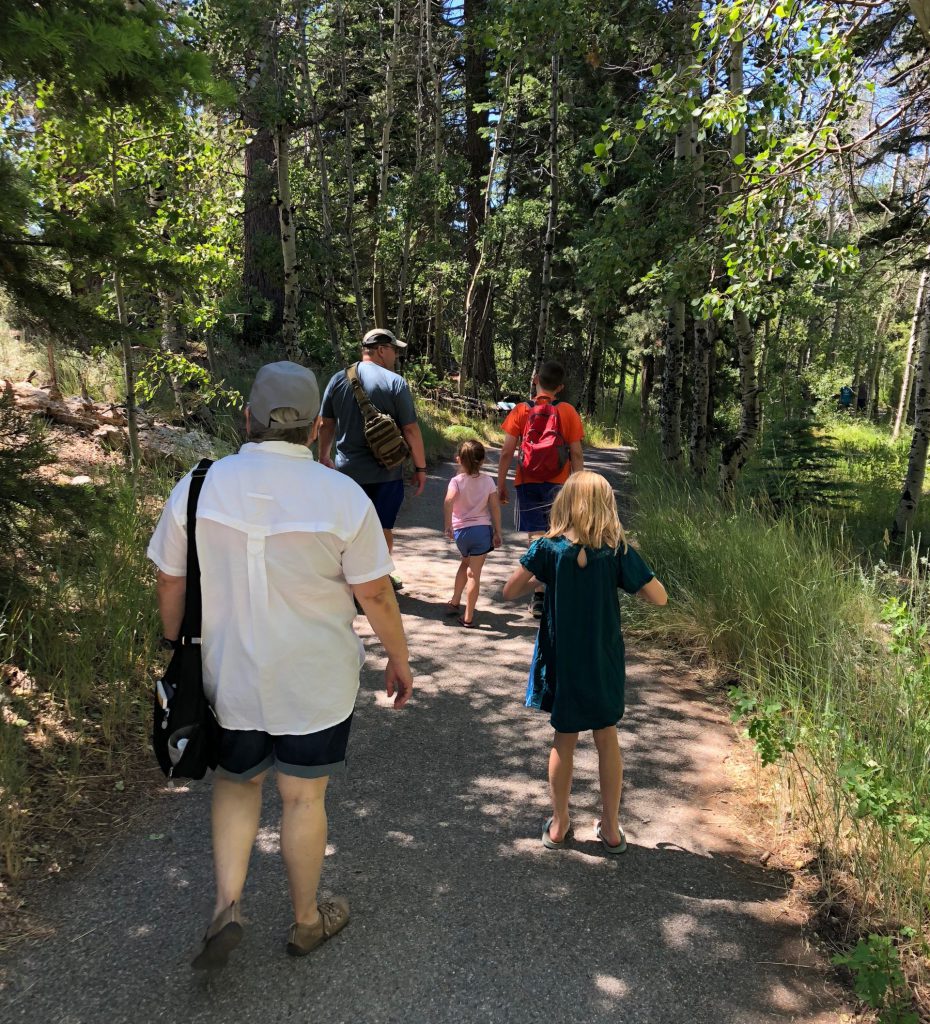 taylor creek was, well, a creek. nothing super exciting. we did spot a dead crayfish and some fish. so, there's that.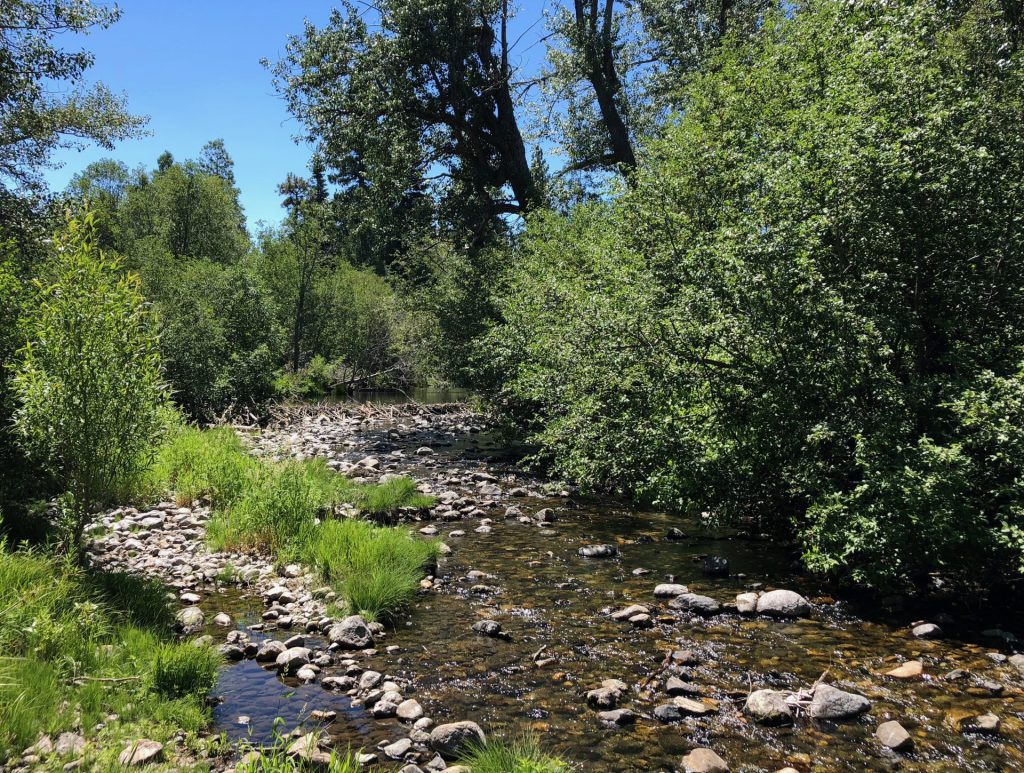 we did have a few glimpses of a pretty great view of mount tallac, or tallac mountain, in the distance, so we took advantage for a photo.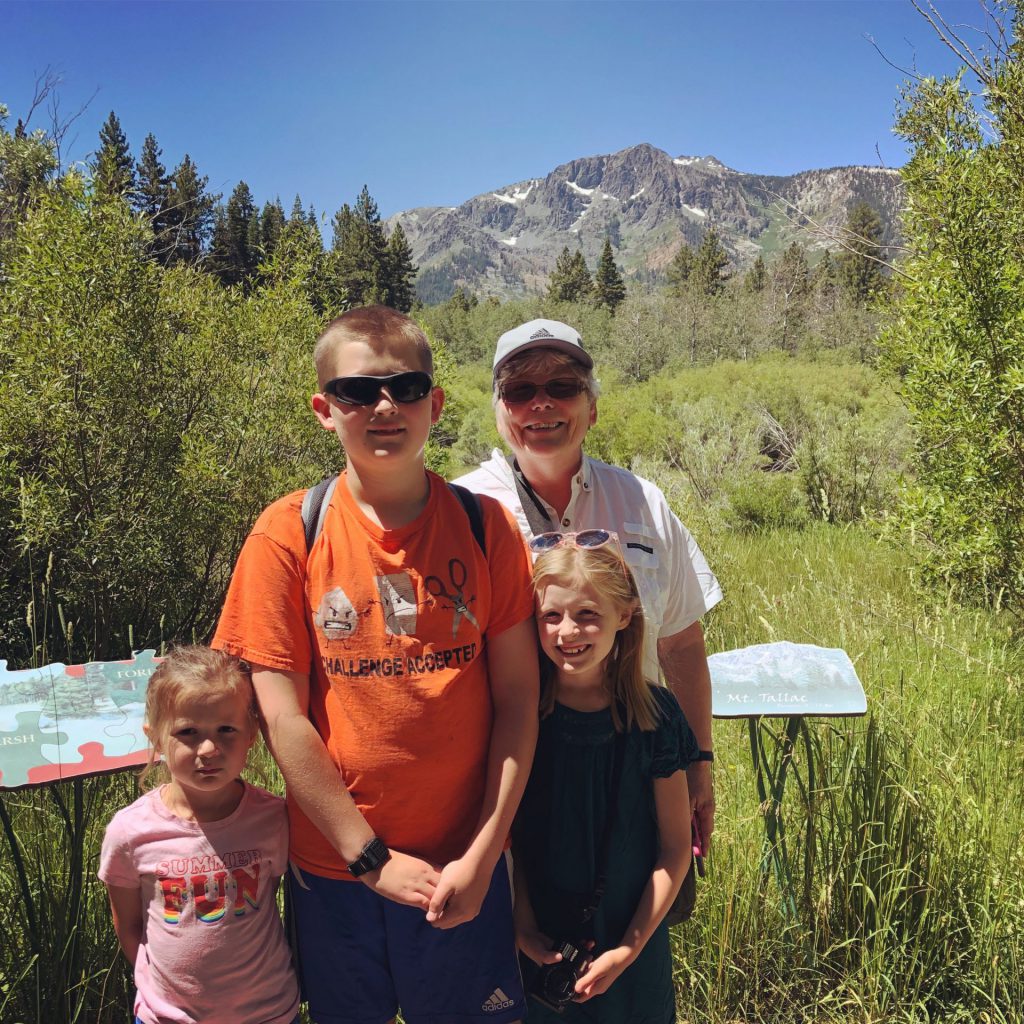 after the hike, we attempted to go to a beach, but it was a sunday at lake tahoe, and thus, all the parking lots and sides of the roads and pretty much everywhere was filled up, so we called it quits and decided to plan a weekday beach trip.
for our second day in lake tahoe, we actually left lake tahoe and drove into nevada, to virginia city to do a bit of old timey gold rush town exploring. the kids rode with the grandlidboms, and they were a little behind us, so derek and i cruised by "st. mary's in the mountains" catholic church, for a quick pic. it's less majestic in real life that in cool drone photos that don't show the parking lots and cars all around it. 🙂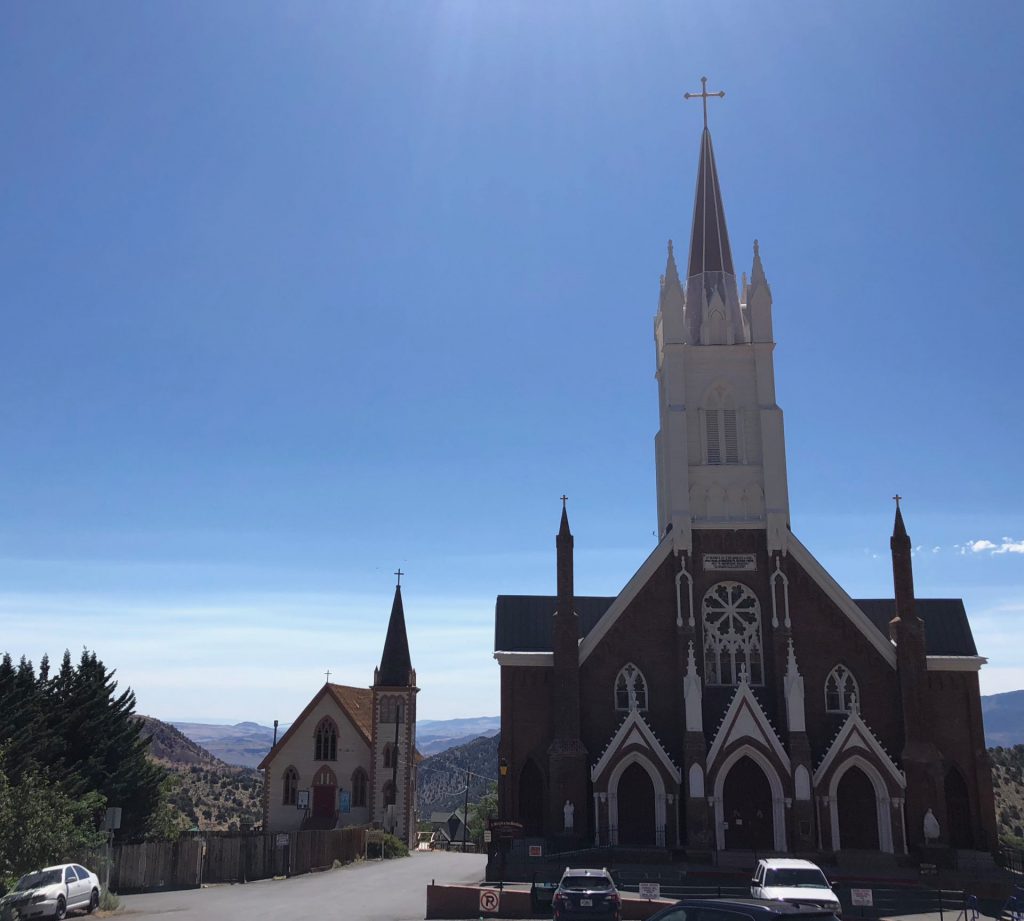 then. a train ride through gold rush territory on the v&t railroad.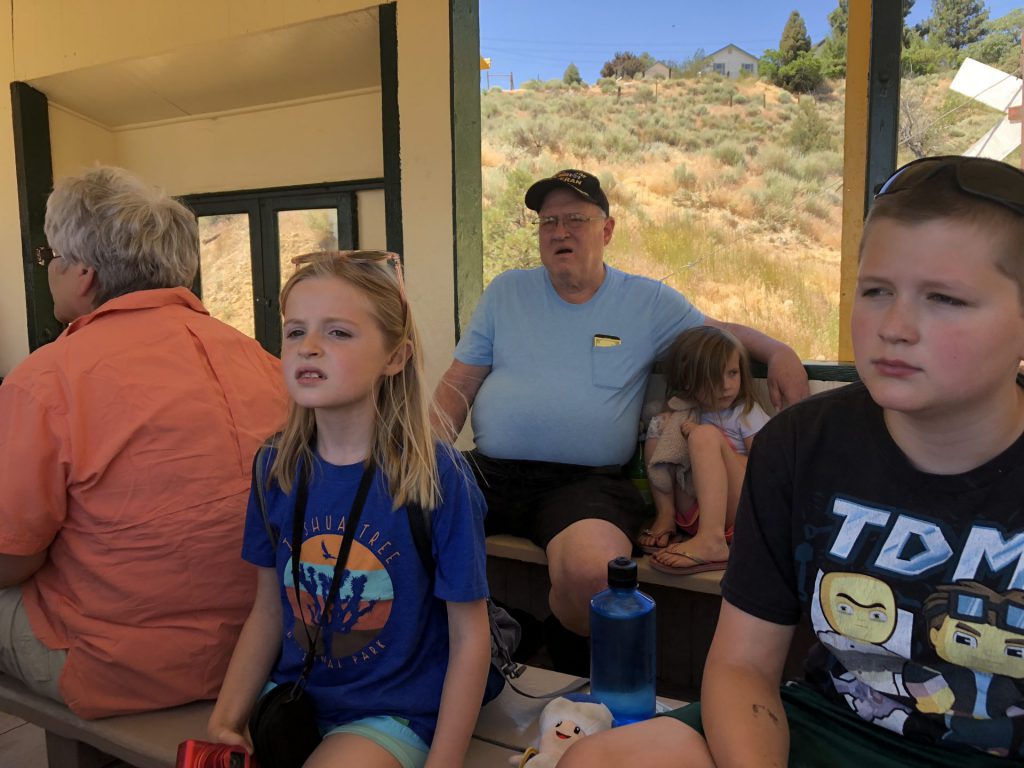 the tunnel was a highlight. while we were in the pitch black darkness, the tour guide guy put a giant fake spider on a bench near us, which the kids found slightly hilarious.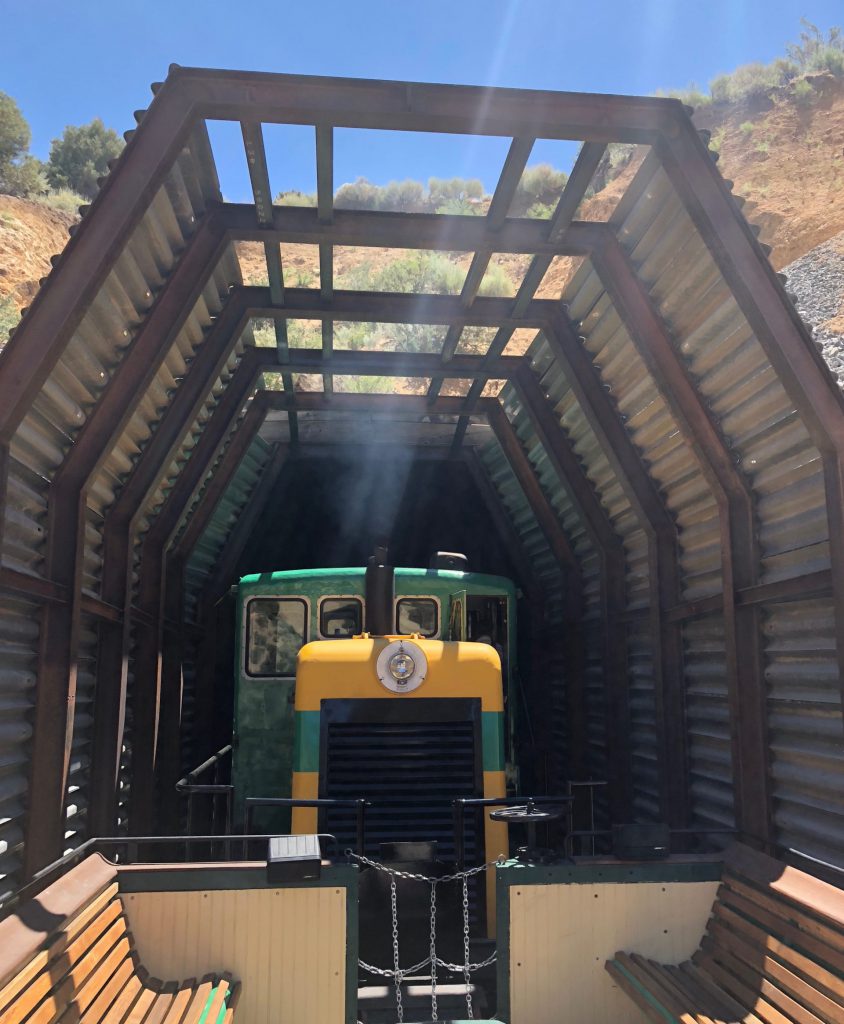 we all rode in the covered car on the way out to gold hill, a pretty rundown old mining town. and then gramma and anna and i opted for the super sunny uncovered car for the ride back.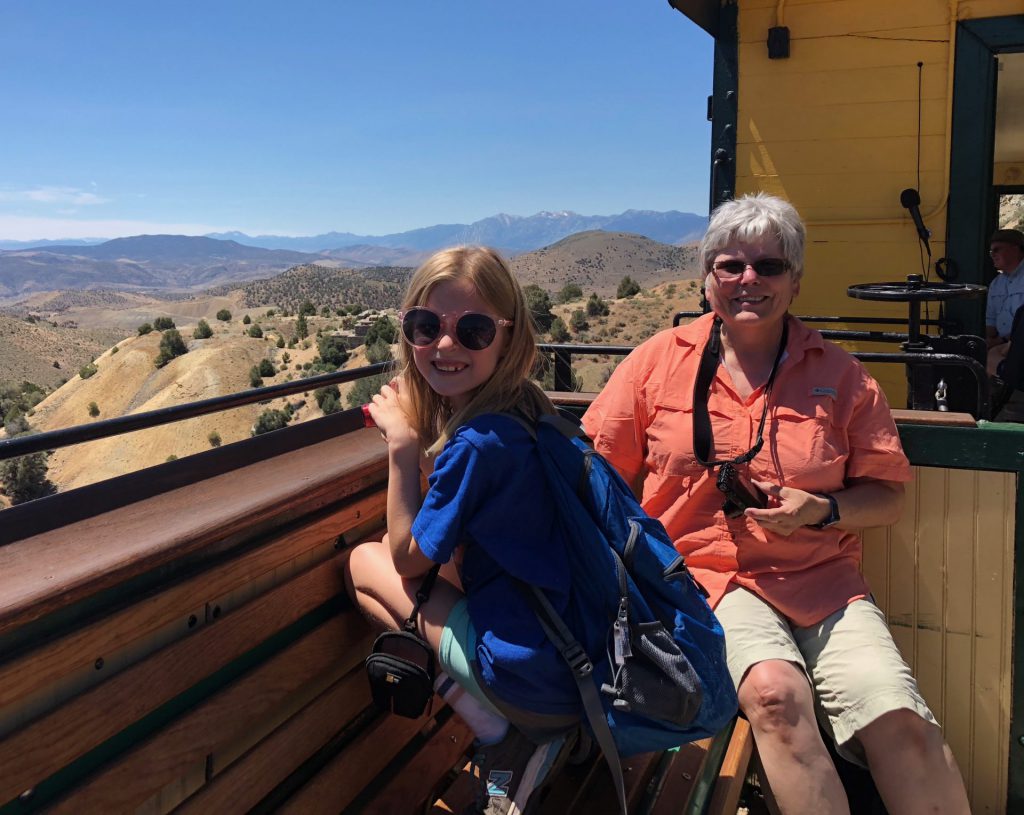 official grandlidbom v&t railroad commemorative photo.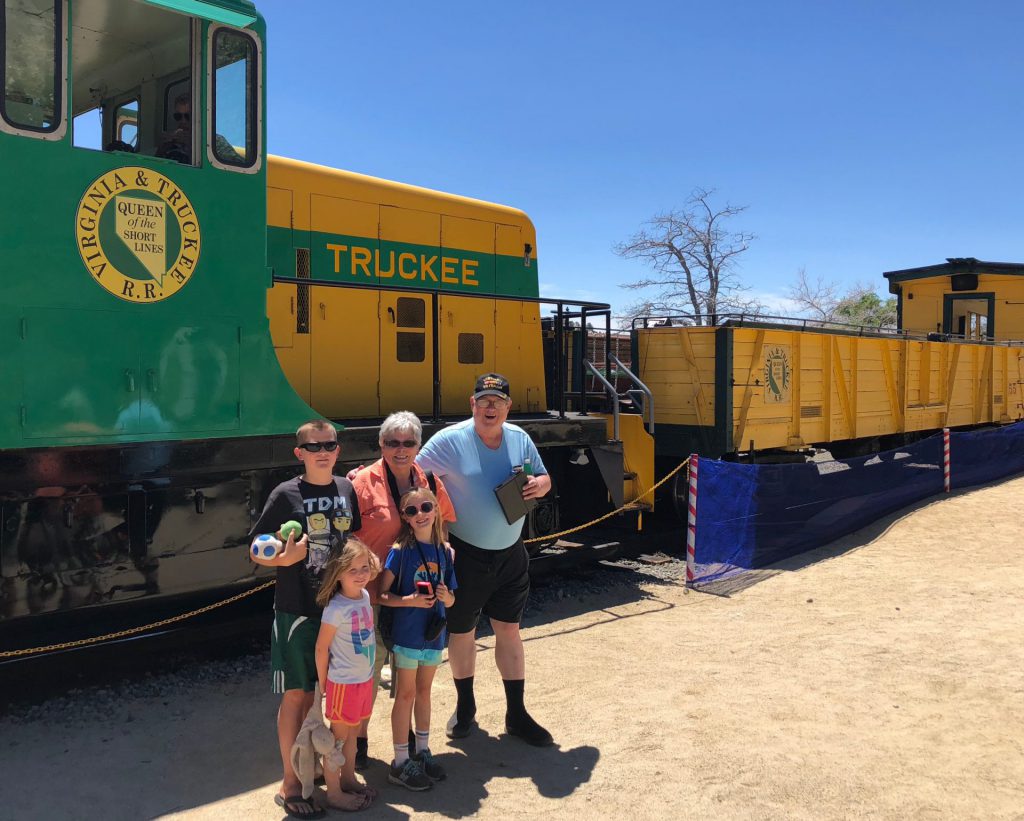 after the railroad, we visited a mining museum, which gave us a bit of history about virginia city during the height of the mining times. then we strolled along the main drag, on our way to get some lunch at a restaurant that ended up not being open, so, we made the executive decision to split town and grab lunch in carson city on the way back to tahoe.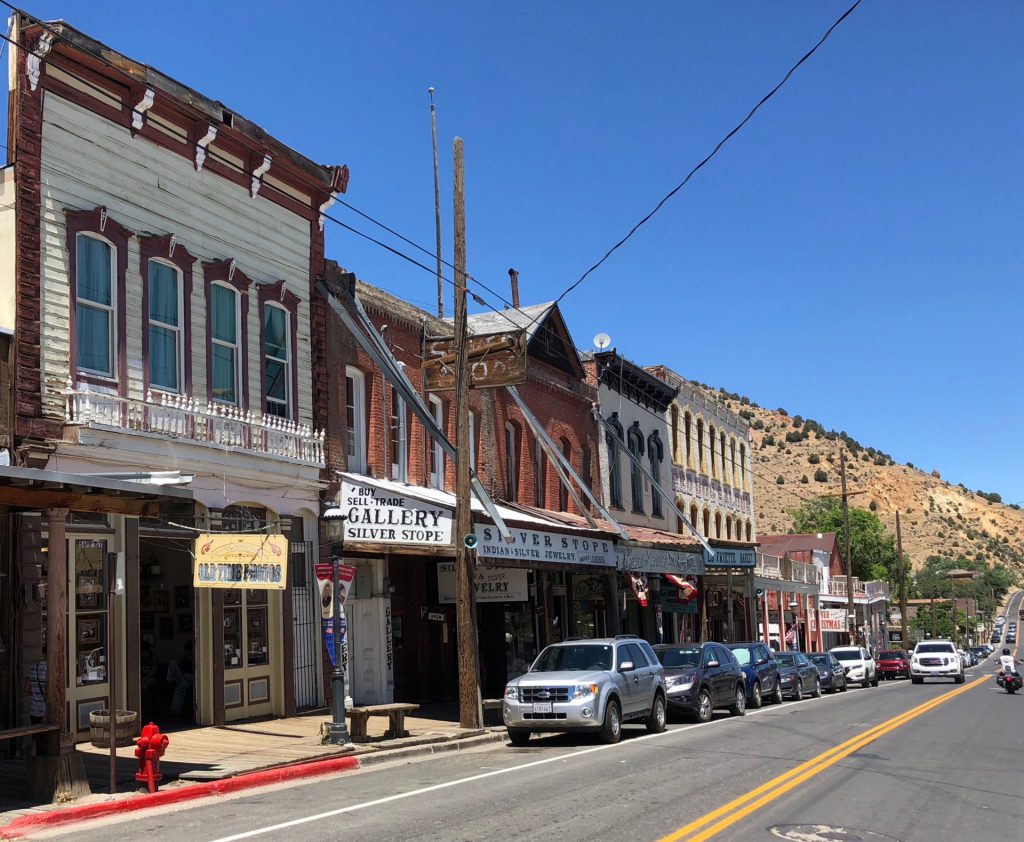 after lunch, we rolled over to the capitol building to knock out another state capital on our list, bringing the total to 18!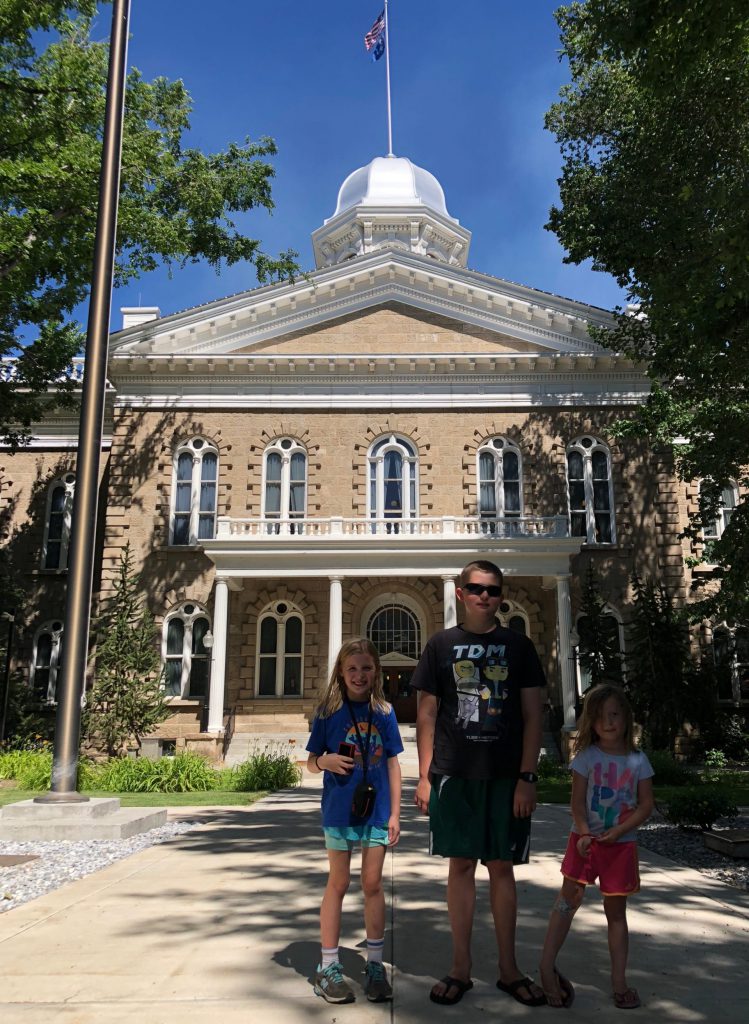 this time the gramma and grampa were able to join us, for a group photo.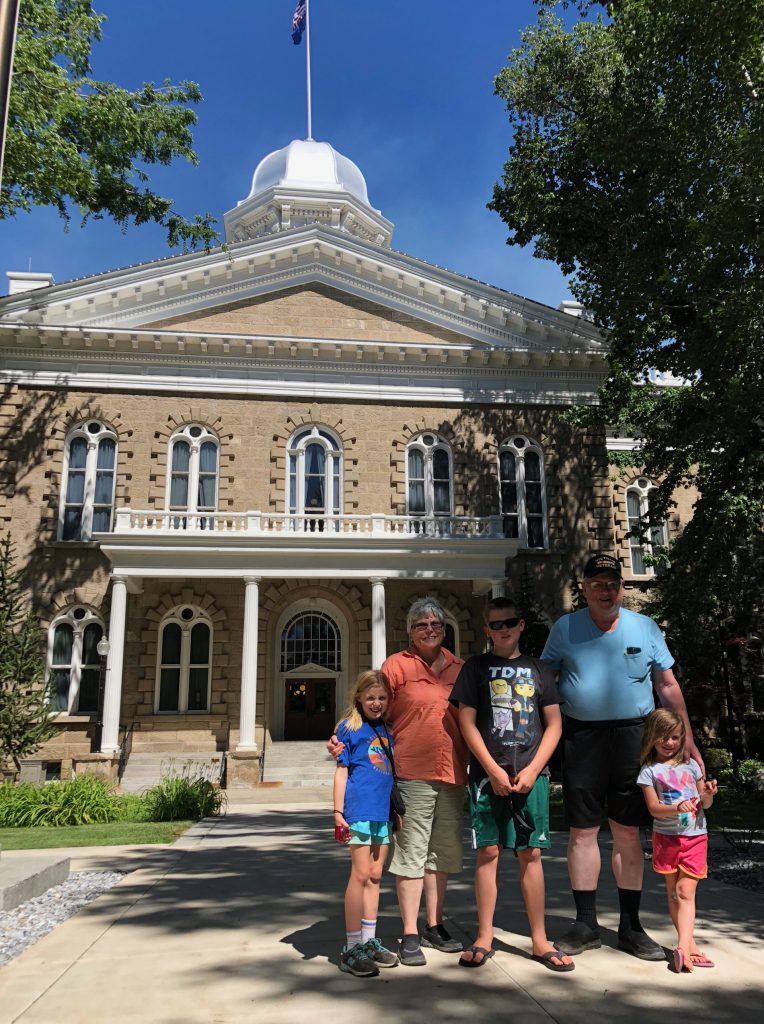 after the nevada side road trip, the grandlidboms moved into their hotel/resort room. (they had stayed two nights at a cabin in the same campground as us). so, the kids loaded up with all their earthly possessions and moved right in with them. isaac recently received a few diary of a wimpy kid books from my mom, so this is how he could be found for most of the downtime at the hotel.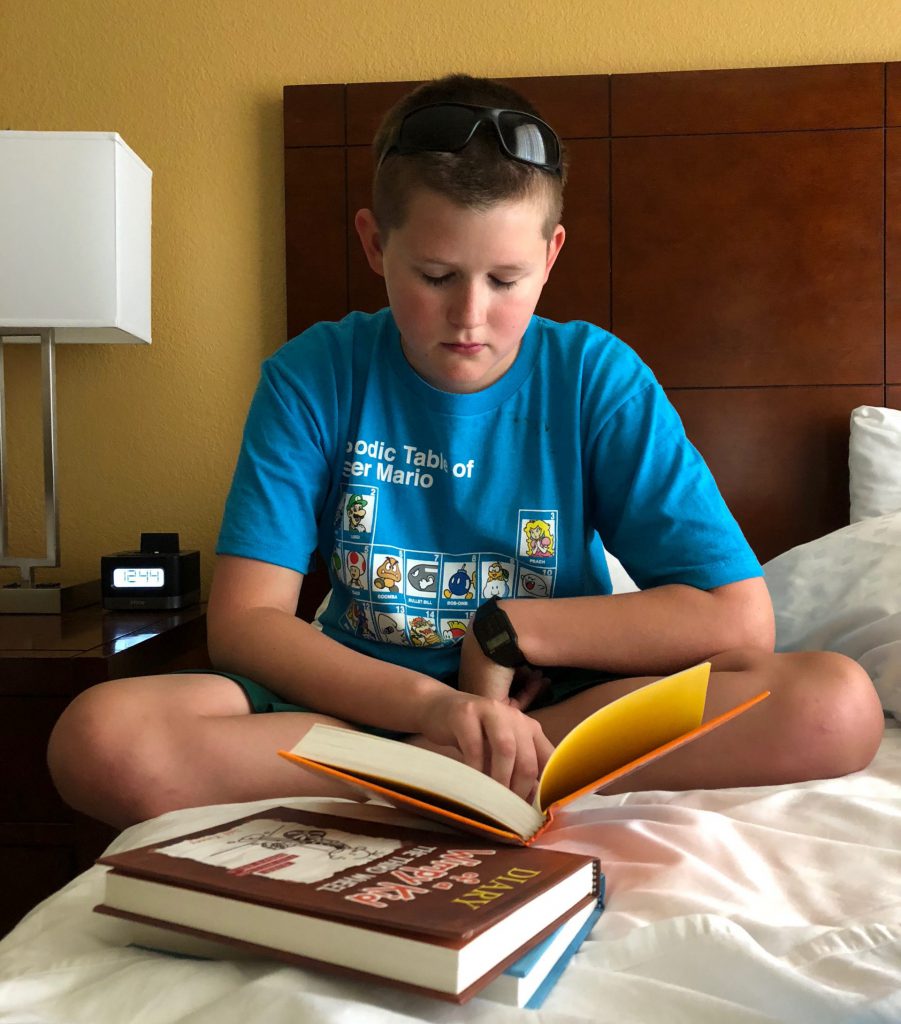 our third big excursion wasn't exactly all that big. we took a drive over to emerald bay to "inspiration point", which because of it's name seemed to offer pretty excellent views of emerald bay and lake tahoe, but ended up being mostly obstructed by trees. either way, it was good to get out and see some nature sights.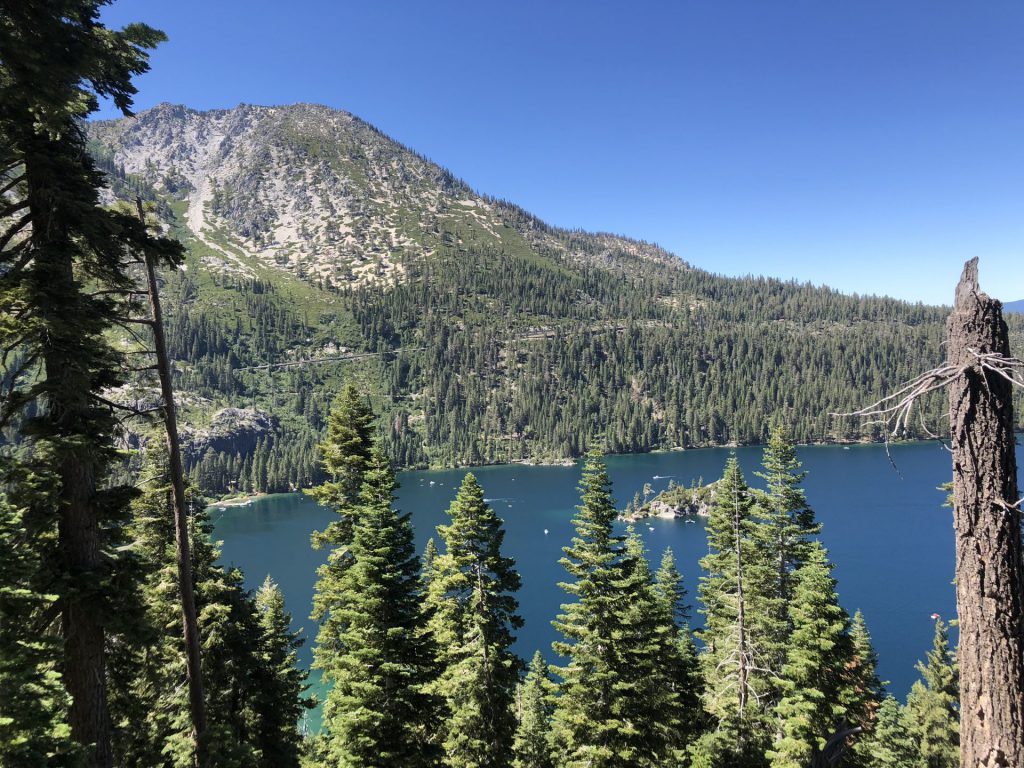 lidkid photo op. hazel was in love with the little island. more on that later.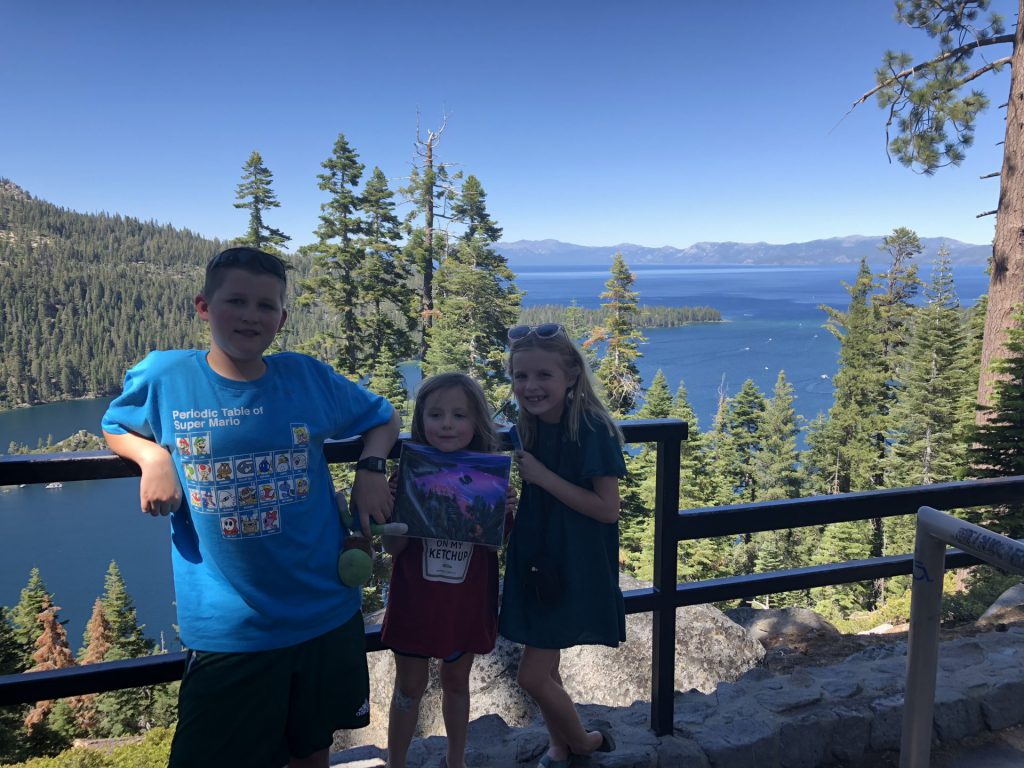 our campsite situation at lake tahoe was a little chaotic. we ended up have to move sites two different times. so on one morning while we relocated, the kids and gramma checked out some water front play spots, but decided that the rocky beaches in walking distance weren't preferable to the sandy (and more populated) beaches. so, we got on the road super early one day, to secure a parking space and a prime beach spot, before the rest of the lazy beach bums rolled in. turned out. we had the place to ourselves for quite awhile. 🙂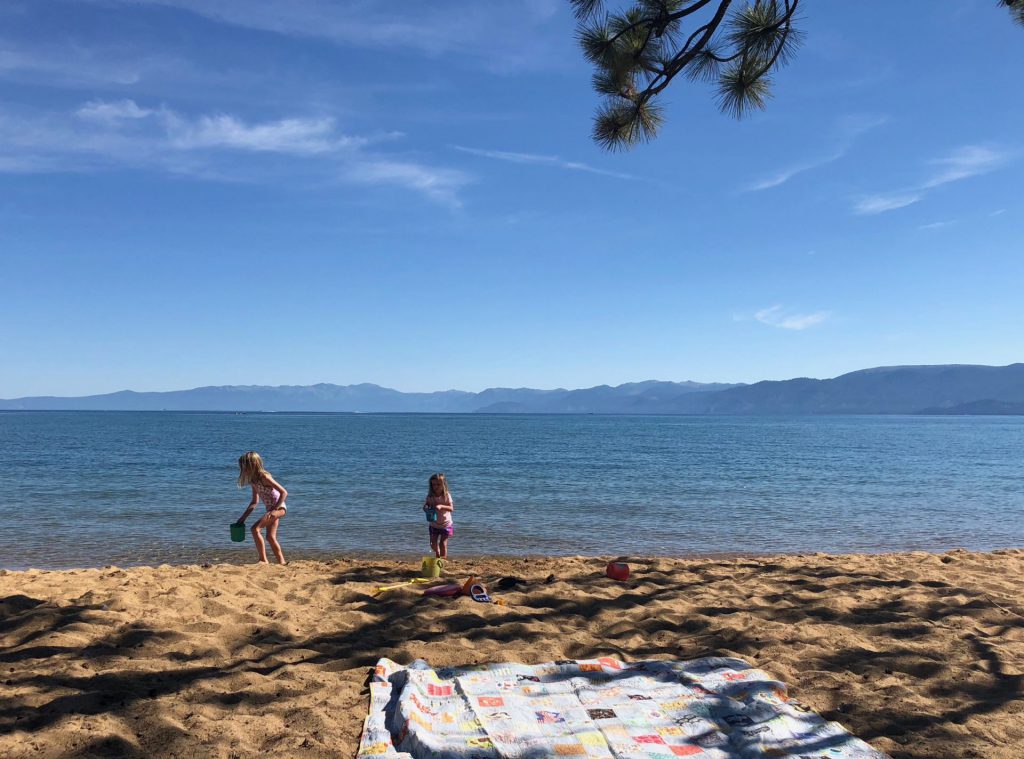 diary of a wimpy kid nerd.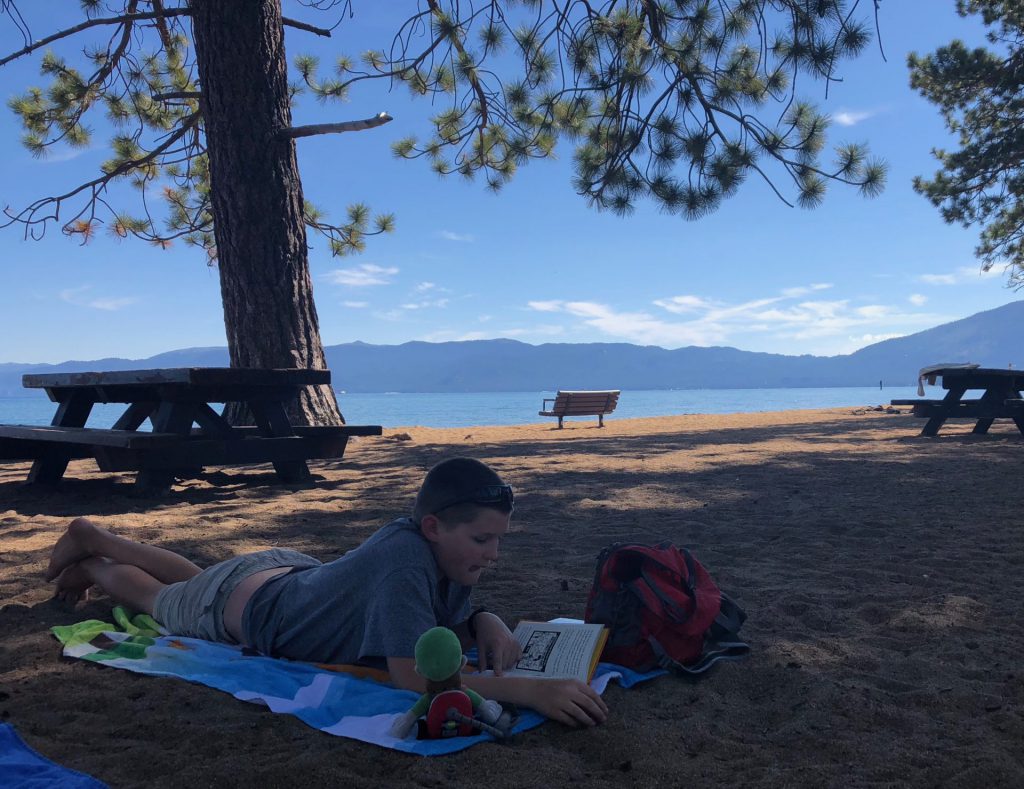 the water was soooo cold, so the girls opted to spend their time on the beach. (after we cleaned up all the goose poop in the immediate vicinity).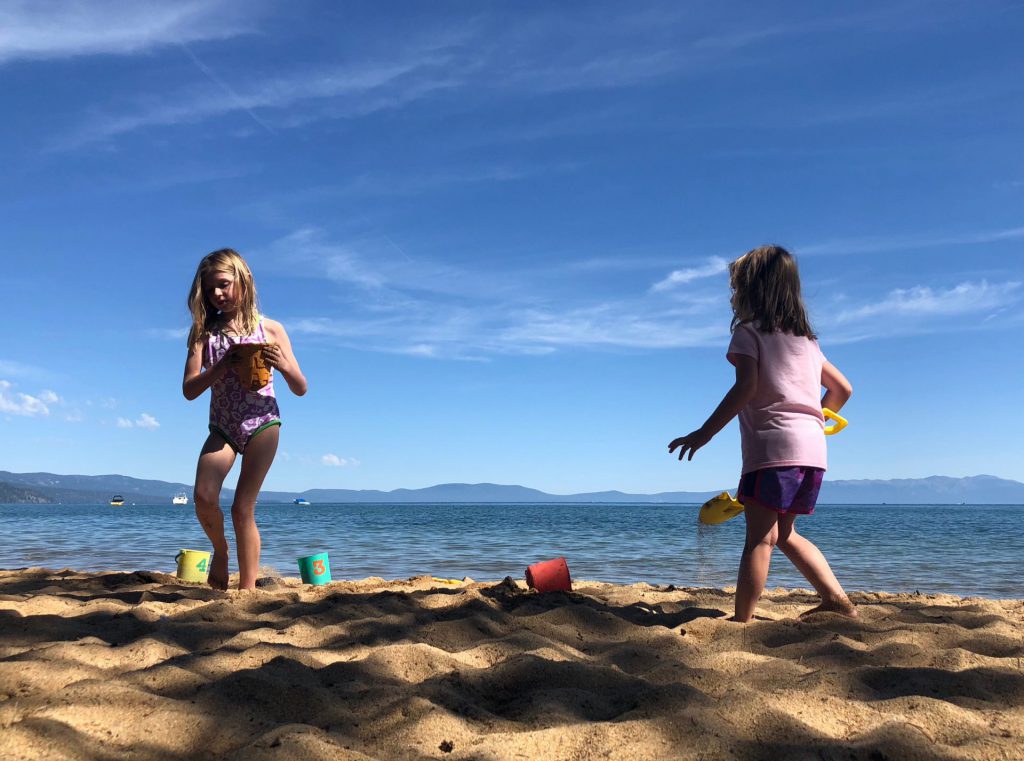 eventually, isaac joined them and they made up some random games, with figurines and sand and occasional buckets of cold water.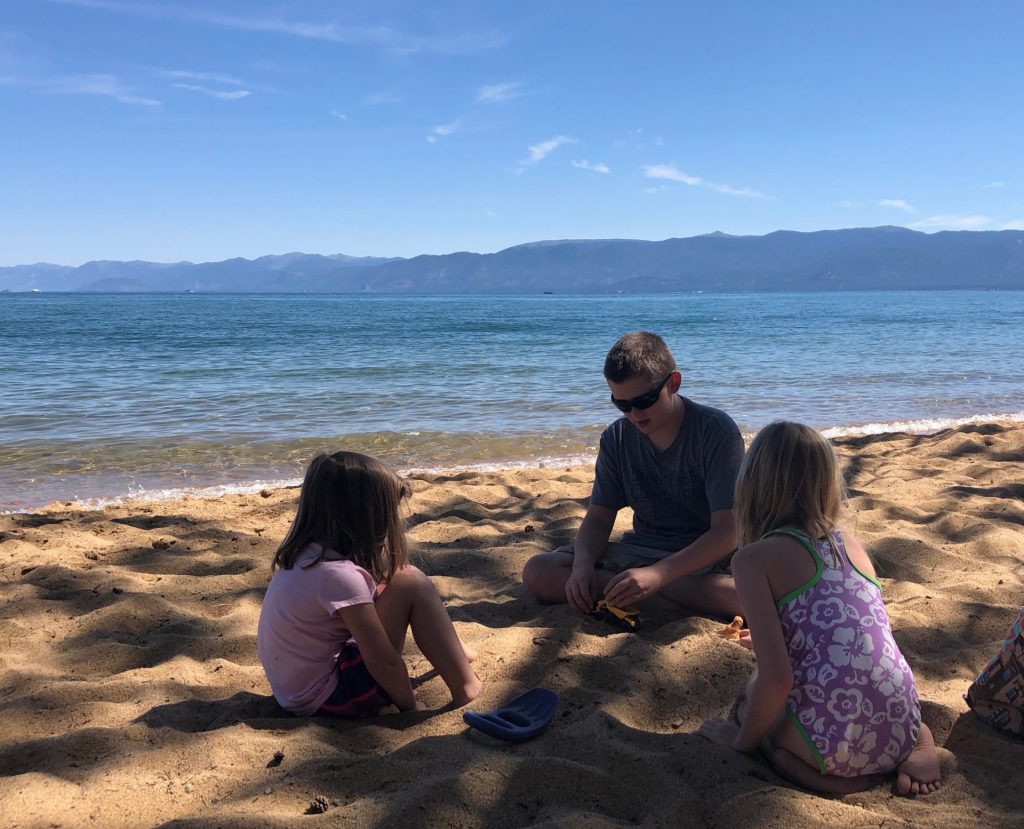 it was quickly decided that the sand was not good castle quality sand. and with the water being too cold, everyone was soon bored and whiny. so, we packed it up and hit the road. (and no sooner did we have our blanket off the ground, another family scooted over and unpacked and set up their beach day compound in it's place. and, as we were leaving, we noticed that the line to come into the park was backed way way up, confirming our choice to arrive early.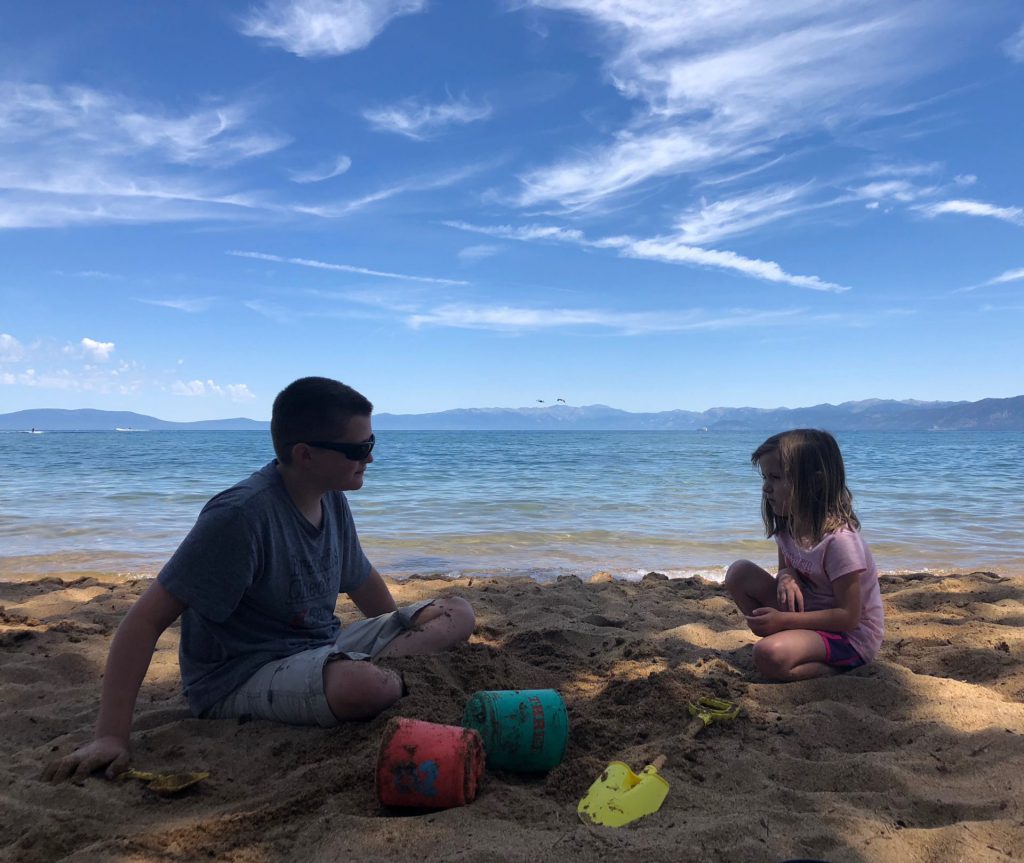 our next adventure… all the girls (gramma, me, anna, hazel) walked over to tahoe modern makers, the worlds cutest little arts and crafts shop. you can buy all sorts of art supplies and/or drop in to do a craft, with all of the supplies (and clean up) provided. and the best part, it was all sort of free because the grands went to a timeshare sales pitch and earned a bunch of vouchers. hooray for free art time! anyhow. anna chose a ceramic dolphin to paint. and hazel picked a skateboard, i have no idea why.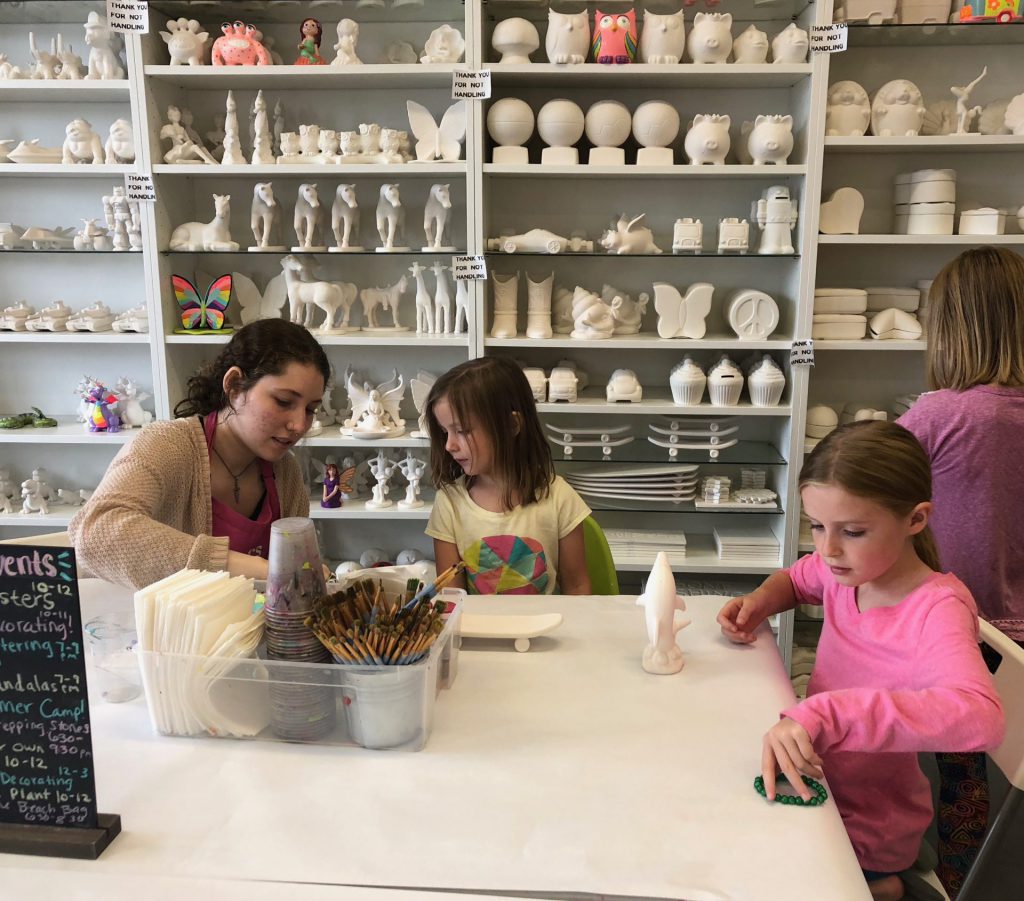 careful, concentrating painters.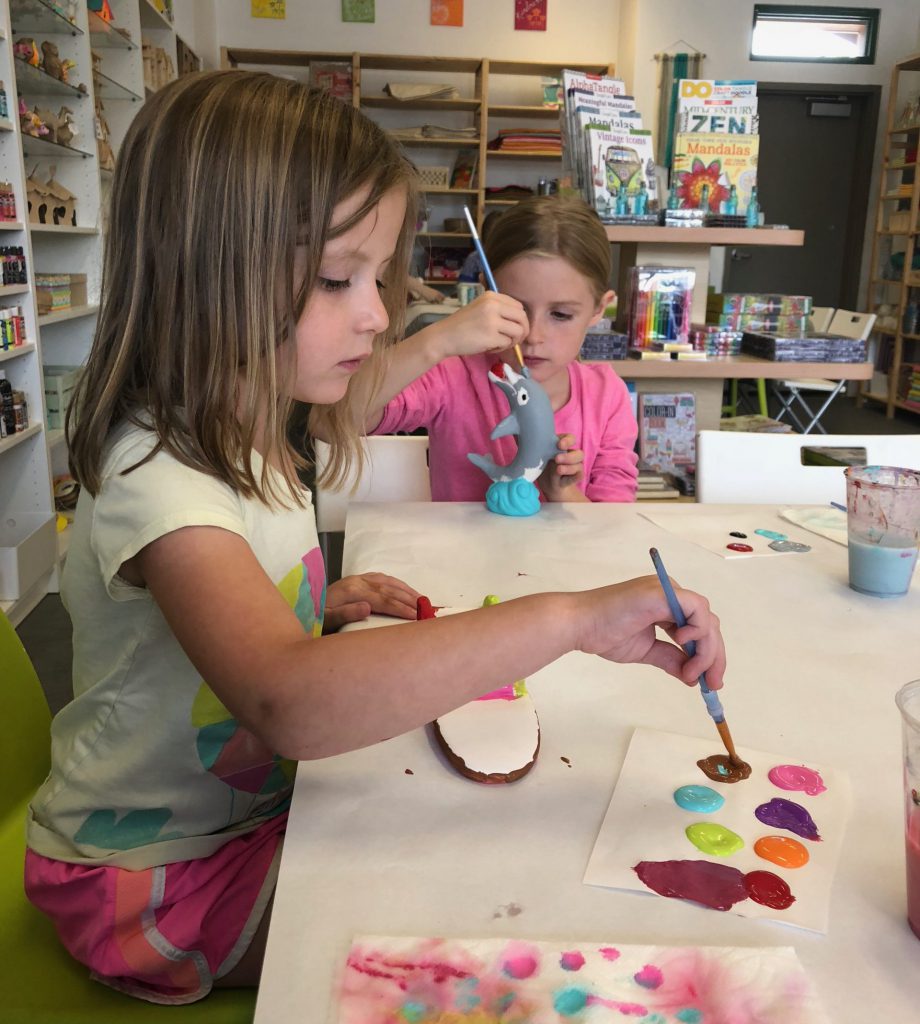 hazel was sure to coat every single surface thoroughly. anna went with a realistic approach.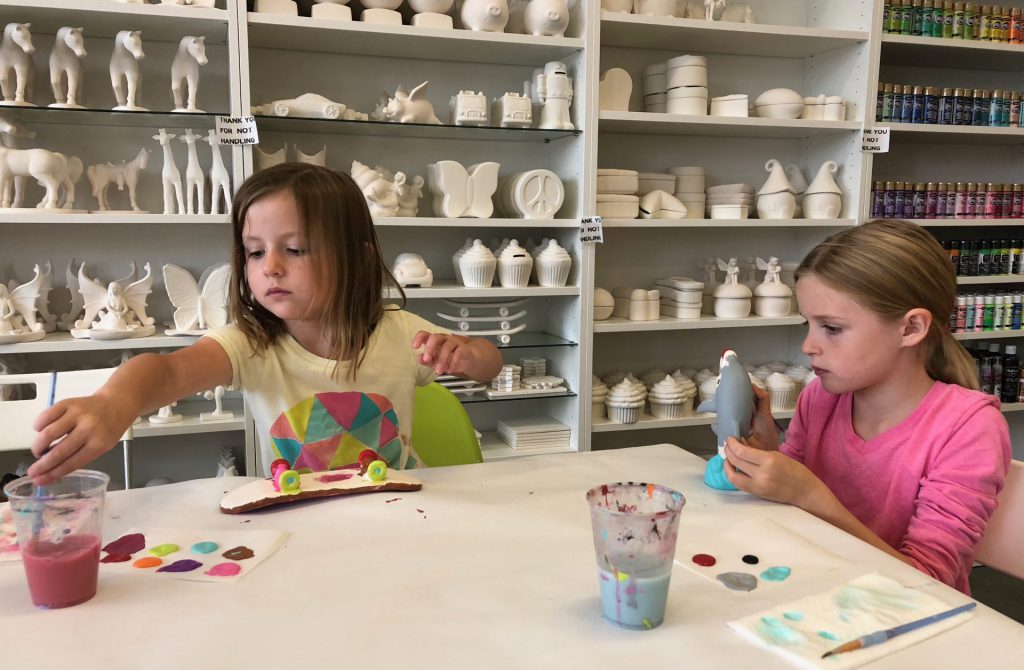 the full view, with an unpainted ceramic menagerie looking on.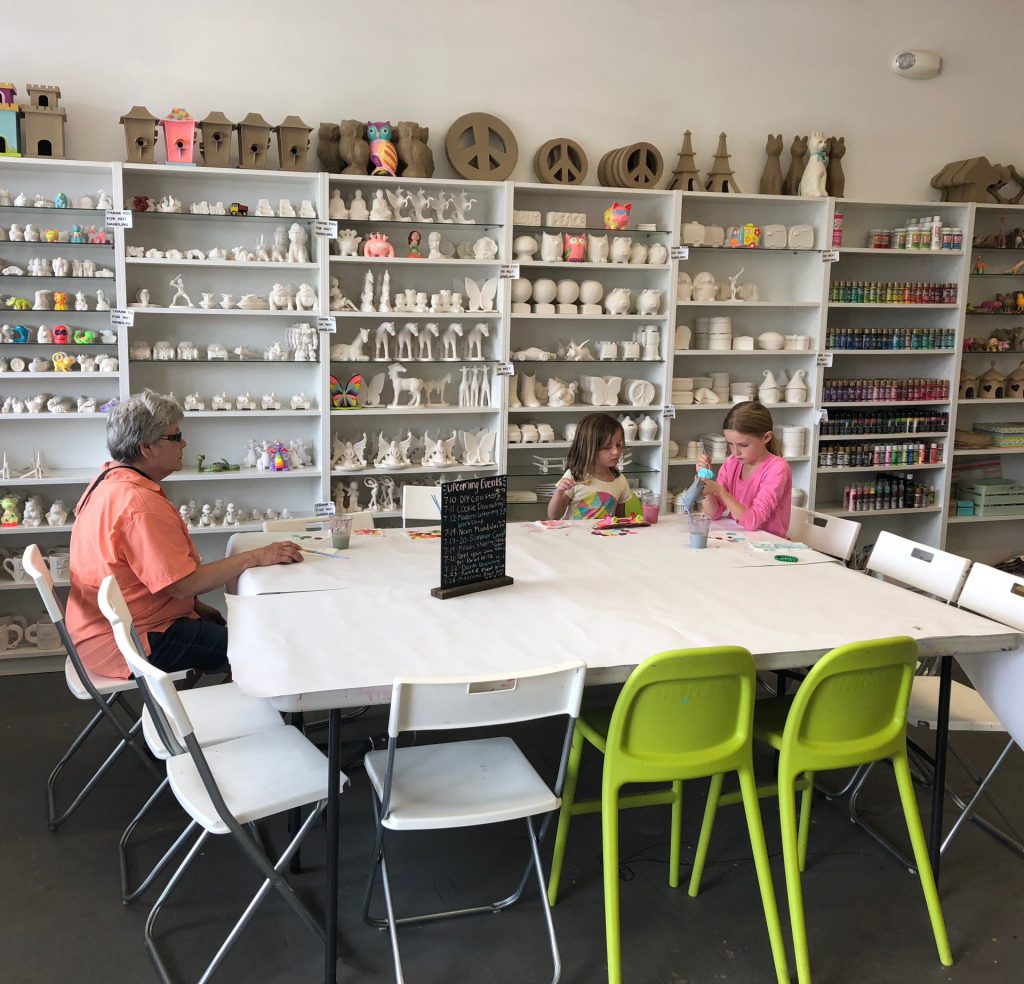 gramma and artist granddaughters… she and i painted tiny birch slice ornaments. she made lake tahoe, because duh, we were in lake tahoe.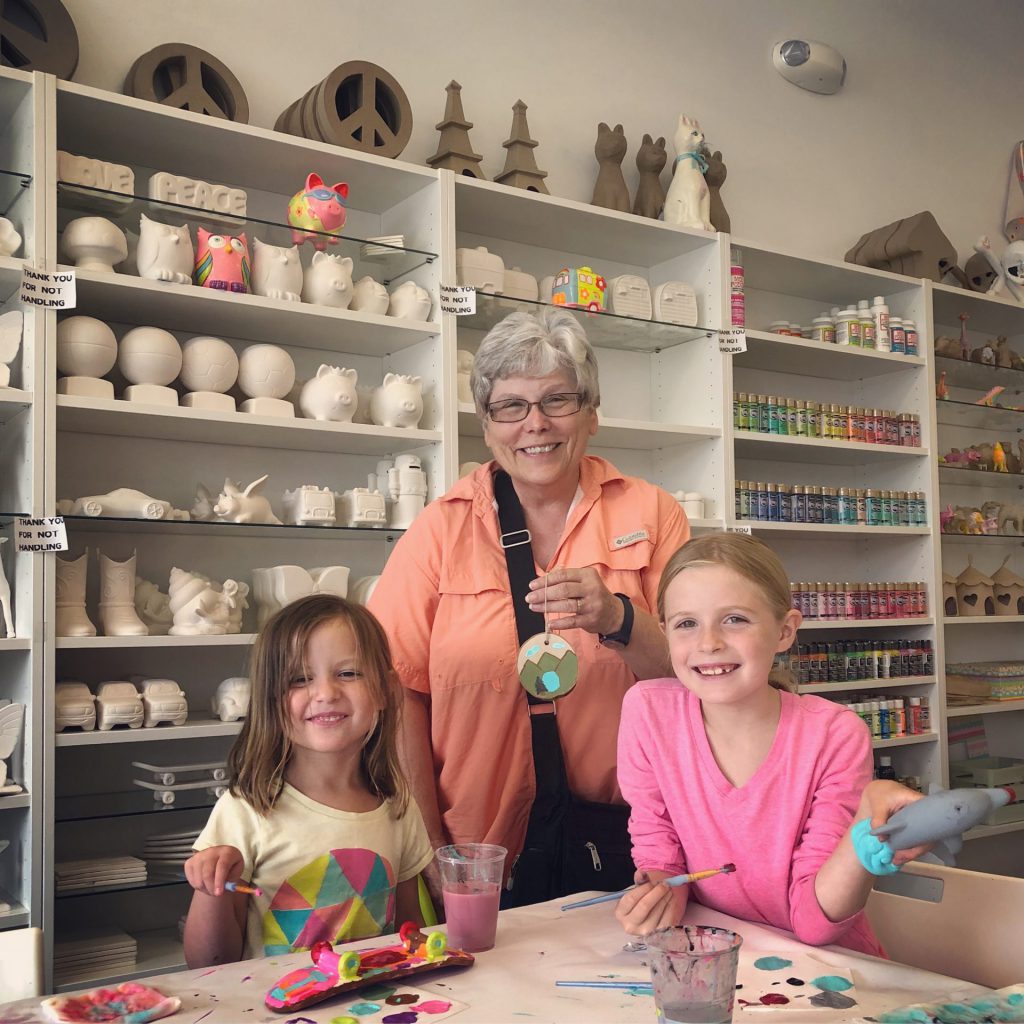 i made a saguaro cactus sunset, because they are fun.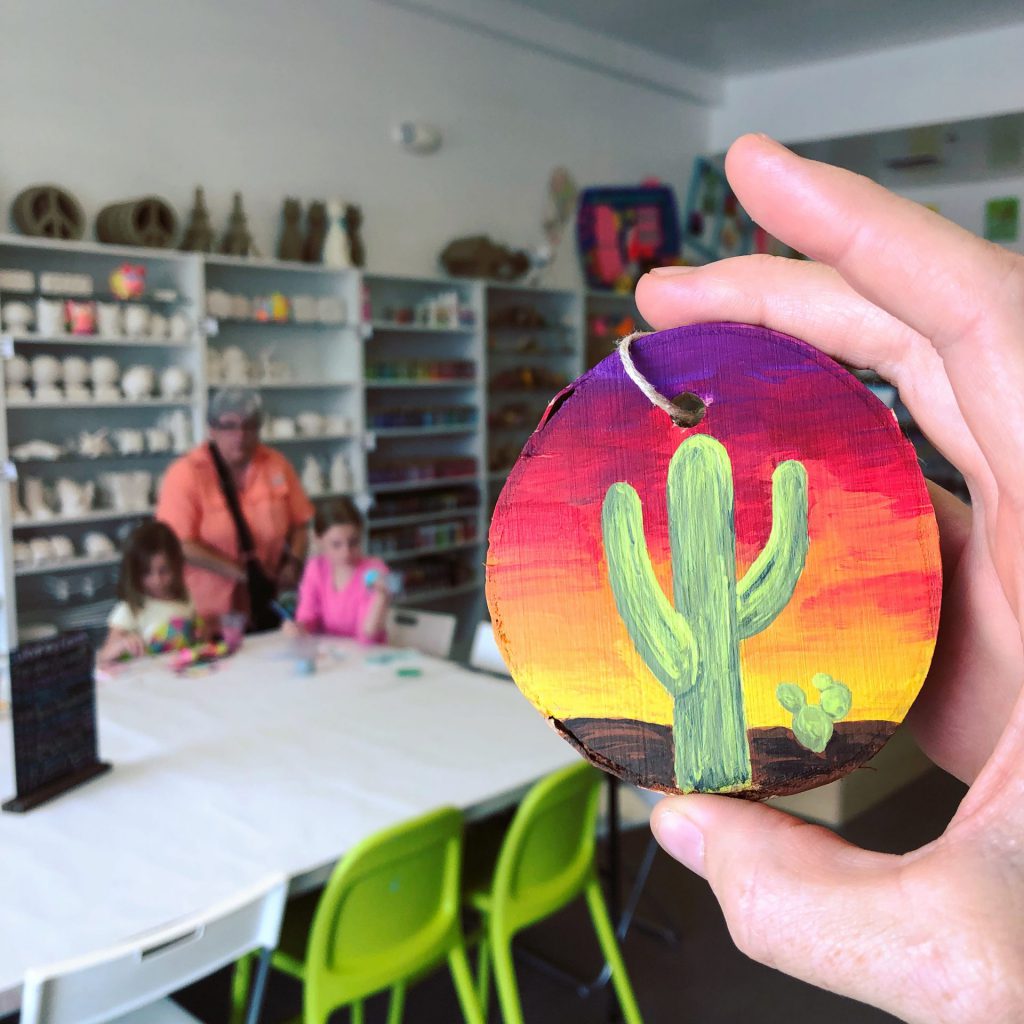 after our art expedition, we wandered around doing a bit of t-shirt shopping, and anna walked away with this cool shirt, her new fave. she even has a favorite pair of shorts to match it with. 🙂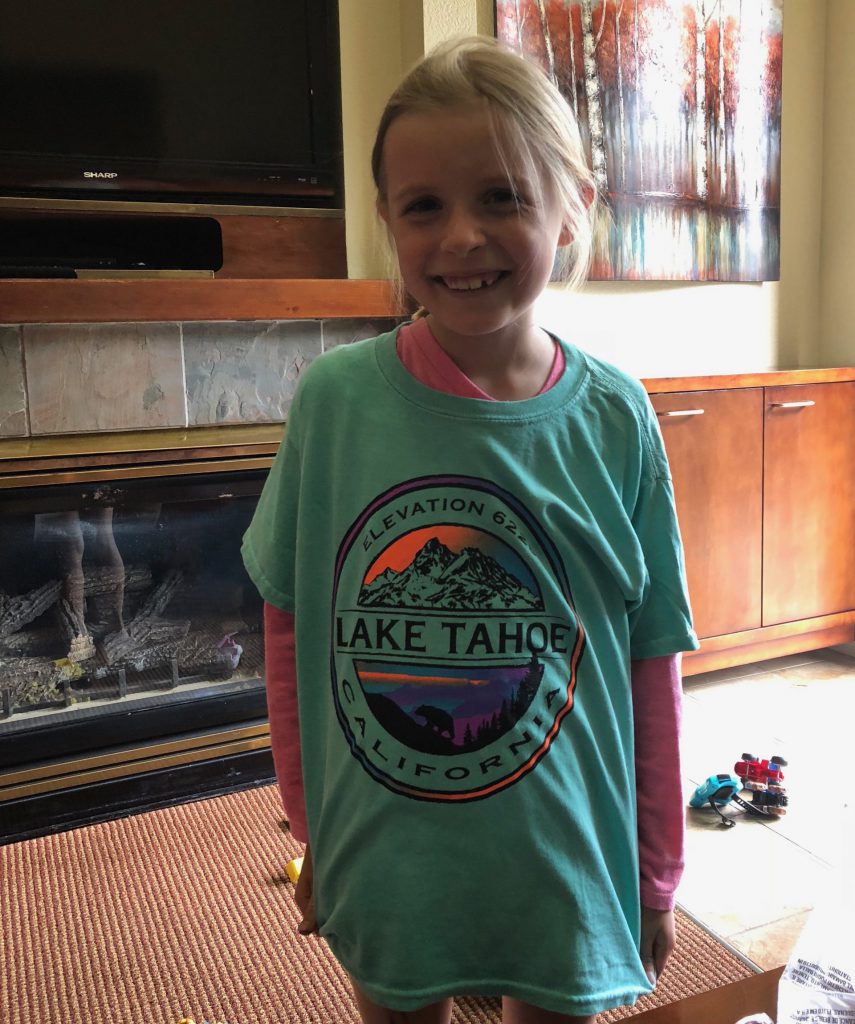 gramma planned lots of fun activities to do while she was here. they made puppets and tissue paper flowers and read books and colored and made play doh and slime. and the final item on her checklist was a tea party. the girls got all bathed and brushed their hair (without a fuss) and put on dresses and painted their fingernails. and isaac just showed up for the treats.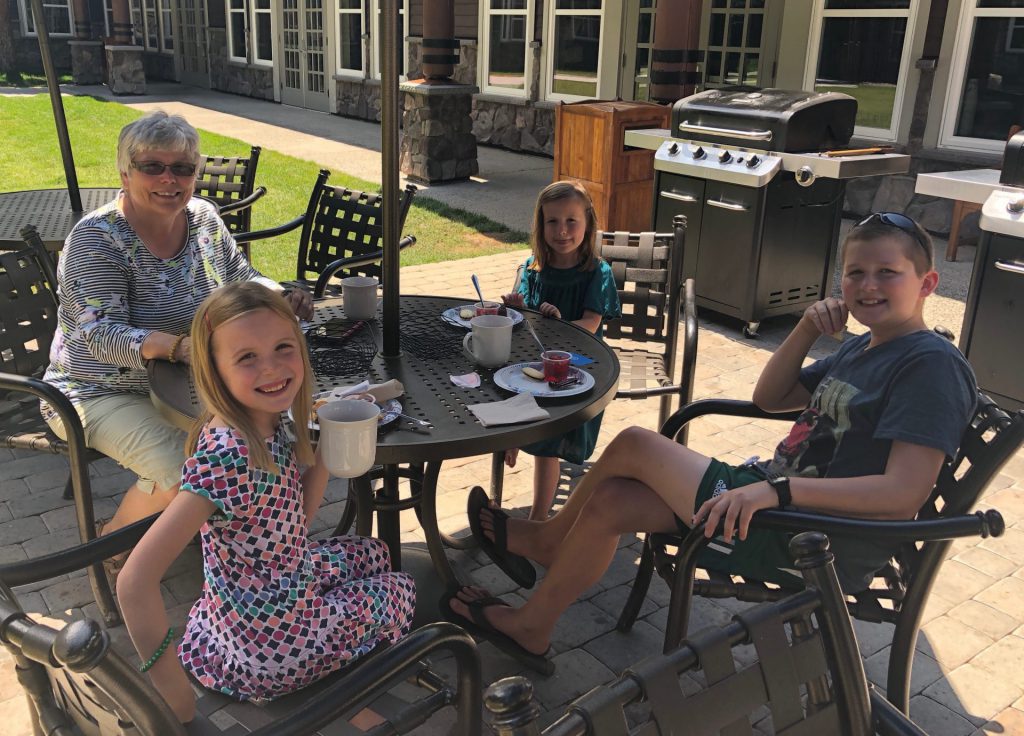 after the tea party, we played a competitive game of ticket to ride. and by competitive, i mean, everyone was doing so poorly that we all just held out hope that we were doing the least poorly of the bunch. oh, and i totally won, in case you were wondering. and not anna, the board game savant.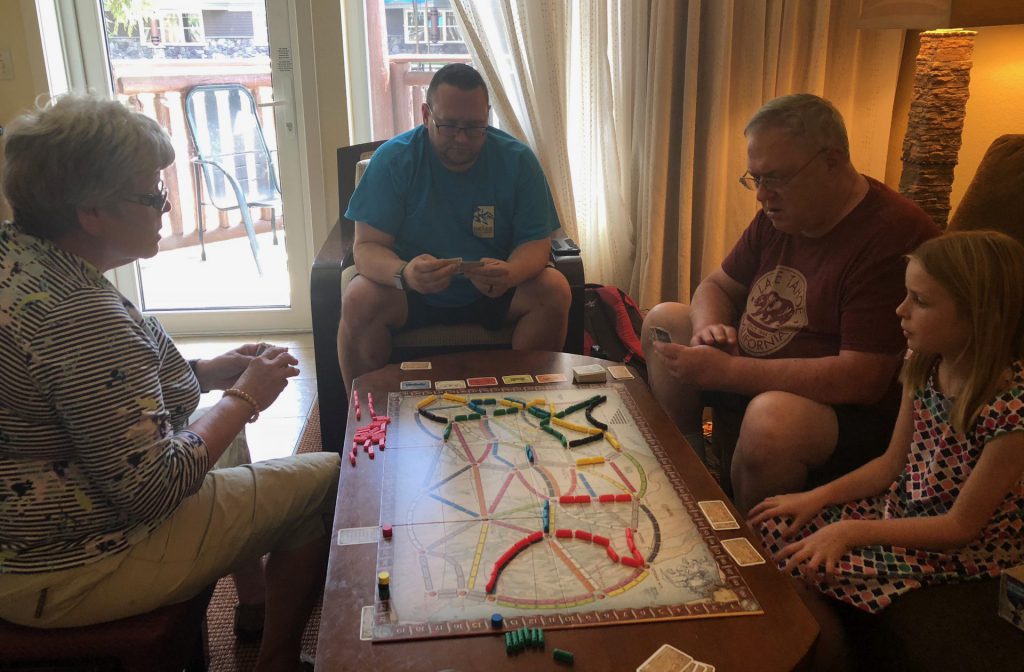 and then, after the board game, we went out on the lake, by way of a repurposed fancy yacht, converted to a lake tahoe cruise boat.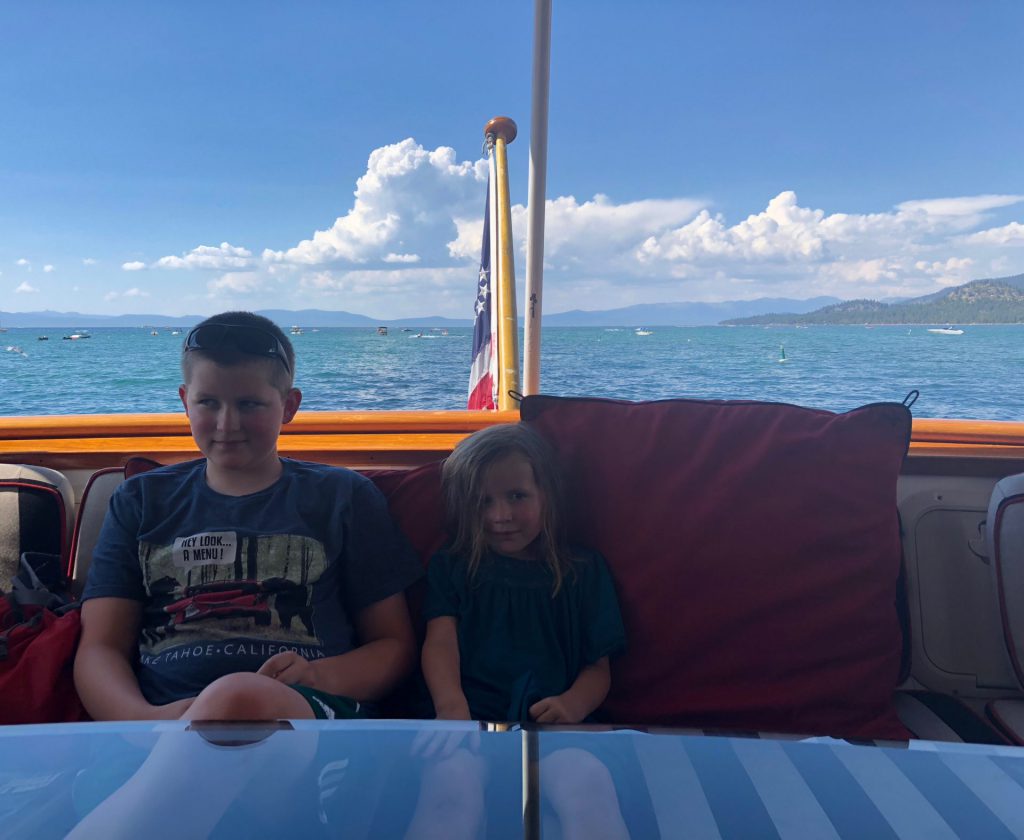 the nerdy older two kids couldn't be bothered by the fantastic alpine lake views, and instead opted to read.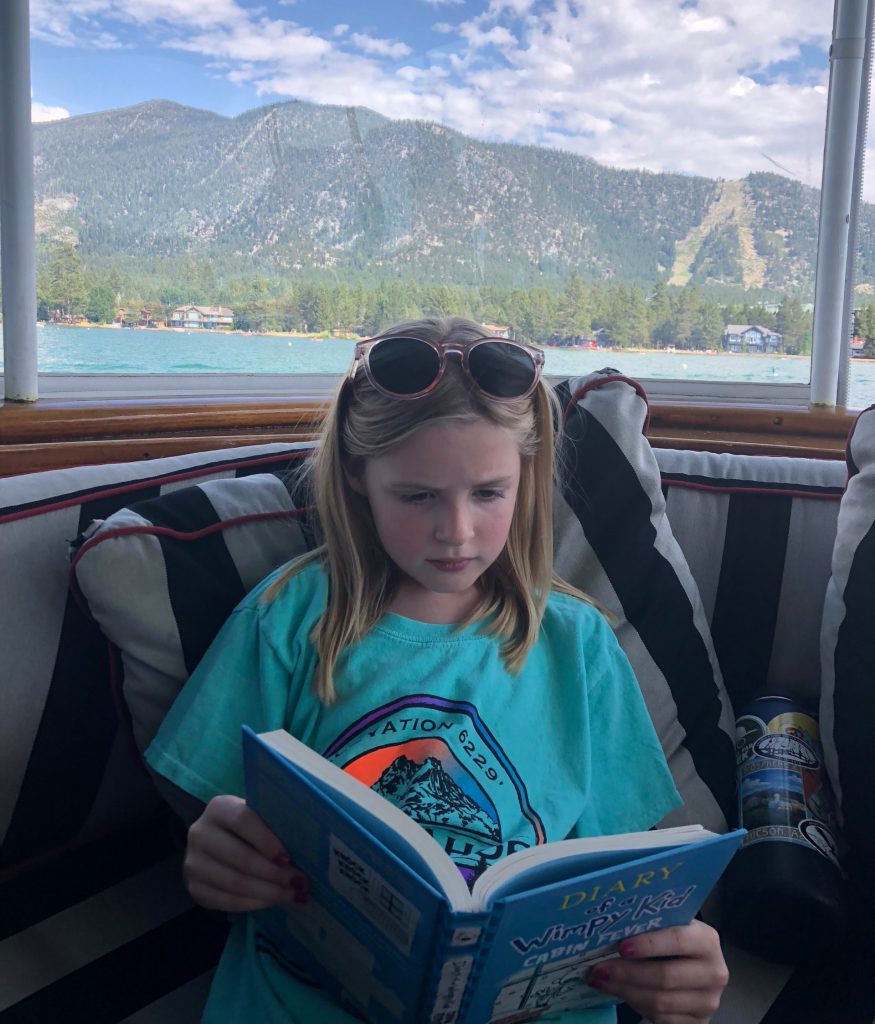 they come by their indifference honestly though. grampa may or may not have been doing his fair share of reading as well.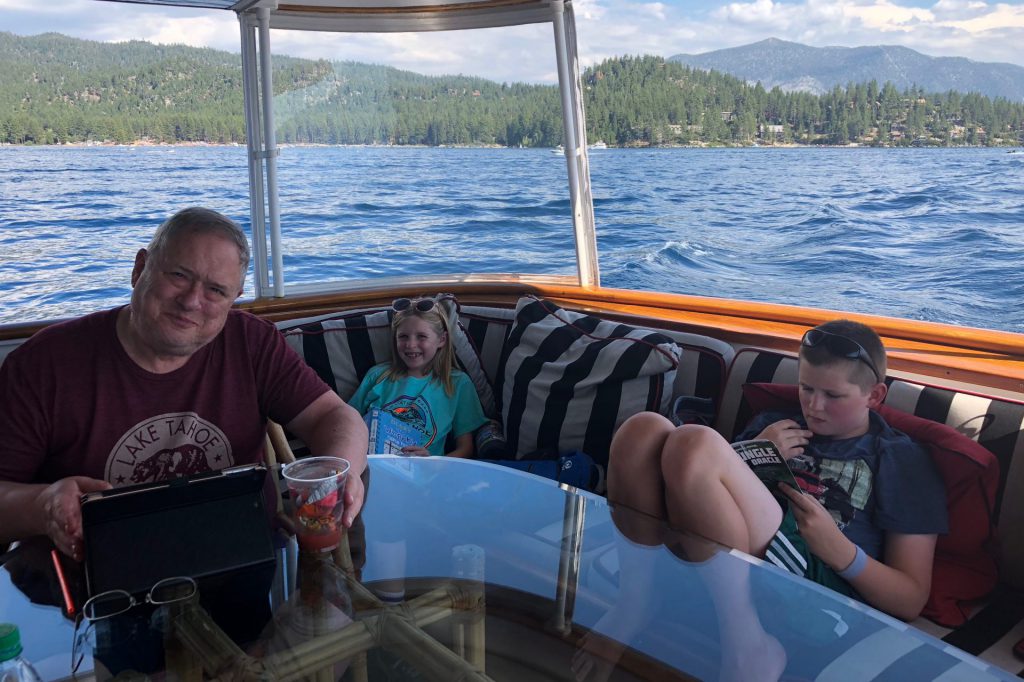 but not the crazelnut. she took it all in.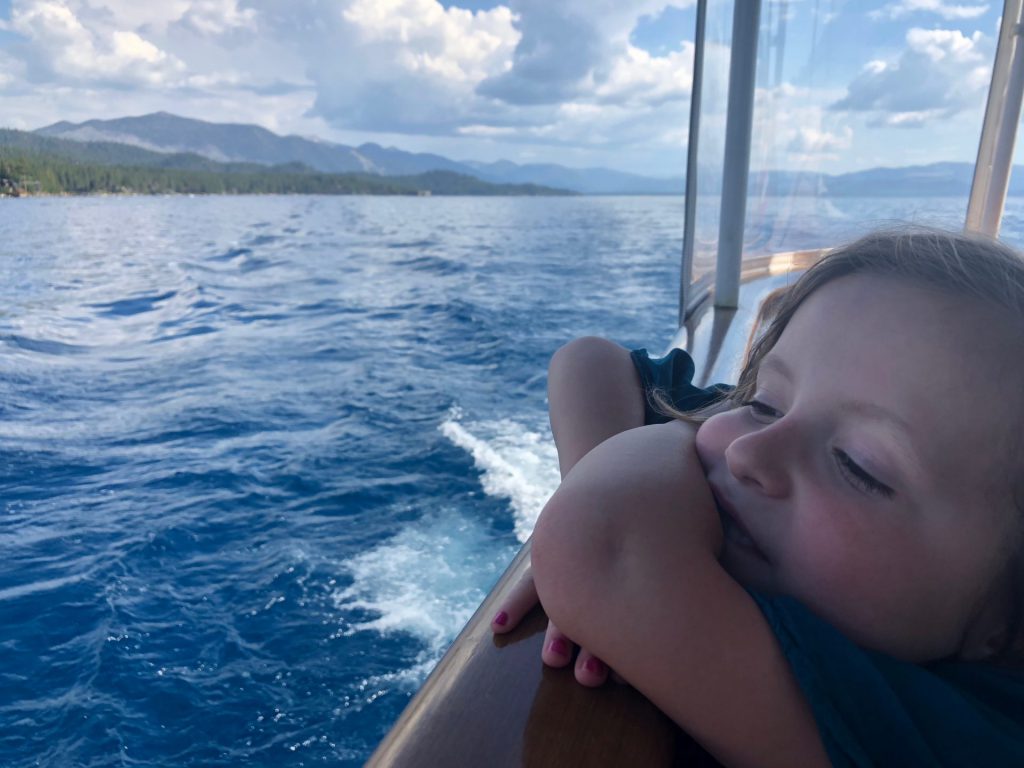 when we reached cave rock, everyone perked up for some photos.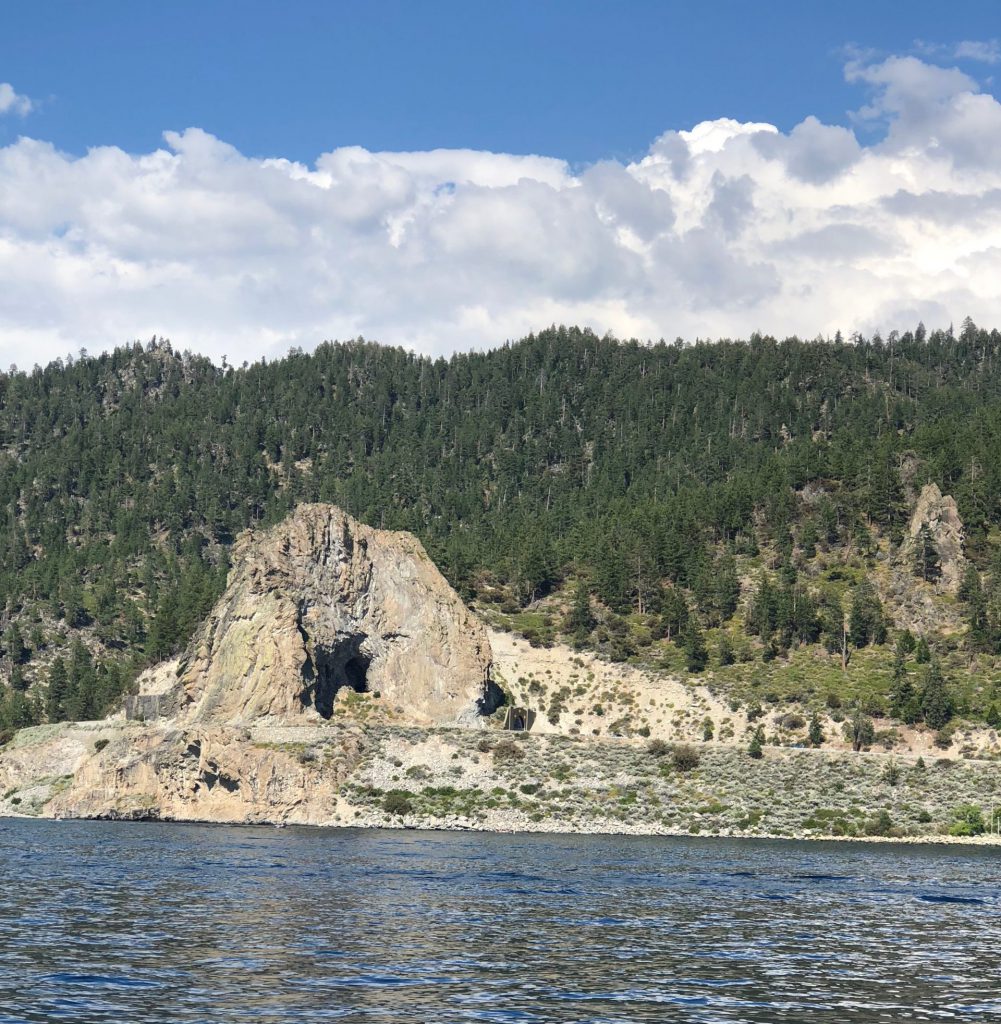 for most of the ride, everyone was sprawled out in different spots, looking in different directions. an attempt to corral the kids and get a good (not backlit) photo, ended with this epic fail.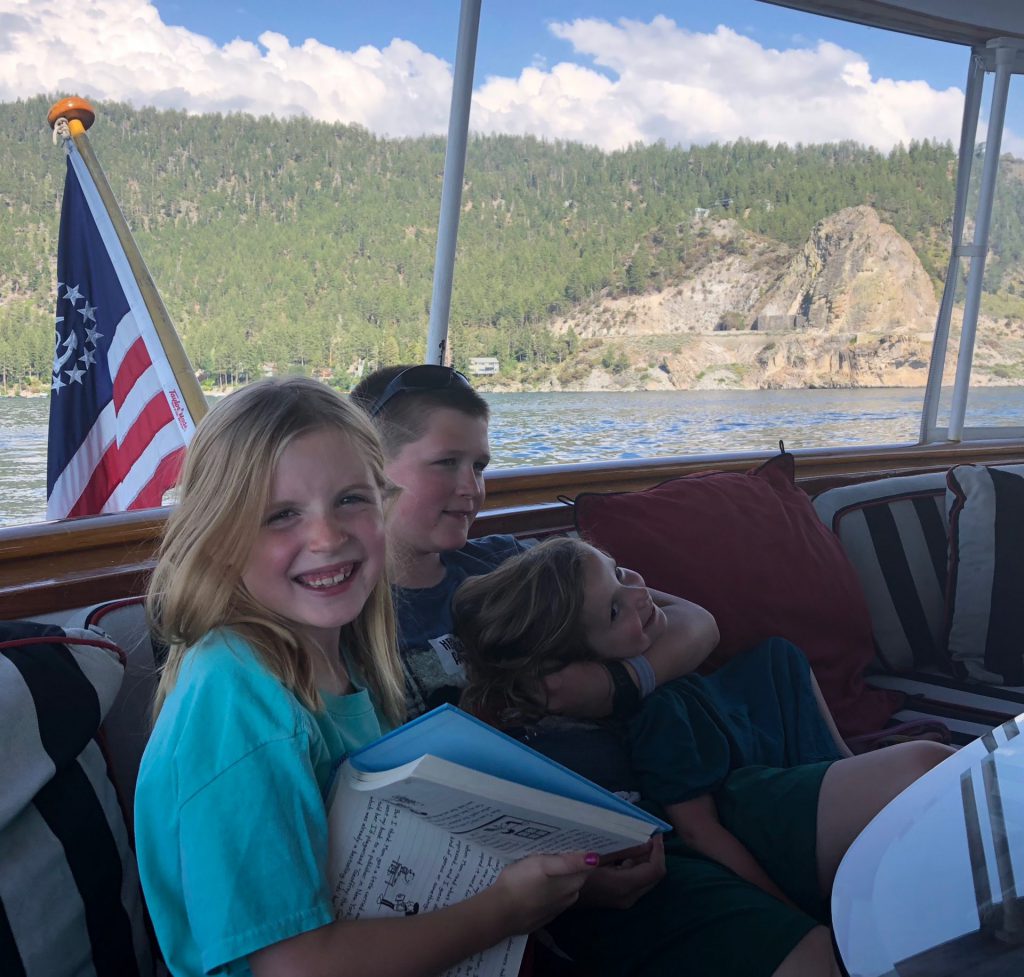 after cave rock, the boat turned around and headed back to the dock. and when we arrived, after patiently gazing out at the waters for the entire ride, hazel sighed and said, "well, i guess we're not gonna see that island" and everyone's hearts broke into a thousand pieces. poor kid.
we stopped to check out how our commemorative photo turned out, and gramma ended up purchasing one, so we obviously took an iphone shot of it for our own digital commemorative purposes.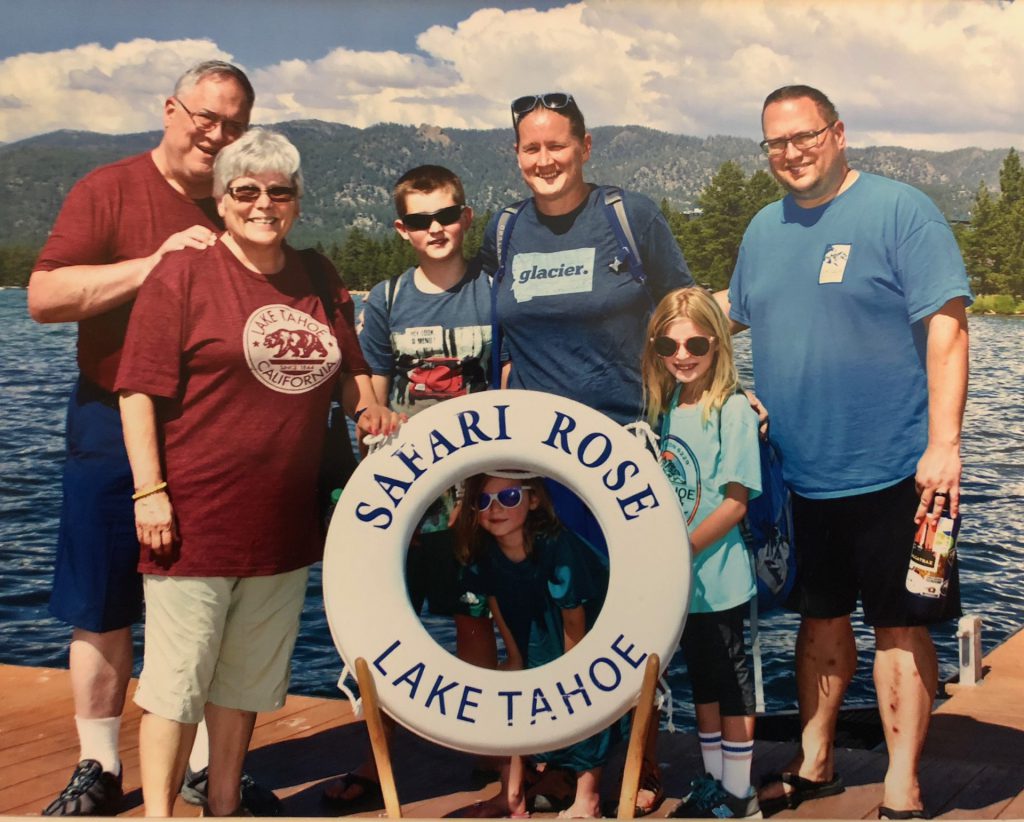 on our last day, we laid pretty low. derek and i went out to get some t-shirts, and i could barely contain my excitement when i realized that i could probably safely (and non-lumpily) fit into a large shirt, versus my standard XL. (and truthfully, there was a moment, not too long ago where i feared i might have to bump up to XXL). i've had a few solid months on keto and it's easy to not see the results and get frustrated, but this definitely gave me a much needed boost to keep going.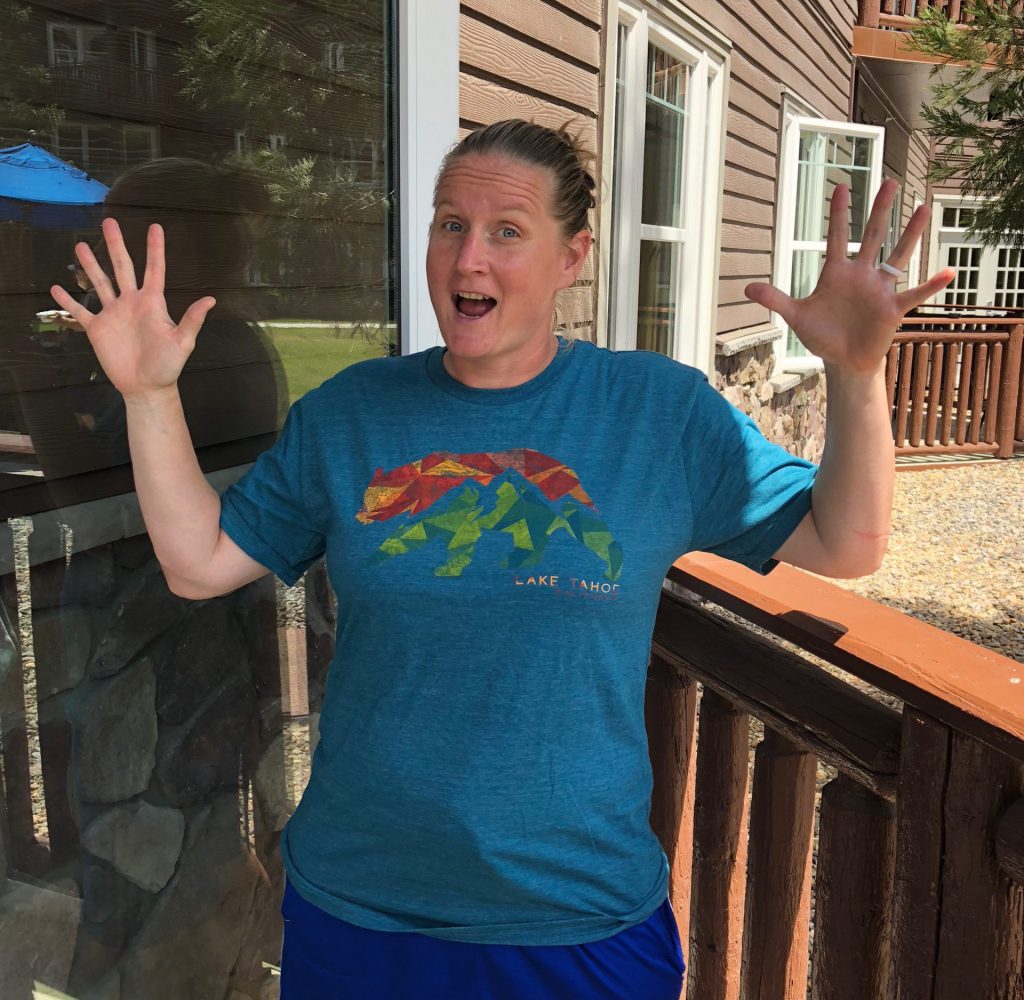 we also spent a lot of time putting together this random puzzle that i found at a goodwill awhile back. i'm two for two on thrift store puzzles having all of their pieces and my now have a false sense of hope for future puzzle thrifting.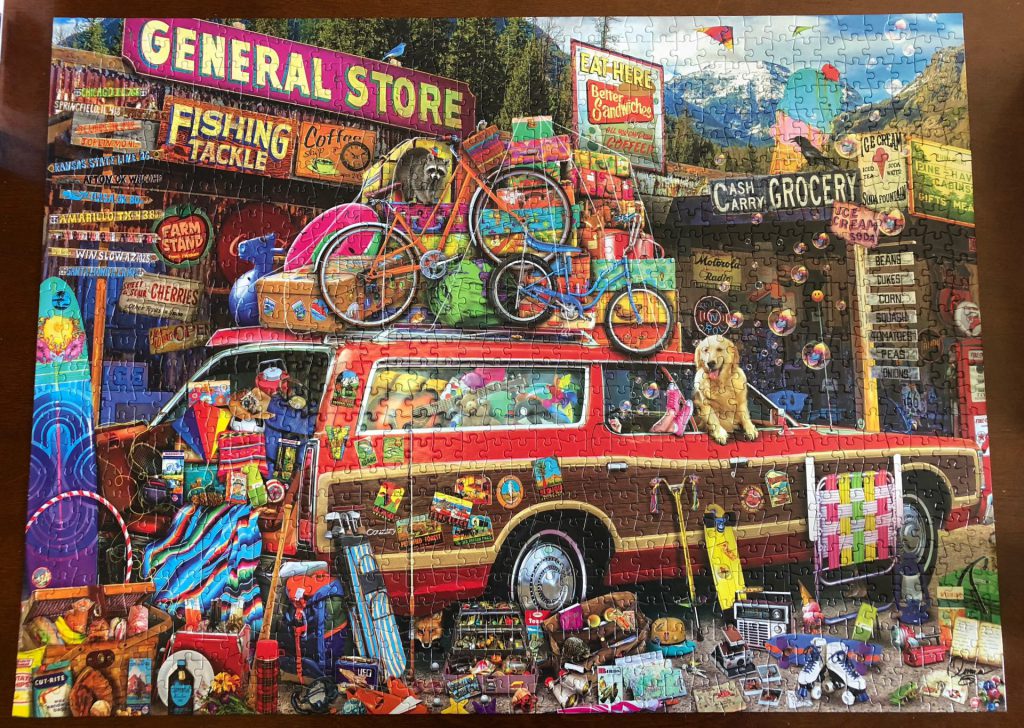 for our last night in town and with derek's fam, we went out to dinner at a greek restaurant (artemis lakefront cafe) near the hotel. it was soooo good and i definitely overdid it, but i have no regrets. the customer service was amazing, too. when hazel's chicken tenders came out still frozen in the middle, we sent them back, not mad, but just wanting them cooked through. a few minutes later, a manager appeared and gave us our entire dinner for 50% off! i don't know if that's standard, but once i found a dead fly in my salad at a restaurant in winston-salem and they just brought me a new salad.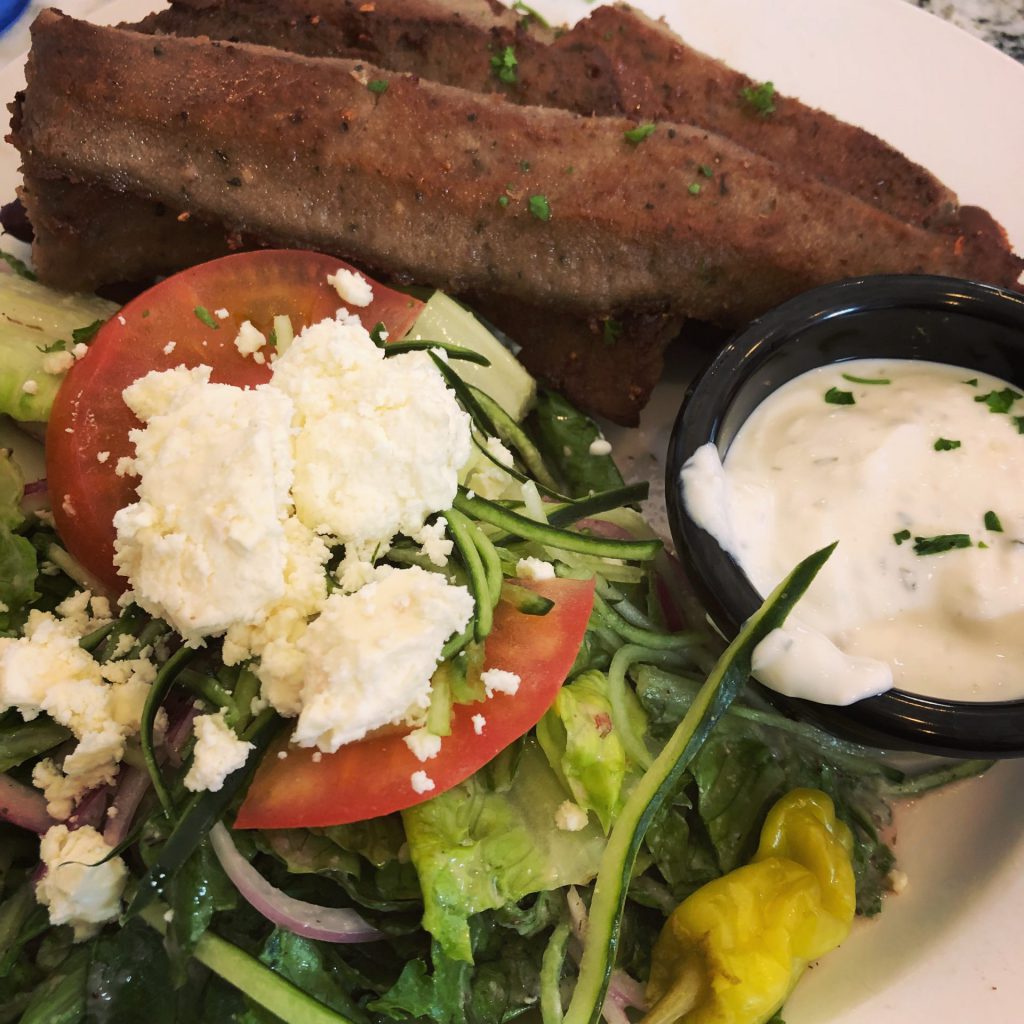 and then, suddenly, our time in tahoe was up. derek's parents were heading to reno to spend the night before an early flight in the morning. and our path to the next spot took us through reno, so we decided to work that into our plans. the kids spent the night with the grands and derek and i got on the road to a reno walmart first thing in the morning. derek set up shop to work, while i was able to meet up with a quilty instagram friend, who took me around to some local quilt shops to do a bit of fabric hunting. it's always so fun when the road life allows for these sorts of things, and summer and i had a great time, even though it was short, and i hope to meet up again someday, next time with families. 🙂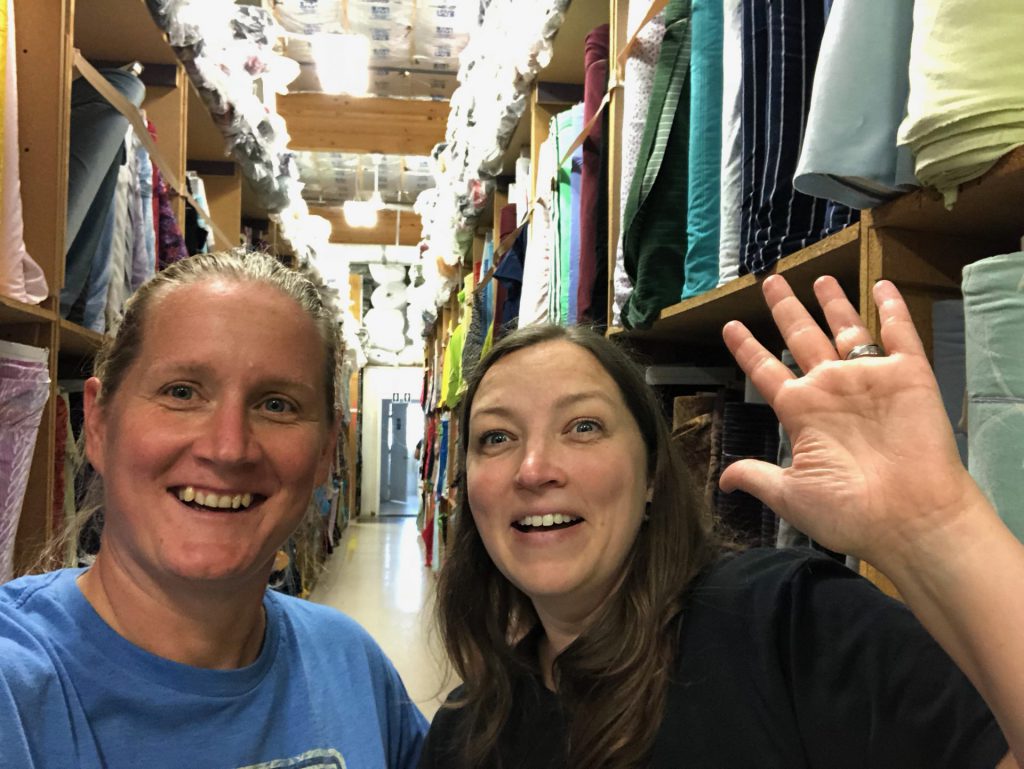 one of the fabric shops was pretty crazy. like an old warehouse of bolt ends. and lots of apparel fabric and cheap notions and boas and ribbons and, well, just everything. it's also really close to burning man, which happens in the desert somewhere near reno, so it was pretty packed with folks attempting to make ridiculous burning man costumes.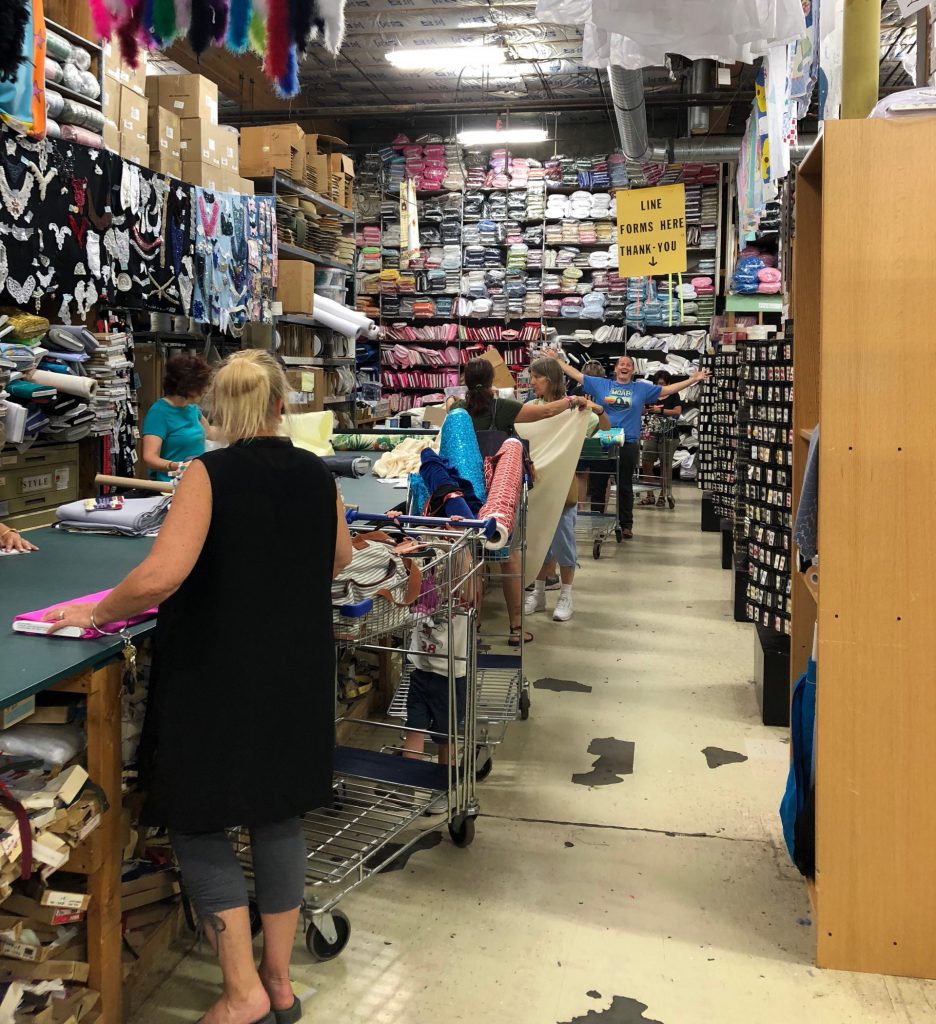 here's my score for the day. summer ended up gifting a few awesome fabrics to me, which was so sweet, and i bought the stuff i needed to back my new favorite ever quilt.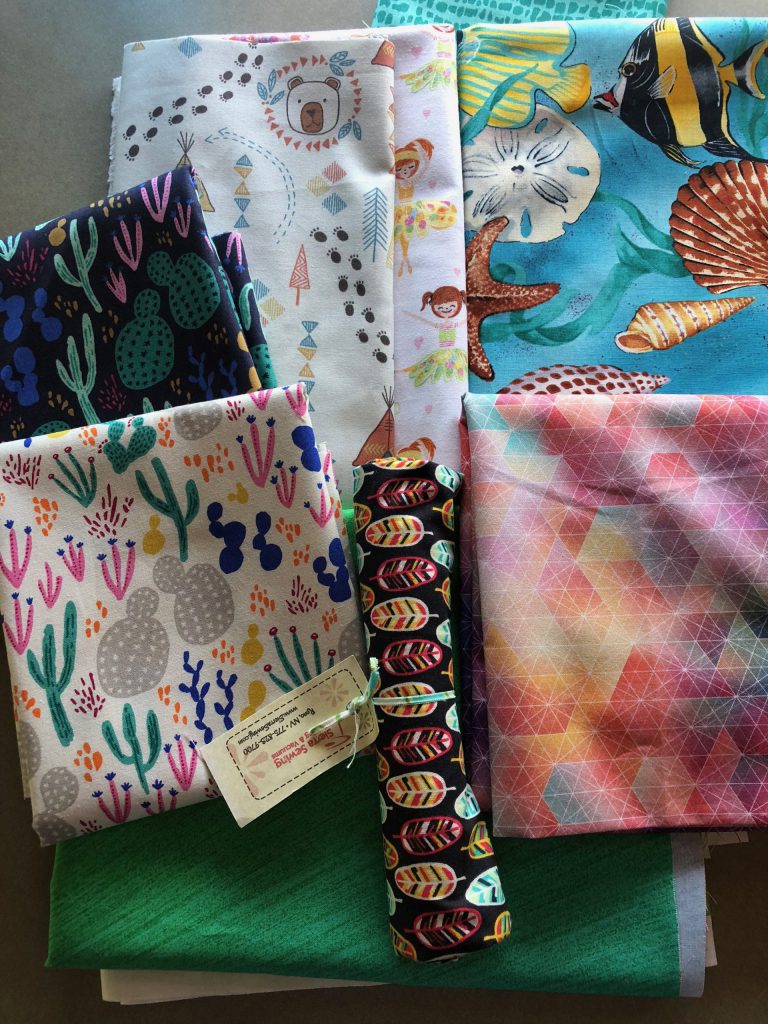 while i was shopping and derek was working, the grandlidboms and lidkids were checking out of the hotel, eating delicious breakfasts, traveling and then eating delicious lunches. eventually, they rolled in and it was time for a sad farewell. all the hugs and tears and goodbyes. and the obligatory end of trip pic in front of the camper.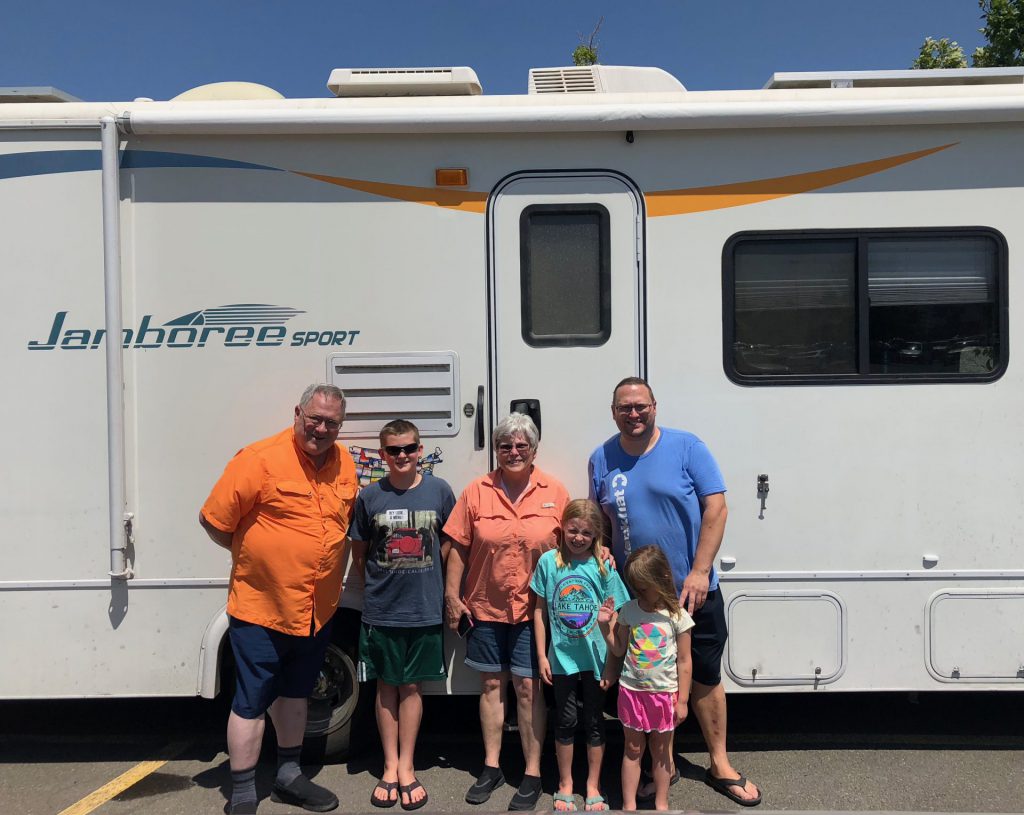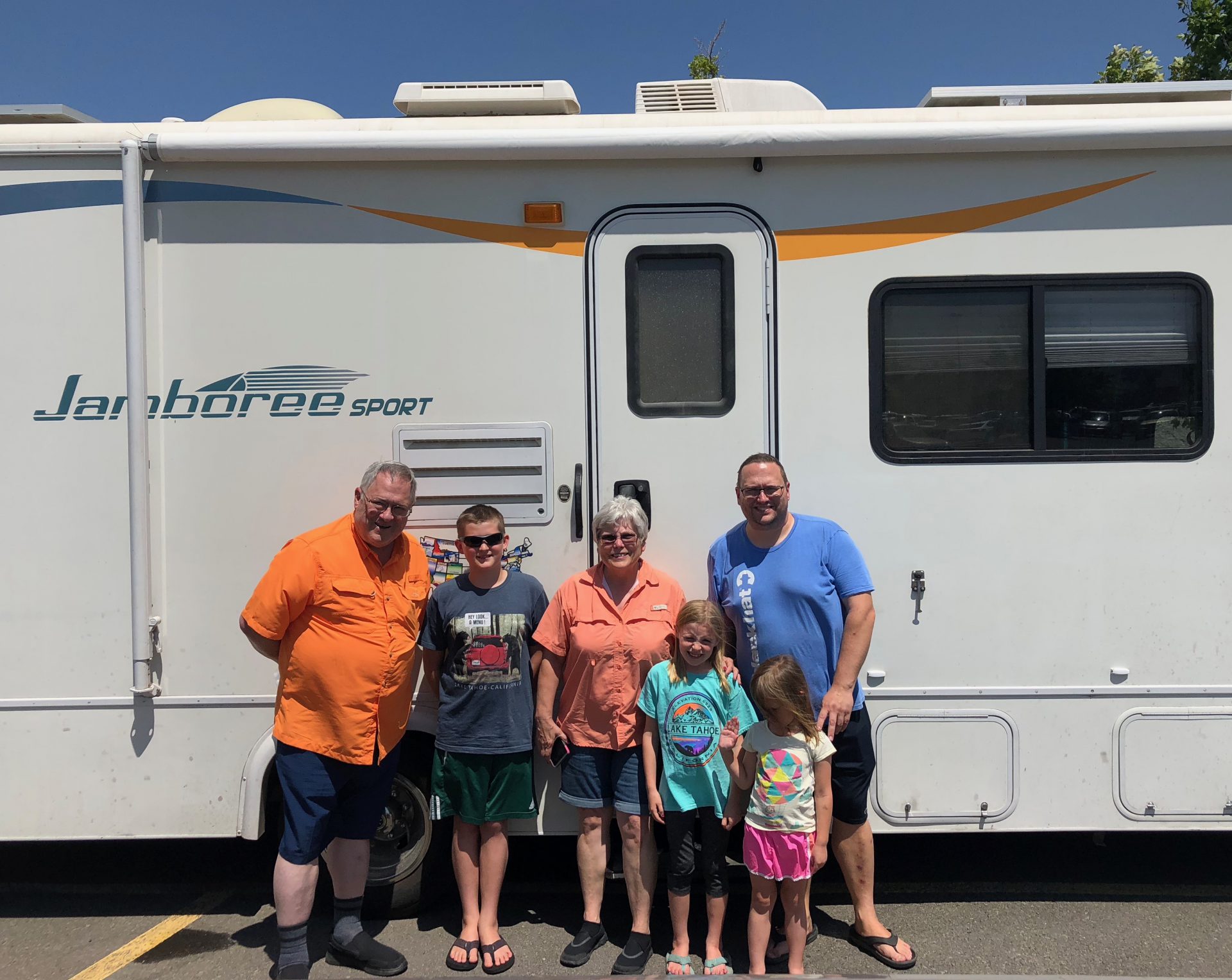 we still had a long drive in front of us, so when they drove off to their hotel, we got on the road, next stop, lassen volcanic national park….