after our time in florence, oregon on the coast, it was time to head inland, where we planned to stay a few nights in my cousin nicole's driveway. she and her husband had visited us last year when we were in eastern washington, but i was excited to see the rest of her family (some of them for the first time in 20-ish years).
but first. we had to drive there. the route took us through salem, oregon, which provided us with the opportunity to add another checkmark on our state capitol tour. it wasn't super exciting. just another capitol building, and they are starting to get a little boring.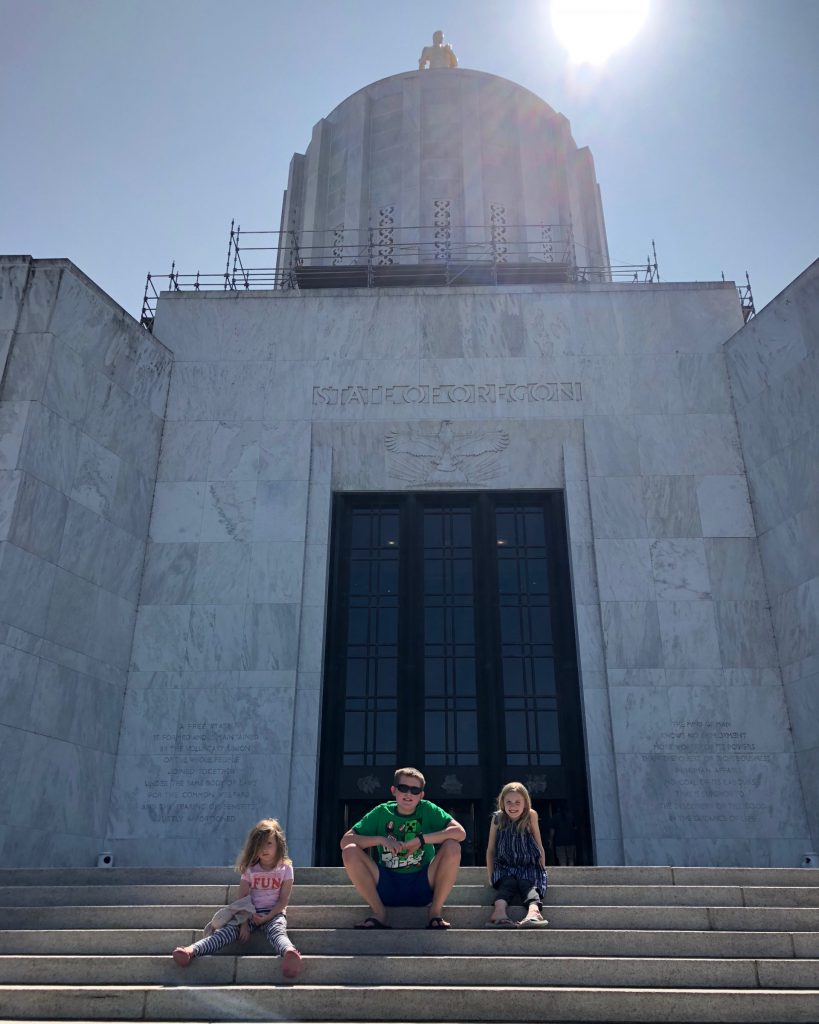 the thing i suspect WILL stand out about this capitol will be the row of tents set up along the sidewalk in front of the building, occupied by marijuana and paraphernalia vendors and advocates. i'm not sure if they are always there or if this was a special occasion, but it definitely affected my ability to get perfect pictures.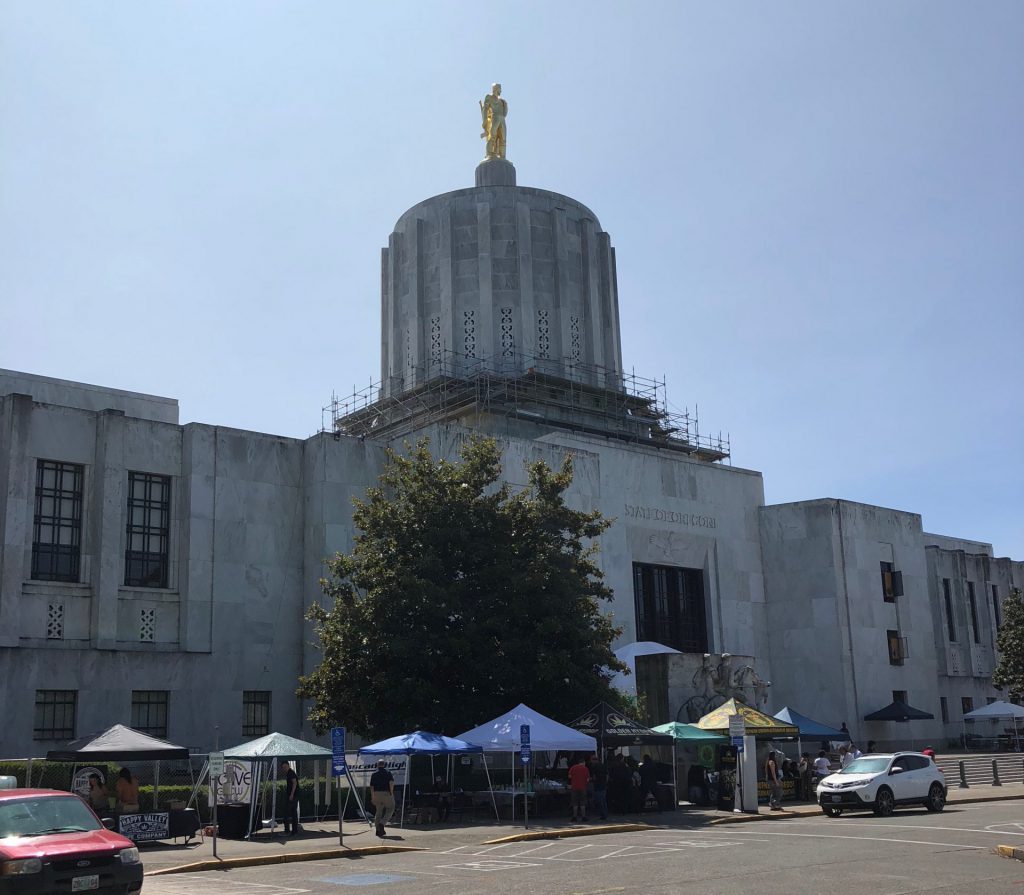 we noticed some fountains across the street, so decided to check them out. at first, the kids were sure they were going to run through them, but they all chickened out in the end.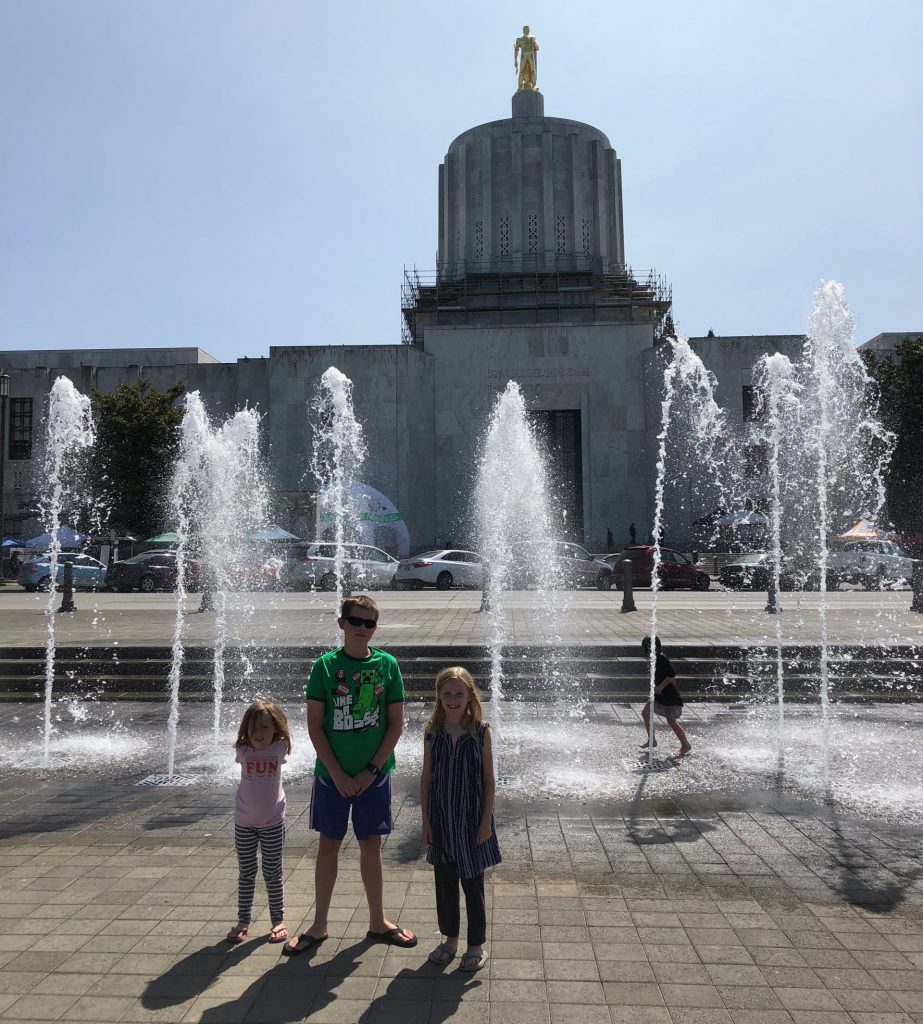 we loaded back up in the car. had a quick dinner at chipotle. battled with portland traffic. arrived at my cousins. waited for derek, who was waaaaay behind us. planted the camper in the yard. sort of got it level. ate delicious italian sausage and meatballs and sauce made by my cousin. and went to bed.
the next morning, my uncle skip and aunt pam (nicole's parents, my dad's bro and wife) drove down to hang out for the weekend. i made the executive decision to abandon keto for a day or two so i could properly enjoy portland craft beers and delicious food. cheers to my uncle skip and my first IPA in a really really long time. so good.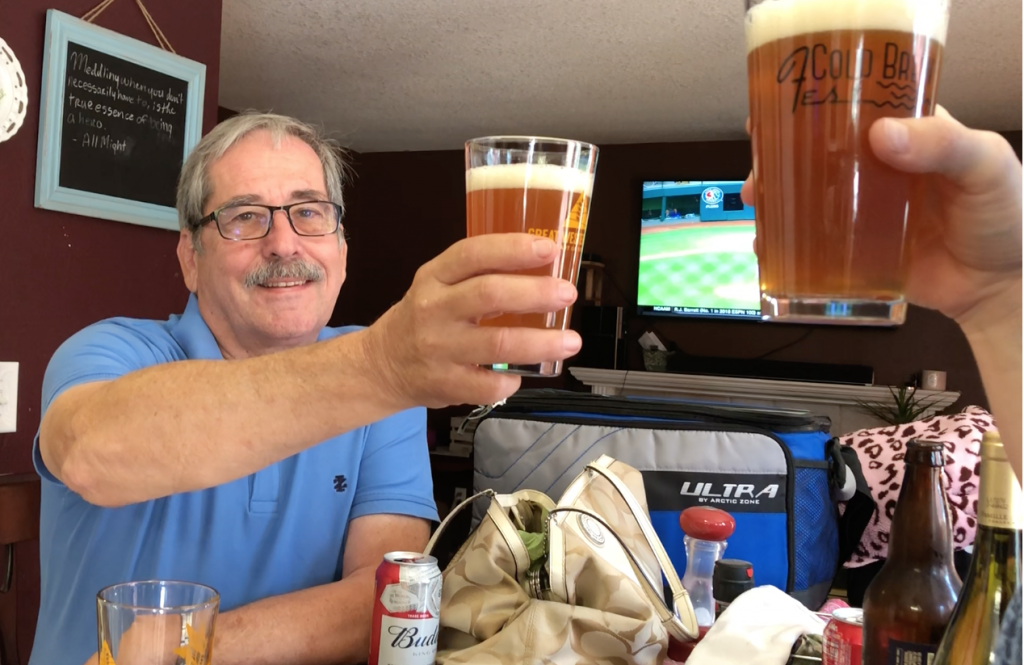 i had bought an assortment of various local beers to try and i'll spare you pics of all of them. but i definitely loved this can and may or may not have purchased this beer because of the packaging alone.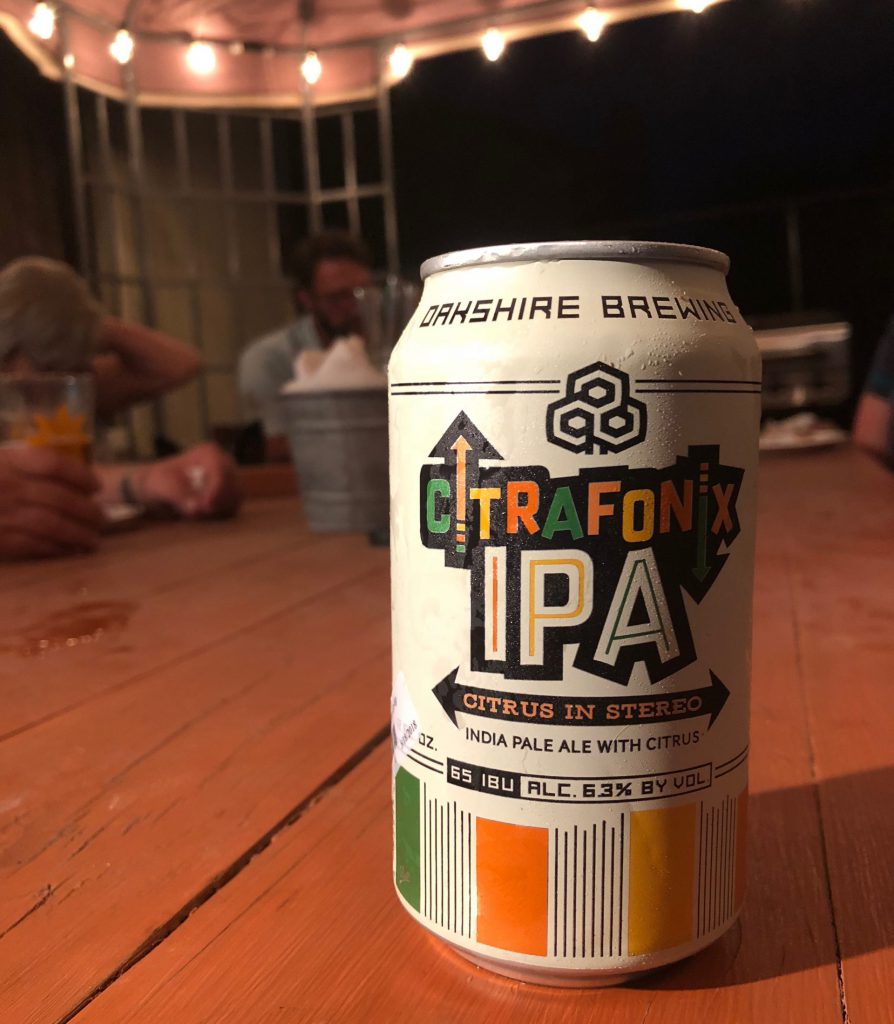 at some point during all of the reminiscing about family and batavia and the old days, we talked about my great gramma schiavone and how she always gave us italian nougat candy when we visited and i hated it as a kid. within seconds, nicole magically produced these bricks of gourmet nougat candy and we all took a culinary trip down memory lane. i seriously have not had it since i was like seven. and either my tastes have changed or this stuff was way better than the little boxes my great grams gave us.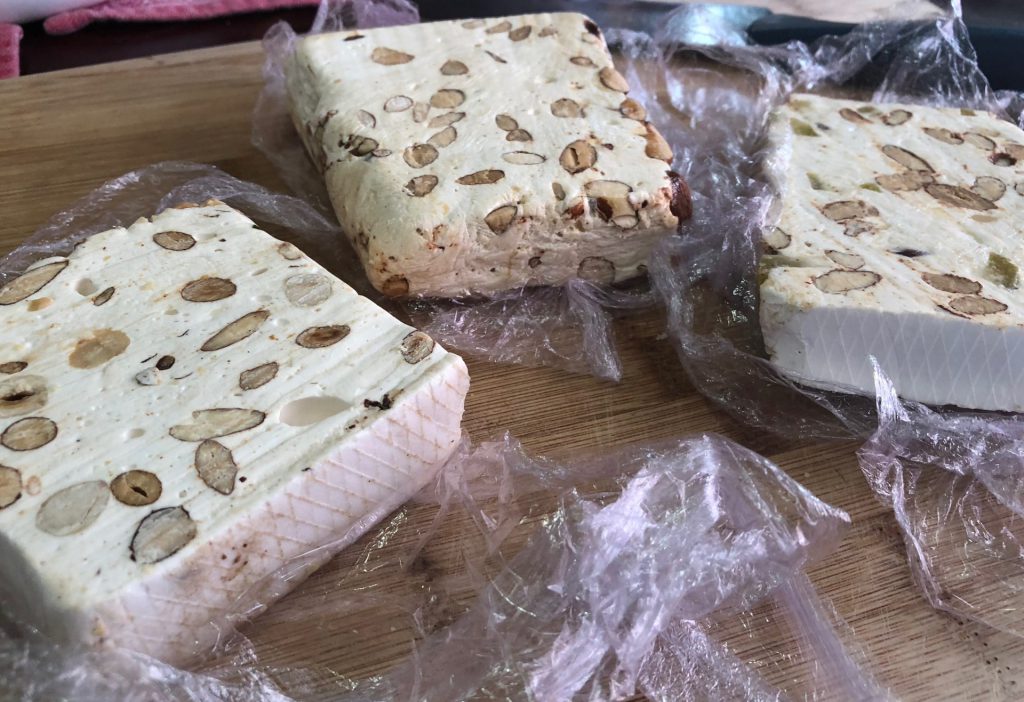 ok. so this is the WORST pic. but, like i said, i didn't take very many of our time hanging with fam, so this is the best i can do for documentation purposes.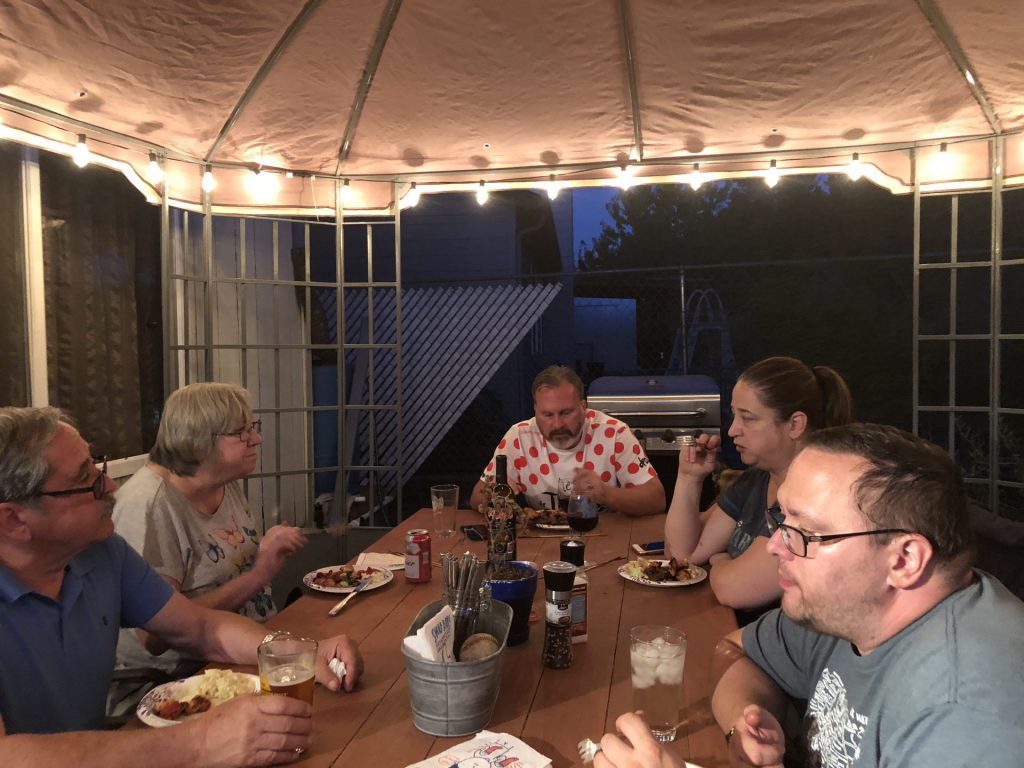 the next morning, we decided to head into portland, to do a bit of city exploring. so. many. bridges.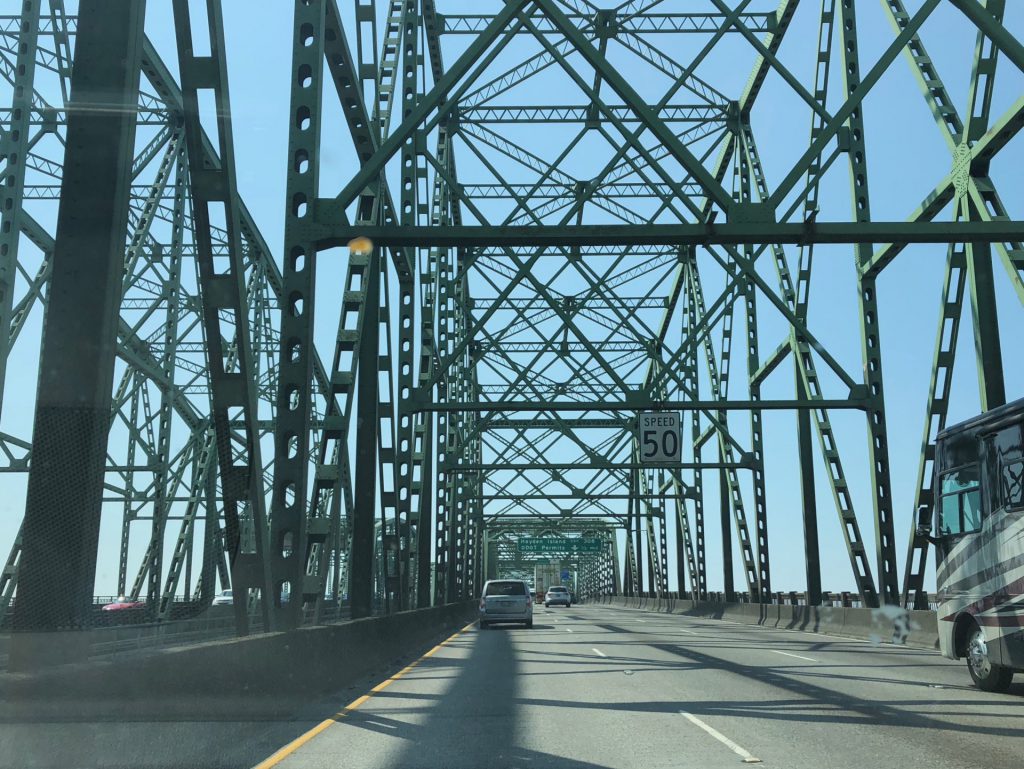 our first stop was voodoo donuts, where we spotted this mural in our parking lot and had an impromptu photo shoot with my weirdos.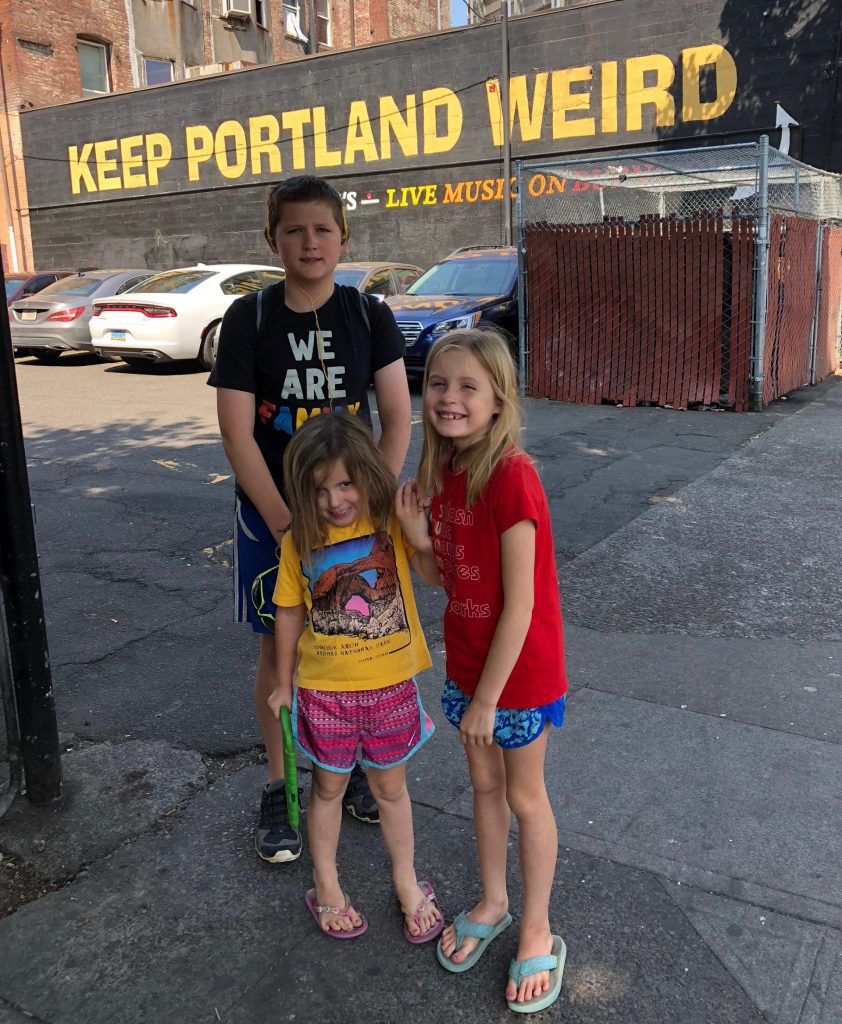 we hopped in line, where we had a 5000% better experience than when we tried voodoo donuts in denver (where the line stayed still for like 45 minutes before we abandoned ship).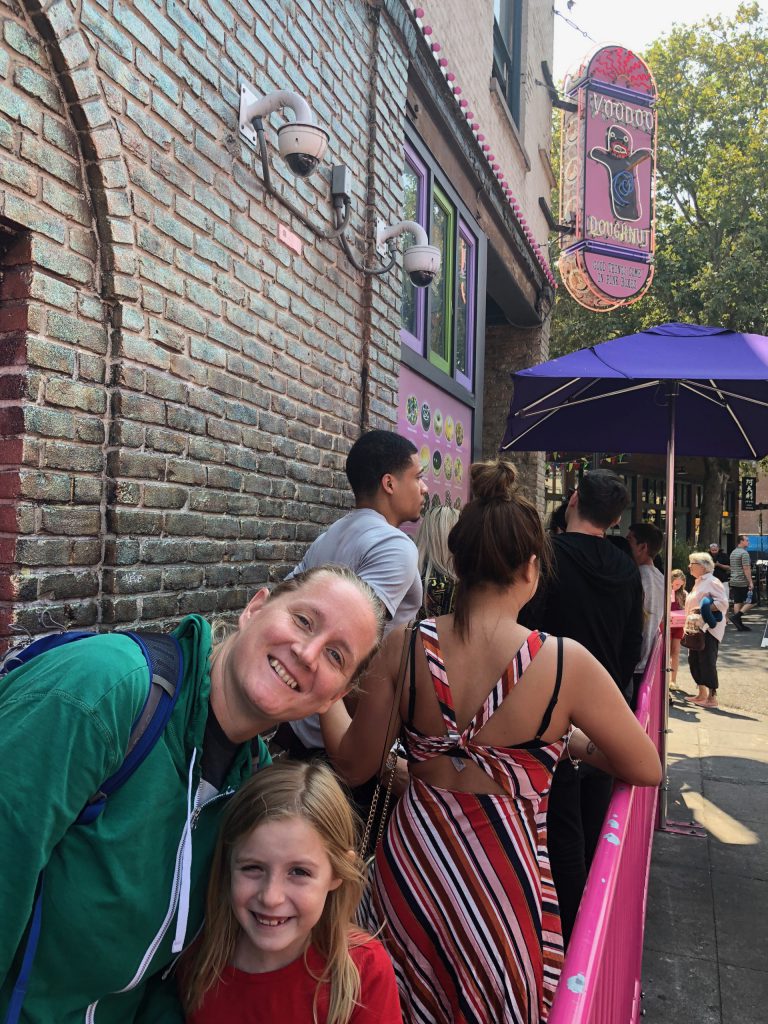 hazel, picking out her first choice. (she changed her mind when we got to the front, and chose the maple blazing blunt, which was sort of hilarious.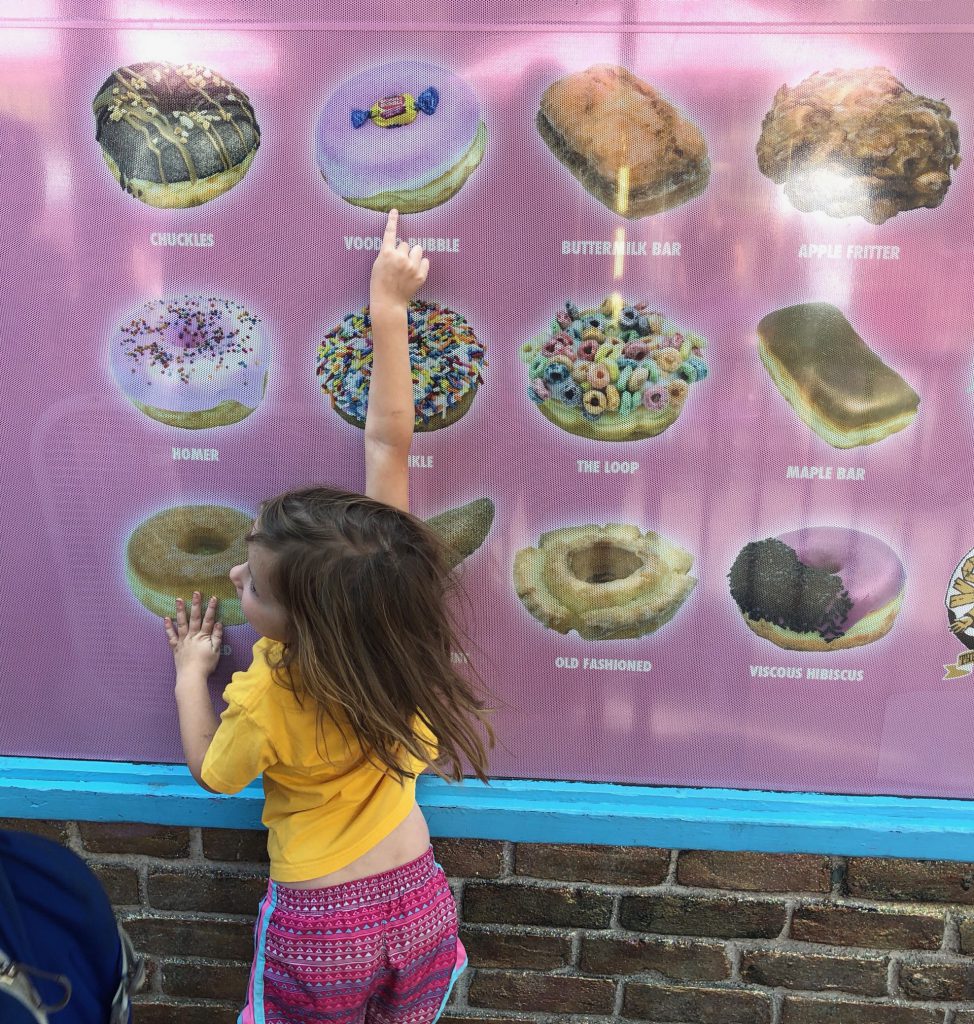 once we made it inside the tiny shop, the options and signage are a bit overwhelming.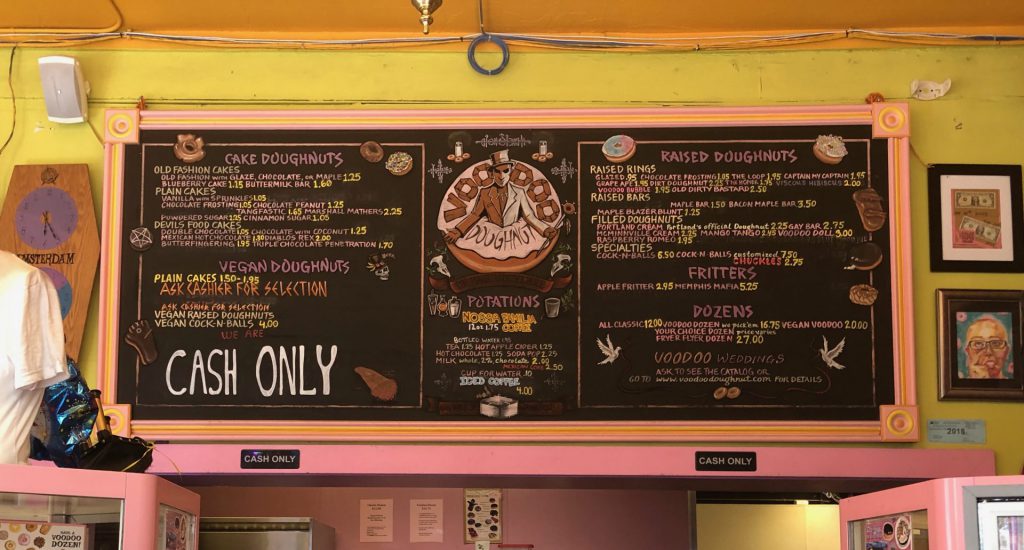 spining donut case with so many tempting options.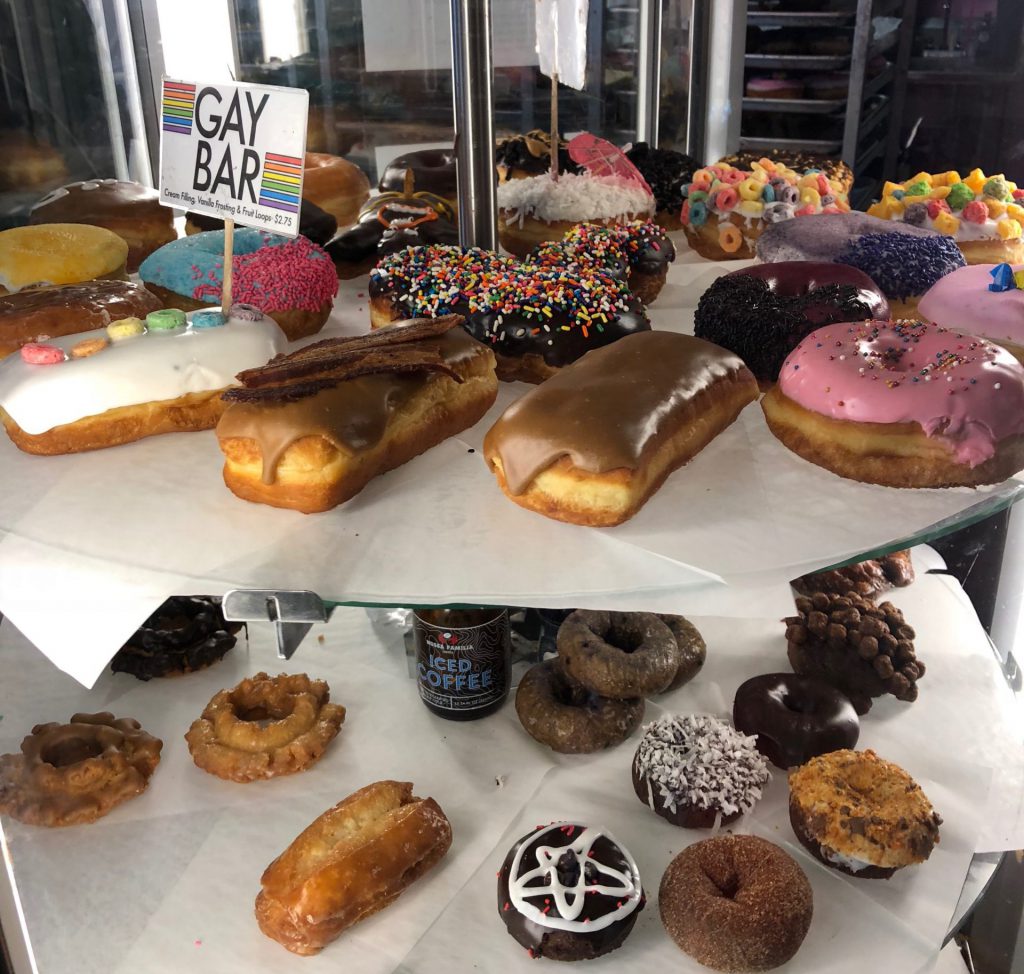 three sugar deprived lidkids, ready to eat some delicious donuts.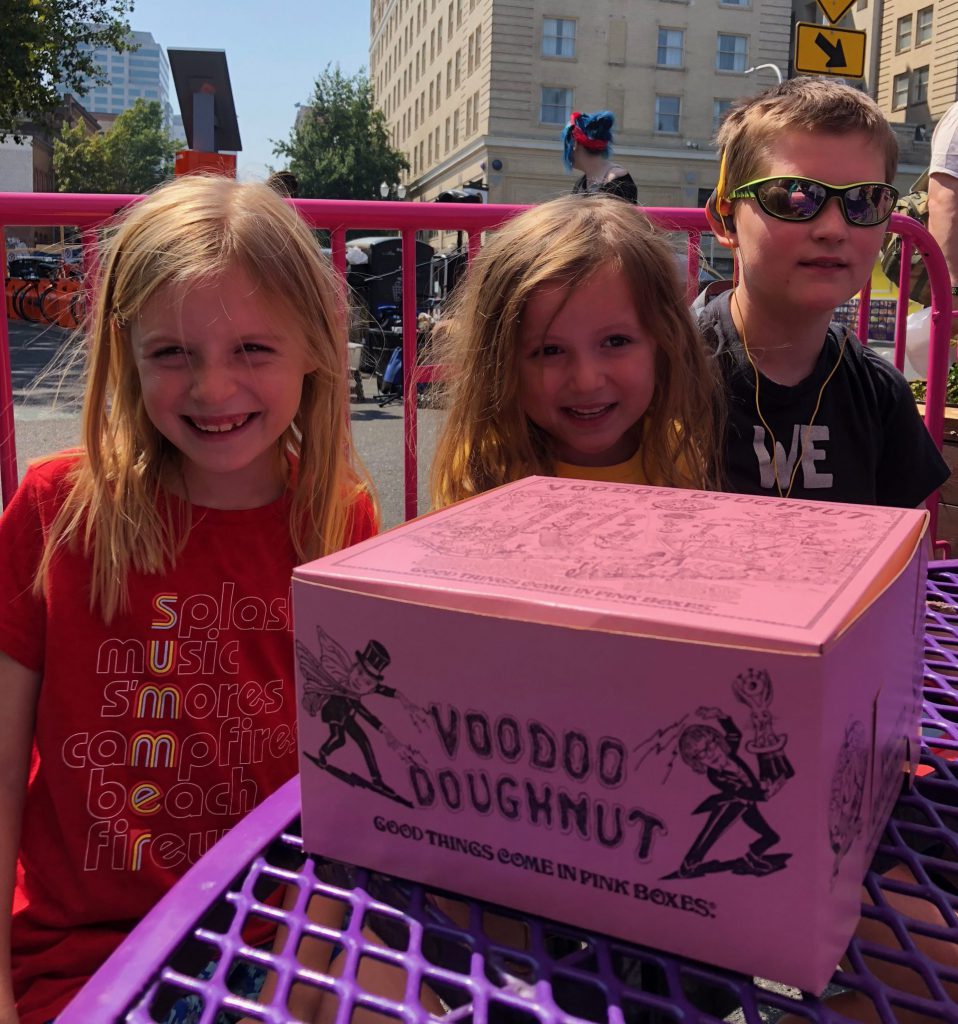 i obviously joined in the sugar overload fun, and would regret it later. but, look how happy i am before the sugar fest…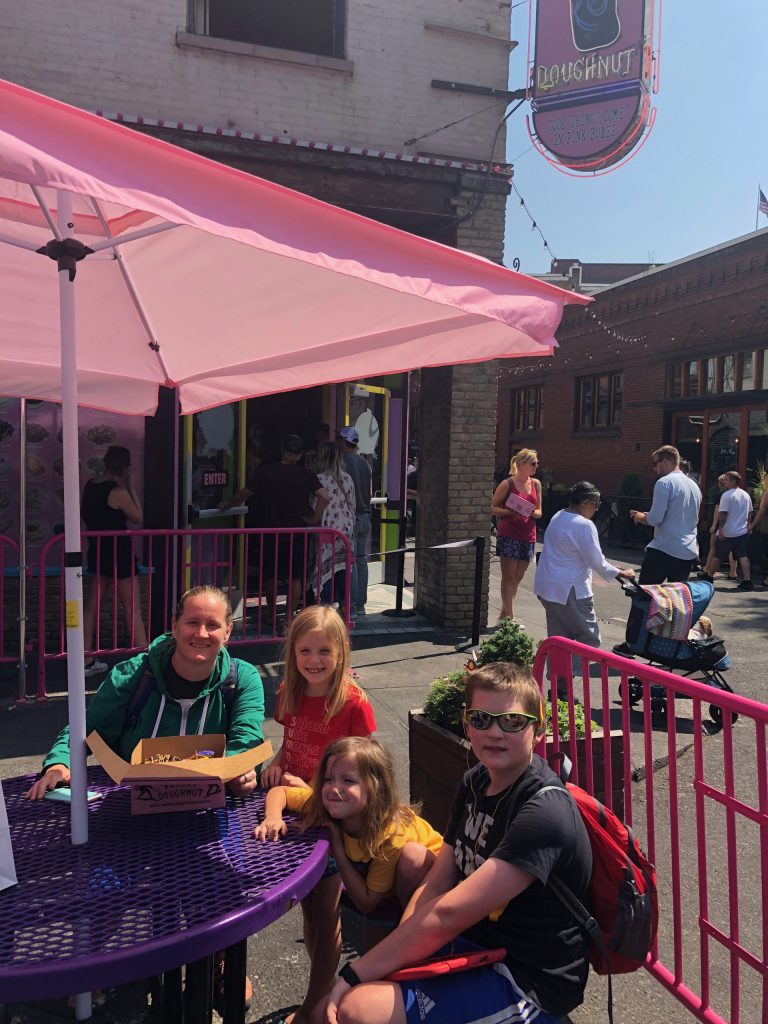 our box of fun donuts.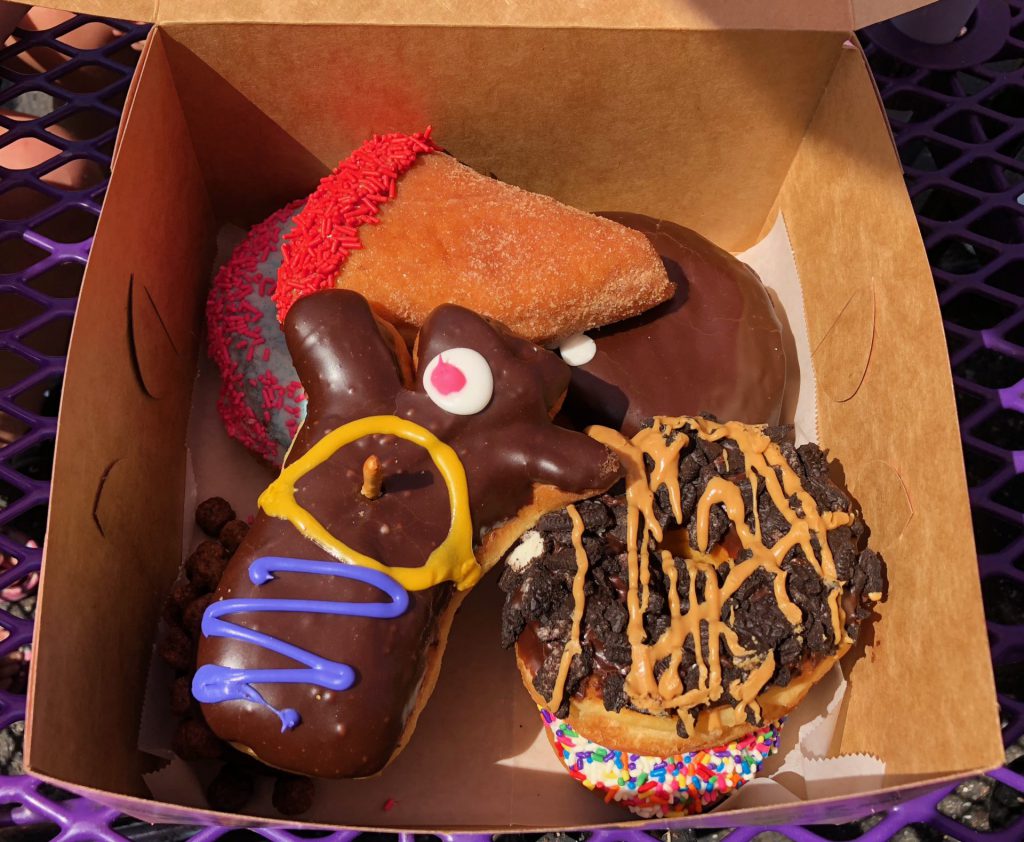 after donuts, we stopped at powell's city of books, which is a HUGE (worlds largest independent) bookstore that takes up an entire city block. but we didn't get to stay long, because we had to run out to meet my cousin and her son and girlfriend for lunch. (despite having just eaten donuts, yes). derek and i split delicious fish tacos and the saltiest reuben of all time.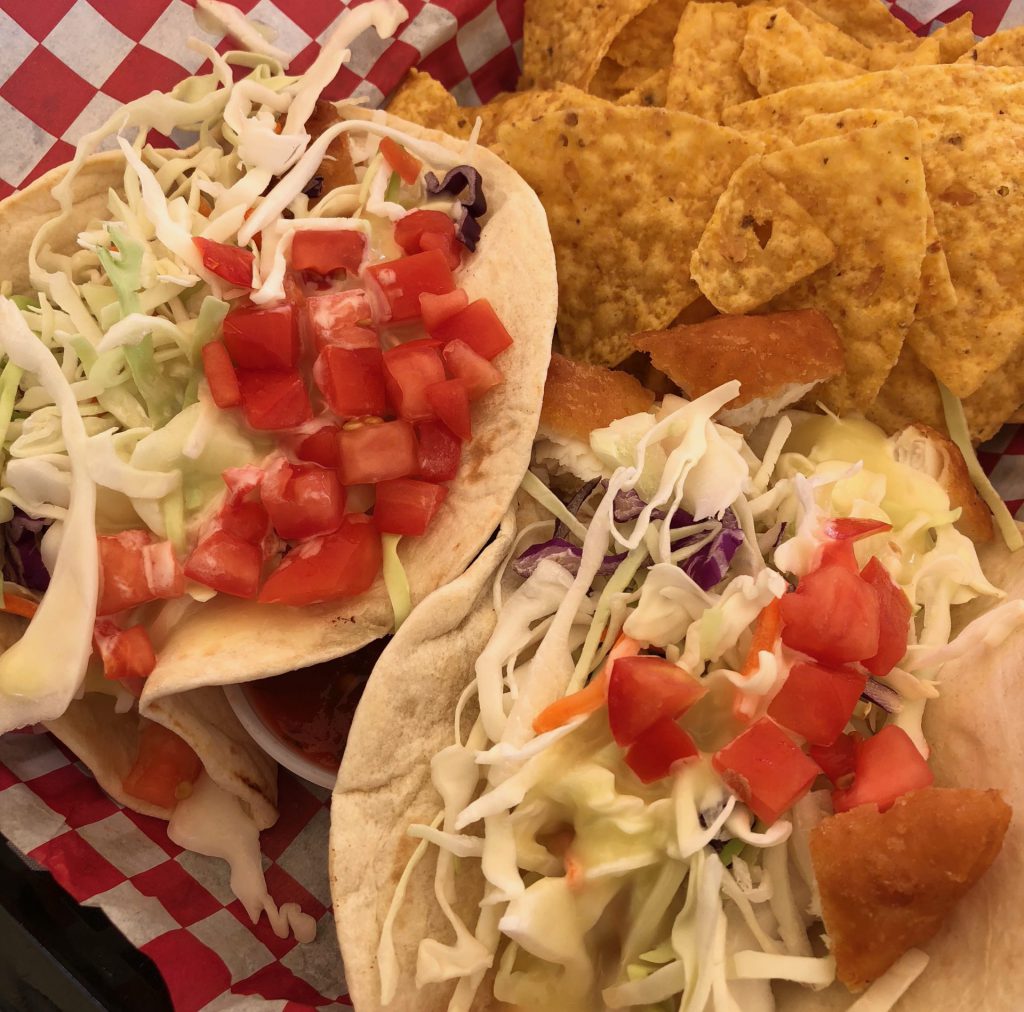 at that point, we were pretty tired (and not feeling great after two days of eating and drinking all of the things). so, we headed back to our moochdocked camper for the evening. oh. and side note of some importance. i had completely lost my voice at this point and had a pretty bad cough. so, overall. feeling pretty blah.
the next morning (monday), nicole and her fam all got back to normal life, but derek was off, so we planned to head back into portland for another day of adventures.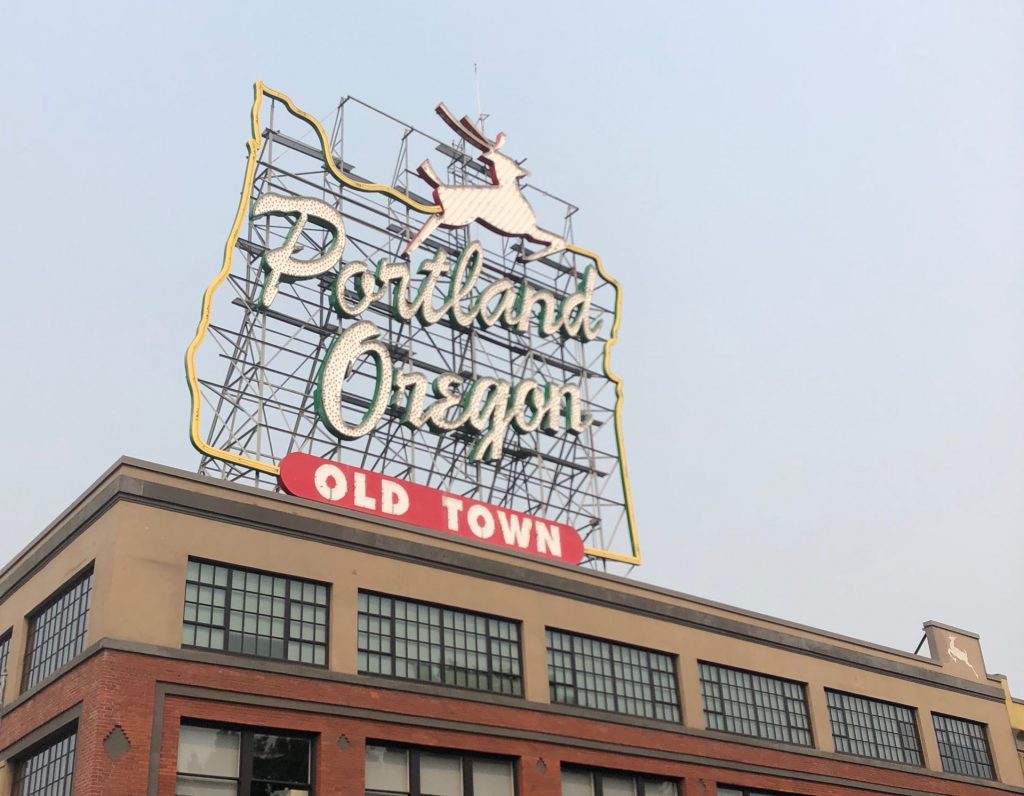 since our visit to powell's book store was cut short the day before, we had only had enough time to visit (and spend a million dollars in) the kids section, so we went back. it's pretty unassuming from the outside.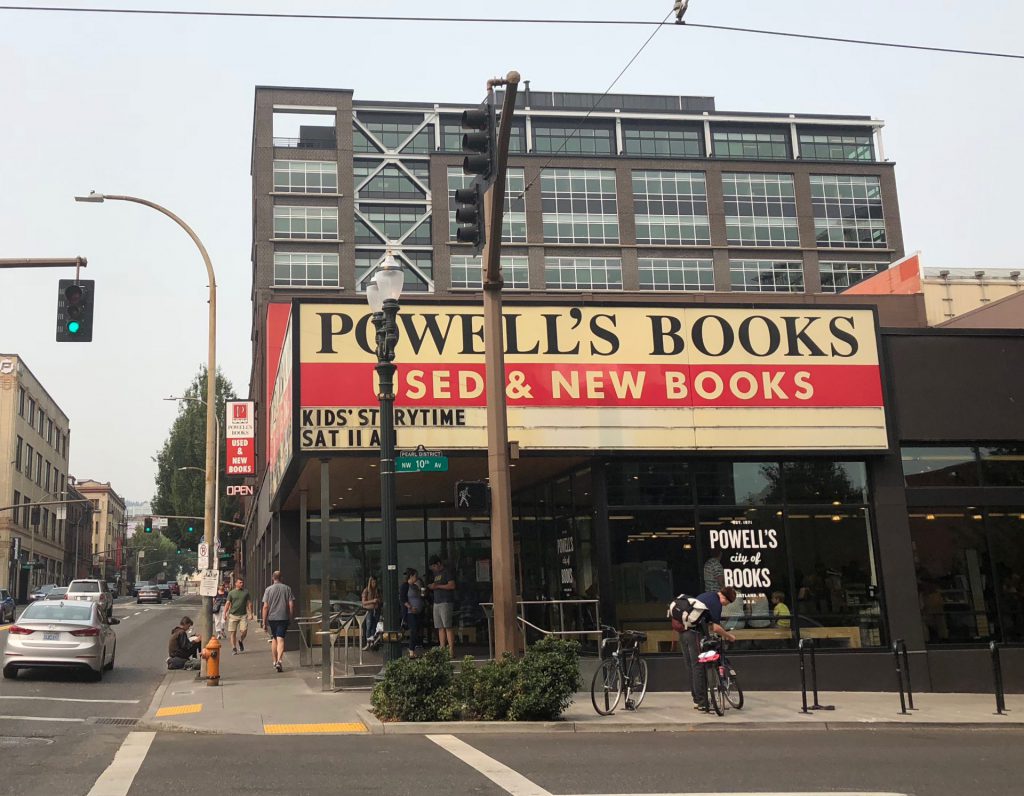 inside, it's divided into color coded rooms. each room could be its own huge bookstore. the size of the place was confirmed when, every few minutes, an announcement was made, attempting to reunite people who had become lost in the maze of books.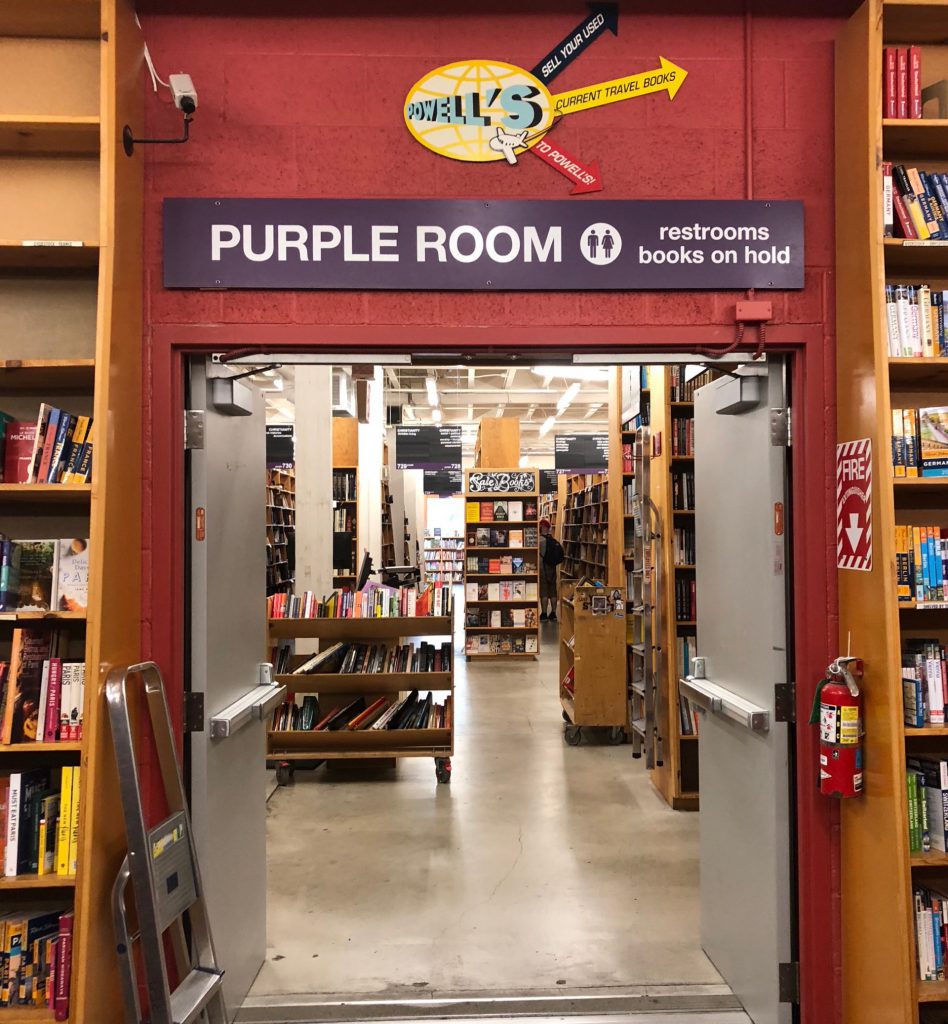 i scoured the walls of books for interesting reads and used copies of books on my wishlist.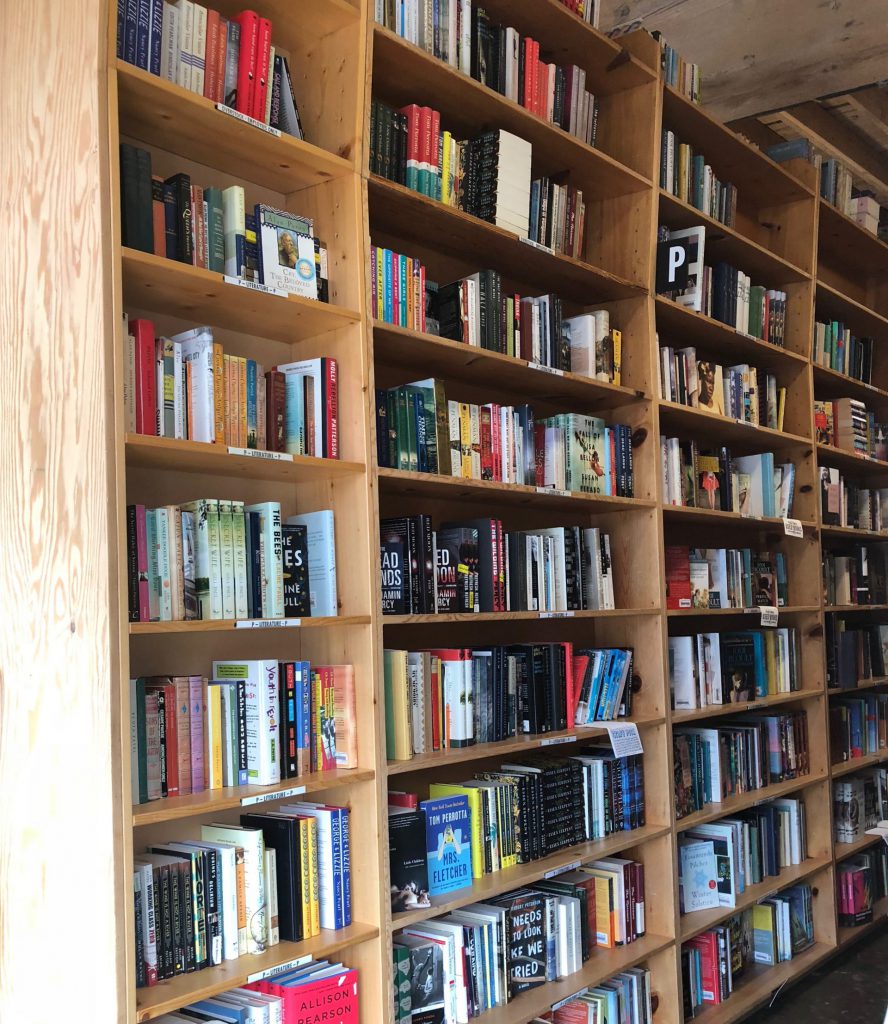 i loved this 80s throwback chalk art in the "all about oregon" section of the store.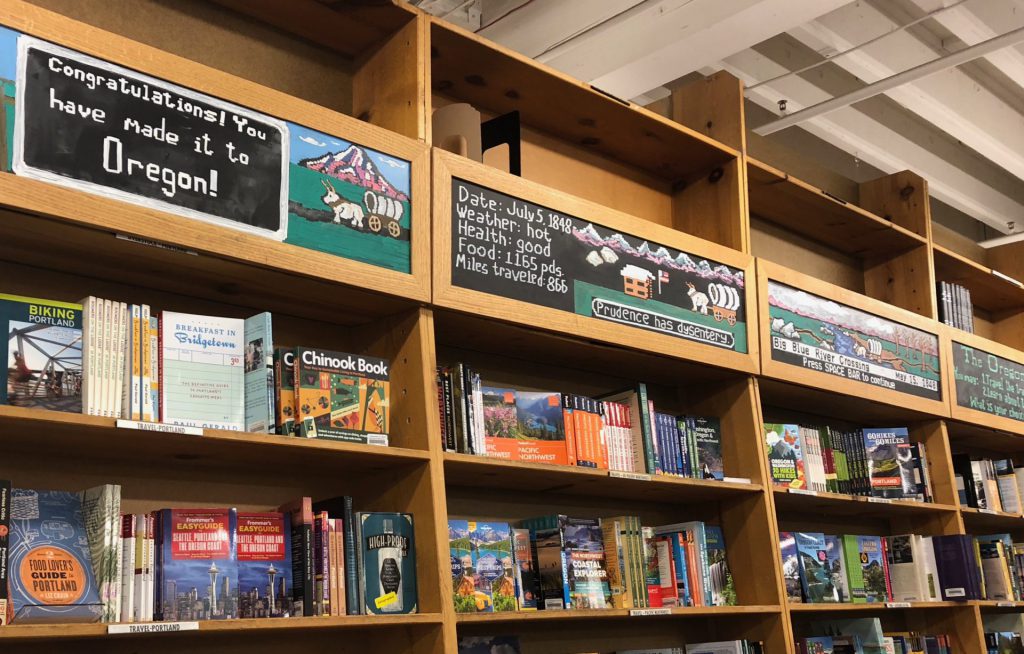 after i had a carefully curated selection of books and the perfect mug, we made our purchases, including more books for the spoiled lidkids. then we were off to lunch. but first. a little background info. growing up, i had a pal named brandon. we lived on the same street. our last names both started with s, so we were often seated nearby in our classes and were in the same homeroom for like seven years. we graduated together. and then his family moved away and i never saw him again. he eventually ended up in portland, and thanks to reconnecting on social media, we were able to plan to meet up. he found an excellent kid-friendly, parking friendly spot near his job site, called elephant's delicatessen.
that morning, i had decided to get back on the keto wagon. (i had gained 7 lbs in two days and i was feeling so terrible). there were plenty of keto friendly options, but with my sore throat, this chicken and veggie soup was PERFECT.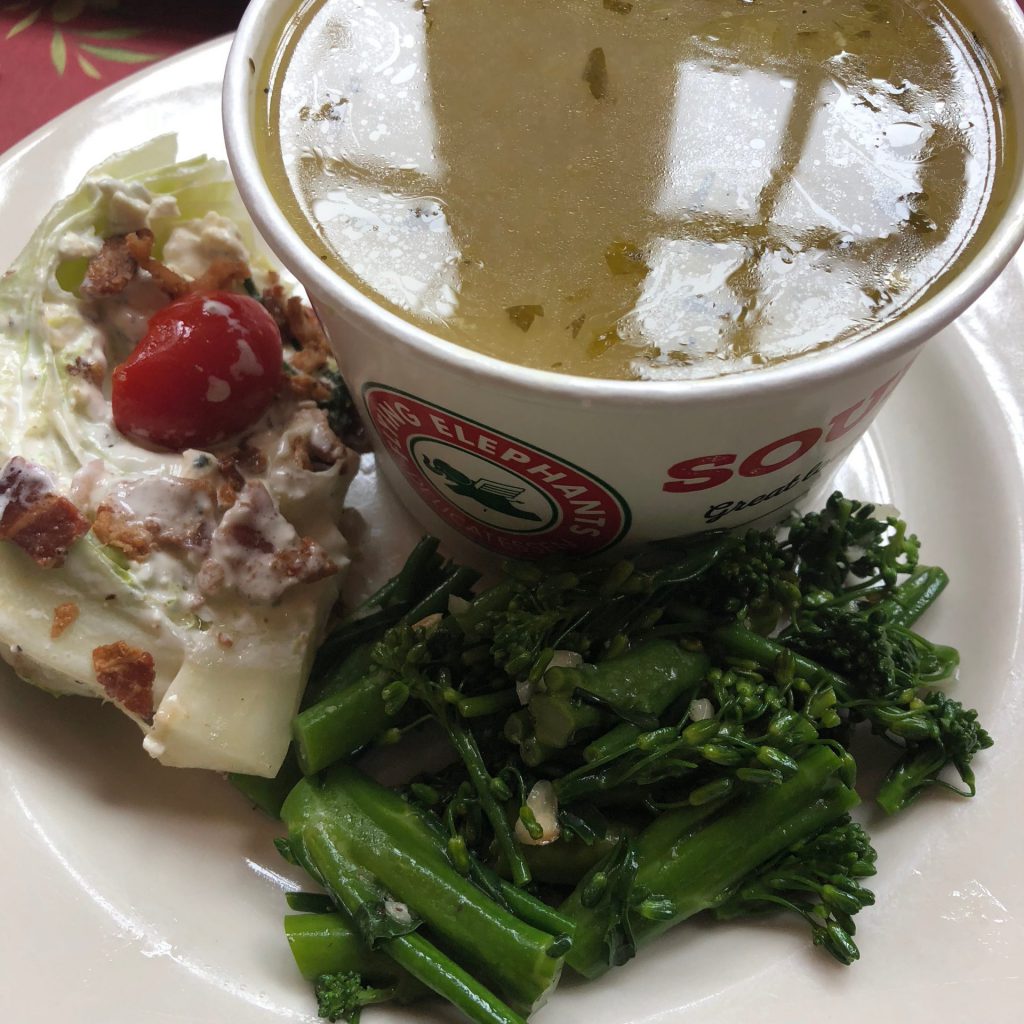 i had a great time catching up with brandon. it was just like old times. it's amazing how that works with high school friends. hopefully if we are ever back in the area, we can spend more time and meet his fam. but, for now, this would have to do.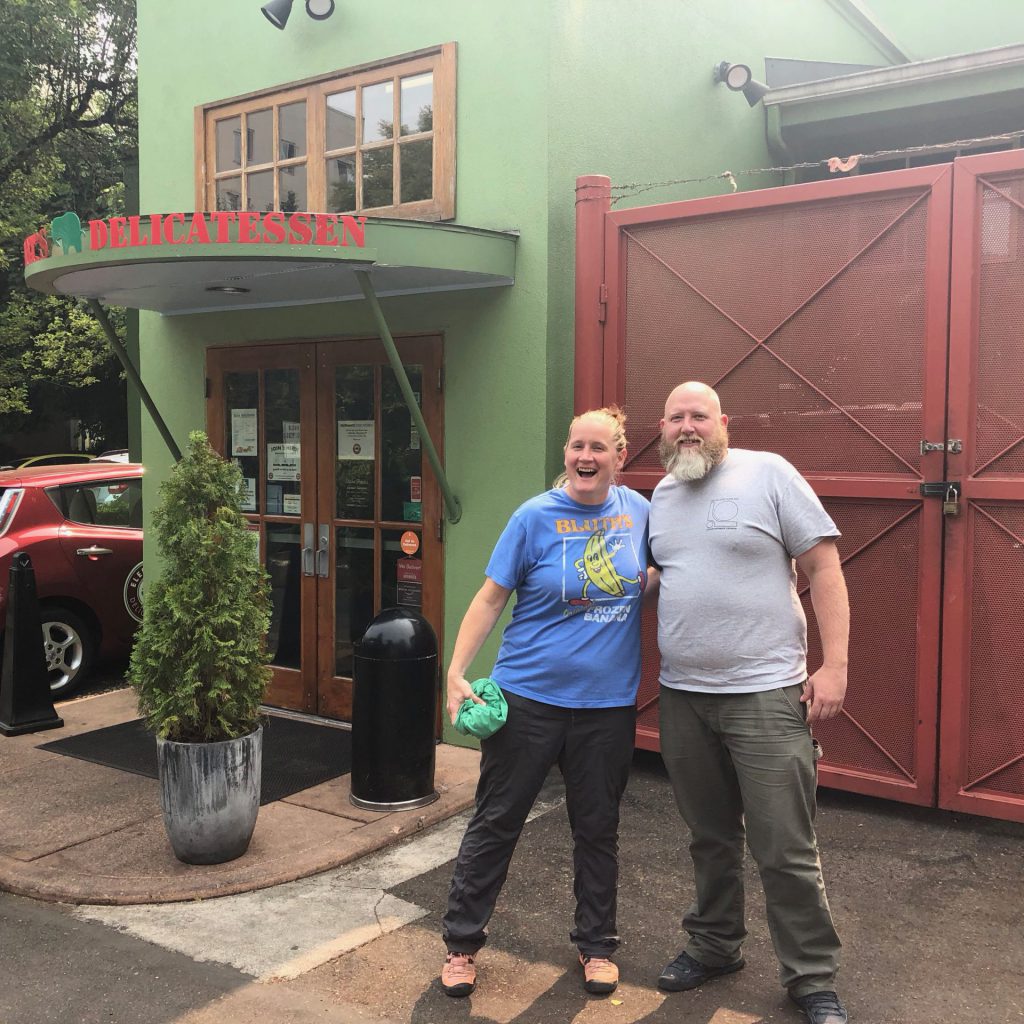 after lunch, our big plan for the afternoon was to hang at the oregon museum of science and innovation (OMSI).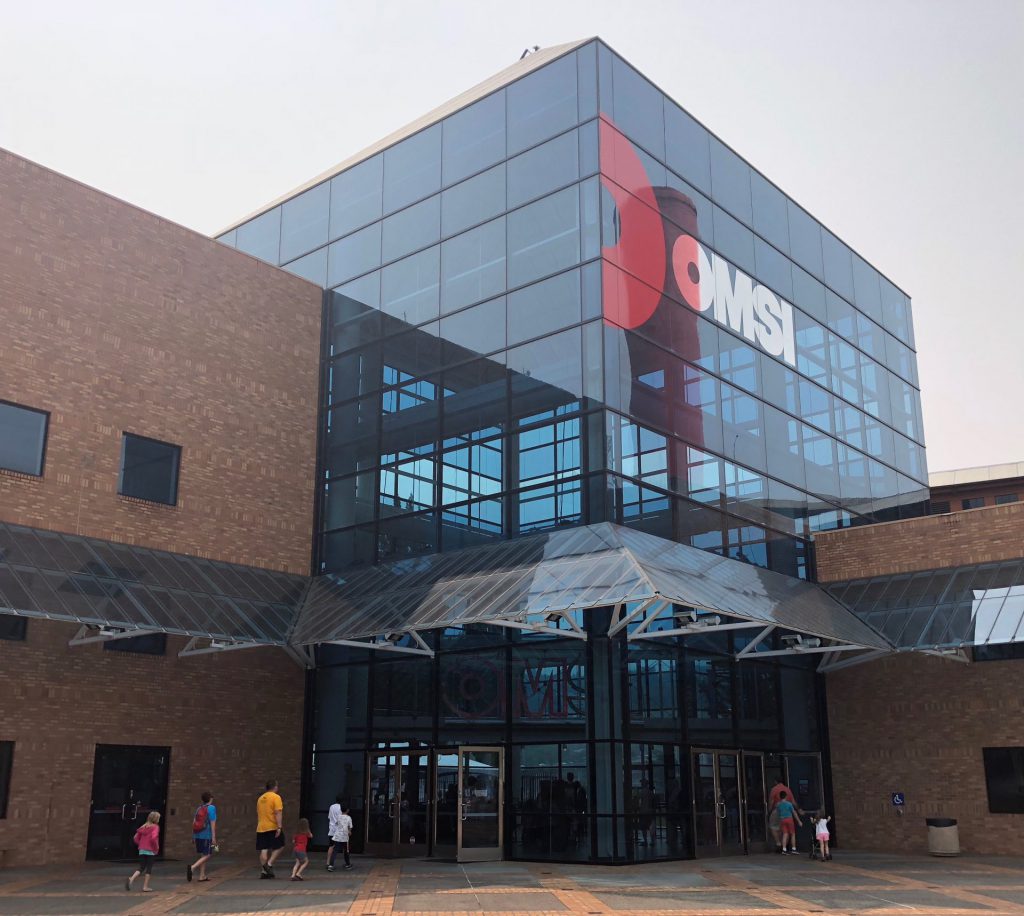 photobooths are always a lidkid favorite.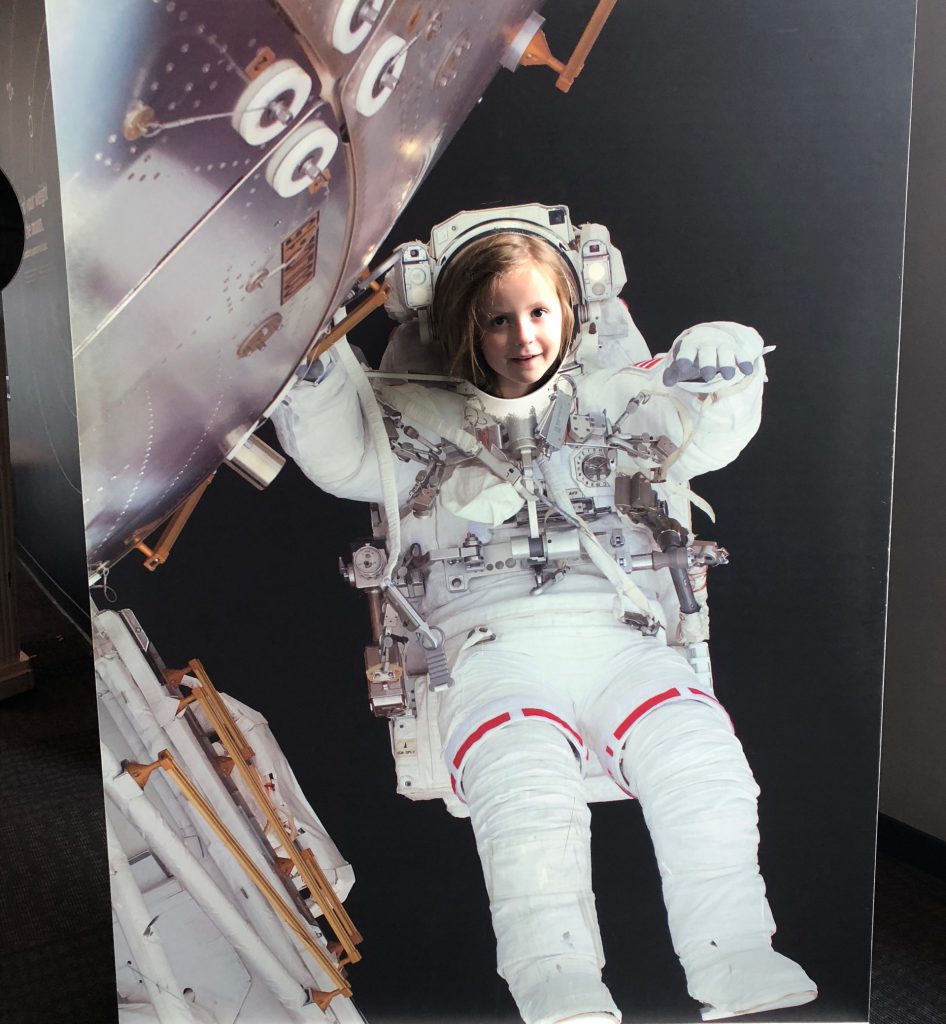 happy astronaut.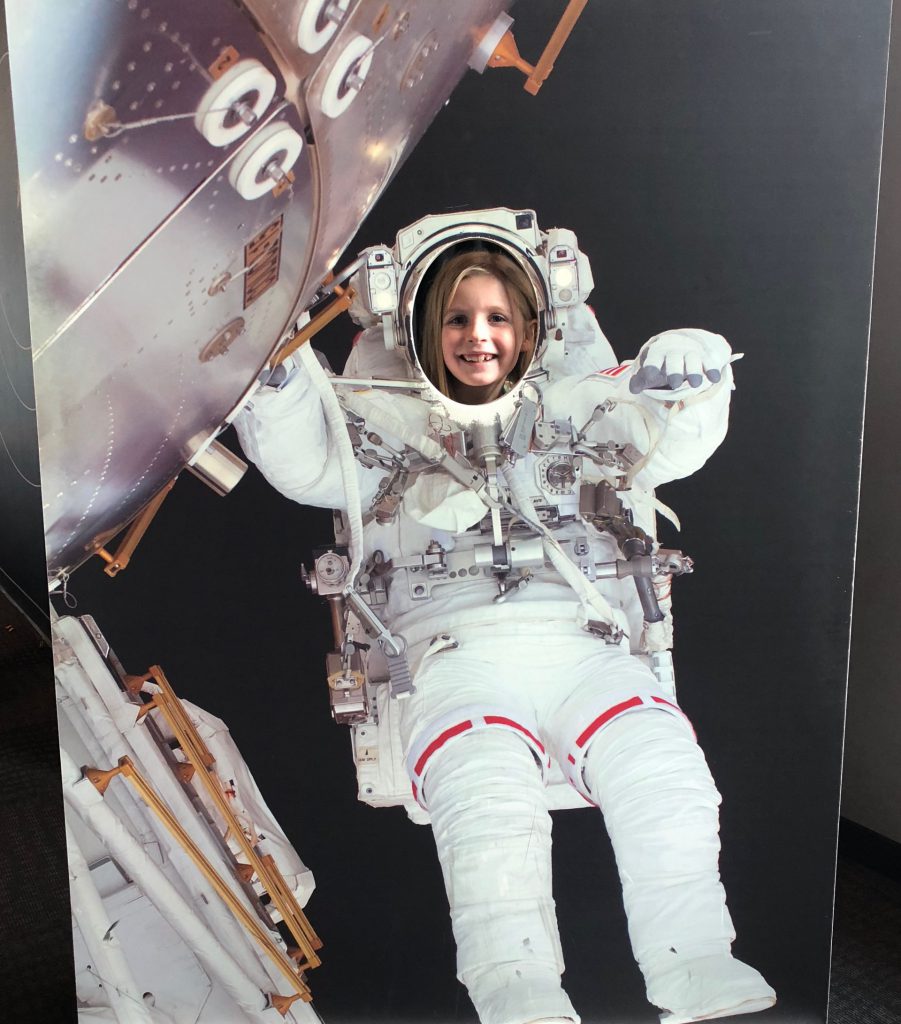 don't let it touch!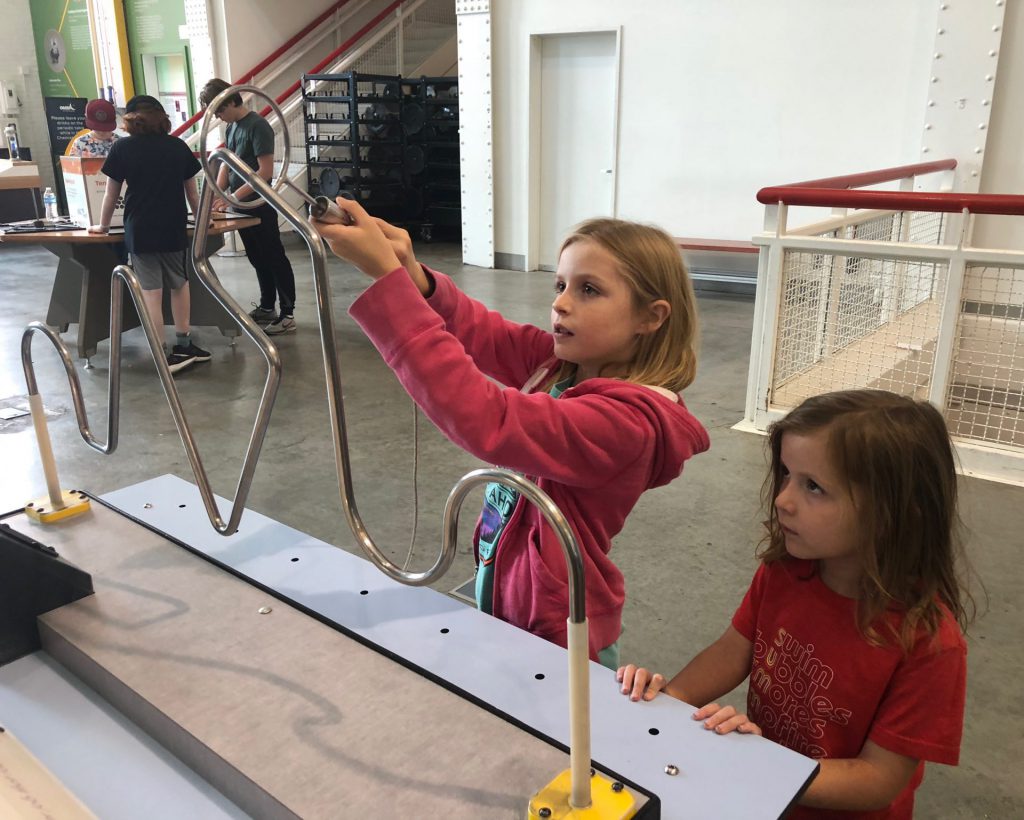 chemistry experiments.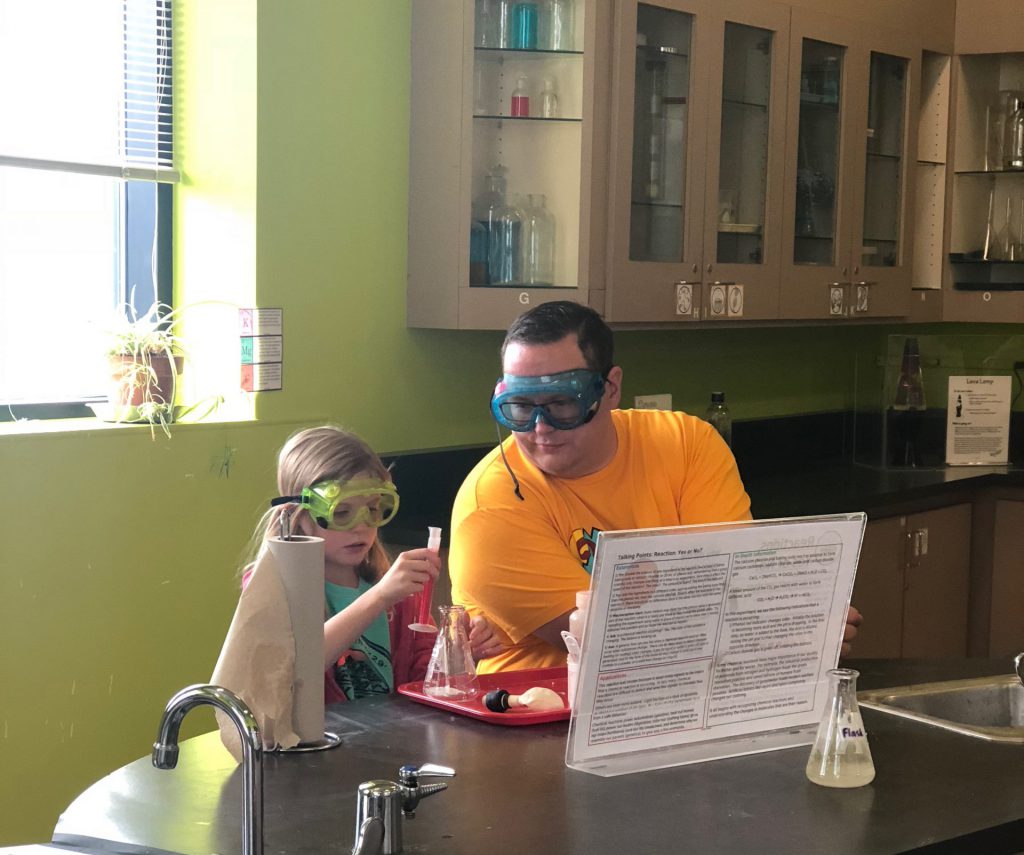 fractal kaleidoscope innards.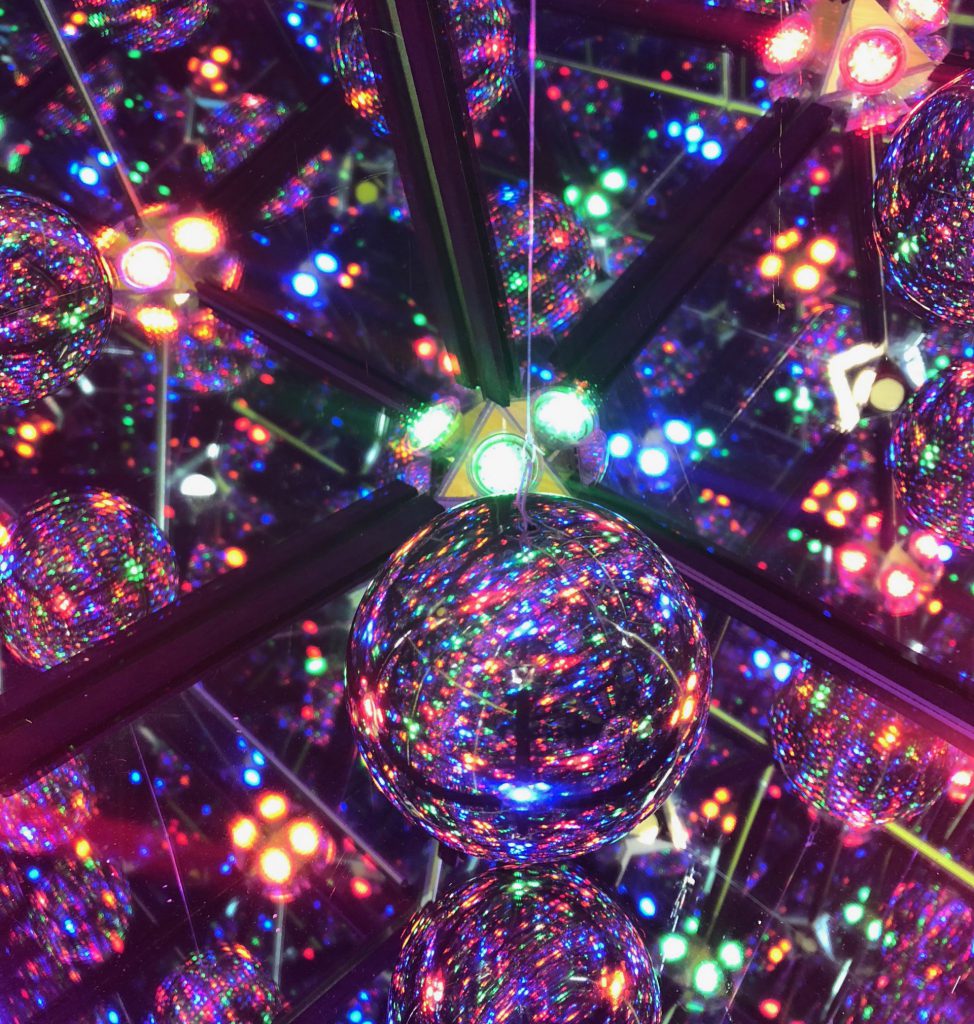 successful archway construction.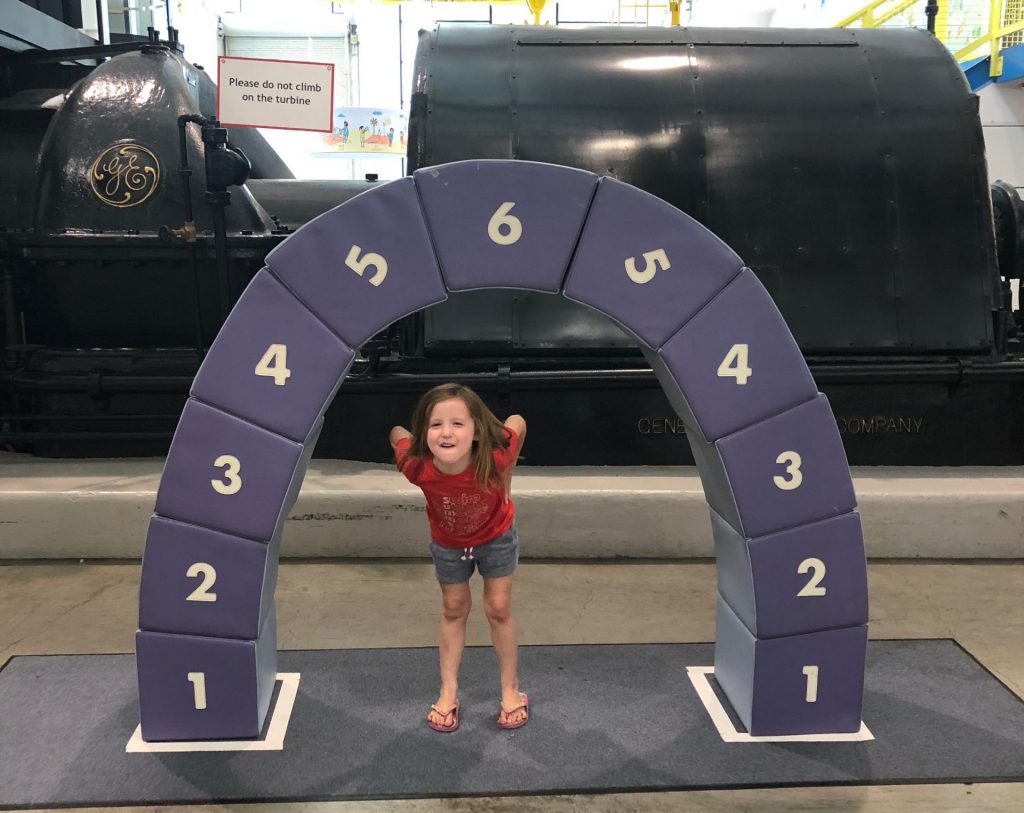 the highlight of OMSI was the robotics exhibit.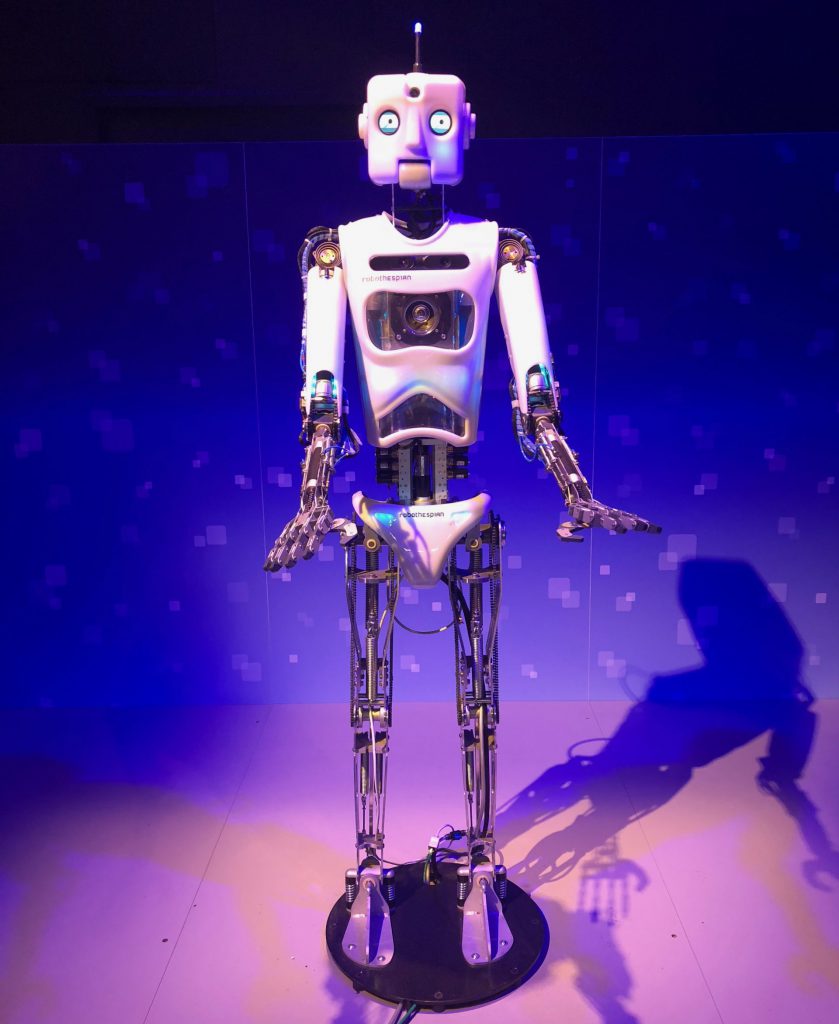 the kids got to control a few of the robots, which was way more exciting than watching a video about robotics.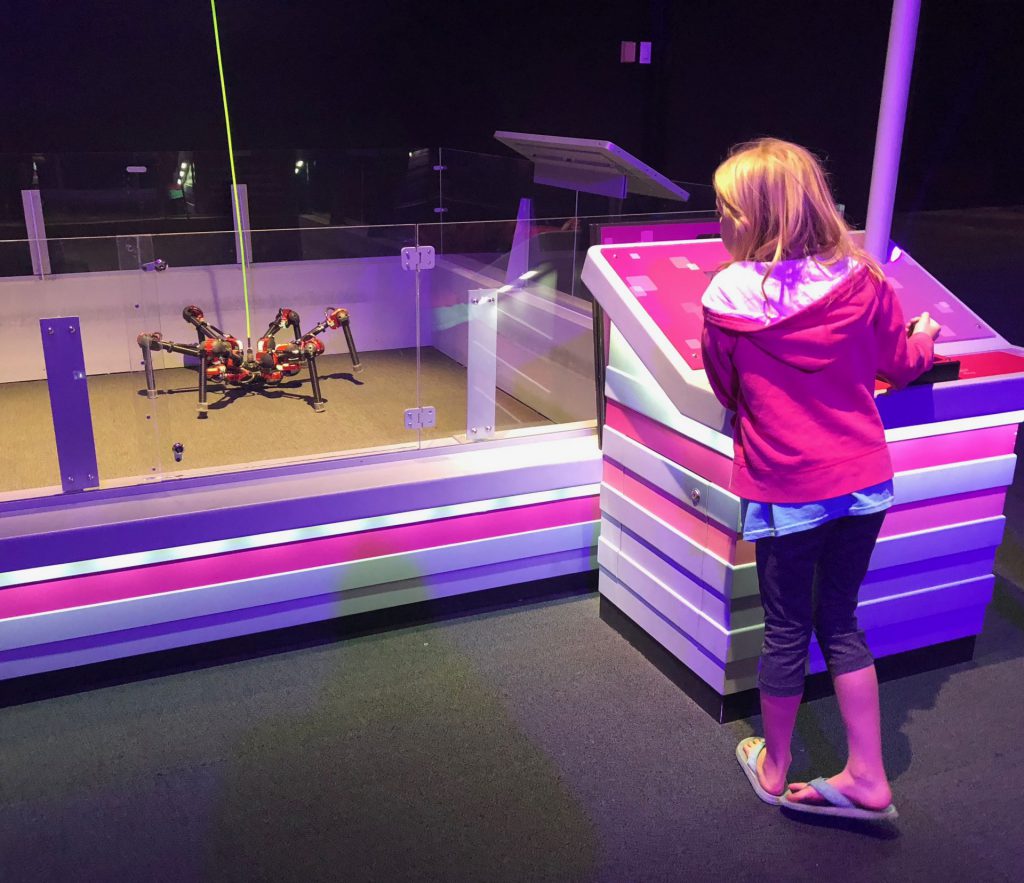 this little guy was super fun.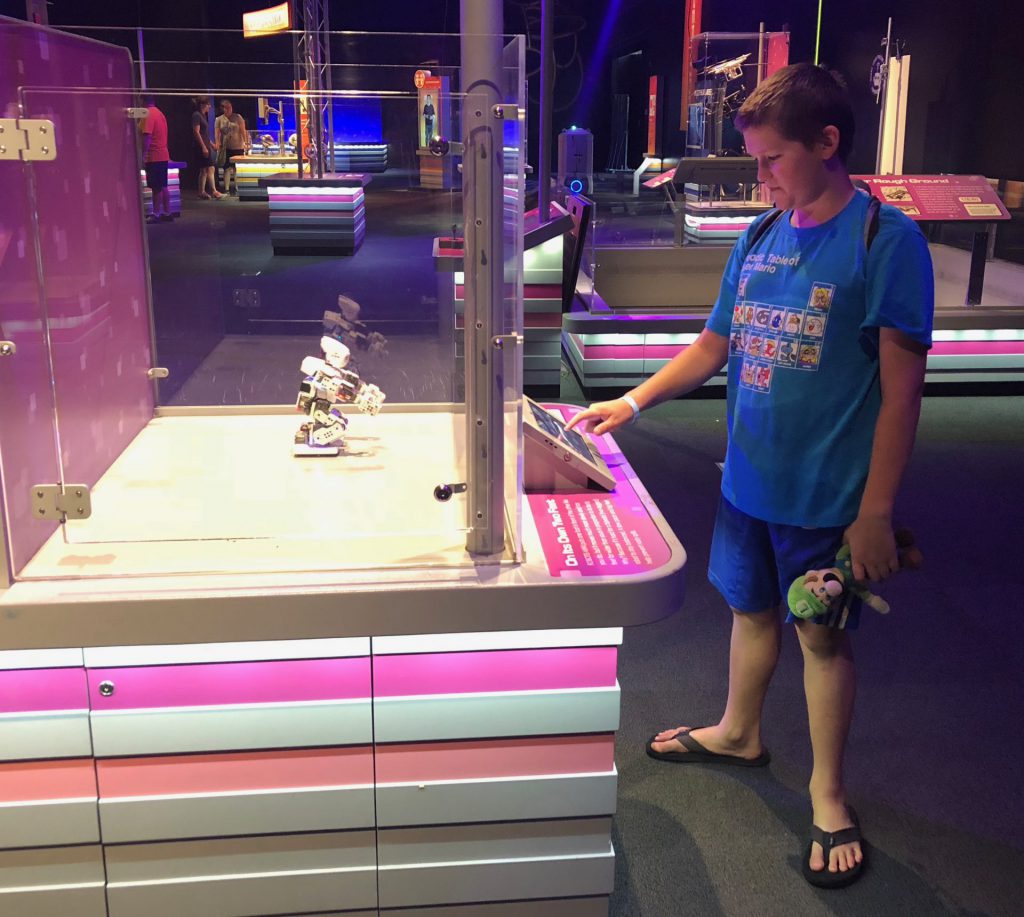 he could do pushups, handstands, and karate moves.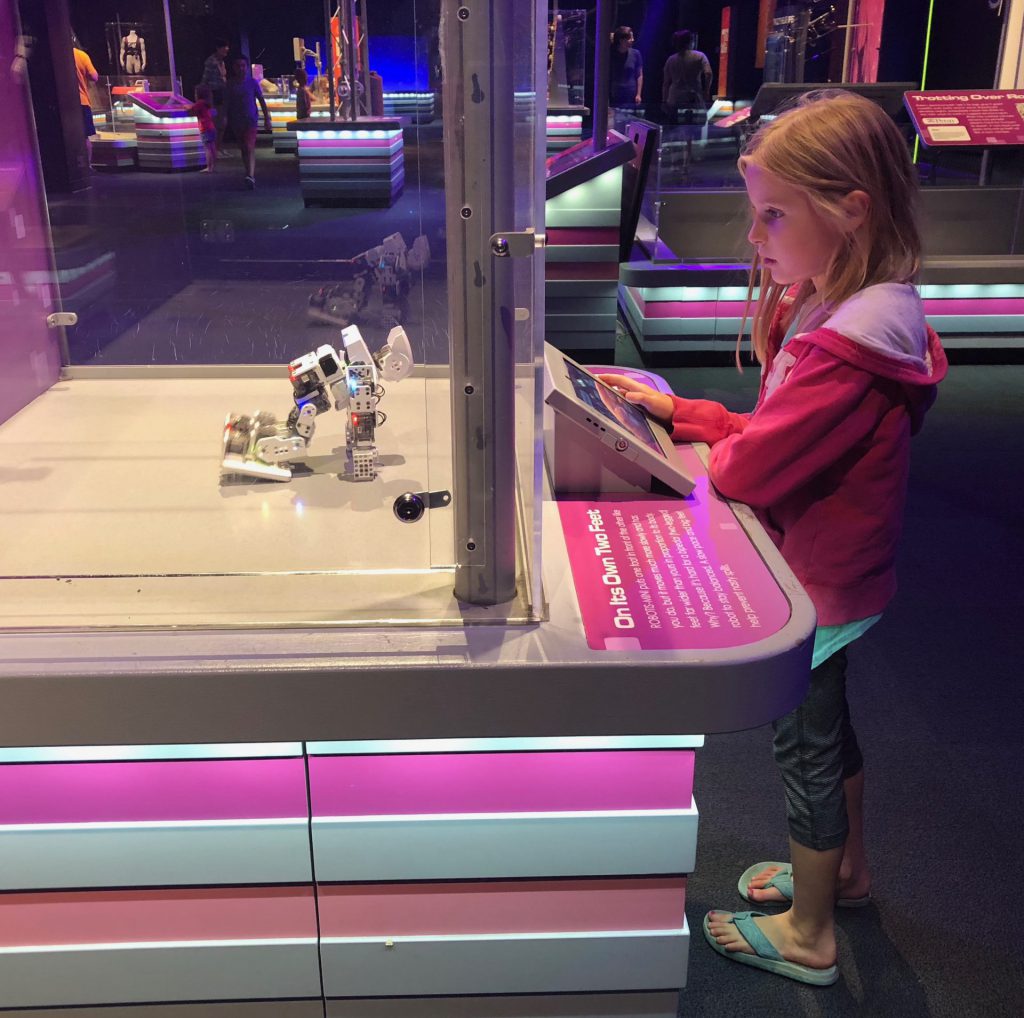 the lidkids loved playing tic-tac-toe against this robot. i think we tied everytime.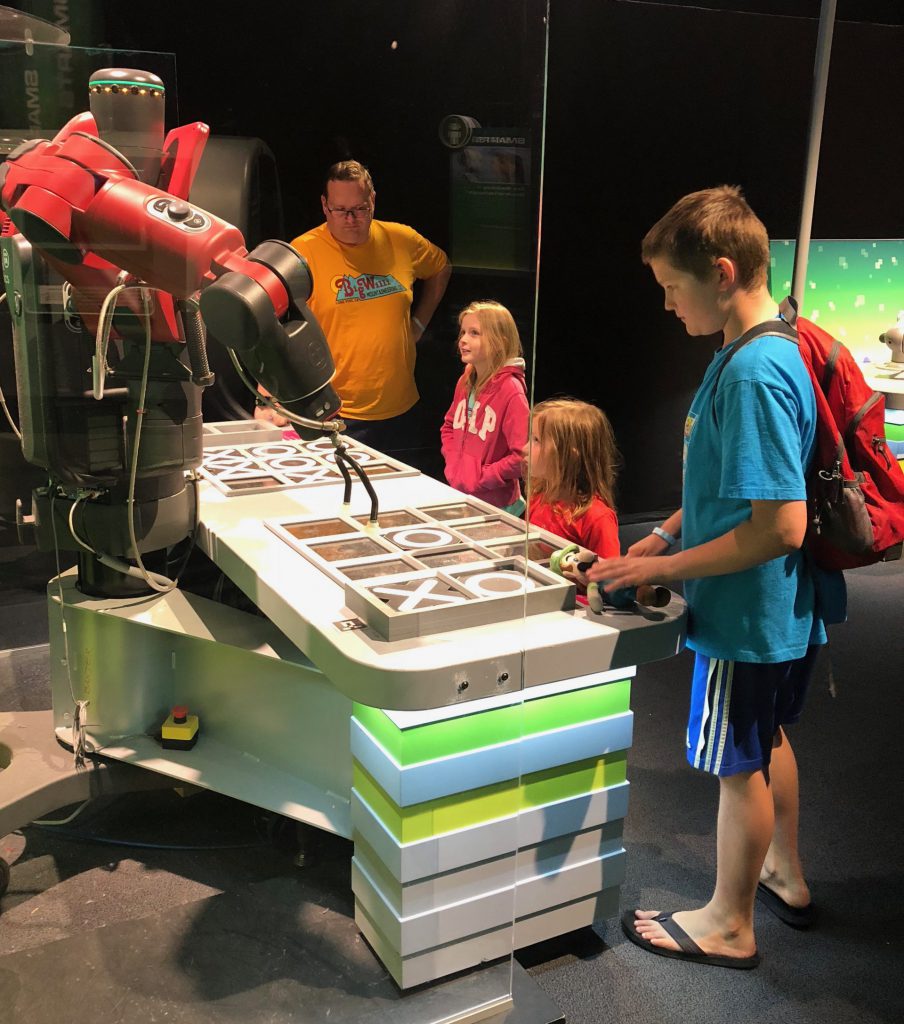 after the robotics exhibit, we decided to head back. we cooked dinner for my cousin and her fam, to thank them for their hospitality. then the next day, we got on the road, heading back to the oregon coast…