aside from a quick little trip to ny with anna and hazel, we laid low for most of september. we kicked off our homeschool year. and continued with co-op. football started. we baked a lot. anna started ballet officially. and there were lots of bugs and ruby snuggles.
firstly. we started homeschool. the room came together in the nick of time. the flooring. the shelves. chairs. desk. chalkboard wall. calendars. it looks like a proper homeschool room. now. it just needs cooperative kids. and on any given day, i have between zero to three of those. on day one, these two were ready to go: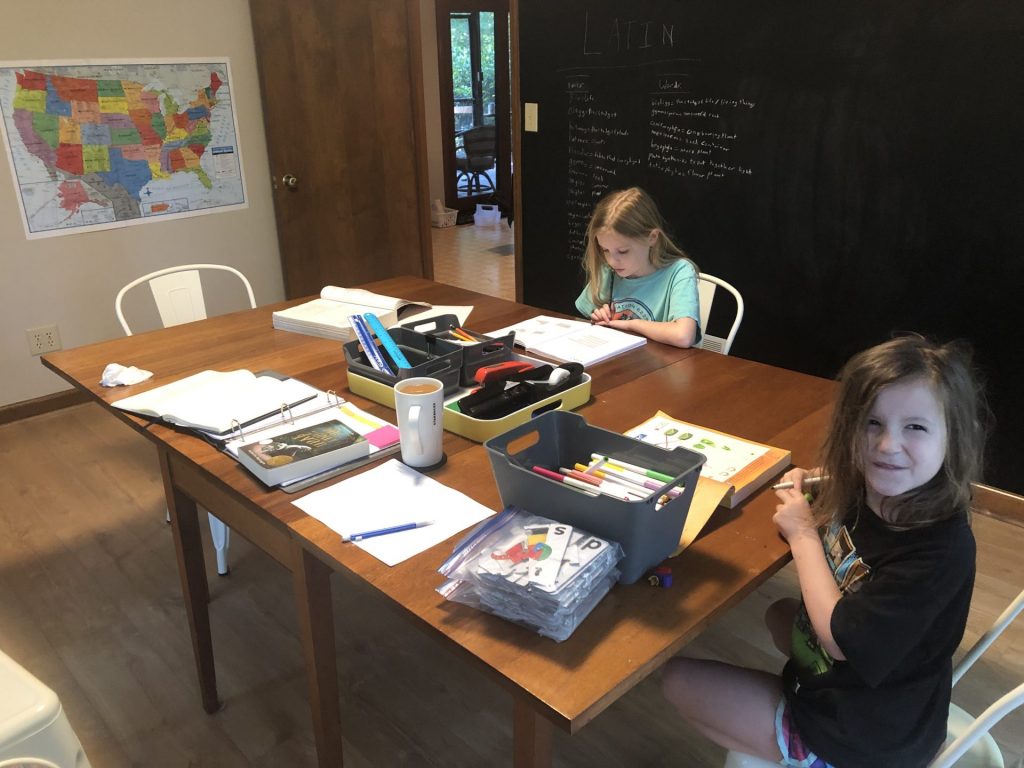 but it was a rough start for this one.
he's 100% sure that public school would be better than this.

sometimes its better if we let him change his environment.
but, eventually we got into the swing of things. there's still moments. and i'm still trying to work out what homeschool looks like for me (not a believer in traditional schools or academics). so, when it looks like this, i'm happy…
botany lesson.

she loves learning.

fern art, with ferns freshly picked from our property.
we dragged one of the comfy chairs into the school room, so i could read to hazel in there while the older two do other things. ruby is sure that it is just for her.
reading with our guest, ruby.

anna thinks it's funny.
our chalkboard is sort of used for school. quick lessons. lists of latin words. keeping track of onomonopaeias that we think of. but more often, it's used for giant art murals. i'm ok with that.
anna has been doing a bit of ballet over the summer, but several of the age groups and dance styles were combined and we never knew if one kid or twelve kids were going to show up. plus, the dance studio was transitioning to a new location. so it was sort of crazy.
well. in september, the official dance season kicked off in the new place. anna is taking ballet and tap/jazz and absolutely loves it. they are all so cute in their little leotards, but i get in big trouble from anna if i watch too much.
official first day pic.

the barre.

ballet moves with fancy names.

serious business.

jazzy moves.

post class circle time.
the kids have been LOVING co-op. and now that i am finally able to drop them off and leave the premises without anyone melting down and having a panic attack, i love it even more. but, i'm also not there to take pics or see them at lunch. luckily, hazel's pal lochlyn's mom stays around, and sends me cute pics of the girls at lunch. and her teachers send an email update with photos after each class. i have no idea what the other two lidkids do all day. 🙂
pals.

goof.

parachute day in busy brains and bodies.
and now. for the ultra-miscellany of september.
bums.

reading time. heart.

thriving herbs.

laundry sorters.

i tried to sneak my coffee in the wee hours of the morn. alone.

tantrums.

we made her retrieve a toy. then we made her vacuum up there.

contemplating taking ballet.

tiny paper baking supplies.

a banner anna made for my quilt room.

rescued snake from basement.

preying mantis capture.

fun on the field with gramma and grampa at cbds.
speaking of bugs and snakes…. here's an assortment of creatures we've spotted around our woodland property.
this garden spider set up shop in our front door for weeks. we were sad when she disappeared one day.

front row seat to murder.

GINORMOUS spider. found on kids bookshelf.

preying mantis.

woolly worm.

cuddly caterpillar.
there was a lot of baking. even isaac got into it. we are still learning the ins and outs of our ancient oven. and trying to figure out the most efficient way to work in this (burnt orange) space. a lot more experiments will be run…
firstly. keto chocolate chip cookies.
made by me.

pancake sous chef.

chocolate chip cookies.

happy bakers.

our pal kaylin joined us for some baking.

aerial view.

we helped her make up a missed event at her american heritage girls group.

scooper.

isaac made cornbread, using the stone ground cornmeal from the great smoky mtn np.
in other news that probably nobody cares about. football season started. and derek found a way for me to stream bills games. i made up a fancy new fleece blanket with fabric i bought in new york (and the world's worst cashier of a joann fabrics). and football was watched.
with tea.

with wings.

with sidekicks.

number one fans.
and finally. to wrap up september. an onslaught of ruby themed pics. she's finally 100% potty trained. and is settling in quite nicely as our fourth and final child. she has a lot of personality and is incredibly patient with the other lidkids. we are fans and i'm glad we stuck it out.
bean bag snuggles.

well. she still does this.

comfy.

frisbee.

crate snuggles.

coffee company.

hazel hugs.

hazel kisses.

homeschool helper.

playtime associate.

i believe this might be her chair.

bedtime with hazel.

her happy place.
ahhhh! i did it. i think this was the worlds longest post. onto october!!