on our first trip to acadia, three years ago, i hiked the beehive trail alone. from the moment we booked this trip, anna has been plotting and planning all of her adventures, and hiking the beehive with me was on the top of her list. so, on day four, we all hopped on the shuttle, to head to the trailhead….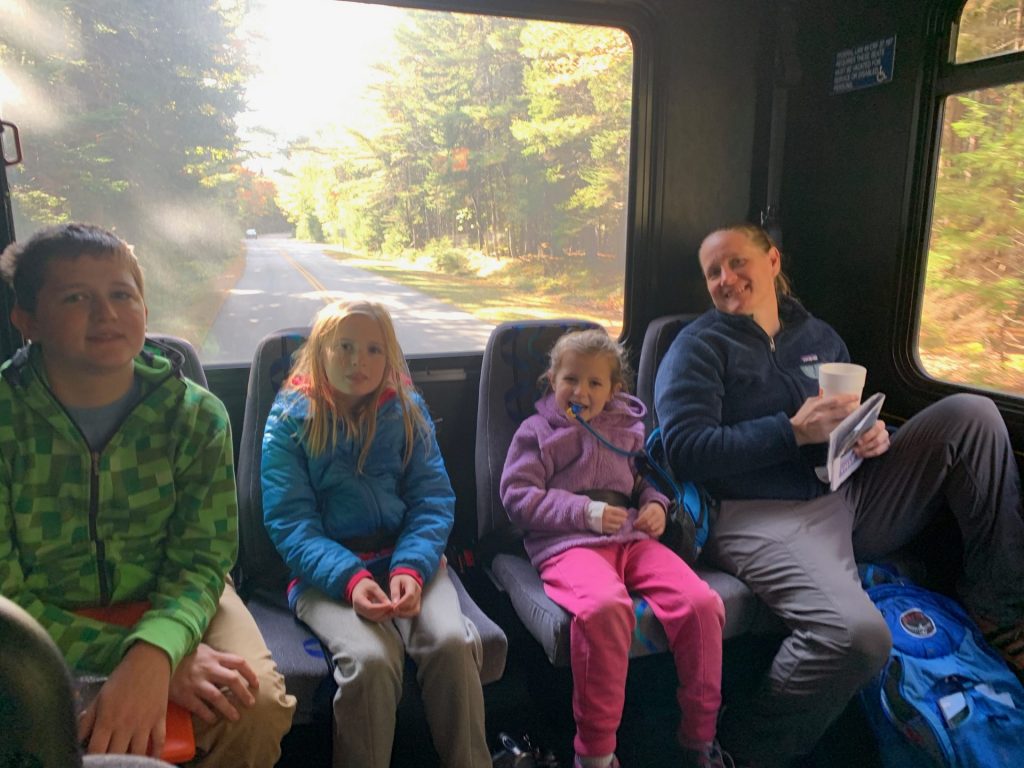 we all hiked together until the trail splits, and then anna and i went right, to head up the flat rock face of the beehive. the rest of our posse took the longer, less strenuous, less dangerous, and dog friendly route to the top.
we love adventure!

and danger.
derek took this shot of his posse on the way up the backside.
the hike is very short, but also very vertical. there's really not many scary spots. there's lots of rungs and places to hang onto, if you're uncertain.
ascending.

sort of scary.
we had heard from some folks we met at the campground that the views of fall foliage were great from this hike, so we were super excited as we climbed, when we started to glimpse some golds, oranges and reds…
colors!

excited about colors!
then we focused on climbing. i didn't get many pics, you know, because of trying to keep anna alive and not falling off any cliffs or whatever. maybe someday, i can go first and get some pictures not of her butt. anna was a champ and just chugged away.
when we could, we stopped for selfies and fall foliage photoshoots. the higher we got, the prettier the views…
we also happened upon some fellow hikers that offered to take pics of both of us, which was nice, to get some shots that aren't washed out pics of our upclose faces in selfies.
in almost no time at all, we reached the final climb and reached the top. we were proud of ourselves. 🙂
last rungs.

almost there.

proud beehive summiters.
at the top, we found our missing people and dog and hung out for a bit, taking a million photos, eating some snacks, and taking in the views.
should have been our family christmas card, if i were a person to do such things.
and then it was time to head back down….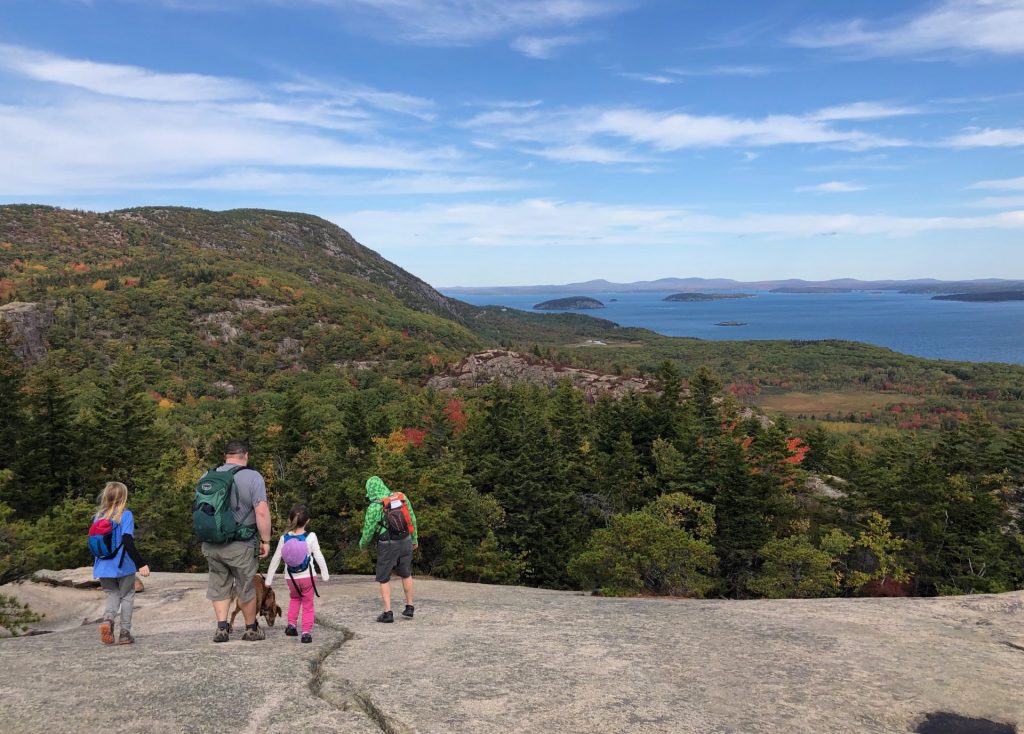 we took a different route down, detouring to check out "the bowl" which is a pretty pond/lake type thing behind the beehive. there was lots of granite scaling…
action shot of the hiking fam.
and then we got our first peek at the bowl. not too shabby…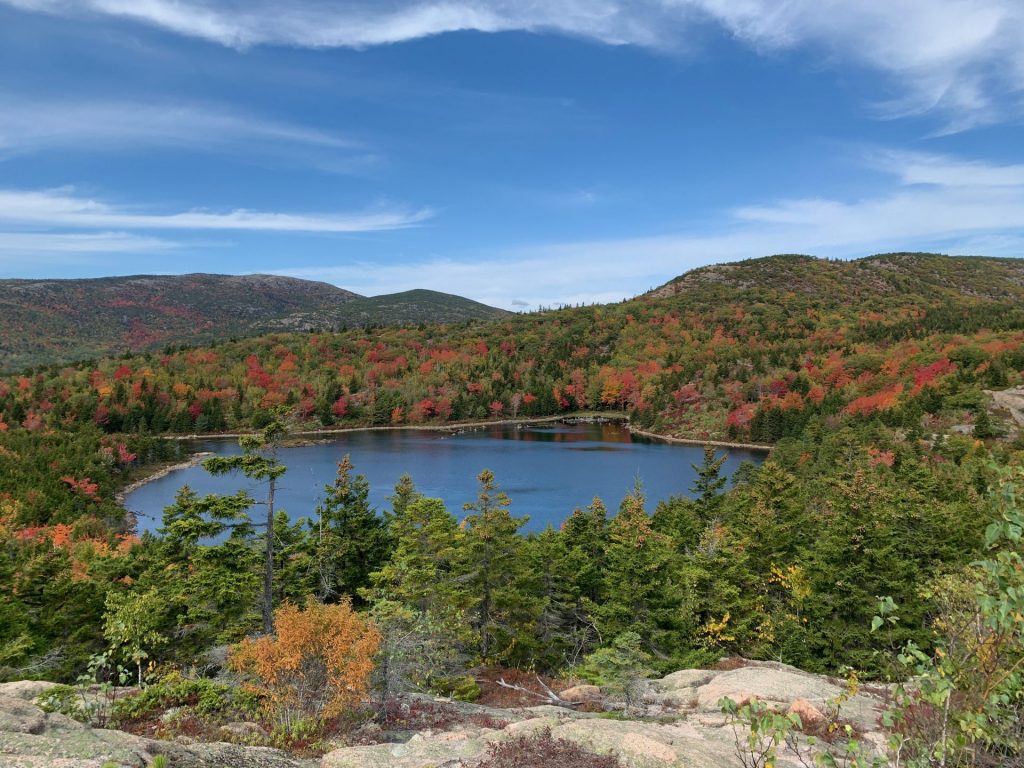 we made our way down to the water's edge.
cutest.

also cutest.

all four lidkid/dogs.
as with the rest of acadia, the water was crystal clear, and the surrounding scenery was perfect. we hopped around on rocks for a bit, took some photos, etcetera and so on…
tempting fate.

mom pose pic.

fam.
ruby snuggles.

lidkids.

literally the best picture of all time.
after our time hanging out at the bowl, we made our way back to the trail head, which happens to be at sand beach (which you could see in most of the pics of anna and i climbing the beehive). we went down to the beach for a bit, but then hazel fell in some water and screamed bloody murder and i received all the judgy eyes from all the other moms, so we took off to hike along the ocean path.
all the photos.

best little hiker.

the family that scrambles together…
i have a lot of great (and some not so great) memories from this "hike" on our first trip to acadia. we were recounting them along the way. the kids were decidedly better this time around. for so many reasons…
for example: not in a backpack.

another example: not crying.

i never want to leave.
hiking sisters.

rock scrambling is his fave.

i still never want to leave.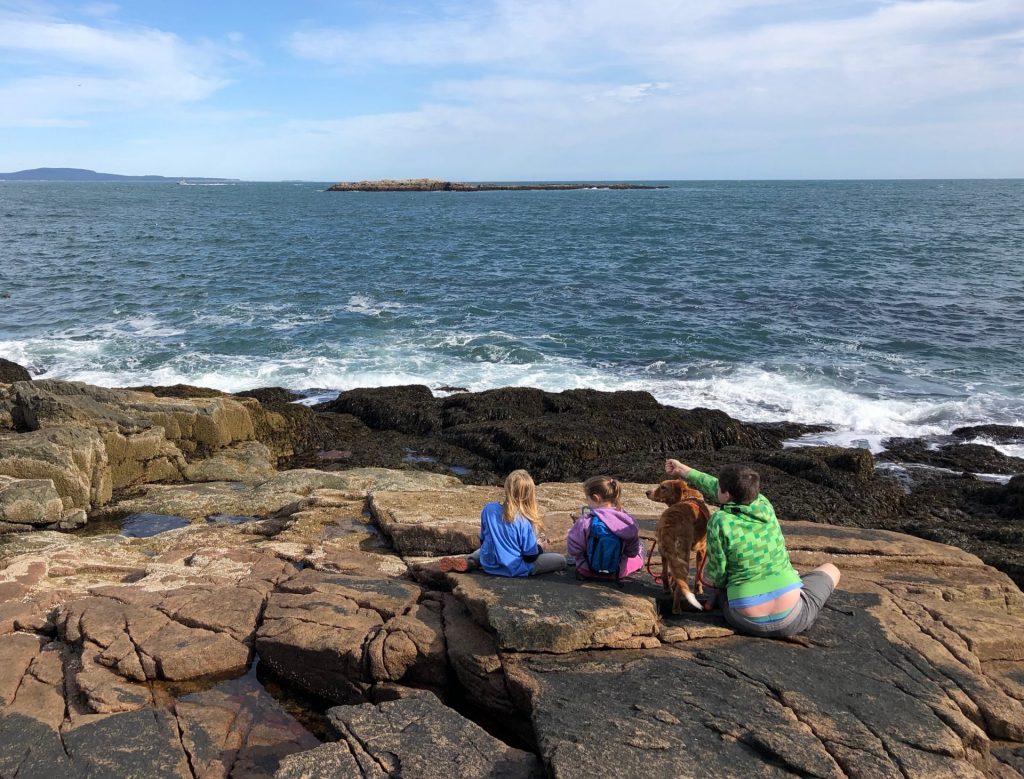 we didn't hike too far. once we reached thunder hole, we stopped in to check it out. it wasn't the prime time for optimal thundering, and also the conditions weren't exceptionally conducive to proper thunder-ness, but i wanted to post this pic for comparison in a future blog post (hopefully soon and then i'll link here). you can see derek and the kids in the middle of the railed area, peering in.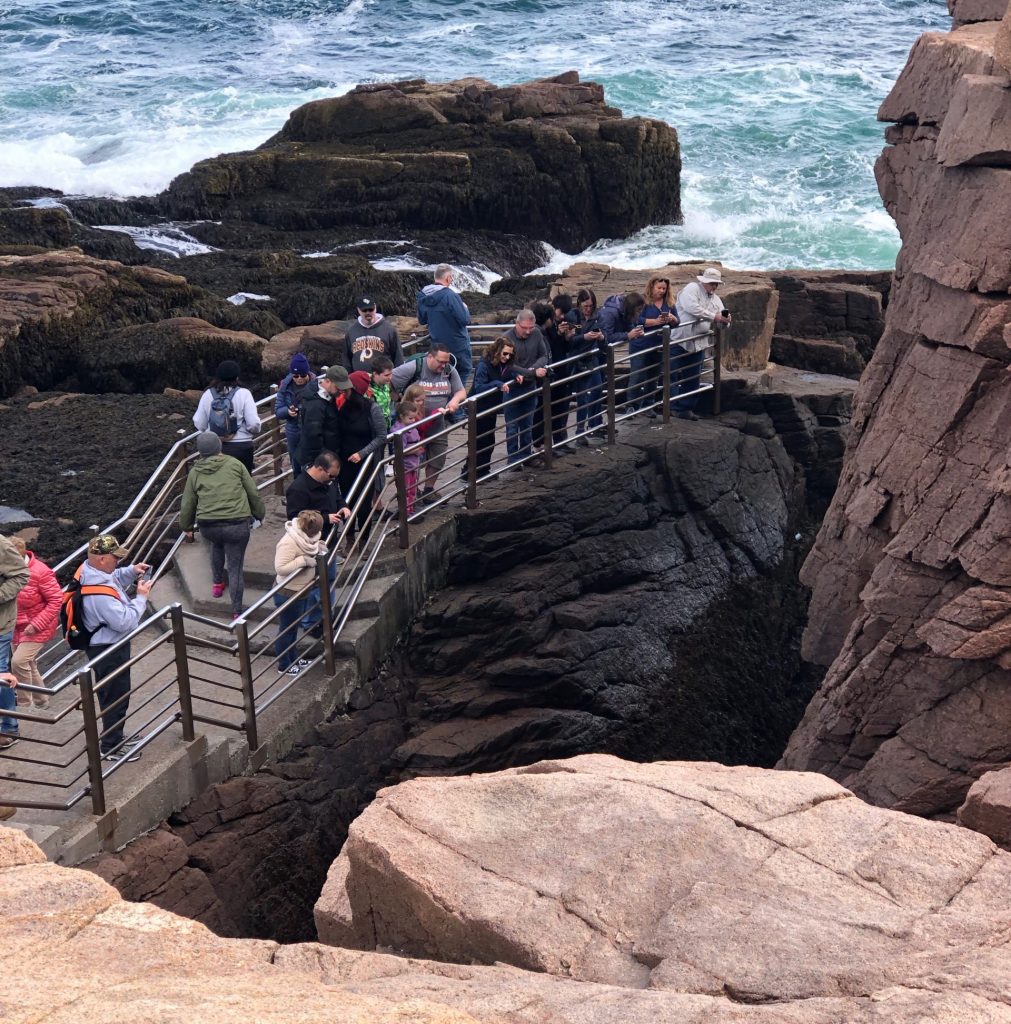 we caught the bus from the thunder hole visitor center back to camp and concluded our very exciting day of adventure.