as soon as christmas was in our rearview mirror, and we had recovered mostly from various illnesses, we began planning to host derek's parents fiftieth wedding anniversary party at our house. i acquired generous amounts of sprinkles and golden decor at post christmas clearance sales. and everything was set. and then mayhem struck.
the night before the party, a huge storm knocked out power to our house. originally, the power company estimated it would fixed by morning, but then the estimate was update to be midnight of the next day. so, we were in crisis mode. we were able to run our rv generator and a 120′ extension cord through the house to the fridge to keep all the food cold, but baking cupcakes was off the table. also, since we are on a well, we need electricity to pump water, so we couldn't use toilets or wash dishes or take showers.
so. firstly, we went to mcdonalds for breakfast (and bathroom usage) and picked up a bunch of bottled water. then, the girls and i went to the very same grandlidboms whose anniversary we were celebrating to make up batches of cupcakes, and take showers and baths.
baking assistants.

baked cupcakes, ready for transport.
meanwhile, derek and isaac were off, picking up a generator. it was an expense we weren't super excited about, but something we should have anyways, for future power loss situations. back at the house, i decorated cupcakes (at this point, opting for a more simple swirl than my original design called for). anna got to work making the official driveway sign and we did all the cleaning and prepping we could with no power.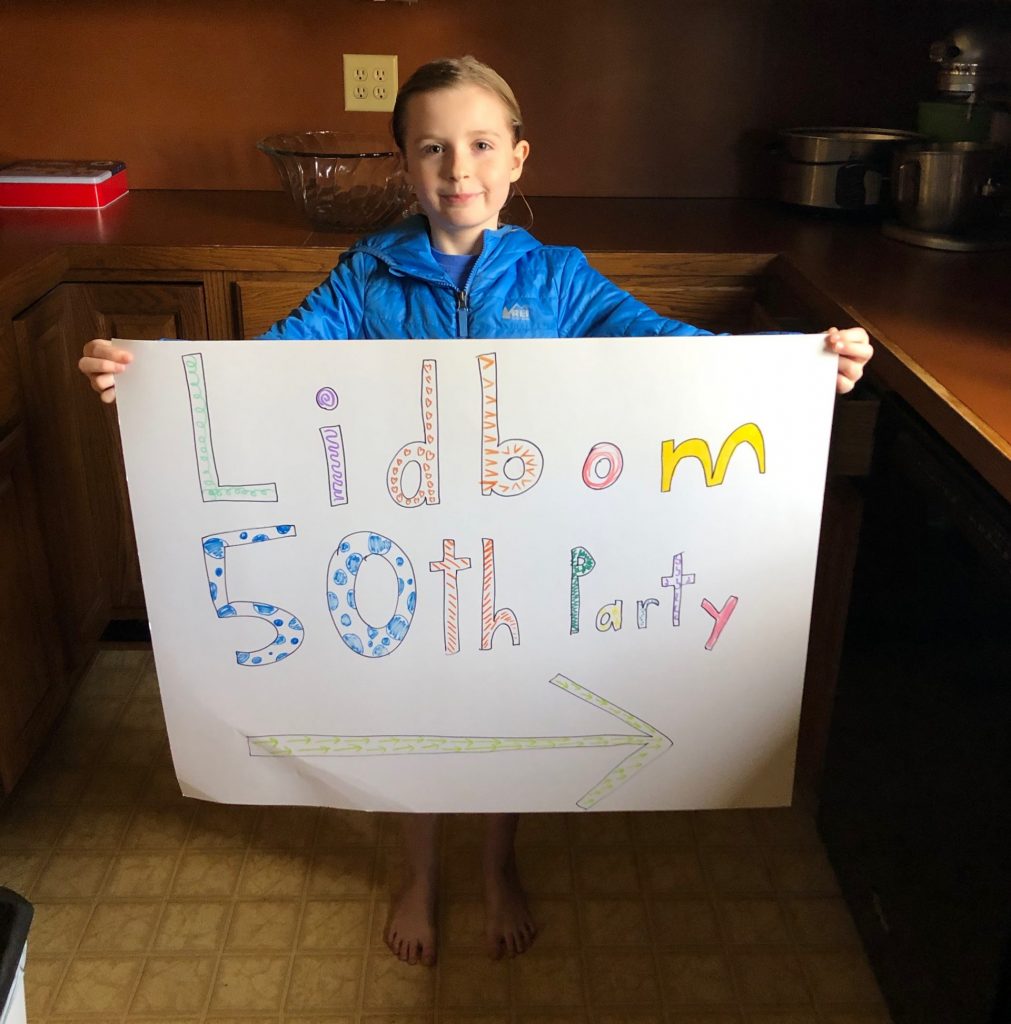 my new pal victoria showed up to help with charcuterie boards (and any other way she could), which was very generous. she had helped with decor the night before and ended up driving home with her family of tiny babies in the very storm that caused all the downed lines and power outages. various family also rolled in and it was all hands on deck. and then suddenly, about an hour before the party, the power came back on (much to derek's generator purchasing dismay). we made the final scramble and the whole thing came together magically. so now, enough about the preceding mayhem. onto the party…
firstly. the decor. i ordered this amazing balloon arch from amazon, and supplemented with some extra gold balloons. i'm very happy with the purchase. however, when one of those glitter filled balloons pops, it's a MESS. anyhoooo. i went to like four area walmarts to get my hands on the 50 balloons. i feel like it made a really cool backdrop for the weird bar in our house. and a great drink serving area.
at their wedding, the grandlidboms had green punch, peanuts and dinner mints, so we recreated that combo for this event.
the bookshelf area stressed me out for awhile. i didn't want to have to fill the entire space with decorations. but i also didn't want our books and knick knacks and legos and random junk to be visible to all. i used a roll of tablecloth plastic to make a curtain of sorts, to backdrop the circle garland i made out of die cut scrapbook papers and my handy dandy sewing machine. the counter seemed to be a good place for the food to be served, and we left one shelf open for a grandlidbom photo gallery.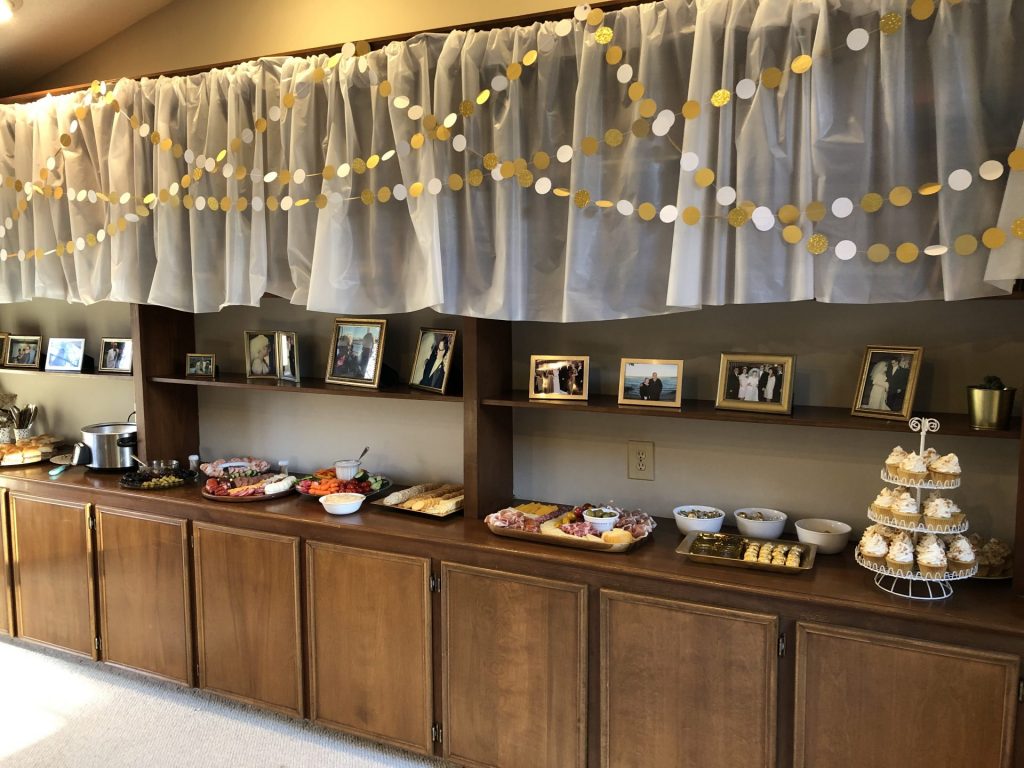 for food, we served heavy hors d'oeuvres, including pulled pork sliders, swedish meatballs, shrimp, charcuterie boards with meats, cheeses, abd olives, a veggie tray, and of course cupcakes and golden wrapped candies. (and once again, a shout out to my pal victoria, who single handedly created the beautiful charcuterie boards, while i scrambled around in the craziness).
earlier in the week, anna and i went to the thrift store, mostly to see if there was anything we could use for serving or decor. but of course we also had to check out the clothes, which is wear anna located the perfect outfit to wear, although maybe just slightly a bit to big. she was very excited about the find though (check out the shoes, even), and it matched the golden themed party nicely.
golden girl.

mega thrift for the win.
not only did we find perfect clothes for anna, we also happened upon the most decidedly epic shiny gold high top sneakers, and there was zero chance i was going to pass them up. a friendly fellow shopper helped me find this shirt with gold writing, and hazel's outfit was solidified. and then obviously, gramma needed a photoshoot with her. and then all the cousins.
goldy.

w/ gramma.

all the goofy grandkids. terrible lighting situation.
i think the grandlidboms were pleased. and this is the one and only picture that was captured of them. oops.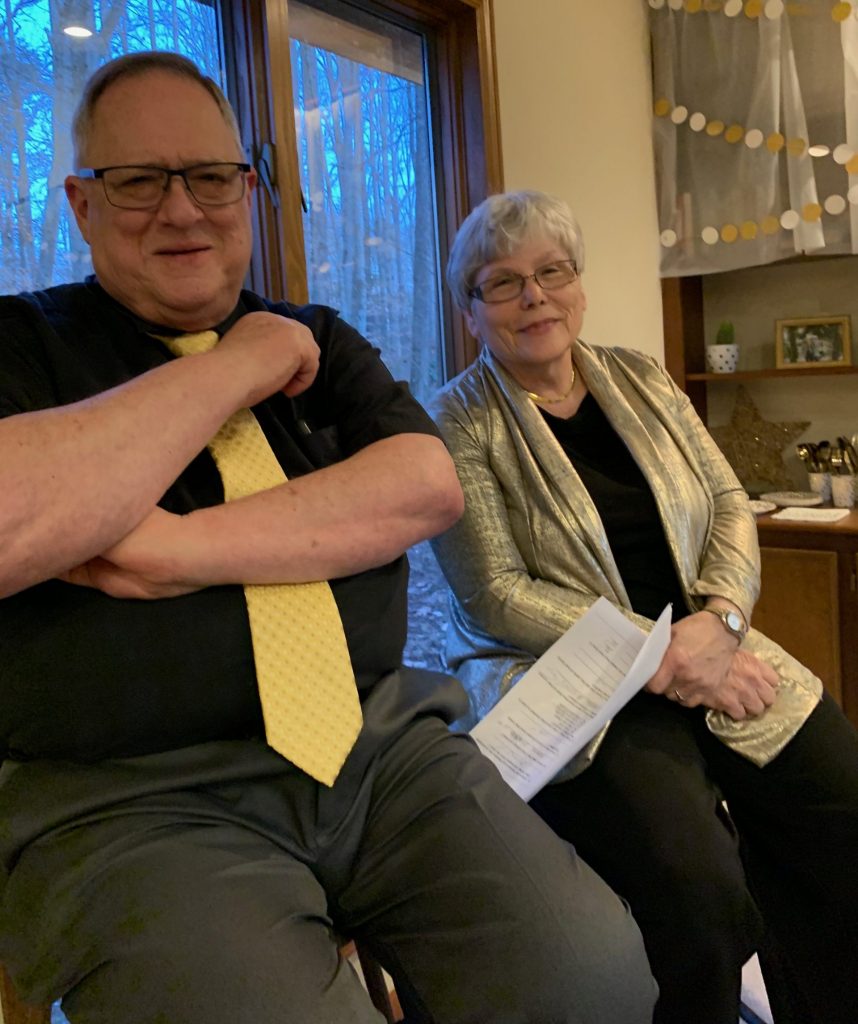 we enlisted anna as the official party photographer, and she did a great job. many of the pics in this blog were taken by her. of course there were also many a selfie.
i actually took this one.

sisters.
then party was actually a pretty small affair. there were several close couple friends who came. and all of the family. we had a slideshow of photos running on the tv and a playlist of songs from 1969 in the background. we at all the delicious foods.
now and then.

feasting and visiting.

grampa.

we transformed our letterboard for the occasion.

brothers and sisters.

party time.

kids table.
in the weeks prior to the party, derek slaved away planning a couple of fun games to play. one was a sort of trivia game to see how well folks knew the story of brenda and richard. the winner received their very own pot holder, with a screen printed photo of the grandlidboms in hairnets, so people obviously took it very seriously.
best friends.

coworker friends.

trivia time.

seriousness.

longtime pals.

group trivia shot.

cbds pals.

darren and kristin.
we followed this up with a version of the newlywed game, except in this case it was the oldywed game. hahahaha. and then, the time was up. and folks started filing out. and the cleanup and food redistribution began. and 50 years was in the books.
the grandlidboms seemed to love it. and things couldn't have gone any better, considering how the day started. and when they get to sixty years, we are sending them on a cruise.