firstly. let me go ahead and throw this out there. this post is disorganized and all over the place. i did my best to group like activities and such. but mostly, it's just 100% random. but that's sort of how our december was, i suppose.
our first order of business in december was procuring a christmas tree. on the day after we got home from new york, we had high hopes of driving out to a tree farm in the mountains and having a picturesque family event while we picked out the perfect tree. then it was rainy and drizzly and we just ended up going to local tree lots in town until we found one that was sufficiently tall enough for our giant ceilings, not weird and scraggly, and within our price range. we popped into target to get some (a million lights) and then we set to work trimming our first tree in the stupid new house.
perfect tree. loaded.

all the lights.

it. is. ginormous.
the decorating of the tree occurred slowly over the entire month of december, and i posted a "completed" pic in my official christmas blog post, but over the first weekend, we were just happy to have lights and stored ornaments on it. stars and garland were yet to come.
holiday times.
we also hung the stockings by the chimney with care. and i made up a very cheap and easy advent calendar with some paper bags and clothespins and my old snowflake die cutter. i'm basically a pinterest mom. the rest of the decor that we had in storage was placed randomly on the bookshelves.
care.

pinterest.
frozen 2 came out over thanksgiving, but we were determined to find a viewing time with the fewest amount of people at the theater as possible. so, the week after we got back from new york, the girls and i hit up a monday matinee. there were like 2 other people in the theater. it was awesome. and. hazel's LOVE of frozen was fully renewed. which also gave us lots of gift ideas for grandparents for her birthday and christmas.
anna and elsa fans.

frozen ipad game. in her elsa dress.

frozen legos in frozen dress, with weird makeup, and doofus dog.
of course in december, there was the business of making hazel's birthday cake. i never have a shortage of helpers. and by helpers, i mostly mean taste testers.
cake.

frosting.

powdered sugar.

quality assurance.

crumb coat supervisors.
there was a lot of exciting buffalo bills watching opportunities in december. we called in all the fans for maximum support levels. unfortunately december didn't go well, despite our fandom.
thanks to what was essentially the plague sweeping through the region for all of december, hazel's birthday party guestlist was quite small. a few days later, when everyone was back to good health, one tiny guest was able to come over for a bit for a playdate. hazel and sully go way back to birth (and his mom and i even further), and he was so excited to give her a generous gift and it was the sweetest. we also had a big fat three family playdate lunch, complete with a smorgasbord of food. (i was introducing two different friends of mine who i was certain would hit it off).

as we were spending a million dollars on a tree and new lights and other decorations and another billion dollars on gifts for kids. and of course another small fortune on christmas themed activities, it seemed sort of like we should maybe consider teaching our kids about giving back and those less fortunate. you know, for balance and all. after calling around to local shelters and food kitchens, we learned that most places don't have many hands on opportunities for kids younger than 13. but, one place accepted donations of pb&j sandwiches, granola bars, and brownies, to be given out when folks can't/won't eat a given meal being provided. so, we bought up a ton of supplies and put the lidkids to work.
supplies.

pb&j assembly.

teamwork.

90 sandwiches. 90 brownies.

derek took the kids to deliver and then they stopped at the mall on the way home to do a bit of shopping and took this lovely photo.
of course, i can't do a roundup post without a pic or twelve of anna at dance. this time it's just one. we also had a bonus dance themed event this month, organized by some folks at our co-op. we went downtown to the stevens center, where we attended the homeschool/school group show of the nutcracker, put on by dancers at the nc school of the arts.
ballet.

final bows.

future nutcracker hopeful.
of course before we went to ride the polar express with the grandlidboms, we needed to have a polar express night. complete with hot chocolate, s'mores trail mix and popcorn.
hot hot.

the only like the movies for the snacks.
one of our advent calendar "surprises" was a trip to the festival of lights. every year i say i'll never go back. and then i say this time i mean it. well this time i really mean it.
the roads get soooo backed up. and the way the police who are directing traffic signal people through is super unfair. and it was taking forever. so we decided to jump out of line and get dinner and see if the lines went down. after dinner, when we tried to get back in line, which we had already waited in to this point, an officer redirected us to go to the back of the line. it was so ridiculous. and we shouldve just gone home. but we stayed in that stupid line. forever. and finally we were in! $15 paid. to drive around and look at the very same lights that were there last year and the year before and every year before that. never again.
killing time.

same old.
i am one of those people who takes down all evidence of christmas as quickly as possible after midnight on december 25th. i love christmas as much as anyone. but once the day has passed, all the decorations just feel like clutter. derek had the genius idea to use the weird firewood storage closet that has a door to the outside to pass through branches of the tree. he chopped it all up and shoved it in, where lidkids were waiting on the other side to carry branches to the firepit. it was done in no time.
it's time.

curious ruby.
just after christmas, sickness struck. i was sure hazel had a uti. but it was saturday, which meant we had to go to urgent care. and then things turned into drama. they didn't think it was uti. so they gave her a flu swab which resulted in several bloody noses and trauma. they gave me prescription for an antibiotic and tamiflu, without confirming either. i filled the antibiotic because i was sure it was a uti. hazel hated it. a few days later (new years eve) we got a call that we needed to switch to a different antibiotic and it was a uti. i ended up driving all over winston to find a pharmacy that had this magical elixir (after having been sent to one that didn't by mistake and a pharmacist literally tracking me down in the grocery store next door to tell me of the mistake). anyhoooo. we got her antibiotics and she was fine. but, then isaac got sick, probably from the waiting from at the urgent care. and then we all got sick. so. fun times, really.
sickly fevery sleepy girl.

could she look anymore pitiful?

waiting for the diagnosis/drama.

ike's turn.
we wrapped up december and 2019 and the decade with a bunch of snacks and video games and lounging. i don't think anyone made it to midnight. such is life with tiny folk.
and now. some extra miscellaneous stuff, from this already miscellaneous post. the most miscellaneous of all.
pretty pre-sunrise skies from our balcony.

leaf blowing chores.

crazel haircut before/after.

ike haircut before/after.

card shark.

pancakes for the fam.

i have dropped my phone in some extreme circumstances. but this happened on the carpeted library floor.

best christmas gift ever. from derek.
and, now for the december round up of ruby pics, which contain a lot of ruby and lidkid snuggling. and maybe a lidkid only snuggle.
peanut butter jar cleaner.

cushion smoosher.

she loves the boy.

and tolerates this girl.

sleepy snuggles.

cozy.

i mean come on. hazel loves isaac so much. it's the sweetest.
and i'll leave you with this. i don't know when this was. or what we were doing before hand. but december wore us out.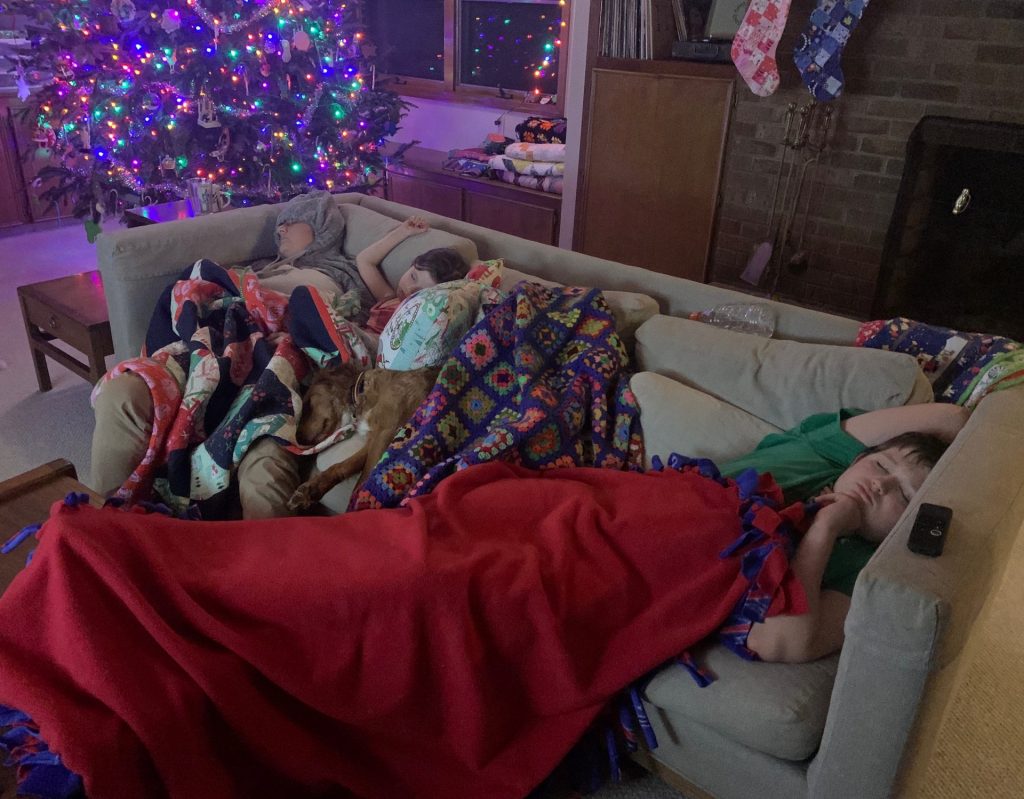 and… if you're reading in real time, i'm only 1.5 months behind!!