And now, for this year's Easter festivities and shenanigans.
First off. Anna and I signed up for a natural dyeing workshop at the Village Fabric Shop. We had debated doing our own natural dyeing, but it seemed rather labor intensive, so when this opportunity presented itself, we gladly forked over the cash for the chance to just do the easy part and skip all the hard work.
We used rubberbands, rice, cheesecloth, butter, flowers, crayons and tape to make different designs. Then dropped our eggs into beet, grape, onion skin, cabbage and turmeric dyes. And then we took them home and waited, letting them soak for hours. The final results were really cool, but I think we will stick to the good old American chemical dyes in the future.
Speaking of chemical dyes, we obviously still did that, along with the other two Lidkids. I had attempted to set aside our one daily white egg (courtesy of Frida Kahlo) for a few weeks leading up to Easter, but that still didn't give us enough eggs for all of our dyeing needs. So, with a kitchen counter overflowing with eggs, I picked up two dozen more from Walmart. Then we got to work.
The results were beautiful, as always. Lots of innovative techniques. Science experiments. Glitter. Drawings. And, of course, a Josh Allen egg.
Last Easter, we were just getting into the pandemic quarantine full swing, and I may or may not have used excessive sprinkle purchasing as a coping mechanism. So, it seemed reckless and wasteful not to whip up some cupcakes and frosting to use up some of the remaining 99% of the sprinkles leftover from last year. Once again, this was a girls only activity, as Isaac opted out. We decorated a couple of gluten free brownies for him, since we are so nice.
We tested out many decorating techniques, but our favorite was the grass piping tip to make nests and then fill the nests with various forms of chicks. Hazel's ingenuity led her to create a saliva infused jelly bean diorama, biting the jellybeans in half and stuffing a nonpareil chick into the opening, to mimic a hatching egg.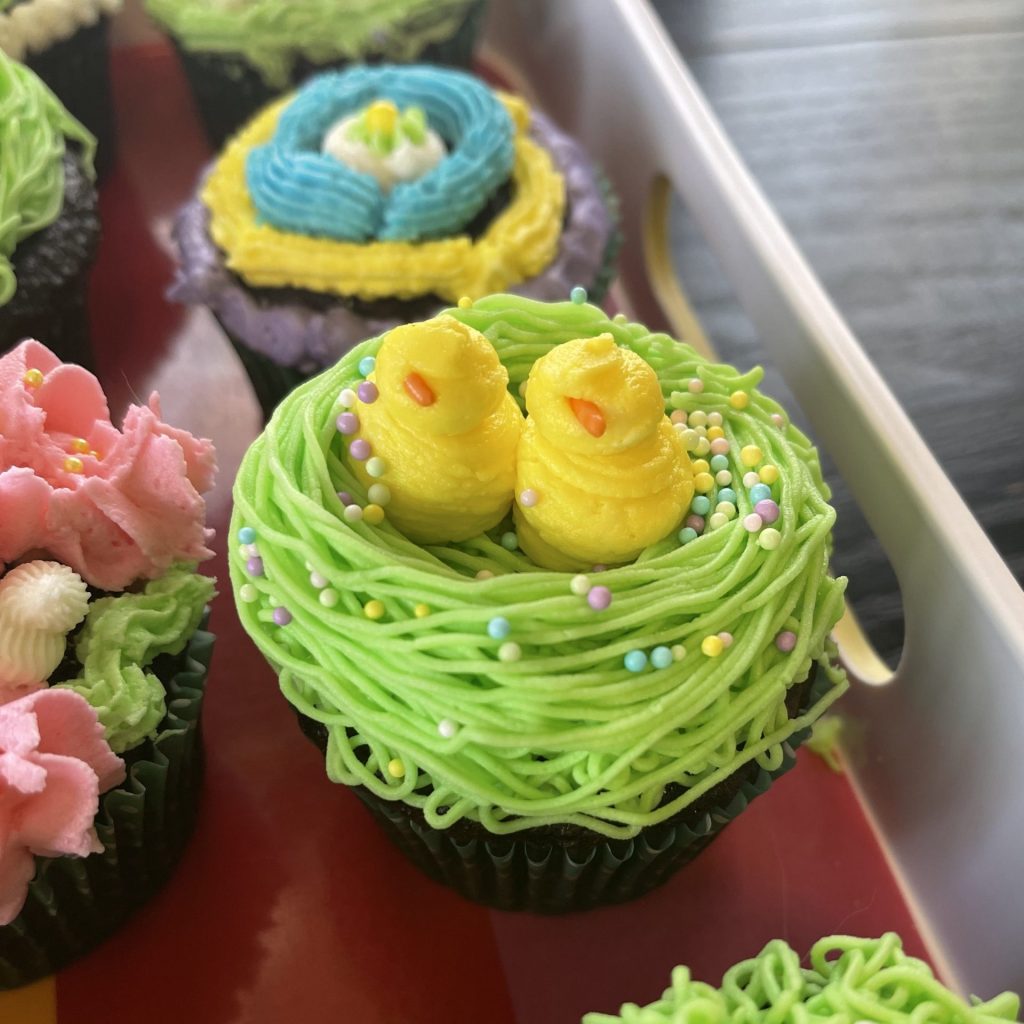 Everyone was super excited for Easter this year. Derek's family is all fully vaccinated and/or have already had Covid, so we felt comfortable hosting an indoor gathering. I sent Derek out to find us a butter lamb, to properly fulfil all of our butter related needs, but there were none to be found, presumably because we are nowhere near Western New York. He did find, however, a butter bunny, so we busted it out for the day. The rather warm day. And then it went unused, and was found hours later in the same location, dead from heat exhaustion. A very sad day for butter bunnies.
All of the grand children of the Grand Lidboms enjoyed their day together. They are all growing like weeds, which is sort of sad but also sort of fun to watch. They had their Easter lunch at the kid table on the deck. And played on the ninja warrior slack line that we gave our kiddos as an Easter gift. And then, when we were recovered from stuffing our faces with deviled eggs and ham and broccoli salad, we set up the Easter Egg Hunt. Since the kids are all older, we made sure to hide the eggs extra well this year, and then sent them off to find their assigned colors. Unfortunately, their hunting skills and stamina did not match our hiding skills and expectations, and also unfortunately, some of us didn't remember all the places we hid our eggs, so the search went a little long, got a little frustrating, and not all of the eggs were recovered. (Not to worry, over the next few days, Ruby found the missing eggs).
It felt like a normal day for a change. Can't wait for all the days to be normal again.