our second day in chicago was another looooong one. we kicked things off with a race against the clock to make it to our scheduled time for a trip to the top of the chicago 360 tower. between driving in downtown chicago, parking in the weird spiral parking garage, getting isaac situated in an allowed location to wait for us with ruby, and getting into the building, we maybe didn't leave ourselves a lot of breathing room. 🙂
but, we made it in the nick of time, and rode up to the top, where we were rewarded with breathtaking views of the city.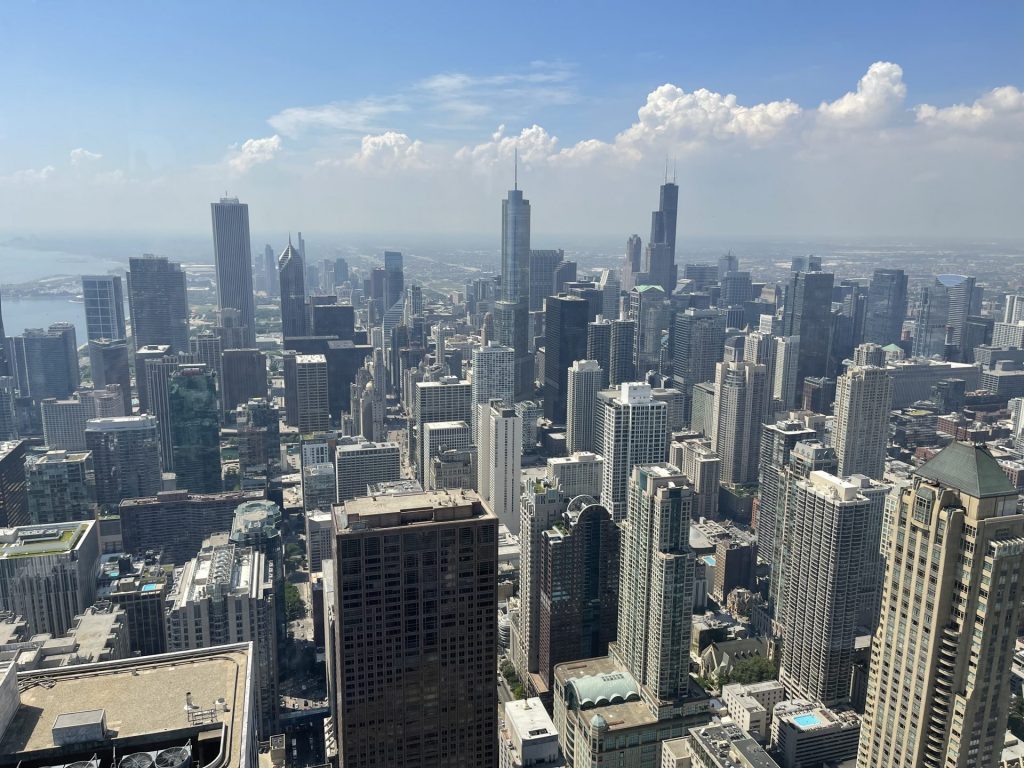 we wandered around to take in the views in every direction, while working up the nerve to partake in the (already purchased) tilting window attraction. i have no photos of that because we all did it at the same time, but it wasn't nearly as terrifying as i thought. gimmicks.
once we had had our fill, we were sure to get a quick bunch of family photos in the most photogenic corner, before hitting up the gift shop and making our way back down to find isaac, who much prefers remaining at sea level, and ruby, who was glad to not be left in the rv.
our second stop for the day was about 30 minutes away, where we met a local co-worker of derek's, for lunch at superdawg. we managed to score a picnic table and had some traditional chicago dogs, while derek and ashley talked shop. i skipped the bun and fries and kept it keto, but this was hardly enough food to satiate me and then i was grumpy.
after lunch, we piled back in the car to make the half hour trek back to downtown, except as it turns out, heading back into downtown took about 2.5 hours. so, i was a little more grumpy.
eventually, we arrived back in the general vicinity of downtown. we didn't really have a plan, just a few places we had hoped to sight see. we parked in a parking garage and hit the streets. we walked along the chicago river a bit, before deciding to head over the check out the "cloud gate" art installation. aka, the bean.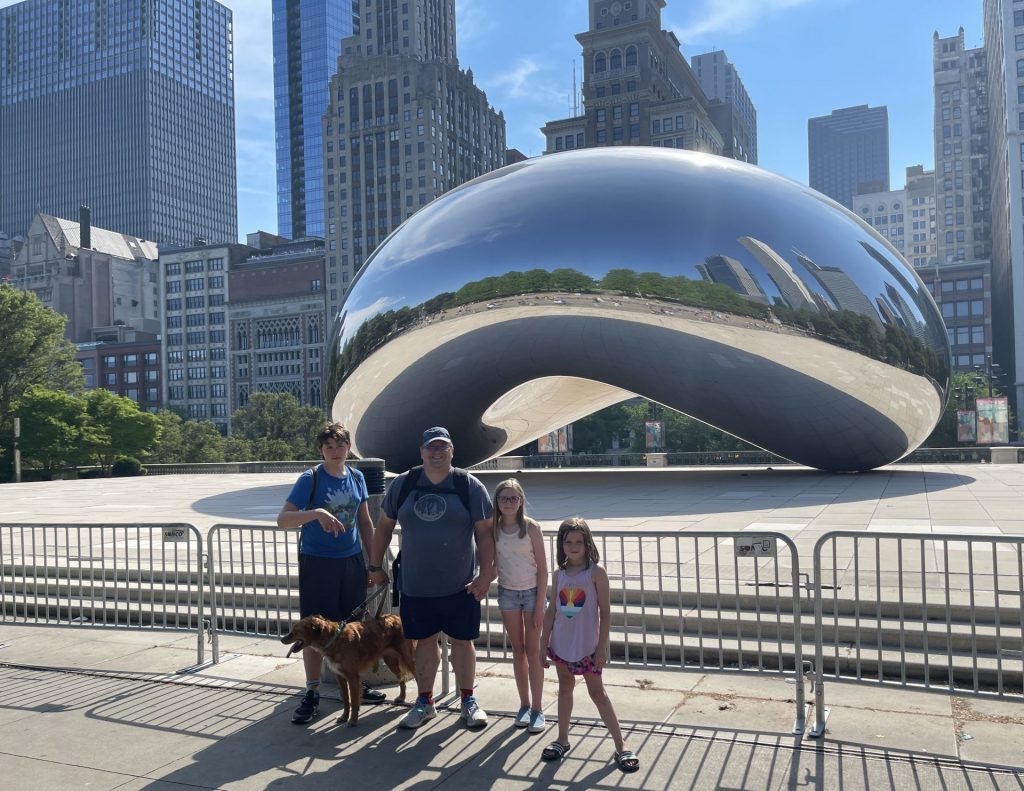 it was pretty cool, because due to the pandemic, it was gated off, so no one could get up close. so it made for people free photos, and the bean was super shiny and non-handprint-y. we were unaware the ruby was not allowed in the park though, and were quickly asked to leave. oops. so, we took turns sitting with her (and various assortments of lidkids) in the grass nearby. i snapped a few good pics on my turn to check out the premises, sans ruby.
this one is my favorite: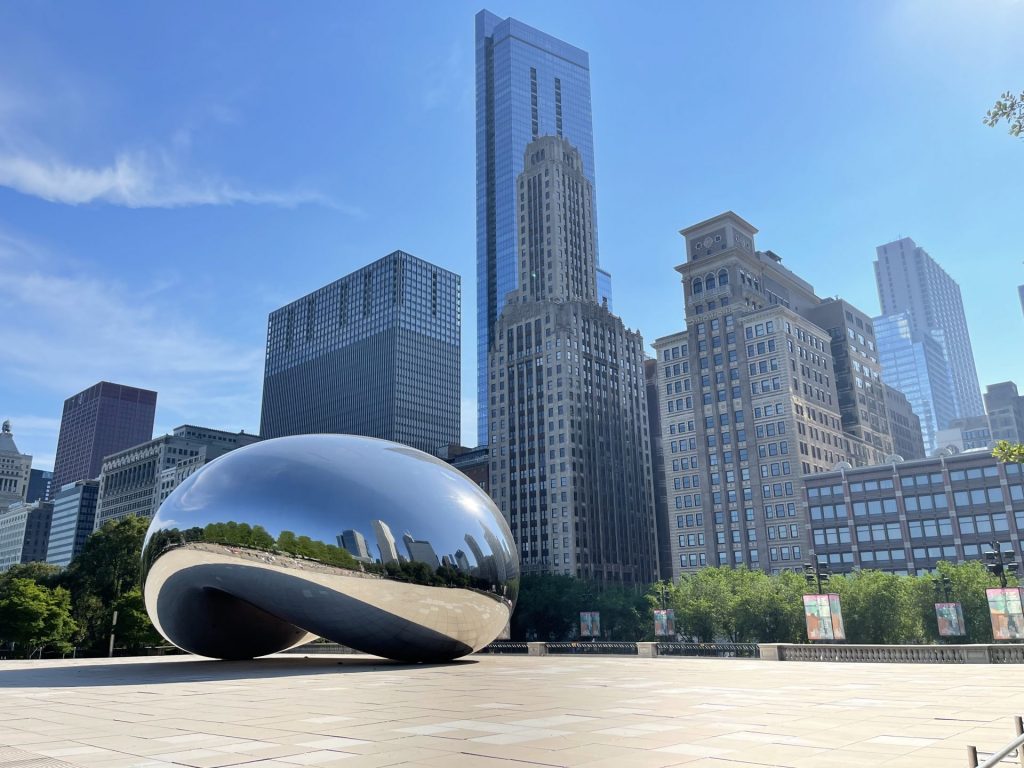 fun story. the next day was the day all things opened back up, so we got to the gated off bean just in time to have all these crystal clear, people free photos.
after this, we were pretty exhausted. turns out, navigating the streets of chicago with three non-big city savvy children and a slightly skittish dog who isn't the best leash walker is sort of stressful. so, we headed home. but first, a quick stop to portillo's for an italian beef sandwich. or just the beef and giardiniera if you're me. sigh.
and THEN we went back to camp. or, to parking lot, i guess. we made a new friend who was having a bit of (rental) camper technical difficulties, so derek attempted to diagnose. ruby's face in this photo cracks me up.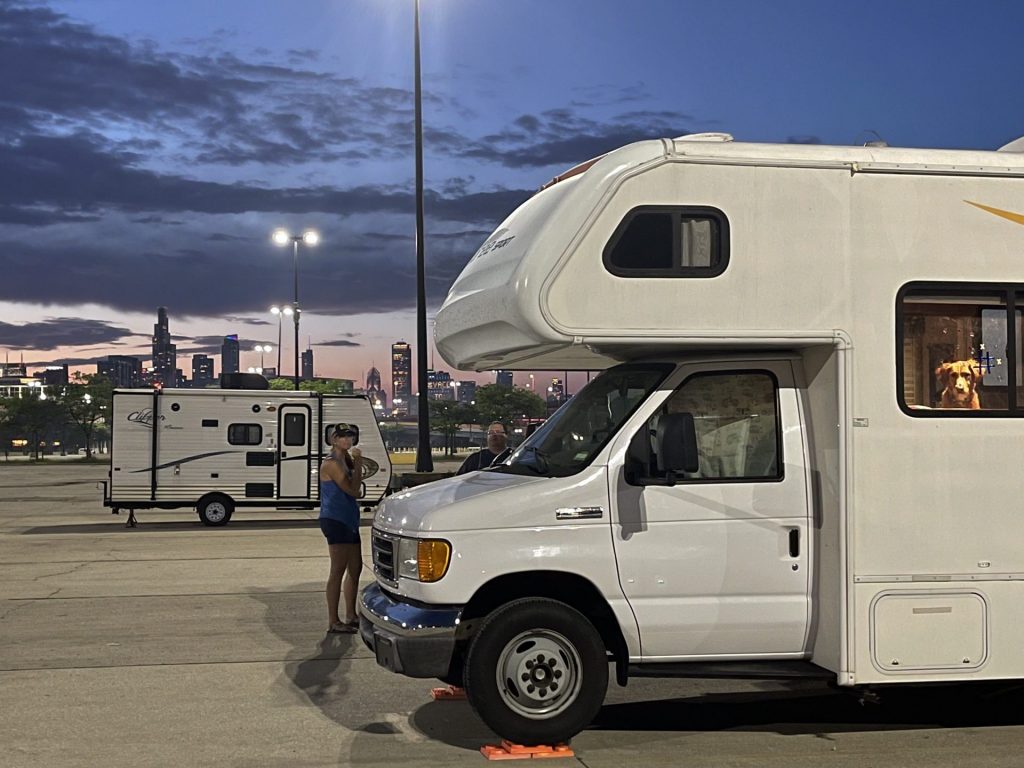 and day two was in the booooooks.