turns out, that lovely ranger from yesterday was right, and the skies cleared up and the sun came out, and anna and i woke up to a picture perfect day for a hike to black elk peak. so, once again, we geared up and packed up and headed to the trailhead bright and early (the parking lot is also shared by a lake, so it turns into a zoo by mid morning). and with both loop directions open on this day, the world was our oyster.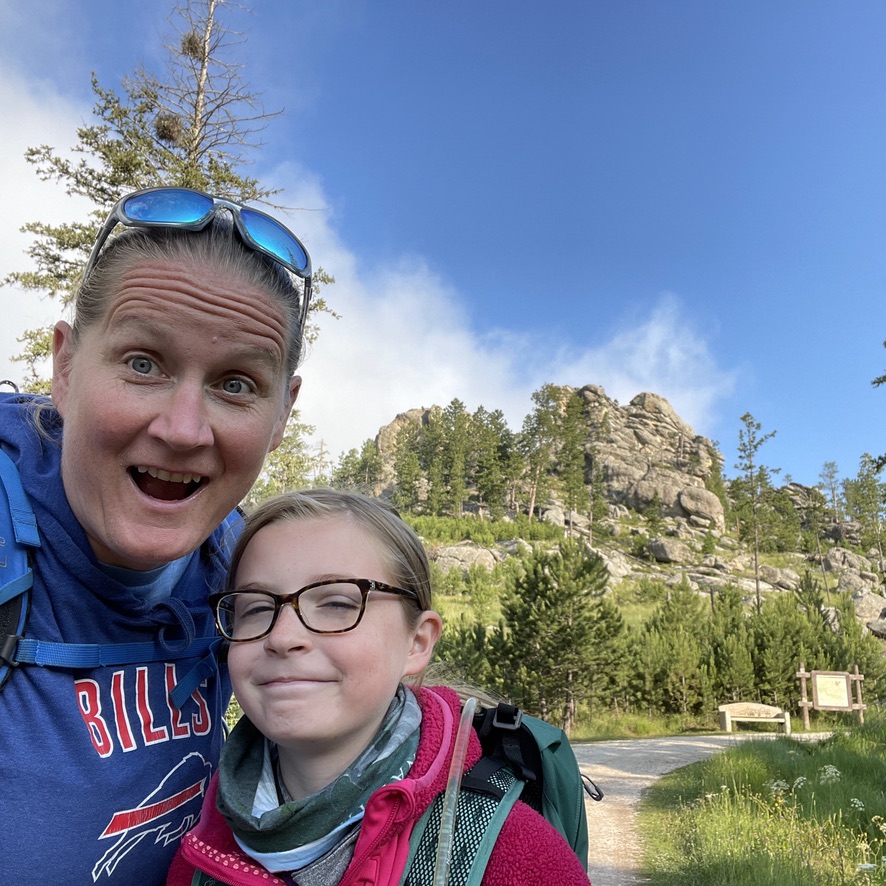 the first part of the trail was mostly wooded and shady and cool. we marched along, and soon enough, we were rewarded with stunning vista views.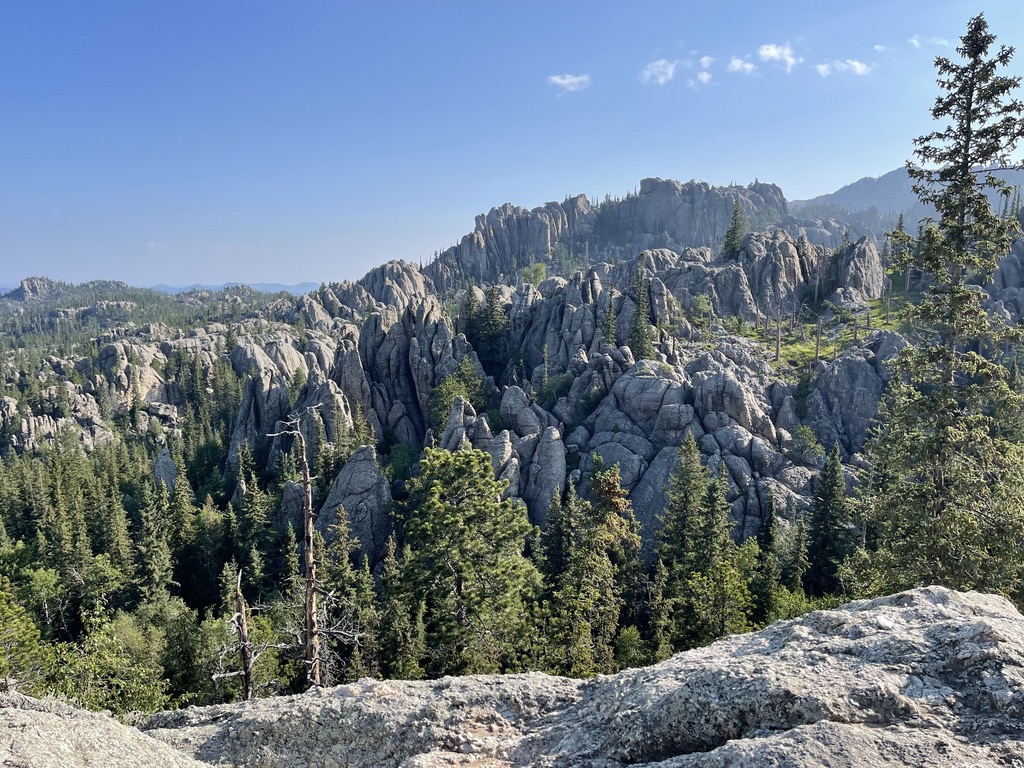 as the trail to the peak spiraled around the final climb, the views stretched out in every direction. and it was so cool to be above all of the alien rock formations.
the black hills are amazing.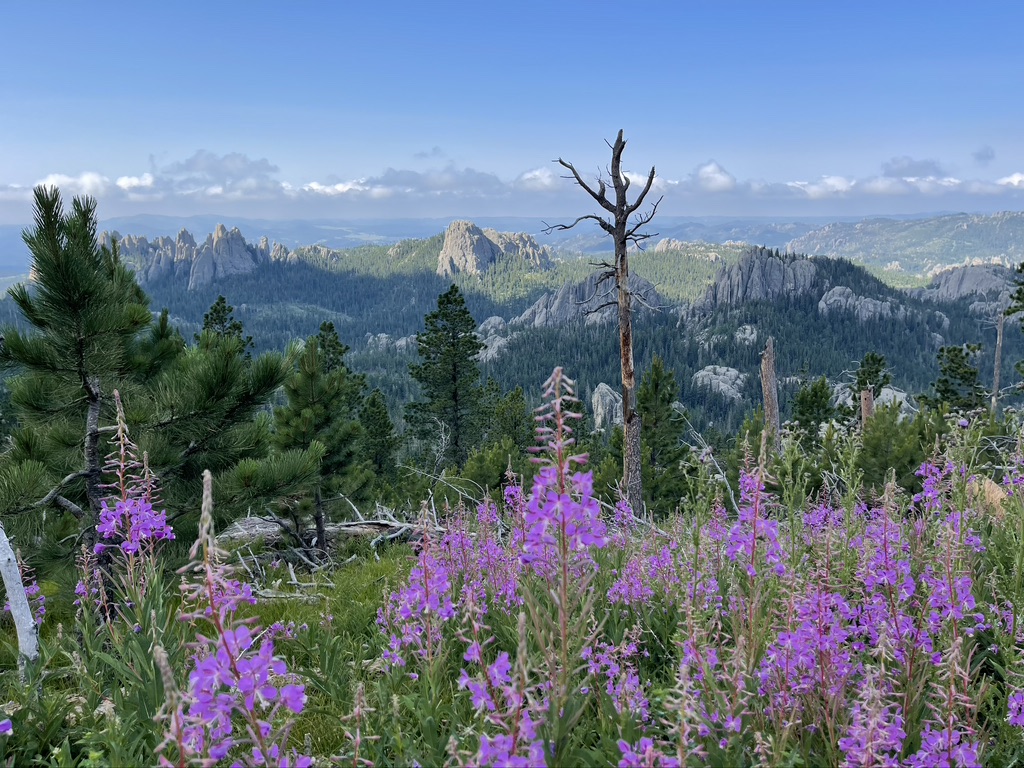 the last bit of the climb took us up a staircase through the rocks, which then twisted and turned until we finally reached the firetower, and the highest peak east of the rockies at 7242′.
we took a bit of time to wander around and explore. there were many branches and trees covered in prayer clothes, left by local native americans. we could see for miles in every direction. and we discovered huge populations of ladybugs congregating on the shady overhangs of most of the rocks. it was slightly disturbing, but very cool.
we scrambled around to find a good (slightly terrifying) spot to have our snacks and took a nice long break. before we started back, a lovely fellow hiker took a commemorative photo for us.
but now let me tell you a story about a not so lovely fellow hiker. when we first got to the top, we realized that anna's hiking poles were more of a hindrance than a help while scrambling around (i hadn't unpacked mine yet, i save them for the down). anyhow, we laid them down and continued our explorations. when we returned to where we had placed them, they were gone. we looked around, just in case someone had moved them to a more obvious place, like next to signs and the doorways of the fire tower. we scouted out all the people on the top of the peak (it was a large area with 30 or so people milling about). we didn't see anyone with them, so we shrugged and chalked them up as stolen.
we kept our eyes peeled on the way down, for any shifty or suspicious characters, but the thief was never apprehended. so frustrating. (it all worked out in the end though, i bought myself a brand new fancy pair and handed my old pair down to anna. perhaps it's all a wild conspiracy i concocted? we'll never know).
anyways, we set off, back down, sharing one set of poles. 🙂
on the second half of the loop, we suddenly strolled upon this beautiful scenery.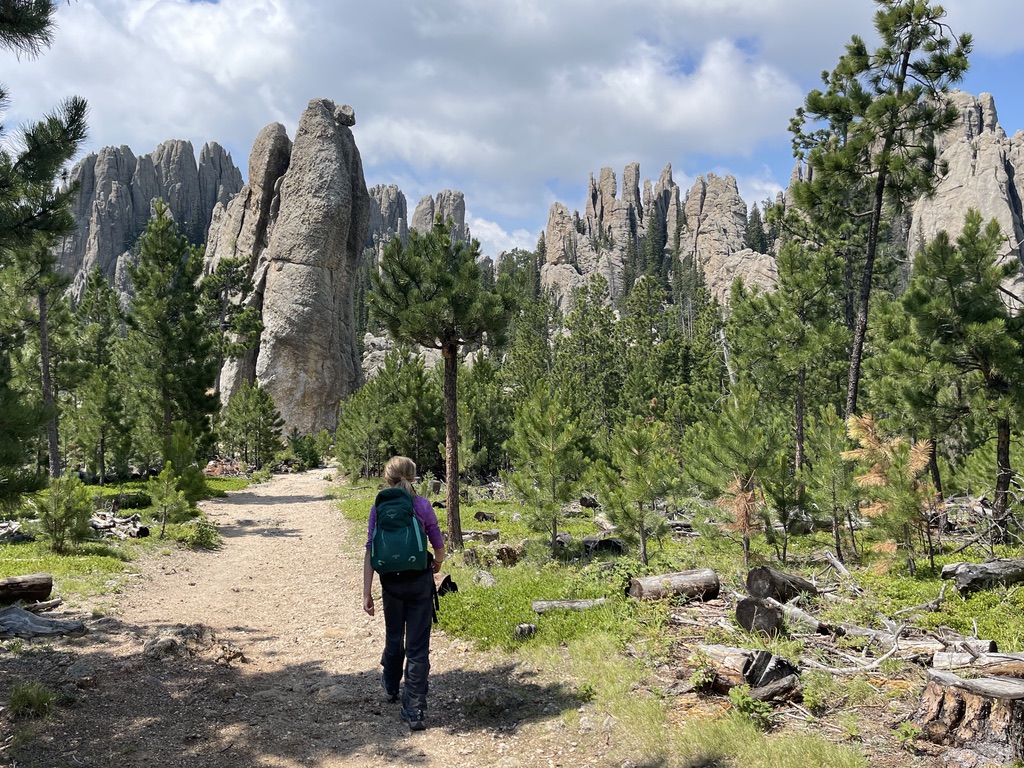 we took a little detour to climb around inside some of the little caverns and rooms formed by the rocks.
our path actually also took us past the cathedral spires trail, but since we were old pros, we skipped it. but, when we got to the split for little devil's tower peak, somehow i managed to talk anna into giving it a go. it was only about 0.4 miles out, but 200′ up, and we were pretty beat at this point. the selling point was that we will might never be here again, so no regrets. the trail was pretty steep, but then we suddenly found ourselves scrambling between two rock walls, and then following painted trail markers as we navigated huge boulders. it was all totally worth it.
we found the same ladybug infestation phenomenon in these crevices as well. and, we ran into some folks that we met the day before at the jewel cave tour. crazy. they didn't have anna's poles.
we took a million pictures. and then geared up for the descent. a little tricky, but not strenuous.
from there, the hike sort of turned into a shuffle. our feet were hurting and we were pretty tired. we were never more happy to pop out in the parking lot. we wanted to check out the lodge near the lake to see if perhaps the poles were turned in, but there was no parking anywhere near it and we for sure were done walking at that point.
we joined back up with the family and decided to go out to eat for the night. a reward for our hard work. (not sure why the rest of the fam came too, bums). i had one of the best burgers i have ever had (quite possibly due to all the sauces and toppings), i couldn't not document it.
i'm so glad that the annababy seems to love to go on these longer hikes with me. it's good one on one time and it forces me to slow down a bit and enjoy myself. this one clocked it at 9 miles and 1850′ elevation gain. she's a champ.