when we came off the road in 2019, one of our regrets was that we never made it to rocky mountain national park. it was the one big park out west that we missed, but when we were in denver (in may 2017) there was a giant snow storm and most if it was closed. we were also sort of national park noobs at that point, with tiny legged hikers, so we really wouldn't have been able to do much. and then we actually had a week booked in june of 2019, but when we made the spontaneous (worst) decision to come off the road in april, we had to cancel.

when we were planning this summer road trip, the idea was that we would cover a lot of the parts of america that we never got to during our three years full timing. on the top of that list was rocky mountain national park. derek spent many mornings logging onto reservation sites to try to score a campsite, and just when we were resigned to staying just outside the park, we snagged a cancelation, and it was on.
and now, that moment had arrived. we rolled into RMNP, armed with books and maps and ranger advice, determined to eek out every last ounce of enjoyment from this week. the night before our first full day, i selected a hike, planned our shuttle route, filled hydration packs, and loaded up a million snacks. we were prepared.
our campsite was on the c-loop, which had a little trail that went down directly to a shuttle stop. the good news, it was only like 0.1 miles. the bad news, it was 80′ feet down. which wasn't so bad. it was the 80′ steep climb at the end of every hike for the whole time we were there that started to get old. 🙂 but still. can't beat that proximity to the shuttle. or the view while we waited for it.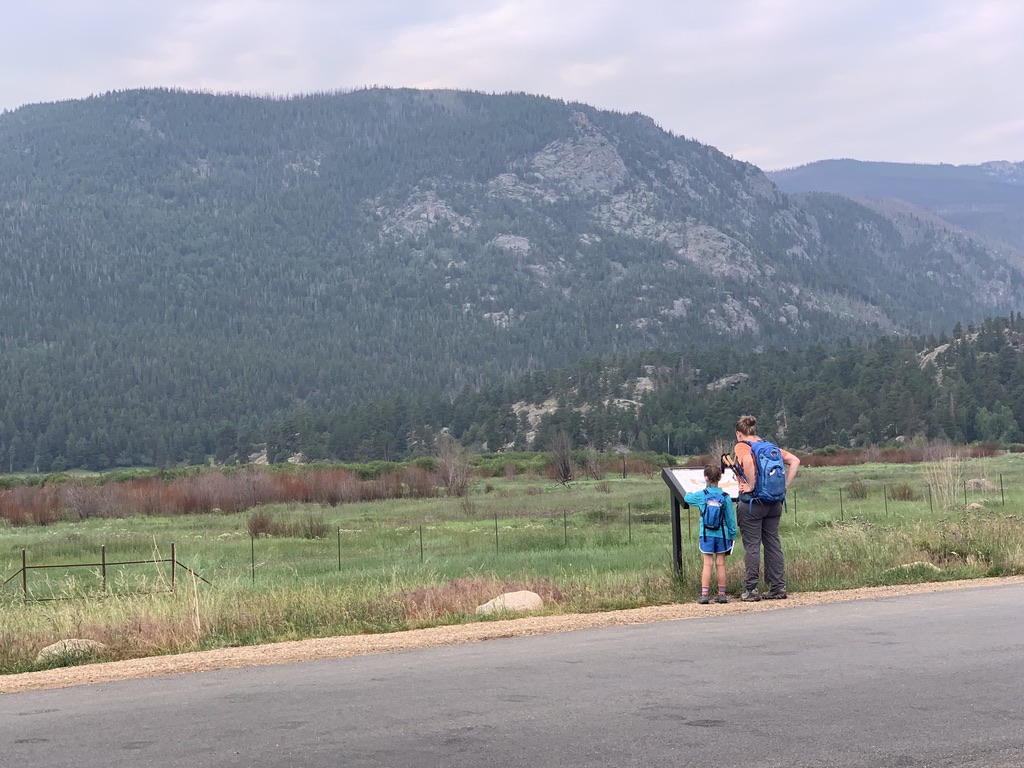 the first hike was mills lake. it is about 5.6 miles and 850′ elevation gain, but the biggest concern we had was acclimating to the altitude, which maxed out around 9950′. we took it slow and steady and drank lots of water and everything was perfectly fine.
the hike was super pretty, even if the weather was a little dreary and overcast.
i won't lie. we might have been a little ruined by glacier. rocky mountain national park is beautiful and all. but it's no glacier.
we saw lots of flowers, like the colorado state flower, the columbine. and noticed some wildlife "activity". and the hike had lots of little bridges and some rock hopping, so it kept the lidkids mostly engaged.
when we got to mills lake, we walked along the edge for a bit (taking copious amounts of photos along the way) trying to find a nice secluded location for a snack and a break and to enjoy the hazy scenery.
we located the perfect spot, complete with rock chairs for the big kids.
we hung out, took bathroom breaks, ate snacks, read a book(!?!), and enjoyed the view. we think it was a bit of lingering wildfire smoke from the west that was making the skies so hazy, but we were ok with it after having been spoiled with perfection in glacier.
some lovely folks we met offered to snap a family photo, so we took them up on it. 🙂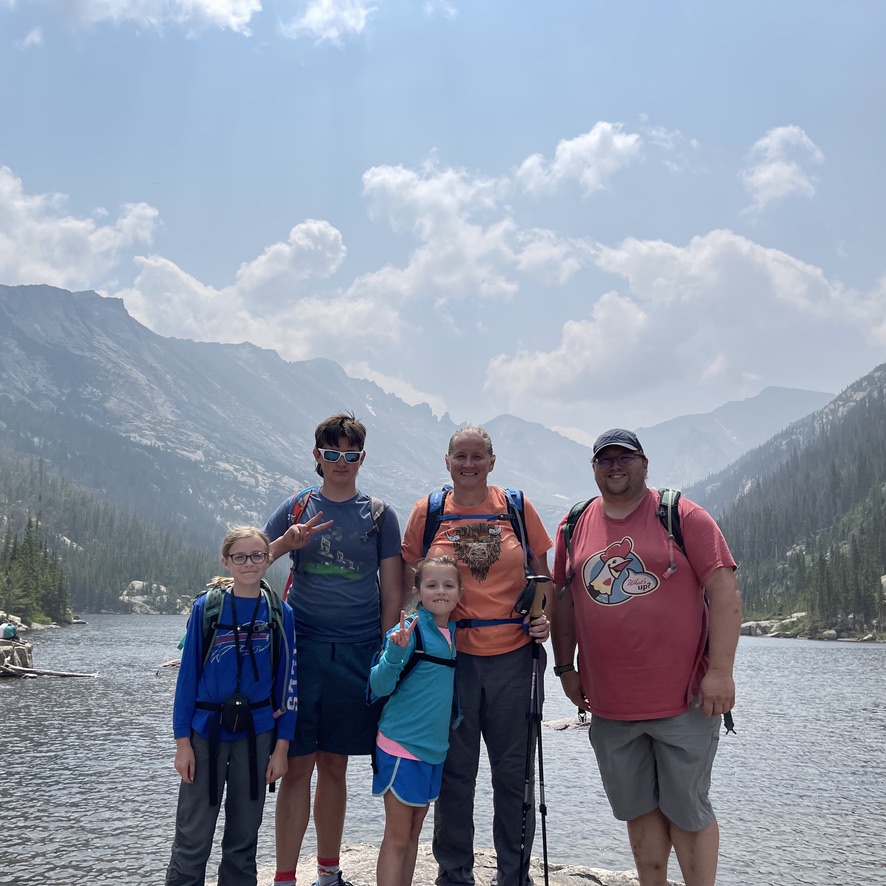 and then it was time to head back. the trails in rocky mountain are, well, rocky. it makes for opportunities aplenty for ankle rolling for me. and slipping sliding and tripping for tiny folk. so, again, we took it slow.
this lidkids did a great job on this first hike. they were old pros at this point. and i think knowing that this was pretty much the last week of big hiking we would be doing helped them to suck it up. 🙂
on the way in, i made them all use the bridge to cross this water. we save all the excitement for the hikes back, just in case the excitement leads to casualties. it did not, in this case, but murphy's law said it would have if we had done this rock hopping on the way up.
it was a lovely, but tiring day. and we still had to shuttle bus our little selves back to our campsite (which involves two buses and a wait at the transfer area and that dreaded walk up the hill). but everyone did fantastically and they were all ready to go at it again in the morning!