with two solid kid hiking days in the books, and the grandlidboms in town, it was the perfect day for me to ditch everyone and tackle a longer, harder, and maybe way more awesome, solo hike. i woke up early and went outside to get some water for coffee and discovered we had some friendly visitors. they slowly made their way through the empty campsite next door before they were startled by someone disarming their car alarm nearby and ran off.
the hike i decided on was sky pond. it took a lot of deliberation and hyping myself up, because it is a doozy. it's around 9.5 miles and 1800′ elevation gain, and finishes at just under 11,000′ altitude. the first two miles is along the same trail we had done on the first day to mills lake, so i scooted through that pretty quickly, without too much sight seeing. i made a friend at one little overlooky area and we ended up hiking together the rest of the way, which was nice, because we could take photos for each other. (and look out for each other and all).
there's a beautiful lake called the "loch" about halfway in that is the final destination for a lot of folks. i stopped to rest and enjoy the surroundings and met several lovely fellow. hikers. i can see why this might be an acceptable stopping point.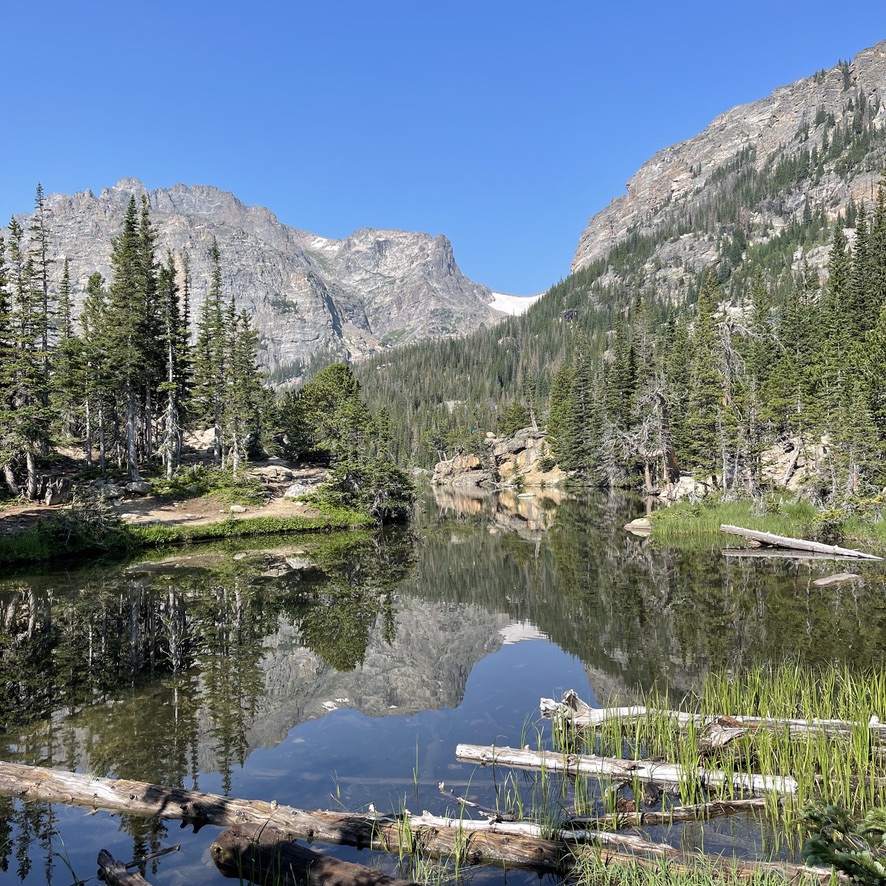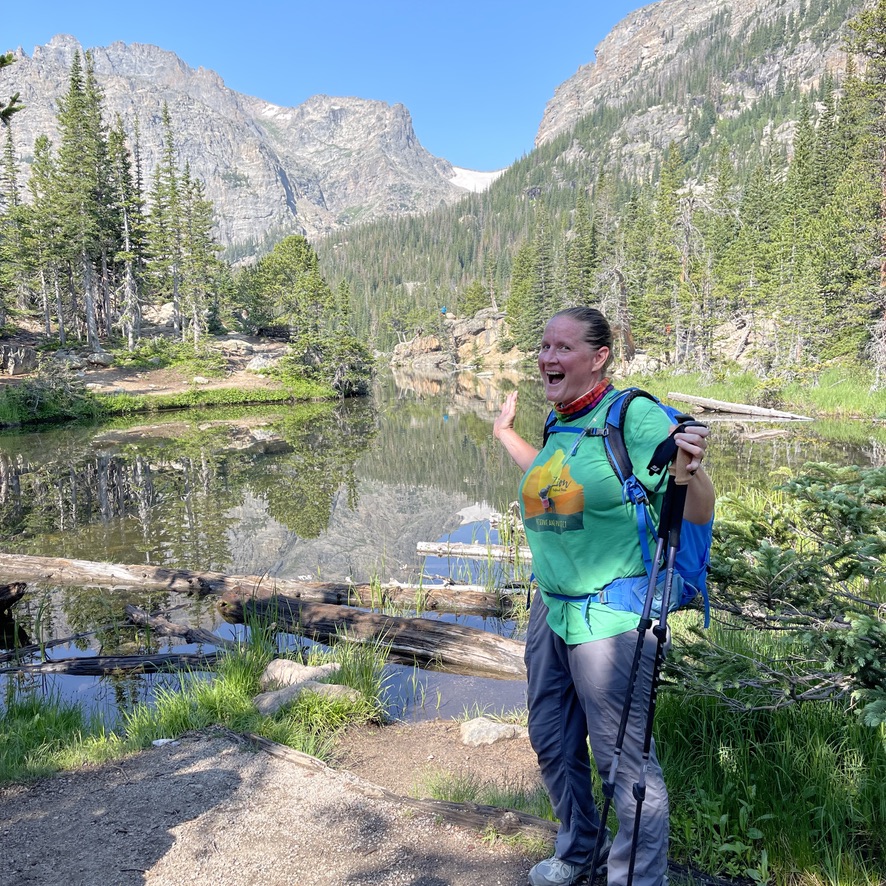 but there was still a long way to go. the hike was wonderful. meadows. streams. bridges. wildflowers. woodlands. steep rocky switchbacks. (ok, that was less fun). and then, a towering, seemingly neverending tower of rock stairs that almost killed me. (200′ feet climb in 0.15 miles).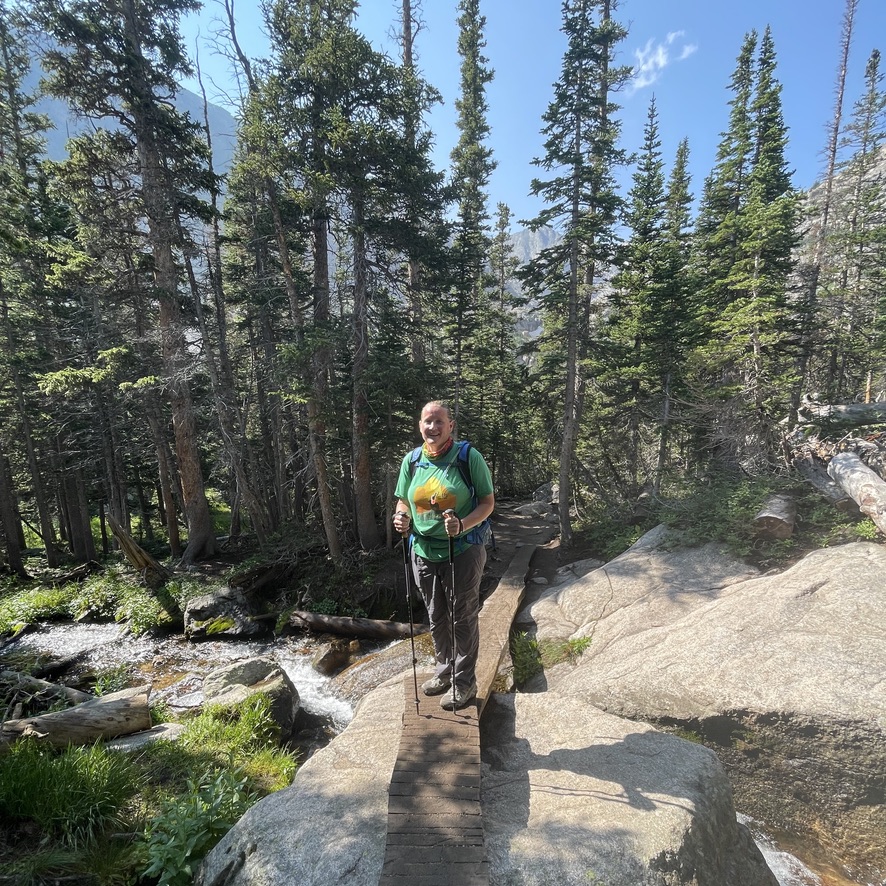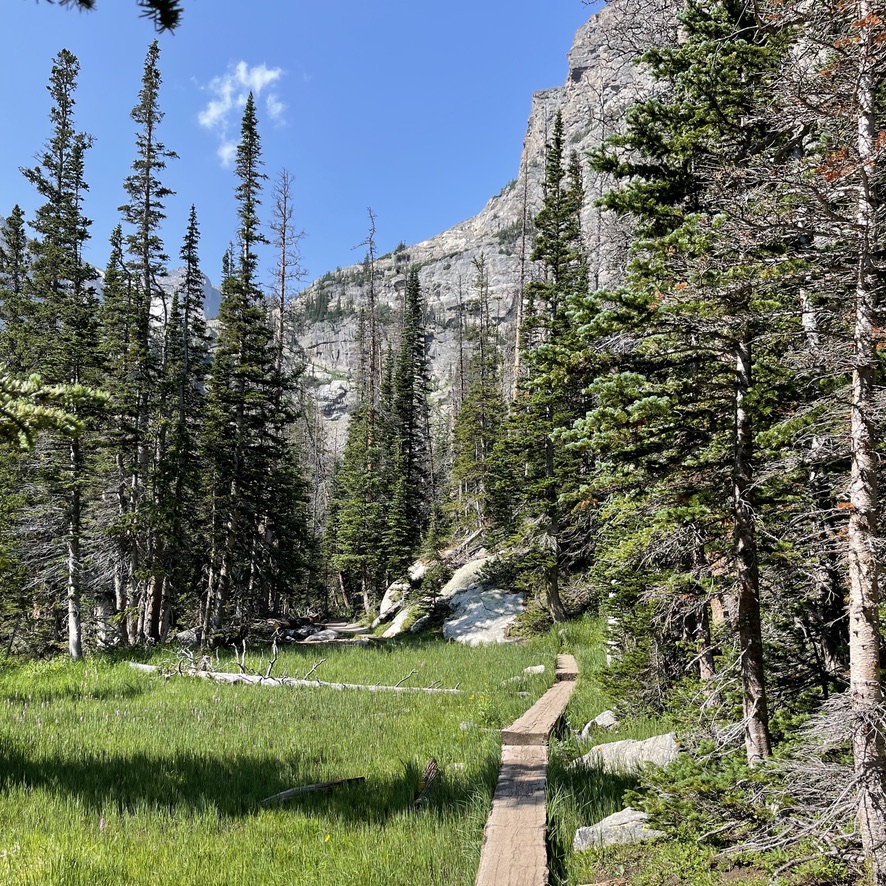 after the stairs, there was a small scramble, and we found ourselves standing at the bottom of timberline falls. lots of folks were out under the falls, snapping photos, but it looked slippery and treacherous, so i decided to save it (maybe) for the hike out. the next part of the hike was the most technically challenging. to the right of these falls, there was a super steep 100ish foot scramble, which depending on the time of year, might also have water tumbling down it, and that is the literal actual trail.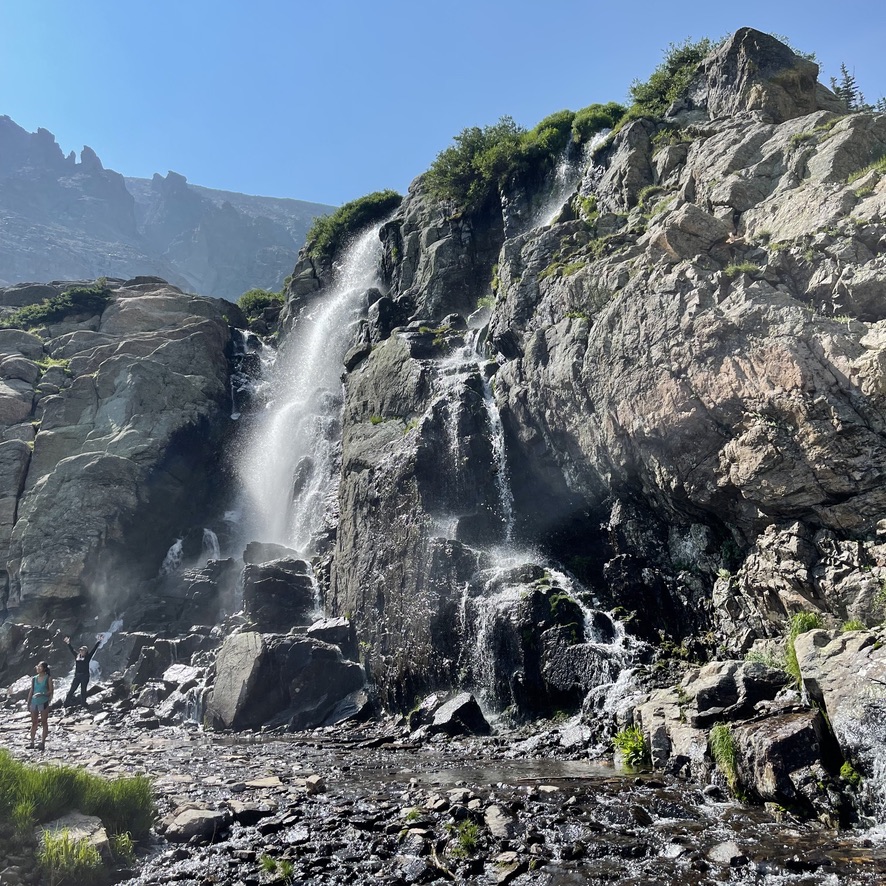 it was hard to get a photo that captured this scramble, but here's my best view from below. it was tricky and slippery, and in certain parts, i wondered how i would be getting back down. turns out, this is the time of year when water flow is high, and some random dude we talked to that has done this hike before said he's never seen it with this much water. the scramble required all four limbs and sometimes even a butt, and was fun and scary and wet, but we made it.
and behold! sky pond. or so we thought…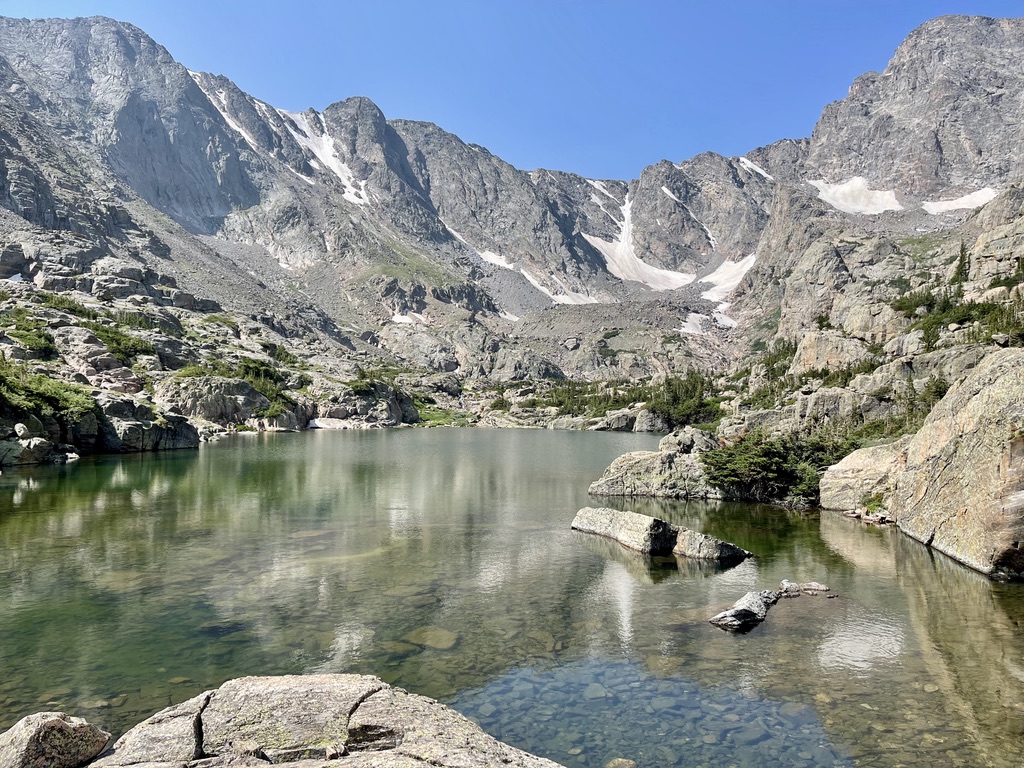 my new friend (name: tony) and i plopped down to have our snacks and admire the pond and take all the pictures and marvel at our sense of adventure and feat of athleticism. and then i looked at my alltrails app. and, this wasn't sky pond. it is glass lake.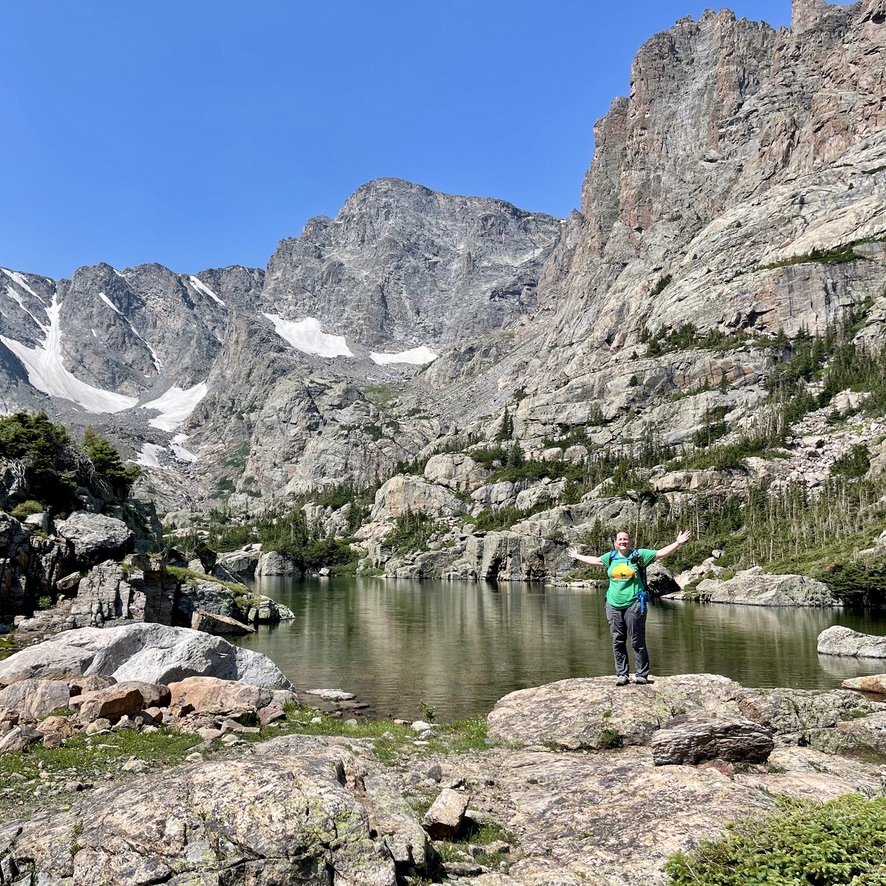 we still had another half mile or so of slightly rough terrain to traverse. we laughed at our stupidity and got on our way.
and then, behold! sky pond. ha. we made it. for real this time.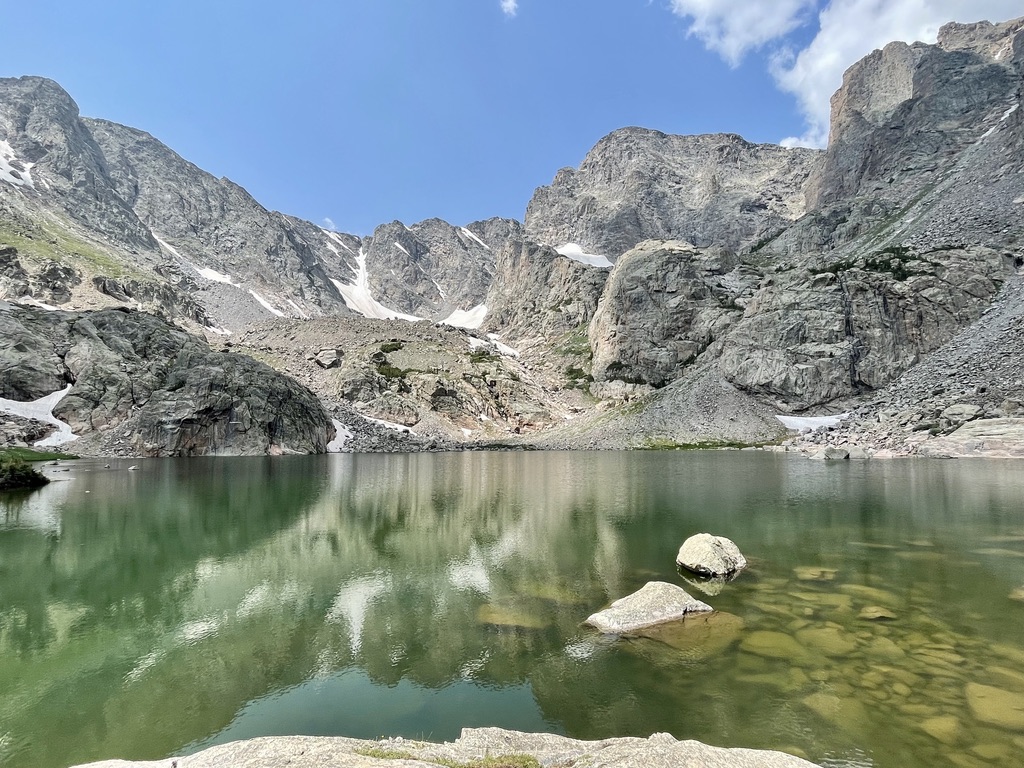 while the sense of accomplishment of getting all the way to sky pond was fantastic, i thought that it was not as pretty as glass lake or the loch. we hung out for just a bit, before starting the return trip. had i done better research, i would have known that the iconic picture perfect photo op was to our left the whole time, and we missed it. i guess i'll have to go back again someday.
obviously, the first order of business for getting back home alive, was navigating the slippery waterfally scramble back down. i'm happy to report that i didn't die, and that once i accepting that there was no shame in butt scooting, and that i couldn't avoid getting wet, i made short work of it. (that's my new pal tony beginning the trek down).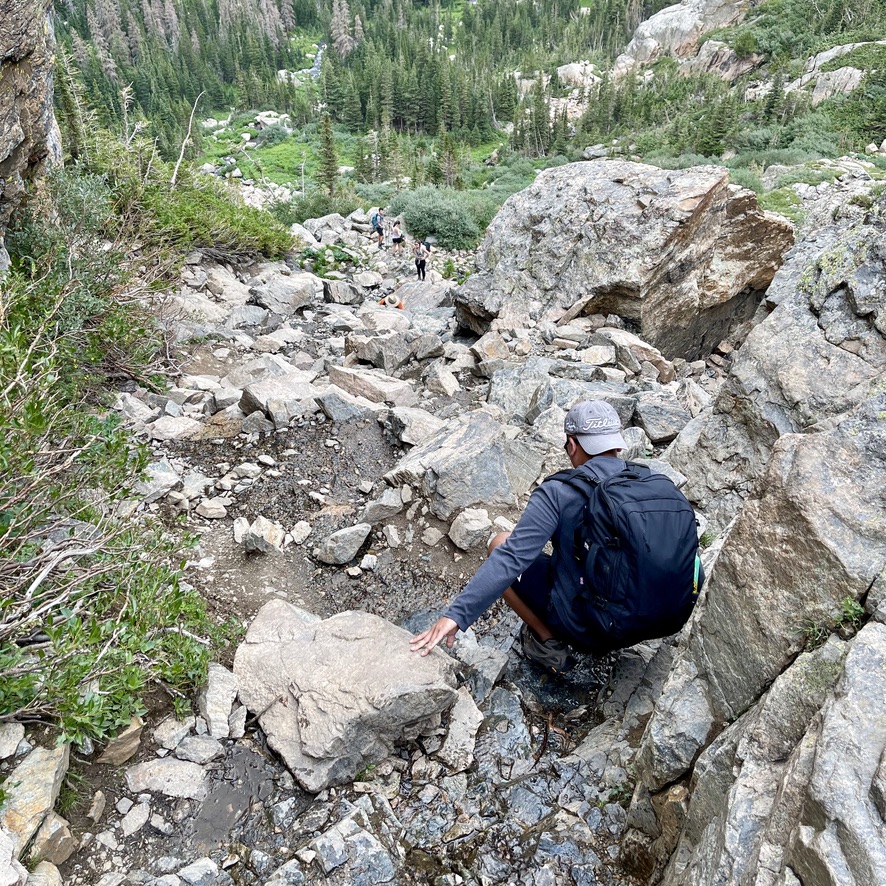 we parted ways at the trailhead (but exchanged insta) and i hopped on the bus back to camp. and then made that stupid hike up the hill. the rest of the fam was at the grandlidboms, so it was just ruby and i for a bit, and i didn't feel too great so i took a little rest, before loading us up and heading to estes park to catch up with everyone else.
while i was hiking that day, the rest of the fam took a scenic stroll around sprague lake. i received this photo proof that they didn't play ipads for the entirety of the time.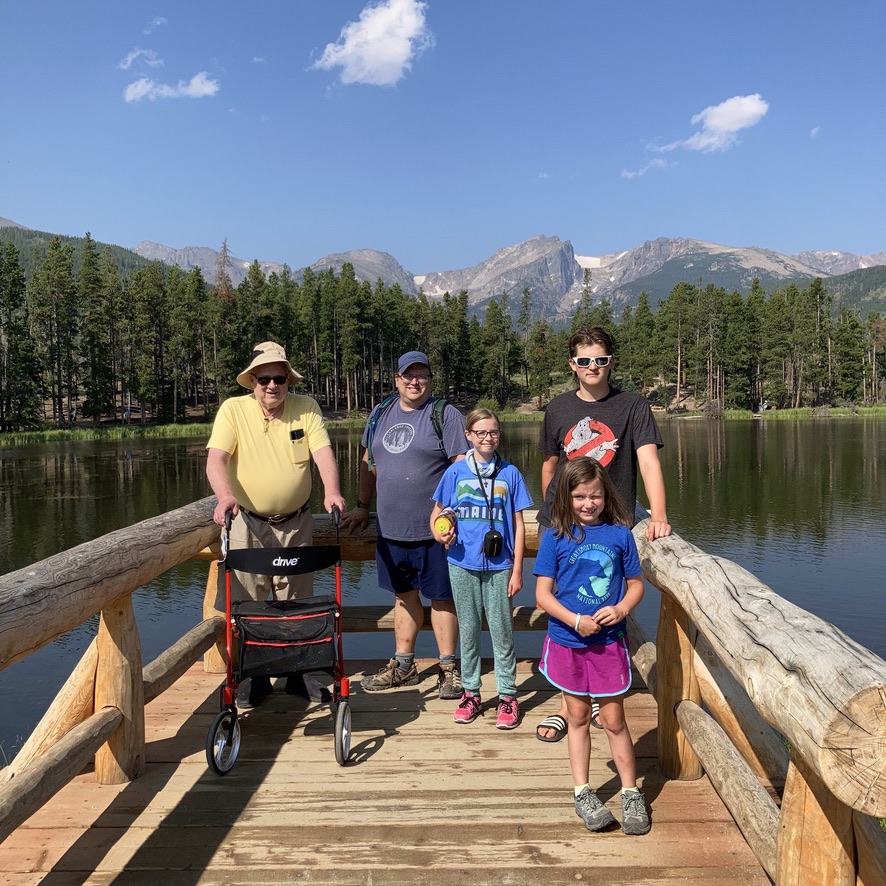 one of the coolest parts about my sky pond hike (or post hike, i suppose), was that i wasn't sore at all. like, i was in pretty darn good shape at this point on our trip. which was something i was worried about when we kicked things off and i had gained like 40 lbs since settling back in the house (and living through a pandemic). hooray!!