after my time in covid jail, we had the girls tested twice, four days apart. and even though both times were negative and we hadn't had anyone show covid symptoms, anna was still required by her school to quarantine for another full week. we decided the best course of action was to take a spontaneous road trip to batavia, ny, to hang with the family. anna agreed that she would rather be miserable doing virtual school from there.
we threw some clothes in a bag and departed, stopping for the night in some random hotel in pennsylvania, and arriving just in time for the bills game on sunday morning. we ate lots of pizza and wings and banana bread and candy. but mostly, we played with holden, who is currently the cutest 2.5 year old on earth.
he and hazel share a common love of paw patrol. they had fun playing with a massive bin of paw patrol paraphernalia that we donated to my mom's toy stash last time we were in town. holden also LOVES "annabanana" (and/or any little blonde girl with glasses that he spots).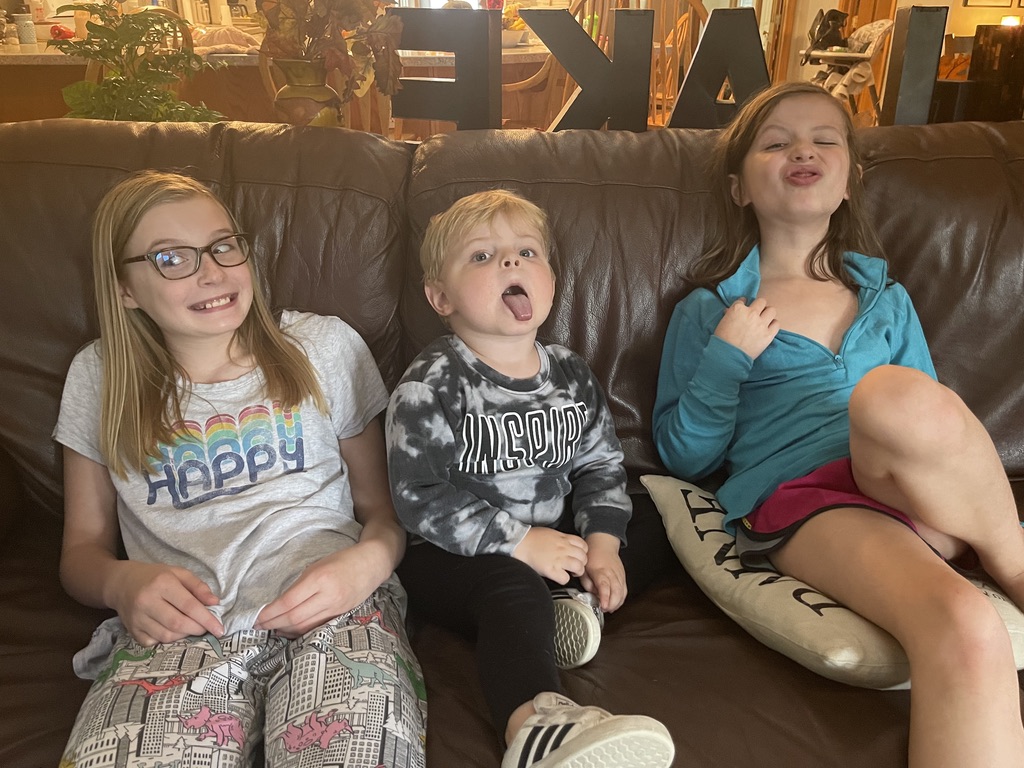 there was seriously a lot of sugar and carbs consumed. my mom made banana bread twice. plus we came armed with a family box of fruit loops (because hazel would only want to come if we stayed in a hotel that had cereals for breakfast). and if that wasn't enough, on a morning that we were babysitting holden, jake brought a dozen donuts. i don't think these three ate a single nutrient all week.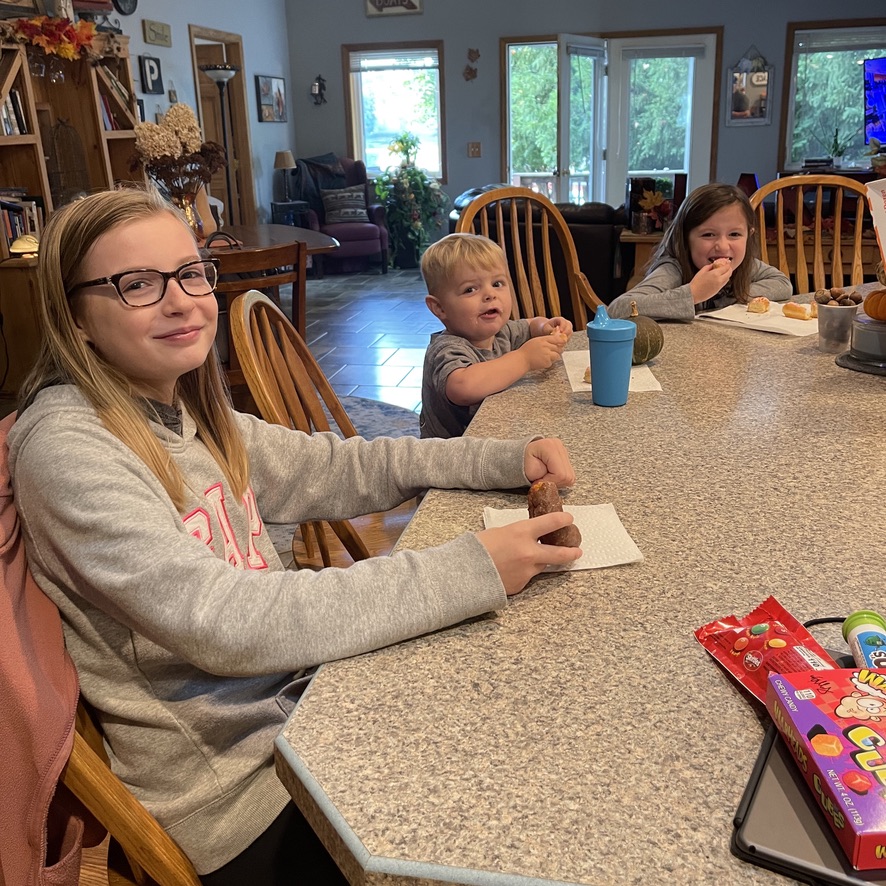 it ended up raining and drizzling for most of our time in western new york, but on the day we were babysitting holden, it was absolutely beautiful, so we really had no choice but to go to the pumpkin patch. we decided on kelkenburg farms in clarence (which i quickly realized i had been to before). it's pretty much the cutest and not 100% over the top like it's nearby competition, the great pumpkin.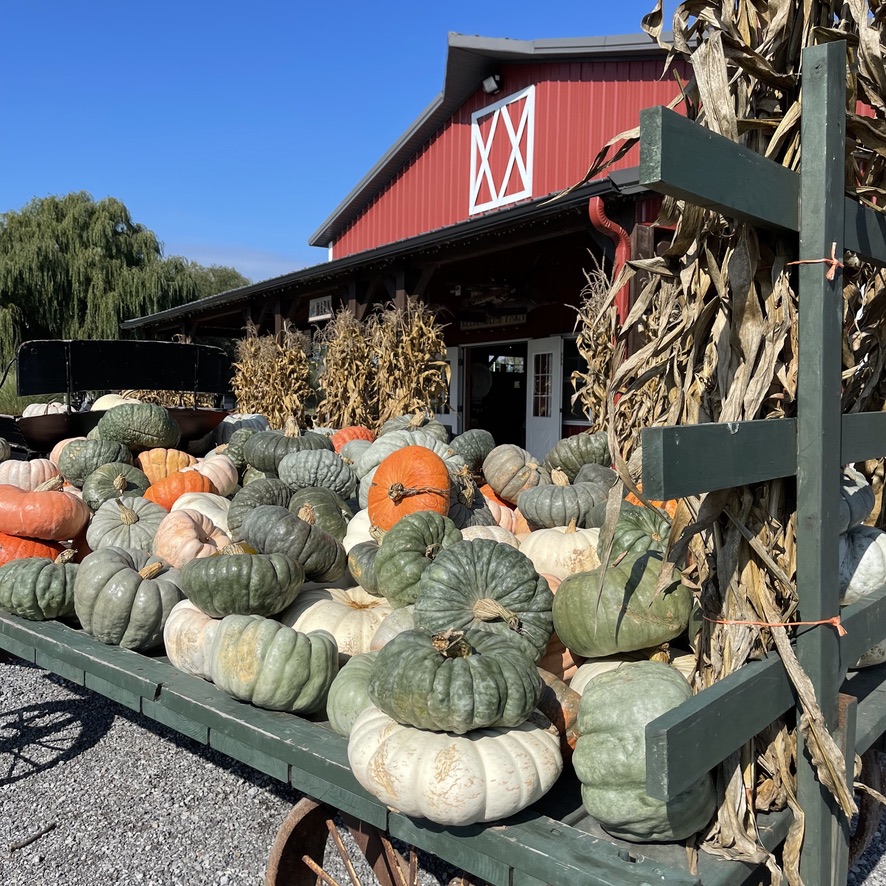 holden was happy to stroll along with his big cousins.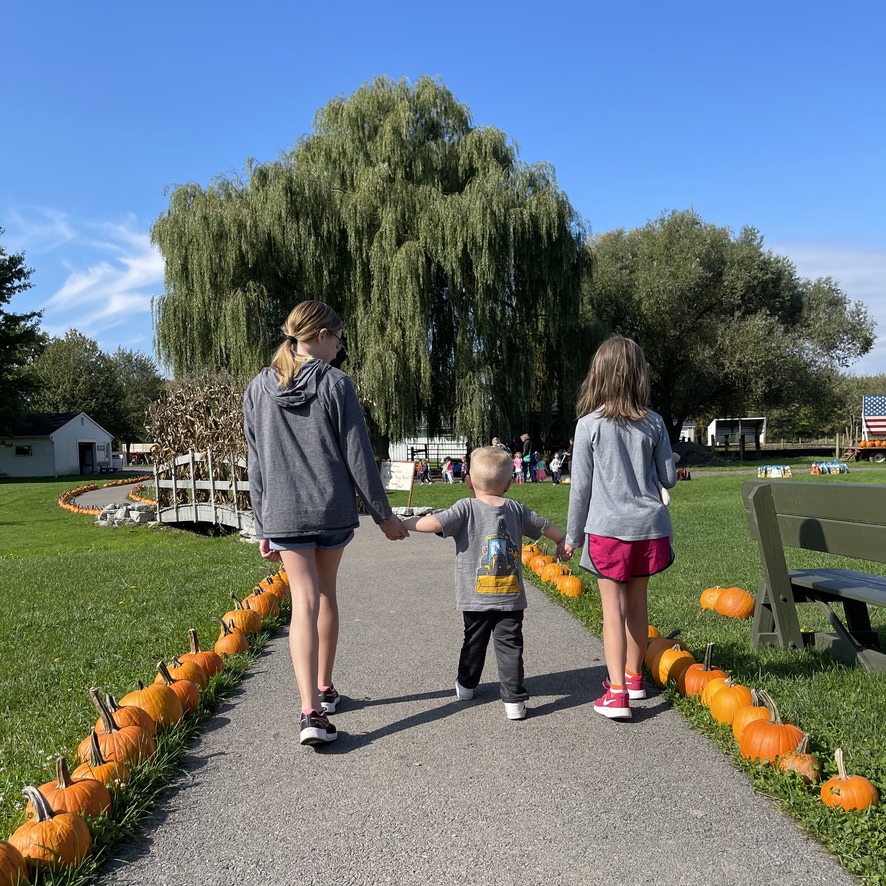 we did all the things. so many slides. anna milked a goat. holden rode a fake chicken and made the most realistic chicken sounds i've ever heard. hazel frolicked on the giant bouncy pumpkin. and i even talked anna into her free pony ride. free with admission that is.
holden and hazel stuck to petting only. no riding or milking for them.
the most favorite location of the day was definitely the corn pit. i think it always is. hazel and holden could have stayed there all day.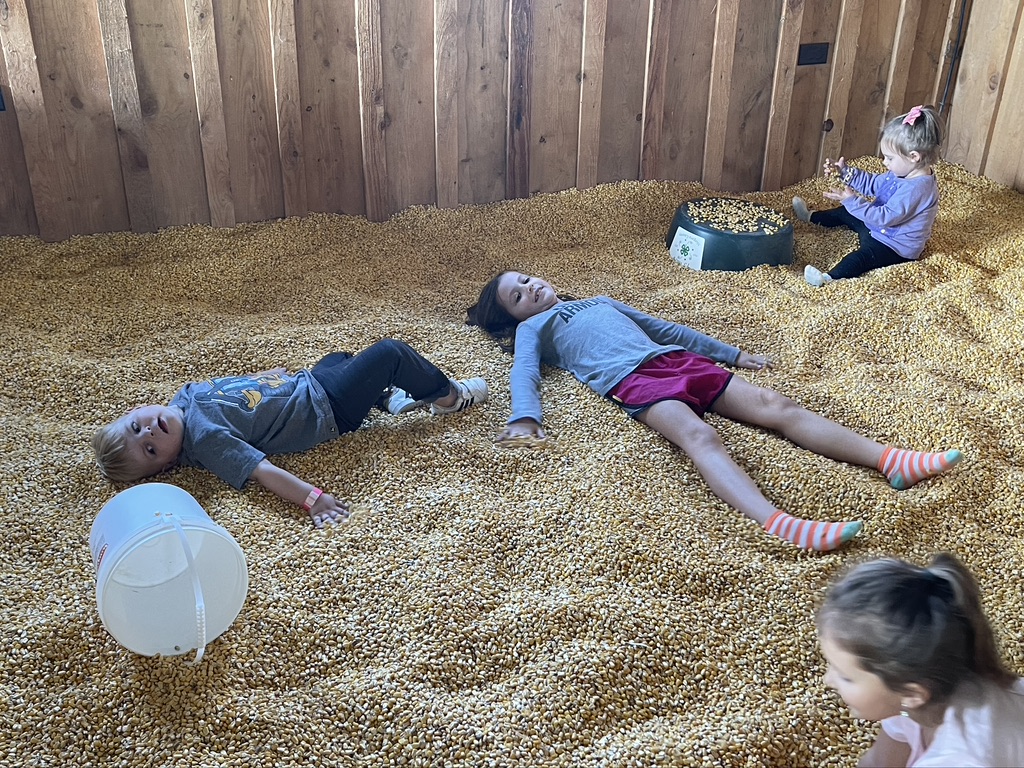 before things took a turn, i managed to snap a family photo. i had high hopes of a more pumpkin filled version on the way out, but that was definitely not to be.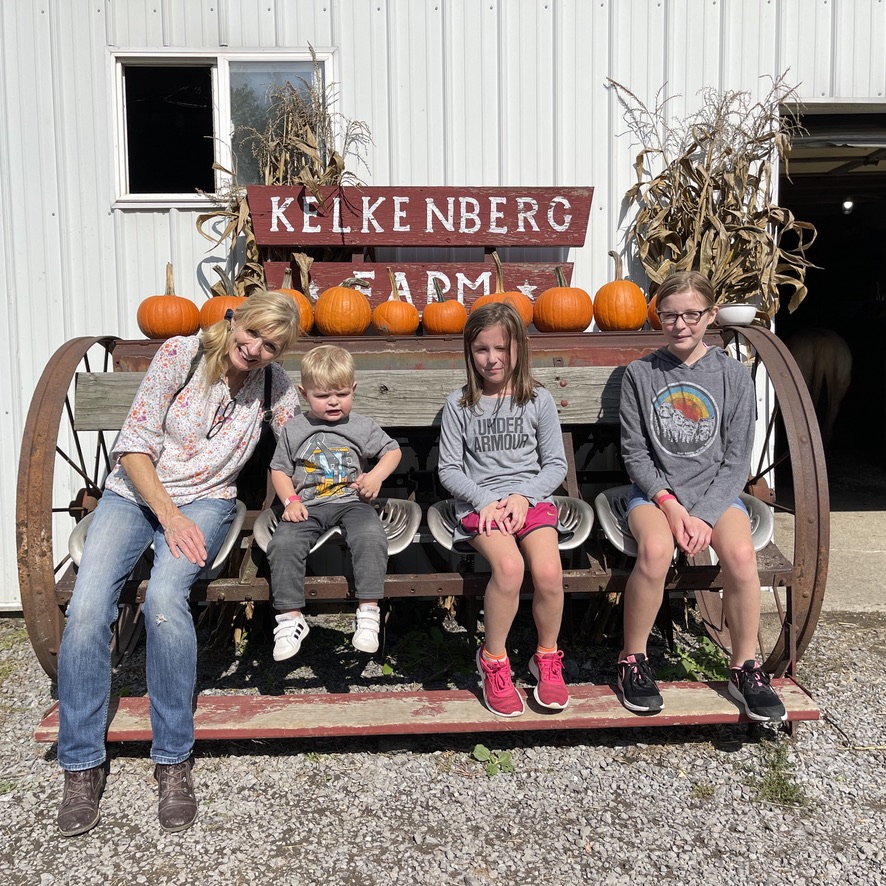 our admission included a hay ride to the pumpkin patch where we could pick out our own pumpkin to keep. it was not an easy sell but we eventually convinced holden that he wanted to do this.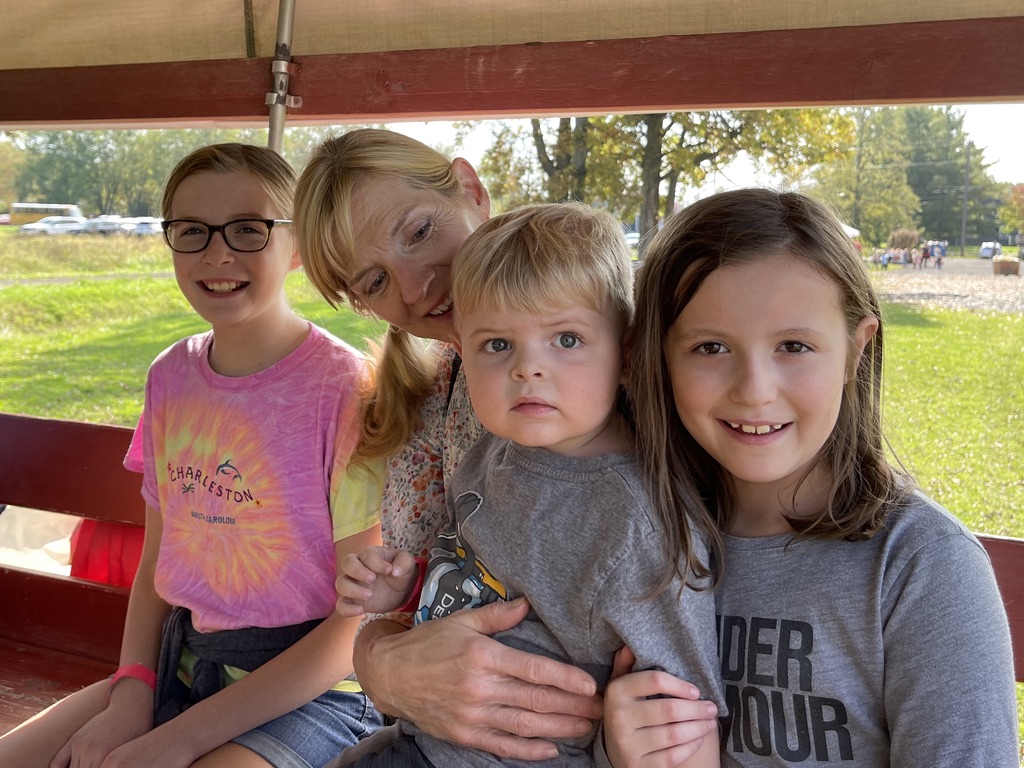 the pumpkin selection was a little iffy, but we managed to find five good ones to take home with us.
before we left, we planned to get some cider donuts, but they were down to their last couple when we got back to the little store area. (during the week, the hours are 10-1, presumably to accommodate the preschool field trip crowd, and they were closing down when we got back there). we grabbed a few apples (nutrition!!) and some cookies and found a comfy and really dirty couch on which to consume them.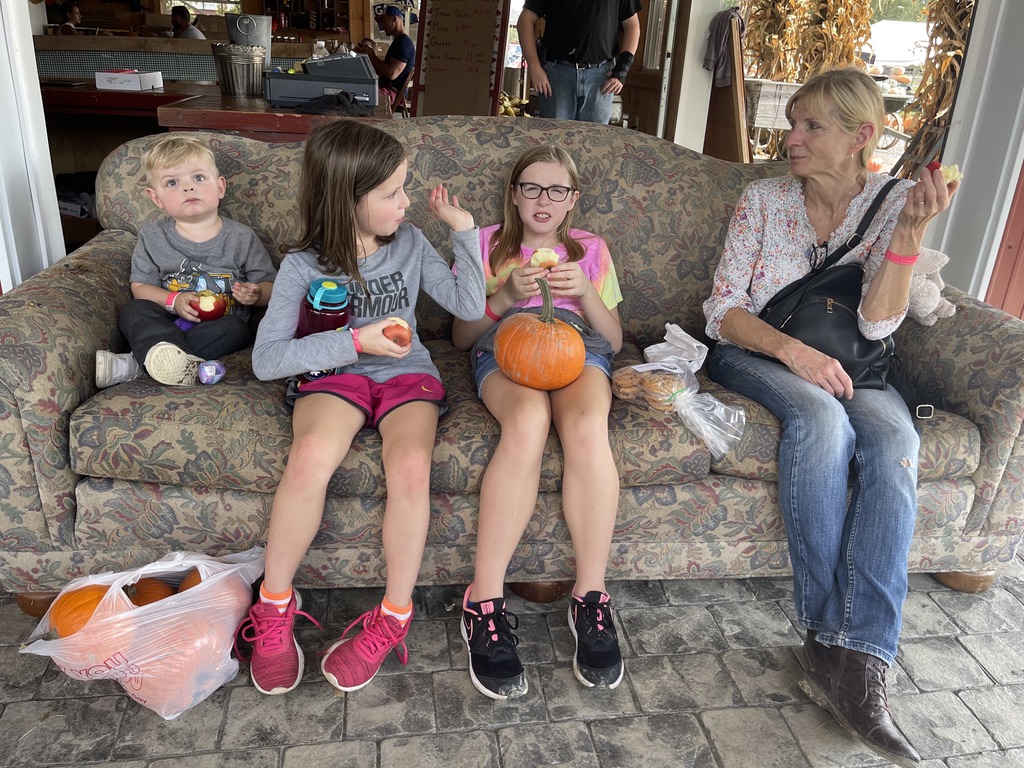 we didn't have holden the entire time we were there, and my mom actually had to work at her job, so we had plenty of time to get anna's school done. we had a moment of sheer devastation when she realized she was missing cow eyeball dissection day, but a quick email to her teacher to see if she could do it when she got back (answer: yes) assuaged her dismay. we were also sure to stop in at olivers candy for some delicious treats to bring back to friends.
we saw way more people than just holden. i hung out with julie redband and fam. my pal courtney came to town for a visit. we checked in with aunt eleanor for a bit. my sister julie and her boyfriend came to town one night. my step brother rob was also in town and we saw him several times. of course we saw jake and erika a million times. and frankie even came for a slumber party. he and i went to watch the batavia high football game, where the '91 state championship team was being honored on the 30 year anniversary, where i was faced with the reality of how old i am. i saw several other familiar faces at the game.
but. i only have pictures of this dude.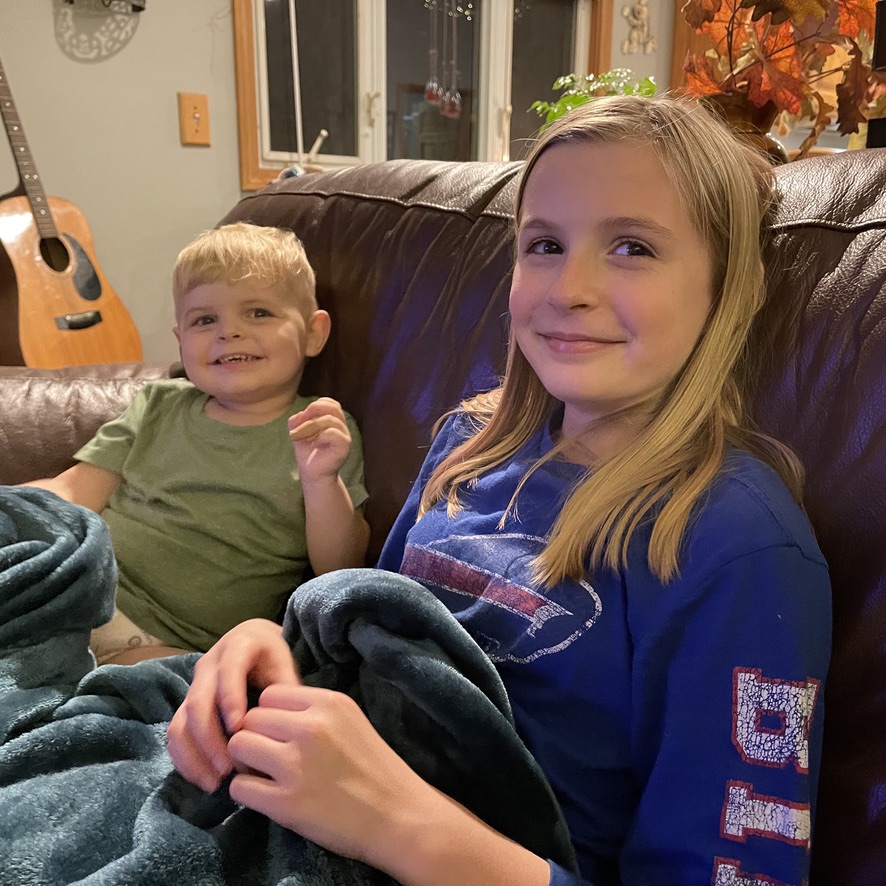 it was a really good week. much better than sitting around the house being grumpy about not being able to go to school.
we drove back all day sunday (like two days ago because i'm almost done catching up my blog!!), and then stayed up late to watch the bills game. in the morning, anna was off to real live school, i was back to being a shuttle bus driver, and hazel was back to her lonely life. here we go….